May, 20, 2014
May 20
2:30
PM ET
The best leaders know exactly what their team needs at the precise moment it needs it. Sometimes it's encouragement, sometimes it's a kick in the pants, and sometimes it's a good laugh.
Maty Mauk
and
Evan Boehm
, two of the
Missouri Tigers
' emerging leaders, are experts in the latter. They can give rah-rah speeches and holler with the best of coaches, but where they really shine is in lightening the mood.
[+] Enlarge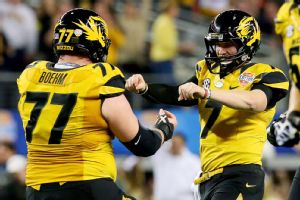 Ronald Martinez/Getty ImagesEvan Boehm (left) and Maty Mauk are hoping their relationship will help carry Missouri to bigger heights.
"The relationship that we have is pretty unique," Mauk says with a laugh. "I don't really know how to describe it."
Before they arrived at Missouri as classmates in the summer of 2012, they already knew they would be close friends. Boehm heard about Mauk's exploits as a record-setting prep quarterback and reached out on Facebook and with emails and text messages.
With both being sons of high school coaches, they connected on subjects great and small -- their enthusiasm for Mizzou, expectations of college life, the weight of being two of the Tigers' top prospects.
Once on campus, their fun-loving personalities meshed further, as Mauk and Boehm discovered they were kindred spirits who could talk about football and life deep into the night.
"It's that quarterback-center relationship you try to find," said Boehm, who started at guard as a true freshman while Mauk redshirted.
"The relationship we've had since Day 1 has been a special relationship, because I ultimately knew that I wanted to move to center and snap the ball to him."
Boehm did move to center last fall, and Mauk became the Tigers' backup QB. As their roles on the team grew, so did their friendship and their antics on the field.
At first there were curious glances and puzzled looks, but soon coaches and teammates knew the deal. Mauk and Boehm were a couple of cutups who were starting to work their goofiness into the culture of the Tigers' locker room.
"We're going to come out [to practice] and people are going to think, 'Hey, they're messing around,'" Mauk said. "But that's just how we communicate. We know each other and we know football. So we're always finding something that we think will help us get better."
One of their favorite rituals started last season just before walkthroughs.
"I take the shotgun snap from Maty and then we both grab a ball and we start throwing it at the goalpost to see who can hit it first," Boehm said. "It's a little friendly competition but it's a tradition that we started last year, a tradition that we kept in spring ball. It's just a lot of fun.
"At first the coaches really didn't understand what we were doing. But once they realized the type of relationship that me and Maty had -- we always laugh and we always smile. They didn't understand it at first, but now they kind of do. And they're letting it go and they're letting it slide as long as we're getting the job done, too."
Mauk and Boehm helped the Tigers get a lot done in 2013, namely winning the SEC East and finishing with a No. 5 ranking in the final polls.
Now Missouri's starting quarterback and his anchor on the offensive line have their sights set on lifting the program -- and each other -- even higher in 2014.
Boehm's goal is to be the top center in the SEC if not the nation. Mauk is his biggest fan.
"He's really progressed since last year, just over the year," Mauk said. "I'm really excited for him to do these big things he's about to do."
Boehm likewise believes Mauk is just scratching the surface of his talent.
"The kid has matured 100 percent for the better since he's gotten here," Boehm said. "The kid is still growing as a person. You can tell that he realizes that this is his team now."
They both do. It's their time to step forward and their time to say the right thing at just the right time.
"Being a coach's kid you have to be that leader on and off the field," Boehm said. "Maty and I, we're taking that role right now. We respect the seniors and everything they have to say, but at the same time you can never have enough leaders out on that field."
November, 26, 2013
11/26/13
1:00
PM ET
On Saturday night, Missouri will host Texas A&M. If the Tigers beat the Aggies, they'll go to Atlanta to face the winner of Alabama-Auburn in the SEC championship game.
Stop for a second and read that paragraph again. Think about what all the talk was two years ago when both programs decided to leave the Big 12 for the Southeastern Conference. Some critics thought it would take years for the programs to become competitive in the league, which is known for producing BCS national champions (it claims the last seven) but in just its second year, Missouri is in position to compete for a championship and Texas A&M has had solid success of its own.


For the No. 5 Tigers (10-1), it's simple. Win and they go to Atlanta. Lose and South Carolina goes, by virtue of head-to-head tiebreaker. Missouri controls its own destiny, as it has since the Tigers vaulted to the top of the SEC East.
"It's all about us," Missouri coach Gary Pinkel told reporters Monday. "That has kind of been the theme we've had this whole year."
Each team has had different fortunes in its first two seasons. Missouri, which some thought might have the quicker success, struggled in its first SEC campaign. The Tigers were riddled with injuries and finished 5-7 (2-6 in league play), and it appeared that the road ahead might be a hard one.
Meanwhile the Aggies experienced smashing success, going 11-2 led by the most captivating player in college football, quarterback
Johnny Manziel
, who won the Heisman Trophy. Quite a dichotomy for the two SEC newbies.
But something interesting happened this year for the Tigers. Though they have been banged up some, it hasn't been nearly as much as it was a year ago. Missouri breezed through its nonconference schedule, which wasn't exactly taxing, and as the Tigers got into conference play, outsiders wondered how good they really were.
Each week, Missouri added an SEC victory. Then came the qualifiers. They beat then-No. 7 Georgia in Athens, but the Bulldogs were depleted by injuries. They beat then-No. 22 Florida, but the Gators had even more injuries than Georgia.
South Carolina's come-from-behind 27-24 overtime win in Columbia, Mo., made some wonder if the Tigers would slip, but instead, they've responded with three straight wins and put themselves in position to achieve something special.
"We don't like anything given to us," sophomore center
Evan Boehm
said Monday. "We knew coming into this year nothing was going to be given to us. All the other teams this year had injuries like we had last year. They counted us out, but we are coming out right now and we are focused on what is in front of us and that is Texas A&M."
The chance the Tigers earned is one some believed the Aggies might just have a chance to coming into the 2013 season -- playing for a chance to win their division championship. But an early loss to No. 1 Alabama hindered the Aggies' chances at SEC West title contention, and later a loss to Auburn virtually eliminated it. The No. 21 Aggies (8-3) are now mathematically out of the picture, and out of the picture for a BCS bowl as well, something they still had hopes of sneaking into before Saturday's loss to LSU.
Youth and inexperience on a struggling defense have been the roots of the Aggies' struggles in losses -- and even some wins -- but Saturday everything looked rough. Texas A&M's hope is to close out the season on a winning note while spoiling the Tigers' championship chances. And though Manziel could enter the NFL draft after this season, the foundation appears to be solid for future success in the league for Texas A&M.
Either way, both programs have made waves and a significant impact on the SEC in their first two seasons, much faster than most anticipated. It all illustrates how quickly fortunes can change, even in the league of champions.
August, 20, 2013
8/20/13
10:30
AM ET
There are always a couple of players on each football team that you just can't replace. Most of the time they are quarterbacks, but every so often someone else emerges as that indispensable player teams just can't live without.
Today, we're looking at those players. It's easy to talk quarterbacks being the most important people on a team, so we decided to look at the most indispensable players on each SEC school who aren't lining up under center.
Here's our list for the 2013 season:

ALABAMA
C.J. Mosley, LB, Sr.
Nothing about C.J. Mosley's game fits the typical Alabama mold. He's rarely the biggest or the strongest player on the field. Next to Courtney Upshaw and Dont'a Hightower, he looked like a safety. But Mosley's sideline-to-sideline speed is outstanding, and in a league that continues to feature mobile quarterbacks that trait is invaluable. Last season Mosley became the first Alabama defender to break the 100-tackle mark since Rolando McClain, and he did it while splitting time. Now that the job is all his, it's up to Mosley to do even more in terms of production and leadership.
-- Alex Scarborough, TideNation

ARKANSAS
Travis Swanson, C, Sr.
The 6-foot-5, 314-pound Swanson has started all 38 games of his career and was a second-team All-SEC selection last year. He has blocked for three 3,000-yard passers and will be an integral part of the Razorbacks this year as well, as they move to a more run-oriented attack under new coach Bret Bielema. The new head coach has been quoted as saying Swanson is the "best center in college football." That's high praise from a coach who has seen plenty of talented offensive linemen over the years.
-- Sam Khan, GigEmNation

AUBURN
Reese Dismukes, C, Jr.
All eyes will be on first-year starting quarterback
Nick Marshall
, and although Auburn has plenty of skill players for him to utilize, the most important player will be the one who is snapping him the football. In his first two seasons on The Plains, Dismukes has started all but two games at center. He's become a mainstay on the offensive line and was a constant even through all of the turmoil a year ago. He'll be counted on again this year to serve as the rock for Marshall and the entire offense.
-- Greg Ostendorf, TideNation

FLORIDA
Matt Jones, RB, So.
This is bad news for the Gators because they may very well be without Jones for the season opener against Toledo -- and possibly beyond -- because he has not yet been cleared to return to the field (viral infection). The 6-foot-2, 226-pound Jones is a bruising runner who was a perfect fit for the Gators' between-the-tackles running game. He is UF's best offensive player and his top backup is
Mack Brown
, who has just 40 carries in three seasons.
-- Mike DiRocco, GatorNation

GEORGIA
Damian Swann, CB, Jr.
The first name that comes to mind is
Todd Gurley
, who will surely rank among the nation's top tailbacks. But Georgia's ship probably wouldn't sink if it relied on
Keith Marshall
to carry the running game. Perhaps Georgia's most indispensable player is on defense. Cornerback Damian Swann -- who led the team with four interceptions last year -- is the only returning starter in the secondary and is one of the young defense's clear leaders.
-- David Ching, DawgNation

KENTUCKY
Alivn "Bud" Dupree, DE, Jr.
It will be interesting to see how Dupree transitions from linebacker to end this fall, but regardless of position, he's the best player on this UK defense. And there's no doubt it will be a defense that new head coach Mark Stoops will count on to keep them in games. As a sophomore, Dupree emerged as one of the SEC's top pass-rushers, finishing with 91 tackles and seven sacks. This fall, he'll also serve as a mentor to newcomers
Za'Darius Smith
, a junior college transfer, and
Jason Hatcher
.
-- Greg Ostendorf, TideNation

LSU
Anthony Johnson, DT, Jr.
With a rebuilt defensive line, Johnson has become arguably the Tigers' most important player outside of quarterback
Zach Mettenberger
. He's strong, big, athletic, fast and ready to live up to his full potential as "The Freak." He'll anchor LSU's defensive line. Without him, the Tigers have a gaping hole in their relatively younger defense. Johnson is the team's best run stopper, but also has the ability to rush the passer and make plays outside of the box.
-- Edward Aschoff

MISSISSIPPI STATE
Gabe Jackson, OG, Sr.
The Bulldogs have a lot to replace in the receiving game, but if the offensive line doesn't come together, the offense will be in trouble. Jackson is the heart and soul of Mississippi State's offensive line and without him, the Bulldogs could have big problems up front this fall. He's an NFL prospect and is great pushing the run and protecting the pass. Losing him would greatly set this unit back.
-- Edward Aschoff

MISSOURI
Evan Boehm, C, So.
The 6-foot-3, 315-pound Boehm is the Tigers' best offensive lineman despite being only a sophomore. He moved from guard in the spring and struggled a bit with the transition, but is settling into the position. Boehm was the only lineman who didn't miss a game last season and those injuries played havoc with the offense. Missouri has the offensive weapons to score points, but the line has to be better and stay healthy. That begins with Boehm.
-- Mike DiRocco, GatorNation

OLE MISS
Donte Moncrief, WR, Jr.
The Rebels have some depth at receiver, even with
Vince Sanders
going down this preseason with a broken collarbone. But they don't have anybody quite like Moncrief, who caught 10 touchdown passes last season and opens up the field for everybody else. He takes plays that should go for minimal gains and turns them into touchdowns, and he wins one-on-one battles with cornerbacks even when the ball isn't thrown perfectly. Defenses have to play the Rebels differently when Moncrief's on the field.
-- Chris Low

SOUTH CAROLINA
Jadeveon Clowney, DE, Jr.
Clowney is easily the best defensive player in the country and he might be the nation's best overall player, regardless of position. He has incredible measurables, elite speed and athleticism, and is stronger than an ox. Without him, South Carolina's new-look defense would take a major hit in 2013. He's the motor that makes that defense run and is the main reason why the Gamecocks have the SEC's best defensive line. His mere presence on the field makes teams change their game plans.
-- Edward Aschoff

TENNESSEE
Antonio Richardson, OT, Jr.
Call him "Tiny" at your own peril. Tennessee's Antonio Richardson is anything but small. The 6-foot-6, 327-pound offensive tackle is a mountain of a man, and the Vols will need every bit of protection they can get when they find their quarterback of the future. If Richardson can help relieve the pressure on the passing game and help open up holes in the running game it would go a long way in helping an offense in transition under new coach Butch Jones.
-- Alex Scarborough, TideNation

TEXAS A&M
Jake Matthews, OT, Sr.
When looking at non-quarterbacks, the guy who protects the quarterback's blind side is of utmost importance. Last season, Luke Joeckel had a stellar season in that role while Matthews was anchoring the right side of the line. This year, Matthews, son of NFL Hall of Famer Bruce Matthews, slides to left tackle. There's no reason to believe Matthews will miss a beat and he has the look of a high first-round pick in the 2014 NFL draft. Kevin Sumlin calls Matthews a classic "low maintenance, great player."
-- Sam Khan, GigEmNation

VANDERBILT
Jordan Matthews, WR, Sr.
Coming off the best season by a Vanderbilt receiver (94 catches, 1,323 yards, 8 TDs), Jordan Matthews is the clear pick.
Chris Boyd
will also produce big numbers, but it's unusual for a Commodore to claim the SEC's career lead in a top statistical category. Matthews can do that in receptions (he has 150, needs 86 to tie Vandy's Earl Bennett's record) and receiving yards (has 2,290, needs 803 to tie Georgia's Terrence Edwards) if he duplicates last season's numbers.
-- David Ching, DawgNation
December, 12, 2012
12/12/12
4:20
PM ET
We already took a look at
our All-SEC Freshman Team
, so it's time to hand out some awards for all those talented youngsters.
But we have to make a major adjustment to our awards. We won't be handing out any to Heisman Trophy winner
Johnny Manziel
. The only reason for his omission is because we know that he was not only the top freshman but the top player in the SEC -- and the country -- this season.
He IS our top offensive freshman and made the biggest impact, so we are respectfully leaving him off in order to give praise to other deserving freshmen:
[+] Enlarge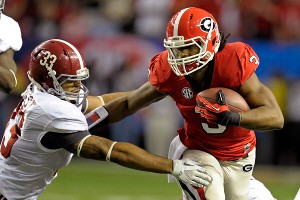 Dale Zanine/USA TODAY SportsTodd Gurley became the first Georgia true freshman to rush for more than 1,000 yards in a season since Herschel Walker did it in 1980.
Best non-Johnny Manziel offensive performance: Todd Gurley, RB, Georgia.
He made an immediate impact from Day 1 after rushing for 100 yards on eight carries and returned a kick 100 yards for a touchdown in the opener. He eventually became the primary back and finished the year leading the SEC in rushing (1,260 yards) and was tied for second in rushing touchdowns (16). He also recorded eight 100-yard rushing outings and averaged 6.3 yards per carry.
Best defensive performance: Denzel Nkemdiche, LB, Ole Miss.
Nkemdiche was all over the field for the Rebels this fall. He led his team and all SEC freshmen with 78 total tackles, including 12 tackles for loss. He also forced four fumbles and grabbed three interceptions during the season. His little brother, who is the No. 1 high school prospect in the country, might garner most of the family attention, but Nkemdiche made a real name for himself this season.
Biggest non-Manziel impact(s): Mike Evans, WR, Texas A&M and Benardrick McKinney, LB, Mississippi State.
Johnny Football might have taken all of the headlines in College Station, but he probably doesn't have the year he did without help from Evans. He wasn't just the most productive receiver on his team but he was fourth in the SEC with 75 catches and receiving yards (1,022). McKinney was one of the most productive defenders in the SEC. He became the Bulldogs' middle linebacker and started the last nine games, finishing fourth in the nation among freshmen and seventh overall in the SEC with 97 tackles. He also registered 4.5 tackles for loss, a sack, four pass breakups and recovered a fumble.
Biggest upside: Dante Fowler Jr., DE/LB, Florida.
There's a reason why Florida State coaches were so upset and why Florida coaches were giddy when Fowler flipped from the Seminoles to the Gators on national signing day. He was exactly what the Gators needed up front with the loss of
Ronald Powell
. He started out as a third-down pass-rusher, but saw his time increase as the season went on. He finished the season with 27 tackles, including 6.5 for loss and 2.5 sacks. He has the ability to be a top pass-rusher and will definitely push Powell for playing time when he returns from his ACL injury.
Best lineman: Evan Boehm, OG, Missouri.
There were some solid offensive and defensive linemen in this year's freshmen class, but Boehm was thrown in the fire earlier than anyone expected and he performed well enough to keep his job at left guard all season. He was also the first-ever true freshman to start under Gary Pinkel on the offensive line and was the only Mizzou lineman to start every game. Injuries forced him into a starting role from the start of the season and he only got better and tougher as the season continued.
Most likely to make you look silly: T.J. Yeldon, RB, Alabama.
A lot of people want to compare Yeldon to former Bama stud Trent Richardson. And you can see why when he runs over people and juts past them with his quick moves. Or you can just ask LSU safety
Craig Loston
, who was embarrassed by Yeldon and the slick move he put on him for the game-winning touchdown in Alabama's comeback win over LSU in Baton Rouge. But Loston wasn't Yeldon's only victim when it came to his elusive moves. A few Georgia defenders needed their ankles wrapped after Yeldon's performance in the SEC championship game.
Biggest high-flyer: Amari Cooper, WR, Alabama.
Cooper became
AJ McCarron
's top weapon all season. He also became one of the best deep threats in the league during the second half of the season. He averaged 16.9 yards per catch, but showed real top-flight speed on more than a handful of plays this year, especially that 45-yard, game-winning touchdown catch in the SEC championship game.
Barrett Jones
describes him as a player who has gear that normal people don't have.
Hardest hitter(s): Trae Elston, S, Ole Miss and Antonio Morrison, LB, Florida.
Suspension aside, Elston laid the legal lumber more than a few times this season against opposing offensive players. He's probably best known for his hit on UTEP WR
Jordan Leslie
that resulted in a suspension, but throughout the year he was a player who delivered a lot of big-time hits. Morrison laid some big hits all year, but his hit on Florida State quarterback EJ Manuel resulted in a fumble and led to the Gators' go-ahead touchdown in their win over the Noles. Morrison developed into one of Florida's toughest defenders and smashed into a lot of opponents.
September, 6, 2012
9/06/12
10:15
AM ET
With several key conference tilts on tap, we take a look at what to watch in the SEC in Week 2:
1. Hello Missouri, Hello Texas A&M:
Even though Missouri has already played a game as an SEC member, Missouri and Texas A&M "officially" become league members Saturday when the Tigers take on Georgia and the Aggies face Florida. It's fitting that the two newcomers would play traditional powers in their first league games, and it's also fitting that both would open SEC play at home. The eyes of the league will turn to College Station, Texas, at 3:30 p.m. ET and then to Columbia, Mo., at 7:45 p.m. ET. It is indeed a new day in the SEC.
2. Missouri's inexperience up front:
Blocking Georgia's defensive front with a veteran offensive line is no easy task, but the Tigers will try to do it a bit short-handed. Senior right guard
Jack Meiners
is questionable for the game with a knee injury. His size and strength inside would be invaluable against the Bulldogs. Former walk-on
Max Copeland
is scheduled to start in Meiners' place. And at left guard, true freshman
Evan Boehm
is the starter. Senior
Travis Ruth
was slated to be the starter at left guard, but tore his left triceps tendon in August and underwent surgery.
3. More touches for Gurley:
In his debut last week, Georgia freshman running back
Todd Gurley
carried the ball eight times for 100 yards and had touchdown runs of 55 and 10 yards. He also had a 100-yard kickoff return for a touchdown. Coach Mark Richt said he would "definitely" like to see Gurley touch the ball more Saturday against Missouri than he did last week. But the Bulldogs aren't going to forget about fellow freshman
Keith Marshall
and sophomore
Ken Malcome
. Richt said Gurley probably would have carried it a few more times last week but that he got a little light-headed after his 100-yard kickoff return.
4. Driskel takes the reins:
It's
Jeff Driskel
's job, and Florida coach Will Muschamp has told him that there's no need to be looking over his shoulder Saturday. It was important that the Gators settle on a starting quarterback prior to going to Texas A&M, and that's exactly what Muschamp did coming out of Florida's ho-hum 27-14 season-opening victory over Bowling Green. Driskel is a better runner than
Jacoby Brissett
and has a better chance of extending the play when things break down. More than anything, though, it's going to be imperative that the Gators play well around Driskel. The running game looks to be in good hands with
Mike Gillislee
, but the Gators are going to need more big plays like the one
Frankie Hammond
turned in against Bowling Green. He took a quick out, shook a tackle and turned it into a 50-yard touchdown. It's been a while since the Florida receivers have made those kind of plays consistently.
[+] Enlarge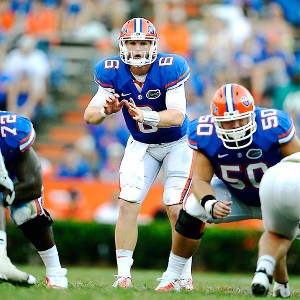 AP Photo/Phil SandlinJeff Driskel earned the nod as Florida's starting quarterback heading into the SEC opener at Texas A&M; can his receivers step up?
5. More first-timers:
In Week 1, Tennessee's
Cordarrelle Patterson
, Georgia's Gurley, Alabama's
T.J. Yeldon
and Ole Miss'
Bo Wallace
stole the show among the newcomers in the league. There are sure to be a few more that break out this week. Keep an eye on Missouri freshman receiver
Dorial Green-Beckham
. The Tigers will look to get him more involved in the offense. And at Texas A&M, redshirt freshman quarterback
Johnny Manziel
makes his debut along with true freshman cornerback
De'Vante Harris
, who earned his way into the starting lineup soon after preseason camp began. Two other true freshmen worth watching at Texas A&M are both known for their big-play skills -- receiver
Thomas Johnson
and running back
Trey Williams
.
6. Ascending to No. 1:
Alabama coach Nick Saban scolded the media this week for not giving Western Kentucky proper respect. That said, we'll change the subject a little bit from the impending blowout this Saturday at Bryant-Denny Stadium. The Crimson Tide moved to No. 1 in both polls after routing then-No. 8 Michigan 41-14 in the season opener. Since the preseason Associated Press poll began in 1950, only two teams have ascended to No. 1 in the poll after Week 1 and stayed there the rest of the season. Nebraska did it in 1971 after Notre Dame was the preseason No. 1 selection, and USC did it in 1972 after Nebraska was tabbed preseason No. 1.
7. Connor Shaw's status:
There's still no final word on whether South Carolina quarterback
Connor Shaw
will play Saturday against East Carolina, but he gave a thumbs-up to reporters as he left the practice field Wednesday. Coach Steve Spurrier said it could be a game-time decision. Spurrier said the key was Shaw being able to throw effectively Wednesday and Thursday in practice without considerable pain. Shaw's teammates said he looked like his old self Wednesday in practice. Shaw is dealing with a bruised right (throwing) shoulder after taking a knee to the shoulder area last Thursday against Vanderbilt. Wednesday was the first time he'd done anything in practice since the season-opening victory over the Commodores. Sophomore
Dylan Thompson
is Shaw's backup.
8. Breaking through in the SEC opener:
Dropping the SEC opener hasn't just been a problem for Mississippi State since Dan Mullen has been on the job. The Bulldogs haven't won their SEC opener since 1999, when they beat South Carolina 17-0. They started 8-0 that season. Under Mullen, they've lost their past three SEC openers to Auburn, including the past two by a combined 10 points. The Bulldogs get a chance to end that drought Saturday when Auburn visits Scott Field. It's also a chance for Mullen to break through in the West. His only three wins over Western Division foes since taking the job in 2009 have been over Ole Miss. He's 0-12 against everybody else in the West.
9. LSU's running back carousel:
As problems go in this league, it's a great one to have. LSU may have too many good running backs ... if that's possible.
Kenny Hilliard
and
Alfred Blue
each rushed for more than 100 yards in LSU's opener. Hilliard had 141, and Blue, who started the game, had 123. A year ago, it was
Michael Ford
and
Spencer Ware
carrying most of the load for the Tigers in the running game, although Hilliard's role grew later in the season. Ford led the team with 756 yards in 2011, and Ware had 707 yards. Ford had eight carries for 50 yards in the opener. His eligibility had been in question until he won an appeal the week before the game. Ware didn't play in the opener after he was slowed by a thigh injury. Can you play four running backs and keep them all happy? Something says the Tigers are going to find out. Either way, it's a sweet luxury to have.
10. Hamilton does Little Rock:
Arkansas senior receiver
Cobi Hamilton
left the Hogs' opener last week in the first quarter after catching two passes for 13 yards. Arkansas didn't specify his injury other than to say it was above his shoulders. Coach John L. Smith said Hamilton should be fine for this week, which goes without saying. The game is in Little Rock, and Hamilton has been at his best in War Memorial Stadium. He's played in six games there for the Hogs and has 22 catches for 644 yards and seven touchdowns. Three of his five 100-yard receiving games have come in Little Rock. In other words, if you have Hamilton on your fantasy team, you might want to be sure he's in your lineup this week.
August, 24, 2012
8/24/12
11:15
AM ET
As the season gets closer we're continuing to look at some of the SEC's newcomers in 2012.
This time, we're taking it a little further by involving all of the new faces that could see the field this fall.
Today, we're looking at true freshmen, redshirt freshmen, transfers and junior college transfers who could help teams right away. So we don't get too cluttered, we're picking three players from each team.
I'll take a look at the candidates in the Eastern Division, while Chris will pick his Western Division players later today.
Let's see who could strut his respective stuff in the East this fall:

FLORIDA

GEORGIA

KENTUCKY

MISSOURI

SOUTH CAROLINA

TENNESSEE

VANDERBILT
February, 1, 2012
2/01/12
10:49
AM ET
Important only begins to describe what
Dorial Green-Beckham
's letter of intent to play football at Missouri means to the program.
It's huge in a literal, on-field sense, and moved Mizzou's class to No. 21 nationally.
It might be even bigger off the field as Mizzou leaves the Big 12 for the SEC. The state isn't known for being one that consistently churns out top-notch talent, but the Springfield, Mo., native lends even more legitimacy to a growing program. Mizzou's experienced historic success over the past six seasons as one of just a handful of programs to win eight games in each of those years.
The Tigers don't have the kind of history many of their new rivals in the SEC have, but DGB's move to Mizzou lends a whole lot of credibility to what has been one of the most productive offenses in the nation during the school's recent rise.
Green-Beckham was easily the best player in Missouri, and could develop into a truly transcendent talent. What do transcendent talents do? Attract even more talent. DGB may become one of Missouri's most valuable recruiters, both symbolically and literally, when top recruits make future visits to Columbia's campus.
DGB came. Why can't future top recruits?
On the field, Green-Beckham offers the Tigers exactly what they needed. The past two seasons, Mizzou's remained productive without a big-play receiver that ranked among the league's most physically gifted.
That changes now.
When the Tigers' offense had gamebreakers like Jeremy Maclin and Danario Alexander, it was at its best.
DGB's arrival could signify a move back to those days.
The 6-foot-6, 220-pound receiver should replace departed tight end Michael Egnew's presence in the red zone, too. DGB has a great ability to catch balls at the highest point, and it's hard to imagine the physically-imposing target not becoming a reliable option there.
Missouri's move to the SEC has spawned plenty of questions about how Mizzou will be able to recruit in Texas. That strategy may have to shift to the south, but any transition is going to be simpler if the Tigers can keep their home state's top prospects home.
DGB is No. 1.
Evan Boehm
, the nation's No. 2 offensive guard, was the state's No. 2 player and No. 42 on the ESPNU 150.
Both are headed to Mizzou, and will play their college careers in the SEC. Four of Missouri's top six players in its 2012 class are in-state prospects.
That's exactly what Mizzou needed to hear on Wednesday morning.
December, 20, 2011
12/20/11
9:00
AM ET
So, the season gets, you know, kind of crazy. It's unrelenting, and recruiting plummets in priority. Thus, we haven't had a recruiting update since before the season.
Time to update.
Signing Day is less than two months away, and here's where each Big 12 team sits as we hit the recruiting home stretch before the big day in February.
All commit totals, rankings and stars via ESPN Recruiting, which
updated its national recruiting rankings this week
.

1. Texas Longhorns
National ranking:
No. 1
Total commits:
25
ESPNU 150 commits:
10
Key commits
: RB
Johnathan Gray
, DT
Malcom Brown
, WR
Cayleb Jones
, QB
Connor Brewer
Class notes:
Four of Texas' top five commits are skill position players, a huge need for the Longhorns. They're one of a handful of schools still chasing one of the nation's top recruits, too, receiver Dorial Green-Beckham. Gray will come to Texas as the Gatorade National Player of the Year. Texas also has two juco transfers coming next year, OT Donald Hawkins and DT Brandon Moore, a rarity for the Longhorns.

2. Texas A&M Aggies
National ranking:
No. 8
Total commits:
22
ESPNU 150 commits:
4
Key commits:
OLB
Jordan Richmond
, RB
Trey Williams
, ATH
Bralon Addison
, QB
Matt Davis
Class notes:
Texas A&M's class is being spearheaded by Davis, who's spreading the "Agg Swagg Movement" via social media, and Texas A&M will enter the SEC with one of its best classes in recent history. It's a deep class, too. Eleven of the 22 commits earned four-star status on ESPN.

3. Oklahoma Sooners
National ranking:
No. 9
Total commits:
17
ESPNU 150 commits:
5
Key commits:
RB
Alex Ross
, WR
Sterling Shepard
, WR Durron Neal, OL Ty Darlington
Class notes:
The Sooners are after DGB, too, but may have a sudden big need at running back after a handful of transfers over the past few months. ESPNU 150 signee from 2010 Trey Metoyer, a receiver, is expected to be in Norman next year after spending a year at Hargrave Military Academy. He'll offer some nice help, but will Landry Jones be throwing him the ball?

4. Texas Tech Red Raiders
National ranking:
No. 17
Total commits:
22
ESPNU 150 commits:
3
Key commits:
WR
Reginald Davis
, WR Dominique Wheeler, OT
Michael Starts
, QB Clayton Nicholas
Class notes:
The Red Raiders added five commits since our last update, but Davis, Wheeler and Starts should all be nice pickups and additions to an offense that lacked a big-play threat this year when Darrin Moore was battling injuries. Tech is also adding five juco transfers, including two more receivers and a pair of pass-rushers.

5. Oklahoma State Cowboys
Total commits:
16
ESPNU 150 commits:
1
Key commits:
TE
Dominic Ramacher
, OLB
Jeremiah Tshimanga
, QB Wes Lunt
Class notes:
Texas swiped CB Kendall Sanders with a late recruiting push, following a few high-profile former OSU commits to go elsewhere. This year's class won't make many headlines, but it'll be interesting to see if the 2011 Big 12 title pays off in the 2013 recruiting class. OSU knows definitively now that it can be better than OU and Texas. Lunt, an Illinois native, is an uber-productive dual-threat. Former blue-chipper Calvin Barnett, a DT from Tulsa, spurned OSU for Arkansas on Signing Day 2010, but he's committed this year via junior college.

6. Baylor Bears
Total commits:
19
ESPNU 150 commits
: 0
Key commits:
ATH
Corey Coleman
, OT Kyle Fuller, CB
Terrell Burt
, WR
Kiante' Griffin
Class notes:
Baylor added a handful of recruits just before the season to reach 18 commits, and added just one commit over the course of the season. Baylor's grabbed big-time recruits like Ahmad Dixon and Kendall Wright in the past that have been productive, but there's no big name in this class just yet.

7. Missouri Tigers
Total commits:
15
ESPNU 150 commits:
0
Key commits:
DT Donald Hopkins, QB Maty Mauk, ILB Donavin Newsom
Class notes:
Missouri is chasing DGB too, but the story this season has been class attrition for the Tigers. They were in the top 20 but lost ESPNU 150 commit Evan Boehm, who decommitted. The Tigers fell out of the top 25 and fell behind Oklahoma State and Baylor. Running back Jonathan Williams took his four stars to Arkansas and OT Germain Ifedi moved to fellow future SEC member Texas A&M. Mauk, Hopkins and Newsom are the only remaining four-star recruits in the class.

8. Iowa State Cyclones
Total commits:
20
ESPNU 150 commits:
0
Key commits:
OT Daniel Burton WR P.J. Harris, WR
Quan West
, QB Grant Rohach
Class notes:
The Cyclones added 11 commits since our last update. Three of the Cyclones top four commits are offensive skill position players, but Burton is the class' top commit. He committed on Sept. 29. A second QB, Luke Knott, committed way back in April. His older brother, Jake Knott, is a star linebacker for the Cyclones. Paul Rhoads' 10-year contract extension could help on the recruiting trail next year, too, offering parents some security that he'll still be coaching their sons for their whole careers. ISU has no four-star commits, but eight three-stars.

9. Kansas State Wildcats
Total commits
: 11
ESPNU 150 commits
: 0
Key commits:
WR
Vernon Vaughn
, DT Travis Britz, RB Jarvis Leverett, QB Tavarius Bender
Class notes:
Kansas State added four commits since our preseason update. Seven of the commits are three-stars and just one is committed via junior college. Two commits are unranked.

10. Kansas Jayhawks
Total commits:
8
ESPNU 150 commits:
0
Key commits:
QB Seth Russell, TE Jordan Smith, OG Brian Beckmann
Class notes:
ATH Bilal Marshall and DE De'Jon Wilson are no longer committed and new Kansas coach Charlie Weis has his work cut out for him. He says he doesn't want to be under scholarship numbers, but he doesn't want to offer guys just to fill scholarships with bodies. It'll be a tough balance. He's got catching up to do. WR Tre Parmalee and DT Keon Stowers are Weis' first two commits.
June, 15, 2011
6/15/11
11:15
AM ET
ESPN Senior Coordinator of Recruiting Jeremy Crabtree first noted it on Twitter on Tuesday morning.
"The biggest recruiting rivals in Big 12 now? No, it's not UT-A&M,"
he wrote.
"Try OU and Mizzou. Some great battles between Sooners and Tigers in 2012."
Oklahoma took the first major battle,
grabbing a commit
from St. Louis receiver
Durron Neal
, who ranks as the nation's No. 9 receiver and No. 62
on the ESPNU 150.
That was a big pickup, but Missouri landed a blow in the next showdown on Tuesday, when
Evan Boehm
visited Missouri and gave the Tigers his commitment.
"Im a freakin MIZZOU TIGER #NationalChamps," he
tweeted on Tuesday.
Boehm is the nation's No. 1 offensive guard, and ranks No. 55 on the ESPNU 150. A Lee's Summit, Mo., (Kansas City suburb) native, Boehm comes in at 6-foot-3 and 290 pounds.
"They showed me the love that not many showed," Boehm
told ESPN.com.
"That's what really got to me. It wasn't only the football players and the football coaches there, but it was everyone there. I'm very blessed to have this opportunity."
Here's the book on Boehm from our scouts:
Boehm is a tough linemen displaying the explosion and playing strength necessary to be effective as both a run and pass blocker. Although he is productive at tackle we feel his size and athleticism are better suited for the offensive guard position at the major level of competition. It appears his frame could handle additional body mass over time. Has taken some snaps at center demonstrating the ability to get the ball up quickly, roll his hips with good contact when blocking a "0" technique defender. Displays very good flexibility, balance and agility, showing the ability to play in space; from both a two and three point stance this prospect demonstrates the initial quickness and explosion necessary to get movement when drive blocking; comes off the ball low and hard with good fit and pad level. Has the flexibility to roll his hips and knock defenders back on their heels; does a good job sustaining blocks due to his balanced blocking base and persistent leg drive.
Boehm's commitment gives Missouri its 10th commitment of the 2012 class, and its first member of the ESPNU 150.
But even after Neal and Boehm, the recruiting battles between Oklahoma and Missouri are far from finished.
The two schools will clash two more times on two of the top prospects in the 2012 class.
Receiver
Dorial Green-Beckham
, a Springfield, Mo., native, is the top 2012 receiver and the No. 3 prospect on the ESPNU 150. So far, his only two campus visits?
Oklahoma and Missouri.
The 6-foot-6, 220-pound playmaker has the potential to be a game-changer, and it could come down to the Tigers and Sooners when Green-Beckham is ready to commit.
Additionally, the nation's No. 1 quarterback still counts Oklahoma and Missouri among the finalists for his services.
Gunner Kiel
, a 6-foot-4, 220-pound passer from Columbus, Ind., has kept his recruitment quiet and very private, but don't be surprised if either school eventually lands him.
June, 9, 2011
6/09/11
1:30
PM ET
We
released our ESPNU 150 on Wednesday
, but like you might have read, more than half of those on the list remained uncommitted to any single program.
According to our recruiting experts,
here are the rest of the players still considering Big 12 schools.
You can see more on each player by clicking his name.
3. Dorial Green-Beckham, WR (Springfield, Mo./ Hillcrest)
Green-Beckham is wide open with offers from virtually everyone. To date, he has visited only Oklahoma and Missouri.
12. Gunner Kiel, QB (Columbus, Ind./Columbus East)
Kiel continues to keep his recruitment well guarded, and although a decision will most likely come during the summer, it might not be made public until later.
15. Jameis Winston, QB (Hueytown, Ala./Hueytown)
Winston favors five schools -- Alabama, FSU, LSU, Oklahoma and UCLA. This will likely be a Seminole/Crimson Tide battle.
22. Andrus Peat, OT (Tempe, Ariz./ Corona Del Sol)
Nebraska, USC, Texas, FSU and Notre Dame are five of Peat's favorites. He will visit Notre Dame and Texas this summer, and he hopes to get to Auburn and Florida.
27. John Theus, OT (Jacksonville, Fla./ The Bolles)
He has narrowed his list to Georgia, Alabama, Florida, Notre Dame, Texas and Arkansas. His older brother signed with Georgia in the 2010-11 recruiting cycle.
31. Geno Smith, RB (Atlanta/ Saint Pius X Catholic)
Smith is down to five schools -- Alabama, Auburn, Texas, Notre Dame and Tennessee. He plans to see all of them this summer.
41. Nelson Agholor, ATH (Tampa, Fla./ Berkeley Prep)
Agholor's first trip during the offseason was to Texas. FSU, USC and Georgia are often mentioned as top schools.
45. Dominique Wheeler, WR (Crockett, Texas/ Crockett)
Wheeler is focused on Oklahoma, Baylor, SMU, TCU, Oklahoma State and Texas Tech.
55. Evan Boehm, OG (Lee's Summit, Mo./ Lee's Summit West)
Schools such as Missouri, Oklahoma, Auburn, Alabama, Nebraska, Iowa, Arkansas, Stanford, Michigan and Michigan State are involved with Boehm. He wants to see Missouri, Oklahoma, Auburn, Alabama, Nebraska and Iowa this summer.
78. Barry Sanders, RB (Oklahoma City, Okla./ Heritage Hall)
The five primary teams in the hunt for Sanders are Alabama, FSU, Oklahoma State, Auburn and Stanford. Oregon and Notre Dame have made up a ton of ground and are gaining momentum. He wants to visit FSU and Notre Dame this summer.
91. Vadal Alexander, OG (Buford, Ga./ Buford)
Alabama, Auburn, LSU, USC and Texas are the front-runners for Alexander. He will visit the Crimson Tide in June.
93. Dalton Santos, ILB (Van, Texas/ Van)
Santos has backed out of his commitment to Oklahoma State and says Oklahoma, Arkansas, Tennessee and Alabama are in the hunt.
98. Ty Darlington, C (Apopka, Fla./ Apopka)
Darlington could start to cut his list soon, but expect Oklahoma and Auburn to make any final group.
119. Avery Young, OT (Palm Beach Gardens, Fla./Palm Beach Gardens)
Recently Virginia Tech has tried to jump into the mix for Young, who has had Oklahoma and Florida at the top of his list.
142. Lorenzo Phillips, OLB (Patterson, La./Patterson)
This linebacker now has double-digit offers from teams such as LSU, Alabama, Texas A&M, Tennessee and Nebraska. He wants to visit Alabama, Clemson and Florida this summer.