March, 26, 2012
3/26/12
12:00
PM ET
So far, the quarterback competition at Stanford is going as head coach David Shaw has planned: Five men enter, two men leave.
The original five —
Brett Nottingham
,
Josh Nunes
,
Robbie Picazo
,
Kevin Hogan
and
Evan Crower
— all entered spring drills with, according to Shaw, an equal chance to be the guy replacing
Andrew Luck
.
As the spring session winds down in the next few weeks, Shaw said he believes that Nunes and Nottingham have separated themselves from the pack of five.
"We've got a couple of good, viable candidates," Shaw said. "It's not like no one has played well and we can't make a decision. Both (Nunes and Nottingham) have played well. But no one has separated themselves just yet. The positive is we have a couple of good options. Thankfully we have a little more time to see who separates themselves."
[+] Enlarge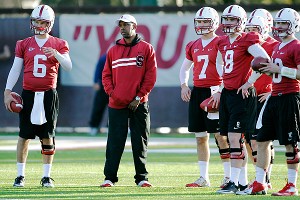 AP Photo/Paul SakumaJosh Nunes (6) and Brett Nottingham (7) look to be leading Stanford's quarterback competition.
If you're a Stanford fan, this is a very good sign. The last thing you want to see at the end of spring practices is a quarterback competition going into the summer that still involves five quarterbacks. That's a recipe for chaos and an indication that there is still no direction. It doesn't appear this is the case.
No one, Shaw included, expected there would be a starting quarterback by the end of April. But the hope all along was that two -- possibly three -- players would emerge to take the competition to the next level when the Cardinal start camp in the summer in preparation for the 2012 season.
Nottingham, who was the backup to Luck last season, appeared in six games for the Cardinal, completing 5 of 8 passes for 78 yards, including a 39-yard touchdown strike
Coby Fleener
in the season opener against San Jose State. Picazo was the only other quarterback on the roster to throw in a game last season, completing 3 of 3 balls for 15 yards.
Drew Terrell
's lone pass -- the heralded one-handed catch by Luck -- wasn't enough to earn him a spot in the arms race.
Nunes was originally penciled in as Luck's backup last season until a turf-toe injury sidelined him for most of fall camp and a good part of the season.
In an interview last week
, Nunes said he was feeling 100 percent and the turf toe was no longer an issue.
While it's in vogue at some schools to use multiple quarterbacks, Shaw reiterated that the practice is not an option for him.
"The quarterback position is unique because if you were talking about another position, two or three guys can compete for another spot, and we can rotate at outside linebackers or running backs or receivers," Shaw said. " But we're not going to rotate quarterbacks, so you don't want to lose a single rep. You want to jump in there when you get an opportunity so it is competitive."
All of the above quarterbacks were outstanding high school players. Nottingham was a four-star recruit from the 2010 class and Nunes ranked 137th in the 2009 ESPNU 150 list -- coming in as the 12th-ranked quarterback in the nation.
Hogan and Crower were both three stars. Hogan was mostly sought after by the ACC and Big East while Crower was wooed by the Pac-10/12. Picazo joined the program as a walk on after setting a slew of records at Tesoro High in Las Flores, Calif.
"All of these guys are leaders in their own right," Shaw said. "It's hard to be the overall, true leader that you want to be when you're not a starting quarterback. So there is some jockeying there."
March, 20, 2012
3/20/12
11:00
AM ET
Stanford quarterback
Josh Nunes
isn't spending much time lamenting what happened last preseason. Penciled in as the backup quarterback to
Andrew Luck
, Nunes had a turf toe injury in the third week of fall camp that kept him sidelined for four games.
The injury may have cost him the backup role -- but he's determined not to let it damage his chances to take over as Stanford's starting quarterback in the fall.
[+] Enlarge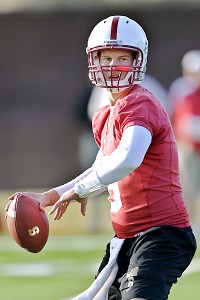 AP Photo/Paul SakumaJosh Nunes will be competing for the starting spot this fall.
Nunes, who now wears a steel plate in his shoe, said the injury no longer bothers him and he's spent the past two weeks splitting reps with
Brett Nottingham
-- last year's backup -- with the first team offense.
"I think the competition is going great," Nunes said. "I believe a competitive atmosphere makes all the guys better. We know that every single day we're competing for that spot and we all bring that great atmosphere to practice and that helps us to be efficient and really make the most out of every play and every opportunity. There are no wasted plays. There can't be."
Nottingham is considered Nunes' stiffest competition. After Nunes went down last fall, Nottingham won the backup role -- and held it throughout the season. While head coach David Shaw said he won't name a starter until late in fall camp, there is an assumption that Nottingham has an advantage since he has the most game experience of any returning quarterback. Nunes knows that could have been him last season had it not been for the injury, but says it's not worth burning calories on what-could-have-beens.
"It is what it is," he said. "You can never account for the injuries. I feel like you have to make the most of your opportunities and you can only control what you can control. It really sucked getting hurt like that -- especially with the amount of time we all put into it. It was disappointing, but you can only come back as strong as you can. Being out I tried to take as many mental reps as I could and really study the offense."
And who better to study than Luck -- the presumptive No. 1 pick in next month's NFL draft?
"Besides seeing what he does on the field, the biggest advantage is being able to see him go through the process," Nunes said. "For me, it's his attention to detail and the drive and tenacity he has to learn. He always wants to be the first one to know things and then go out and apply them in practice or even sessions outside of practice. It was great to see how he goes through the process."
While Nottingham and Nunes have been splitting the main reps with the first team,
Robbie Picazo
,
Evan Crower
and
Kevin Hogan
are also in the mix. Nunes said it's not hard to maintain friendship among the competition -- though things can get a little testy at times.
"It can definitely get a little edgy because we're all competing hard," he said. "But if it weren't like that we'd have a problem because everyone is really passionate about getting that spot. But they are all great guys and I think we handle it pretty well. The coaches let us know whose taking what reps in the rotation so that makes it easier."
February, 24, 2012
2/24/12
12:00
PM ET
Quarterback competitions are going to be on the minds of many as Pac-12 teams gear up for spring ball. Pac-12 bloggers Ted Miller and Kevin Gemmell decided to take a look at the two quarterback races they found the most intriguing. Ironically, it was Miller, not Stanford blogger Gemmell, who found the Cardinal competition the most intriguing. Gemmell thinks the arms race in the Pacific Northwest with new Washington State coach Mike Leach has the most intrigue.
[+] Enlarge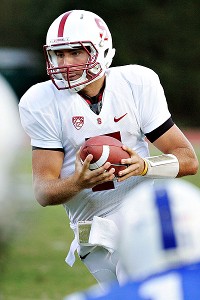 Mark Dolejs/US PresswireBrett Nottingham is the leading candidate to replace Andrew Luck as Statnford's quarterback.
MILLER
: You want to talk about big shoes to fill? How about replacing a guy who's touted as the best NFL QB prospect of a generation, a guy who endeared himself on campus for not only his statistics and unprecedented winning, but also for how he represented the school with class, intelligence and humility.
Yeah, replacing
Andrew Luck
is not unlike replacing Peyton Manning, which, oh by the way, Luck appears likely to do as the Indianapolis Colts have the top pick in this spring's NFL draft.
The good news is the Cardinal offense will continue, as it did even with Luck, to emphasize a power, run-first attack, so the player who wins the QB job won't be asked to win by throwing 40 times a game. Further, the new guy won't likely be calling his own plays at the line of scrimmage, as Luck did. Whoever wins the job will be asked to be more of a game manager, a guy who plays within himself and doesn't make mistakes.
The frontrunner is 2011 backup
Brett Nottingham
, a 6-foot-4, 215-pound redshirt sophomore who impressed coaches in practices last year after experiencing some early struggles with the complex offense his first year. He saw action in six games in 2011, completing 5 of 8 passes for 78 yards with a TD and no interceptions. He was a highly rated recruit out of Monte Vista High School in Danville, Calif., -- the Cardinal lured him away from a commitment to UCLA -- where he passed for 3,818 yards, 44 touchdowns and six interceptions his senior season. He's smart and athletic and reputed to be accurate and efficient. You know: Luck-ish.
Nottingham will compete with
Robbie Picazo
and
Josh Nunes
, a pair of juniors, and freshmen
Evan Crower
and
Kevin Hogan
perhaps could enter the picture. Coach David Shaw, a believer in sustaining competition, won't hand the job to Nottingham, and it's more than likely the competition won't be decided until the fall. But a pecking order is likely to be established by the time the Cardinal wrap things up on April 14.
[+] Enlarge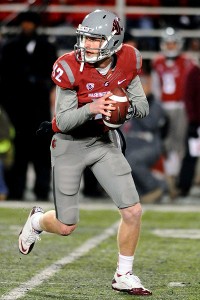 James Snook/US PresswireConnor Halliday will be competing with Jeff Tuel to be Mike Leach's first quarterback at Washington State.
GEMMELL
: Every Pac-12 QB competition has its own level of intrigue and subplot. But it's the battle in Pullman, Wash., that piques my interest. Not just because of who the candidates are -- but who they could become.
Jeff Tuel
and
Connor Halliday
, both coming off of significant injuries, are now products of the Mike Leach system. And that means whoever wins the job is probably going to put up monster numbers.
As the Pac-12 blog readers will discover, I'm a bit of a stat cruncher. So consider this: During Leach's 10-year reign at Texas Tech, his quarterbacks attempted an average of 654 passes per season and completed an average of 438 per year -- that's an average completion percentage of 66 percent. The 10-year average was 4,837 passing yards per season, 381 passing yards per game and 38 touchdowns. Why is this significant? Because whoever wins the job -- Tuel or Halliday -- if they put up "average" Mike Leach numbers in 2011, they would have led the NCAA in attempts, completions, total passing yards, finished fourth in passing touchdowns and would have been in the top 20 in passing efficiency rating (if my math is right, no promises).
That means the next guy in Washington State is going to catapult atop national statistical rankings, get more national exposure and -- possibly -- play their way into the NFL draft down the line. Kliff Kingsbury and B.J. Symons both finished in the Top 10 in Heisman voting when they played for Leach.
There is the sidebar of veteran Tuel versus the youthful moxie of Halliday. Both have good size. Tuel, who hails from Fresno, Calif., is 6-3, 225. Halliday comes from Spokane, just an hour north of Pullman and is 6-4, 180. He'll likely put on more weight in the offseason. There will be plenty of time to pick apart every nuance and mechanical aspects of their game. But at first glance, this competition intrigues me more than any other because statistical history suggests whoever starts for Leach usually plays their way into the national conversation of top quarterbacks.
December, 13, 2011
12/13/11
11:00
AM ET
Don't expect Stanford to come out of spring ball with a starting quarterback, or go into fall camp with a starting quarterback, for that matter. Finding
Andrew Luck
's replacement will be a painstaking process, head coach David Shaw said, that probably won't be settled until a couple of weeks before the 2012 season kicks off.
"It's going to be a lengthy competition that you guys are going to want to hear about after each day," Shaw said. "But it's not going to bear any fruit, I'm sure, until a couple of weeks before our first game. We're going to draw it out and get as much data as we can on every single guy and let it play out."
One thing is for sure, the guy who replaces arguably the greatest quarterback in school history, is not going to have the otherworldly workload that the Stanford coaches heaped upon Luck.
[+] Enlarge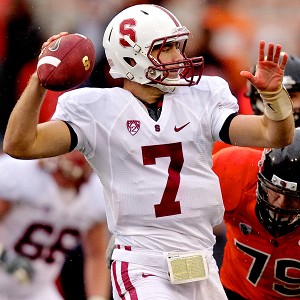 Craig Mitchelldyer/Getty ImagesStanford's Brett Nottingham saw the field in four games this season as Andrew Luck's backup.
"I wouldn't say the job has changed, I would say we've been ridiculously spoiled for three years," Shaw said. "All of the guys we have are really good and could start in a lot of places this year -- even the young guys -- they are good enough to start some place. When Andrew plays his last game -- after I'm done wiping my tears -- we just put what Andrew did off to the side and say 'that was that, and now here's what we need from you guys.'
"Let's bring the expectations way down, as we should, and let them earn whatever expectations we have for them with what they do in the field. There's no carryover, at all. We're starting ground one. Whoever is our starting quarterback next year will be a first-time starter in college football and we're going to protect him as such."
The preseason frontrunner will be
Brett Nottingham
by virtue of him winning the back-up role to Luck this season. But if we learned anything from the past few months, it's that preseason frontrunners don't always win.
Nottingham will be pushed by
Josh Nunes
and
Robbie Picazo
-- for starters -- plus bright freshmen who redshirted this season --
Kevin Hogan
and
Evan Crower
.
Shaw said he likes what he's seen out of the two youngsters during weekly Friday scrimmages with the freshmen.
"We've seen why they are here," Shaw said. "Kevin Hogan, strong arm, really athletic, big kid. Tough. Physical. With Evan Crower, smooth, quick, accurate, very polished. He also has that unshakable confidence that you like in a quarterback that lets you feel good about him being in the huddle.
"They both have a lot to learn to catch up to Josh and Brett Nottingham. There is so much football they have to learn to catch up to those other guys. But athletically, I'm pleased with both of them."
Shaw said when he looks up and down his roster, he likes what he sees at the quarterback position, and isn't going out of his way this season to try and recruit another signal caller.
"If we brought one in, he'd have to be someone we can't pass up, which is still a possibility," Shaw said. "But we're not trying to bring another quarterback in. But if one of the top ones wants to come, we'll entertain him. We feel good about our quarterback situation right now."
Despite the surplus of raw talent, Shaw said he's not looking to do a quarterback rotation.
"We will be more than fair to the team by making sure that we find out everything we can about every one of these guys," Shaw said. "It's not just who's going to be the starter Day 1? It's who's going to be the second guy? Is there going to be somebody we have to play even if he doesn't start? All of those things are possibilities.
"I'm not a big fan of switching quarterbacks and doing that whole deal. But if there's a guy that can come in and do something a couple of times a game, hey, we do it at running back, we do it at receiver, we do it at tight end we do it at tackle. If the guy can come in and help us in some way, shape or form, I'm not adverse to doing that either."