NCF Nation:

Evan Finkenberg
February, 28, 2014
Feb 28
9:00
AM ET
On Thursday,
we looked at the Pac-12 North Division
. Today, we turn to the South:
ARIZONA

Spring start:
March 3
Spring game:
April 20
What to watch:
QB competition: Coach Rich Rodriguez has used first-year starters in his first two seasons at Arizona and will make it three-for-three in 2014. For the most part, things worked with both Matt Scott and more recently B.J. Denker, which should make Wildcats fans optimistic about what should be a wide-open competition.
Replacing Carey: As intriguing as the quarterback competition will be, the battle to replace all-time great Ka'Deem Carey at running back could be more important. None of the returning running backs had a carry last year, which led to this comment from Rodriguez: "Now it's a mystery. That's going to be one of the positions, like quarterback, that will be kind of open to see if we can get guys to get better."
Keep Austin healthy: After tearing his ACL last spring following a breakout season in which he caught 81 passes for 1,364 yards and 11 touchdowns, receiver Austin Hill has been given a clean bill of health. Said Rodriguez: "He is still wearing the knee brace but I think it is a little bit more precautionary. He is 100 percent doing everything. He's even a bit bigger and stronger so he should have a big spring. I know he's hungry to get out there, too."
ARIZONA STATE

Spring start:
March 18
Spring game:
April 19
What to watch:
OL changes: Auburn transfer Christian Westerman, a prototypical guard, could be the Sun Devils' best offensive lineman, which makes things interesting considering both starting guards -- Jamil Douglas and Vi Teofilo -- will be back next year. Douglas, a second-team All-Pac-12 selection, has worked at tackle in the past and could shift outside to replace first-team All-Pac-12 left tackle Evan Finkenberg.
Getting defensive: Coach Todd Graham's college roommate, Keith Patterson, has arrived as the defensive coordinator, but Graham will remain the play-caller and Chris Ball's title will still read co-defensive coordinator. Got all that? New coaching dynamics get sorted out in the spring, too.
Looking for replacements: On defense, ASU needs to replace seven starters, highlighted by DT Will Sutton, LB Carl Bradford and CBs Robert Nelson and Alden Darby. If ASU is to build off its impressive 2013 season, those holes need to be filled quickly. They'll benefit from a schedule that starts with Weber State, New Mexico, Colorado and a bye, but after that the Sun Devils have UCLA, USC and Stanford in a span of four weeks.
COLORADO

Spring start:
March 3
Spring game:
April 26
What to watch:
QB development: Sefo Liufau's development will be interesting if for nothing else than because the jump from Year 1 starter to Year 2 starter is always intriguing with quarterbacks. It's tempting to assume a big statistical jump is coming, but it's not always that simple (see: Hogan, Kevin; Mannion, Sean; Hundley, Brett). Liufau will need to get on the same page with his receivers as they combine to …
… Replace Paul Richardson: Look for Nelson Spruce, D.D Goodson and Tyler McCulloch to lead what will be a much more balanced receiving corps following Richardson's early departure for the NFL. Spruce was the Buffs' second-leading receiver last year, but Goodson, going into his second season at receiver, figures to make the biggest jump.
Rising expectations: It took MacIntyre three years to turn San Jose State into a winner, but there was a four-win improvement in the second year. He won't match that with the Buffs, but a two-win improvement gets Colorado bowl eligible. Colorado has a chance to match last year's win total (4) in the first five games next year: vs. Colorado State, at Massachusetts, Arizona State, Hawaii, at Cal. In fact, it's probably the internal expectation.
UCLA

Spring start:
April 1
Spring game:
April 26
What to watch:
Manage expectations: The Bruins are in new territory this offseason with expectations through the roof. They'll likely be a preseason top-10 team, which will drum up chatter about a potential national championship run. Likely message from coach Jim Mora: "Tune out the noise."
The #Hundley4Heisman campaign: It's a real thing and Mora threw his weight behind it when he tweeted the hashtag on Jan. 26 with a picture of the Heisman Trophy. Get used to reading "Heisman candidate" next to "Brett Hundley" a lot between now and September. At times, it might feel unavoidable.
Leading rusher? They're set at quarterback and bring a lot of talent back at both receiver and on the offensive line, but the running back situation isn't as clear. Hundley was the team's leading rusher in 2013, but someone needs to step up to take pressure off him and LB/RB Myles Jack. It's an important spring for both Jordan James and Paul Perkins, who had varying degrees of success last year.
USC

Spring start:
March 11
Spring game:
April 19
What to watch:
Under center? Cody Kessler is back, but coach Steve Sarkisian immediately made it known there would be an open competition for the quarterback job. Max Wittek is no longer around, but Kessler should get a serious challenge from redshirt freshman Max Browne. With a new offense to learn, spring will essentially serve as preparation period for the real competition during fall camp.
Catch your breath: The most noticeable change in USC during the first game will be how much faster it's playing offensively. Sarkisian installed a high-tempo offense at Washington last year and, pleased with the results, will continue to press the tempo with the Trojans. Goodbye, huddles.
Change it up: As is the case when new coaching staffs arrive, there will likely be a higher percentage of position changes than usual and a more fluid depth chart. It's hard to peg exactly where that'll occur with USC, but it'll be worth monitoring throughout the spring.
UTAH

Spring start:
March 18
Spring game:
April 26
What to watch:
Wilson's road back: Travis Wilson is expected to be the Utes' starting quarterback next season, but he'll be limited to non-contact drills during the spring. That's about the best news Wilson could have received following an early November discovery that he had an undiagnosed injury to an intracranial artery -- a condition that threatened his career. Oklahoma transfer Kendal Thompson will not join the team until after he graduates in May, but he'll be immediately eligible to play.
Revolving OC door: Dave Christensen moves in, Dennis Erickson moves over and Brian Johnson moves out. Kyle Whittingham introduced the Utes' seventh offensive coordinator is seven years in early January. Christensen believes in similar philosophies to what the Utes had under Erickson/Johnson, but the terminology will change and the tempo will increase.
Pressure building? Utah was used to winning big before it got to the Pac-12 in 2011. Whittingham lost just 20 games in his six full seasons as the school's head coach while a member of the Mountain West Conference. In the three years since, Utah's dropped 19 and qualified for just one bowl. No one should doubt Whittingham's ability as a coach -- he's a good one -- but the jump in competition has been difficult.
January, 10, 2013
1/10/13
11:00
AM ET
Ladies and gentlemen, a round of applause for your 2012 Pac-12 All-Bowl team.
OFFENSE
QB: Taylor Kelly, Arizona State
-- 17-of-19, 267 yards with four touchdowns and no picks. Outstanding performance.
RB: Bishop Sankey, Washington --
The lone player from a losing team on the all-bowl squad, but he was too good to ignore -- 30 carries for 205 yards and a touchdown.
RB: Marion Grice, Arizona State
--
With a heavy heart
, he earned offensive MVP by piling up 159 yards on just 14 carries for a robust 11.4-yard average. He also had a pair of rushing touchdowns in ASU's blowout win.
WR: Austin Hill, Arizona
-- His 175 yards broke an Arizona record for receiving yards in a bowl game and his two touchdowns matched a school high.
[+] Enlarge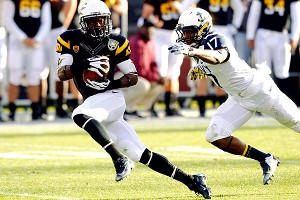 Cary Edmondson/USA TODAY SportsRashad Ross had four catches for 139 yards and three touchdowns against Navy.
WR: Rashad Ross, Arizona State
-- Had a huge day with four catches for 139 yards and three touchdowns.
TE: Colt Lyerla, Oregon
-- He's not here for his three catches and 52 yards. He's here because those three catches for 52 yards changed the way Kansas State played defense and it opened everything up for the Ducks.
OL: David Yankey, Stanford
-- The Morris Trophy winner helped keep quarterback
Kevin Hogan
sack-free and QB hit-free.
OL: Kyle Quinn, Arizona
-- Paved the way for Carey's record-setting performance.
OL: Hroniss Grasu, Oregon
-- Kept a good Kansas State front at bay and delivered a knockout block on
De'Anthony Thomas
' touchdown reception.
OL: Evan Finkenberg, Arizona State
-- Key player in Marion Grice's big day.
OL: Kyle Long, Oregon
-- Helped limit Kansas State's aggressive front to just one sack.
K: Jordan Williamson, Stanford
-- Shook off the Fiesta cobwebs and calmly drilled both field goal attempts, including a 47-yarder. His six points were the difference in the 20-14 outcome.
DEFENSE
DL: Ben Gardner, Stanford
-- Fourth-and-goal at the 1.
James White
, prepare to meet the mullet.
DL: Will Sutton, Arizona State
-- Defensive MVP of Kraft Fight Hunger Bowl. Hungry for more next season.
DL: Carl Bradford, Arizona State
-- Three tackles for a loss, plus a sack, make him the perfect complement to Sutton.
LB: Kiko Alonso, Oregon
-- Run blitzed the Wildcats all night and was as effective as he was punishing.
LB: Michael Clay, Oregon
-- Your defensive MVP of the Fiesta Bowl had nine tackles, two for a loss, plus a sack. He was prolific.
LB: A.J. Tarpley, Stanford
-- The leading tackler in the Rose Bowl helped the Cardinal to a second-half shutout.
LB: Marquis Flowers, Arizona
-- The defensive MVP of the New Mexico Bowl posted 10 tackles, one for a loss, and an interception. He also recovered the onside kick that sparked Arizona's comeback.
DB: Jordan Richards, Stanford
-- Seven tackles, two tackles for a loss, a sack and one very, very nasty (yet clean) hit.
DB: Erick Dargan, Oregon
-- Two picks off a Heisman Trophy finalist is two picks off a Heisman Trophy finalist -- whether it's the end of the half or end of the game. He also had eight tackles, second only to Clay.
DB: Ifo Ekpre-Olomu, Oregon
-- Posted five tackles and a pass breakup. Kansas State challenged him. He responded.
DB: Shaquille Richardson, Arizona
-- Nabbed his first interception of the season at the Arizona 2-yard line and returned it 27 yards. That kicked off a nine-play, 71-yard touchdown drive for the Wildcats.
KR: De'Anthony Thomas, Oregon
-- DAT did what DAT does. And he did it great.
April, 9, 2012
4/09/12
7:00
PM ET
Todd Graham can throw all kinds of diagrams and playbooks and chalk talks at his players until their heads spin. But if they don't believe in what the Sun Devils are trying to do, then it doesn't really matter how much of the playbook they do or don't retain.
So more important than the Xs and Os, Graham is stressing the dos and don'ts of being in his program and the challenges that come from making a culture change. And after a few months on the job, he's pleased to report that, in his mind, Arizona State is headed in the right direction.
"The thing I'm most proud of is how they responded to such a drastic change," said Graham. "In terms of accountability -- we expect them to go to class every day, we check every class, we drug test every kid in the program. We're trying to install this structure and discipline and I'm proud of the way this team has responded to that and embraced that. The guys have bought in."
[+] Enlarge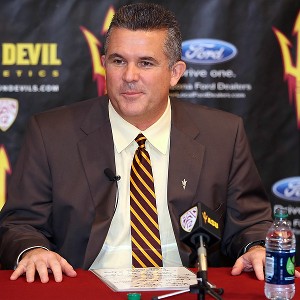 Christian Petersen/Getty ImagesNew ASU coach Todd Graham said his team has responded well to his direction this spring.
Before the start of the spring session, Arizona State's players were little more than images on film to Graham. He could read bios, track workouts and see what they did last season. But that didn't really give him a sense of what he had to work with as he and his staff are trying to install new systems on both sides of the ball. Now that he's seen them do some live work, he's starting to get a sense of the team's identity.
"Those first six practices, you know how it is when you are trying to change things up, you just want to beat your head against a wall," Graham said. "But on the seventh practice, I got the impression that they were finally getting it."
Graham said he's been impressed with the offensive line play -- which he thought was going to be a question mark heading into the spring. He was complimentary of returning starters
Evan Finkenberg
and
Andrew Sampson
, but also noted that
Brice Schwab
and
Jamil Douglas
"have really been impressive."
"I think the strength of our defense is the defensive line so those guys [on the offensive line] are playing against some pretty good competition," Graham said. "Every day those guys get a little better. That has been a real bright spot."
Graham didn't add much to what offensive coordinator
Mike Norvell said last week about the quarterback competition
, but he did single out the springs of running back
Cameron Marshall
, safety
Alden Darby
, cornerback
Osahon Irabor
, defensive tackle
Corey Adams
and wide receivers
Jamal Miles
and
Rashad Ross
.
"Miles has really started to master his craft," Graham said. "He's been very disciplined in his route running. Marshall is at the front of a stable that I think is going to be very good.
"The reality is that we still have a long way to go. But I've got confidence because I think this team is coming together because of each one of them buying in and working as a team. We are making great progress in developing that trust that it takes to be a family and a team and a team that wins. I remind them every day that we're going to be a team that wins championships and you can't do that without winning every day in everything that you do."
October, 25, 2011
10/25/11
6:38
PM ET
Our lesson today comes from the Football Scriptures, Bear Bryant, Chapter Four, Verse Eight, which includes the 10 Sacred Football Commandments. See just after Commandment V, "Thou shall play one game at a time."
Commandment VI: "Thou shall not take any opponent lightly, for thenst thou surely will get thou butt kickest."
(Note: We prefer to use the Codex John McKay, as translated by the Venerable Bede, instead of the Codex Fielding Yost, translated by Alcuin, per a directive from Charlemagne).
Woe to the team that overlooks an apparently weak foe. Ask any team that's lost to an FCS program. Or USC in 2007 against Stanford. Or Oklahoma last weekend.
[+] Enlarge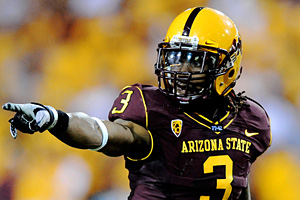 Mark J. Rebilas/US PRESSWIREArizona State is getting healthier. All-league cornerback Omar Bolden, who has missed the season, has been cleared to play.
Arizona State should take heed. It is very easy to look at the Sun Devils schedule and have one reaction: Piece of cake!
Of the Sun Devils five remaining opponents, just one -- 4-3 California, which must come to Tempe for the season finale on Nov. 25 -- owns a winning record at present.
Further, the Sun Devils, 3-1 in Pac-12 play, appear to be in complete control of the conference's South Division. USC also is 3-1 in the conference but is ineligible for the postseason. Three of the four remaining South Division foes already have four conference defeats. The lone team in striking distance? UCLA, at 2-2.
Who believes UCLA, a 48-12 loser at Arizona last Thursday, is going to win the South? Anyone? [Crickets] Anyone? [Crickets].
So it would be very easy for the Sun Devils to start looking ahead to the Pac-12 championship game on Dec. 2.
Colorado coming to town on Saturday? Pfftt. The Buffaloes are 1-7 and have surrendered 145 points in their past three games. Just about all their good players -- receiver
Paul Richardson
, linebacker Doug Rippy, running back
Rodney Stewart
, etc. -- are hurt. Heck, QB
Tyler Hansen
is questionable after suffering a concussion in the 45-2 loss to Oregon.
At this point, one should re-read Commandment VI.
"I think in the game of football, sometimes you'll see a team looking past another team," Sun Devils quarterback
Brock Osweiler
said. "[This week] it will be a good test for us."
No doubt. The entire five-game stretch will be a good test of ASU's focus, which, if true, could yield substantial rewards. And things are looking up in other ways, too.
Sure, the 41-27 loss at Oregon still smarts, but as solid as the Sun Devils have been so far, they might bring a substantially better team to the championship game (sportswriters have no such prohibition on looking ahead). Recall how injury ravaged this team once was? Well, it's getting healthier after a bye week.
For one, defensive end Junior Onyeali, only the team's best pass-rusher, is expected to play against Colorado, his first action since hurting his knee at Illinois on Sept. 17. Offensive tackle Evan Finkenberg (knee) could be back this week but more likely will be ready for the trip to UCLA on Nov. 5. Further, running back
Cameron Marshall
and offensive tackle Aderious Simmons, who both have ankle injuries -- Marshall has continued to play through it; Simmons returned for the Oregon game -- used the bye week to get healthier.
Finally, there's the Omar Bolden question. Bolden, perhaps the best defensive back in the conference, who has not played this season after tearing his ACL in spring practice, has been cleared by doctors to practice.
"He was actually on the scout team the other day," coach Dennis Erickson "He's moving around pretty well. I don't know if or when he will play. It's up to him and the doctors."
Adding an A-list cornerback -- he was a unanimous first-team All-Pac-10 pick last year -- to an already solid Sun Devils defense would be, well, huge.
You can follow Omar's progress on his
Twitter page
, where he Monday tweeted: "Cleared by my doctor from a medical standpoint..... Now I gotta get my #Swagger back!!!" And "I won't play unless I'm just as effective as I was 6 months ago.... Refuse to damage stock!"
So stay tuned.
As for not taking teams lightly, Erickson said the good news is his team is mature and senior-laden. And if they need a reminder of what can happen when they give a less-than-focused effort, they can just reference the Sept. 17 trip to Illinois, a 17-14 loss to a team that had no business being within two TDs of the Sun Devils.
There's no escaping the reality of the schedule. The Sun Devils should win their next five games and finish at 10-2, a record that should have them within striking distance of the top-10.
And who knows what could happen in one-game playoff to get to the Rose Bowl?
"We have some goals that we can achieve," Erickson said. "We will not achieve them if we do not win the next game and the next game and the next game."
And, of course, it all starts with THE next game, and nothing else.
April, 26, 2011
4/26/11
1:23
PM ET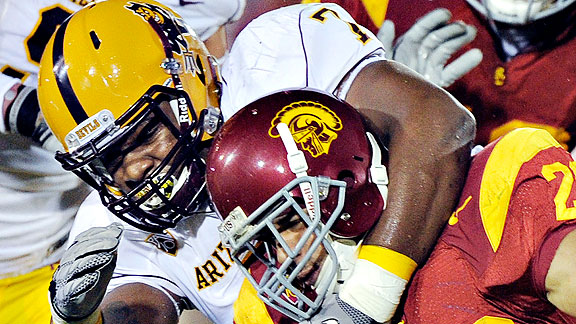 AP Photo/Mark J. TerrillThe Sun Devils are counting on Vontaze Burfict to be the leader of their defense in 2011.
TEMPE, Ariz. -- The question is about personal fouls, and the look on Vontaze Burfict's face suggests that he's tired of that sort of inquiry. He's not a chatty sort as it is, but this is not a successful pathway into figuring out what makes the fearsome Arizona State linebacker tick.
"It matters what times you're talking about," he said of the myriad flags he's drawn for extracurricular activity during games over the previous two seasons. "They are totally different times. Some calls are bull crap."
Fellow linebacker Brandon Magee, a Centennial High School (Corona, Calif.) teammate, is sitting nearby. He offers his take on Burfict, who may be the nation's best inside linebacker.
"I wouldn't trade the fouls. Personal fouls are going to come," Magee said. "The way he plays out there, it doesn't matter to me. That's the way he plays. Great players, you might not like everything about them. But the one thing you can say is he gives it his all on every down."
One analyst, Petros Papadakis, called Burfict the "scariest" player in the country last year. In a not unrelated matter, it seems like an opportune time to change the subject, so Magee is asked if he thinks some players are scared of Burfict.
"They better be scared," said Magee, with just a hint of Don King showmanship. "We're not trying to be nice out there. We're not your friends. We're nobody's friends out there. I hope they know that, too. We try to make enemies. We don't want friends."
Burfict cracks up while Magee is talking.
Magee is told that some folks in the Pac-12 think Burfict is crazy. Does Magee ever hear that in games?
Replied Magee, "Oh, yeah, and I say, 'Yep. See if you can stop him.'"
Few can stop Burfict, a speedy, instinctive 6-foot-3, 252-pound package of football fury. Burfict more often has stopped himself after the whistles with personal foul and unsportsmanlike conduct penalties. Coach Dennis Erickson took away his starting job -- briefly -- last season after Burfict head-butted Oregon State quarterback
Ryan Katz
. A few weeks later, in a tight game with Stanford, Burfict was called for a critical facemask penalty. The call, to use Burfict's term, was "bull crap," but Burfict couldn't resist the urge to point that out.
He was slapped with an unsportsmanlike conduct penalty on top of the facemask, which gave the Cardinal the ball on the Sun Devils' 7-yard line. Shortly thereafter, Stanford pushed in the game-winning score.
Burfict, you might have gathered, isn't a fan of interviews. He doesn't like the spotlight. He doesn't like to talk about himself. He just wants to bust heads and win games. At 4:30 p.m. ET -- 1:30 p.m. PT -- Tuesday, a video interview of Burfict will appear on the Pac-12 blog. You probably haven't seen many of those. Roy Firestone won't be jealous of its penetrating insights. It took a handful of takes to get through (hey, I messed it up once, too). But Burfict was a good sport and did what the folks at Arizona State asked. He's trying to take on a leadership role this season for a team with lofty aspirations, and that often includes stuff that isn't fun, such as being the superstar fronting the team for the media.
"I've got to lead by example, going to everything on time, being 10 minutes early," he said.
The public is probably not going to get to really "know" Vontaze Burfict, at least until he's ready to let them do so. But it's pretty clear that there's some distance between the Tasmania Devil on the field and the quiet, guarded dude off it.
"A lot of my friends from back home ask about him: 'How is Vontaze? Is he crazy? Is he a nice guy?'" offensive tackle Evan Finkenberg said. "He's actually really quiet outside of the football field. He's a really nice guy. He hangs out in my apartment sometimes."
The second-team All-Pac-10 selection earned a number of All-American honors last fall after leading the Sun Devils with 90 tackles, including 8.5 for a loss and two forced fumbles. His ability has never been a question since he was a touted recruit who was once committed to USC. More than a few folks will tell you a comparison to Ray Lewis, of whom Burfict said he models his game, is apt. But his big-picture development as a mature player has been a gradual process, learning self-control, becoming a leader instead of merely being a contact-seeking missile.
For Erickson, there's been a fine line between keeping Burfict from drawing too many flags while not muting his intensity, which is contagious for a defense.
"He's a boisterous guy on the field and in the locker room," Erickson said. "He is what he is. He's going to play with great enthusiasm and that sometimes gets you in trouble. During the spring, he was a real leader. He's matured."
And with the knee injury to first-team All-Pac-10 cornerback Omar Bolden, Burfict is the leader the entire defense will turn to.
Burfict can get better, and not just by staying on good terms with the officials. He sometimes misses his gap assignments. He could improve his drops in pass defense. But the expectation is the junior will enter the NFL draft after this season, when he'll likely be a first-round selection.
But, as for this season, Burfict wants to change the subject from himself and from the yellow flags of the past. What does he want to talk about?
Said Burfict, "Everybody is talking about national championships."
April, 26, 2011
4/26/11
10:22
AM ET
TEMPE, Ariz. -- One hundred and twenty FBS football teams will head into the summer claiming they're going to be good next year. Most will be wrong, despite their insistence on unparalleled locker room chemistry.
Arizona State is no exception to the universal spring optimism, but there's some momentum behind the good feeling after a strong finish in 2010. Expectations are high in Tempe. How high? Buckle up.
[+] Enlarge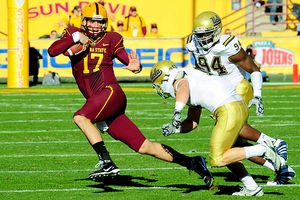 Matt Kartozian/US PresswireArizona State quarterback Brock Osweiler has his sights set on the BCS title game.
"A lot of people are talking about the Rose Bowl," quarterback
Brock Osweiler
said. "But we're talking about the Sugar Bowl. That's how much confidence we have as a team."
Osweiler isn't talking about the Allstate Sugar Bowl, though. He's talking about the BCS title game. Really.
Arizona State hasn't posted a winning season since 2007, when it went 10-3 in Dennis Erickson's debut and inspired false hope that things would be easy under a pedigreed coach. Not so. Over the past few seasons, the Sun Devils have found ways to lose, and they were typically creative in doing so. Missed field goals and extra points, turnovers on the goal line, turnovers in extraordinary bunches, missed tackles, missed throws, missed opportunities. It was sometimes great theater, though redundant tragedy from the Sun Devils perspective.
In 2009, they lost four games by five or fewer points. In 2010, they lost four games by four or fewer points, including squandered opportunities versus Wisconsin and Stanford. They somehow managed to stay within 11 points of Oregon -- one of three teams to do so -- despite seven (seven!) turnovers.
But from that manure pile sprouts the flower of hope. The Sun Devils welcome back 17 starters that includes depth on the offensive line and loads of speed and skill on both sides of the ball. They look like a slight favorite in the first year of the Pac-12 South Division, even though two returning starters, cornerback Omar Bolden and receiver
T.J. Simpson
, went down with knee injuries this spring.
"Everybody has to be optimistic before the season starts, but this year it's like everybody just knows," receiver
Gerell Robinson
said. "It's not like a hope or a feeling. Everybody just knows that if we do what we're supposed to do, we'll get to where we want to be."
That high expectations are the top story is good news for Erickson, who would be the subject of hotseat talk otherwise. His fast start hid some roster shortcomings -- most notably a dearth of offensive linemen -- and fans had started to turn away as the mediocrity piled up. In 2007, the average attendance in Sun Devil Stadium was 62,875. Last fall, it was 47,943.
The players are aware there's pressure to win in 2011.
"It's like some negative energy that we're turning into a positive on the field because nobody wants to see a coaching staff change," cornerback Deveron Carr said.
Beyond returning a majority of starters from 2010, the Sun Devils are a veteran team: They will feature a 30-man "senior" class (players in their final year of eligibility). The offensive line welcomes back all five starters and many of the backups even have starting experience. The top-six rushers from last fall are back, as are four of the top-six receivers. On defense, the top-three tacklers are back as are the three leaders in sacks and tackles for a loss.
And these aren't just hacks. The Sun Devils averaged 32.2 points per game in 2010, which ranked third in the Pac-10, and ranked fifth in total and scoring defense.
"We have some experience coming back and we have a lot of confidence in what we are doing," Erickson said. "Our players have been through a lot the last three years, lost some close games. Now it's their chance to step up and make some plays."
The biggest question: Is Osweiler up to the job? After starter
Steven Threet
went down with his third concussion against UCLA, Osweiler was brilliant coming off the bench and then overcame a bad first half to beat arch-rival Arizona. It was expected to be a tight quarterback competition this spring, but Osweiler won the job by default when the recurrent concussions forced Threet to retire.
The offense struggled early in spring practices, but Osweiler inspired confidence with five touchdown passes in the spring game as the offense dominated.
"He made some great throws that make you go, 'Wow, that was amazing,'" left tackle Evan Finkenberg said.
While losing Bolden and Simpson was a big blow -- both could return by mid-season -- the pieces still appear to be in place for a run at the first Pac-12 title game. And one of those pieces is confidence.
"I think this team knows it's our time now," Finkenberg said. "We have the pieces in place to have a big season and do the things we want to do."
August, 16, 2010
8/16/10
6:46
PM ET
TEMPE, Ariz. -- Two years ago, Adam Tello was a big reason to doubt Arizona State. When he briefly became the starting right offense tackle as redshirt freshman, his ascension revealed just how down the talent on the Sun Devils line was.
Tello didn't pass the sight test. Whatever he was listed at, he looked like he carried about 270 pounds on his 6-foot-3 frame. The sight test, of course, isn't always right, but it proved prescient in Tello's case as he struggled mightily in losses to UNLV and Georgia.
"I remember mentally just not being in the right spot," Tello said. "Mentally, I just fell apart. Everything I got thrown into and I just fell apart. It carried over to playing on the field."
[+] Enlarge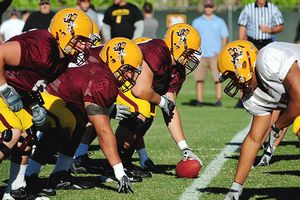 Matt Kartozian/US PresswireGarth Gerhart (snapping the ball) is Arizona State's most experienced offensive lineman with 10 starts.
His confidence evaporated in the desert heat. He was a non-factor in 2009 -- back problems didn't exactly help, either.
This preseason, however, Tello might be a reason for hope. While he's again ascended to the starting lineup because of roster attrition -- the retirement due to knee injuries of guards Zach Schlink and Matt Hustad and the absence of Jon Hargis due to another knee injury -- he no longer does badly with the site test.
He's a solid 290 pounds. He bench presses over 400 pounds. He looks like a Pac-10 offensive lineman.
"This year I'm ready," he said. "I'm healthy. I got stronger. I got bigger in the weight room."
It all comes down to the offensive line for the Sun Devils. Sure, the quarterback competition is grabbing the spotlight, but
Brock Osweiler
,
Steven Threet
and
Samson Szakacsy
each appear capable of giving the offense at least competent play at the position. Perhaps even more than that. But the line's competency will determine the ultimate trajectory of the season -- either a third-straight losing one or a run to a bowl game.
Make no mistake: There are legitimate reasons to question the line. With four career starts, Tello will be the Sun Devils second most experienced lineman behind center Garth Gerhart (10 starts). Left tackle
Dan Knapp
is a converted tight end. Right tackle Evan Finkenberg is a redshirt freshman. Right guard Brice Schwab is a JC transfer.
There isn't anyone on the team who hasn't heard the doubts about the line. While many players and coaches feign ignorance when asked about preseason rankings and skeptical media reports, Gerhart admits he reads just about everything. No, he doesn't like it or agree with it.
"It's real frustrating," he said. "You always see this stuff, 'Oh the offensive line is terrible! They're struggling!' It kills you because you know that you're that person they're talking about. But I think we might change people's minds about what they think of the offensive line at Arizona State."
Both Tello and Gerhart know there's an easy way to find out what their chances are this season: Block their own defense. The Sun Devils front seven should be one of the best in the Pac-10. That's been hit or miss thus far, but a new spread offense, which features a quick-hit passing attack, and better (read: faster) depth at the skill positions, should make life easier up front.
Gerhart also knows how fast teams can turn things around (in either direction). He and brother -- you may have heard of a former Stanford running back named Toby Gerhart -- used to talk on the phone in 2007. The Sun Devils were headed to a 10-win season. Stanford finished 4-8 after going 1-11 the year before.
"He used to tell me how it sucked, how he hated it and how happy he was that baseball season was coming around," the younger Gerhart recalled. "But [last year] he started telling me they were going to surprise people, and sure enough, they surprised everybody."
Will the Sun Devils surprise folks in 2010? Only if Tello, Gerhart and their linemates dramatically improve over the past two seasons.
The good news is they at least
look
like they could do it.