June, 7, 2011
6/07/11
10:30
AM ET
Being one of the top-rated recruits in the country is a double-edged sword. You get all the attention and hype you'd ever want coming out of high school. But there is also more pressure on you to succeed once you step foot on campus. And there's more pressure on coaches and programs to get the most out of their big-time prospects. As the old saying goes, potential will get you fired.
With that in mind, today we're taking a look back at the top Big Ten recruits from the 2010 class and seeing where they stand. It's not fair to judge these guys until the end of their college careers, and in several cases these players haven't even gotten on the field yet. But it's never too early to take stock.
We're going to use the
ESPNU150 list from 2010
as our guide. The Big Ten had 14 players make that elite list. We'll divide the players into three categories: those who've made the biggest impact so far, those who have played but for whom the jury is still out and those who haven't played yet. (One interesting thing to note: None of the 14 made Adam's
2010 Big Ten All-Freshman team
):
Away we go ...
Biggest impact
Rob Bolden, QB, Penn State (No. 112 overall, No. 4 position rank)
[+] Enlarge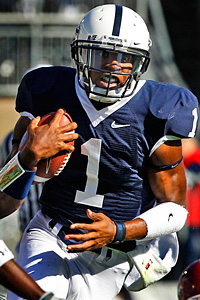 AP Photo/Gene J. Puskar, FileRob Bolden made a big impact as a freshman, but his future remains up in the air.
You all know the Bolden story. He started the first seven games as a true freshmen and eight games overall, throwing for 1,360 yards, five touchdowns and seven interceptions. Then he lost his job to walk-on
Matt McGloin
after suffering a concussion against Minnesota, and there was a heated quarterback battle this spring. The
last we heard
, Bolden hadn't decided whether he'll stay at Penn State or transfer before the 2011 season.
Corey Brown, WR, Ohio State (No. 137 overall, No. 20 position rank)
"Philly," as he's called, played in all 13 games last season and saw time on the kick and punt return teams as well as at receiver. He caught eight balls for 105 yards and a touchdown, which came in the win over Purdue. He won the outstanding first-year player award from the coaching staff. But he also had trouble with drops this spring. With the Buckeyes' lone returning starter at receiver,
DeVier Posey
, out for the first five games, Brown will need to become a consistent force.
Khairi Fortt, LB, Penn State (No. 66 overall, No. 2 position rank):
Will Fortt be one of the next great players at Linebacker U.? He saw action in nine games last year, including a start against Illinois in which he recorded 11 tackles. Penn State is loaded at linebacker, but Fortt saw a lot of time with the first-team defense this spring and will be hard to keep out of the lineup this fall.
William Gholston, DE, Michigan State (No. 42 overall, No. 3 position rank)
The Big Ten's highest-rated recruit in 2010 served as the Spartans' backup left end and played in 10 games before suffering a season-ending shoulder injury against Minnesota. He collected 13 tackles and a half-sack as a true freshman and had five stops and an assisted tackle for loss against Iowa. The 6-foot-7, 265-pounder should slide into a starting role in 2011.
Jury's still out
C.J. Fiedorowicz, TE, Iowa (No. 82 overall, No. 6 position rank)
Fiedorowicz saw action in all 13 games but did not record a catch as a true freshman as he saw most of his time on special teams. The 6-foot-7 sophomore is expected to back up starter
Brad Herman
this season but could see time when the Hawkeyes use two tight ends.
Devin Gardner, QB, Michigan (No. 128 overall, No. 5 position rank)
Gardner got to play in three games as a true freshman. He threw for 85 yards and a touchdown against Bowling Green and also ran for a score in that game. Then he hurt his back and missed the rest of the season, and Michigan is hoping to get a medical redshirt year for him. Of course, his opportunities were limited anyway and figure to be the same for the foreseeable future because he's stuck behind another pretty good quarterback. Fella named Denard. You might have heard of him.
Andrew Rodriguez, OG, Nebraska (No. 147 overall, No. 7 position rank)
The 6-foot-6 Rodriguez got his feet wet with five appearances in 2010, becoming the first true freshman to play on the offensive line for Nebraska since 2006. With starting guards Ricky Henry and Keith Williams now departed, there's a good chance Rodriguez fills one of those spots in 2011.
Look out for
Darryl Baldwin, DE, Ohio State (No. 131 overall, No. 13 position rank)
Baldwin took a redshirt year in 2010 and should see some snaps this year, albeit most likely in a backup role.
Miles Dieffenbach, C, Penn State (No. 118 overall, No. 1 position rank)
Dieffenbach redshirted in 2010 as senior Doug Klopacz held down the center spot. Dieffenbach is expected to back up junior Matt Stankiewitch in 2011.
Evan Hailes, DT, Penn State (No. 88 overall, No. 9 position rank)
It may be a while before we know anything about Hailes. He redshirted in 2010, and Joe Paterno said after the spring game that Hailes could miss the entire 2011 season with an undisclosed illness.
James Louis, WR, Ohio State (No. 80 overall, No. 12 position rank)
Louis redshirted in 2010 and was inconsistent this spring, like most of the Buckeyes' young receivers. At least the opportunity for playing time is there.
C.J. Olaniyan, DE, Penn State (No. 148 overall, No. 16 position rank)
Olaniyan redshirted last season and got some first-team reps this spring with starters Jack Crawford and Eric Latimore slowed by injuries. Those two will start when they get healthy, but Olaniyan should see time in the rotation along the defensive front.
Dakota Royer, LB, Penn State (No. 70 overall, No. 7 position rank)
A defensive end in high school, Royer is battling for playing time at the crowded linebacker position with the Nittany Lions. He redshirted in 2010 and will have to fight to get on the field behind an experienced crew this season.
Rod Smith, RB, Ohio State (No. 56 overall, No. 7 position rank)
Smith reported late to preseason camp last year while he worked on some academics and ended up redshirting. Now he's part of a group of tailbacks battling for carries while starter
Dan Herron
is out for the first five games. The 6-3, 230-pound bruiser impressed during bowl practice last year, had seven carries for 36 yards in the spring game and could become the featured back in Herron's absence. But the running back competition figures to continue into fall camp.
February, 4, 2010
2/04/10
3:05
PM ET
Penn State Nittany Lions
The class
Recruits:
20 (all high school seniors, six players enrolled early)
Top prospects:
Khairi Fortt
is ranked as the nation's No. 2 inside linebacker by ESPN's Scouts Inc., while defensive linemen
Dakota Royer
,
Evan Hailes
and
C.J. Olaniyan
all were among the ESPNU 150. Penn State also landed the nation's best center in
Miles Dieffenbach
, as well as a quarterback (
Robert Bolden
) who can compete for snaps right away.
Sleepers:
Late addition Shyquann Pulliam could really help the secondary, an area Penn State must continue to upgrade.
Mike Hull
adds depth to the linebacking corps after Penn State loses all three starters from the 2009 team. Running back
Silas Redd
could be a big help if the Lions suffer injuries to one of their top ball carriers.
Needs met:
Penn State once again did a fabulous job of reloading in the defensive front seven with players like Fortt, Royer and Hailes. The Nittany Lions needed another quarterback and got a very good one in Bolden. Joe Paterno's staff also thought to the future at both tight end and offensive line and brought in several very solid prospects there.
Analysis:
Penn State signed unquestionably the best recruiting class in the Big Ten, and it could have been even better. The Nittany Lions not only brought in elite prospects, but they addressed their needs in the front seven and bolstered the offensive line and some of the skill positions. After losing a lot of decorated players from the 2009 team, Penn State will need this class to contribute in 2010 and 2011. Despite Paterno's age and his uncertain future, Penn State has elevated its profile in recruiting the last two years.
Scouts Inc. grade:
A-minus
February, 3, 2010
2/03/10
6:11
PM ET
Penn State has announced the signings of 20 players who make up the Big Ten's top recruiting class for 2010. Although Penn State's class fell one spot to No. 8 in ESPN's rankings today, the Nittany Lions had one of the nation's most complete classes, particularly on the defensive side. Players like Dakota Royer, Khairi Fortt, Evan Hailes and several others should help Penn State very early in their careers. Quarterback Robert Bolden should compete for the starting job right away as the Nittany Lions try to replace Daryll Clark.
Iowa head coach Kirk Ferentz finalized a 21-man recruiting class that features several of the Midwest's top players. The Hawkeyes didn't land any ESPNU 150 prospects, but players like offensive lineman Andrew Donnal, running back Marcus Coker, tight end C.J. Fiedorowicz and athlete A.J. Derby all should be key contributors. Iowa's class really bolsters the defensive front with five linemen and three linebackers.
Michigan State hasn't sent out an official release just yet, but the Spartans' 21-man class is signed and sealed. Defensive-minded coach Mark Dantonio bolstered the defense with players like ESPNU 150 prospect William Gholston, linebacker Max Bullough and defensive backs Mylan Hicks. The Spartans also added depth at quarterback with Joe Boisture. This class might not have made quite as big a splash as last year's haul, but Michigan State once again did very well within the state and the Big Ten region.
July, 14, 2009
7/14/09
5:28
PM ET
Posted by ESPN.com's Adam Rittenberg
Illinois picks up a major commit at tight end, while Penn State bolsters its quarterback position and other teams add key pieces. Here's your latest recruiting rundown in the Big Ten.
ILLINOIS
2010 verbal commits: 8
ESPNU 150 Watch List: Safety Corey Cooper, quarterback Chandler Whitmer, tight end C.J. Fiedorowicz
Quick take: Fiedorowicz is a big get for the Illini, who lose starting tight end Michael Hoomanawanui after the 2009 season. Illinois also will be breaking in a new starting quarterback and could lose superstar wideout Arrelious Benn to the NFL draft, so Fiedorowicz should be a big help during the transition.
INDIANA
2010 verbal commits: 9
ESPNU 150 Watch List: None
Quick take: Things have slowed down a bit for the Hoosiers, who are still glowing from the commitment of defensive end Jibreel Black from Cincinnati. Indiana has found a good offense-defense balance so far in the 2010 class.

IOWA
2010 verbal commits: 10
ESPNU 150 Watch List: Defensive end Matt Hoch, tackle Andrew Donnal

Quick take: Both lines have been the focus of Iowa's recruiting so far, and the Hawkeyes made a big splash with Donnal, who could protect his fellow Ohioan Ricky Stanzi at some point down the line. At least seven of Iowa's commits could contribute on the offensive or defensive lines.
MICHIGAN
2010 verbal commits: 15
ESPNU 150 Watch List: Quarterback Devin Gardner, wide receiver Jeremy Jackson, wide receiver Ricardo Miller, guard Christian Pace, safety Marvin Robinson
Quick take: The nucleus for Michigan's 2010 class is in place, and the team hasn't added a commit since Courtney Avery on June 20. There are a ton of great athletes in this group, and Michigan likely will turn its attention to line play to wrap up the class.

MICHIGAN STATE
2010 verbal commits: 9
ESPNU 150 Watch List: Defensive end William Gholston, linebacker Max Bullough, quarterback Joe Boisture

Quick take: After landing its first seven commits from within state borders, Michigan State went into enemy territory -- or Mark Dantonio's home state, depending on how you look at it -- to pick up offensive linemen Travis Jackson and Michael Dennis. The two Ohio natives balance out a class that is shaping up well for the Spartans.
MINNESOTA
2010 verbal commits: 10
ESPNU 150 Watch List: None
Quick take: The Gophers already have a strong in-state recruiting haul, and they went to the southeast for running back Donnell Kirkwood, a workhorse-type back who generated a lot of interest. Minnesota also remains in the mix for arguably the nation's biggest prize, local product Seantrel Henderson.

NORTHWESTERN
2010 verbal commits: 6
ESPNU 150 Watch List: None
Quick take: Pat Fitzgerald should never have a hard time recruiting linebackers, and Northwestern landed a good one -- with a good name -- in Chi Chi Ariguzo from Columbus, Ohio. Ariguzo can also play safety and should contribute on special teams early in his career. Northwestern has yet to land an in-state prospect.
OHIO STATE
2010 verbal commits: 8
ESPNU 150 Watch List: Tackle Andrew Norwell, linebacker Jamel Turner, defensive end David Durham, running back Roderick Smith

Quick take: A quiet week for the Buckeyes after filling their backfield needs with Smith and quarterback Taylor Graham. Ohio State hopes to go back into Florida for star linebacker Jeff Luc and possibly linebacker Deon Rogers.
PENN STATE

2010 verbal commits: 12
ESPNU 150 Watch List: Wide receiver Adrian Coxson, running back Silas Redd, center Miles Dieffenbach, defensive end Kyle Baublitz, defensive tackle Evan Hailes, quarterback Robert Bolden

Quick take: Does Penn State currently have the Big Ten's best recruiting class for 2010? It sure looks that way as Bolden gives the Nittany Lions six watch list commitments out of 12 overall. Both Bolden and Paul Jones should be able to operate effectively in the Spread HD offense.
PURDUE
2010 verbal commits: 7
ESPNU 150 Watch List: Quarterback Robert Marve (2007 watch list)

Quick take: The quality of Purdue's commits seems to be getting better as quarterback Sean Robinson and defensive tackle Josh Davis came aboard. Robinson joins Marve and Caleb TerBush in the quarterback mix, while Davis boasts excellent size (6-foot-5, 250) for a young interior lineman.
WISCONSIN
2010 verbal commits: 8
ESPNU 150 Watch List: Safety Frank Tamakloe

Quick take: The quarterback position might be a question mark this season, but it's shaping up well for the future as Joseph Brennan committed to the Badgers. Brennan has good mechanics and accuracy, and he should get better with increased strength. Cameron Ontko could be a contributor at fullback or H-back down the line.