September, 1, 2013
9/01/13
12:57
PM ET
Eastern Washington coach Beau Baldwin won a Football Championship Subdivision national title in 2010. Both personally and professionally, he feels a duty to call his team's one-point win against Delaware his finest victory as a coach.
But he also knows how fans work. Their memories can be short, and big names tend to get embedded in their minds.
"Ten or 15 years from now, people might not remember who we beat in the national title game, but they'll remember the ranked team who we beat in the Pac-12," Baldwin said. "It puts you that much more on the map."
Baldwin spoke from a bus carrying happy Eastern Washington players and coaches from Corvallis, Ore., back to their campus in Cheney, Wash., Earlier in the day, Eastern Washington came to Reser Stadium and outlasted No. 25 Oregon State 49-46, recording the first win against a Pac-12 opponent in program history.
[+] Enlarge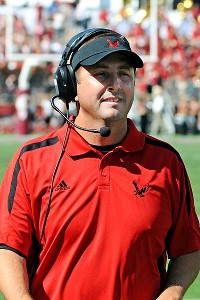 James Snook/USA TODAY SportsBeau Baldwin and the Eastern Washington Eagles stunned ranked Oregon State in Week 1.
The Eagles' win highlighted a huge opening weekend for FCS teams, which brought down Kansas State (North Dakota State), Iowa State (Northern Iowa), San Diego State (Eastern Illinois), South Florida (McNeese State) and Connecticut (Towson), to name a few. The FCS ended up with seven wins against the FBS, which boasts more athletic scholarships (85 versus 63), resources and, of course, home-field advantage.
After falling just short against Washington State last season (a 24-20 loss) and Washington (30-27) in 2011, Eastern Washington finally soared past the big, bad Pac-12. It marked just the third FCS win against a ranked FBS opponent and the first since 2010.
"It's a huge win for the program," Baldwin said. "I won't undersell it. People remember Appalachian State beat Michigan [in 2007]. They can't remember who they beat for three straight [FCS] national titles [in 2005, 2006 and 2007]."
McNeese State outlasted Appalachian State in 2009 for a signature program win under coach Matt Viator. But it's likely the folks in Lake Charles, La., will be talking about Saturday's win against South Florida for much longer.
Viator's Cowboys didn't just beat South Florida for their second win against a team from a BCS automatic-qualifying conference (North Carolina, 1999). They lassoed the Bulls, using a 31-point second quarter to win 53-31, the largest margin of victory for an FCS team against a BCS AQ opponent.
"I thought we had a chance," Viator said. "Our kids were in shape, we were sound in the kicking game. That's usually what gets you against FBS teams. I didn't see something like this coming."
Each FCS team had its own source of motivation heading into the FBS showdowns. Eastern Washington had the close calls against the Pac-12. Northern Iowa had the near misses against Big Ten foes Wisconsin (2012) and Iowa (2009), not to mention the 67 Iowa natives on the roster. Viator's players showed up to the team breakfast Saturday inspired by North Dakota State's come-from-behind win at Kansas State the night before.
North Dakota State, the back-to-back defending FCS champion, is "the measuring stick for all of us," Viator said.
Eastern Illinois coach Dino Babers might have been too motivated for Saturday's opener at San Diego State. The San Diego native spent the 1994 season as a San Diego State assistant and couldn't stop yammering about the Aztecs all week.
"The biggest negative about this game was me because I knew so much about San Diego State," Babers said. "Nobody wanted to be around me. It was like I had stink juice on me. I was a grizzly bear."
EIU players also might have been sick of Babers talking about the team's 2001 game against San Diego State, when a quarterback named Tony Romo led the Panthers. That night, the Aztecs pummeled Eastern Illinois 40-7.
[+] Enlarge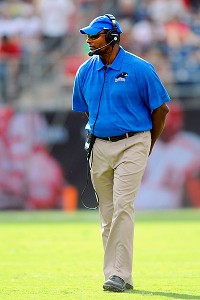 Christopher Hanewinckel/USA TODAY SportsFormer San Diego State assistant Dino Babers took Eastern Illinois into his hometown and trounched the Aztecs.
"I told them about it all week long," Babers said, "that Tony Romo's team went in there and scored only seven points. I love Tony, I know him now, so I know he won't get mad at me for saying it."
As if that wasn't enough, Babers had one final request in his pregame speech. His mother, Patsy Ann Plummer, doesn't fly and had never seen her son lead a team as a head coach.
She was scheduled to be at Qualcomm Stadium on Saturday night.
"I said, 'I knew you guys want to win, but it would be really cool if my mom could see a win,'" Babers said. "They said after the game, 'You get to be happy with your momma.' It's really cool."
The FCS coaches recognize the differences between their programs and those in the FBS, but they note that the gap is narrower in Week 1 than later in the season, when injuries take a toll. Opening weekend is by far the best opportunity to strike.
Northern Iowa coach Mark Farley had major questions about his team entering Iowa State's Jack Trice Stadium, not knowing what to expect in the secondary or at fullback or tight end. When Northern Iowa needed a fourth-down conversion late in the game, Farley watched tight end Braden Lehman, fullback Shawn Rush and others pave the way.
"Iowa State is a program on the rise," Farley said. "We beat them in front of a full house. But it wasn't about beating Iowa State. To finish one of these games and beat an FBS team, it takes more than 22 starters. It takes a lot of people pulling in the same direction. That's what really changed."
How many more opportunities Northern Iowa gets to take down FBS foes remains to be seen. The Big Ten Conference wants its teams to eliminate the scheduling of FCS foes, citing the scholarship discrepancies.
If other leagues follow suit, the guarantees FCS schools get for playing at FBS stadiums will disappear. According to ESPN's Darren Rovell, Eastern Washington ($450,000), McNeese State ($400,000) and North Dakota State ($350,000) all took home a little more than wins this weekend.
"We need these games," Farley said. "The reason we do this is to give every student-athlete a championship experience. FCS players should get up to play in these environments and these stadiums. As long as they're competitive games, it's a great thing for college football."
Week 1 was undoubtedly great for the FCS.
When informed about several other giant slayers, Baldwin replied, "Holy cow!" and "You're kidding!"
"You're happy for those teams," he said. "You know the limitations they have like you have, so when you see that, you know that's the type of game those guys remember for the rest of their lives."
September, 5, 2010
9/05/10
10:25
AM ET
What did we learn in the Pac-10's opening week?
[+] Enlarge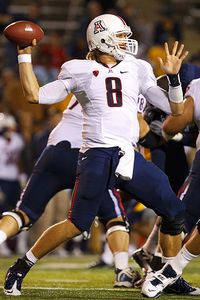 Rick Osentoski/US PresswireNick Foles completed 32 of his 37 pass attempts in Friday's win over Toledo.
1.
Pac-10 quarterbacks were as advertised (mostly):
While the level of competition varied, the four Pac-10 quarterbacks who were showcased in New York and at ESPN put up huge numbers. USC's
Matt Barkley
, Arizona's
Nick Foles
, Washington's
Jake Locker
and Stanford's
Andrew Luck
combined to complete 72.5 percent of their throws, averaged 300 yards per game and threw 12 TD passes and just one interception (a Foles pass that bounced off his fullback's hands). Of course, Locker lost at BYU, turning the ball over on downs twice in the fourth quarter after incompletions.
2. New QBs were solid if unspectacular
: Three conference QBs made their first career start. Oregon State's
Ryan Katz
was mostly solid against a good TCU defense, throwing for a pair of TDs with no interceptions, though completing just 9 of 25 passes isn't ideal. Oregon's
Darron Thomas
shook off an early interception to complete 13-of-23 for 220 yards with a TD in the blowout win over New Mexico. Finally, Arizona State's
Steven Threet
completed 14 of 21 passes for 239 yards with two TDs and an interception. While none of the three was gangbusters, each suggested he can get the job done.
3.
The Mountain West strikes again
: Thank God for New Mexico, otherwise the Mountain West Conference could crow about another strong showing versus the Pac-10. Washington fell at BYU and Oregon State went down to No. 6 TCU. Sure, both were road games. Sure, both were against two of the MWC top three teams. But many projected wins for the Pac-10 in both. The visit to BYU was supposed to be the launching point for Locker's Heisman Trophy campaign. Didn't happen, and suddenly the Huskies' high hopes entering the season are in question. And Oregon State was hoping to get off to a rare fast start with a strong showing against the Horned Frogs. Moreover, with UCLA's loss at Kansas State and Washington State's poor showing at Oklahoma State, the Big 12 also got into the act, pushing the conference around. Going 6-4 on the opening weekend was not what the Pac-10 wanted.
4.
Play defense; win the conference
: USC gave up 588 yards and 36 points at Hawaii. Bad. UCLA gave up 31 points and 313 rushing yards to Kansas State. Bad. Washington State surrendered 65 points and 544 yards at Oklahoma State. Yuck. Oregon State yielded 30 points and 278 rushing yards vs. TCU. Ugh. While Arizona, Arizona State, California, Oregon and Stanford probably feel good about their defensive numbers, the mostly poor competition leaves each with an incomplete. Clearly, there's a lot of offense in this conference. So whichever team can pair stops with points is going to win this thing.
5.
FCS teams have no chance vs. the Pac-10
: Arizona State, Cal and Stanford buried three FCS teams by a combined count of 168-29. While that's really not something to celebrate, at least one BCS conference
can't say the same this morning
.