November, 11, 2010
11/11/10
11:33
AM ET
Oregon's offensive linemen are sick of it. They won't be objectified anymore. They want the world to know they are more than just a bunch of big, nameless, sexy guys.
Sure, they
made a calendar
. And, yes,
the photos are hot
. Women everywhere swoon at the thought of Ducks offensive linemen.
But they want to be taken seriously as football players. So there was no beefcake calendar this year.
"Believe it or not, we have a pretty big following," center Jordan Holmes said. "They were very disappointed."
Oh, Jordan, we believe it.
[+] Enlarge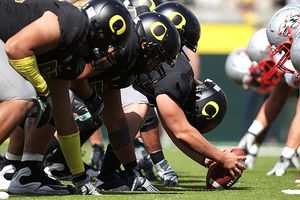 Tom Hauck/Getty ImagesThe Oregon offensive line has helped pave the way for the top-ranked Ducks.
But there is a larger issue here: When folks talk about the high-powered Oregon offense, they start with coach Chip Kelly and tempo and the spread-option, then move on to
LaMichael James
and
Darron Thomas
. Someone chirps in about underrated receivers, such as
Jeff Maehl
. "Underrated!" someone invariably counters. "That's tight end
David Paulson
's middle name!" Then someone says that's an unusual middle name. And another pipes in that they thought his middle name was "Joshua."
You get the point. They rarely talk about the offensive line. Heck, only dedicated Ducks fans know any of their names: Holmes, tackles Bo Thran and Mark Asper and guards Carson York and C.E. Kaiser. Ask Kelly to name his line's standouts and he doesn't -- and not because Kelly gets a kick out of not telling reporters what they want to hear.
"I don't know if there is [a standout]. I think they're all really good," said Kelly, whose top-ranked Ducks visit California on Saturday. "It's not like we have one dominant offensive lineman and then four other guys. I think we've got five pretty good guys -- actually six, actually seven or eight pretty good guys. ... I don't know if there's a standout. And to be honest, maybe that's a good thing."
Seven different guys have started games. And you can't argue with the results. The Ducks rank fifth in the nation in rushing (305.4 yards per game) and have given up just five sacks, which is tied for ninth in the nation.
So why doesn't Oregon get mentioned when folks talk about dominant offensive lines?
"They do a phenomenal job there of turning players into system-fit guys," USC coach Lane Kiffin said. "I don't think you have first-round picks on their line, guys the NFL is jumping all over. They played really, really fast in the system."
Then Kiffin adds a bit of a zinger: "Obviously, it doesn't help very much for the next level, because there's no carryover in what they do."
Hmm. That's debatable. The Ducks are masters of zone blocking, which is popular in the NFL. And three Ducks linemen -- Geoff Schwartz (seventh round), Max Unger (second round) and Fenuki Tupou (fifth round) -- were picked in the 2007 and 2008 drafts. And all five 2009 starters returned this year, so none were eligible this past spring.
What do Oregon linemen do that's so different? Kelly insists that blocking is blocking, and his line coach, Steve Greatwood, is considered one of the top teachers in the nation.
Still, there is some "new school" at work here (though zone blocking isn't terribly new). The Ducks' line doesn't try to knock you back so much as stretch you out and create spaces for playmakers, such as James. It's not about driving; it's about sticking. There isn't a designated "hole," which sometimes takes some getting used to for young linemen.
"There are so many options -- I don't know what else goes on behind my back," Holmes said. "Sometimes it's frustrating not knowing where the ball's going. But as long as we're moving the ball downfield, we're OK with it."
But the real difference is tempo. The Ducks want to play as fast as possible, and plays can't start until Holmes has a spotted ball and can set the line. Suffice it to say, he gets to know the referee better than any other player on the field.
"There are a lot of officials who like to stand over the ball and wait for their buddy officials to get set up before they'll actually spot the ball," Holmes said. "They'll say, 'Don't snap the ball until I'm out of the box.' But we really never listen to them. As soon as he puts it down, we're trying to snap it."
While zone blocking isn't as aggressive as drive blocking, it's hardly patty-cake. When you watch the Ducks' line work, you see plenty of defenders on the ground. There's plenty of mauling going on, particularly at the second level. And physical play at a fast pace wears a defensive front seven down. Even a layman can sense a defense's will getting broken. Just pay close attention late in the third quarter.
"It's usually in the middle of a drive," Holmes said. "You can read body language. They're having a tough time getting their calls in. They kind of start to snap at each other. When that happens, you know they are not feeling too good. Then it's time to attack."
Yes, Holmes admits he and his linemates get tired. They are big dudes running around, after all. But he also noted they usually score a touchdown before exhaustion sets in, so they can go to the bench and relax with a cup of juice and an orange slice.
Their work has earned notice. While James and Thomas are like Brad Pitt and George Clooney starring in the blockbuster that is the Ducks' offense, the line is like William H. Macy, Forest Whitaker and Harry Dean Stanton, playing supporting roles that earn acclaim from educated eyes.
"I think that line is under-appreciated because of the numbers being run up by the individuals involved -- the quarterback's numbers, LaMichael James' numbers -- everybody's got a place to point their attention," UCLA coach Rick Neuheisel said. "But I think that line does a pretty remarkable job in handling everything at the tempo. And as well with as many schemes as they run."
But who should earn, say, All-Pac-10 honors?
"They all stand out," Cal coach Jeff Tedford said. "They are technicians who are able to move in space."
So, please, don't only see the Ducks' linemen as mere zone-blockers playing in a system. Or even as eye candy in alluring poses. See them as technicians. Men who move in space.
But, just FYI: Word is there will be a new Ducks linemen calendar this spring.
October, 4, 2008
10/04/08
7:28
PM ET
Posted by ESPN.com's Ted Miller
LOS ANGELES -- Oregon should feel right at home tonight. It's cloudy and cool (68 degrees) with a chance of showers. Just like it is much of the year in Eugene.
The winner tonight between No. 9 USC (2-1, 0-1 Pac-10) and No. 23 Oregon (4-1, 2-0), however, figures to feel pretty sunny. That team will walk away as the Pac-10 front-runner, though California, a future foe for both, might have something to say about that.
Oregon does boast a 5-3 record in its last eight meetings against the Trojans, including a 24-17 win last year.
The last time the Ducks visited the Coliseum in 2006, though, they got thudded 35-10. The Trojans were coming off a loss to Oregon State then, too. The last time USC coach Pete Carroll lost consecutive games against Pac-10 foes?
Never.
He's also 7-0 against conference teams that beat him the year before, delivering retribution by a 248-114 count. A team hasn't won two in a row against the the Trojans since 2001-02 (Kansas State), Carroll's first two seasons at Troy. Carroll's first season, when USC finished 6-6, is also the last time the Trojans lost consecutive games.
USC is riding a 25-game winning streak in the Coliseum.
And the Oregon programs haven't swept USC since 1957.
So, in other words, there are plenty of trends and factoids that suggest USC will make a statement to the nation tonight that it is premature to count the Trojans out of the national title hunt.
September, 13, 2008
9/13/08
11:19
PM ET
Posted by ESPN.com's Adam Rittenberg
WEST LAFAYETTE, Ind. -- Oregon defensive end Will Tukuafu first heard the phrase from his junior college coach, Ken Giovando.
As Oregon backslid in the first half Saturday, making "enough mistakes to last the rest of the season," according to head coach Mike Bellotti, Tukuafu began to repeat the line: Adversity introduces a person to himself.
"Things aren't always going to go our way," Tukuafu said. "But when those things don't go our way, how are we going to react? I think we reacted pretty well today."
More than a few things haven't gone Oregon's way during the last month, but the 16th-ranked Ducks continue to find a way.
Consider the stumbling blocks and the Ducks' response:
"We got as close as you could get to losing, but still we got a victory," offensive coordinator Chip Kelly said. "In the end, you're 3-0 and in January and February, no one's going to talk about the Purdue game."
Most of Oregon's mistakes Saturday stemmed from Kelly's unit, but the defense faced its own hurdles. Purdue's Kory Sheets gashed the Ducks for an 80-yard touchdown run on the second play from scrimmage and put his team up 20-3 on the first play of the second quarter.
But from that point, the Ducks' defense locked down. Purdue consistently got good field position but didn't advance past Oregon's 38-yard line on its next 11 possessions. The Boilermakers racked up just 22 yards on 17 plays in the second quarter.
"I challenged the defense to shut them out, and they did," Bellotti said. "They put the momentum on our side."
As Blount walked over to Kelly outside the visitors' locker room after the game, the coach embraced the 229-pound junior and said, "I'm proud of you."
Johnson insisted his shoulder was fine, but Bellotti acknowledged the back wasn't 100 percent. The Ducks needed Blount to step in, just as Roper did for Costa and Harper eventually did for Roper.
Though Jairus Boyd's 87-yard punt return for a touchdown late in the third quarter was undeniably the game's turning point, Blount changed field position and ignited the offense with a 72-yard dash from his Oregon's 4-yard line.
"He's one of a kind," Johnson said of Blount. "That's my boy. When I went out, he came in and did an excellent job today."
The heroics from Blount, Boyd and others helped Oregon survive a multitude of mistakes in all three areas of the game. Roper had two passes intercepted in Purdue territory, Oregon lost the turnover battle 4-3 and committed several costly penalties. The Ducks' inability to handle a short kickoff into the wind set up a Purdue touchdown.
Late in the third quarter, Bellotti slammed his headset to the turf after the defense was nearly whistled for illegal substitution on consecutive plays.
"I can't think of a game anywhere that we played that poorly," Bellotti said.
"We weren't nearly as focused," Harper said. "I don't think we had the same intensity we had for Washington or some of those other games. We came out sluggish."
They'll have to be better starting next week against Boise State, and more adversity awaits. Roper is expected to miss the game, meaning Harper or Jeremiah Masoli will start at quarterback.
Relief was the general sentiment after Saturday's win, but there were lessons, too.
"It makes me want to work harder," said Tukuafu, who had two sacks and recovered a fumble. "We want to understand the mind-set now. We faced a little adversity and our mind-set changed. Our work habits, all those things, increased a lot more this week."
September, 4, 2008
9/04/08
2:19
PM ET
Posted by ESPN,com's Ted Miller
Lying is so widespread in our society that it no longer seems to amaze many of us.
To flat-out fabricate a story in order to save your hide, and often to falsely blame another -- it's truly distressing how much this is part of our public dialogue.
In Fenuki Tupou vs. agent Tim Norling, somebody is lying.
Did Tupou, as he claims, accept money from an agent, try to give it back and then confess to Oregon officials because he felt guilty? Or is the Ducks starting offensive tackle attempting to rewrite reality in order to protect himself?
George Schroeder in the Eugene Register-Guard makes a solid argument that it's easier to believe Tupou than Norling, an employee with the Arizona-based sports management firm Lock, Metz & Malinovic. Here are further comments from Schroeder on his blog.
Figuring out exactly what Tupou's motive was for confessing is difficult.
Of course, he only had to sit out one game for coming clean, which was carefully managed by the school.
In this day and age, it's hard not to be skeptical. Of everyone.
My guess is that many -- MANY -- FBS teams have players quietly accepting benefits that are not permitted by NCAA rules.
Think about it: The only time these transactions produce splashy headlines is when a disgruntled somebody privy to the exchanges squeals, typically as an act of retribution.
Or in this unusual case, confesses.
This is usually when folks step in and say, "Pay the players already!"
But that's not going to happen. It's a lazy point made by writers typically doing a drive-by on major college sports.
My dreary conclusion on this? It's just part of the game and, really, there's little we can do about it when people are willing to compromise their integrity for cash and trinkets.
September, 3, 2008
9/03/08
9:20
PM ET
Posted by ESPN.com's Ted Miller
Before heading to Arizona State practice, finishing up on Mill Avenue -- in a Starbucks (promise).
Agent denies he gave Oregon offensive lineman Fenuki Tupou money. Tupou is expected back from a one-game suspension this weekend. Wonder if this has any legs? Meanwhile, QB Justin Roper practiced and should start against Utah State.
Pac-10 bloggers roundtable.... some sharp observations here.
An SEC writer offers: Maybe the SEC does need to play more quality nonconference games to prove that it's the best conference instead of trying to prove it by just talking a lot.
Notes from the Cal media luncheon.
Jon Wilner's Pac-10 ratings with a note on the precariousness of Tyrone Willingham's situation at Washington.
Palmer begat, Leinart, who begat Booty, who begat Sanchez, who will begat... Barkley. Wonder what the most QBs one program has had in the NFL at one time is?
Notes from Willingham's pre-practice meeting with Huskies reporters, including the return of TE Michael Gottlieb and the decision to redshirt safety Jason Wells. By the way, Willingham is No. 3 on Coaches' Hot Seat's weekly list.
Bud Withers tips his cap to UCLA coach Rick Neuheisel.
Here's a very thorough recap of Washington State coach Paul Wulff's radio show.
USC QB Mark Sanchez, now No. 4 on Heisman Pundit's weekly list, was named the Davey O'Brien Quarterback of the Week after completing 26 of 35 passes for 338 yards and three touchdowns in the Trojans 52-7 victory over Virginia
In the good works category: coach Pete Carroll and members of USC's top-ranked football team will make their annual visit to the USC Women's and Children's Hospital on Thursday (at approximately 11:15 a.m. They will be joined by the USC Spirit of Troy Marching Band as well as the USC Song Girls
Some folks were wondering about the relocation of Sunday Morning Quarterback. Found him here. It appears he's now calling himself "Dr. Saturday." So he's, like, 12 hours earlier, which is the way you've got to be in this world, where Monday is the new Sunday.
September, 1, 2008
9/01/08
10:56
AM ET
Posted by ESPN.com's Ted Miller
Seems like everyone outside of the state of Washington is smiling (you Beavers have surely recovered, right?)
July, 18, 2008
7/18/08
4:22
PM ET
Posted by ESPN.com's Ted Miller
There's two things you can say about offensive lines: 1) Every good team has a good one; 2) People tend to notice offensive lines more when they are bad.
There aren't any "Oh my gosh, those guys are terrifying" crews this season. Only UCLA and, to a lesser extent, Arizona State, have significant issues up front.
A couple of the lines also need qualifiers: If Washington center Juan Garcia wasn't going to start the season on the injured list, the Huskies would rank No. 2. And Oregon State would rank higher if guard Jeremy Perry's health wasn't an issue, not to mention that tackle Tavita Thompson isn't expected back from suspension until Nov. 1.
USC only welcomes back one official "starter," but three of the new faces topping the depth chart started at least two games last season. Plus, with four incoming prep All-Americans at the position, and highly respected line coach Pat Ruel calling the shots, it's hard to believe the Trojans line will be a milquetoast.
| | |
| --- | --- |
| | |
| | Tom Hauck/Getty Images |
| | Alex Mack earned All-American honors a year ago. |
So here are the hogs... (returning starters)
Oregon (3): Center Max Unger and tackle Fenuki Tupou were All-Pac-10 for the best conference's best rushing team in 2007. The two new starters are experienced seniors.
California (3): All-American center Alex Mack leads three returning starters from a group that surrendered only 11 sacks last season.
Washington (3): Even without center Juan Garcia for a few games, Mike Denbrock's well-coached unit led the conference's second-best rushing attack and was above average in pass protection.
USC (1): The Trojans, with only guard Jeff Byers back, get the benefit of the doubt that the 2007 backups would start for most teams.
Washington State (4): Four starters back from a unit that only gave up 22 sacks.
Arizona (4): Among the four returning starters is tackle Eben Britton, who will play on Sundays. Run blocking shaky.
Oregon State (3): With mauling guard Jeremy Perry, this is a top-flight unit, but without Perry it's easy to remember 36 sacks in 2007.
Stanford (3): Alex Fletcher, who has converted from guard to center, is outstanding, but the unit still ranked ninth in rushing and gave up 48 sacks (ninth also).
Arizona State (2): The Sun Devils' season may hang on how much the line improves. Just two starters are back from a unit that gave up a stunning 55 sacks in 2007.
UCLA (2): Injuries, attrition and lack of talent are the problems. Just two starters and little depth return from group that gave up 36 sacks and was mediocre at run blocking.