NCF Nation:

flipping out review 122413
December, 24, 2013
12/24/13
11:00
AM ET
Editor's note: During Week 12, 10 ESPN.com reporters changed conferences to experience college football in unfamiliar territory. Here is what they learned from the experience.
I went to Manhattan -- Kansas, that is -- from Nov. 14-17 to see what Kansas State football had to offer and how it compared to a Pac-12 weekend.
Two things happened: 1) I was impressed; 2) I had a blast.
For one, Manhattan is a cool college town. I suspected it would be after talking to some folks beforehand who know the place well. And everyone was incredibly friendly and accommodating, from fans and boosters to Kansas State administrators. Even media-averse coach Bill Snyder took a moment for a casual chat.
Was it different than the Pac-12? Yes and no.
There is certainly a different feel to K-State compared to say, Stanford, USC, Washington, Arizona State and California. Particularly Cal-Berkeley. K-State most closely resembled Oregon State and Washington State. The game-day experience, from the pregame tailgate to the stadium atmosphere, had its own unique vibe, too, as all places do.
Still, in the end, passionate college football fans express themselves mostly in the same way. The music, chants and colors are different, but a game-winning field goal -- which the Wildcats got to beat TCU -- gets the same reaction everywhere: unbridled joy.
So here are some impressions.
[+] Enlarge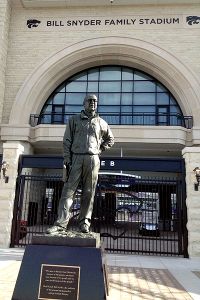 Ted Miller/ESPNKansas State prides itself on the family atmosphere at Bill Snyder Stadium in Manhattan.
Best meal
: None of my meals was bad -- dinner at
Coco Bolos
, breakfast at
The Chef
, lunch at
So Long Saloon
-- but I'd have to rate my prime rib at
Harry's Restaurant
on Saturday night after the game as the highlight. I'd write that the bartender made a nice martini, but then my boss would read this and suspect I had a martini while on assignment, which I would never, ever, ever do.
Must-see sight in Manhattan
: If you are young -- or young at heart! -- there is no better place to be on a Friday night in Manhattan than Aggieville. My foray included Rock-a-Belly Deli, Taco Lucha, Keltic Star and Aggie Station, and I saw the Kansas State band circulate around the entertainment district, firing up Wildcats fans for the next day's game with TCU. I've been to a lot of great college towns -- 39, by my quick estimation -- and Manhattan definitely rates among the best.
Biggest surprise
: It may have been the celestial ribs from
Oklahoma Joe's BBQ
pleasantly digesting in my stomach after a late lunch pit stop in Kansas City after my flight, but I was surprised by how scenic the drive was down I-70 into Kansas' Flint Hills and Manhattan, and how appealing I found the vastness of the tall-grass prairie. Like many from the coasts, I've long viewed Kansas as a fly-over state, flat and tornado-infested. The rolling, treeless hills provided a topography a West Coast person doesn't typically see. For Pac-12 folks, I'd compare it to the drive through the Palouse from Spokane to Pullman in Washington. Another surprise was a sunny, 70-degree day on Nov. 16.
Biggest difference from conference I cover
: You mean other than no one barking at me about how I favor such-and-such Pac-12 team over such-and-such Pac-12 team? Well, it was clear that I was pretty removed from any large population center. I don't get that with most Pac-12 stops, where skyscrapers are often within view or just a few miles away. That's also probably a big reason why the town and campus were not as socially diverse as most Pac-12 destinations. Further, the Pac-12 as a whole has a lot more "granola" to it than the Big 12, and that's even more true when you compare Manhattan to, say, Berkeley or Eugene. Without getting too political, it seems reasonable to suspect Manhattan is just a bit more red than the decidedly blue Pac-12.
They said it
: "Kansas State University is not the biggest school in the country. It's not the wealthiest school in the country. But it has among the most loyal, dedicated, traditional fans of any school in the country. This school went through many, many years of not much success, but the fans stuck with the program, and it's been a great success since Bill Snyder arrived here." -- Bill Keller, Kansas State booster, at the tailgate before TCU game
If I could go back
: Because I had so much advance help from ESPN.com's Jeremy Crabtree, Kansas State sports information director Kenny Lannou and Kansas State fan Alex Judd (a friend of Crabtree's and Pac-12 general counsel/senior VP Woodie Dixon), I'd probably do another trip much as I did my first -- a stop in Kansas City for barbecue before heading to Manhattan and a couple of nights on the town in Aggieville. If I could do one thing, though, I'd take a more thorough tour of the campus. The limestone buildings were pretty cool, and it looked like a pleasant place to wander around, weather permitting.
December, 24, 2013
12/24/13
11:00
AM ET
Editor's note: During Week 12, 10 ESPN.com reporters changed conferences to experience college football in unfamiliar territory. Here is what they learned from the experience.
As you know, we here on the blog circuit changed things up this year and took trips to relatively foreign college football lands. We had Big Ten guys in SEC surroundings. SEC guys in 40-degree, rainy weather. ACC folks hanging out with Bevo!
It was a lot to consume during our exciting flip week of fun, and we couldn't express our emotions in just one post. So we are throwing out superlatives for our trips. I dared to set foot in Madison, Wis., for the Badgers game against Indiana in November. It was rainy and gross, but the fans didn't disappoint and Wisconsin rolled over the Hoosiers 51-3 in a game that was pretty much over after the opening kick.
I stuffed my face and started to adore that Midwestern accent that makes Wisconsin go 'round.
Madtown was a blast. Here are a few things that I took away from my time in Dairy Land:
Best meal:
I love food. I want to taste every single flavor in whatever I'm consuming, and I want a good atmosphere. While I loved the signature "Jake" and delicious Oreo malt at Potbelly on State Street, I have to go with homegrown on this one. The cheese curds and brats were scrumptious at State Street Brats, but the meal that almost put me in a food coma was the scrambler I had at Mickies Dairy Bar (cash only!). It was loaded with potatoes (yanks), peppers, onions, eggs and chicken, and was topped with a mound of cheese. I put some salsa and hot sauce on that bad boy, smushed what I could between two slices of whole wheat bread and went to town!
[+] Enlarge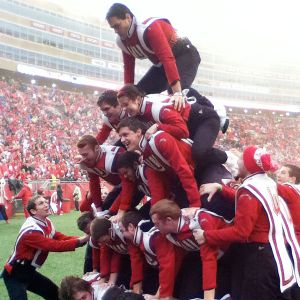 Edward AschoffTheres as much entertainment in the stands as there is on the field during a Wisconsin home game.
Must-see sight in Madison:
There's so much, but I was in awe of how cool the UW Field House looked attached to Camp Randall Stadium. The rustic cathedral is still holding up after opening in 1930, and it really did bring a nostalgic feel to my experience.
Also, check out the "Badger Wagon." It's a souped-up tailgate wagon made from an old utility truck. Thousands of dollars have gone into it, making it this beautiful, metallic party bus. It has a wet bar, there's a push button for four different liquors, an electronic beer tap on the side of the truck that is operated via remote, two grills attached (one for pizza and the other for just about anything), a beautiful TV, an amazing 10-speaker stereo system operated by an iPad and a V-8 engine. You'll find it parked just outside the stadium every Saturday.
Biggest surprise:
The weather was bad so I won't blame UW students too much, but Friday night before the game, I couldn't tell that it was a game-day weekend. Down South, Fridays are sacred nights of celebration. I was expecting a lot of action on State Street, but it was relatively quiet. The students more than made up for it with the most entertaining performance in the stands that I've ever seen at any sort of sporting event. I barely knew the game was going on! That just doesn't happen in the SEC.
Biggest difference from SEC:
The entertainment from the fans, students and band during the game blew my mind. I'm so used to the actual game being the one and only focal point, but inside Camp Randall, everything is the focal point. There's the wave, choreographed dances during songs and action during plays. Students blurted chants at random times and the band struck up tunes while the Badgers played just yards away from them. I didn't know who to focus on.
They said it:
Wisconsin athletic director Barry Alvarez on his first time getting on the team bus with former assistant Dan McCarney on lower University to drive to the stadium before a game with barely any fans around: "You could have shot a cannon through there. There wasn't anybody. I looked at Mac and said, 'We're going to change this.' And we did."
They said it II:
Badgers fan Melissa Lund on comparing tailgates at Wisconsin with the rest of the Big Ten: "Like, Ohio State compared to Wisconsin, they're a football fan first and then they're a tailgater. Where here, it's definitely tailgate and an atmosphere, then it's the football experience.
"Other places it revolves around the football program, which isn't necessarily a bad thing. But at least here, it doesn't matter if you're football, basketball or any other fan, you're definitely a tailgater first and then you're a fan."
If I could go back:
I want to see a big game in Camp Randall. I want to see that place rocking for Ohio State or Michigan. I want to see what kind of show the students can put on when the big boys come to town. I bet it's great.
December, 24, 2013
12/24/13
10:30
AM ET
Editor's note: During Week 12, 10 ESPN.com reporters changed conferences to experience college football in unfamiliar territory. Here is what they learned from the experience.
One of my best friends in Oklahoma City is a Penn State grad who moved to the Sooner State a couple of years ago. Since we met, she's always talked about how special a place Penn State is.
As fate would have it, my Flip Week assignment happened to be State College, Pa., which gave me the chance to inspect firsthand whether she's been telling the truth.
Turned out, she was.
My visit to Penn State exceeded even the expectation she set for me. The food was great. The people were even better. And the experience was a memorable one.
Below is an overview of my trip to a place I hope to return to someday soon:
(Me eating a Penn State mooseburger)
My first moose burger #campusconnection #flipweek #pennstate pic.twitter.com/3Am5pIrxca

— Jake Trotter (@Jake_Trotter) November 16, 2013
Best meal:
Does this have to be an actual meal? The best thing I ate in State College was a grilled sticky from Ye Olde College Diner. The grilled stickies are akin to cinnamon rolls, only more delicious. ESPN.com Penn State reporter Josh Moyer gave me the sage advice of ordering it a la mode (with ice cream). Add in a cup of black coffee, and it was tremendous. So tremendous I ordered a to-go box to take to the tailgate I had been invited to the next day. And I learned, there's no better way to win over a group of Penn State strangers than a box of grilled stickies from Ye Olde College Diner.
Must-see sight in State College:
The heartbeat of the Penn State football experience is the tailgate. Before every game, tens of thousands descend to the parking lots and fields outside Beaver Stadium for pregame camaraderie. As several tailgaters explained to me, the Penn State tailgate is a way for family and friends who might not live close to one another to reconnect, which is difficult to do during the actual game. The tailgating doesn't end when the final whistle blows, either. Floodlights outside the stadium are kept on hours after the game, so the tailgates -- and the reunions -- can carry on into the night.
Biggest surprise:
Despite everything that has happened the last couple of years, the school spirit at Penn State couldn't be stronger. Students camped out for the best seats the night before, even though the opponent was Purdue. Downtown State College was hopping the night before the game. Penn State bumper stickers lined the highway all the way back to the airport I flew into (Pittsburgh). I couldn't detect any malaise on campus, and thanks in large part to coach Bill O'Brien, there is an infusing optimism that Penn State will be back on top before long. That's saying a lot, considering the program was on the brink of decimation just a year ago.
Biggest difference from Big 12:
The fans in the Big 12 are great. The student sections are great, too. But I'm not sure any students in the Big 12 would camp out in 30-degree weather the night before to get tickets for a game featuring an opponent the caliber of Purdue. In fact, I've seen many student sections in the Big 12 with empty seats under similar circumstances. Not only was the student section at Penn State overflowing, but it was boisterous the entire day. I'm not sure I've seen a student section live or die on every single play in a game that was never really in doubt.
They said it:
"In this state, the one thing you have to do before you die is go to a Penn State tailgate." – Penn State fan Luigi Puglia
If I could go back:
I would take in more of the State College nightlife and the Penn State campus. Because I was on official assignment, I avoided State College staples such as Otto's Pub and Brewery and the American Ale House & Grill, but both came highly recommended. Because my itinerary was crammed, I didn't have a chance to just walk around the Penn State campus and go through buildings like the Hub, either. Apparently, there's a mule skeleton on display there.
December, 24, 2013
12/24/13
10:30
AM ET
Editor's note: During Week 12, 10 ESPN.com reporters changed conferences to experience college football in unfamiliar territory. Here is what they learned from the experience.
In mid-November, several of the college football reporters at ESPN.com flipped out. We traded conferences, traditions and fan bases for one college football Saturday -- an experiment deemed "Flip Week," intended to experience and relay different cultures of the sport we all love. I went to Eugene, Ore., for my first Pac-12 game and saw Oregon play Utah. For two days I walked around campus and downtown, trying to soak up all I could about the culture of Oregon football.
Here's a quick overview of some of the highlights:
Quack! #flipweek pic.twitter.com/EEqzeQHePg

— ESPN ACC (@ESPN_ACC) November 16, 2013
Best meal
: Breakfast at the Glenwood Restaurant. It was so good I went twice, the first on Friday morning for standard eggs and bacon fare, and then again on game day for a ham, egg and cheese omelet. I went Saturday morning to see how different it was on a game day, and the place was bustling. On Friday morning, I was the first and only person there. On Saturday, I had to wait in line, and the place was filled upstairs and downstairs with both Oregon and Utah fans.
Must-see sight in Eugene:
Oregon's facilities. I've never seen anything like it. Anywhere. Ever. It was like a cross between The Matrix (doors that unlock with players' fingerprints, practice film that is uploaded into each players' iPad before they're out of the showers) and a spa at the Ritz Carlton (waterfalls, anyone?). Honestly, one glass door was so clean I almost walked right into it. (My living room, this was not.) They even have their own dentist in there. Everything is built with perfection, with functionality, and with the finest materials in the world.
[+] Enlarge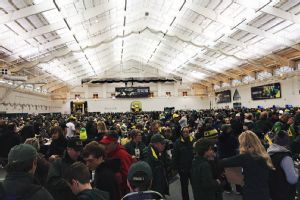 Heather Dinich/ESPNOregon fans take the tailgate indoors as the Ducks practice facility is open to fans on game days.
Biggest surprise:
The Moshofsky Center, aka "The Mo." What a fantastic indoor tailgate -- not to mention a smart concept. The Ducks' indoor practice facility is turned into a tailgate on Saturdays. Everyone kept telling me to go check it out, so I did, and I was really expecting just more of what you see in the parking lot, but it was food vendors, a live band, games for the kids, and just rows and rows of fans sitting around and talking like they were old friends and family at a wedding. It really had a special feel to it. I got some food, sat down and immediately struck up a conversation with some Utah fans. Everyone was so welcoming.
Best moment:
The duck on the motorcycle. With 4:01 remaining until kickoff against Utah, Doug Koke disappeared behind the shiny visor on his motorcycle helmet, and revved the engine of a pristine black Harley. The larger-than-life duck, sitting behind Koke, wrapped his right arm (wing?) around Koke and with his left gave a webbed wave to the crowd and a fist pump. Just when it seemed as if it couldn't get any louder, the players emerged from the tunnel, and it was at this very moment that the energy in Autzen Stadium was at its most palpable. It was electric, and with each rev of the engine, it was as if you could feel every heartbeat in the stadium vibrating with it. The players began to bounce and jump as the anticipation built, and within seconds, they were released like a pack of wild animals, charging after the duck on the motorcycle and setting the stage for yet another sold-out crowd.
Best tradition:
The walk over the Willamette Bridge to and from Autzen Stadium. On the way over the bridge, I stopped halfway just to take in the scene and interview fans as they made the trek to the stadium. This is a walk that literally takes you over a river and through the woods -- a tradition that brings the fans together every Saturday. The most amazing part was actually the walk back. It was literally stop-and-go traffic, as fans were shoulder-to-shoulder on the path and on the bridge.
[+] Enlarge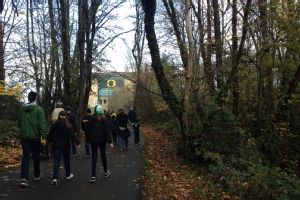 Heather Dinich/ESPNOregon fans walk through the woods to get to Autzen Stadium on Ducks game days.
Biggest difference from ACC:
There just isn't that folksy feel in the ACC. The ACC is more Southern charm, with its barbeque, sweet tea, and "y'all," and its Tobacco Road traditions. Oregon had a much more organic, earthy feel to it. There are so many trees on campus -- more than 400 kinds -- that the university offers a class on them.
They said it:
"What I love? The whole ambiance of being in Autzen Stadium. What makes it unique is the program. We have a great football program, that's all there is to it. We did not have a great program in the '70s and early '80s. The people who've been around here for a long time really realize and appreciate what we have now. We used to have 20,000 people, and half of them would go home at halftime. And it rained about every game. Now, it never rains here." -- Don Essig, who has been the public address announcer at Autzen Stadium since it first opened in 1967.
If I could go back:
I can't believe I never got to see Pre's Rock. As a recreational runner, it was one of the things at the top of my list, I just never got around to it. On a second trip, I would definitely visit that iconic rock, and find a few trails to run.
December, 24, 2013
12/24/13
10:00
AM ET
Editor's note: During Week 12, 10 ESPN.com reporters changed conferences to experience college football in unfamiliar territory. Here is what they learned.
Recall last month that the ESPN reporters flipped out for a few days and ventured to parts of the country unknown to them.
This Southern California boy was transported to a different South. Not going to lie -- most of what I knew about the South I learned from catching snippets of the Blue Collar Comedy Tour on TV. I could already see the "you might be a redneck" texts coming from my buddies. My cable guy neither looks nor talks like Larry.
[+] Enlarge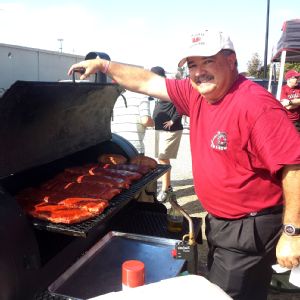 Kevin GemmellSouth Carolina fans welcomed a West Coast native to their tailgate before the Florida game Nov. 16.
But that wasn't what I got. Instead, I was welcomed with open arms by warm people who love their food, love their friends and love their football. I spent a great deal of time with a group called "The Ultimate Tailgaters" who wouldn't let me leave with an empty stomach or empty arms. There were hugs all around.
I saw Florida fans and South Carolina fans mingling -- and talking a little bit of trash. I saw cocktails toasted, toured a Cockaboose and learned a great deal about a region of the country I knew little about.
Excited but admittedly a bit apprehensive about what I'd encounter, I'm happy to say I left richer for the experience.
Best meal:
A good burger in Southern California is a good burger in Columbia, S.C. So checking out Pawley's Front Porch in Five Points with a few of my new USC friends was all well and good. But honestly, the best food I had was wandering from tailgate to tailgate trying out the local fare. From boiled peanuts and fried gator tail to the briskets, ribs and sausages, the tailgating grub was outstanding. And I do find it humorous that I can get better pulled pork in the Columbia, S.C., airport than I can in San Diego.
Must-see sight in Columbia:
I loved the history of the region (which I'll get into in the next section). But aside from seeing good football and some great historical sites, one absolutely must take a stroll through The Horseshoe -- the old part of campus. It's obvious why "College GameDay" picks this venue to set up at when it visits Columbia. The leaves were turning and it was simply beautiful. I could picture myself 20 years ago as a student, parked under a tree with a cup of coffee furiously trying to make sense of Immanuel Kant.
Biggest surprise:
As noted, I found the history of the area fascinating. I'm no Civil War buff, but it always interested me. In Pac-12 country, when we talk about the Civil War, it refers to Oregon's recent dominance over Oregon State. But hearing how most of the college was spared during the Civil War because it was converted into a hospital, and seeing the George Washington statue in front of the state house (allegedly once used as target practice for Confederate soldiers) was engrossing. So the biggest surprise to me was how much the Civil War is still such a part of the daily culture and community, for better or worse. It's something we simply don't think about on the West Coast.
Biggest difference from the Pac-12:
The football wasn't all that different. The SEC has speed. The Pac-12 has speed. In fact, there was a play when Shon Carson broke off a 58-yard run and got caught from behind by two defenders in the open field. I remember thinking to myself, no way Ka'Deem Carey or Bishop Sankey or De'Anthony Thomas gets caught from behind (SEC fans, no doubt, will attribute that to the league's superior defensive speed).
I have been to many Pac-12 games hours in advance where the lots are only half-full. But eight hours before kickoff in Columbia, the traffic on Bluff Road rivaled the 405 at 5 p.m. on a weekday. SEC folks come out early and make it a full day. There are some Pac-12 fans who do as well, but a lot more in the South.
They said it:
My outstanding tour guide for one of the days was Cory Burkarth, a member of USC's sports information department. I asked him how folks from South Carolina refer to Californians like myself. To which he replied: "You're not from the South. You're not a Yankee. If you're from the West Coast, you're a hippie." I laughed and bought him a burger.
If I could go back:
I'd sit in the student section and jump up and down during the players' entrance to "2001: A Space Odyssey" and wave my towel every time "Sandstorm" is played before a kickoff. I was on the field for it, several times, but the vibe and energy coming from the stands was intense. And, next time around, I'll be sure to refer to our USC as Southern California. Lesson learned, Columbia, and thanks for the hospitality.
December, 24, 2013
12/24/13
10:00
AM ET
Editor's note: During Week 12, 10 ESPN.com reporters changed conferences to experience college football in unfamiliar territory. Here is what they learned from the experience.
When we got our "Flip Week" assignments, I have to admit I thought I hit the college football jackpot. Maybe I'm biased, but I think I lucked out and got the best trip of them all. I had never been to Austin before, but plenty of close friends and family members had and I always felt I was missing out. Each one raved about the city, but for different reasons. A small part of me was slightly worried that Austin would be unable to live up to its advance billing, like an overhyped movie that turns out to be so-so.
Well, those concerns faded away about an hour into my visit. All the rave reviews you hear about Austin? They are all true. All the rave reviews you hear about Texas football game-day traditions? They are all true. All the rave reviews you hear about the food? They are all true. Austin was everything I wanted it to be, and that is what makes the city so irresistible to folks who visit. The experiences are so varied, no two are ever the same.
Now, here is a quick overview of the trip. Beginning with my favorite pic.
Hook em, dog! #flipweek pic.twitter.com/llbABhBcF4

— Andrea Adelson (@aadelsonESPN) November 16, 2013
Best meal:
la Barbecue.
This was not an easy choice, because every meal I had was pretty terrific. But the "El Sancho" sandwich stands out. Filled with brisket, sausage and pickled red onion on a soft bun, the meat was tender, juicy and flavorful and the barbecue sauce I chose had the right amount of sweetness. This ended up being a fork-and-knife sandwich: the meat was packed in so tight, it spilled out from all sides. My favorite part, truthfully, was the sausage. It blended the right amount of sweet and spice, with a crunchy skin that popped when chomped on a bite. I admit I could not finish the whole sandwich. But I did eat every bite of sausage.
[+] Enlarge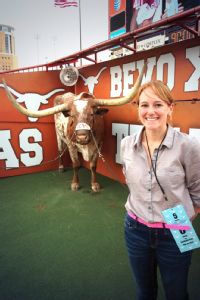 Courtesy Andrea AdelsonBevo has the best seat in the house for a Texas home football game, as ESPN.com's Andrea Adelson learned on her trip.
Must-see sight in Austin:
College football aficionados must take in the whole game-day experience. That means having a beverage at the Scholz Garten, mooching off some delicious tailgate grub on en route to Darrell K Royal-Texas Memorial Stadium, attempting to get close enough to get a glimpse of at least one player walking into the stadium during the march in, enjoying the band pregame featuring Big Bertha, hearing Smokey the Cannon go off and, of course, observing the always fascinating Bevo XIV. What does he do all game, you may ask. He just stands there. That is all.
Biggest surprise:
Upbeat Texas fans. I wondered what the mood would be in Austin given all the speculation and tension surrounding the program throughout the course of the season. I was there for the Oklahoma State game, with Big 12 implications on the line. Texas fans had hope headed into the game, but they all seemed to believe it was time for Mack Brown to go. Just about everybody I talked to had no hard feelings for him. They just felt he was ruining his legacy by hanging too long. Despite the tension, though, Texas fans remained resolute the program would be back on top one way or another.
Biggest difference from ACC:
In the ACC, you either have programs in major cities (Boston, Miami, Pittsburgh, Atlanta) or in college towns (Clemson, Blacksburg, Charlottesville). Austin is both big city and college town rolled into one. Three ACC programs are in state capitals, like Texas is in Austin. But Tallahassee, Raleigh and Atlanta would never be described as equal parts big city and equal parts college town.
They said it:
"Texas is an icon program. In football, our brand is so recognizable, we are almost like the Yankees. The fact that people hate UT solidifies how good we are. The more they hate us, the better we are." Texas fan Todd Summy, explaining why he loves the Longhorns.
If I could go back:
I missed the live music. How did I go to Austin and not see any? I am kicking myself for that. But because there was also an auto race the same weekend, my hotel was 30 minutes away from the heart of town. And our schedules were so packed with work and interviews, I simply did not have the time. That is No. 1 on my list next time I go. And yes, there absolutely will be a next time.
December, 24, 2013
12/24/13
9:30
AM ET
Editor's note: During Week 12, 10 ESPN.com reporters changed conferences to experience college football in unfamiliar territory. Here is what they learned from the experience.
I was admittedly dreading the freeway traffic. But after just a couple of days in Los Angeles, I was already used to it, whether I was crawling along on the 405 or the 110.
See, I even sound now like I've been in Hollywood all my life. Not really, though.
My junket out West was a blast. I'd been to Los Angeles a few other times, but being able to soak in a Pac-12 doubleheader -- UCLA-Washington on Friday and Stanford-USC on Saturday -- was a treat.
[+] Enlarge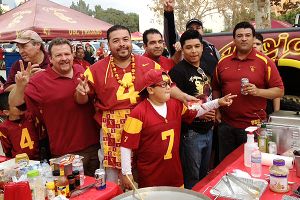 Chris LowAl Bautista (No. 4) hosts one of the better tailgates at USC.
Both the Rose Bowl and Los Angeles Memorial Coliseum should be on your bucket list if you're truly a college football junkie. I guess everything's a little more laid-back in California, and perhaps that's a stereotype, but what struck me the most was the unique blend of energy, warmth and knowledge of both the UCLA and USC fans.
The sheer beauty of the UCLA campus was equally stunning. It was like a postcard, although I don't envy the students having to get from Westwood to Pasadena on game days. Shuttles are available to take them, but it's a dramatically different dynamic than students at Auburn or LSU merely strolling across campus on fall Saturdays.
There are countless contrasts when you start comparing the world of college football in the SEC with the world of college football in Los Angeles.
For instance, they were filming an episode of the NBC sitcom "Parks and Recreation" not far from my hotel in Pasadena the day before the UCLA-Washington game. In the SEC, they're usually filming statues the day before games, as in statues of Bear Bryant and Nick Saban in Alabama's Walk of Champions.
Being a part of the mob scene on the field at The Coliseum following USC's upset over Stanford was something I won't soon forget. I was standing just outside the left upright when
Andre Heidari
kicked his game-winning, 47-yard field goal and could tell the kick was going to be good the whole way.
A couple weeks later, after taking in the Clemson-South Carolina game in Columbia, S.C., I couldn't help but wonder how many people saw both "USCs" play this season on the two different coasts. I know I'll catch grief from my Trojan pals for referring to South Carolina as "USC," but cut me a break. I grew up in South Carolina.
Here are some highlights from a truly memorable trip. Can't wait to get back out there for the VIZIO BCS National Championship in a few weeks:
Best meal:
The chimichanguitas at Mijares Mexican Restaurant in Pasadena were the best I've ever eaten … by far. They're mini-chimichangas that are flaky enough on the outside that it's almost as though you're eating homemade biscuits. And if you're really hungry or share the chimichanguitas with somebody else, you can follow them up with the shrimp and lobster enchiladas at the family-owned restaurant that's been a staple in Pasadena since 1920.
Must-see sight:
Driving down Sunset Boulevard past the famed Beverly Hills Hotel (you can get a room for just south of $700 a night) and then kicking it in Hollywood for a few hours. You never know what celebrities you might run into. One of the most gorgeous sights you're ever going to lay eyes on are the San Gabriel Mountains hovering in the distance at the Rose Bowl. Also, seeing the USC Trojan Band come marching through campus to the The Coliseum was awesome. The coolest part was seeing some of the USC fans sneaking the band members beers as they marched by. Tubas are a great place to hide those beers, by the way.
Biggest surprise:
The tailgating, particularly at The Coliseum prior to the Stanford-USC game, was every bit as elaborate as anything you'll find in the SEC. You're talking about everything from homemade salads and shrimp dishes, to huge, big-screen televisions to watch the other games, to fans arriving at the games as early as 6 o'clock in the morning.
Biggest difference from the SEC:
Fans were definitely fired up and passionate, but I didn't sense some of the nastiness you encounter at some of the SEC stadiums between rival fans. In other words, I didn't see any fights.
They said it:
"I didn't know they played football in the SEC, or at least, played anybody that was any good." -- USC fan Michele Brown of Huntington Beach, Calif.
If I could go back:
I'd figure out a way to buy one of those palatial homes in the Pasadena neighborhood you go through to get to the Rose Bowl. I'd also figure out a way to tailgate a little longer with some of the best people you're ever going to meet -- Jenny Bailey, Justin Bailey, Al Bautista, Angel Bautista, Andrew Biren, Justin Biren, Michele Brown, Benny Castro, Steven Doria, Ryan Draizin, Juan Duran, Daniel Fogelson, Spencer Sloan, Pat West and Lori Zavala.
December, 24, 2013
12/24/13
9:30
AM ET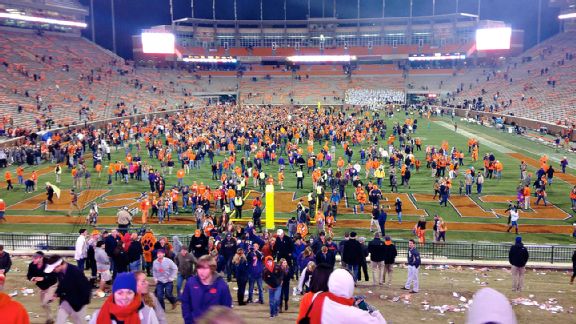 Brian Bennett/ESPNClemson fans take the field at Memorial Stadium after the Tigers' win over Georgia Tech on Nov. 14.
Editor's note: During Week 12, 10 ESPN.com reporters changed conferences to experience college football in unfamiliar territory. Here is what they learned from the experience.
I had a choice to make when the Georgia Tech-Clemson game ended.
Once the crowd cleared out, I made my way up to the top of "The Hill," the famous incline where the Tigers enter before games. I wanted to get an up-close view of Howard's Rock and see the field from that vantage point.
Then it was decision time. Should I run down the Hill, as Clemson players and coaches do, and risk making a fool of myself by tripping? That sucker's pretty steep, and it undulates. Plus, my out-of-shape sportswriter quads were already burning from traversing the hilly terrain around Memorial Stadium for several hours while visiting tailgaters. When you're in a place called Death Valley that's situated below a cemetery, it doesn't take much to get you contemplating your own mortality.
But I'd also heard so many people in the previous two days talk about how special that entrance was, how much the rock and the running down the hill meant to them. How students like freshmen Austin Stevenson and Connor Sweeney camped out for a full week just to sit on the hill for the Florida State game. How, as fan Ricky Thompson told me, "It brings you chills every time they do it." I had witnessed just how special that tradition was a few hours earlier.
So in the end, there was really no choice at all. How many times would I get a chance like this? So I rubbed the rock for good luck, and I ran, quite unathletically, down that hill.
There were no spills. Just thrills.
Here are some other highlights of my "flip week" experience at Clemson:
[+] Enlarge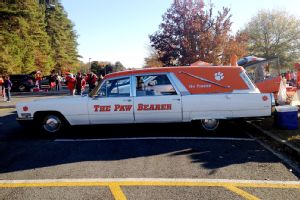 Brian Bennett/ESPN.comA Clemson fan has a unique way of showing his devotion to the Tigers with a "Paw Bearer" vehicle.
Best meal:
Sorry, Midwesterners, but it's true: Barbecue just tastes better in the South. So I wasn't going to miss a chance to hit The Smokin' Pig in Pendleton on game day. It's open only Thursday through Saturday, so I got there just after the doors opened at 11 a.m. Good thing, too, because the line was out the door by 11:15 a.m. I asked my waitress whether it was so crowded because of the Clemson game. She replied, "Honey, it's like this every day." As I inhaled my chopped pork plate and tested out the homemade sauces, I easily could understand why.
Must-see sight in Clemson:
They call the Tigers' entrance to the field "the most exciting 25 seconds in college football." It actually lasts a bit longer than that, as the video board shows the team arriving via bus from its locker room on the other side of the stadium and the crowd starts to go nuts. Thanks to Clemson giving me a photo vest, I got to stand at the bottom of the hill as the team touched Howard's Rock and ran down right past me, to eardrum-splitting noise. It was every bit as cool as advertised.
Biggest surprise:
How incredibly friendly and outgoing everyone at Clemson was. I thought there might be some insecurity over the whole "Clemsoning" thing, but Tigers fans simply love their team and their school and are happy to share it with outsiders.
Biggest difference from the Big Ten:
Clemson has a definite out-of-the way, small-town, close-knit atmosphere that you don't get in many Big Ten towns, except for maybe State College, Pa. Midseason Thursday night football also provided a much different environment than the Big Ten, which cherishes its Saturday afternoons. Clemson canceled classes on Thursday to accommodate the game, and I can't imagine many -- if any -- Big Ten schools going for that. On the field, the biggest difference was the Tigers' speed and athleticism at receiver, with
Sammy Watkins
and
Martavis Bryant
. Most Big Teams are lucky to have one guy like that at wideout. Nobody has two.
They said it:
"You can bring some people here who've never been before, and it will turn them all the way around." -- Clemson fan Kevin Nettles.
If I could go back:
I'd go for a Saturday game. The Thursday game was unique, but because so many Clemson fans travel long distances to games, Memorial Stadium was not close to full. That's wildly unusual for some of the most loyal fans in the country. There was basically no game-day eve atmosphere on Wednesday night, and I was told that tailgating was much sparser than normal on Thursday afternoon. On the plus side, you actually could move around inside the ESSO Club and find places to eat without waiting. But someday, I'd like to enjoy the full Clemson game-weekend experience.
December, 24, 2013
12/24/13
9:00
AM ET
Editor's note: During Week 12, 10 ESPN.com reporters changed conferences to experience college football in unfamiliar territory. Here is what they learned from the experience.
The damn eagle nearly went to war on my face.
We stood near midfield at an empty Jordan-Hare Stadium (for Big Ten folks, it's pronounced Jerdan-Hare) on a beautiful Friday afternoon, as Nova, better known as War Eagle VII, went through his daily practice in preparation for Saturday's flight before the Georgia game. Nova's handlers from the Southeastern Raptor Center had just finished explaining how the 13-year-old golden eagle with a six-foot wingspan is a natural predator who targets a leather pouch called a lure on his flight from the upper reaches of the stadium. Solely interested in food rewards, Nova knows that when he lands on the lure, lunch is coming.
"We have to make sure other live mascots are off the field, because they will attack," Marianne Hudson, assistant director of raptor training and education, told me before Nova's first flight. "That includes Uga."
[+] Enlarge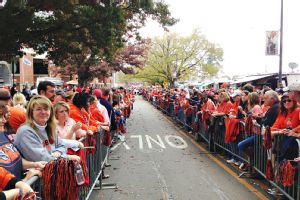 Adam Rittenberg/ESPNAuburn fans wait to welcome the Tigers to Jordan-Hare Stadium during their famed Tiger Walk.
OK, so Georgia's bulldog can't be on the field. But portly sports writers are safe, right? Not when they stand right behind the landing zone.
After watching Nova's first flight from a distance, I tried to get a better video of the second attempt and positioned myself behind handler Andrew Hopkins, who held the lure. But Nova doesn't land softly. It's more "splash and dash," as Hudson said, and as Nova approached, I quickly realized I was in trouble and went into a pathetic backpedal (Darrelle Revis, your job is safe). I'll never live down the video.
Flipping out during eagle practice was merely part of an unforgettable Flip Week experience at Auburn. My fellow ESPN.com colleagues and I traveled to a vastly different part of the country for a football weekend to see how others appreciate the game. I cover the Big Ten on a regular basis and have spent most of my life in the north and west. I was definitely a foreigner in SEC territory.
I got the best draw of the bunch, heading to Auburn for the Georgia game, the start of Auburn's incredible run to the VIZIO BCS National Championship. But the
Prayer at Jordan-Hare
was only part of an amazing weekend on The Plains.
Some highlights:
Best meal:
Blackened catfish with slaw, hushpuppies and sweet tea at Good Ol' Boys in Auburn. I wish I had stuck around long enough to eat some of the brisket or ribs Ryan Molt was cooking in a massive propane grill at the Stoll Family Tailgate in the northwest corner of the hayfields. Best drink definitely is a large lemonade from Toomer's Drugs.
[+] Enlarge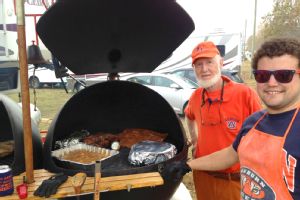 Courtesy Adam RittenbergAuburn fans take their tailgating seriously.
Must-see sight in Auburn:
The Tiger Walk. The rolling of Toomer's Corner is more famous and pretty special, too, but the Tiger Walk is more visually impressive, as thousands upon thousands line Donahue Drive to welcome the team into the stadium. A true spectacle.
Biggest surprise:
How civil the rolling of Toomer's Corner turned out to be. I had seen video of previous rolls and it looked pretty wild. After an incredible win and a long day of libations, I figured things would be pretty rowdy at the corner of College Street and Magnolia Avenue. But the gathering never got out of hand, as the crowd parted for a passing ambulance and allowed children and their families to be part of the celebration.
Biggest difference from the Big Ten:
Aside from the comfortable temperatures in mid-November, Auburn had a bigger and more organized tailgating scene than any I've seen in the Big Ten (Penn State comes the closest). From the hoity-toity corporate crowd near the stadium to the regular folks on the perimeter to the hayfields, where tailgates look more like villages, Auburn fans truly go all out. And the football weekends there really start on Thursday, not just Saturday. But my biggest suggestion for the Big Ten is more live animal mascots.
They said it:
"We've got football problems." -- Will Traylor, Auburn fan and alum, and co-owner of the Tiger Prowler, a 1988 school bus painted orange and blue and parked in the hayfields for each AU game.
If I could go back:
I'd sample some more cuisine around Auburn (Amsterdam Cafe, Hamilton's on Magnolia, Momma Goldberg's, Niffer's Place, Cheeburger Cheeburger) and spend more time in the hay fields with the RV crowd. Maybe I'll go for Thanksgiving dinner in 2015 before the next Iron Bowl at Jordan-Hare. I know they'll be there.
December, 24, 2013
12/24/13
9:00
AM ET
Editor's note: During Week 12, 10 ESPN.com reporters changed conferences to experience college football in unfamiliar territory. Here is what they learned from the experience.
Blacksburg, Va., is an awesome place to be.
I normally spend my weekends during the fall in stadiums across the Big 12, but I'd heard plenty about Lane Stadium and the atmosphere at Virginia Tech. As I headed to VT, I had pretty high expectations, yet my mid-November trip somehow exceeded all of them. Hokie Nation's hospitality was second to none, the food and festivities were top notch, and game day is filled with traditions that separate Virginia Tech from other college football atmospheres. Great food, great people and top-notch ACC football? I'd do it again in a heartbeat. Here are some of the highlights of my trip:
Best meal:
Mustard Rabbit at Our Daily Bread Bakery and Bistro. I had several great meals during my time in Blacksburg, including a burger at Mike's and a terrific Italian food sampler at Sal's, but the Mustard Rabbit at Our Daily Bread was the most memorable meal. Not only was it terrific, it's hard to find rabbit in Oklahoma. Whenever I return to Blacksburg, a return visit is a no-brainer.
All tied at 21... Lane Stadium is fired up #flipweek http://t.co/G964vAdqeh

— Brandon Chatmon (@BChatmon) November 17, 2013
Must-see sight in Blacksburg:
The drill field on the Virginia Tech campus, including the two memorials. The War Memorial, a tribute to all VT alums lost in combat since World War II, and the April 16 Memorial, a tribute to the VT students and faculty lost in the campus shootings on April 16, 2007, are must-see experiences, and a simple walk around the beautiful campus, leaving you with a better appreciation for "Hokie Stone," is well worth the time.
Biggest surprise:
The passion. Blame it on my own naiveté, but I landed in ACC country expecting football fans with some passion but nothing like I've gotten accustomed to in the Big 12. I was way off; Hokie Nation is as passionate as any fan base I've interacted with and has high expectations for its program. The disappointment over the lack of a national championship was expressed over and over again by Hokies fans.
Biggest difference from Big 12:
The style of play in the ACC is just vastly different. The Big 12 is full of wide-open offense, high-scoring games and big plays. The Hokies have always taken pride in their defense, ranking among the nation's best for the past decade. To sum it up, VT and Maryland combined for 583 yards in the Terps' 27-24 overtime win. Baylor averaged 624.5 yards per game this season. So, umm, yeah, a lot different.
They said it:
"I'm thrilled I decided to come back and play with these guys, thrilled to be a part of this team, and my decision to come here was a great, great decision."
-- quarterback
Logan Thomas
after a 27-24 overtime loss to Maryland in his last game at Lane Stadium.
If I could go back:
There are so many things I didn't get to do and places I didn't get to eat at in Blacksburg. If I get the chance to go back, I'll definitely grab a drink at Top of the Stairs and Bull and Bones. When it's time to grab a bite, I'll head to the Cellar and Cabo Fish Taco first before working my way down the rest of the list. Blacksburg is the ideal college town with plenty of places to grab a bite or a drink, so I can't wait to return.