September, 27, 2010
9/27/10
1:11
PM ET
September, 20, 2010
9/20/10
5:46
PM ET
Houston quarterback
Case Keenum
is done for the year, but is he done for his career? There is a possibility the prolific quarterback could appeal to the NCAA for a medical hardship redshirt and a sixth year of eligibility.
Coach Kevin Sumlin said it was too early to consider such a possibility, which would appear to be a long-shot based on recent decisions the NCAA has made with other players. Under NCAA rules, a student-athlete has five years to complete four years of eligibility. Student-athletes can apply for the sixth year of eligibility should they lose more than a season for reasons beyond their control. Since Keenum took the typical redshirt season as a freshman, Houston could have difficulty making the case.
Here is a look at some of the recent waivers the NCAA has granted, and some it has rejected. Keep in mind each appeal is handled on a case by case basis:
GRANTED
FAU senior running back
Jeff Blanchard
got a sixth year because he suffered season-ending injuries in 2007 (ankle) and 2009 (knee).
Kent State running back
Eugene Jarvis
was granted a sixth year after a lacerated kidney forced him to miss nearly all of 2009. He was redshirted as a freshman because an error with his high school grades had him declared academically ineligible.
South Carolina LB Rodney Paulk had his waiver granted after missing most of the past two seasons with knee injuries.
USF running back
Moise Plancher
was granted a sixth year because he did lose two seasons to injury. He redshirted his freshman year because of a shoulder injury in 2005, then the following season he suffered a season-ending knee injury in the opener.
Arizona State WR
Brandon Smith
got his sixth year of eligibility. He missed the 2007 and 2009 seasons because of injuries.
REJECTED
Ball State TE Madaris Grant had his appeal denied. Grant tore an ACL in the first quarter of the season opener last season against North Texas. Coach Stan Parrish said that the appeal was rejected because the NCAA requires two severe injuries for a sixth year. Grant redshirted his freshman year without injury.
Cincinnati QB Ben Mauk had his appeal denied. Mauk was redshirted as a freshman, then missed almost all the 2006 season with a shoulder injury. He argued he did have an injury in his redshirt season, but the NCAA still said no.
Oregon State QB Lyle Moevao had his appeal rejected. Moevao injured his right shoulder during the 2008 season, then suffered a foot injury in October 2009. The school said his appeal was denied, "due to him not demonstrating the loss of two seasons beyond his control."
Florida RB Dorian Munroe had his appeal denied despite tearing his ACL last year for the second time in his career. The NCAA turned down the appeal because he played in a game in 2009.
September, 14, 2010
9/14/10
9:00
AM ET
We know Michigan quarterback
Denard Robinson
is good. But is he Tim Tebow good?
Tebow elicited oohs and ahhs throughout his Florida career as a break-the-mold dual threat quarterback. He was a mack truck at quarterback, a linebacker taking snaps, unafraid to bulldoze into you or over you -- whatever got the job done. When he became the starting quarterback for the Gators in 2007, the hype machine was on overdrive before he took a snap under center.
In his first two games, he lived up to the expectations, scoring a combined eight touchdowns and contributing 667 yards of total offense. But never once in that season did he go over 500 total yards. He went over 400 just twice. That was good enough to win the Heisman Trophy on a 9-4 team, the first sophomore to win the award. He led his team in passing and rushing, but he could not overcome a sometimes inconsistent defense.
[+] Enlarge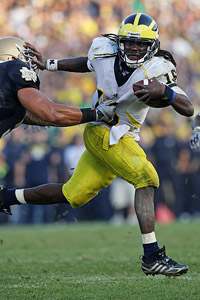 Jonathan Daniel/Getty ImagesDenard Robinson has looked Heisman like through two games.
The talk had already begun that he would become the best player in college football history. There are many who believe he is greatest, just a few months removed from his senior year with the Gators.
So will the same type of overdrive hype follow Robinson in his sophomore season?
Tebow never put together a two-game stretch the way Robinson has, with 885 yards of total offense to open the season. That includes 502 yards of total offense in a win over Notre Dame this past weekend. Tebow went over 500 yards of total offense just once, in his career finale against Cincinnati in the Sugar Bowl (533). Tebow went over 800 total yards in a two-game stretch just once -- again to close out his career against Alabama and the Bearcats (843).
For Robinson to do that in his first two starts is simply astounding. Those 885 yards of total offense is
better than 87 of the 120 FBS teams
, according to ESPN Stats & Information. What sets him apart is his blazing speed and ankle-breaking juking ability, a running back taking snaps, unafraid to fake you right out of your shoes.
Where he is different from Tebow, though, is he does not have Percy Harvin to help him out. So Michigan has had no choice but to allow him to carry the rushing load as much as he has in two games, contributing to the eye-popping numbers. Coach Rich Rodriguez said after Robinson had 29 carries in the opener he did not want to do it again. But he did, giving Robinson 28 against Notre Dame simply because his quarterback is his best option.
Given all this, Robinson has just started getting national attention. Robinson came into Michigan without the fanfare Tebow got when he arrived at Florida. Tebow had been featured as a high school senior in an ESPN documentary, after all.
Robinson played as a freshman in spot duty, the way Tebow did behind Chris Leak. But there was no jump pass to get him on national highlights, no inclination he would be able to simply overwhelm defenses the way Tebow did. Let us remember that Urban Meyer learned a lot of what he knows about the spread from Rodriguez. If there is anybody who knows how to utilize his quarterback in this offense, it is Rodriguez, who had his own quarterback wunderkinds at West Virginia.
To keep up this pace, Robinson would have to be almost superhuman. But, that is what people thought of Tebow. Any Heisman talk after two weeks is premature, of course, but if Robinson continues to dominate the way he has, he would be absolutely deserving, even on a mediocre team. Tebow won one on a four-loss team, proving that going undefeated is not a prerequisite to take home the trophy.
Tebow deserves his spot in college football history for what he accomplished in three years as a starter. But Robinson could be on the verge of accomplishing the unprecedented. No player in major college football history has passed for 2,000 yards and rushed for 2,000 yards in a season. If Robinson keeps up this pace, he would become the first.
We are getting ahead of ourselves. There are 10 games left to be played, including the entire Big Ten slate. What made Tebow so good was that he was consistently good, week after week. We only have two games to judge Robinson. But after watching him shred Connecticut and Notre Dame, Robinson has showed us sometimes we should believe in the unbelievable.
September, 7, 2010
9/07/10
2:00
PM ET
No, you did not imagine it. Several quarterback-center exchanges were less than a snap in the first college football weekend.
In the more high-profile cases, Florida, North Carolina, Oregon State and Virginia Tech all cost themselves thanks to bad snaps. In the case of the Beavers, a miscommunication with the center and new quarterback
Ryan Katz
cost the team a safety on what could have been the game-tying drive late in their 30-21 loss to TCU.
The Tar Heels lost one fumble on a bad snap early in the game, and also gave up a safety because of another. The Gators had a new center and new quarterback playing. They lost one fumble early in the game because Mike Pouncey snapped the ball into the ground. In all, there were 13 bad snaps -- five that Brantley missed. The Hokies had a bad snap on the second play of the game and lost the fumble, leading to a field goal for Boise State.
[+] Enlarge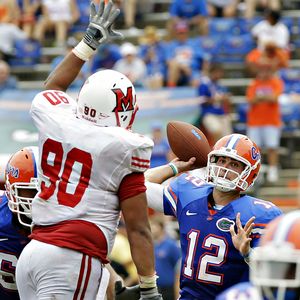 AP Photo/John RaouxAustin Brown of Miami (Ohio) disrupted John Brantley and the Florida offense according to Redhawks coach Mike Haywood.
One of the root causes for the problems seems to be the shotgun snap, and the cat-and-mouse game the offense and defense play in those formations.
"It's become an issue," said Western Michigan coach Bill Cubit, whose team had a bad shotgun snap Saturday that Michigan State converted into a touchdown. "If I could, we'd be underneath the center but with the defenses today, you'd like to give your quarterback a little bit more room, but then you create the double edged sword.
"What's happening is I think all of us are trying to be cute. Now everybody is faking the signal to snap to the center. Sometimes the center doesn't see that, he sees a foot movement, the quarterback out there he may be checking to his wideouts, the center doesn't know that and snaps it."
The shotgun snaps also become an issue in loud stadiums, where teams have to rely on a silent snap count. "That's where I think the issue is, all the silent counts now," Culbit said. "The center's checking back there, what's the signal to snap the ball? All the while nobody on the defense is moving. It's a long process and it's a little bit intricate."
Pouncey took full responsibility for his botched snaps Saturday against Miami (Ohio), but Redhawks coach Mike Haywood had a front-row seat to all the problems the Gators had. He said his defensive tackle, Austin Brown, played a role in wreaking havoc.
"It's really important that you understand Austin Brown is an undersized guy going up against a guy the size of Pouncey," Haywood said. "His initial quickness and his tenacity caused him a problem because Pouncey didn't expect a guy as quick as Austin Brown on him. When you try to change up head counts with one bob or two bobs and try to do different things to slow down the defensive line it sometimes because a problem."
Shotgun snaps aren't easy, of course. They take timing and precision, considering the quarterback is lined up 5 yards behind the center. Air Force offensive line coach Clay Hendrix said his team practices shotgun snaps every day before practice, even though the Falcons do not rely on the formation for their base offense.
Absolute precision is the key in their offense because they do run a lot of the option. Hendrix doesn't want his quarterback getting the ball too far to the right when he has to go to his left. He wants the shotgun snap to become second nature.
"On certain plays, you have to be dead on as far as the snap goes," he said. "If you don't, it's going to screw everything up."
He also cited more responsibility on the center as another key factor when snaps go wrong.
"I know a lot of people particularly in the passing game are asking the center to make decisions from a protection standpoint," he said. "Now he's caught up -- are we protecting right? Protecting left? and Oh by the way, I have to snap it. In the gun, the snap's going 5 yards backward -- you have a lot more opportunity to mess it up than when he's under center."
Perhaps some of the problems can be attributed to first week jitters. Though the Gators were under center more than they ever were when Tim Tebow was there, Gators coach Urban Meyer says the team will continue to line up in the shotgun. "We are going to correct that issue," Meyer said.
We'll see whether teams have made improvements this week.
September, 4, 2010
9/04/10
1:49
PM ET
A few halftime thoughts from three of the early games:
Not the ideal start for new Gators quarterback John Brantley. Florida had 9 total yards in the first quarter. It had 21 points and 13 yards of total offense at halftime. The scores came thanks to three turnovers from the Miami (Ohio) Redhawks.
The Gators had two fumbles and put the ball on the ground several more times. That included a Brantley fumble on a terrible shotgun snap on the first possession of the game. They also failed to convert on two short-yardage opportunities, where Tim Tebow used to be the go-to guy. The Gators tried to give it to
Emmanuel Moody
both times. On the first, a third-and-1, he came up short but a penalty on Miami gave Florida the first down. On the second, a fourth-and-1, Moody fumbled a pitch. Might want to look at
Trey Burton
going in there for short yardage. He rumbled in for a 2-yard score to put Florida up 21-3.
Halftime stats: Florida is up 21-6 but Miami has more first downs (7-4), yards (102-13) and is leading time of possession (20:24 to 9:36). Both teams have negative yards rushing. "That's about as bad as we've played around here," Urban Meyer said at halftime.
Also, Miami running back
Thomas Merriweather
was ejected for throwing a punch.
Florida State's offense is rolling, but that is not unexpected considering the opponent and the Heisman candidate throwing the ball. Christian Ponder did have an early hiccup, throwing an interception in the red zone, but after that he has been nearly perfect, throwing four touchdowns as Florida State has a 42-3 lead on Samford at the half. Greg Reid returned a punt 72 yards for a touchdown, and as promised, got into the game on offense -- with one carry for 8 yards. New coach Jimbo Fisher said he would use his star cornerback both ways this season.
New defensive coordinator Mark Stoops has his unit playing well, but again, this is a completely overmatched opponent. Although, let's remember Florida State nearly lost to Jacksonville State last season. The Seminoles needed two scores in the final 35 seconds to win 19-9.
Western Michigan played Michigan State close for a quarter and a half, and appeared to be in good shape down 14-7 after a great punt down to the the Michigan State 2. But Le'Veon Bell blew the game wide open. His 75-yard run set up a touchdown by Edwin Baker. Then Bell scored a 2-yard touchdown with 34 seconds left in the half, putting the Spartans up 28-7.
Alex Carder
, taking over for the departed Tim Hiller, has not had much time to get the ball downfield. He is only averaging 4.9 yards a completion. Western Michigan has 106 total yards of offense in the first half.
September, 3, 2010
9/03/10
11:30
AM ET
Our esteemed conference bloggers gave us their top 10 storylines to watch yesterday. Today, we present the top 10 storylines to watch across the country.
1. How does North Carolina recover emotionally from losing so many players?
We know North Carolina is going to be depleted on the field against LSU on Saturday.
Twelve players have been declared ineligible
, including six starters. Of those six, five are on what is supposed to be one of the best defenses in the country. Players are going to have to step up, yes, but you have to wonder what type of toll this is going to take on the team from a mental standpoint. North Carolina is going into one of the biggest national games in the country with one arm tied behind its back. Surely the players know this. Surely coach Butch Davis knows this. He is going to have to do one heck of a coaching job to get his players to focus on the actual game and not all the outside distractions.
2. Big debut for Notre Dame coach Brian Kelly:
Opinions are mixed on just how well Kelly will do in his first season as Irish coach. There are some who believe a 10-win season is possible. Others think seven wins is more likely. We will have to see how
Dayne Crist
does in the new spread offense, but more importantly -- how much better is the defense going to be this season? This is a team that returns nine starters from a defense that ranked 86th in the country last season. Yes, there is another new defensive scheme in place, but it should get a big test from Purdue and pass-happy quarterback
Robert Marve
.
3. How much of a home-field advantage will Virginia Tech have against Boise State?
We have gone over some of the matchups, most notably the Hokies running backs vs. the Boise State defense. But intangibles are going to play a role here. How does Boise State handle traveling across the country and going into what should be a hostile environment? It has practiced for the heat and humidity, but it is hard to simulate actual game conditions with 90,000 fans -- most of whom are against you. Boise State has played in front of hostile crowds before, but this should be especially loud.
4. How does Year 3 of the Rich Rodriguez era start?
Rodriguez could have the hottest seat of any coach in the country right now, what with NCAA sanctions looming and two straight losing seasons on his resume. Michigan fans want to win yesterday, let alone now. There is still uncertainty at quarterback, where up to three players could play against Connecticut. Every game Michigan plays these days feels like a must-win, but especially this one because of all the distractions outside the program.
5. No Tim Tebow, now what?
The
Florida Gators
are ranked so high in the preseason polls this year largely because of the expectations on new quarterback
John Brantley
. He has a different style to be sure, more of a drop-back passer with a much stronger arm, but many expect him to step in and keep the Gators offense rolling along. He will have to do it without two of the team's top receivers, Riley Cooper and Aaron Hernandez. Who is going to step up to be the leader of that receiving group? Will the Gators have an effective way to run the ball with Tebow gone? After all, Tebow led the team in rushing the past three seasons.
6. How does Alabama handle playing without Mark Ingram and defensive end Marcell Dareus?
Yes, the Tide is only playing San Jose State, but a big game against Penn State looms and the Tide could potentially be without both players in that one. Alabama has a capable back in
Trent Richardson
, and Damion Square is expected to play in Dareus' place. Both are going to need to get comfy out there before Sept. 11.
7. Does Nebraska have an offense to match its defense?
The Cornhuskers are getting much love based on the way their defense played last season, and their near-upset of Texas. But their offense was atrocious, ranking 99th in the entire country. Once again, there is quarterback uncertainty, so that does not exactly project the confidence that this unit is going to magically be better. In its four losses last season, Nebraska averaged 11 points.
8. Can Oregon State put enough pressure on TCU quarterback Andy Dalton?
Much of the focus on this game has centered around the Rodgers brothers and their return to Texas.
Jacquizz Rodgers
vs. the always strong TCU defense is a great matchup to watch. But another one is how Oregon State defends Andy Dalton. The last time we saw Dalton, he was frazzled into throwing three interceptions, including one that was returned for a touchdown in the Fiesta Bowl against Boise State. He threw only five in the regular season.
9. Georgia breaks in a new quarterback and new defense:
How are the Bulldogs going to look with a redshirt freshman in
Aaron Murray
leading the offense, and a new defense playing the 3-4? Georgia is going to need answers fast with a road game at South Carolina looming. The Gamecocks looked pretty good Thursday night.
10. Charlie Strong vs. Joker Phillips:
It's great to see two African-American head coaches making their debut in such a huge rivalry game. Their rise has helped increase the number of minority head coaches to 13 going into the 2010 season, up from nine in 2009.
August, 6, 2010
8/06/10
10:28
AM ET
Let's take a closer look at the newly released
preseason coaches' Top 25
:
Biggest snub
: Boise State at No. 5. How does a team that finished the season with a Fiesta Bowl win and a No. 4 ranking with 21 starters returning drop a spot in the preseason poll? Not only that, how does it start the year ranked behind Florida and Texas? Both the Gators and Longhorns had great 2009 seasons obviously, but both are missing several of their key players. Florida is without Tim Tebow and much of its defense; Texas is without Colt McCoy and many of its top defensive players.
Yes, starting No. 5 is huge for Boise St., because it means the Broncos will not have to climb as far if they are in the national championship hunt later in the season. Alabama and Florida play each other Oct. 2 as well (there also is the possibility of another SEC championship game). But Boise St. should have been at least No. 3 based on its accomplishments last season and the players returning. That would have made it easier to stay in the top 3. Now much more is going to have to happen for Boise St. to have any real shot of becoming the first non-AQ team to play for a BCS title. Of course, this could all be a moot point if it loses to Virginia Tech to open the season.
Overrated
: Florida, Texas, Virginia Tech. We listed reasons for the over-ranking of Florida and Texas. Now to the Hokies, who are at No. 6. It seems expectations are too high for the Hokies every season. Yes, they return a very talented RB duo and
Tyrod Taylor
at QB, but the defense only returns four starters and the schedule is brutal. This seems a bit high for a team that has averaged three losses over the past six seasons.
Overrated, Part II
: Penn St. at No. 14 and LSU at No. 16. Penn St. lost lots of defense and has uncertainty at QB; LSU has a great defense, but everybody is waiting on
Jordan Jefferson
to step up. This was also a team picked to finish fourth in the SEC West in the preseason media poll.
Underrated
: Boise St. (see above); Iowa (No. 10). The Hawkeyes made an impressive run last season and beat Georgia Tech in the Orange Bowl. They return 14 starters, including eight on defense. Perhaps coaches took into account all the close games Iowa won last season.
Non-AQs
: Only three ranked in the preseason this year after five finished last season ranked in the final coaches' Top 25. Notably absent: Houston.
Breakdown
: The SEC led the way with six teams; the ACC has five; Big Ten has four; Big 12 has three; Big East and Pac-10 each have two.
Who would be in your Top 25 poll? Check out this
poll generator
, and leave your comments below.
August, 20, 2009
8/20/09
5:00
AM ET
Posted by ESPN.com's Ivan Maisel
1. On the 89th and final play of its second scrimmage last night, Boston College scored its first offensive touchdown of the season. "The QB play leaves a lot to be desired," head coach Frank Spaziani said. None of the four candidates has taken a game snap. Minor-league refugee Dave Shinskie, 25, got the most work. He has some touch but is, in football terms, as much of a rookie as 18-year-old Mike Marscovetra. Junior Codi Boek showed some presence. "We're inching along," Spaziani said, "and we've got to improve by a foot."
2. The best defensive players react quickly to what they see or, even better, anticipate what they have yet to see. Florida defensive backs coach Chuck Heater told me that ability comes naturally to sophomore corner Janoris Jenkins. "For some guys, it's really kind of a gift," Heater said. "Maybe because we had such a...solid team around Janoris, he looked just like a guy who has been out there his entire life. He never panicked, always seemed to be in the flow of the game."
3. The complainers say that college football is unfair because the national championship stays within the same small group of 20 or so teams. Maybe so. But a playoff won't solve that issue. Name the sport that isn't dominated by a small percentage of teams. Lakers, Yankees, Steelers, FC Barcelona, etc., commit the resources and have the interest to win. Same with the Floridas and USCs.
August, 12, 2009
8/12/09
5:00
AM ET
Posted by ESPN.com's Ivan Maisel
1. News item: Florida is looking at putting cornerback Joe Haden into a Wildcat offensive set. Hello? Seems to me that the Gators already have a Heisman Trophy winner at quarterback. This strikes me as too clever by half. Is Indianapolis coach Jim Caldwell looking to spell Peyton Manning with a Wildcat formation featuring Joseph Addai or Marlin Jackson? No. You know why? Duh -- he has Peyton Manning.

2. Here's the clearest definition of the haves and have-nots in college football. The BCS paid slightly less than $23.2 million each to the Big 12 and Southeastern Conferences for putting two teams in BCS bowls last season. The BCS paid $225,000 to each of eight FCS conferences. That's not quite 1 percent of what the Big 12 and SEC received. The money doesn't look good when compared to the six-figure checks that individual FCS schools cash in those rent-a-victim games.
3. UCLA offensive coordinator Norm Chow thinks that redshirt freshman quarterback Kevin Prince has the tools to be a great quarterback. But Chow doesn't know if Prince "will pee down his leg" before his first college game against San Diego State. Chow used that same inelegant phrase six years ago to describe the USC sophomore he tapped to start the season opener at Auburn. Matt Leinart turned out pretty well.