NCF Nation:

Florida Atlantic
September, 15, 2011
9/15/11
9:00
AM ET
Well, I must say I was feeling pretty good about
last week's prediction
after
Tommy Rees
' touchdown pass with 30 seconds left made it 31-28 Notre Dame. Of course,
Denard Robinson
changed everything.
A new week brings a new team from Michigan, with Notre Dame still searching for win No. 1. It will likely take the Fighting Irish winning out for their BCS bowl aspirations to be met, but that should be the last thing on everyone's mind. For now, to be cliché, it really is about one game at a time.
Kirk Cousins
and the Michigan State offense won't throw a bag of tricks at the Irish the way
B.J. Daniels
and Robinson did in the first two weeks, but they provide a stiff test nonetheless. The Spartans have a stable of four running backs who get meaningful carries and can wear out opposing defenses. But this is exactly the brand of football the Irish were built for, with a strong front seven and finally some depth on the defensive line that wants to hit hard and hit fast.
Behind Rees, Notre Dame's offense likely won't click the way it did early last week, not against an MSU defense that ranks fourth in the country. But, as is the case with his defense, Rees should know what to expect from a deliberate unit, as opposed to the schemes Michigan threw at him a week ago. The Irish's offensive line, meanwhile, has been champing at the bit for a game like this, especially after the squad's fourth-quarter shortcomings on third-and-short against the Wolverines. Expect that to be an area the Irish better execute in.
Of course, none of this will matter if the Irish can't hang on to the ball. Call me crazy, and forgive me if I sound like I'm repeating myself, but I just don't see a scenario with this team shooting itself in the foot again and again. Ten turnovers through two games is abnormal, to say the least, and the conditions Saturday should be ideal compared to Week 2's rowdy atmosphere and Week 1's torrential downpour.
Throw in the fact Notre Dame has played opponents of note so far compared to MSU's competition (Youngstown State of the FBS, Florida Atlantic), and I just have a hard time seeing the Irish lose this game.
Prediction: Notre Dame 23, Michigan State 17
September, 12, 2011
9/12/11
4:21
PM ET
In the second half of Saturday's 35-31 loss to Michigan, Notre Dame went 0-for-3 in third down situations of three yards or fewer. That problem looks manageable when compared to that of Florida Atlantic's, as the Owls managed just one first down Saturday.
In the entire game.
[+] Enlarge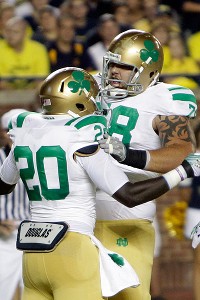 AP Photo/Carlos OsorioNotre Dame might lean on Cierre Wood, 20, and the running game against Michigan State.
FAU's opponent was Michigan State, which dominated on all cylinders in winning 44-0. The 15th-ranked and defending Big Ten co-champion Spartans allowed just 44 yards of total offense, stopped the Owls on all 10 third-down plays and scored a touchdown on defense.
Not exactly what the Fighting Irish are itching to see after a pair of mistake-filled losses.
Notre Dame's offense has a nation-leading 10 turnovers through two games, severely hindering an offense that is 10th among FBS schools in total yards but tied for 69th in points scored. It will face an MSU defense that ranks third against the pass, fourth in total defense and third in scoring defense.
At 2-0, the Spartans have looked like a much more complete team than the South Florida and Michigan teams that have beaten the Irish on the way to their 2-0 starts. The Spartans are sound overall on defense, efficient on offense and, as Notre Dame learned the hard way last season, well-coached.
If there is one area MSU has shown deficiencies in through two weeks this season, it might be its rushing defense. In a 28-6 Week 1 win against FCS opponent Youngstown State, the Spartans surrendered 128 rushing yards. Despite playing from behind most of the game, the Penguins finished with more yards on the ground than they did through the air (126).
That's not to say that Notre Dame should run all over Sparty, which still boasts the nation's No. 22 rush defense. But the Irish should try to establish a ground game early.
For one,
Greg Jones
is no longer in the green and white. Jones, now with the New York Giants, finished last season as the school's third-leading career tackler, with 465 takedowns. His 46.5 tackles for loss were tops in school history.
Notre Dame had plenty of success running the ball up the middle early Saturday in Ann Arbor, Mich.
Cierre Wood
carried the ball four times for 29 yards on the Irish's opening drive, and both he and change-of-pace back
Jonas Gray
combined for 22 yards on four carries on drive No. 2. Both series ended in touchdowns.
Wood finished the evening with 134 yards on 25 carries; Gray with 66 yards on six carries. Wood, who had 104 yards in Week 1, became the first Irish back to rush for 100 yards in two straight games since Armando Allen did so against Michigan and MSU in 2009.
Unlike Allen, Wood fumbled against Michigan, with his team driving in the fourth quarter. Gray fumbled in Week 1 at the goal line, resulting in a 96-yard touchdown for USF.
The key, of course, is protecting the ball while trying to expose a potential weakness in the defense. Then again, with the Irish, that's been the problem all along in this young season.
December, 17, 2009
12/17/09
10:24
AM ET
Florida Atlantic has fired defensive coordinator Kirk Hoza.

Hoza joined Florida Atlantic in 1999 and is the only defensive coordinator the program has ever had, but in the past couple of seasons the defense has fallen off. This year, Florida Atlantic ranked 112th nationally in total defense, allowing 453.17 yards per game. It ranked 106th in scoring with 33.75 points per game.

Assistant head coach and linebackers coach Kurt Van Valkenburgh, who also has been with the program since its inception, will take over as defensive coordinator.

FAU coach Howard Schnellenberger also announced that he has expanded the duties of Owls offensive coordinator Darryl Jackson to include coaching quarterbacks.

Jackson takes over for Jeff Brohm, who spent one season with the Owls before leaving for the same position at Illinois.

Jackson just finished his first season as offensive coordinator and wide receivers coach.

Jared Allen, who served as a graduate assistant this past season, will now coach wide receivers.
August, 30, 2008
8/30/08
7:54
PM ET
Posted by ESPN.com's Tim Griffin
AUSTIN, Texas -- It's a hot, muggy day today -- really like most in this part of the country in late August.
But you can tell it's a football game day 30 miles outside of the Austin city limits.
Traffic south to Austin was heavier than normal even in Williamson County, a good 30 minutes north of Darrell K. Royal/Texas Memorial Stadium.
And it's easy to understand why. Vince Young's jersey will be retired before the Longhorns' game against Florida Atlantic.
The ceremony for Young, scheduled for 30 minutes before kickoff, has even upstaged some of FAU coach Howard Schnellenberger's lippy comments about the Longhorns' lack of physical play.
Texas' $159 million refurbishment of the stadium will be unveiled at the largest crowd to ever watch a football game in the state of Texas.
Capacity is listed at 94,113. But a larger crowd could squeeze into what is now the fifth-largest college stadium in the country. Only Penn State, Ohio State, Michigan and Tennnessee are bigger.
And Texas Athletic Director DeLoss Dodds has hinted that the stadium eventually could be expanded to 115,000 with additional construction on the south side of the facility.
Dodds' gardening hobby was spotlighted in a story Saturday morning in the Austin American-Statesman. But if the new construction project -- and the demand for seats -- is any indication, he also might have a green thumb for additional money.
Seats have been filled in along the stadium's north side. Architects also included a nod to the school's rich history. The school's 25 Southwest Conference championship seasons are listed on the facade. And a level below them, the five players who have or will have their jerseys retired are listed -- Bobby Layne, Tommy Nobis, Young, Earl Campbell and Ricky Williams.
But it's all about Young tonight. And the memories of the school's 2005 national championship will be cherished again on the mammoth "Godzillatron" scoreboard when Young has his jersey retired 30 minutes before the kickoff.
Young has been accompanied to town by former college teammates and current Tennessee Titans teammates Bo Scaife, Michael Griffin and Ahmard Hall.
August, 26, 2008
8/26/08
10:23
PM ET
Posted by ESPN.com's Tim Griffin
Even though Texas claimed 10 victories last season, and defeated Arizona State in the Holiday Bowl, there weren't many happy people around the Forty Acres after last season.
| | |
| --- | --- |
| | |
| | Scott Wachter/Icon SMI |
| | Mack Brown and the Longhorns hope to build on 2007's 10-win season. |
The Longhorns struggled defensively, ranking 109th nationally in pass defense, 52nd in overall defense and allowed more passing yards than any team in school history. Those struggles led to coach Mack Brown to demote former defensive coordinator Duane Akina and hire fiery new coordinator Will Muschamp from Auburn.
Brown hopes that move will shake some lethargy from a program that too often played without passion last season. It will be interesting to see if that decision shakes up the defensive unit and gets them to play harder. If nothing else, it will likely provide the Longhorns with a few "YouTube" moments from Muschamp's wild sideline rants.
Those disappointments have reduced expectations from most observers to the lowest since the 1999 season. Brown has to be loving that response -- almost as much as the motivational material prompted by some of Howard Schnellenberger's taunts about his team heading into their opener Saturday night against Florida Atlantic.
Heading into that game, here are five pressing concerns for the Longhorns.
1. Can the young secondary hold up?
The secondary is the youngest that Brown has ever had and it got even younger when the most veteran member, Ishie Oduegwu, went down. It will mean that five freshmen defensive backs could see action against a talented Florida Atlantic passing game. And it won't get any easier once Big 12 play begins.
2. How will the defense respond to Muschamp?
So far, so good as the Longhorns seem to have gravitated to his aggressive nature. But will that nature stand up after a little adversity? We'll see.
3. Colt's turnovers
After a record-breaking freshman season, QB Colt McCoy had a tendency to try to do too much last season. It helped lead him to throw 18 interceptions, which tied for the conference lead and were the most thrown by a Texas quarterback in Big 12 history in one season. He's got to do a better job this season.
4. Who will be Texas' featured running threat?
Vondrell McGee and Chris Ogbonnaya will get the first shot with Fozzy Whittaker waiting for his chance after he recovers from his knee injury suffered late in training camp. McGee is more of a move-the-pile runner, Ogbonnaya is a better pass-catcher and Whittaker a more explosive back. The combination should be useful, if all can handle not being the featured back.
5. How will the Longhorns handled the diminished expectations?
Diminished for Texas, anyway. Most observers have them picked for third in the Big 12 South. It's hard to believe that Brown ever would need to play the disrespect card at Texas, but this season looks like the perfect time.