NCF Nation:

Florida State
February, 20, 2012
2/20/12
9:51
AM ET
Conference realignment is coming along with short-term costs in the 2012 college football schedule.
Before it left the Big East, West Virginia canceled its game against non-conference opponent Florida State and paid a $500,000 cancellation fee. But Elliott Finebloom, an assistant athletic director at FSU, said the loss of the home game will cost the Seminoles far more than the program received in the cancellation fee.
"We'll probably lose $2.5 million in ticket sales," he said, and that's not including a drop in season ticket sales resulting from the cancellation. It could cost FSU another $1 million to bring an opponent into town. Filling the WVU slot with an away game is not going to happen, said Finebloom.
"Seven home games is something every business in town counts on, from hotels to restaurants," he said. "People think it's about the athletic department wanting to make more money, but we have a responsibility to area businesses who count on seven home games."
Texas A&M, which moves from the Big 12 to the SEC this year, has given up home games and has only five scheduled at Kyle Field for 2012. The school has had seven home games for the past six years.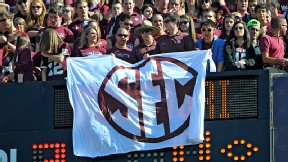 Patrick Green/Icon SMITexas A&M may only have five home games this season as a result of its move to the SEC.
For the 2010 season, Texas A&M's average revenue from ticket sales, concessions, novelties, program sales and parking was $4.2 million per game, according to NCAA disclosures. With two fewer home games this year, the Aggies could be looking at an $8 million-plus loss.
Alan Cannon, an associate athletic director at Texas A&M, said the schedule still isn't set in stone, though.
"It has been the desire of [athletic director] Bill Byrne to have six or seven home games, if at all possible," he said. "The location of the Arkansas game is still not determined."
Texas A&M and Arkansas agreed to play a neutral site game at Cowboys Stadium for 10 years. But with the Aggies' move to the SEC, both sides are discussing whether the game will remain there.
There are short-term winners in the conference realignment story.
Smaller programs could see increased profits in 2012 as major programs are forced to pay guarantees to secure home games or travel to locales they normally wouldn't consider.
One such school is Louisiana Tech. Although considered a home game, Louisiana Tech will play Texas A&M in Shreveport's Independence Stadium, which gives Louisiana Tech the ability to bank big profits for the game and gain exposure.
"[Playing in Shreveport] helps us expand our market," said Patrick Walsh, an associate director in the school's athletic department. "Our goal is to be the premiere flagship university in Northern Louisiana. Playing occasional games in Shreveport and growing our fan base there is critical to our success."
For a regular season home game against a conference opponent, Louisiana Tech makes approximately $30,000. The club seating area in Independence Stadium alone gives Louisiana Tech the chance to make more than twice that amount. A sellout would allow the school to bank more than $1.1 million in profit.
"We played Miami there in 2003 and had over 43,000 [people]. We had over 40,000 when A&M came to Shreveport in 1999," said Walsh.
Schools in the Big East are unclear just how much WVU's departure may cost them as they scramble to fill schedules. Big East schools also have to fill the TCU game, which came open before the school even joined the conference.
"I wish there was an easy strategy we could all employ to make it work," said Bob Arkeilpane, Cincinnati's deputy athletics director. "The truth is, it's extremely difficult. You want to come up with a balanced schedule that will work financially and make the coach happy, make the fans happy, and the Big East happy."
The solution? Arkeilpane thinks perhaps the conference will get involved, though not necessarily by giving schools some of the money it is receiving from the WVU departure payout.
"I've heard absolutely nothing like that, but it makes sense you would hear a lot of speculation," he said.
Arkeilpane also worries about the bowl implications if Cincinnati has to play two FCS schools in order to fill out its schedule. If a team plays two FCS opponents, it must have seven wins -- instead of six -- to be bowl eligible. Cincinnati is already scheduled to open the season at home against FCS opponent Delaware State.
The Big East could petition the NCAA for an exemption to the FCS rule. Big East officials declined to comment on that possibility. Such an exemption has been sought before: In 2010, Arizona State asked for an exemption after San Jose State backed out of a game and the Sun Devils scheduled Portland State. The NCAA denied the request.
In the end, however, Arkeilpane is confident the conference will work things out, so for now, the Bearcats wait.
"This is a Big East issue and all the member institutions will have to work together to figure out what the solution is," said Arkeilpane.
November, 25, 2011
11/25/11
9:00
AM ET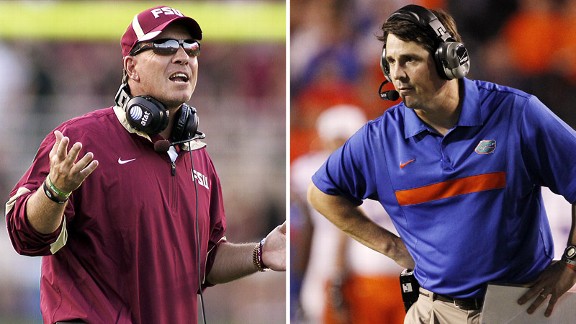 AP PhotoJimbo Fisher's Seminoles and Will Muschamp's Gators are one of four ACC vs. SEC matchups Saturday.
The final weekend of the regular season features four ACC versus SEC battles, which means SEC blogger Chris Low and ACC blogger Heather Dinich can't be in the same room this week.
Instead of trading blows, though, they hash it out in a blogger debate.
Chris Low:
Heather, forget the chaos in the BCS right now and all the talk about how we need a playoff. We have our own little SEC versus ACC playoff this weekend to close the regular season. It was a 2-2 split last season. I'm on record that the ACC will be lucky to win one this season. Two of the matchups are between nationally ranked teams. No. 17 Clemson travels to No. 12 South Carolina, and No. 13 Georgia visits No. 23 Georgia Tech. Also, Vanderbilt pays a visit to Wake Forest, while Florida State plays at Florida. All right, Heather, here's your chance to convince me that the ACC can win at least two games again this year.
Heather Dinich:
Lucky to win ONE? Last I checked, the ACC wasn't playing the only three teams in the SEC anyone has paid attention to this year. I will admit that before the season began, I said the ACC would have a winning record against the SEC this season, but I wasn't predicting Georgia's SEC East title, nor Vanderbilt's bowl hopes in the first season under James Franklin, nor South Carolina's defense leading the way. I think we all could see what was in store for Florida. I can, however, argue that the ACC will win at least TWO games against the SEC this weekend: against Vanderbilt and Florida. Jimbo Fisher is a step ahead of his friend Will Muschamp when it comes to getting their programs in order, but clearly this will be a defensive game and FSU's defense is better. So is its special teams. As for Wake-Vandy, Jim Grobe has beaten that team before, and quarterback
Tanner Price
is on a hot streak. What makes you so confident the SEC will come out on top this weekend?
CL:
Well, since I wound up picking two ACC teams this weekend, maybe we should revisit my original proclamation. I like Georgia simply because the Bulldogs have been on such a hot streak and their defense has been terrific under second-year coordinator Todd Grantham. That said, it's a whole different game when you're facing that option offense. I also like Vanderbilt. This game means more to the Commodores than it does to the Deacons. Vanderbilt needs one more win to qualify for a bowl game, and Franklin has brought a different mindset to that program. The Commodores also are very good on defense with a lot of veterans who understand what this game means to their season. I had a hard time with Florida and Florida State, but the Gators simply haven't been able to score against anybody who counts. I also picked Clemson over South Carolina. I just don't see the Tigers losing three in a row in this series. How well do you think Clemson will fare against a South Carolina defense that has been rock-solid for most of the season?
HD:
I almost picked Clemson. Almost. The one thing that held me back was during my conversation with offensive coordinator Chad Morris earlier this week, he talked about confidence. Because of 11 turnovers in the past three games, Clemson has lost some of its swagger, and I'm not sure it can get it back in time to beat that South Carolina D. I honestly have a hard time believing the Tigers will lose three straight in this series, too, but I can't get over how the offense has bumbled its way through the past three games. The timing just doesn't add up in favor of Clemson. Quarterback
Tajh Boyd
needs to make better decisions, and the Tigers need to win the turnover battle. With
Sammy Watkins
back in the lineup, their biggest advantage might be in the kicking game. What's interesting to me is that Clemson has to be more concerned about South Carolina's defense than its offense. But SEC defenses are having a great season, at least from where I sit. Both FSU and Florida have had their share of struggles offensively. How do you think the Gators will fare against
EJ Manuel
? The Noles' passing game hasn't been in sync lately. Low-scoring game in the Swamp?
CL:
Well, the Gators' offense hasn't been in sync -- period. This is a very big game for Muschamp and the Gators. They need something out of this season they can hang their hat on, and right now, there's nothing. As you might imagine, 6-6 seasons don't go over too well in Gainesville, and they're even worse when two of the losses are to Georgia and Florida State. Now, I'm one of those who thinks Muschamp walked into a bigger mess than anyone will ever know there. He needs a chance to get his players in there so he can play the way he wants. But you still need to generate a little momentum going into the offseason. Again, that's why this is such a big game for Florida, which, believe it or not, has lost only once at home this season ... to No. 2 Alabama.
November, 11, 2010
11/11/10
5:00
AM ET
1. Oregon is cracking down on vendors selling unlicensed merchandise outside of Autzen Stadium. I understand the desire to protect a school's trademark (and its cut of the take). But when I covered the Stanford game last month, I loved the variety of clever t-shirts that Ducks fans created for the occasion. Schools rarely sell T-shirts that veer from the obvious. Protecting the brand usually turns into protecting the bland.
2. This year's best late-blooming teams, as I wrote yesterday, look to be Virginia Tech, Florida, Texas A&M and Penn State. The best late-blooming team of the last 25 years is Florida State in 1989. The Seminoles began the season 0-2 and won 10 straight to finish second behind Miami, a team that Florida State beat, 24-10. After that season, Alabama tried to hire Bowden. As he described in his book "Called to Coach," he turned down what once had been his dream job. "Too late," Bowden said.
3. Not that the ACC Coastal Division is in much doubt -- Virginia Tech has a two-game lead on the field with three games to play -- but the apparent decision by Miami to hold out quarterback
Jacory Harris
for a second consecutive game because of a concussion means that his first game may be against the Hokies on Nov. 20. As
Nick Foles
of Arizona proved at Stanford last week, you can miss two games and need a half to get your timing back. Pencil Virginia Tech into the ACC Championship Game? Go ahead, use a pen.
September, 17, 2010
9/17/10
11:30
AM ET
Monster Saturday may have turned into a dud, but there are plenty of intriguing national storylines to watch in Week 3.
Here is a little sampling:
1. How does the ACC rebound?
To call the ACC's performance last week abysmal would be giving the word abysmal a bad name. Virginia Tech loses to James Madison. Miami and Florida State lay eggs in their big non-conference showdowns. Kansas beats Georgia Tech. N.C. State got the league off to a good start Thursday night with a win over Cincinnati, but that is not really saying much considering the Bearcats hardly look like their 2009 selves. Florida State-BYU, Maryland-West Virginia, East Carolina-Virginia Tech and Clemson-Auburn highlight Saturday. Here's hoping the league doesn't embarrass itself again.
2. What will we see out of Boise State?
The Broncos had the week off last week, but you wouldn't have known it for all the chatter about them once Virginia Tech lost. They finally return to the field Saturday against Wyoming to play in Game 2 after what feels like a very long layoff. The Cowboys have played Boise State tough in recent meetings. The game will be sold out, and the crowd fired up. Key to watch: Will the Wyoming spread offense be able to take advantage of a Boise State secondary that looked shaky at times in the opener?
[+] Enlarge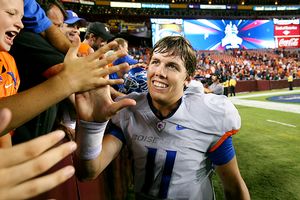 AP Photo/Joe Jaszewski/Idaho StatesmanThe last time we saw Kellen Moore and Boise State they were celebrating a win over Virginia Tech.
3. Jake Locker vs. Nebraska.
It may be unfair to pit one player against an entire team, but that is what this one is going to come down to on Saturday. Locker essentially had his Heisman campaign parked in a season-opening loss to BYU, a team that it turns out may not be as good as advertised. How will he do against a defense that continually brings pressure and is considered to be one of the best in the country? That will go a long way toward determining how people view Locker the rest of the way.
4. Can Georgia keep itself in the SEC East race?
It may be a stretch to say the Bulldogs are reeling, but Saturday's game against Arkansas has got to be considered a must-win. Georgia struggled in a 17-6 loss to South Carolina last week, with shoddy tackling headlining the defensive performance. While
Marcus Lattimore
and run-oriented South Carolina punished them last week, a different type of offense meets them this week behind pass-happy
Ryan Mallett
. Georgia is expected to open up more of its playbook for redshirt freshman
Aaron Murray
, but the onus is going to fall on the Georgia defense to stop Mallett and the Razorbacks.
5. Nick Foles vs. Adrian Clayborn.
Arizona faces its biggest test of the season against the No. 9 Hawkeyes, and this one is going to come down to the way quarterback Nick Foles is able to handle the pressure the Iowa defensive line is sure to bring. And by that we mean Clayborn, who is still waiting on his first sack of the season after notching 11 in 2009. Of course, there is this from ESPN Stats & Information: Since 1990, Pac-10 teams are 25-6-1 at home against Big Ten teams.
6. What does Denard Robinson do for an encore?
Surely the Michigan quarterback can't keep up his torrid pace, what with 885 yards of total offense in the first two games. He may not have to do as much Saturday against Massachusetts, though FCS teams have proven to be problematic for several teams this season. Still, Robinson has inspired awe throughout the country, and now word is out that high school players are leaving their shoelaces untied in order to be just like him.
7. Does Notre Dame rebound against Michigan State?
Surely a heartbreaking loss to Michigan won't be easy to get over, but the bigger question is whether
Dayne Crist
is 100 percent after he admitted he played against the Wolverines with blurred vision before being pulled from the game. If you thought the series against Michigan was a nail biter, check this out from ESPN Stats & Information: Over the past 10 meetings, the Notre Dame-Michigan State game has been decided by seven points or less eight times, with the game-winning score coming late in the fourth quarter or overtime in seven of the 10 meetings.
8. Any FCS upsets this weekend?
Already this year, five FCS schools have beaten their upper division opponents, headlined of course by James Madison over Virginia Tech. Last year there were only four. There isn't an overload of FCS-FBS games this week, but these are the teams on alert: Oregon, South Carolina, Michigan, Syracuse and San Jose State.
9. What do we see out of Alabama running back Mark Ingram?
The Heisman Trophy winner is getting his first action of the season after missing the first two games while recovering from knee surgery. Does Alabama need him to beat Duke? No. But they will need him for its run through the SEC, which begins next weekend with a huge game at Arkansas. Better get him game ready before then.
10. Any last-second heroics between Texas and Texas Tech?
We all remember the last time Texas visited Lubbock -- Graham Harrell to Michael Crabtree ruined the No. 1 Longhorns' shot at the BCS national championship. Point to remember from ESPN Stats & Information: Texas Tech has upset a top-10 Texas team twice in the Longhorns' previous four visits (2002 and 2008).
September, 16, 2010
9/16/10
9:00
AM ET
My picks in Week 2 were … slightly better than awful. With a 12-10 overall record, I need somebody to give me a pep talk. Is Frank Beamer available? Oh wait. He is probably busy giving his team one of those.
On to the picks!
Virginia Tech 35, East Carolina 27
. No way Virginia Tech loses a third straight, right? Well, the Hokies have a recent history of losing to the Pirates -- dropping the opener in 2008.
Dominique Davis
has played lights out for the Pirates, but the defense -- not so much. The Hokies are going to be fighting mad, and should be able to slow down the East Carolina offensive attack just enough to escape.
Oklahoma 24, Air Force 20
. The Falcons present a unique offense to defend, and Oklahoma has looked helter-skelter in its first two games. Air Force did a fantastic job slowing down the BYU offense, limiting the Cougars to 88 yards through the air. Oklahoma struggled against
Diondre Borel
. But give the Sooners the win here based on the play in the trenches.
Florida State 30, BYU 20
. Don't think the BYU quarterback problems are going to be solved against the Seminoles, who dismantled a far better Cougars team last year on the road. Unfortunately for BYU, the passing game is not in tip-top shape right now and that is where the Sooners did most of their damage last week.
TCU 24, Baylor 20
. The Bears are one of three teams that have yet to allow their opponent into the end zone this season, but they haven't played anybody as good as TCU. Don't think that streak will continue against veteran
Andy Dalton
and an experienced offense.
Houston 35, UCLA 17
. Are the Bruins that bad? I am calling this game for Houston, regardless of who starts at quarterback.
Case Keenum
(concussion) might be day to day, but his backup has proven capable and so has the running game through two games this season. UCLA, meanwhile, has been able to muster nothing on offense or defense.
Southern Miss 20, Kansas 17
. The Golden Eagles dropped a close one to the Jayhawks last season, and though they looked pretty unspectacular against South Carolina in the opener,
Austin Davis
and
DeAndre Brown
could be in line for big games. This is a huge test for a defense that has played inconsistently. But, hey, so has Kansas.
California 28, Nevada 17
. The Wolf Pack haven't had much success against AQ opponents, losing eight straight games. Though the defense has looked much better, and defensive coordinator Andy Buh spent the last three seasons as a Stanford assistant, California simply has too much talent on offense. The Bears will find a way to slow down
Colin Kaepernick
enough to win.
Hawaii 37, Colorado 30
. Going with the upset in this one. I know Hawaii has been away from home for a really long time, increasing its chances of losing this game, but
Bryant Moniz
and the offense have looked good in the first two games. The Buffaloes? Not so good, especially last week.
SMU 44, Washington State 10
. The Cougars nearly lost to FCS Montana State last week, so that should tell you how the rebuilding effort is going in Pullman. SMU has had some injuries to deal with, but as long as
Kyle Padron
is behind center, the Mustangs should easily win this one.
Missouri 33, San Diego State 27
. The Aztecs are vastly improved, thanks to a better run game and more experience from
Ryan Lindley
. But
Blaine Gabbert
is playing well for the Tigers, with a completion percentage over 70 percent. The Tigers defense also has six interceptions on the year and makes the difference in this one.
Miami (Ohio) 30, Colorado State 10
. The Rams have scored a total of nine points in two games, and true freshman quarterback
Pete Thomas
has been sacked eight times. The defense hasn't played much better, either. The RedHawks haven't exactly torn up the field but have shown much more improvement this season than the Rams.
Army 24, North Texas 17
. Things went from bad to worse for the Mean Green this week when they found out starting quarterback
Nathan Tune
would be out for the season with a dislocated hip. Five starters have gone down with season-ending injuries now, and coach Todd Dodge is trying to cope. It's going to be tough against a much-improved Army team.
September, 4, 2010
9/04/10
1:49
PM ET
A few halftime thoughts from three of the early games:
Not the ideal start for new Gators quarterback John Brantley. Florida had 9 total yards in the first quarter. It had 21 points and 13 yards of total offense at halftime. The scores came thanks to three turnovers from the Miami (Ohio) Redhawks.
The Gators had two fumbles and put the ball on the ground several more times. That included a Brantley fumble on a terrible shotgun snap on the first possession of the game. They also failed to convert on two short-yardage opportunities, where Tim Tebow used to be the go-to guy. The Gators tried to give it to
Emmanuel Moody
both times. On the first, a third-and-1, he came up short but a penalty on Miami gave Florida the first down. On the second, a fourth-and-1, Moody fumbled a pitch. Might want to look at
Trey Burton
going in there for short yardage. He rumbled in for a 2-yard score to put Florida up 21-3.
Halftime stats: Florida is up 21-6 but Miami has more first downs (7-4), yards (102-13) and is leading time of possession (20:24 to 9:36). Both teams have negative yards rushing. "That's about as bad as we've played around here," Urban Meyer said at halftime.
Also, Miami running back
Thomas Merriweather
was ejected for throwing a punch.
Florida State's offense is rolling, but that is not unexpected considering the opponent and the Heisman candidate throwing the ball. Christian Ponder did have an early hiccup, throwing an interception in the red zone, but after that he has been nearly perfect, throwing four touchdowns as Florida State has a 42-3 lead on Samford at the half. Greg Reid returned a punt 72 yards for a touchdown, and as promised, got into the game on offense -- with one carry for 8 yards. New coach Jimbo Fisher said he would use his star cornerback both ways this season.
New defensive coordinator Mark Stoops has his unit playing well, but again, this is a completely overmatched opponent. Although, let's remember Florida State nearly lost to Jacksonville State last season. The Seminoles needed two scores in the final 35 seconds to win 19-9.
Western Michigan played Michigan State close for a quarter and a half, and appeared to be in good shape down 14-7 after a great punt down to the the Michigan State 2. But Le'Veon Bell blew the game wide open. His 75-yard run set up a touchdown by Edwin Baker. Then Bell scored a 2-yard touchdown with 34 seconds left in the half, putting the Spartans up 28-7.
Alex Carder
, taking over for the departed Tim Hiller, has not had much time to get the ball downfield. He is only averaging 4.9 yards a completion. Western Michigan has 106 total yards of offense in the first half.