July, 30, 2013
7/30/13
6:55
PM ET
Michigan State junior offensive tackle
Skyler Burkland
is retiring from football after multiple injuries, the school announced on Tuesday evening.
Burkland will apply for medical disqualification, which will allow him to remain on scholarship to continue his education while not counting toward the Spartans' 85-man scholarship limit.
"This was a difficult decision for Skyler," head coach Mark Dantonio said in a statement. "We'll certainly miss him on the football field, but he'll remain heavily involved in our program and continue to work on earning his degree."
It was not an unexpected move, as Burkland's retirement was reported by 247Sports.com this spring. But the team said at the time that he hadn't made a final decision. The 6-foot-7, 315-pounder played in 15 career games and made 14 starts at right tackle, including the final 11 of last season. After starting the first three games of 2011, he missed the remainder of the season with a left ankle injury.
Burkland was listed as the No. 2 right tackle on the team's preseason depth chart, behind
Fou Fonoti
.
April, 24, 2013
4/24/13
2:00
PM ET
EAST LANSING, Mich. -- As the starting quarterback for the nation's 95th ranked offense, Michigan State's
Andrew Maxwell
understands why he's in the crosshairs.
More arrows fly in his direction than, say, the wide receivers who drop passes or the offensive linemen who didn't generate enough push in the red zone. That's just the way it goes. And Maxwell owns it.
"I look at myself and say, 'Were there areas I could improve?' Sure," Maxwell said. "Seeing just how those little things can result in a loss, can result in a 7-6 season, I realize and this whole team realizes that there's no room for that."
Maxwell knows that if he retains his starting job -- hardly a guarantee at this stage, as
Connor Cook
continues to push him -- he'll absorb the brunt of the credit or blame for how the unit performs this season. The accountability scale outside the program always leans more toward the head coach, the offensive coordinator and the quarterback.
But inside the program, Maxwell, as a team leader, wants to create a balance of accountability as Michigan State seeks to improve upon a disappointing season in 2012.
"I told my lift group, 'When you step over the white line and onto the practice field, you've got to realize everything we do is business,'" Maxwell told ESPN.com. "Accountability has to come before friendship. Accountability has to come before somebody's feelings. That's going to help us with the little details, the little inches.
"If we can create a culture of accountability and have players hold players responsible, we'll be a lot better suited to find those inches and those details."
Maxwell tried to take the same approach last season, but was hesitant to demand accountability.
"It's your first year and a lot of guys you're playing with had been there before," he said. "Whether I consciously made that decision or not, looking back, certainly there were some areas where every one of us could have done a better job of doing that."
Spartans head coach Mark Dantonio never has doubted Maxwell's ability to be accountable. His maturity and two years as Kirk Cousins' understudy put him in a good spot to step in as the starter last season.
But a player gains greater perspective after he's "in the soup," as Dantonio puts it. And Maxwell found himself there more often than not in 2012, when he completed just 52.5 percent of his pass attempts. Although Maxwell's overall passing numbers (2,606 yards, 13 touchdowns, nine interceptions) put him in the middle of the pack of the pass-challenged Big Ten, Michigan State finished 108th nationally in scoring and dropped five Big Ten games by a total of 13 points.
"There are stress points," Dantonio said. "A young person who's 20 or 21 yards old is often times critiqued when things don't quite as well. It's hard to identify who that offensive guard was, but everybody knows who the quarterback is. He gets more than his share of the praise, certainly, but he gets his share of the criticism, also.
"He understands that's part of the deal, having gone through this once. He's been able to refocus and recenter himself, and now he gets to start over perse, begin fresh and right the ship a little bit."
Teammates noticed a change in Maxwell during spring practice.
"Definitely stronger, definitely stronger," Spartans offensive tackle
Fou Fonoti
said. "He uses all that pressure that he's under and turns it into constructive criticism. He has a new demeanor about him. He just wants to get out there and go. I'm excited to see that rage in his heart, that fire in heart. It should be exciting."
Maxwell is clear about last season -- "When you go 7-6, certainly that's no one's goal" -- but the adversity seems to have shifted his perspective as a leader.
"I do feel like I have a little extra fire, a little extra passion for it this year," he said. "That's what you need to be successful."
April, 18, 2013
4/18/13
9:00
AM ET
EAST LANSING, Mich. -- Michigan State defensive coordinator Pat Narduzzi didn't want to nag any more.
Narduzzi always had told his defenders exactly what they needed to do to become an elite unit. He shaped the identity of the unit, rather than the players themselves.
"It's like your mother telling you to make your bed before 8 o'clock, 'Don't come down and eat breakfast, do this and do this,' " Narduzzi told ESPN.com. "And you're going, 'C'mon, Mom, can't I eat breakfast first and then make my bed?' Well, me coming in there and telling them all those things is the same."
Several years ago, Narduzzi put the players' identity in their own hands. He no longer would outline the traits that would make them a great unit. The defenders met as a group and brainstormed the core values they wanted to display on the field.
"When people watch you on tape, when people watch you on Saturday afternoons on ESPN, what are they saying about you?" Narduzzi told the players. "Are they saying, 'Look at these guys. They look confused.' Or are they saying, 'They're playing fast.' "
They chose a nickname -- Spartan Dawgs -- and a list of terms that best reflected their goals. The final product is a blueprint for a defense that has come to define the Michigan State program in recent years.
It can be found in meeting rooms, players' binders and in the locker room before games.
"We all come up with some things we can go by, stuff we need to do during the game, which is dominate, which is create turnovers, which is making plays," senior cornerback
Darqueze Dennard
said. "Stuff like that can motivate us and give us a guideline for how we come into each game.
[+] Enlarge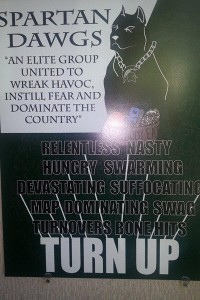 Michigan State athletic communicationsMichigan State's defense has chosen Spartan Dawgs to be its nickname.
"We've got a nice poster with the Spartan Dawgs, the goals and a little mean dog. It's kinda cool."
Defensive lineman
Tyler Hoover
, a studio art major, designed last year's poster, which features a dog wearing a Spartans logo on a chain. The dog's bowl includes a Big Ten championship ring and the words "Everybody eats."
The poster defines Spartan Dawgs as: "An Elite Group United to Wreak Havoc, Instill Fear and Dominate the Country." Below are words like relentless, nasty, swarming, devastating, turnovers and dominating. The poster ends with the words: TURN UP.
The 2011 poster was similar, and included the statement:
We will set the standard nationally for the most reckless, disruptive force unleashed on any team
. It's not exactly Shakespeare, who in "A Midsummer Night's Dream" wrote about the "hounds of Sparta" --
So flew'd, so sanded, and their heads are hung/With ears that sweep away the morning dew;/Crook-knee'd, and dew-lapp'd like Thessalian bulls
-- but it works for the players.
"We run out of synonyms, to be honest," senior linebacker
Max Bullough
said. "We have a good idea of what we want to do, where we want to be. It's just adding little flakes here and there, having different guys on the team and who's going to step up and say, 'This is what we should have on it.'
"It's pretty similar each year."
So are the results of the Spartans' defense. Michigan State finished fourth nationally in total defense last season (274.4 ypg) after placing sixth in 2011 (277.4 ypg). The unit also has ranked in the top 10 nationally in both points allowed and rushing yards allowed in each of the past two seasons. Last year, Michigan State finished third nationally in pass efficiency defense.
A high standard has been set, but the Spartans expect to reach it again this season. Seven defensive starters return, including two 2012 first-team All-Big Ten selections in Bullough and Dennard, along with honorable-mention selections in safety
Isaiah Lewis
, linebacker
Denicos Allen
and end
Marcus Rush
. The Spartans boast one of the deepest secondaries in the country, a veteran linebacking corps and several potential stars up front like
Shilique Calhoun
, who locked up a starting end spot opposite rush this spring.
"We have an experienced secondary coming back, an experienced defense coming back," Lewis said. "I'm just expecting what everybody else is expecting, to come out and dominate other teams."
The defense has areas that can be improved, such as generating more sacks (tied for 93rd nationally last season, 1.54 per game) and takeaways (tied for 73rd with 20). But asked what the next phase is for the defense, Narduzzi replied, "Keep doing what we're doing."
The Spartans have evolved into an elite defense under Narduzzi and coach Mark Dantonio, a former defensive assistant at four FBS schools, including Michigan State (defensive backs, 1995-2000) and Ohio State (defensive coordinator, 2001-03). But they weren't always that way.
Michigan State finished 31st, 58th, 73rd and 43rd in defense during Dantonio's first four seasons as coach. The Narduzzi/Dantonio-led defenses at Cincinnati from 2004 to 2006 were decent but not special, finishing no higher than 31st nationally.
[+] Enlarge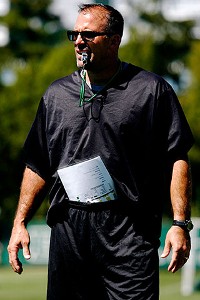 AP Photo/Al GoldisPat Narduzzi's Michigan State defense ranked fourth nationally in total defense last season.
Dantonio identifies three factors that have helped the Spartans' defense reach nationally elite status: stronger recruiting/player development, staff continuity, and players who have experienced success and know the standard.
"We've got players who have excelled in the past, and success breeds success," Dantonio said. "When they have the same teacher, and that same base concept stays the same, over a period of time you begin to handle it more efficiently. I think that's happened to our football team. It doesn't mean we don't have breakdowns. We do. But we're able to overcome those, and we're able to play with a lot of confidence and we're able to play fast.
"Any time you can do those two things ... you can be successful."
The same teacher is Narduzzi, who has served as Dantonio's defensive coordinator throughout his head-coaching career. Despite being courted by Texas A&M after the 2011 season and being mentioned for several head-coaching vacancies, he'll remain with the Spartans for a seventh season this fall.
Assistants Harlon Barnett (secondary) and Mike Tressel (linebackers) also came with Dantonio and Narduzzi from Cincinnati. The defensive staff had its first change this past offseason, when line coach Ron Burton replaced Ted Gill.
"There's something to be said about that," Bullough said. "You can play fast, you know the defense, you don't have to worry about the little things and the big things will take care of themselves."
Michigan State's defense wasn't the reason the team backslid from 11 wins in 2011 to seven last season. The unit made strides in most major statistical categories and played arguably at a championship level. But it wasn't perfect, and with Michigan State's offense sputtering -- the Spartans finished 108th in scoring and 95th in total yards -- it cost the team. They dropped five Big Ten games by a total of 13 points.
There's a concern that the gap between the defense and the offense will create splintering, but Dennard says the Spartans "never got divided." Still, the offensive players know they must make up some ground this offseason.
"Each day, going to practice is a challenge for us," offensive tackle
Fou Fonoti
said. "Seeing them play with the amount of emotion, and you see Coach Narduzzi, it puts that fire for us. We've got to execute better, so we're trying to feed off of that."
This year's Spartan Dawgs blueprint should be finalized soon. One word likely to appear, if Lewis has a say, is nastiness.
Barnett has a picture of The Incredible Hulk on the wall of the defensive backs' meeting room and encourages his players to "bring the other guy out."
"I'm a nice guy off the field, but when you step on that field, you aren't that nice guy any more," Lewis said. "You've got to bring out that other side. ... Just a nasty guy, somebody mean, somebody angry."
Somebody striving to be the best.
"We want to be the No. 1 defense, we want to be the talk of the nation," Dennard said. "We take so much pride in that. None of us forget the blueprint."
April, 16, 2013
4/16/13
2:00
PM ET
It's too simplistic to attribute Michigan State's offensive woes in 2012 to the season-ending injury
Fou Fonoti
suffered before a Week 3 matchup with Notre Dame.
The Spartans' struggles went deeper than that.
Fonoti's return to the field this fall isn't a panacea for a unit that finished 95th nationally in yards and 108th in scoring last fall. But it's a big, big help. Although most of the criticism for MSU's offense went to the coordinator, the quarterback and the receivers, the Spartans really missed Fonoti's presence up front.
"When he got hurt, that was devastating to him and devastating to our team, not only from a physical position on the field but from an emotional leadership standpoint," quarterback
Andrew Maxwell
told ESPN.com. "All he kept saying throughout the winter was, 'Can't wait for spring ball to get here, can't wait for spring ball to get here.' Now that it's here, you really do see that pep in his step, you see the fire that he has."
[+] Enlarge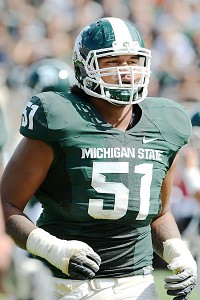 Mark Cunningham/Getty ImagesFou Fonoti has been looking forward to returning the field after an injury derailed his 2012 season.
Fonoti is relishing every minute of spring practice after a long rehab from foot surgery. He has been a busy man, working as the Spartans' starting left tackle and also taking snaps at center, as
Jack Allen
, the projected starter there, missed the spring following shoulder surgery.
The 6-foot-4, 298-pound Fonoti, a junior-college transfer who started 11 games at right tackle for MSU in 2011,
announced in November that he would take a medical redshirt
for the 2012 season and return to the Spartans rather than make himself eligible for the NFL draft.
"I'm a little mad at myself," Fonoti told ESPN.com. "What took me so long to make that decision in saying yes? The second opportunity, I'm truly blessed with it."
Fonoti admits he wrestled with the decision to stay or go. Although he felt mentally ready to return after the surgery, the rehab for a man his size -- " That's a lot of weight on one foot," he said -- made it difficult and risky to return before the end of the season.
"I was like, 'Man, it's another year away from home, another year of struggling, being homesick,'" said Fonoti, a native of Cerritos, Calif. "I really considered aspects like that, but I just thought about it, I prayed about it and talked about it with my family and my girlfriend. It was only right for me to come back.
"Now I'm excited for this season and I'm excited for what's yet to come."
His immediate future is protecting Maxwell's blind side, an adjustment after starting 13 consecutive games at right tackle in 2011-12. Fonoti admits he's "rusty in a lot of aspects" and has focused mainly on his footwork this spring. He didn't feel 100 percent physically until the end of Michigan State's winter workouts.
"I've got to be able to balance my weight equally," he said. "From the right, I was so used to having my left foot as my post. Now I have it as my kick. Right now, I'm just trying to push off my right foot, playing with lower pads and pretty much weight distribution, be more of a knee-bender on the left side."
After starting Michigan State's first two games of last fall at right tackle, Fonoti was all set to make the move to the left side the blockbuster home matchup against Notre Dame. He worked at left tackle in vigorous practices Tuesday and Wednesday.
Then, in the team's final pregame workout, Fonoti suffered a stress fracture in his left foot.
"It made me that much madder because Thursday's practice is pretty much a clean-up type practice," Fonoti said. "You're not in full pads, and the next thing you know, I'm on crutches."
Fonoti underwent surgery the following day and had to watch as Michigan State fell to Notre Dame 20-3, failing to score a touchdown at home for the first time since 1991. The Spartans rushed for only 50 yards and surrendered four sacks.
The offense sputtered most of the way from then on. Although work horse running back
Le'Veon Bell
barreled his way for 1,793 yards, Michigan State struggled to convert red-zone chances into touchdowns and dominate the line of scrimmage.
Fonoti embraced the move to left tackle and sees the value in working at center this spring. Although he might never snap the ball in a college game, his versatility could pay off in the NFL, as his size is more suited to center than tackle.
He sees "amazing" chemistry forming in the offensive line, which boasts seven players with starting experience and loses only one starter (guard
Chris McDonald
) from 2012.
"It's been great to have him back as a player," Maxwell said, "but also as an emotional leader for this team."
September, 18, 2012
9/18/12
4:00
PM ET
Saturday's 20-3 loss to Notre Dame was a humbling one for Michigan State. All the Spartans can do now, head coach Mark Dantonio says, is grow from it.
For sure, there are many areas for potential growth, especially on offense. Does that mean we'll see personnel changes on that side of the ball for this week's game against Eastern Michigan? The depth chart the team released contains no new starters. Dantonio hinted there could be some moves at receiver but that's "not for public knowledge."
[+] Enlarge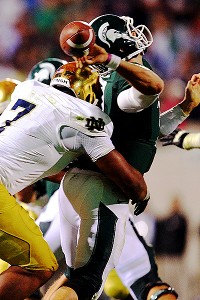 Mike Carter/US PresswireMichigan State QB Andrew Maxwell faced pressure during much of last Saturday's loss to Notre Dame.
The receivers failed to make plays against Notre Dame, dropping passes and losing one-on-one battles. Their struggles are not unexpected given their inexperience, and the Spartans may just have to wait for them to grow up.
"When you look at [junior]
Bennie Fowler
right now, he's got more snaps in three games than his entire three years he's been here previously," Dantonio said at his weekly Tuesday news conference. "He's the most experienced of our [receivers]. The rest of them are younger players that are sort of finding their way through it, through the smoke.
"We'll have to go through some of those growing pains with that. I think we have a lot of talent at that position and it will show itself before the season is over. "
The offensive line didn't perform well, either, as
Le'Veon Bell
didn't have much room to run and
Andrew Maxwell
dealt with pressure in his face. Tackle
Fou Fonoti
missed the Notre Dame game and is out at least four weeks with a stress fracture. He could be redshirted. That limits Michigan State's options, but Dantonio said the offensive line breakdowns can also be blamed on Maxwell not changing protections and the receivers not getting open.
"Is it personnel? No, it's not personnel," he said. "It's a combination of everything. We have good enough players to win at that position and we will win."
And then there's Maxwell. While there's no chance of Dantonio switching quarterbacks, the first-year starter needs to accelerate his learning curve. Dantonio rated him as "high average" during the Notre Dame loss. Maxwell was less kind to himself.
"Not well enough to win," he said of his play. "Obviously anytime you lose, it's tough. Especially when it's because the offense just can't get going, you can't really find a groove, so that's got to fall on me. I have to put us in a better position to win."
Dantonio also pointed the finger at himself, saying he stayed in hurry-up mode too long in the second half and went away from Michigan State's bread and butter, the running game with Bell and tight end
Dion Sims
in the passing game. He said he "got impatient" trying to jump start a comeback.
So there are many ways in which the Spartans can grow from that loss. The question is how much growth they can expect to get out of playing Eastern Michigan, an 0-3 team which is wildly overmatched on paper.
"This will be about us," Dantonio said. "This will be about who we are, this football team. It's an opportunity to step forward, to show a response. That's what we're going to do. We're going to show a response."
September, 16, 2012
9/16/12
2:23
AM ET
EAST LANSING, Mich. -- Mark Dantonio has never been one to minimize the magnitude of certain games, and Friday night he told his Michigan State players they would face a "defining moment" the following day.
The 10th-ranked Spartans had rival Notre Dame in their house for a national showcase game in prime time. Dantonio never bought into rankings or preseason hype for his team, but he knew games like Saturday night's provide a barometer.
Michigan State got a chance to look in the mirror, and it didn't like what it saw. With a chance to measure up, as Dantonio would say, the Spartans saw their flaws exposed and failed to once seize momentum in a thorough
20-3 loss
to the visiting Fighting Irish.
"No question they earned the victory," Dantonio said. "They outplayed us. They outplayed us up front. They outplayed us pretty much everywhere, I would say. Out-coached us as well."
Notre Dame snapped Michigan State's 15-game home win streak in convincing fashion, and held the Spartans out of the end zone on their home field for the first time since Sept. 14, 1991, when they opened the season with a 20-3 loss to Central Michigan.
"It's a pretty bad situation," senior linebacker
Chris Norman
said. "We just lost to one of our biggest rivals at our house at night time."
Added tight end
Dion Sims
: "It was definitely a defining moment."
Michigan State had the perfect setting, the perfect opponent and the perfect audience to validate itself on the big stage as a team to be reckoned with this season. The Big Ten had taken a beating in Week 2, but the Spartans looked like the league's beacon through the first two games. They had flaws -- a first-year starting quarterback in
Andrew Maxwell
, an inexperienced receiving corps -- but also the type of strengths to keep winning for a while, perhaps a long while. Maybe, just maybe, Michigan State could take the next step from good (back-to-back 11-win seasons) to great.
[+] Enlarge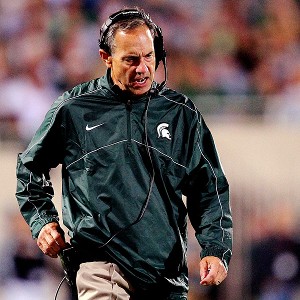 Mike Carter/US PRESSWIREDown about being placed in the Big Ten's East Division, Michigan State fans? Just consider coach Mark Dantonio's recent feats if you need a lift.
Instead, the Spartans took a step backward in a game that couldn't conceal their warts. The receivers dropped passes and couldn't stretch the field. An offensive line playing without two starters, including emotional leader
Fou Fonoti
at right tackle, couldn't protect Maxwell, who was sacked four times and was under constant duress. Maxwell didn't commit a turnover, but he still looked more like a power pitcher than a quarterback at times, firing bullets even seasoned receivers would have a tough time catching. Much like the Big Ten championship game in December, an aggressive punt block led to a critical penalty and kept a drive alive.
But every college team outside Tuscaloosa, Ala., has weak points. Every game also provides opportunities, and the Spartans literally had them slip through their fingers Saturday night.
"We never really seized momentum," Dantonio said. "We really never got that one play."
The Spartans nearly did it in the first quarter after Notre Dame took a 7-0 lead. Notre Dame lined up in man coverage and Michigan State took advantage, as Maxwell lofted the ball to the end zone, where it caromed off receiver
Bennie Fowler
's hands.
"I thought it was a catch when it fell into him," Maxwell said. "And when I saw it wasn't, I was obviously disappointed."
One play doesn't define a game, but Michigan State never made the play to change the tenor.
"If we catch that, maybe that changes the complexion," offensive coordinator Dan Roushar said. "... We just didn't make plays and things didn't go right, and we didn't make them go right."
The same held true for Michigan State's heralded defense, which hadn't surrendered an offensive touchdown in its first two games, but had been challenged by coordinator Pat Narduzzi during the week to find the next gear. Despite some early miscues, the Spartans stifled Notre Dame's offense for chunks of the game. But they never generated the sudden change they needed.
Several back-seven players had chances to intercept freshman
Everett Golson
, including junior linebacker
Max Bullough
, who couldn't hang on to the ball near midfield just before halftime.
"It's a missed opportunity on my part," Bullough said, "and quite frankly, it's embarrassing. Those are plays I need to make, and will make in the future."
The defense was short on highlights and couldn't pin Notre Dame near its end zone in the fourth quarter, but the unit is still strong enough to help Michigan State go a long way this fall, especially in a Big Ten that looks as weak as ever. The bigger questions rest with the offense, from Maxwell to the receivers to the short-handed line. Michigan State averaged just 3.4 yards per play, with just two stretching longer than 20 yards. The Spartans never reached the red zone.
Dantonio plans to evaluate everything in the coming days and said the staff would face "some tough decisions" about personnel.
"This might be our low in terms of production," he said.
"We're better than that," Roushar said. "We can be better than that."
The only sliver lining for the Spartans after a buzzkill of a game is that they've been here before. Last year, in fact, after getting thumped 31-13 at Notre Dame Stadium. They responded to win the inaugural Legends Division championship and came within a whisker of reaching the Rose Bowl.
This is a different team with different challenges, but the reference point is there.
"You can use an opportunity like this to really define yourself as a team, how we respond to this kind of situation," Norman said. "The same thing happened last year, but we were able to respond and we had a successful season. ... It's definitely possible. We just have to take initiative."
Short on big plays but long on accountability, Sims said he and his teammates won't soon forget Saturday's loss. It defines them now, but they don't plan to let it define them in the end.
"This game ... has a way of bringing you back down to earth," Dantonio said. "We got a taste of some humble pie, I guess. We'll handle it."
September, 15, 2012
9/15/12
7:42
PM ET
Michigan State will be without starting right tackle
Fou Fonoti
as it faces Notre Dame's formidable defensive line tonight at Spartan Stadium.
Fonoti suffered a foot injury in Thursday's practice and had surgery Friday, according to ESPN's Heather Cox. Fonoti will miss six to 10 weeks. Sophomore
Skyler Burkland
, who suffered a season-ending injury last year against Notre Dame, will start in Fonoti's place. A junior college transfer, Fonoti started the final 11 games last season at right tackle and the first two this fall.
There's another change to the Spartans' starting offensive line as
Ethan Ruhland
gets the nod at left guard over
Blake Treadwell
and
Jack Allen
, who is a bit banged up but available. It will be Ruhland's first career start.
August, 30, 2012
8/30/12
11:00
AM ET
A nationally ranked team opens the season Friday night in prime time in East Lansing. Though the team must break in a new quarterback, its status as a college football power is not much in dispute, as evidenced in part by a big win over Georgia last season.
Yes, that paragraph describes Boise State. The question is, does Michigan State fit every part of that description as well?
The No. 24 Broncos have established themselves among the nation's best by going 73-6 and playing in two BCS games in the past six years. The No. 13 Spartans, despite their richer tradition and greater resources, remain on the cusp of joining the elite. Back-to-back 11-win seasons have helped, but the program never has been to a BCS game and still is seeking its first Rose Bowl berth in 23 years.
[+] Enlarge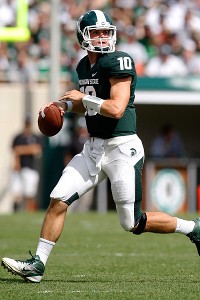 AP Photo/Al GoldisAndrew Maxwell will lead Michigan State against Boise State in Friday's season opener.
"Each year, we're getting closer to our goal," offensive tackle
Fou Fonoti
told ESPN.com. "With that being said, we've set the bar for ourselves and know where we need to pick up. We're so close, so close to our goal."
If you're a traditionalist, it probably sounds wrong that a Big Ten team must use Boise State as a measuring stick. But Boise head coach Chris Petersen has helped turn the Broncos into a force, especially in openers. In the past three years, his team has beaten Oregon, Virginia Tech and Georgia away from home in Week 1.
So this is a program accustomed to playing giant-killer on Labor Day weekend. Does Michigan State qualify as a giant? Petersen seems to think so, comparing the Spartans to the Virginia Tech team the Broncos faced two years ago.
"I think you've got a really, really good opponent here, as good as any of those teams that we've played in the past," Petersen told reporters this week.
The subject of if Michigan State has earned national-power status has become a wearying one for coach Mark Dantonio. He led his team to a share of the Big Ten title in 2010, an inaugural Legends Division championship last season, four straight wins over Michigan and a breakthrough victory over Georgia in the Outback Bowl in January. I asked him again this week if his team belonged among the elite.
"I guess we're in the conversation," he said. "But every year's a new year, and we'll have to see how we play and play through this."
There's little debate that Michigan State's defense is already among the nation's best. It's a dominating unit that ranked No. 6 nationally in total defense last year and brings back just about every key piece. Dantonio's lone worry about that side of the ball has been complacency, because he knows the talent is there.
"We have the idea that we can be a lot better than we were, and we're working like it," linebacker
Denicos Allen
said. "[No. 6] isn't good enough. We feel like we can be the No. 1 defense in the nation if we go out and play like we know how to play."
That defense will be challenged by Boise State's dizzying array of offensive formations and looks. But both teams must answer questions at the quarterback spot, where the Broncos replace record-setting four-year quarterback Kellen Moore and the Spartans ask
Andrew Maxwell
to succeed three-year starter Kirk Cousins.
Powerhouses plug in new quarterbacks and move on. They also win their openers at home. Michigan State wants to get to the level Boise State has achieved and can move a big step closer on Friday night with the country watching. If the Spartans beat the giant-killers, they might be giants.
"For us to get that win would be huge for us," Allen said. "It would be a huge confidence booster for us for the season, and we could carry that and go a long way with it.
"We're not far at all [from being a national power]. It's right at our fingertips. We've just got to come out this year and show we deserve to be there. "
April, 17, 2012
4/17/12
9:00
AM ET
EAST LANSING, Mich. -- Michigan State's
William Gholston
is so large and seemingly so perfectly suited for defensive end that it's hard to believe he was a linebacker in high school or that he originally wanted to play that position in college.
That is, until Pat Narduzzi flips on the film.
The Spartans' defensive coordinator eagerly pulls up footage of Gholston lined up at linebacker during a recent spring practice. On the first play, the offense goes with a running play to the right side. Gholston, who'd begun the play on the far left side, uses his long strides to gobble up the distance and get in on the tackle.
Not bad for a 6-foot-7, 280-pounder. But the show is just getting started.
"Watch this one," Narduzzi says, switching to another practice play.
This time, the offense is in the I-formation, and the handoff goes to tailback
Nick Hill
on an isolation play up the middle. Gholston shoots through the gap untouched and rams into the fullback, pushing him backward into Hill, who spins around and falls down.
That's about the time you realize Gholston isn't like normal human beings. Though Narduzzi doesn't necessarily plan on using him at linebacker this year, he says that Gholston "can do whatever he wants" on a football field.
"I was feeling it that day," Gholston says of his recent turn at linebacker. "I told them if they ever need a backup Mike [linebacker], I may not be able to cover the slot [receivers] like I used to at 280, but I think I could check some tight ends."
[+] Enlarge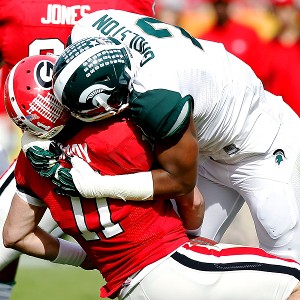 J. Meric/Getty ImagesMichigan State's William Gholston is looking to build off his two-sack performance in the Outback Bowl.
For now, Michigan State is quite happy to have Gholston stay at defensive end, where the junior has a chance to erupt as one of the most dominant forces in the Big Ten, if not the country. That became obvious in the Jan. 2 Outback Bowl against Georgia, when Gholston was nearly unstoppable in recording five tackles for loss and two sacks in the 33-30 overtime win.
His regular season was by no means subpar -- Gholston earned second-team All-Big Ten honors on a defense that finished in the top 5 nationally. Still, he said he went into that bowl game looking to "prove a point to everybody and myself."
The Detroit native is well aware of the immense recruiting hype that accompanied his arrival to East Lansing. He was ranked among the top prospects in the country by every major scouting service and chose the Spartans in a close call over Alabama.
Gholston played in 10 games as a true freshman before needing season-ending shoulder surgery, and he describes his first year of starting last season as "OK, but not as productive as it could have been." So he said he used the practices leading up to the Outback Bowl to focus on finally maximizing his full potential.
"I guess that game showed me what I could do if I put my mind to it," he said.
Penn State defensive tackle
Devon Still
similarly motivated himself for a huge 2011 Outback Bowl showing, and Still carried that over into last season for an All-America and Big Ten defensive player of the year campaign. Many now forecast Gholston to follow the same kind of upward trajectory and to take over leadership of the Michigan State defensive line with
Jerel Worthy
off to the NFL.
Gholston embraces such lofty projections.
"I feel like I can really do something this year," he said. "I feel a lot more comfortable, and I know the defensive schemes 100 percent. I also know that with the pressure of expectations and everybody expecting me to do well, it opens up stuff for the rest of my team."
Physical ability has never been an issue. Playing with proper technique has. With his power-forward height, Gholston has to constantly remind himself to get his pads low for leverage. He called his burst off the line of scrimmage last year "horrible," and he's been working on improving that this offseason.
"He'll get to the next level," Narduzzi said. "It's just a matter of how good his fundamentals will be when he gets there."
Still, Narduzzi says Gholston never hurts the defense even when he's having an off day because he's so big and strong. And Gholston is one of the few players who can elicit awestruck praise from his teammates.
"Man, that guy is incredible," safety
Isaiah Lewis
said. "We're on the same side, so I don't always see what he does. But when I do, I'm like, 'Wow, that dude's a ballplayer. He's going far.'"
"This guy is unreal," said right tackle
Fou Fonoti
, who has to block him in practice every day. "He's literally the best of the best. They don't get any bigger."
Linebackers don't come in Gholston's size, but Michigan State promised him he could try the position when he first got to campus as a freshman. The way head coach Mark Dantonio recalls it, Gholston -- who weighed 232 pounds at the time -- came up to him one day after a few practices and asked if it were all right to take a shot at defensive end during pass skeleton.
Dantonio could hardly suppress a smile. Gholston might be athletic enough to play anywhere, but he's most dangerous where he is now.
"William obviously can be very special," Dantonio said. "As scary as it sounds, he's getting better."
January, 31, 2012
1/31/12
3:16
PM ET
Earlier today, we took a look at the recruiting needs of every team in the Big Ten Leaders Division. Now it's time to turn our attention to the Legends Division and see what positions each team needs to restock before next week's signing day:
Iowa

Running backs:
Iowa's problems with keeping running backs in school has been well documented, and the Hawkeyes lost leading rusher Marcus Coker and backup
Mika'il McCall
after off-the-field problems last season. The team really needs some more depth in the backfield, and don't be surprised if incoming freshman Greg Garmon pushes for playing time immediately.
Defensive linemen:
Iowa had three defensive linemen drafted off the 2010 team and now loses its top two guys up front in departing seniors
Broderick Binns
and
Mike Daniels
. That's an awful lot of talent to replace in a couple of years, and the Hawkeyes can't expect to improve their defense without doing so. Finding some more pass rushers off the edge will be key.
Wide receivers:
Marvin McNutt
had a wonderful senior season, but the passing game often stalled whenever he couldn't wiggle free. Now he's gone, leaving a void at the position.
Kevonte Martin-Manley
and
Keenan Davis
have shown promise, but
James Vandenberg
could use some more weapons. Iowa has secured commitments from three receivers in this class.

Michigan
Wide receiver:
The loss of Darryl Stonum, who was dismissed following another run in with the law, created a void at receiver, especially with top pass-catcher
Junior Hemingway
out of eligibility. The Wolverines will have to hope
Roy Roundtree
can bounce back with a big season, because all other wideout options are unproven at this point. Three receivers are committed to Brady Hoke in this class.
Defensive line:
Mike Martin
and
Ryan Van Bergen
were key cogs in Michigan's run to the Sugar Bowl title in 2011, and they have both moved on, along with starter
Will Heininger
. Hoke and defensive coordinator Greg Mattison are defensive line coaches at heart and will want to grab as many difference makers as they can at that key position. Ondre Pipkins, a 325-pound tackle, is the highest rated defensive lineman in the Wolverines' class right now.
Offensive line:
While the Wolverines should be fine on the O-line in 2012, even without Rimington Trophy winner
David Molk
and starting right tackle
Mark Huyge
, they signed only four offensive linemen total in the past two classes. Since linemen are often slow to develop, they need to refill the cupboard now. Michigan has four offensive linemen committed in this class, including standout Kyle Kalis.

Michigan State
Offensive tackles:
Thanks in large part to injuries, Michigan State had to move a defensive lineman (
Dan France
) to tackle last summer and plug in a junior-college transfer (
Fou Fonoti
) into the other tackle spot. That the Spartans won the Legends Division title despite that is kind of amazing in retrospect. France will be a junior in 2012 and Fonoti will be in his final year of eligibility. They need more depth at the position, and they've got commitments from two offensive tackles so far in this class.
Wide receivers:
Two of the most successful receivers in school history are gone as
Keshawn Martin
and
B.J. Cunningham
finished off wildly productive careers. Tennessee transfer
DeAnthony Arnett
is seeking a waiver to play immediately and will help the future even if he has to sit out a year. Michigan State is looking to sign three other receivers in this class to fill out the future two-deep.
Running back:
Edwin Baker
's early entry to the NFL draft came as a surprise. Michigan State is still in good shape at tailback for 2012 with
Le'Veon Bell
and
Larry Caper
. But after not signing a running back in last year's class, Mark Dantonio could use at least one more option in the backfield.

Minnesota
Defensive backs:
It was no secret that Minnesota's pass defense was brutal at times in 2011, and top tackler
Kim Royston
leaves a hole at safety with his graduation. Getting Troy Stoudermire back for an extra year helps, but Jerry Kill needs to upgrade the talent in the secondary. That's why he has signed three junior-college defensive backs and secured commitments from four high school safeties so far.
Defensive tackle:
One of the reasons the pass defense was so bad was a lack of pass rush applied by the front four. The Gophers had only 19 sacks this season, a year after registering just nine. Making matters worse, both starting tackles were seniors this season. Kill signed a junior-college defensive tackle and has two prep tackles committed. He needs to find guys who can find their way to the quarterback.
Overall talent and depth:
Kill has said there are gaps in the Gophers' classes, and depth issues could plague the team during his rebuilding efforts. Including six junior-college players signed to help right away, Minnesota has a class of 28 right now. Minnesota simply needs more bodies everywhere.

Nebraska
Linebacker:
Lavonte David
leaves some rather large cleats to fill. Not only was he Nebraska's leading tackler the past two seasons, he was the only linebacker who played at a consistently high level. The Huskers' starters at the other two linebacker spots will be seniors this year, and depth is thin behind them. So it's little wonder why Bo Pelini has used four spots so far in what is expected to be a small class to fill that position, led by four-star prospect Michael Rose.
Tight end:
Three of the top four options at tight ends will be seniors in 2012, leaving very little behind them. Sam Cotton, son of offensive line coach Barney Cotton and younger brother of current Huskers tight end Ben, is on his way to help.
Quarterback:
Taylor Martinez
is entrenched as the starter going into his junior year, and Nebraska never had to worry about playing
Brion Carnes
in a big spot this year after Bubba Starling opted for baseball. Still, it's dangerous to not have depth at quarterback, and so the Huskers need to add at least one signal caller in this class.

Northwestern
Defensive backs:
The Wildcats were burned repeatedly in the passing game in 2011, and their best defensive back (safety
Brian Peters
) won't be around next season. Head coach Pat Fitzgerald has commitments from three safeties in this class already.
Defensive playmakers:
Northwestern was shockingly short on guys who could blow up another team's offensive play in 2011, so Fitzgerald's main mission had to be finding more guys who played like he did in college. That aim got a big boost when stud defensive end Ifeadi Odenigbo committed to play in Evanston. That's a good start.
Wide receivers:
Highly productive star receiver
Jeremy Ebert
is gone, along with starter
Charles Brown
.
Venric Mark
and
Christian Jones
have a lot of potential as the next big passing targets, but Northwestern's spread offense feeds off of speed and depth at the receiver position. Four receivers have given the Wildcats their pledge in this class.
December, 2, 2011
12/02/11
9:00
AM ET
Wisconsin and Michigan State will play for the Big Ten championship this Saturday in Indianapolis. Of course, it is a rematch of their Oct. 22 meeting, won by [spoiler alert!] the Spartans 37-31 in one of the best games of the college football season.
In order to understand all the storylines and key matchups of this week's game, it's crucial to know exactly what happened the first time. So I decided to go back and watch that initial encounter and, with apologies to Bill Simmons, provide my thoughts and observations in a retro diary. You can follow along through the magic of ESPN3.com
here
. Or you can just read.
This first installment will cover the first half of the game. I'll be back later on today with the second-half diary. Wonder if anything cool will happen late in the game?
Pregame
Kirk Herbstreit says, "This is what we've all wanted to see for a number of weeks." I think the same line could be used Saturday night.

Michigan State's Keith Nichol is one of the first Spartans to come out of the tunnel for introductions. I've got a hunch he could play a role in this one somehow.

I don't know how good the audio quality is on my replay, but it sounds extremely quiet when Wisconsin takes the field. No boos, just silence. Someone who was there will have to tell me if that's how it really went down at Spartan Stadium. If so, I think that's the best way to taunt an opponent; just ignore them. I recommend this for all home fans from here on out.
[+] Enlarge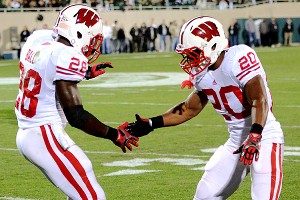 Mark Cunningham/Getty ImagesWisconsin will be dangerous on the ground again in 2012 with Montee Ball and James White returning.
First quarter
15:00: Wisconsin wins the toss and takes the ball first. The first play of the game is a handoff to Montee Ball, who runs 8 yards before plowing into Isaiah Lewis's shoulder. Lewis goes down and has to leave the game. Remember, Lewis gave the Badgers some major bulletin board material the week before after beating Michigan, saying the Spartans defense "was going to hurt" Russell Wilson. You think Ball remembered that as he slammed into Lewis?

12:03: Russell Wilson throws his first pass -- complete to Jacob Pedersen -- after four straight Ball runs have softened up the defense. Lewis comes back in.

8:48: On third-and-4, Wilson play-fakes to Ball and throws a touchdown pass to a wide-open Pedersen with Anthony Rashad White and Marcus Rush bearing down on the quarterback. That was the second straight completion off play-action for Wilson, as Michigan State's safeties and linebackers are biting hard on the run. It's a textbook, 80-yard Wisconsin style drive with almost perfect balance. The game could not have started off better for the Badgers. 7-0, Wisconsin

8:33: Uh-oh for Sparty. Tailback Edwin Baker fumbles on Michigan State's first offensive play, thanks to a hit from linebacker Mike Taylor. The officials review whether or not Wisconsin's Marcus Cromartie touched the ball first while coming from out of bounds on the recovery, but the play stands and the Badgers take over.

7:42: Wisconsin needs only three plays to cash in the fumble, as Ball rushes up the middle for a 9-yard touchdown. 14-0, Wisconsin. Wilson completed another pass off play-action immediately before. It was not a good series for Michigan State safety Trenton Robinson, who was fooled on the play-fake and then broke the wrong way before unsuccessfully trying to arm tackle Ball. Hey, the Badgers might win this game in a blowout!

3:47: Michigan State picks up a pair of first downs but can't convert a third-and-14 and has to punt. At least its defense got a little bit of a breather, but if Wisconsin goes in for another score this one could get out of hand early.

0:33: And we have our first Badgers mistake. After the offense drove to midfield, Wilson throws an interception to -- guess who? -- Robinson. It's only the second interception of the year for Wilson, who threw his other one on a meaningless play late in the Northern Illinois blowout. But I don't put this one entirely on him. Receiver Nick Toon appears to break the wrong way on the route, and he doesn't even start to look for the ball until it's nearly over his head. Remember that Toon missed the previous game with a foot injury he suffered two weeks earlier against Nebraska. He looked a little rusty/anxious, especially as he drew an uncharacteristic false start penalty later in the half. But the play was set up by a loss of 1 yard by James White on first down. The second-and-long prompted offensive coordinator Paul Chryst to put Wilson in the shotgun and not use play-action, allowing the safeties to stick in pass coverage. Even if Wilson and Toon had been on the same page, it was a low-percentage throw into double coverage, and that's not Wisconsin's game.

0:26: I love, love, love the fact that Wilson sprints down the field and actually makes the tackle on Robinson, even though his form could use a little work.

0:18: Michigan State, which has negative-9 rushing yards to this point, finally gets something going on the ground. The Spartans wide receivers blow up the right side of Wisconsin's defense, and Le'Veon Bell rushes 32 yards behind tackle Fou Fonoti, who's dying to find someone to block. Momentum seems to be changing.
[+] Enlarge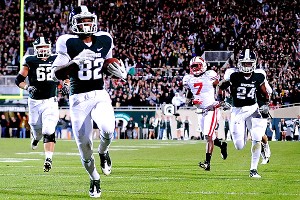 Andrew Weber/US PRESSWIREMichigan State's Keshawn Martin scores a 34-yard touchdown in the second quarter against Wisconsin.
Second quarter
14:15: Kirk Cousins and Larry Caper can't quite connect for a screen pass on third-and-6, which was set up perfectly and might have resulted in an easy touchdown. The Spartans have another empty possession. But Bell's big run has flipped field position, leading to ...

14:04: Mike Sadler punts the ball out of bounds at the Wisconsin 5. We didn't mention Sadler when we talked about freshmen of the year candidates in the Big Ten, but he has been a valuable weapon for Mark Dantonio all year long.

13:58 to 13:10: Disaster strikes for Wisconsin. First, Jerel Worthy finally makes his presence felt, stuffing Ball for a 3-yard loss back to the 2. Then Wilson is called for intentional grounding in the end zone under heavy pressure from Denicos Allen. That's a safety, and it's now 14-2, Wisconsin. Chryst dialed up play-action again and looked to be going for a big throw over the top. But the call actually helped Michigan State, because the linebackers darted up field to stop the run. Ball has had an amazing season, but he whiffed on Allen to let "The Waterboy" get right to Wilson, who had little choice but to throw it away. Unfortunately for Wisconsin, there was no receiver on the side of the field where Wilson could get rid of the ball.

11:22: Razzle, meet dazzle. After a beautiful throw from Cousins to tight end Brian Linthicum, Michigan State offensive coordinator Dan Roushar dials up some trickery. The Spartans line up in the I-formation. Cousins fakes a handoff to Bell, then hands it to receiver B.J. Cunningham on a reverse. Cunningham then pitches it to Keshawn Martin coming the other way. Wisconsin blitzed to the side Martin is now running toward, leaving no one left to tackle the Spartans' speedster except safety Aaron Henry. And he's sandwiched by three blockers. Martin scores from 34 yards out to make the score 14-9, Wisconsin. Martin has been on fire the latter part of this season.

8:41: Wisconsin's offense mounts a good drive in response, and receiver Jared Abbrederis takes a jet sweep 21 yards. It's no coincidence that Abbrederis runs to the side where suspended defensive end William Gholston would have been. The Badgers have been attacking his replacement, Denzel Drone. Gholston's return is a big factor in this week's game.

7:49 to 7:22: A tough sequence here for Ball. First, he misses another block, allowing cornerback Johnny Adams to blow up a play when he tackles Wilson from behind. Then he takes a Robinson shoulder to the head after a 7-yard run. Ball gets up from the tackle and then falls back down in a scary scene. He's escorted off the field and is given concussion tests on the sideline as Wisconsin fans hold their breath. Ball has 68 yards rushing and a touchdown when he goes out.

6:42: On third-and-short from the Michigan State 14, White is stopped shy of the first down when Kyler Elsworth sheds a Pedersen block and makes the tackle. Great defensive play. No disrespect to White, but it makes you wonder if Ball would have gotten the extra few feet had he been in the game.

5:55: Philip Welch's 30-yard field goal try is blocked by Darqueze Dennard, who ran in free from the left end. I'm not sure if Welch would have made the kick anyway, because Brad Nortman bobbled the snap, which disrupted the timing of the play. Wisconsin converted 62 of 65 trips in the red zone into points this season, second best in the FBS. But it comes up empty in a big spot here.

1:40: Michigan State moves the ball down the field, but Baker is tackled for a loss to set up fourth-and-2 from the Wisconsin 35. Dantonio doesn't hesitate to go for it, and Roushar calls a great, if somewhat risky, play. Cousins waits for Cunningham to find a hole behind the linebackers in a long-developing route. But Wisconsin doesn't get any pressure on Cousins, and he hits Cunningham in the middle of three Badgers defenders. Taylor misses a tackle in a difficult matchup for him, and Cunningham is off for a touchdown to make it 16-14, Michigan State. It's the second straight year that Cunningham catches a fourth-down touchdown pass in a key spot. Think Wisconsin will know where he is if a big fourth down comes up again Saturday? The game's final play got all the attention, but this was just as big.

0:45: Complete catastrophe for the Badgers. A fired up Spartans defense forces a three and out at Wisconsin 45, and then backup linebacker Ellsworth makes his second huge play of the game. He blocks Nortman's punt, and Bennie Fowler recovers the ball in the end zone to make it 23-14 Michigan State. The Spartans brought four defenders untouched up the middle against Wisconsin's three-man punt protection unit, and Ellsworth flew right by Robert Burge. In Burge's defense, middle protector Ryan Groy was slow to pick up his block, and Burge looked like he couldn't decide whether to chip Ellsworth or help on Kurtis Drummond right up the gut. "It was nothing special we haven't seen on film," Bret Bielema will tell Erin Andrews at halftime. "We've just got to block all four."

0:00: The half mercifully ends for Wisconsin as Spartan Stadium is rocking. In a 15-minute span from the end of the first quarter to the final score of the half, the Badgers threw an interception, gave up a safety, had a field goal blocked, had a punt blocked for a touchdown, allowed a touchdown pass on fourth down and surrendered another score on a trick play. In basketball terms, it's a 23-0 spurt. Things can't get any worse for Wisconsin, or better for Michigan State. Can they?
September, 22, 2011
9/22/11
10:15
AM ET
This week's sorry slate of Big Ten games tested my what-to-watch detective skills. Are there really 10 things to watch around the league on Saturday?
You bet, and here they are.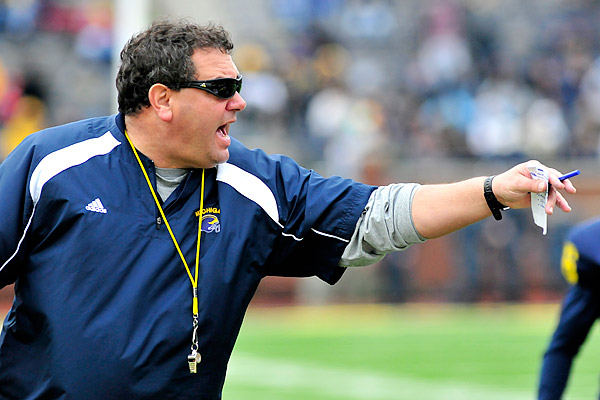 David Dermer/Getty ImagesMichigan coach Brady Hoke will face his former team, San Diego State, in an emotional game this Saturday.
1. The Brady Bowl:
Michigan coach
Brady Hoke goes up against his former team
as San Diego State visits the Big House. There's a lot of familiarity on both sides, and it will be interesting to see the coaches match wits, particularly longtime colleagues Al Borges (Michigan's offensive coordinator) and Rocky Long (San Diego State's head coach). The Aztecs players will be geared up to face Hoke, and the Wolverines much match their intensity.
2. Miller time or Cup 'o Joe:
Ohio State coach Luke Fickell was noncommittal Tuesday about his starting quarterback for Saturday's game against Colorado, although he seemed to lean toward true freshman
Braxton Miller
. Fickell wants more big plays from the offense and Miller can provide them. He also elevates the risk for mistakes, committing two turnovers in the loss to Miami. Miller clearly is Ohio State's future at quarterback, but Fickell needs to win now as his own future is in doubt. It'll be interesting to see what the young coach does with his signal-callers.
3. Illini defense to be tested again:
Illinois' defense carried the team to a signature win last week against Arizona State. Vic Koenning's unit faces another test Saturday against Western Michigan and talented quarterback
Alex Carder
, who ranks 12th nationally in passing efficiency. If the Illini don't tighten up a bit in the secondary or pressure the pocket like they did last week, Carder will capitalize. Illinois also must avoid the letdown factor against a team it lost to in 2008.
4. Blackshirts look for boost:
We're still waiting for the Nebraska defense to live up to the lofty expectations placed on the unit -- both inside and outside the program -- entering the season. The Blackshirts have allowed 68 points in their past two games and rank in the middle of the pack nationally in most major defensive statistical categories. The Pelini brothers will look for a more polished performance against 3-0 Wyoming before a much tougher game next week at Wisconsin.
5. The Bison are coming:
Most games against FCS opponents are glorified practices, but not for Minnesota. The Gophers lost to South Dakota last year and North Dakota State in 2007, and they barely escaped against South Dakota State in 2009. Jerry Kill might be the perfect coach to prepare Minnesota for a rematch with North Dakota State, as he spent a lot of time at the FCS level and knows how motivated those teams are to face the big boys. The Bison are ranked No. 6 in the latest FCS poll and provide a significant challenge for Kill's Minnesota squad.
6. Hillman vs. Denard:
Two of the nation's most dynamic ball carriers will share the field Saturday at the Big House. San Diego State's
Ronnie Hillman
, the nation's second-leading rusher (165.7 ypg), will test Michigan's defensive front seven. Michigan will counter with -- who else --
Denard Robinson
, who has been brilliant with his feet despite some ups and downs as a passer in the first three games.
7. The McGloin-Bolden saga:
Will Week 4 finally provide some clarity in Penn State's seemingly never-ending quarterback competition? Most Nittany Lions fans certainly hope so. Coach Joe Paterno wants to be fair to both
Rob Bolden
and
Matthew McGloin
, both of who have had their ups and downs in the first three games. "I don't know what I'm waiting for,'' Paterno said this week. Maybe a touchdown pass. Penn State is one of only three FBS teams not to record a passing touchdown in the first three games.
8. Young lines under the gun:
Michigan State and Indiana both will send relatively inexperienced offensive lines onto the field Saturday. Injuries have taken their toll on the Spartans' line, and junior-college transfer Fou Fonoti needs to step up at tackle in place of Skyler Burkland. Despite a flurry of false-start penalties last week, Indiana plans to start several freshmen offensive linemen in its first true road game against winless North Texas.
9. Iowa's green-out:
Iowa fans excel at
color coordination
, but you'll see plenty of green mixed in with black and gold on Saturday at Kinnick Stadium. The school is encouraging its fans to wear green as a tribute to former safety Brett Greenwood, who remains hospitalized after collapsing Sept. 9 during a workout. It's a great idea and I hope to see plenty of green in the grandstands.
10. Bucky Badger's pushups:
Wisconsin scored 70 points or more three times last season, and the Badgers could close in on the plateau Saturday against FCS South Dakota. The Badgers lead the Big Ten in scoring (45 ppg) and total offense (505.7 ypg). Although Bret Bielema likely won't take many chances with his starters a week before Nebraska comes to town, his team should produce plenty of points -- and pushups for its beloved mascot.
September, 20, 2011
9/20/11
2:30
PM ET
Coach Mark Dantonio's message to Michigan State's offensive line hasn't changed.
"Pound green pound," Dantonio said Tuesday.
Dantonio isn't going to deviate from his desire to run the football despite a very rough performance (29 yards on 23 attempts) in Saturday's loss to Notre Dame. But the Spartans' offensive front will need to get it done with some new faces as the injury bug has arrived.
A day after Michigan State announced starting right tackle
Skyler Burkland will miss the rest of the season
following left ankle surgery, Dantonio said starting center
Blake Treadwell and backup tackle Jared McGaha will be sidelined
with knee sprains.
Michigan State will get Travis Jackson back this week, and Jackson is expected to start Saturday against Central Michigan. Micajah Reynolds, who has moved from defensive line back to offense to help with the depth issues, is listed as the No. 2 left tackle behind Dan France.
Junior college transfer Fou Fonoti will start in Burkland's spot against the Chippewas.
But depth is a significant question for a group replacing three starters from 2010. While sparking the run game is paramount and Michigan State allowed only two sacks against Notre Dame, the line also must protect senior quarterback
Kirk Cousins
.
"We've got to get the right players in the right positions," Dantonio said. "It's such a fundamental game, but it's also tied to schematics. It's not just brute strength there."
It's essential the line builds some confidence and chemistry against Central Michigan before visiting Ohio State.