NCF Nation:

Frank Broyles
December, 26, 2012
12/26/12
5:00
AM ET
1. Notre Dame coach Brian Kelly captured the debate that is both eternal and internal in the bowl season. The coaching staff tries to determine how much hitting to do during bowl practice to keep a team sharp without getting anyone hurt. "I know how important it is. I know you need to do it," Kelly said. "But ask any coach that's sitting in this chair, and they're going, 'I really don't want to lose
Manti (Te'o
, the All-America linebacker) to a practice tackling drill indoors in December.'"
2. The Mid-American Conference might have had its best season ever, what with Northern Illinois doing some BCS busting and six other MAC teams playing in the postseason. However, the league has begun the postseason as if it's stretched too thin. Toledo and Ball State have been routed by fellow non-AQs Utah State and Central Florida, respectively -- both underrated teams. Maybe it's just bad matchups. In the Military Bowl on Thursday afternoon, Bowling Green (8-4) plays a San Jose State (10-2) team that nearly upset No. 6 Stanford.
3. Happy 88th birthday to Arkansas legend Frank Broyles, who retired from coaching 36 years ago with a record of 149-62-6 (.700) but served as athletic director for more than three decades. Broyles' former assistants included former Razorbacks players Barry Switzer and Jimmy Johnson, who won four national championships between them. But he was best known for his friendship with Darrell Royal, the coach of his then-archrival, Texas. They retired together in 1976, played golf together often and never discussed their 1969 showdown, when the No. 1 Longhorns defeated the No. 2 Hogs, 15-14.
July, 9, 2012
7/09/12
9:32
AM ET
Everybody can recite who's the all-time winningest coach in the SEC.
Bear Bryant won 232 career games at Alabama and became one of the most iconic figures in college football along the way.
To this day, Bryant's name is mentioned with reverence around the Capstone.
But even if you take his 232 career wins out of the equation, the Crimson Tide would still have 582 wins.
[+] Enlarge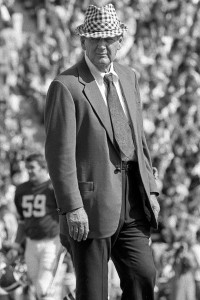 Bernard Troncale/US PresswireBear Bryant won 232 career games at Alabama.
So while the guy with the Houndstooth hat carved out a legendary career at Alabama, the Crimson Tide's success on the football field hasn't been defined solely by the Bryant years.
Frank Thomas won 115 games. Gene Stallings won 62 games. Wallace Wade won 61 games. Nick Saban -- in just five seasons -- has already won 55 games.
All five men, including Bryant, have also won national championships at Alabama.
In surveying the winningest coaches at all 14 SEC schools, some of what you find, especially when you take away each school's all-time wins leader, is telling.
For instance, Bryant is actually the winningest coach at two different SEC schools. He was 60-23-5 at Kentucky from 1946-53, and led the Wildcats to eight consecutive winning seasons.
Since Bryant's departure from the Bluegrass following the 1953 season, the Wildcats have had 10 other head coaches, but only one of them compiled better than a .500 record, Blanton Collier, who succeeded Bryant, was 41-36-3 in eight seasons.
Steve Spurrier could join Bryant this coming season as the second coach to earn the distinction of being the winningest coach at two different SEC schools.
Spurrier owns that distinction at Florida. He won 122 games in 12 seasons in Gainesville from 1990-2001. He's 55-35 in seven seasons at South Carolina, and can pass Rex Enright as the Gamecocks' winningest all-time coach with 10 wins this season. Enright was 64-69-7 in two different stints at South Carolina from 1938-42 and 1946-55.
Since Enright stepped down following the 1955 season, the Gamecocks have had 13 head coaches. Spurrier is one of five since Enright to post a winning record. Other than Enright and Spurrier, only two other coaches have won more than 40 games at South Carolina -- Jim Carlen (45) and Paul Dietzel (42).
Georgia and Tennessee are the only schools in the SEC with three head coaches in their history to have won 100 or more games.
Vince Dooley is Georgia's all-time leader with 201 wins. Wallace Butts won 140, and Mark Richt has won 106. Georgia has 747 wins all-time.
Gen. Robert Neyland is Tennessee's all-time leader with 173 wins. Phillip Fulmer won 152, and John Majors 116. That's a total of 441 of the Vols' 794 wins.
In fact, Tennessee is the only SEC school that still has 600 or more wins if you take away the winningest coach's win total. The Vols would still have 621 even if you didn't count Neyland's 173 wins.
Only eight other schools nationally would have more than 600 wins if you took away their winningest coach -- Miami (Ohio), Michigan, Navy, Notre Dame, Ohio State, Oklahoma, Texas and USC.
Florida has won 669 games, and 187 of those wins have come courtesy of two of the Gators' past four head coaches. In addition to Spurrier's 122 wins, Urban Meyer won 65 in six seasons from 2005-10.
At Ole Miss, John Vaught won career 190 games. Nobody else has won more than 67 there (Billy Brewer). Anybody want to guess who is No. 3 on the Rebels' all-time wins list? David Cutcliffe was 44-29 (.603) from 1999-2004.
The biggest difference in the SEC when you start taking the winningest coach out of the equation can be found at Vanderbilt. Dan McGugin was 197-55-19. But without him, the Commodores would be just 367-519-31 all-time. McGugin last coached at Vanderbilt in 1934. Nobody else at Vanderbilt has won more than 39 games.
At some schools, there simply hasn't been much longevity by coaches.
Charles McClendon is LSU's all-time winningest coach with 137 career wins in 18 seasons from 1962-79.
But since McClendon retired, the only LSU coach to last longer than five seasons has been current coach Les Miles, who's won 75 games in seven seasons.
Below is a look at the win totals for all 14 SEC schools and the winningest coach at all 14 schools:
Alabama – 814 (Bear Bryant 232)

Tennessee – 794 (Gen. Robert Neyland 173)

Georgia – 747 (Vince Dooley 201)

LSU – 733 (Charles McClendon 137)

Auburn – 711 (Shug Jordan 176)

Texas A&M – 681 (R.C. Slocum 123)

Arkansas – 680 (Frank Broyles 144)

Florida – 669 (Steve Spurrier 122)

Missouri – 625 (Don Faurot 101)

Ole Miss – 621 (John Vaught 190)

Kentucky – 578 (Bear Bryant 60)

Vanderbilt – 564 (Dan McGugin 197)

South Carolina – 555 (Rex Enright 64)

Mississippi State – 506 (Jackie Sherrill 75)
October, 10, 2008
10/10/08
7:46
PM ET
Posted by ESPN.com's Tim Griffin
| | |
| --- | --- |
| | |
| | AP Photo/Tony Gutierrez |
| | Bob Stoops is one half of the Red River Rivalry, making it one of the most anticipated games on the college football calendar. |
DALLAS -- Tomorrow amongst the ferris wheels and corn dogs, we'll celebrate the kind of coaching rivalry that used to mark college football.
In the Big Ten, the legendary "Ten-Year War" involved Woody Hayes vs. Bo Schembechler. Barry Switzer vs. Tom Osborne was almost as big as the Big Eight Conference itself. The SEC had Bear Bryant against Shug Jordan. And the Southwest Conference celebrated the annual grudge game between good friends Darrell Royal and Frank Broyles.
But after surveying the landscape of college football today, those matchups look about as quaint as dollar-a-gallon gasoline. We likely won't see many like those again.
That's what makes tomorrow's game at the Cotton Bowl so special and intriguing.
Mack Brown and Bob Stoops are that rare breed today of rock stars with coaching whistles, arguably bigger than their respective programs. Both have won national championships and are headed towards induction one day in the College Football Hall of Fame.
And their yearly battles in the Red River Rivalry will one day be remembered as one of the greatest coaching rivalries in college football history.
Saturday's game will be the 10th time that Stoops and Brown have hooked up. Stoops holds a 6-3 edge, including a five-game winning streak from 2000-04. But Brown has claimed two of the last three games between the two South Division rivals.
When each arrived at their respective schools, both programs were perceived to be downtrodden dinosaurs that had seen better days. Just look back to the coaching tenures of John Blake and John Mackovic and remember how far both schools have risen since their swoons a decade ago.
After their arrivals, Brown and Stoops elevated the stature of both programs, turning them into two of a handful of national powers who are national championship threats almost every season in the new millennium.
Since Stoops arrived in 1999, either Oklahoma or Texas has won the Big 12 South Division championship every year. The Sooners have accounted for five Big 12 titles and the Longhorns one during the nine-year period. During that same period, every Big 12 North team has claimed at least a share of the title.
Brown realizes how the Big 12 has changed the dynamics of their rivalry.
"I remember when we got here, everybody said the luster was gone," Brown said. "This game wasn't important anymore and nobody really cared about it and it wasn't even a national TV game and it was so sad that the Texas-OU game was unimportant.
"It was important to the players, it was important to the coaches, but it's back now to where it has national implications, and that's been fun."
The Stoops-Brown rivalry might not be as bitter as some of those other coaching matchups. But that doesn't mean that either coach doesn't want to beat the pants off his coaching rival tomorrow afternoon.
Stoops said he might run into Brown three or four times a year -- including their 3 ½-hour yearly shindig at the Cotton Bowl.
Brown has always spoken reverently about his respect for Stoops.

"What I've gotten is a great respect for Bob and what he's done over the last 10 years," he said. "He'll be remembered like Barry Switzer and (former Oklahoma coach Bud) Wilkinson. He's done exactly for them what they've asked him to do.