NCF Nation:

Frank Leonard
August, 26, 2014
8/26/14
12:00
PM ET
Tyler Murphy
's path to Boston College has been unconventional, to say the least. But the Connecticut native and former Florida quarterback has come full-circle as he enters his final year of college ball, reunited with head coach Steve Addazio, who had recruited to Murphy to the
Florida Gators
when Addazio was an assistant in Gainesville.
ESPN.com caught up with Murphy recently to touch on a number of topics.
What has the acclimation process been like at BC?
[+] Enlarge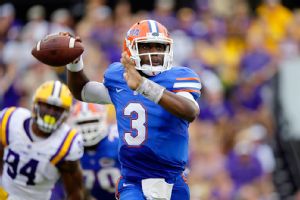 AP Photo/Gerald HerbertQB transfer Tyler Murphy on the offense BC will run this season: "We're still trying to find our identity."
Murphy:
It's been going very smooth. As soon as I got here in the spring the team welcomed me with open arms. I was able to get to know some of the guys, allow them to get to know me, so we've been building a bond since I've gotten here. We've been working really hard on and off the field, knowing coach Addazio and some of the coaches from before, like (offensive line) coach (Justin) Frye and (tight ends) coach (Frank) Leonard, they've really made it smooth, knowing some of the guys and having some familiarity with the offense.
Were you familiar with any of the players before?
TM:
No, I really didn't know anyone really before I got here. I came up with Ian (Silberman), me and Ian helped each other with the process. But I was able to get to know the guys quickly and build relationships really fast, which made everything easy for both of us.
What did you remember about Addazio from recruiting and from Florida?
TM:
He's a very passionate guy, I remember that from the recruiting process. He loves what he does, he takes pride in what he does. Not only does he try to make you the best football player that you can, he also tries to develop you as a person and make you the best man off the field as well. That really stuck with me. That's something I really look for when trying to find a new program, and knowing that coach Addazio had that instilled in him, it made my decision very easy.
Did you watch BC at all last season? Were you surprised by the jump they made in Addazio's first year?

TM:
I definitely followed the team a little bit last year, especially with coach Addazio being the offensive coordinator my freshman year. You always kind of root for guys that you know, so any time BC was playing I'd definitely tune in and watch. It shows what kind of guy coach Addazio is and the leader he is, and the seniors last year did a great job of turning things around and building a culture. You have to give them credit, and it's something that I really look for when choosing a new school, and it's a great culture, it's something I'm happy to be a part of. And I'm just going to do my best to help this program, help this team and find a way to lead, get us a few "Ws" and take the next step for this program.
Coach Addazio said you are a BC guy and that you fit into the culture there. How so?
TM:
When you think of Boston College you think of a high-standard program with lots of great people that really do the best to try and excel and help the community around them. The people academically and athletically are all very nice. They all go out of their way to try to help people and uplift people. When I got here you could also see that with the team. Guys were really a close-knit bunch of guys and they were sacrificing for one another and doing things that that they probably wouldn't do for themselves, but they would push through things because they didn't want to let the guy down next to them. When I saw that and felt that, I was really happy and I felt like I made the right decision.
How would you describe the offense you are running?
TM:
Right now we're in heavy sets, we're in spread sets, we're a little bit of everything right now. We're still trying to find our identity. We're trying a bunch of things out to see what we're good at and we're just going to really try and excel once we find out what we are good at. We're just trying to be successful with everything the coaches throw at us and try to execute everything, because the more things we have, the more versatile we can be and the more pressure on the defense. So we're just trying to make things easy for us, and the more things we can do, the better. We're just trying to go out there, execute, fly around, have some fun.
Who are some of the receivers you think will step up this year?
TM:
I think all of the receivers are doing a great job. Starting with
Charlie Callinan
to
Dan Crimmins
to
Drew Barksdale
, those guys have really stepped up and are finding roles. And we also have
Shakim Phillips
with some experience,
David Dudeck
and
Josh Bordner
, he's been doing a good job lining up and doing some things outside. So I think our fans should be excited, because these guys can make some plays and they work hard and they do a lot of the little things right to help this offense go. They're going to do some things and surprise some people, and hopefully they'll be able to have great careers while they're here.
How did you and (NC State quarterback) Jacoby Brissett help each other throughout the transfer process?
TM:
We both played at Florida and we both didn't play much, so we kind of would try to keep each other up. Sitting on the bench isn't fun, it could be difficult. We tried to build a friendship where we keep each other up, keep each other motivated, and each and every day find a way to go into the office and get better, and so we both decided we needed to move on. We both talked to each other, and when it was his time and he wanted to leave I sat down with him and we both tried to break things down and what his options were and what was the best option. And it was vice versa, he did the same thing with me. So we have a really good relationship. We still talk to this day. We talk, if not every day then maybe every other day, just to check up on each other and see how things are going, because it can be a tough transition. And as friends you always want to see your other friend do well, and we both look forward to competing against each other when we do line up and play this year.
October, 9, 2012
10/09/12
9:00
AM ET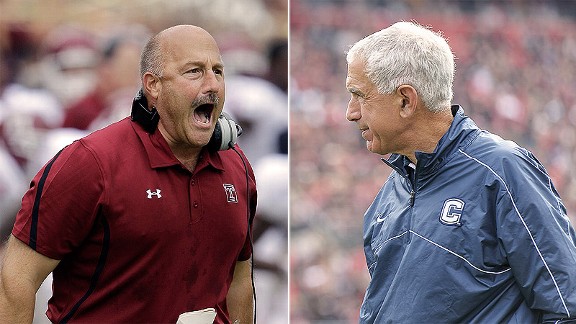 Getty Images, AP Photo Steven Addazio will coach against his mentor Paul Pasqualoni for the first time on Saturday.
Referring to his former pupil as "Steven" was as close as Paul Pasqualoni would get to reminiscing about his time working with Steve Addazio.
Addazio? Let's just say he had a much tougher time hiding his emotions while speaking about his Temple team's matchup with Pasqualoni's Connecticut squad on Saturday. The occasion will mark Addazio's first head-coaching meeting with the man who helped lay the blueprint for his career.
"Obviously Coach P started me in this business and I wouldn't be where I am right now without him -- it begins and ends right there," Addazio said during Monday's Big East coaches' teleconference. "He taught me how to be a football coach. He's absolutely the most detailed guy I've ever been around. He's a tremendous teacher of fundamentals of football, and so as a young coach coming in I couldn't have had a better start."
Addazio's first coaching stint came 27 years ago as an assistant at Western Connecticut under Pasqualoni, and the two have crossed paths ever since. Addazio served as the offensive line coach for Pasqualoni's Syracuse teams from 1995-98. Those last three Orange squads won at least a share of the Big East title.
Pasqualoni hired Addazio at Syracuse following the Addazio's stint as head coach of Cheshire (Conn.) High -- Pasqualoni's alma mater. Pasqualoni had gotten his start there as an assistant 23 years earlier.
"He's always been a high-energy, very positive, very motivational, give-everything-you-have coach," Pasqualoni said of Addazio. "You can see that in him as a very young coach, and there was no question that he had the skillset and the ability to be a very good head coach at this level."
Owls assistants Kevin Rogers and Frank Leonard both served under Pasqualoni as well, at Syracuse and Western Connecticut, respectively.
"I could tell you stories, just crazy stuff," Addazio said of his days as Western Connecticut's offensive line coach and recruiting coordinator, from 1985-87. "We all slept in the office there. It was crazy -- sitting there cutting old 60 millimeter film, got strips of film hanging on the walls. Coach P's got this makeshift wall where his desk was as the head coach, which was nothing, and we're all on the other side of the wall. We'd sleep there and be like. 'Hey, goodnight guys, goodnight Coach.' It's something out of The Waltons.
"That's how we all started, washing socks and jocks and out there irrigating. I came back from my wedding, Coach is on a tractor, I'm on my hands and knees putting irrigation down to water the fields. You just can't make this stuff up. He's the best there is, and I just have the greatest amount of respect for him."
Saturday is also a homecoming of sorts for Addazio, who grew up in Farmington, about a half-hour from Rentschler Field. He lived in Connecticut until he was 35, and his three kids were born there. But he knows Saturday is about his Owls trying to go 2-0 in conference play, not the coaching matchup that pits teacher versus student.
"We're excited about all of that, but the reality of it is we're going in there to compete at a high level and have a chance to win a major college football game," Addazio said. "It's obviously all business, and we've got to prepare hard and we've got to play well and we've got to execute and all that.
"It has nothing to do with any of that other stuff, so right now our focus since Sunday is just getting ready to put a great game plan together and get our kids to play as hard as they can play."