NCF Nation:

Frogs-Cowboys 112109
November, 21, 2009
11/21/09
7:31
PM ET
LARAMIE, Wyo. -- For the past year, TCU coach Gary Patterson has been wearing the championship ring his team won by beating Boise State in the Poinsettia Bowl last season.
Now, he can replace that ring with a Mountain West Conference championship ring.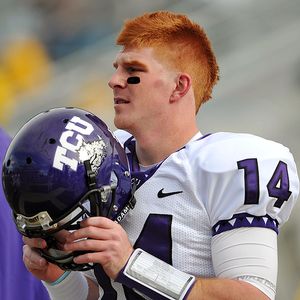 AP Photo/Andy Carpenean
TCU quarterback Andy Dalton shaved his hair into a Mohawk to celebrate starting the season 10-0.
TCU earned a share of the conference title Saturday with a 45-10 win over Wyoming. It was the Horned Frogs 11th consecutive win, making them 11-0 for the first time since 1938, the last time the Horned Frogs won the national championship.
"I think there's like six or eight [members] of that football team alive and I told [our team] that 71 years, if we could win out and be undefeated, that would be 136 guys in 71 years that could say they were undefeated at TCU and had a chance to win a championship," Patterson said.
TCU could win the title outright with a win over New Mexico next week.
TCU won the conference title in 2005, but Patterson said he doesn't wear the ring because it's a little too gaudy. But he's shown it to players many times and made it available for them to use as motivation as they've pushed through what is shaping up to be on the greatest season in school history.
The Horned Frogs final game will determine where they fall in the BCS bowl picture. If TCU wins out, it's definitely playing in a BCS bowl, but whether that bowl is the national championship game remains to be seen.
Patterson and his team hasn't talked about a national championship specifically and has never wavered from a goal pyramid that hangs in the team meeting room. They chart each challenge at the beginning of the season, road games, home games, nonconference, etc., and after conquering each challenge they cover it in purple. Saturday's win was the final road obstacle of the season. Next week's game against New Mexico will put the Horned Frogs at the top of the pyramid where both a BCS bowl game and a national championship sit.
Wyoming is the only mutual opponent TCU shares with Texas, the team many think will get into the national championship over TCU. Texas beat Wyoming 41-10. But Patterson, as he's said all along, won't campaign for his spot in the national title game. He's hoping the results will speak for themselves. In the past five games, TCU has outscored its opponents 278- 63 and it has allowed teams to score more than 14 points just three times all season.
"I watched people through the years go jump out and I've watched the different ways people have done it to try and get recognition to play in a national championship," Patterson said. "I've never ever seen it work where more than half of the people weren't disappointed in their actions when they went out and started honking their own horn. So, I still got to be able to sleep at night and that's why I'm going to be the way I am."
Right now, Patterson and his team are trying to have fun with the experience. TCU quarterback
Andy Dalton
made a bet with his teammates during the summer if the team won its first 10 games he'd shave his hair into a Mohawk. His teammates took it one step further and shaved "TCU" into the side of his head.
Patterson said he often looks at the photo of the 1938 team and thinks it's surreal that his 2009 team could have the same fortune.
"It's like Santa Claus, you know he's out there, but you never ever saw him," Patterson said of a BCS bowl berth. "For me to have an opportunity to know that at this point in time that we'd get a chance to play in a BCS game, that they would just be mentioning TCU playing for a national championship, I think is already a victory."
November, 21, 2009
11/21/09
6:21
PM ET
LARAMIE, Wyo. -- Senior running back
Joseph Turner
couldn't explain the turnaround of TCU's running game, he just knew that early on, the running game felt like it wasn't holding up its end of the bargain.
"We all know that the running game is a big part of this offense," Turner said. "We know that if we don't get the running game started, nothing's going to work."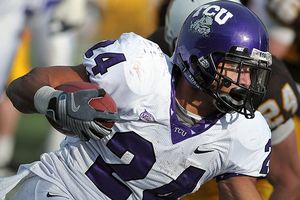 P Photo/Andy CarpeneanTCU running back Joseph Turner is part of a three-pronged Horned Frogs rushing attack.
Several of the Horned Frogs slow starts earlier in the season were partly because the running game wasn't able to find much room. But during the past four games, the TCU running game has been dominant, which in turn has allowed the Horned Frogs to be dominant on offense.
In each of the last four games, the TCU running game has amassed at least 312 yards. Against Wyoming on Saturday, the Horned Frogs finished with 339 yards.
The most intriguing thing about the Frogs' rushing attack is that there is no dominant rusher. The carries are split between Turner, true freshman
Matthew Tucker
and redshirt freshman
Ed Wesley
, and each has a similar amount of total yards.
Tucker led the effort on Saturday with a career-high 134 yards and two touchdowns on 11 carries. It was Tucker's first 100-yard game and the second consecutive game a TCU freshman has posted at least 100 yards. Last week, Wesley had 137 rushing yards against Utah.
"Our whole goal, and we had this planned before the season, was to keep Joseph Turner healthy," coach Gary Patterson said. "The surprise has been Ed Wesley and Tucker because Tucker is a freshman and then you have Ed Wesley, a redshirt freshman, you could never tell where they were going to be.
"This could be the best backfield we've ever had here at TCU."
Turner said sharing carries has helped him stay healthy and so he's done his best to help coach up the younger players in practice. During the past couple months, Turner said the practices have become more intense as the competition has increased.
"The rotation really helps us stay fresh," Turner said. "I got into the freshman during two-a-days and they haven't stopped working at all. Some days, I might miss a few periods in practice and they pick up the slack. They don't stop. They know we've got something."
November, 21, 2009
11/21/09
4:40
PM ET
LARAMIE, Wyo. -- There's about 5 minutes remaining in the game and the Horned Frogs have this one all wrapped up. It's
45-10 and the Horned Frogs are driving
.
The win clinches at least a share of the Mountain West title, TCU's first conference title since winning in their inaugural Mountain West season in 2005. The win also puts TCU one game away from earning their first BCS bowl berth.
I'm heading downstairs to hear what the players and coaches have to say about the win and I'll report back in a bit.
November, 21, 2009
11/21/09
4:27
PM ET
LARAMIE, Wyo. -- TCU freshman running back
Matthew Tucker
has posted a career game against Wyoming.
Through three quarters, Tucker has 11 carries for 134 yards and two touchdowns. It's Tucker's first 100-yard game and the second consecutive 100-yard game by a TCU freshman running back. Against Utah last week, freshman
Ed Wesley
rushed for 137 yards and a touchdown. Tucker had 68 yards and two touchdowns.
November, 21, 2009
11/21/09
4:17
PM ET
LARAMIE, Wyo. -- After a slow start, TCU's offense has been firing on all cylinders.

Midway through the third quarter, TCU leads Wyoming 45-10, the sixth consecutive game the Horned Frogs have scored at least 38 points and their fourth consecutive game with 41 or more points. And if the Horned Frogs get into the 50s, it will be the third consecutive game with 50 or more points.
November, 21, 2009
11/21/09
3:29
PM ET
LARAMIE, Wyo. -- TCU coach Gary Patterson has said all year that Wyoming is a tough place for his team to play, and so far that ringing true.

TCU has dominated its game against Wyoming, but the Horned Frogs have turned the ball over twice in the red zone, including a fumble that was returned 98 yards for a touchdown that made the score 10-10.

TCU scored on the subsequent kickoff with an 81-yard return by Greg McCoy and added another score before halftime.

This hasn't been the best effort by the Horned Frogs. The offense started slowly and they haven't seemed nearly as motivated in this game as they have been through the past five games.

Perhaps this is the mental lull TCU feared as it wraps up its season.
November, 21, 2009
11/21/09
3:24
PM ET
LARAMIE, Wyo. -- It hasn't been pretty, but TCU has a
24-10 lead at the half
. The Horned Frogs have just played OK in this game. If Wyoming were a better team, the score might be flipped.
Turning point:
An 81-yard kickoff return by TCU's Greg McCoy countered a game-tying fumble recovery for a touchdown by Wyoming. After that fumble return, it seemed like momentum had swung Wyoming's way, but TCU quickly squashed it and went on to turn a 10-10 tie into a 24-10 lead at halftime.
Stat of the half:
Wyoming has insisted on running the ball against TCU despite the fact that the Horned Frogs have one of the best rushing defenses in the country. Wyoming has 20 rushes for 52 yards as opposed to seven passes for 74 yards.
What TCU needs to do:
The Horned Frogs are winning the game because they are a better team, not because they are playing better. Yes, TCU has the talent to sleepwalk through this game, but coach Gary Patterson will demand more in the second half. TCU needs to come out with some fire in the second half and assert itself the way it's done in the past five games.
What Wyoming needs to do:
Wyoming has played well all things considered. However, the playcalling needs to be better. Wyoming is trying to hard to establish the run game when the passing game has worked better. They need to take the leash off freshman quarterback Austyn Carta-Samuel and allow him to do what he does best -- make plays.
November, 21, 2009
11/21/09
2:49
PM ET
LARAMIE, Wyo. -- Wyoming has come into the game with an interesting strategy -- run the ball.
It's interesting only because teams haven't had a lot of success running against the Horned Frogs this season. TCU ranks sixth in the country in rushing defense allowing just 87.20 yards per game.
Wyoming has 12 rushes for 29 yards.
The Cowboys have actually had some success in the passing game. Freshman quarterback
Austyn Carta-Samuels
has completed 3 of 5 passes for 74 yards, including a 31-yard pass off a scramble that took the Cowboys to the 1-yard line.
November, 21, 2009
11/21/09
2:36
PM ET
LARAMIE, Wyo. -- Well, it took three offensive series, but TCU is on the board.
The Horned Frogs took the ball 41 yards on four plays in 55 seconds to take a
7-0 lead
. It was the first consistent drive the Horned Frogs had put together and it was an example of how quickly TCU could score on the Cowboys' defense.
This game could get ugly if TCU continues to operate that efficiently.
November, 21, 2009
11/21/09
2:28
PM ET
LARAMIE, Wyo. -- The feared hangover of last week's big win over Utah seems to be showing early for TCU.
Through two offensive series, the Horned Frogs offense has been able to get little done. They had a big run on the second series to get to the 12-yard line, but quarterback
Andy Dalton
made a poor decision and had a pass tipped for an interception at the 2-yard line.
The TCU defense has stifled Wyoming, which has just 22 yards, but the offense needs to get it going and not allow Wyoming to hang around too long.
November, 21, 2009
11/21/09
2:01
PM ET
LARAMIE, Wyo. -- It's Wyoming's senior day and the Cowboys are currently jogging out and handing flowers to their parents. It's a nice scene.

Wyoming linebacker Brian Hendricks is injured and will not play. Ghaali Muhammad will start in his place. That's the only change for both starting lineups.

It's warmed up to 30 degrees since my last update and there is a slight breeze out of the south.

It's hard to think TCU won't win this game easily, but the Horned Frogs did lose the last time they played here. Also, Wyoming has shown some mettle this season. It played well in the first half against Texas.

It must be a late-arriving crowd here because the stands are pretty empty. Apparently the No. 4-ranked team isn't enough to draw a sellout crowd.
November, 21, 2009
11/21/09
12:32
PM ET
LARAMIE, Wyo. -- TCU lucked out today with the fact that while there is snow on the ground, there is none falling. The field is clear and several TCU players are out warming up in shorts and long-sleeved shirts.

It's about 26 degrees, but clear. It's actually a nice day if you don't think about how cold it is. TCU shouldn't be fazed by the chilly weather. It's played in different types of weather all season and this game isn't nearly as cold as the game against Air Force, which had a 9 degree windchill with icy rain falling.

Both teams have something on the line in this game. The Horned Frogs are trying to preserve their undefeated season and their BCS bowl standing. Wyoming is working toward its sixth win and bowl eligibility. Both teams have one more game after this one.

Wyoming has not fared well this season against the top teams in the Mountain West Conference. It's been outscored 84-10 by Air Force, BYU and Utah and two of those games were shutouts.

TCU's 55-28 win over Utah last week marked the most points any team has scored on the Horned Frogs this season. In the four games prior to that -- wins over Colorado State, BYU, UNLV and San Diego State -- TCU had allowed 25 points combined.