NCF Nation:

FSU camp 2014
August, 27, 2014
Aug 27
10:30
AM ET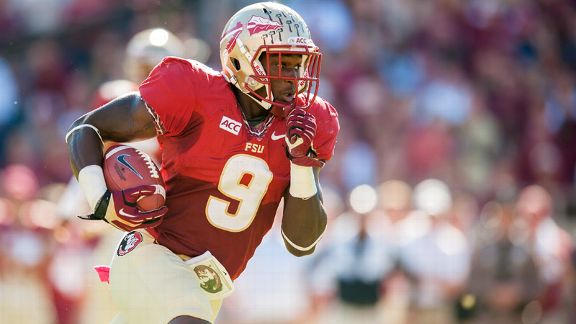 Jeff Gammons/Getty ImagesFlorida State's Karlos Williams has upgraded his game with a color-coded notebook.
TALLAHASSEE, Fla. --
Karlos Williams
walked into the room, briefly introduced himself and within seconds was knee deep in offensive football parlance.
"There are different calls, maybe on the same play. On the front side I might be a free release to the flat with no blocker responsibility," explained Williams, while probably holding a quiet suspicion his breakdown was hardly resonating with the rest of the room. "If you're on the backside you might have a leak, or you may just be in protection, period."
Eighteen months ago, Williams wouldn't have been nearly as articulate or intuitive about the game of football. He would have talked just as much -- only Seminoles coach Jimbo Fisher rivals the senior running back in words per minute -- but the conversation would not have been as in depth, because he wasn't atop the depth chart.
Fast forward to days before the 2014 opener and Williams will be making his second career start. With him on the plane to Texas will be his jersey, playbook and an 8.5 x 11-inch green, college ruled notebook.
"Always, always" is the notebook tucked under his arm, Williams said.
[+] Enlarge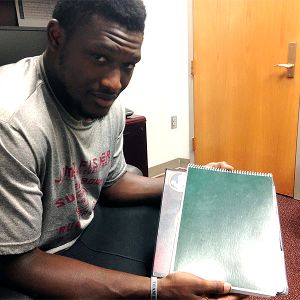 Jared Shanker/ESPNThese notebooks have come in pretty handy for Karlos Williams during his time at FSU.
It is always with him now, but began only during spring practice in 2013, shortly after then-defensive coordinator Jeremy Pruitt arrived and demanded Williams pipe down and put pen to paper. Williams never took notes -- in class or team meetings -- until Pruitt ordered Williams to start writing things down.
Williams, formerly a safety and linebacker, played in 25 of his first 26 games at Florida State but did not crack the starting lineup until the 2012 ACC championship and even then it was due to an injury. He wasn't picking up the little details in Florida State's defensive scheme. He wasn't too concerned about learning them either.
"I was very immature when I first got here. I didn't understand the power of preparation," Williams said. "I thought you just went out there and did it. I saw
Nick Moody
play safety,
Terrance Parks
,
Terrence Brooks
,
Lamarcus Joyner
do it and I said 'How do those guys do it?' When I look back on it, those guys were sitting in the front row taking notes."
Williams' prep status as a 6-foot-2, 210-pound five-star athlete with 4.4 speed caused part of those poor study habits. Williams and his brothers were all superior athletes, and when a player of Williams' caliber is on the field, high school offenses revert to words instead of plays -- "Just give Karlos the ball."
Williams played with his brother Vince, now with the
Pittsburgh Steelers
, for two seasons in college. Williams does his best impression of how he looked when he saw how intently Vince took notes -- eyes wide, mouth agape. Vince would take notes without his eyes ever coming off the screen. Williams didn't understand and didn't care to figure it out. Vince would rub his eyes to regain focus on the screen while Williams closed his, rolling over to go to sleep.
Pruitt, who has since left for Georgia, expected the same dedication from Williams. Pruitt knew Williams understood the basis of his scheme, but he would continue to toil on the second team if he could not master the defense completely.
"He understood I wasn't going to be the best if I didn't take notes. I got the big picture but the little details could have made me a better DB," Williams said.
So Williams bought a color-coded notebook. Blue was his notes on an offense's trips package. Red signified if a team was in a four-wide set. Without even seeing his notebook, Williams hand gestures a flow chart, recalling how on the field his mind would flip between colors if the offense sent a receiver in motion.
By the time the season rolled around, Williams felt indebted to Pruitt, and his junior season might have been the year he saw his most extensive playing time. But early in the 2013 season, Williams was moved to running back.
[+] Enlarge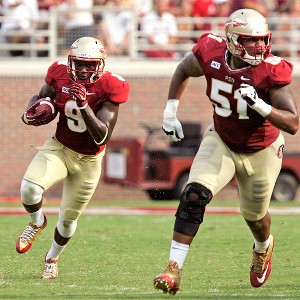 AP Photo/Steve CannonKarlos Williams rushed 91 times last season for 730 yards and 11 touchdowns.
He was forced back to just the fundamentals of the game, and he once again was straining his eyes on the big picture. Initially, he thought running back was simple: get the ball and follow your block. But he was blown away again at the details required, the details he watched
Devonta Freeman
perfect in the hours after practice each day.
It was time for another notebook.
"When I first moved to running back, I focused on what a stretch is and I know what a zone is," he said, "but I wasn't focused on the footsteps or how I carried the ball or hat placement."
That's what the entirety of fall practice was for, shoring up the minor details that could turn a first down into a touchdown or keep quarterback
Jameis Winston
upright in pass protection. Williams' running back notebook is filled with corrections and commendations, audibles and adjustments. If the offense uses a new terminology for a stretch or zone rush, it's in his notebook.
During Florida State's first preseason scrimmage, Williams jogged back to the huddle after the first play already with new material for his notebook. He didn't roll his shoulders carrying out a play-action fake. When Williams opened his notebook, the first line was bulleted and read: "Play-action pass, roll your shoulders."
This season, Williams is tasked with taking pressure off Winston and the passing game. He said he wouldn't be prepared for the increased role if not for dedicating himself to writing notes
"It takes initiative to write something down, writing down what you can understand without every word, writing what you need to hear," Williams said. "It helped me through camp.
"… I learned the lesson the hard way, which is the best way. It paid off for me."
August, 27, 2014
Aug 27
9:00
AM ET
TALLAHASSEE, Fla. -- At the beginning of this week, Florida State was still celebrating the hashtag #Dallas2Dallas. It's been the motto all offseason for a team that opens its season in the home of the
Dallas Cowboys
, the same place the first College Football Playoff championship will be held. It's even printed on the athletic department's Cowboys Classic flyer.
By the end of the day Monday, the trending topic was now taboo. Florida State coach Jimbo Fisher put the kibosh on the hashtag during a team meeting before practice.
Earlier Monday, I asked Fisher if the #Dallas2Dallas promotions set Florida State up for a championship-or-bust season in Tallahassee, if anything short of a return trip to Jerry World would be deemed disappointing.
[+] Enlarge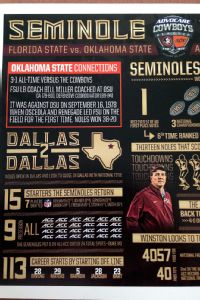 Jared Shanker/ESPNDallas2Dallas is even printed on the athletic department's Cowboys Classic flyer.
"I'm not worried about the national championship. I'm worried about playing well," he said. "Our goal is to be in the national championship every year. I want this team to be the best it can be, play as good as it can and we'll live with the results.
That's often not how the fans -- at least the most vocal -- and the media -- at least the most vocal -- operate, though. If you believe Las Vegas, the Seminoles are the slight favorite to win the national title. If you believe the polls, the Seminoles are the prohibitive favorite, garnering all but nine of the first-place preseason ballots in the two polls combined.
But with all of the preseason hype -- magazine covers, double-digit June point spreads and draft experts salivating at a roster stocked with NFL talent, none greater than at quarterback -- the 2014 season, like it or not, will be defined by a north Texas city more than 800 miles west of the Florida capital.
I'm not saying it is fair. It's not. It's irresponsible to expect perfection from a team, but that's the college football world where we reside. Fisher acknowledged being a preseason No. 1 is much different now than it was 20 years ago. Hours after the Seminoles hoisted the crystal ball in January, the train championing Florida State's repeat chances already left its Pasadena station.
Last month, Nick Saban was peppered with questions about Alabama's consecutive losses to end the season. Forget the Crimson Tide were a missed field goal from potentially playing for another national championship, there was the palpable sense that 11-2 was not good enough in Tuscaloosa, and the identity of the program, which has won three of the last five BCS titles, needed to be reshaped.
At ACC media days in July, Fisher waxed nostalgic about the era pre-dating the BCS and Bowl Coalition, when there was not always a guarantee No. 1 would play No. 2 to crown a definitive champion. "It mattered if you won the Orange Bowl or the Sugar Bowl or the Cotton Bowl or the Rose Bowl, you had a great year," he said. "Now, we went 12-2 and won the Orange Bowl and won our first ACC [championship in 2012], we act like it's not a big deal."
Fisher said without that 2012 season, the national championship wasn't possible. But now Florida State is among the elite, the program some believe is poised to earn the dynasty distinction. That top tier, for example Alabama, Oregon, Oklahoma (Bob Stoops has dealt with unreasonable expectations for years) to name a few, are judged by national titles.
What Florida State does have is a locker room that proved in 2013 it could isolate itself from outsiders. Over the last few days, Fisher has asked his team not to "eat the cheese," his way of telling his players to sniff out the bait, to not buy into the hype. He said he feels "really good" about how his team has received the message, and he will continue to drill it in their heads.
"We're just going to take it one day at a time, one game at a time and eventually we'll reach Dallas. That's how he told us to approach it," defensive lineman
Derrick Mitchell
said.
Added senior
Christian Green
: "Us as players, we know it's a grind every day. We know that this week is our first game and we have to focus on Oklahoma State."
When I asked Fisher about #Dallas2Dallas, he smiled and joked the Seminoles will be in Dallas on Thursday. So many others have already booked their return.
August, 25, 2014
Aug 25
9:00
AM ET
Evaluated simply for its achievement and without any historical context, it could be considered the greatest goal-line stand in college football history. Twelve plays inside the 9-yard line, half coming from inside the 1, and each time
Florida State
denying upset-minded Kansas.
Factor in national implications -- it was a season opener in August against and part of a 42-0 rolling of the unranked Jayhawks -- and it pales in comparison to the 1979 Sugar Bowl.
[+] Enlarge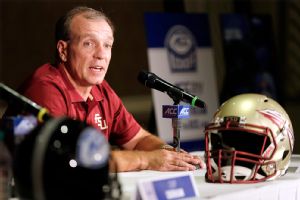 AP Photo/Chuck BurtonJimbo Fisher and the Seminoles aren't afraid to open the 2014 season against Oklahoma State in Dallas.
But for Mickey Andrews, that goal-line denial sits in the pantheon of Florida State football. After six straight seasons of falling just short of a national title, the former Florida State defensive coordinator credits that sequence, which took nearly eight minutes in nearly 120-degree conditions, for shaping the Seminoles' first national championship team.
"We had to meet them about three-fourths of the way and drag them off the field," Andrews said. Ken Alexander, Derrick Brooks and Corey Sawyer, who combined for the final fourth-down stop, laid on the blistering AstroTurf unable to get up as the referee signaled in Florida State's direction. "They didn't have anything left."
That was the season opener of the 1993 season, Florida State playing Kansas, which finished the prior season ranked in the top 25, at the Meadowlands, a national venue. The drive eclipsed 20 total plays, and Florida State committed four penalties inside the 10. While the Seminoles would win by six touchdowns, it was that particular drive that came at the end of the half when the Jayhawks were within two scores. Florida State held a dozen times in the shadow of its own goal post, then marched down the field with a 99-yard touchdown drive to put the game out of reach.
"That made our football team right there," Andrews said.
A season-opening game against a major-conference opponent on a national stage has the potential to alter the trajectory of a season, Andrews said. On Saturday, No. 1 Florida State travels to the state of Texas for the Cowboys Classic against Oklahoma State in AT&T Stadium. It's a prime-time game, and one "College GameDay" will be at.
Much like Kansas, Oklahoma State finished the previous season ranked, although pollsters are not quite as high on the Cowboys in 2014 as they overhaul their starting lineup. Regardless of the strength of the opposition, a nationally relevant opponent on the road or at a neutral site to begin the season can effect the next four months. Florida State, which is using the hashtag #DallasToDallas to define its title defense aspirations, hopes the Aug. 30 game will do just that this fall.
"The better it is for us to play on those kinds of stages," Fisher said.
Andrews served as Bobby Bowden's defensive coordinator for 27 seasons, and the two were never shy to play a national championship-caliber opponent to begin the season. From 1988-98, Florida State opened its season with a ranked opponent away from the confines of Doak Campbell Stadium on four occasions. Eleven times from 1988-03 the Seminoles began the season with a road or neutral-site opponent.
Bowden said the prospects of an opener with national implications sets the tone for offseason workouts and preseason camp. There is an added motivation for players and coaches alike when the opponent isn't an FCS cupcake.
"The thing about opening against a good team is it makes your boys get ready faster," Bowden said. "If you play a smaller division or someone you're favored by 25 points against, you're careful you won't have a letdown. But when you play a big one, they're usually ready to play."
Andre Wadsworth was a senior defensive lineman for Florida State in 1997 when the Seminoles opened at USC in The Coliseum. Wadsworth said the team began the season with an added focus on executing its offense and defense as it knew any self-inflicted wounds against a team the caliber of Southern Cal could derail a potential national championship season before it truly began. Florida State defeated USC, and the Seminoles would win their next 10 games before a three-point loss to Florida in the finale that ended a perfect season and hopes of a national title.
"The thing is to define yourself as early as possible as a team," Wadsworth said.
Fisher, in his fifth season at Florida State after replacing Bowden, said entering camp that the game against an Oklahoma State program that has averaged 10 wins since 2010 had the Seminoles focused and practicing at peak performance throughout preseason two-a-days. Fisher said he embraces the challenge, and the rest of team is itching to arrive at "Jerry World" and play on the biggest of big screens -- one that stretches 60 yards.
"That game is going to be electric," quarterback
Jameis Winston
said. "Florida State, we love to be in big games with millions of people watching us. That's what's fun, that's what football is for.
August, 21, 2014
Aug 21
2:00
PM ET
TALLAHASSEE, Fla. -- The question comes like a bull rush from a hulking defensive lineman, but
Cameron Erving
,
Tre' Jackson
and the rest of the Florida State offensive line are swatting it away like a blocker set in pass protection.
Excuse Seminoles coach Jimbo Fisher and Heisman quarterback
Jameis Winston
if they're a little more direct and a little less politically correct when discussing Florida State's front five.
"Well, our offensive line is the best offensive line in the country, and I repeat that Florida State's offensive line is the best offensive line in the country," Winston said.
A day after Winston's comments, Fisher was asked what his best non-quarterback position group was, and without hesitation, he said his offensive line. Is it the best offensive line group in the country, the reporter asked?
"I don't know the knowledge of everybody else, but I'd put that group up against anybody," Fisher said.
With five seniors, a combined 113 career starts among them and potentially three first-round picks along the unit, at the very least, it is one of the two or three best lines in the country.
With the influx of spread and up-tempo offenses, linemen, never a position that lends itself to the media spotlight or jersey sales, have given way to scat backs and speed receivers. Coaches are recruiting speed more than ever before, but Florida State's staff is well aware a 2014 championship run rests on the legs of the offensive line.
In the twilight of the Bobby Bowden era and outset of Fisher's tenure, the offensive line consistently was a point of aggravation for fans and coaches. From 2006-2010, the Seminoles had one offensive linemen drafted; they had two in 2005.
The current Florida State offensive linemen aren't going to engage in any conversation about their greatness, not as long Rick Trickett, his booming voice now buttressed by the echoing indoor practice facility, is coaching the position.
"He's never going to let us be the best offensive line in the country. I think that's a good thing, though. He keeps all of us level," Jackson said. We do stuff great, but having a coach that can pick up what you did -- like if you make a great block but take a bad step -- having a coach like that makes you so much better."
Erving and Jackson, the Seminoles' two best offensive linemen, were initially defensive tackles. Erving enrolled at Florida State as a member of the defensive line, and Jackson was committed to Georgia Tech to play defense before a January flip to Florida State.
Fisher had to mold athletes into offensive linemen early in his tenure, but now the Seminoles are recruiting the position better than at any point during Fisher's five years. In the 2014 class, Fisher signed four nationally-ranked linemen. In his first four classes, Fisher signed three.
Junior-college additions
Kareem Are
and
Chad Mavety
provide immediate depth, and Fisher has continually praised Are, who is pushing for playing time. The offensive line class, which totals eight players including greyshirt
Ethan Frith
, on average stands 6-foot-6 and weighs 306 pounds. Jackson said they're the biggest group of freshmen since he joined the Seminoles in 2011.
"We're gaining more depth … [and] they have to go through that learning curve, but you know the talent is there and the ability [is] there, and the bodies are there," Fisher said. "I'm very pleased with the depth we're building in that department."
August, 19, 2014
Aug 19
3:00
PM ET
TALLAHASSEE, Fla. -- Walking off the Doak Campbell Stadium field,
Mario Edwards Jr.
held his helmet in his left hand. The relentless Florida sun reflected off the helmet's base, which was only now visible through the scratches and scrapes that rubbed the gold paint off.
This wasn't after a Clemson, Florida or Miami game. Florida State just finished up its first preseason intrasquad scrimmage.
The only players whose helmets might look similar? "Maybe the offensive linemen," Edwards said, because those are the unfortunate ones the physically imposing junior defensive end bludgeons on a daily basis.
[+] Enlarge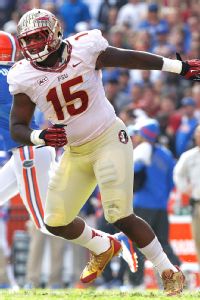 Kim Klement/USA TODAY SportsSack totals don't explain the impact of Mario Edwards Jr. for the Seminoles.
Edwards' job along the defensive line is often an unenviable one, as his helmet that will require a retouching every week indicates. It's also a position where Edwards doesn't get the same recognition as his Florida State predecessors, such as Cornellius Carradine, Brandon Jenkins or Bjoern Werner, who each had the liberty of focusing on rushing the passer from the edge more than Edwards, who is shifted all over the defensive line.
Last week, Florida State coach Jimbo Fisher was asked about Edwards and whether he should be in line for more than the 3.5 sacks he tallied as a sophomore in 2013. Once the reporter mentioned the word "sacks," it set Fisher off and he challenged the logic of the query.
"Sacks don't equate to greatness. You better watch that film. That guy's a heck of a football player. You watch when the draft comes around," said Fisher, pointing to Edwards' role on the country's top-scoring defense. "He's as athletic and dominant as any defensive tackle we've ever had."
The question set in motion a 10-minute coach's clinic session from Fisher, who broke down all of the responsibilities Edwards has, and there were many.
Edwards said he probably missed a few sacks last season because he didn't understand the entire playbook, and it is easy to see why. As a first-year starter, Edwards was shifted from end to tackle and asked to line up in gaps, heads up with a lineman or shaded to a shoulder. The difference could be a matter of a few inches, but it completely alters the landscape of a defensive scheme. First-year defensive coordinator Charles Kelly said this season Edwards might edge rush one play then drop into coverage on the next because he's "very powerful but at the same time he's athletic."
Fisher likes to call upon the time he witnessed Edwards do a standing back flip … in full pads. If that's not impressive enough, consider the 20-year-old stands 6-foot-3 and tips the scales at a Twinkie shy of 300 pounds. And while the weight was a concern early in his career, Edwards dedicated himself this offseason, reshaping his body and turning much of the weight into muscle to prepare for the increased attention he'll see with Timmy Jernigan off to the NFL.
"Talking with Timmy and talking to other guys, I realized it's back on me now. I'm an upperclassman and we have to carry the tradition," Edwards said. "I took my workouts serious. I lifted, ran, tried to watch what I ate."
That has opposing offensive coordinators on heightened alert, especially after observing Edwards chase down speedy Auburn quarterback
Nick Marshall
in the national championship game. While many offenses are switching to uptempo speeds predicated on spreading the defense out, the philosophy of running the football between the tackles remains largely unchanged. However, the scheme forces defenses to eliminate players from the box and substitute a lineman or linebacker for a smaller defensive back.
The rise of the spread formation has made linemen with Edwards' athletic ability all the more vital.
"The front guys that are big and agile are so much more critical now than they've ever been because the game is spread so they're getting isolated more," Fisher said. "… He's as strong and naturally powerful as anyone I've been around."
August, 14, 2014
Aug 14
2:00
PM ET
TALLAHASSEE, Fla. -- Odell Haggins has been Florida State's defensive tackles coach since 1996, a total of 19 consecutive seasons. As far as stability goes on the defensive staff, it begins with Haggins. It ends there, too, as the remaining three assistants have been on staff a combined five seasons.
Charles Kelly is in his second year on staff but shifts from linebackers coach to the secondary while also adding the title of defensive coordinator, a position he's never held for an entire season at the FBS level. In his stead coaching the linebackers is Bill Miller, who was hired away from Minnesota.
Early returns indicate Kelly, who
received rave reviews when he was hired
, has hit the ground running as the new leader of a defense that finished No. 1 in points per game during their 2013 championship run.
"He stays positive. He gets on you when you mess up but he explains it when you do," cornerback
Ronald Darby
said. "If I'm going to do something, he asks why you did it, and if I explain why, he's more understanding as a coach instead of 'Shut up I don't want to hear that!' He's a great coach."
Despite switching defensive coordinators, Seminoles coach Jimbo Fisher said not much has changed schematically. Kelly worked under 2013 coordinator Jeremy Pruitt, and the players have said the changes have been minimal. The terminology and the scheme remain largely intact, which could foster an easier transition this season for a defense replacing its best player at every level of the unit.
Kelly said there will be small differences, though, simply because he and Pruitt are not clones of each other. Kelly said he will have his own identity, which is really just a mosaic of the knowledge he's gained in his 23 seasons of coaching.
Over those 23 seasons, Kelly has coached nearly every position group, and that is not limited to just the defense. There are challenging aspects to that, but Kelly said a good coach is able to adapt to any position and it's prepared him to coordinate the entire defense.
"I grew up wanting to be a coach, so if you can coach and communicate and teach, you should be able to coach any position," Kelly said. "Coaching different positions, sometimes the personalities at positions are different, so it teaches you how to handle people differently."
Kelly acknowledges the potential issues of adding a new coach in the mix, but he welcomes the addition of Miller, who began coaching in 1978 and has coached six first-round draft picks, including Ray Lewis.
"Change is good sometimes because it's new blood, new ideas. It's a different way of looking at things," Kelly said. "When you're the only one doing it, you get tunnel vision. When you trust people you work with, then you trust what they say."
Helping facilitate a smooth transition for Miller is his familiarity with Fisher's coaching philosophies. Fisher is a protégé of Nick Saban, and Miller was on Saban's staff at Michigan State.
"There's kind of an unwritten club of guys that worked for Nick Saban," Miller said. "What helps me a lot is I've been in this defensive system before. Sal [Sunseri] and I were together at Michigan State, and having that kind of background and knowing what this system is all about has been a great aid to me."
Fisher said
E.J. Levenberry
is working with the first team at linebacker, and the sophomore said during fall camp that Miller has helped him with his fundamentals.
Florida State held its first scrimmage this week, and throughout the defense the fundamentals were not lacking. Fisher was upbeat following the scrimmage, and defensive lineman
Mario Edwards
said the players are comfortable in the system. Any mistakes were attributed to tired legs, Edwards said.
"We know the defense," Edwards said, "and we know where to be."
August, 12, 2014
Aug 12
1:00
PM ET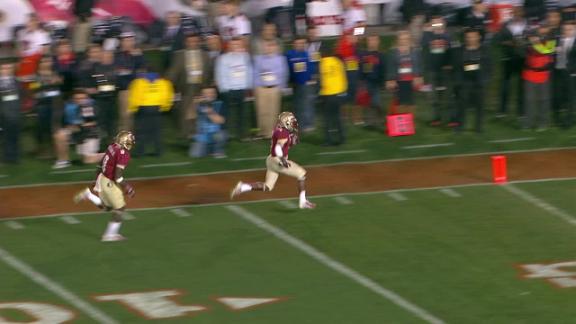 TALLAHASSEE, Fla. -- Florida State is not deviating from company line that the Seminoles have moved on from 2013, but forgive FSU fans if they're still reveling in the past.
Levonte Whitfield
gave Florida State its first lead of the national championship game with a 100-yard kickoff return in the fourth quarter, and, seven months later, it's still a talking point for Seminoles fans when interacting with the player affectionately known as Kermit.
"It's like every day, I get a lot of [Twitter] mentions about it," Whitfield said. "I try not to think about it. They can't take it away from me but I try not to think about it. It's time to move on."
Whitfield still has the play burned in his memory, though. With the Seminoles trailing 24-20 with 4:42 left in the game, the then-true freshman fielded the kickoff from about two yards deep in the end zone. Eleven seconds later, he was in the end zone.
"As soon as I got the ball I see
Chad Abram
kicked out, got his block and Karlos [Williams] made a cut and I see a big hole and I see nothing but daylight," Whitfield said.
With his sophomore season on the horizon, though, Whitfield wants to be remembered as more than just the kick returner from the national championship. The 5-foot-7, 183-pound receiver said he is working with the first-team offense in practice, and he could be relied upon in the passing game more often this season as a slot receiver, especially with fellow diminutive receiver
Jesus Wilson
(5-9, 177) indefinitely suspended.
Whitfield is one of the fastest players in the country, but Seminoles coach Jimbo Fisher said Whitfield needs to display that speed even when the ball is not in his hands. Whitfield said he is working on his route running, too.
"I want to be an All-American," Whitfield said, "and do what I need to do to help the team win."
August, 11, 2014
Aug 11
11:40
PM ET
TALLAHASSEE, Fla. -- Jimbo Fisher certainly could have done without the national headlines and hot takes, but the 24-hour
Jalen Ramsey
saga ended amicably Monday.
Ramsey was back at practice
, and Fisher expressed some regret for how he handled Sunday's incident.
Now that it is over with all parties seemingly moved on, it's a situation that might have been for the better.
Throughout winter workouts and spring practice, Fisher raved about the leadership of Ramsey, a sophomore but one who started every game last season and was a Freshman All-American. When defensive players were asked who was filling the vocal void left by
Timmy Jernigan
,
Lamarcus Joyner
and
Telvin Smith
, they unanimously included Ramsey. The offense's flag bearer isn't up for debate -- it's
Jameis Winston
clearly -- but who was the defense going to look toward for direction in 2014?
Ramsey is one of only two sophomores on the team's player council, evidence of just how highly regarded he is on the team. Few players speak to the media more often than Ramsey, who is one of the best quotes on the team, not because he fills up the notebook but because when speaking to reporters, he's engaging and thoughtful.
On the field, against opponents and his teammates, Ramsey takes on a different persona, a necessary evil in this game. Between the white lines, Ramsey is a brash, confident trash talker. He dictates the personality of the unit. Kind of like Winston.
The takeaway from Sunday's ejection is two-fold. First, it gives Ramsey an opportunity to see that if he is going to be the leader of the defense on Saturdays, he needs to be the leader throughout the rest of the week. Scuffles are going to happen and tempers are going to flare, but if the aggression carries over to Saturday and Ramsey is tossed from a game, as Fisher said, it makes Florida State a completely different team.
On the other hand, Ramsey, already one of the country's elite defensive backs, is coachable and has never been an issue in the locker room. Those are the kinds of guys who should be able to have a little back and forth with the coaches from time to time. Ramsey's voice carries a little more weight.
Sunday could be one of those teaching moments for a player still adjusting to the leadership role, and by all accounts, Ramsey is one of the most well-liked players on the team. While the carryover from the weekend looks to be minimal, it could be one of the defining moments of fall camp.
August, 11, 2014
Aug 11
12:00
PM ET
TALLAHASSEE, Fla. --
Jameis Winston
grabbed the microphone and bolted, nearly ripping the cord from the camera and leaving the man holding it in his wake. He
careened through reporters and teammates
and then hailed down
Mario Pender
, a relatively unknown name to the
Florida State Seminoles
faithful.
[+] Enlarge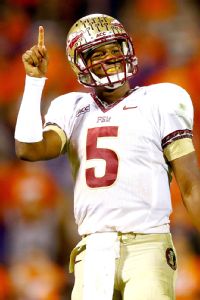 Streeter Lecka/Getty ImagesPerhaps Florida State QB Jameis Winston has learned some valuable lessons from the media scrutiny over the past year.
"We know about your blazing speed, your great looks and that's a great number you have there, sir," Winston improvised, mimicking on-air personas with an inflecting interview voice. "Tell us a little something about yourself."
He spent less than 30 seconds with Pender before flagging down assistant coach Jay Graham. Graham managed 12 words before Winston cut him short and moved on. He finished by tracking down the linebackers, pestering the unit for an interview and convincing
Reggie Northrup
to do the Chappelle's Show
robot
. All the while with the media chasing Winston down, snapping pictures and shooting videos.
It was Winston at his most relaxed, in a comfort zone buffered by his more than 100 teammates. It was Winston unchanged, and for months he's asserted he will largely be the same person he was despite the media microscope.
Except we saw a much more measured Winston two hours later when he walked to the podium for his media sessions, reporters now scaling the bleachers, having replaced his teammates. Admittedly, I haven't been around the team as long as others on the beat, but it seemed Winston was much shorter with his answers than normal. Not rude. Not any more careful. Just short. I asked around and others agreed that Winston's responses were unusually abbreviated.
"I did have to learn I got to be more guarded," Winston said about halfway through his 12-minute session. He would eventually expound on his answers, but not until he was asked to talk about his teammates.
It was a poignant contradiction, both from his actions earlier in the day and his comments as he insisted he's still the same person he was 12 months ago when his fame didn't extend much farther than the Sunshine State. It's not all that unexpected either that Winston didn't bloviate at the dais considering the notoriety the past year has brought. With his teammates surrounding him in every direction, Winston was gregarious, parading around with a cameraman's mic. In a traditional media setting with a room full of reporters, many analyzing every remark, Winston offered the bare minimum.
Sunday possibly offers a glimpse into how Winston dealt with the scrutiny from media and fans over the course of the past year and still produced unprecedented results. While he is peppered with questions each interview, behind closed doors the Florida State team still feeds off his energy, using it to cut the tension during big games and even bigger moments. He's previously mentioned how the support of his teammates helped him through the off-the-field controversies, but it was on full display as he ran around the field after the team photo. He's referred to this field as his sanctuary, but it's those kneeling next to him in the pews -- Pender, Graham, the linebackers, his teammates -- that offer Winston the platform to be the affable person he contends he is.
"I'm always going to continue to be myself and that's never going to change," he said. "As long as my teammates see that, people can have their opinions about me."
August, 7, 2014
Aug 7
2:00
PM ET
It's an August ritual. Each summer, one team is crowned pageant champion right after the swimsuit competition while no one bothers to wait for the talent show, where often the preseason No. 1 doesn't measure up.
Florida State is the 2014 sweetheart, but this year it is certainly warranted. It would be hard to argue that. The reigning Heisman Trophy winner is protected by a line of five seniors, and the defense is in its second season running the same scheme -- after finishing No. 1 in scoring defense last year. Las Vegas does not see anybody tripping up Florida State en route to the College Football Playoff. Oddsmakers give Florida State the best chance of any team to finish the regular season undefeated.
[+] Enlarge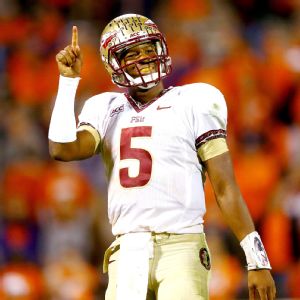 Streeter Lecka/Getty ImagesPutting a pass rush on Jameis Winston is a big key to beating No. 1 Florida State, says Clemson coach Dabo Swinney.
Forgive the rest of the ACC if they're not kneeling at the feet of the Seminoles, though.
"It's not far from the outhouse to the penthouse," Clemson coach Dabo Swinney said. "When you've done this as long as I have, you see anybody can win."
Easier said than done, Dabo. Florida State is the reigning national champion, returns starters at several key positions and can reload at the others. But Swinney's Clemson team, which might pose the biggest threat to the Seminoles on Sept. 20, can point to the last four preseason No. 1 teams in the USA Today Coaches Poll. All have failed to crack the final top five, and from 2010-12, none finished the season better than No. 11.
Clemson, which was trounced 51-14 in Death Valley last season, realizes this season that the key to beating Florida State rests on the defensive side of the ball. Pummeling the Seminoles begins with pummeling its elite quarterback, Jameis Winston.
"We got to get to Winston. I feel like if we pressure Winston, he'll throw us the ball," said Tigers defensive end Vic Beasley, who finished second to Winston in the ACC preseason player of the year voting. "We can get him to make turnovers."
Syracuse coach Scott Shafer was skeptical of the Florida State hype last season. Then he walked onto the field Nov. 16 for a game that ended with the Orange on the wrong side of a 59-3 demolition. He knew he was in trouble before the game when he was matching jersey numbers to names and realized many of the players he was in awe of were redshirts.
However, Shafer will preach to his team on Oct. 11, when Syracuse hosts Florida State, that the more physically gifted team doesn't always win. And Shafer will use personal experiences to impress it upon his players. He was on the staff at Stanford when the Cardinal
upset 41-point favorite USC
on the road in 2007.
"The great thing about football is that the football is oblong and does funny things, and on any given Saturday, you have an opportunity to try to steal and win a game," Shafer said, "and that's what we're going to try to do."
For Swinney, the goal is not to upset Florida State. He wants Clemson to uproot Florida State from its perch above the ACC Atlantic Division. That begins with recruiting players who can match Florida State physically, and Swinney is doing that at Clemson. The Tigers have hauled in a recruiting class ranked in the top 13 in every year since 2011, and his 2015 class ranks No. 2 in the country so far.
With a defense that could be the best in the conference this season, though, Swinney is not ceding the ACC to the Seminoles this season just yet. Swinney is aware that any team that plays Florida State is going to have to play close to a perfect game, which begins with maintaining possession. In last season's loss, Clemson turned the ball over four times, which led to 24 Florida State points. Two of the turnovers came inside the Seminoles' half of the field.
"That's a recipe for disaster. We've got to correct that. That's a huge part of our plan to win," Swinney said. "You've got to have big plays against them, you've got to take care of the ball, you've got to be sound in special teams."
Fisher said he subscribes to the theory that more games are lost rather than one, pointing to one team's miscues as often the driving factor of the opponent's success. It comes down to who plays the most consistently through all four quarters. Fisher said "the streets are full" of players who can play at a high level for a play or two, but "there's 70, 80 plays in a game."
"That's the thing about sports we all love," Fisher said. "We think we know, but there's still all the unknown."
August, 7, 2014
Aug 7
10:30
AM ET
»
More team previews:
ACC
|
Big 12
|
Big Ten
|
Pac-12
|
SEC
Previewing the 2014 season for
Florida State Seminoles
, the reigning ACC and national champions.
[+] Enlarge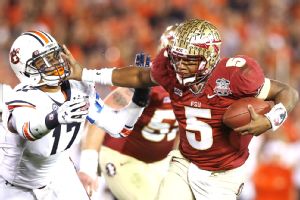 Matthew Emmons/USA TODAY SportsJameis Winston and the Seminoles will try to repeat as national champions.
Key returners:
QB
Jameis Winston
, RB
Karlos Williams
, WR
Rashad Greene
, OT
Cameron Erving
, OG
Josue Matias
, OG
Tre' Jackson
, OT
Bobby Hart
, DE
Mario Edwards
, DT
Eddie Goldman
, LB
Terrance Smith
, CB
Ronald Darby
, CB
P.J. Williams
, DB
Jalen Ramsey
, S
Nate Andrews
.
Key losses:
RB
Devonta Freeman
, WR
Kelvin Benjamin
, WR
Kenny Shaw
, OC
Bryan Stork
, DT
Timmy Jernigan
, LB
Telvin Smith
, CB
Lamarcus Joyner
, S Terrence Brooks.
Most important 2014 games:
Aug. 30 versus Oklahoma State (neutral site), Sept. 20 versus Clemson, Oct. 18 versus Notre Dame, Oct. 30 at Louisville, Nov. 15 at Miami and Nov. 29 vs. Florida.
Projected win percentage:
93.5 percent.
Over/under Vegas odds:
11.5 wins
Instant impact newcomers:
There has been a lot of hype surrounding the freshmen in Florida State camp, and Jimbo Fisher is not doing much to lower expectations.
Ermon Lane
and
Travis Rudolph
, two of the top six receivers in the 2014 recruiting class nationally, could start at some point this season. Defensive tackles
Demarcus Christmas
,
Derrick Nnadi
and
Arthur Williams
are impressing the coaches and offensive linemen, and the Seminoles need depth along the D-Line.
Best NFL prospects:
The over/under for how many first-round picks the Seminoles have in the 2015 draft should be set at five. If he remains healthy and declares following his redshirt sophomore season, Winston could be the No. 1 pick. Two of his linemen, Ervin and Jackson, could be first-round selections, too. Defensively, Edwards could move into the top 10, and Darby and Williams are competing to be the No. 1 cornerback taken in next spring's draft.
Best-case scenario for 2014:
It's rather simple -- the 2013 scenario plays out a second time in 2014. Florida State has the talent to become the first team to go 15-0 and win the inaugural College Football Playoff. Las Vegas expects the Seminoles to finish the regular season undefeated, and Florida State should be able to dispose of its opponent in the ACC championship game. Florida State 2014 might be competing against Florida State 2013 as one of the greatest teams in school history.
Worst-case scenario:
Any season that does not end with Florida State in the College Football Playoff has to be considered a disappointment. The Seminoles could probably survive one regular-season loss and still advance to the playoff, but two losses would almost certainly eliminate them from the conversation. With Winston likely off to the NFL following this season, the Seminoles could take a lengthy step back in 2015 as they reload offensively.
Budding superstar:
Ramsey is already regarded as one of the best defensive backs in the country, and he should be squarely in the Thorpe Award conversation this fall. He's not quite a national name yet, though, and he was not even named to the preseason All-ACC team. Fisher has said repeatedly that as a sophomore Ramsey is the vocal leader of the defense. In a secondary that possibly houses four first-round picks, if not more, Ramsey could go the highest when he's eligible in 2016.
They said it:
"People ask me, 'When did I know Florida State was the team that they are?' You never believe it until you get out there on the field, but in warm-ups, I was looking at their kids warming up, and I said, 'Who the heck is that guy? Who is that guy?' I'm looking at them and, oh, they're getting redshirted. And they're a foot taller than our guys and can run, too." -- Syracuse coach Scott Shafer.
August, 4, 2014
Aug 4
11:30
PM ET
TALLAHASSEE, Fla. -- Preseason camp begins with five days of heat acclimation, but that doesn't mean there is a nearly week-long grace period for Florida State. Not when the Seminoles are in pursuit of consecutive national championships.
New linebackers coach Bill Miller was already adjusted to head coach Jimbo Fisher's "attitude of domination" standard at the onset of the Seminoles' first practice of fall camp. When a freshman linebacker didn't perform a warm-up drill correctly, Miller sent him back to the front of a line with a not-so-subtle message to do it better next time.
"I liked the intensity of practice. It was very good competition, guys getting after each other, competing with each other, for the most part knowing what to do," Fisher said.
Although players were not in pads Monday, Fisher was encouraged by what he saw. With the mandated restriction on pads -- Florida State's first two-a-day will be Saturday -- the first day of practice was an opportunity for the Seminoles to work on alignments, assignments and execution.
Fisher expressed a little disappointment in how the passing game performed -- he called the quarterbacks' execution "very average" -- but he acknowledged it was the first time the group had a defensive line charging at them in four months. And when you return
Jameis Winston
, the reigning Heisman Trophy winner, there is little reason for long-term concern.
Once baseball season ended, Fisher forced Winston to take a couple of weeks off to ease the demands on his star player's body. The result was a Winston who is much fresher than he was entering the 2013 season and a smarter player under center. When Winston was kept from the field, he used it as an opportunity to fine-tune his mechanics.
"He was very anxious to get better fundamentally. He did a lot of film study with his footwork and working on his release and quickening things up," Fisher said.
Coupled with an energized Winston, the first few days of practice should go smoother this season because of the lack of roster turnover on the offense line and a defensive scheme that remains largely unchanged. The offensive line has five seniors and more than 100 starts among them, and new defensive coordinator Charles Kelly is executing the same defensive scheme as predecessor Jeremy Pruitt. Kelly was the Seminoles' linebackers coach in 2013. While Florida State has to replace defensive leaders
Timmy Jernigan
,
Lamarcus Joyner
and
Telvin Smith
, there is a knowledge that should allow the new starters to transition quickly to their roles.
"It's the second year on defense of exactly the [same] system we're running, so I think the knowledge is increased," Fisher said. "The young guys will know more because the older guys can help them. Last year early, the older guys couldn't help them because they were learning it for the first time, too."
There is a belief those younger players will crack the rotation and make an impact at some point in 2014, possibly for the Aug. 30 opener against Oklahoma State. Freshman receivers
Ermon Lane
and
Travis Rudolph
, recovered from offseason foot surgery, look physically impressive, and there is an opportunity for playing time on the defensive line; the Seminoles have seven freshmen defensive linemen, and Fisher said "there's not one you'd throw back."
Linebacker
Terrance Smith
smiled when asked about the big bodies accompanying their new faces.
"This is probably the biggest group of freshmen we've had in a long time," he said. "Me as a linebacker, I'm not complaining because we got some big D-Linemen in front of me."
Notes:
Sophomore receiver
Jesus "Bobo" Wilson
remains indefinitely suspended following a Monday meeting with Fisher. Wilson is practicing and should return during the season, but Fisher sounded as if Wilson will not play in the opener. ... Linebacker
Ukeme Eligwe
(Lisfranc injury) is not practicing, but Fisher said Eligwe is ahead of schedule.
Nile Lawrence-Stample
(shoulder surgery) is practicing but will be eased back into contact. ... A few players wrote on Twitter that Sunday would be their last day tweeting until the season ends. Fisher said it was a team initiative and he did not ask his team to quit social media until the season ended. However, Fisher did say Florida State does monitor what its players and the athletes it is recruiting say on social media.