NCF Nation:

FSU spring practice
March, 26, 2014
Mar 26
9:00
AM ET
TALLAHASSEE, Fla. -- Tiffany McGilberry pleaded with her son. "Try baseball," she begged.
At that time in early October, her son
Tyler Hunter
was riding around Florida State in a neck brace. It was the only thing preventing even a minor car accident from paralyzing the then-20-year old. A tackle in a September game that left his hands temporarily numb was the tipping point. Years of battering receivers across the middle deteriorated Hunter's neck. Doctors ordered he wear a neck brace around campus and while driving.
The Baltimore Orioles drafted Hunter in high school, and McGilberry asked he start sacrificing runners instead of sacrificing his health.
"He doesn't love baseball like he loves football," McGilberry said Monday. "You can't take [football] away from him. I don't think anyone can."
[+] Enlarge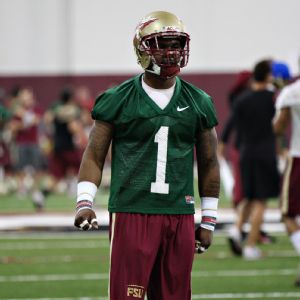 Brandon Mellor/Seminoles.comTyler Hunter is still in a no-contact jersey, but he's anxious to start making some hits for the Seminoles.
Not even a neck surgery that required the expert hands of leading neurosurgeon Dr. Julian Bailes could do that. Bulging discs were removed and a metal plate was inserted to deal with a congenital condition called cervical spinal stenosis, a narrowing of the spine near the neck.
Nearly six months after the surgery, Hunter is ahead of schedule and practicing. He's undergoing monthly X-rays -- the most recent coming last week -- and is still in a non-contact jersey, but he'll participate in every spring practice. The repartee with
Jameis Winston
is already underway, as Hunter has unsuccessfully tried to goad the Heisman winner into throwing his direction. Inexperienced backup
Sean Maguire
tried his luck Saturday, and the savvy free safety returned the interception for a touchdown.
"It's been real exciting, just being able to be out there with the team again, being able to play football," Hunter said. "I really appreciate the game a lot more now."
Although Hunter is avoiding most contact (he admitted to popping a receiver last week, which he hid from his mother until she read it in a Monday article), those around him in the secondary see a confident player reminiscent of Hunter's pre-injury form. They see the safety who persevered through a knee injury last spring to win a starting job in fall camp.
"He deserves to be out there," sophomore defensive back
Nate Andrews
said. "He loves being out there."
He wasn't out there for the final 11 games of Florida State's first 14-0 season in school history. He wasn't out there for the ACC championship, and he wasn't out there intercepting Auburn's
Nick Marshall
or making snow angels in the confetti. He was out there on the sidelines, despondent.
FSU coach Jimbo Fisher asked Hunter still travel with the team but it too often had an adverse effect, forcing him into the locker room as he battled with an overwhelming sense of emptiness. The white lines did more than separate him from the field; it formed a barrier from his teammates.
Against NC State, the first home game following Hunter's season-ending surgery, he finally broke down.
"I can't do it. I can't do it. I can't watch this game," he texted his mother.
"It was hard to watch," Hunter said this week. "I couldn't even watch from the sidelines."
His head hanging, McGilberry refused to let that become the defining image of Hunter's sophomore season. Abandoning teammates is not part of Hunter's make-up, and McGilberry knew it. Florida State was starting a freshman and sophomore in the secondary and rotating two others. The injury meant he wasn't on the field. It didn't mean he wasn't on the team, she told him.
"We had to have our meetings," Fisher said of Hunter. "The things you face mentally, and the ghosts you chase and the wondering and not knowing, that's the toughest part, and we had to help him through that. Once he got through that he was back helping any way he could."
Through the final 11 weeks, Fisher said he can't recall seeing a player study more film on his own than Hunter. He was dejected, but few knew the secondary assignments better.
Terrence Brooks
, a 2013 senior, credits Hunter for helping him reach new levels and calls him "another coach on the field." For a defense that finished No. 1 in the country, Hunter's absence became a rallying point.
As Florida State preps for a run at a second straight national championship, few on the roster are held in higher regard than Hunter. On a defense lacking seniors, Hunter, normally quiet and reserved, is becoming a vocal fixture.
"I don't talk a lot, but knowing we need somebody to step up and be vocal and lead the team, I took it upon myself to do it," Hunter said.
Fisher said it is that selflessness that's endeared him to teammates. This season and these teammates mean more to Hunter than any career on the diamond ever could. The closest he wants to come to baseball is when he picks off a Winston fastball in football practice.
"He never thought twice about baseball [after the injury]," McGilberry said. "He still believes that was his best decision."
March, 21, 2014
Mar 21
2:00
PM ET
TALLAHASSEE, Fla. -- Most coaches keep practices behind closed doors. They don't want any important information finding its way to opponents.
Florida State coach Jimbo Fisher, however, graciously tipped his hand Wednesday when asked about what new formations and which underclassman receivers could mitigate the departure of potential first-round NFL draft pick
Kelvin Benjamin
, all 6-foot-5 and 240 pounds of him.
[+] Enlarge
Melina Vastola/USA TODAY SportsKermit Whitfield isn't going to do the same things Kelvin Benjamin did in the Florida State passing game, but his speed could be every bit as dangerous to defenses.
"I'll stack Bobo (
Jesus Wilson
) and Kermit (
Levonte Whitfield
) on top of each other," quipped Fisher, clearly armed in anticipation of a question on his receivers' height. Wilson stands 5-foot-9 and Whitfield is 5-7.
The humor could be a deflection as Fisher masks any possible concerns about replacing Benjamin, who at Tuesday's pro day showcased a rare catching radius and leaping ability that no player on the Seminoles' current roster has illustrated. Senior
Rashad Greene
's presence is vital, as he led the team with 76 catches last season, but no other returning receiver had more than 13 catches in 2013, which leaves mostly a unit with little to no in-game seasoning.
But while Benjamin's size and strength combination won't be replaced by anyone on the roster in its current form, his Tallahassee exit doesn't necessarily mean a step in the wrong direction for the Seminoles offense. Whitfield and Wilson are small packages of instant offense. Whitfield initially trumpeted his speed for Florida State fans with touchdowns of 31 and 74 yards the first two times he rushed the ball, and then for a national audience with a 100-yard kickoff return in the fourth quarter of the VIZIO BCS National Championship.
"You can jump or you can run there -- there are two different avenues [to catch the ball]," Fisher said. "Bobo and Kermit, those guys get the ball short and it's hard to get them on the ground."
Quarterback
Jameis Winston
knows receivers like Benjamin do not come around often, but he said neither do players with the acceleration and speed of Whitfield and Wilson.
"Kermit and Bobo, they're going to catch the ball and you're not going to tackle them," Winston said. "Bobo is as electric as Kermit, but Kermit is special. And those guys can jump, and I'm pretty sure they can dunk."
Expecting the talented but inexperienced Whitfield, Wilson,
Jarred Haggins
and 6-4 sophomore
Isaiah Jones
to quickly jell with Winston in the passing game is oversimplifying an issue that requires a quarterback and receiver to connect on an innate level. Official practice time is in short supply this spring in Tallahassee as Winston bounces between football and baseball, which will cost him Saturday's practice.
Yet as foolish as it would be to assume Benjamin and
Kenny Shaw
won't be missed, at this point it would be equally ill-advised to doubt any aspect of the team Winston touches.
"We trust all the guys we got. That's why we come to Florida State, to win championships, and we've got great players," Winston said. "It's going to be a fast adjustment with timing, and we're going to get this thing rolling."
March, 20, 2014
Mar 20
9:00
AM ET
TALLAHASSEE, Fla. --
Jameis Winston
is still unsure what Florida State is playing for in 2014. The goal is to win consecutive national championships, that much is certain. He's just awaiting word on what exactly he'll be carrying with him on the plane home from Dallas.
[+] Enlarge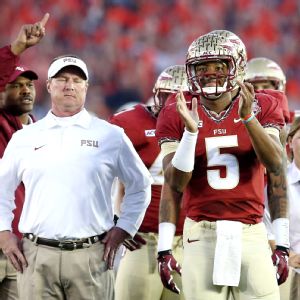 Stephen Dunn/Getty ImagesFlorida State coaches have QB Jameis Winston working on mechanics and mastery of the offense this spring.
"We want to go out there and keep the crystal ball -- or whatever trophy it is -- in Tallahassee," Winston said. "We don't want anybody to take our prize."
Wednesday marked the opening of spring practice for the reigning champions, who will likely be the preseason No. 1. The Waterford crystal football, which Winston laid lips on two months ago, will not be awarded to the national champions in Dallas, the site of the first playoff title game.
Whichever piece of hardware is eventually settled on, Winston knows simply repeating his Heisman numbers from 2013 won't be enough to hoist it. With significant losses at receiver, running back and throughout the defense, the coaching staff is counting on Winston to continue maturing.
"I think you are always learning as a competitor different situations, different scenarios, how you impact your teammates in different ways consistently," Seminoles coach Jimbo Fisher said. "I think the knowledge of his offense and the things that he can do and make those decisions that much quicker, see reads that much quicker, even recognizing coverages and blitzes. ... He must continue to grow."
Not even three weeks after Winston led the game-winning drive in the BCS championship game he traded D-ends for DHs, though. He missed most of the winter workouts with the football team and will miss Saturday's spring practice. He will try to make up for lost time by working on his mechanics, a part of his game he can work on during his limited amount of free time. Fisher and quarterbacks coach Randy Sanders have already alerted Winston to a few tweaks they would like to see by the April 12 spring game.
"Holding the ball a little higher and my hips. I have to get my hips into the ball that I throw," Winston said. "Coach Fisher being a perfectionist and Coach Sanders is actually the one to bring that to my attention a lot. He is always on me, and I know Coach Fisher is always on him about me.
"I always want to get better. I'm never going to be the type of guy that just sits back and just lets things go. I'm going to get better on my hips, get the ball up higher, and I'm going to start throwing rockets."
Fisher lauded the efforts of Winston and the rest of his team through the first day of spring. The fifth-year coach said this 2014 team could be further along at this point than any of his previous teams.
"We had a good practice [Wednesday]. Missed assignments and a couple little things but very pleased with our knowledge of what we were doing and executed for a first day pretty good," Fisher said.
March, 18, 2014
Mar 18
9:00
AM ET
Florida State is recruiting the best players, has a Heisman winning quarterback returning and received first glimpse of its championship rings Monday.
Be careful, Jimbo, of those Pasadena roses -- petals muted, fragrance faint but thorns sharpened, impervious to decay.
That sage advice comes from Seminoles coach Jimbo Fisher's predecessor, Bobby Bowden. The legendary Florida State coach whose statue greets staffers at the football offices entrance knows the spring pitfalls that accompany a national championship.
[+] Enlarge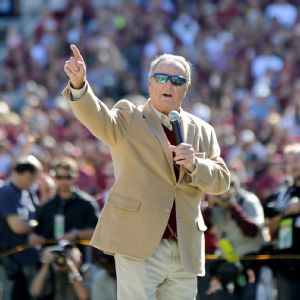 Melina Vastola/USA TODAY SportsBobby Bowden, who coached the Seminoles to 14 straight top-5 finishes, knows Jimbo Fisher and FSU need to avoid any complacency this spring following their national title.
"One thing is true," Bowden told ESPN.com Monday, "it's easier to win one than to continue winning."
Bowden won 304 games in 34 seasons at Florida State and two national championships. Although the Seminoles did not repeat in 1994 following his first national title, complacency never set in at Florida State. He went 42-4-1 the four seasons after the 1993 national title and reeled off 14 consecutive top-5 finishes from 1987-2000.
With Fisher getting his first taste of a national title as a head coach and Florida State's rising seniors a combined 35-6 in their careers, the biggest question this spring is whether the program is poised for another decade-long run of national relevance.
"The big thing you try to do is prevent a letdown, prevent the kids being overconfident, taking things for granted," Bowden said. "You need to be looking out for letdowns. You have to continue to talk and stress it to the boys and if you see it happen nip it in the butt."
So far, so good. Through offseason conditioning, the players' efforts have Fisher convinced the 2014 team is not set up to revert to a middling ACC program.
"I've been very pleased. It's been a very good offseason. I like the demeanor and mentality of our team right now; hopefully we can take it to spring practices and continue to grow, but I'm very proud of them," Fisher said recently. "They know what to do, they know the culture, they know what's expected and they're going to take care of business."
While no program is completely immune to letting its foot off the pedal, Fisher comes from the Tree of Saban, who's done better than any other coach at keeping his teams hungry. A former LSU assistant, Fisher coached under Nick Saban when the Tigers won the title in 2003. Saban, with his now infamously coined philosophy, "The Process," has successfully fended complacency off much of the last decade. Sure, the Crimson Tide lost three games in 2010 following the 2009 title, but it took the wildest kick return since Kevin Moen trampled Gary Tyrrell to keep Saban from a third BCS championship.
In 2007, Saban hired mindset coach Trevor Moawad, who is now Vice President of Pro and Elite sports at API/EXOS. A specialist in mental conditioning, Moawad now splits his time between Tuscaloosa and Tallahassee. Fisher followed Saban's initiative and asked Moawad to speak to his offense beginning in 2008.
In his time in Tallahassee, Moawad has shown clips of Mike Tyson's loss to 42-to-1 underdog Buster Douglas. Tyson was ill-equipped and ill-prepared for a drawn-out boxing match having had just three of his previous 16 fights last past the seventh round.
"It won't be Auburn like in 2010 when it found lightning in a bottle. ... The goal isn't to win 14 games but to execute the process," said Moawad, mimicking a tried-and-true Saban proverb. "These guys in this program know they don't have to be sick to get better. Coach Fisher's program is about structure and coaching and great talent, and those things are in place for other guys to step in and sustain it."
Just keep your feet clear of any thorns.