October, 26, 2013
10/26/13
11:06
PM ET
NORMAN, Okla. -- Texas Tech tight end
Jace Amaro
was simply trying to help his team.
He ended up doing more damage than good.
Amaro's fumble late in the second quarter was one of two Texas Tech turnovers that directly lead to Oklahoma touchdowns in the Sooners' 38-30 win over the Red Raiders at Oklahoma Memorial Stadium on Saturday.
[+] Enlarge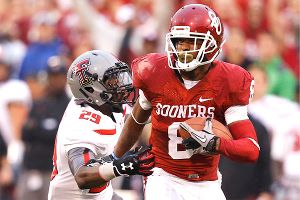 AP Photo/Sue OgrockiJalen Saunders scored one of his touchdowns following a takeaway by OU's defense.
"I fumbled for the first time ever in the biggest game I've ever played," Amaro said. "It was a 14-point swing because they score on that 76-yard (
Blake Bell
to
Jalen Saunders
) pass on the next play and I put a lot of that on myself."
Sooners defensive end
Charles Tapper
forced the fumble as Amaro was battling for extra yardage. OU also got an interception from safety
Gabe Lynn
at the start of the fourth quarter with OU clinging to a four-point lead. The Sooners capitalized following both plays with touchdowns by Saunders and
Damien Williams
respectively.
"That's huge," TTU coach Kliff Kingsbury said. "You cannot come into this stadium, against this team, with these coaches and those athletes, and do that. We knew coming in that we couldn't have the turnovers but we didn't take care of business."
The Tech turnovers helped the Sooners overcome a creative and aggressive game plan from Kingsbury. A fake punt, a halfback pass, an onside kick, the Ninja formation, it was all on display -- and successful -- for the Red Raiders who were trying to remain unbeaten.
Yet, the Sooners consistently came up with key defensive plays when they needed them.
"We hadn't seen that in a couple of weeks but we've always had faith in them," Lynn said of the offense turning the miscues into touchdowns. "I'm proud of them, running game, passing game, we made some huge plays on offense."
Lynn's interception was the only time the Sooners' defense stopped the Red Raiders from scoring in the second half before Tech's final drive of the game. Tech opened the second half with 17 points on three drives before Lynn picked off a tipped pass and the Sooners' offense took the field with a seven-play, 58-yard drive to take a 35-24 lead on a three-yard touchdown run by Williams.
"It was very important because they have a great offense and we know they like to hurry up and get after it," Williams said. "Whenever they [the defense] gave us a chance to get back on the field, we knew we had to capitalize and that's exactly what we did."
The Sooners' defense was far from perfect, allowing 460 yards on 79 plays (5.8 yards per play) including 388 passing yards. However, OU held Tech to 5 of 14 third down conversion attempts and forced all three of the Red Raiders' turnovers in its own territory.
"They got stops when they had to get stops," center
Gabe Ikard
said of OU's defense. "I thought besides a fumble early we [the offense] took care of [the ball]. The ball is everything in this game, for them to get key turnovers in key spots really helped us out, gave us momentum and we capitalized on them."
And that, ultimately, was the difference.
September, 25, 2013
9/25/13
4:00
PM ET
On Saturday, Oklahoma will make its first trip to Notre Dame Stadium in 14 years. The Irish won that 1999 contest, 34-30, and have won eight others against the Sooners, as they hold a 9-1 all-time mark in the series. Last season's game turned on several big Notre Dame plays on both sides of the ball, lifting the Irish to a 30-13 road win and an 8-0 record.
What will happen this time around? We turn to Big 12 reporter Brandon Chatmon and Notre Dame reporter Matt Fortuna to preview this weekend's tilt in South Bend, Ind.
Matt
: Brandon,
Blake Bell
earned the noble distinction last year of becoming the first player to rush for a touchdown against Notre Dame. That was eight games into the Irish's season, and this year they have already given up two scores on the ground. Obviously, Bell has a lot more on his plate this time around. And he is making his first career road start, in a stadium where the Irish have won 10 straight games. What can Notre Dame's defense expect to see from Bell on Saturday?
Brandon
: The Irish will actually have to account for the possibility they will see No. 10 throw the ball when he's behind center. Notre Dame will have to be prepare for Bell to test its secondary with his arm more than his feet, and he showed he might be a better passer than people think in his first start against Tulsa. Undoubtedly, the windows will shrink against ND but the fact remains that the Irish will have to prepare for Bell, who could test them with his arm and feet, unlike their preparations for
Landry Jones
, who doesn't put fear into the heart of any defense with his legs. The overriding question in Norman is: how have the Irish changed in the trenches after manhandling OU in Norman last season? Can they do that again?
Matt
: The depth of Notre Dame's defensive line took some hits this offseason -- first with the transfer of
Eddie Vanderdoes
to UCLA, then with the ACL tear suffered by
Tony Springmann
. Still, the front-line guys remain very dangerous, though the numbers have not exactly depicted that through four games. The Irish's opponents have done a good job of establishing a quick-strike passing game, effectively negating the strengths of the Irish's defensive linemen. A mobile quarterback like Bell will likely present more challenges Saturday, and it us up to the Irish to continue to adjust. The other side is a bit of a mystery as well. Notre Dame has struggled to establish much of a run game so far, but its offensive line has done a tremendous job of keeping
Tommy Rees
standing up straight through four games, and the offense has again limited the turnovers. Rees and this year's group of running backs just don't pose the kind of threat that Everett Golson and last year's backfield did, so it's hard to imagine the Irish running to set up the deep pass in the same way they were able to last year, when they connected with
Chris Brown
for a game-changing 50-yard strike in the fourth quarter. They may have more weapons at receiver this year, though. How does Oklahoma's pass coverage match up with
TJ Jones
,
DaVaris Daniels
and company?
Brandon
: Well, Matt, the Sooners' secondary would like to think it's ready for the challenge against Rees and Notre Dame's receivers. All-Big 12 cornerback
Aaron Colvin
won't be a concern, but the rest of the secondary is somewhat untested. Senior
Gabe Lynn
is starting at safety, a new position, after spending his first three seasons at nickelback and corner, and he has played well. OU's three new starters, nickelback
Julian Wilson
, cornerback
Zack Sanchez
and safety
Quentin Hayes
, have looked good but haven't yet played a quarterback who will capitalize on their mistakes. That said, the OU secondary, without question, is faster and better in coverage than the 2012 version. Whether it will it hold up mentally in a hostile environment is the unanswered question, so I can't wait to see how it all plays out. Anyway, who do you like this weekend?
Matt
: Notre Dame's defense played its best game Saturday, responding to Brian Kelly's mid-week challenge. But I'm just not sure it has completely turned the corner yet. I think the Irish are getting Oklahoma at a more opportune time, as Bell is making just his second start and the Sooners have yet to really be tested. But I have not seen enough so far that makes me believe Notre Dame will be able to handle everything Oklahoma will throw at it offensively. Oklahoma has had one more week to prepare, and I sense a bit of wounded pride coming from the Sooners after the Irish out-muscled them late last year and, eventually, ended up ruining the their BCS-bowl hopes. How do you see this one unfolding?
Brandon
: I think everything falls on the shoulders of the quarterbacks. Rees is much more experienced than Bell and I have a feeling that's going to show itself on Saturday as the Irish make Bell uncomfortable in the pocket and force a couple of mental mistakes from the junior during his first road start. OU's defense will hold up and play well, giving the Sooners the chance to remain in the game no matter what happens offensively. But turnovers will be the difference and ND will win the turnover battle and win a close, hard-fought game at home.
September, 9, 2013
9/09/13
11:00
AM ET
One thing the Big 12 is not is dull. Here's a recap of the wild weekend it was in the conference:
Team of the week:
Baylor. The Bears completely dismantled a Buffalo team that hung tough with Ohio State last weekend. There was no hanging tough in Waco for the Bulls, who were chased out of town with a 70-13 shellacking. During one unreal 11-minute stretch, Baylor racked up 576 yards of offense while averaging 12.5 yards a play. The Bears also scored touchdowns on their first eight drives, and probably would have scored a ninth had they not run out of time in the first half. Baylor has won six straight dating back to last season.
Disappointment of the week:
Texas. First, the Longhorns lost 40-21 to BYU. Then, they lost defensive coordinator Manny Diaz, who was fired Sunday and replaced with Greg Robinson. Mack Brown said at the beginning of August he was confident this would be his best team since 2009. If the Longhorns aren't careful, it could be his worst. Texas has at least a half-dozen losable games left on the schedule, including this weekend's meeting with emerging Ole Miss.
[+] Enlarge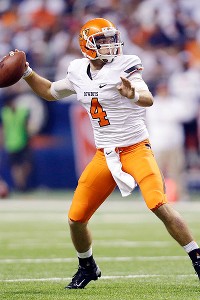 AP Photo/Eric GayJ.W. Walsh had a record day for Oklahoma State.
Big (offensive) man on campus:
J.W. Walsh
. The Oklahoma State sophomore answered many questions about his passing prowess in a 56-35 win over UTSA that wasn't nearly as close as the final score. Walsh set an Oklahoma State single-game completion percentage record by connecting on 24 of 27 passes. He found four different receivers for touchdowns and rushed one in on his own. Even though he's known for his wheels, Walsh now has the 17
th
-best passing EPA (expected points added) in college football.
Big (defensive) man on campus:
Gabe Lynn
. The Oklahoma safety has been maligned in the past for giving up huge plays in the pass, notably in the 2011 home loss to Texas Tech. But Saturday against West Virginia, the former cornerback was delivering the huge plays from his new position. In the third quarter, Lynn intercepted Mountaineers QB
Paul Millard
, then later scooped up a fumble and returned it 27 yards. The two turnovers killed West Virginia drives and helped keep the Mountaineers at bay even while the Oklahoma offense struggled.
Special-teams player of the week:
Tramaine Thompson
. The veteran playmaker showed why the Wildcats have one of the most dangerous return units in the country. Thompson's 94-yard kickoff return to begin the second half put an underrated Louisiana Lafayette away. The return duo of Thompson and
Tyler Lockett
remains one of the best in the country.
Play of the week:
The last time a Kansas wide receiver caught a touchdown pass,
Justin McCay
was still playing for Oklahoma. McCay, now a Jayhawk, vowed to end that ignominious streak, which dated back to Oct. 22, 2011. In the second quarter against South Dakota, McCoy hauled in a 5-yard pass from quarterback
Jake Heaps
at the back of the end zone that put Kansas ahead for good while ending the streak for good, too.
Stat of the week:
According to ESPN Stats & Information, Baylor already has 16 touchdown drives of two minutes or less, which leads the nation. Oregon has 15. No other program is in double digits. The Ducks led the FBS last year with 45 such drives. Baylor is on pace this season for 104.
Quote of the week:
"I haven't even gotten out of the game. … I'd like to watch the video." -- Texas coach Mack Brown, when asked after the BYU game whether Manny Diaz would remain his defensive coordinator. Brown fired Diaz the next day.
August, 20, 2013
8/20/13
10:00
AM ET
When Oklahoma State cornerback
Justin Gilbert
lines up against Big 12 offenses this season, he'll carry with him some rare experiences. During his college career, the senior has intercepted two Pro Bowl quarterbacks, held his own in one-on-one battles with a receiver who was a top-10 NFL draft pick and won 31 games in three seasons.
In the Big 12, experience is a important trait -- in a player and an entire defense.
"Experience is invaluable," OSU defensive coordinator Glenn Spencer said. "You can't coach that, you can't recruit that, it just comes from guys being in the battles."
Gilbert -- who intercepted Robert Griffin III and Andrew Luck as a sophomore and battled Justin Blackmon in practice during his first two seasons in Stillwater -- is one of seven returning starters on the Cowboys' defense, a trend that is seen across the league.
Seven of the Big 12's defenses return at least half their starters in 2013. That, along with six different squads naming new quarterbacks, sets up an ideal scenario for the conference's defensive coordinators. At Texas Tech, the Red Raiders return seven defensive starters, giving new defensive coordinator Matt Wallerstedt peace of mind as he approaches his first year trying to stop the explosive offenses in the conference.
"All those guys have played a lot of ball here and been in a lot of these different environments," Wallerstedt said. "These guys have played some ball together, and I think that's the big thing."
Quite simply, it's impossible for a Big 12 defender to know what he is up against until he's experienced it firsthand.
[+] Enlarge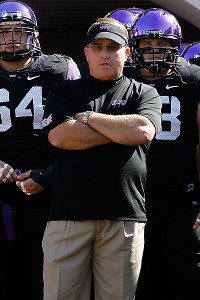 Tom Pennington/Getty Images"The biggest difference between a younger defense and an older defense is an older defense can be more multiple because they can get lined up and do more things," TCU's Gary Patterson said.
"I didn't really understand how fast it was until I got out there," Oklahoma senior safety
Gabe Lynn
said. "Once you get out there, get your first plays, you understand. I'm used to it. It's my third year playing, I'm familiar with a lot of the different teams, different offenses."
Several new faces at quarterback and a general lack of returning star power across the league promise to give the Big 12's defenses the clear experience advantage this fall.
Still, "That doesn't mean you're guaranteed success," Spencer said.
For one thing, the league average was 29.4 points allowed per game, 418.5 yards allowed per game and 5.74 yards per play allowed by Big 12 defenses. Thus, it's not like Big 12 defenders are returning after having dominated their offensive counterparts in 2012.
Secondly, experience only goes so far. Talent overcomes experience on a regular basis. For example, TCU defensive end
Devonte Fields
had 10 sacks and led the league with 18.5 tackles for loss as a freshman. He enters this season as the Big 12's preseason defensive player of the year as a sophomore.
Yet experience still has value. The conference has become known for its up-tempo attacks, which can put Big 12 defenses on their heels.
"It's stressful," Wallerstedt said. "Everybody is spreading the field now with a lot of different looks. Things are changing every year and creating a game of space, where you have to have guys making plays in open-field tackle situations and when the ball is in the air. You're trying to disguise as much as you can to keep the quarterback guessing."
Being able to turn to veteran defenders can make adjustments much easier while a team is in the middle of an onslaught of offensive attacks.
"Those guys are more adept to adjust quicker, understand what the issues are during a game," Spencer said. "On our side of the ball it's all about doing what you do and trying to force the issue but also reacting to the things you get. A more experienced team is able to work through issues on the sideline between drives, maybe some things they haven't shown before. Those are some things that just come with experience."
TCU brings back nine starters on a defense that led the conference in allowing 323.9 yards per game and 4.92 yards per play and ranked second with 22.6 points per game. Head coach Gary Patterson sees the clear value in having an experienced defense at his disposal against up-tempo offenses.
"Older players are used to tempo," Patterson said. "The biggest difference between a younger defense and an older defense is an older defense can be more multiple because they can get lined up and do more things. Younger defenses, you're trying to get lined up and play defense. That's harder to do. You've got to be able to fight back. If you can't fight back, it's a long day."
As Patterson notes, being ready is half the battle. Lynn is one of four returning starters on OU's defense, and he's already trying to prepare his younger teammates for the up-tempo attacks they will see this fall.
"We have a lot of freshmen," Lynn said. "And I try to relay to them how important it is to get the calls and get lined up. You have to be prepared and be ready to play."
It's hard to believe that inexperience would keep Baylor, OSU, West Virginia, OU and Texas Tech, up-tempo offenses that finished in the top half of the conference in offensive yards a year ago, from having success in 2013.
Yet experience will matter in the Big 12 this season.
"I said from the start I am fortunate to be taking over with that [experience returning]," said Spencer, who is entering his first season as the Cowboys' defensive coordinator. "Does that guarantee success? No. But it's better than the alternative."
Staff writer Jake Trotter contributed to this report.
October, 23, 2011
10/23/11
12:49
AM ET
Gabe Lynn stepped in and started for injured Oklahoma cornerback Jamell Fleming tonight, but struggled mightily in the first half.
That didn't change in the second half, when he gave up a 40-yard pass over the top to
Marcus Kennard
that helped set up a Texas Tech touchdown.
Oklahoma responded. It moved former corner and starting safety Aaron Colvin back to cornerback, benched Lynn and moved senior backup Sam Proctor, who has a lot of starting experience, back to safety.
Since the switch, Oklahoma hasn't given up a touchdown or a completion over the top of the defense.
Demontre Hurst has been solid opposite Colvin and Lynn at the other corner spot.
Oklahoma trails 34-24 early in the fourth quarter, but for now, the biggest defensive hole appears to have been patched up.
July, 14, 2011
7/14/11
9:00
AM ET
We'll move on to the cornerbacks today in our position rankings across the Big 12.
Here's what we've covered so far:
This group? Well, it's not very good. And considering the crazy depth in the Big 12 at receiver, it could be a long season for cornerbacks in this league. I love the upside of many of the Big 12 corners -- namely the guys at Missouri and Texas Tech (especially working with Chad Glasgow's 4-2-5 in Lubbock). Texas could also develop fast in its new defense, but outside of Texas A&M and Oklahoma, I don't see any Big 12 teams that should be completely comfortable with their cornerbacks.
Of course, for fans who love points, this could be a welcome development. For secondary coaches and defensive coordinators? Not so much.
[+] Enlarge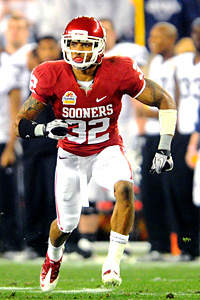 Mark J. Rebilas/US PresswireJamell Fleming returns as the Big 12's top cornerback.
1. Oklahoma
-- Jamell Fleming is the Big 12's top returner at the position and gives the Sooners a huge boost after being reinstated last week. Fleming had withdrawn from the university because of academic problems following the season. Aaron Colvin moved to safety during the offseason, but Fleming will still have to beat out Gabe Lynn in fall camp to start opposite Demontre Hurst. Julian Wilson also adds depth.
2. Texas A&M
-- Fleming's return pushed the Sooners over A&M as having the Big 12's best group of corners. But Coryell Judie and Terrence Frederick could both challenge for first team All-Big 12 honors at the position. They are ahead of reserves Dustin Harris and Lionel Smith, who will get plenty of time on the field.
3. Missouri
-- Missouri loses starters Carl Gettis and Kevin Rutland, but the coaches consider Kip Edwards a returning starter because of how much he played last season. Edwards could join E.J. Gaines in eventually becoming better than both Gettis and Rutland. Trey Hobson and Robert Steeples will get time in the rotation, too.
4. Oklahoma State --
OSU has to replace the Big 12's interception leader Andrew McGee , but Brodrick Brown's development should continue. He's likely a dark horse to earn first-team All-Big 12 honors after the season. The Cowboys didn't release a post-spring depth chart, but don't be surprised if return specialist Justin Gilbert edges out Devin Hedgepeth for the starting spot before the opener. Andrae May has earned playing time on special teams in both of his first two seasons on campus, but could be counted on for a much bigger role this year as the fourth corner.
5. Texas --
The Longhorns are fairly decimated at corner after losing three to the NFL in one offseason. Curtis and Chykie Brown joined Aaron Williams for one of the most talented sets of corners we've seen in this league, but now, secondary coach Duane Akina will have to replace them. Texas' depth chart is still as in flux as any in college football, but I'd be surprised if Carrington Byndom didn't emerge with a starting spot. True freshman Quandre Diggs might swipe the other, but Eryon Barnett and A.J. White will be on the field, too.
6. Texas Tech --
The Red Raiders are likely to ascend this list by season's end, but for now, find themselves at No. 6. Injuries were costly for the defense last season, but Tre Porter and Derrick Mays should be much better, and Tech fans can be encouraged by the upside in Jarvis Phillips, Jeremy Reynolds and Eugene Neboh.
7. Iowa State --
This group might be a bit underrated, but with Iowa State's defensive problems last season, it's a bit hard to tell. Jeremy Reeves and Leonard Johnson return with loads of experience, and Anthony Young is a great additional piece as the third corner. Matthew Thomas should be in the rotation, too.
8. Baylor --
The Bears return both starters. Chance Casey has 15 career starts to Tyler Stephenson's four, but the Bears secondary struggled last season, especially the corners. Tuswani Copeland should be on the field, and Romie Blaylock offers some experience as a senior under new coordinator Phil Bennett, whose work is cut out for him at this spot.
9. Kansas --
Kansas loses Chris Harris from last season's team, but Isiah Barfield is a playmaker at the position. Greg Brown, Tyler Patmon and Anthony Davis fill out the group.
10. Kansas State
-- The Wildcats have a huge talent in David Garrett, who led the team in tackles last season and was the nation's leader in tackles for loss, but he's still just one player at a position that needs lots of depth in this league. Also, his coverage leaves a bit to be desired. For now, K-State doesn't look like it has that necessary depth. Terrance Sweeney and Stephen Harrison are gone, but the Wildcats need to find more talents at the position in fall camp. Watch for Thomas Ferguson to emerge as the other starter.
March, 21, 2011
3/21/11
4:00
PM ET
Schedule:
Oklahoma opens spring practice Monday at 4:40 p.m. ET and will play its spring game on April 16. The first 15 minutes of Monday's practice are open to the media, but the remainder of the practices until the spring game will be closed.
What's new:
Offensive coordinator Kevin Wilson, responsible for the highest-scoring offense in college football history in 2008, took the head coaching job at Indiana. Replacing him for the Sooners are co-coordinators Josh Heupel and Jay Norvell. Heupel has been with the program since 2006 as the quarterbacks coach, and won a national title at OU in 2000. Wilson was with the team for its Fiesta Bowl win, but Heupel called the plays for the Sooners and will do so in 2011. Norvell has coached receivers at Oklahoma since 2008.
On the mend:
Running back
Roy Finch
looks like the favorite to replace
DeMarco Murray
as Oklahoma's featured back, but surgery to repair a stress fracture in his left foot suffered during bowl practices will keep him out during the spring. Starting fullback
Trey Millard
is also out for spring practices after minor surgery.
On the move:
Defensive back Aaron Colvin played some in spot duty as a true freshman in 2010, but opens the spring as the Sooners' starting strong safety. He was expected to replace last season's starting corner, Jamell Fleming, who is not enrolled and won't be back until the fall semester at the earliest after reported academic misconduct. The corner job went to Gabe Lynn, who enters the spring with little on-field experience.
New faces:
Running back
Brandon Williams
enrolled early and will start the spring at No. 2 on the depth chart at running back. Quarterback Kendal Thompson is also in camp as an early enrollee alongside Marquis Anderson, a third signee from the 2011 class.
Breaking out:
Nickel back Tony Jefferson. You could make the argument that he's already broken out as the co-Big 12 Defensive Freshman of the Year in 2010, but he's hardly a household name across the country or even the conference. That could change fast for Jefferson, who looks like his sophomore year could mean dropping the "rising" from his status as a rising star.
Don't forget about:
Sophomore receiver
Kenny Stills
. His teammate
Ryan Broyles
gets all the headlines, but Stills showed plenty of potential in his first season on the field, giving Oklahoma a much-needed second option in the passing game. He started all 14 games as a true freshman and broke Broyles' freshman receiving record with 786 yards and five touchdowns on 61 receptions.
All eyes on:
The defensive lines and secondary. It's a "National Championship or Bust" kind of year for the Sooners, who may well debut at No. 1 in the preseason polls next fall. If one thing stops them from winning it all, it will be a lack of experience up front or troubles defending the pass without their top corner, Fleming. Stacy McGee, Jamarkus McFarland, Daniel Noble and Casey Walker will be in the rotation at defensive tackle, and have to help collapse the pocket and stop the run. Junior Demontre Hurst played well as a sophomore, but if Fleming doesn't return, Lynn and Colvin will have to be solid alongside experienced safeties Javon Harris and Sam Proctor to slow the prolific Big 12 passing offenses.