NCF Nation:

Gamecocks-Dores-092411
September, 25, 2011
9/25/11
1:09
AM ET
COLUMBIA, S.C. -- After benching starter
Stephen Garcia
in the fourth quarter of South Carolina's
21-3 win
over Vanderbilt Saturday, coach Steve Spurrier said he's unsure of who will start at quarterback for the Gamecocks when they play Auburn next week.
"We'll put whoever out there we can to help us win the game," Spurrier said.
[+] Enlarge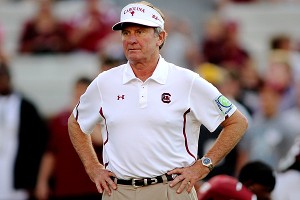 Jeremy Brevard/US PRESSWIRESteve Spurrier said Stephen Garcia will "probably" start at quarterback next week.
Spurrier added that there isn't a quarterback controversy and that Garcia "probably" will start, but he's keeping his options open.
Garcia went 16-for-30 on the night for 228 yards and a touchdown. However, he also made a handful of questionable throws and had four interceptions. Three of them were thrown right to defenders, while one was batted into the hands of Vanderbilt's Chris Marve after Garcia avoided the sack by trying to lob a short pass to an unsuspecting
Alshon Jeffery
at the goal line.
Garcia was pulled late for
Connor Shaw
, who started the year as the Gamecocks' quarterback. Shaw finished with 8 yards passing on two attempts. Redshirt freshman
Dylan Thompson
also came in, but he mainly handed the ball off and ran the ball once for 1 yard.
"If some of those other guys look great in practice, yeah, I'd put them in there," Spurrier said.
When asked if he was frustrated by being yanked, Garcia had this to say:
"They wanted to get Connor some playing time, some experience. That's normal. We had the game pretty much sealed at the end, so I'm not really frustrated by it at all."
When asked if he still felt like the starter, Garcia said this with a slight laugh:
"You'll have to ask coach (Spurrier) that."
Spurrier didn't harp too much on Garcia's performance. In fact, he stopped commenting on Garcia's performance the more he looked at his stats and the more he talked about the offense. He also didn't put a lot of the blame on Garcia, saying that he's "doing the best that he can. That's all we can ever say."
Regardless, Garcia's "best" isn't great and he needs to improve if this team is going to make it back to Atlanta for another shot at the SEC title.
September, 25, 2011
9/25/11
12:53
AM ET
COLUMBIA, S.C. -- It's not very common that a head coach apologizes to a fan base after a win.
But South Carolina's Steve Spurrier needed to and did after the Gamecocks' sloppy
21-3 win
over Vanderbilt Saturday night.
"Obviously, our defense was a big reason we won the game and (the) offense sputtered around most of the game, had a bunch of penalties after some good plays here and there," Spurrier said. "I'm glad we had a good defense tonight because they did very little -- a lot of bad plays, interceptions, this that and the other.
[+] Enlarge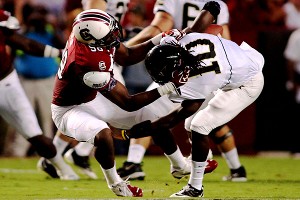 Jeremy Brevard/US PRESSWIRESouth Carolina defensive end Devin Taylor sacks Vanderbilt's Devin Taylor. The Gamecocks had six sacks on the night.
"Really a poorly coached offense tonight out there representing the Gamecocks out there. I apologize to Gamecock fans for such a putrid offensive performance, but we won the game and I'm really proud of our defensive team. They all played super."
Try as they might, the
South Carolina Gamecocks
were unsuccessful at giving Saturday's game away to Vanderbilt.
Quarterback
Stephen Garcia
threw four interceptions (three directly to defenders and one while trying to do way too much), the team racked up nine penalties for 67 yards and couldn't get lined up as the play clock ticked closer to zero a handful of times.
In the end, South Carolina just couldn't shake a dreadful Vanderbilt offense that totaled just 77 yards (73 passing, 4 rushing).
You could tell the crowd was irritated most of the night, as boos rained down after every offensive miscue, and especially after ever Garcia pick. But with the Gamecocks up 21-3 and driving early in the fourth quarter, the crowd barely seemed phased by Garcia's fourth interception. The boos that blanketed him after his first three blunders were nowhere to be found.
It seemed more comical than anything, and why boo if Vandy's offense had produced just three points and 46 offensive yards to that point?
Spurrier was tremendously frustrated with an offense that registered just 375 yards, but Garcia wasn't. Despite being benched in the fourth quarter and struggling to get to 228 passing yards, he said the win outweighed the negatives.
"A win is a win," Garcia said. "If we had lost, hell yeah I would have been very frustrated, but a win's a win and that's all that really matters at the end."
Still, Garcia understands that in order to truly be competitive in this league, the offense needs vast improvement.
"Hopefully, this is the last week we play like this offensively," he said. "I don't think we can survive playing like that."
With the offense stumbling along, South Carolina's defense truly redeemed itself by dominating. After weeks of criticism about tackling and poor positioning, the Gamecocks gave Vanderbilt's offense nothing to work with. The Commodores were outgained by
Marcus Lattimore
's rushing output (77 yards) and went three-and-out on 10 of their 14 drives.
Vanderbilt was 1-for-14 on third downs and turned the ball over three times. South Carolina brought the pressure all night, challenging Vandy to beat the Gamecocks deep. There was hardly a challenge, as South Carolina got six sacks, 12 tackles for loss and had a defensive touchdown.
The defense that gave up 33.3 points and 372 yards per game didn't make it to Williams-Brice Stadium. Defensive coordinator Ellis Johnson said there wasn't a defensive revival during the week and he's not even convinced this is an exceptional group. It's getting better, but it's far from special.
"I don't want to give any false pretenses -- we are a blue collar group," Johnson said. "We're just old, simple pound cake. We gotta few cherries, but when we talk about this conference, there's nothing special about the talent on this defense. I've been coaching 36 years and I've been around some great defenses and this is not one of them. This is a damn good defense that if we learn how to practice and play hard it would be pretty good.
"I think they're starting to realize that."
Great or not, with the way the offense is playing, if the defense maintains Saturday's mentality, it will be this team's backbone.
"If we can get our defense to keep playing like this, we won't have to score too many points," Spurrier said. "It's a little discouraging at times that we're not executing any better or we're getting all those stupid penalties. That's really embarrassing."
September, 24, 2011
9/24/11
11:48
PM ET
By
ESPN.com staff
| ESPN.com
September, 24, 2011
9/24/11
10:34
PM ET
COLUMBIA, S.C. -- It's a final here in Williams-Brice Stadium. Things were uglier than they were pretty tonight, but South Carolina came away with the
21-3 win
over Vanderbilt.


South Carolina's defense really came to play. Vanderbilt never consistantly moved the ball, getting more than three offensive plays in a drive just four times on 14 total drives. Vanderbilt finished the night with 77 total yards (73 passing, 4 rushing).
The Gamecocks defense looked nothing like the unit that struggled to tackle through the first three weeks. It had five sacks at the half and just overpowered Vanderbilt's offensive line for most of the night. Vanderbilt quarterbacks
Larry Smith
and
Jordan Rodgers
had barely any time to do anything in the pocket.
Marcus Lattimore
was again South Carolina's most valuable offensive weapon, carrying the ball 20 times for 78 yards and a touchdown. He also had 73 yards receiving, including a 52-yard touchdown.
Without him, the score would have been much lower, as South Carolina quarterback
Stephen Garcia
continued his trend of playing mistake-filled football. While he did throw for 228 yards and touchdown, he had four interceptions, which caused a flurry of boos from the fans.
South Carolina also had nine penalties for 67 yards. Still the Gamecocks left with a victory and are still undefeated, including being 2-0 in conference play. The mistakes have to be cleaned up, but South Carolina will gladly take a 4-0 start.
September, 24, 2011
9/24/11
9:43
PM ET
COLUMBIA, S.C. -- Vanderbilt quarterback
Larry Smith
was helped off the field after taking a violent hit while going after his own fumble.
Smith was stripped by South Carolina's Jadeveon Clowney on the first play of Vanderbilt's third drive of the third quarter. As Smith dove for the ball in front of him, he was hit head-on by a South Carolina defender.
Trainers tended to him on the field for a couple of minutes before helping him off with a little more than two minutes remaining in the third quarter.
September, 24, 2011
9/24/11
9:42
PM ET
COLUMBIA, S.C. -- If Vanderbilt is going to crawl back into this game, its offense has to get something going -- and quick.
After the first two drives, Vanderbilt had just 12 yards on seven plays. Eleven of them came on a run by
Zac Stacy
. With the Commodores trailing 21-3, the defense needs a lot of help because South Carolina running back
Marcus Lattimore
is starting to wear down this unit.
On the night, Vandy quarterback
Larry Smith
has just 44 yards passing and the running game has produced zero net yards on 19 attempts.
South Carolina just had a touchdown wiped off the board and missed a field goal, but should the Gamecocks really be worried? Vanderbilt can't move the ball. The longest play for Vanderbilt is a 17-yard run by Smith. Bubble screens aren't working, running certainly isn't and Smith doesn't have enough time to get the ball down the field thanks to the tremendous effort from South Carolina's defensive line.
Honestly, I'm not sure how Vandy can come back at this point without getting points directly off turnovers.
Oh, and how about that? South Carolina's Jadeveon Clowney forces Smith to fumble and South Carolina has the ball at Vandy's 31.
September, 24, 2011
9/24/11
8:58
PM ET
COLUMBIA, S.C. -- It has been an ugly first half of football inside of Williams-Brice Stadium,
but South Carolina leads 14-3
.


Stat of the half:
You could go with the 174 combined offensive yards by both teams or the 10 combined penalties for 100 yards. There are almost more penalty yards than yards of offense. Vanderbilt hasn't done much and is only on the scoreboard because of an interception by Casey Hayward that was returned to South Carolina's 22-yard line. South Carolina had nothing going on offense until a screen pass to
Marcus Lattimore
went 52 yards for a score before the half, but a couple of big plays have been negated by holding penalties.
Best player of the half:
Hayward's two interceptions were nice, but the player(s) of the half is South Carolina's defensive line. Vanderbilt has -4 yards rushing on 16 attempts and South Carolina has five sacks. Vanderbilt quarterback hasn't had much time to breathe in the pocket with all of the pressure he's faced. Vanderbilt's line has been demolished by the Gamecocks. End Melvin Ingram has two of the five sacks. One sack by Jadeveon Clowney resulted in a defensive touchdown for the Gamecocks as well.
Play of the half:
South Carolina's offense was doing absolutely nothing until a perfectly called screen play from
Stephen Garcia
to Lattimore that went for a 52-yard touchdown with 13 seconds left in the half, putting the Gamecocks up 14-3. That was the longest pass play for the Gamecocks this season. With the way this game has gone, that could be enough for the Gamecocks.
September, 24, 2011
9/24/11
8:06
PM ET
COLUMBIA, S.C. -- Those weren't roosters you heard inside Williams-Brice Stadium, those were boo birds. Lots of them.
That's because embattled quarterback
Stephen Garcia
just threw his third interception of the game. And again he threw it directly to a defender. Casey Hayward grabbed the first two, but Andre Hal was the beneficiary of Garcia's latest mistake. That was the first of Hal's career.
Fans let Garcia know how they felt, but coach Steve Spurrier probably let him know even more.
However, Vanderbilt quarterback
Larry Smith
wouldn't let Garcia be outdone in the mistakes department. Three plays after Garcia's blunder at Vandy's 36-yard line, Smith was pressured by South Carolina's Jadeveon Clowney, who forced Smith to fumble the ball. Spur Antonio Allen then picked it up, raced toward the end zone, fumbled and Melvin Ingram recovered the ball in the end zone to put South Carolina up 7-3.
After South Carolina's score, Vanderbilt had minus-9 yards of offense (25 passing, -34 rushing) and South Carolina was working with three Garcia interceptions.
U-G-L-Y.
September, 24, 2011
9/24/11
7:42
PM ET
COLUMBIA, S.C. -- It hasn't been a pretty one so far.
South Carolina has watched as two
Stephen Garcia
passes have found Vanderbilt cornerback Casey Hayward and the Commodores have run just nine plays for 16 yards.
But that last interception, which Hayward saw coming before Garcia even released the ball, was returned 23 yards to South Carolina's 22-yard line. The Commodores didn't do much, but they kicked a field goal and lead 3-0 as the first quarter winds down.
The Commodores have done a good job of containing South Carolina running back
Marcus Lattimore
. He has just four carries for 8 yards. The Gamecocks have actually come out passing, testing this secondary. So far, that hasn't been wise.
September, 24, 2011
9/24/11
7:05
PM ET
COLUMBIA, S.C. -- Mixing and matching uniforms has become the norm in college football and Vanderbilt has changed up its road wardrobe today.


Instead of going with the traditional gold helmets and white jerseys and pants, the Commodores are sporting black helmets on top of their white uniforms.
Will it add some extra energy for the lovable Commodores tonight? Probably not, but they are fun to look at.
The Gamecocks seem pretty relaxed before the game, but expect
Marcus Lattimore
to continue to carry much of the offensive load tonight. Backup
Kenny Miles
, who hurt his hand against Georgia, isn't dressed. That means the Gamecocks could look to get some carries out of junior
Eric Baker
and/or freshman
Brandon Wilds
.
Miles hasn't been much of a factor this season, carrying the ball once for 1 yard, but neither of the other backs have recorded any stats this year.
As for Vanderbilt, it looks like senior tight end
Brandon Barden
will miss his second straight start with an ankle injury. He was injured in Vandy's win over Conneticut in Week 2. His injury doesn't appear season-ending, but with next week being the bye for the Commodores, it makes sense to rest him now.
We might not see much -- if any -- of Vandy running back
Warren Norman
, either. Norman has yet to play this season and still seems to be recovering from last year's knee surgery.
The Commodores have been pretty successful with the running duo of
Zac Stacy
(29 carries for 262 yards and touchdown) and
Jerron Seymour
(28 carries, 145 yards and two scores), so not having Norman is nothing new for this team, but he does have big-play ability that the Commodores would love to have tonight.
Pregame festivities are almost done and the the smoke from the fireworks has cleared, so that means it's time for some nighttime football.
Should be a fun one in Columbia.
September, 24, 2011
9/24/11
6:12
PM ET
COLUMBIA, S.C. -- Hello, from a very humid venue here inside Williams-Brice Stadium.
The rain came earlier this afternoon and that means it's going to be hot and sticky in Columbia Saturday, but that shouldn't keep us from having a fun one between South Carolina and Vanderbilt.
There was an interesting feel around the stadium when I was walking up, drenched with sweat as the sun beat down on my face. South Carolina fans didn't exactly lack confidence, but most fans were pretty low key while tailgating. Obviously, the liquids were flowing, the fried food was being devoured and animated conversations were all around me. But it didn't seem like fans really knew how to approach this game.
Who could really blame them? This Vanderbilt team has been pretty exciting to watch, defensively, and the Gamecocks are prone to make mistakes on offense. Vandy has 12 takeaways and South Carolina has turned the ball over seven times. With
Stephen Garcia
at quarterback, Gamecocks fans should be nervous.
But they should also rejoice in the fact that they have
Marcus Lattimore
to churn away on the the ground. South Carolina coach Steve Spurrier said he'd like to take some of the pressure off of him, but I doubt today is one of those days. With the way Vanderbilt takes the pass away, Lattimore will see a lot of early carries and I expect that trend to continue through the game.
I think Lattimore's ability to dominate defensive fronts will wear down this Vanderbilt defense.
We also need to see how Vandy responds on the road against a hostile crowd and how this offense does. Vandy isn't exactly an offensive juggernaut, but South Carolina's defense has really struggled, especially with tackling. This one really has the makings of being ugly offensively, so limiting mistakes will be crucial.
The rooster crows are starting, so we're getting closer and closer to game time and the students are loving it down there.