NCF Nation:

Garic Wharton
February, 22, 2013
2/22/13
9:00
AM ET
Here are some keys and storylines to watch this spring in the South Division. Yesterday Ted looked at
the North Division.
ARIZONA WILDCATS

Start date:
March 3
Spring game:
April 13
What to watch:
New battery: The Wildcats are looking to replace a top-notch quarterback-center combo in Matt Scott and Kyle Quinn. The rock-solid duo helped produce one of the top offenses in the league. Jesse Scroggins and B.J. Denker are among those in the mix to run the offense and several returning offensive linemen are versatile enough to move around. Chris Putton and redshirt freshman Beau Boyster could be in the mix at center.
Many happy return(er)s: Arizona returns a big chunk of its offensive production -- including running back Ka'Deem Carey and receiver Austin Hill. Both should be on all sorts of preseason teams and awards watch lists. But behind the big names, there's also David Richards, Johnny Jackson, Tyler Slavin and Garic Wharton back in the mix.
No learning curve: Last spring, the talk was about Rich Rodriguez calling out his team for its lack of physical conditioning. The fact that the majority of the team understands what is expected -- and they don't need to spend the whole spring learning new systems, should be a huge help. Consider that the Wildcats return their entire defense from a group that was, at times, shaky, but will certainly benefit from another full season of playing in the 3-3-5 scheme.
ARIZONA STATE SUN DEVILS

Start date
: March 19
Spring game:
April 13
What to watch:
Plugging the middle: One of the few losses to ASU's roster is middle linebacker Brandon Magee -- a leader on and off the field and an all-around heck of a player. Carlos Mendoza looks to be a good fit -- though he's likely to miss spring while continuing to recover from a shoulder injury suffered against Illinois. Folks might remember his two interceptions before going down for the year.
Catching on: Unlike last spring, the Sun Devils have their quarterback. And he's a good one. Now, they need to find folks he can throw to. JC transfers De'Marieya Nelson (H-back, 6-3, 230) and Jaelen Strong (WR, 6-4, 205) are both big bodies who could step in and contribute immediately.
Wait and see: The kicker here is a lot of these players who are expected to compete won't arrive until the fall. So in the meantime, a lot of the younger players and redshirts will get a ton of reps in the system. And speaking of kicker, don't underestimate how much of an impact Josh Hubner made at punter. Iowan Matt Haack, who arrives in the fall, is a rugby-style kicker who can kick with either foot. That's just cool.
COLORADO BUFFALOES

Start date:
March 7
Spring game
: April 13
What to watch:
Meet your QB: Whomever it will be. There are five on the roster and a sixth coming in. Safe to say, quarterback play was extremely inconsistent last season for the Buffs. With an entirely new coaching staff coming in and installing the pistol, this could be one of the more interesting and wide-open position battles in the league.
Curious defense: One needs only to review Colorado's national rankings last year to realize they struggled. As one Buffs insider mentioned to me, they were ranked No. 1 in a lot of categories. Unfortunately, that "1" was followed by two more numbers. Only three defensive ends have playing experience. However a secondary that lacked experience in 2012 has a lot more looking into 2013.
Receiver options: The Buffs welcome back Paul Richardson, who missed all of last season with a knee injury. Colorado's premier offensive playmaker will be a nice veteran presence to whomever wins the quarterback job. Grayshirt Jeff Thomas also is back. An improved passing attack should help give the quarterback some confidence and open up the running game.
UCLA BRUINS

Start date:
April 2
Spring game
: April 27
What to watch:
Life after Franklin: The Bruins say goodbye to the best statistical back in school history -- leaving a huge void in the backfield. Johnathan Franklin was a great presence for young quarterback Brett Hundley, but now someone has to step up to fill that role, either solo or along with a committee. Look for Jordon James, Steven Manfro and Damien Thigpen to all get looks.
New No. 1: The Y-receiver, aka hybrid tight end, was filled wonderfully by Joseph Fauria -- Hundley's favorite red zone target. Darius Bell and Ian Taubler both had looks last year, but Fauria too will be tough to replace. Shaq Evans, Devin Fuller, Jordan Payton and Devin Lucien round out a pretty good receiving corps.
Secondary solutions: The Bruins must replace two corners and a safety -- Sheldon Price, Aaron Hester, Andrew Abbott -- and there isn't a ton of starting experience. Randall Goforth has five starts, but veterans such as Brandon Sermons and Anthony Jefferson have more special-teams experience than actual secondary play. Keep an eye on the secondary too when the Bruins start fall camp to see if any freshmen jump into the mix immediately.
USC TROJANS

Start date
: TBD
Spring game
: April 13
New defensive scheme: The Trojans will move to a 5-2 defensive scheme under Clancy Pendergast, and the spring drills will be the first opportunity to see the defense in action. The Trojans will have an experienced front seven, but four new starters are expected in the secondary.
Replacing Barkley: Max Wittek got the first extended audition in the battle to take over for Matt Barkley, but he didn't do enough in two late-season starts to claim the job. Cody Kessler and freshman spring enrollee Max Browne also will be looking to take the reins at one of the glamour positions in college football.
Lane Kiffin on the hot seat: The Trojans are coming off a disappointing season, and the fans are howling in protest, but so far his boss Pat Haden has maintained full support for his coach. Now is the time for Kiffin to show why that support is warranted. -- Garry Paskwietz, WeAreSC
UTAH UTES

Start date
: March 19
Spring game:
April 20
What to watch:
Erickson impact: The biggest question was what sort of role Dennis Erickson would play in the offense once he arrived. We'll know sooner than later. He already has talked about putting an identity on the Utah offense. That starts in spring when routines are established and expectations are set. And with Erickson on board to give the offense a push, the expectations will be much higher.
Wilson maturing: That leads us to the presumptive starting quarterback -- Travis Wilson -- who jumped in midseason after Jordan Wynn got hurt and Jon Hays struggled to produce. Wilson went from OK to pretty good in just a few weeks. A nice jump considering his experience level. With an entire offseason knowing he'll be the starter -- and with Erickson and Brian Johnson molding him -- it will be interesting to see what progress he makes this spring.
D-line makeover: The Utes lose some talent on the defensive line -- specifically All-American defensive tackle Star Lotulelei. Look for DE/LB Trevor Reilly to spend more time with his hand down. Tenny Palepoi, LT Tuipulotu and JC transfer Sese Ianu could all see time in the mix at defensive tackle.
June, 30, 2011
6/30/11
12:17
PM ET
While there is no on-the-record clarity on the situation, it's fair to say that Arizona's All-Pac-10 receiver
Juron Criner
's season is at-risk due to an "
undisclosed personal issue
," which a source told the Pac-12 blog was a "non-injury, medical issue."
[+] Enlarge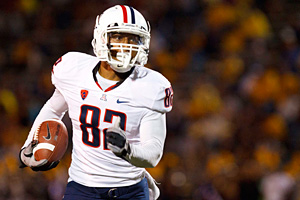 Rick Osentoski/US PresswireJuron Criner is the best player among a deep group of receivers at Arizona.
Arizona is not commenting because of student privacy guidelines. A source inside the football office texted the Pac-12 blog that his hope was Criner "will be ready for the season."
Criner, a second-team All-American, led the Wildcats with 82 receptions for 1,233 yards and 11 touchdowns last season. Arizona starts fall camp Aug. 3.
What does this mean for the Wildcats? Well, nothing yet. This is obviously a serious situation, but the endgame won't reveal itself until Criner's status is made official.
But it does force us to speculate what the Wildcats offense might be without Criner. The short answer is "probably OK."
While no team wants to lose an All-American, the Wildcats have one of the deepest and experienced crews of receivers in the conference and the nation. Sure, the 6-foot-4, 210-pound Criner was the headliner, a guy who could tax a defense in a variety of ways and who always seemed to be the go-to guy when the screws tightened.
But, as we noted with our review of
Pac-12 receiving corps
, the Wildcats should be better than OK, even without Criner. To quote ourselves:
"
David Douglas
,
David Roberts
,
Terrence Miller
and
Richard Morrison
-- each caught between 19 and 52 passes a season ago. Oh, and there's also Texas transfer
Dan Buckner
,
Austin Hill
,
Garic Wharton
and
Tyler Slavin
. There's size, speed, depth and experience."
What this does mean is that Buckner needs to live up to the high expectations we've been hearing for months, and at least one of the speedy youngsters needs to step up as a deep threat.
Still, the Wildcats and quarterback
Nick Foles
will be able to line up in a four- and even five-receiver set without resorting to a scrub as the last option.
Criner made the Wildcats receivers looking like a great unit. But even -- potentially -- without him, they should be very good.
More on the Criner situation
here
. And
here
.
Of course, Wildcats fans already might be thinking about "what-might-have-been" before the 2011 season begins. Criner is potentially the third projected starter lost since the end of last season. Safety Adam Hall and linebacker Jake Fischer suffered knee injuries this spring, as did backup running back
Greg Nwoko
and backup defensive tackle Willie Mobley.
March, 22, 2011
3/22/11
4:00
PM ET
Arizona starts spring practice today, which means it can stop licking the wounds of a five-game losing streak to end 2010 and start looking forward to 2011.
[+] Enlarge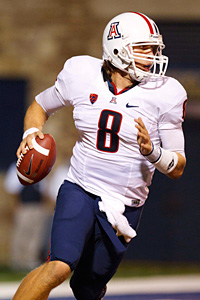 Rick Osentoski/US PresswireArizona enters the upcoming season with lofty expectations, thanks in part to returning quarterback Nick Foles.
But if taking a step forward toward 2011 is the carrot, a lingering backwards glance to 2010 is the stick. The Wildcats should be plenty motivated.
"The kids know we are close, but we need to do some things better to take that next step," coach Mike Stoops said. "We've gotten to this point. We need to go further."
On the one hand, the losing streak happened against a brutal schedule: Stanford, USC, Oregon, Arizona State and Oklahoma State combined for a 49-15 record. But the Wildcats aspire to being a team that wins those sorts of games.
"We just need to be stronger in some ways, stronger against stronger teams," Stoops said.
The Wildcats have intriguing talent coming back -- with quarterback
Nick Foles
and perhaps the Pac-12's best group of receivers leading the way -- but they also have two glaring holes: offensive line and defensive end. All the 2010 starters at those positions are gone.
Here are some notes:
Out of spring
: Just two starters will not participate in full-contact work: defensive tackle Justin Washington and cornerback Shaquille Richardson. Both had shoulder surgery. Receiver Bug Wright was given the boot for repeated team rules violations.
Offensive line questions
? All five starters are gone on the offensive line. Sophomore Mickey Baucus and redshirt freshman Fabbians Ebbelle are the front-runners at the tackles. Kyle Quinn, who started the Alamo Bowl for Colin Baxter, is the leader at center, though mid-year transfer Addison Bachman could make a challenge. Sophomores Chris Putton, Trace Biskin and Eric Bender-Ramsay are in the mix at the guards. Redshirt freshmen Trent Spurgeon and Carter Lees and junior Shane Zink also are in the mix. With a new offensive line coach -- Robert Anae -- there could be plenty of mixing and matching.
End of the line
? Senior Muhammed Usman and redshirt freshman Dan Pettinato will be with the first unit to start spring, but defensive end might be an even bigger question than offensive line. The Wildcats are deep at tackle -- Washington, Sione Tuihalamaka, Willie Mobley,
Chris Merrill
, Dominique Austin, Jowyn Ward, Aiulua Fanene, etc. -- so it's possible things might be fluid on the defensive line. One of the more athletic tackles might move outside to become a big, strongside end. And junior college transfer Lamar de Rego arrives in the fall.
Good to receive
: The Wildcats welcome back potential preseason All-American receiver
Juron Criner
, but the big news is the overflow of enthusiasm for Texas transfer
Dan Buckner
, who will give the Wildcats a second speedy, 6-foot-4 target on the outside. Said Stoops, "I think he gives us the two best outside receivers maybe in the country. Having [Buckner] and Criner on opposite sides is going to create problems for people." When you toss in Dave Roberts,
David Douglas
and
Richard Morrison
on the inside, you have a deep crew that Stoops called "the best receiving group we've ever had, without question." Oh, and don't forget:
Terrence Miller
,
Garic Wharton
,
Austin Hill
and
Tyler Slavin
. Lots of competition for touches here.
Backed by seven
: The Wildcats welcome back all three starting linebackers and a talented secondary. Sophomore Marquis Flowers and junior Adam Hall figure to offer an upgrade in the secondary -- both saw plenty of action in 2010. Robert Golden, Trevin Wade, Shaquille Richardson and Jonathan McKnight provide talent and experience at cornerback. And Stoops thinks Wade, who suffered through a notable slump last fall, is going to bounce back: "Trevin has had a much better out-of-season already. I think he learned a great deal from some of his mistakes a year ago as well as his preparation. I look for him to come back strong." He added, "This is the most athletic back-seven we've had. Best group of corners we've had."
Not special
: The Wildcats didn't get much from their kicker Alex Zendejas and punter Keenyn Crier last season. Zendejas is back, but he needs to step up. Said Stoops: "Zendejas needs to become a much better player... we need more out of him." Junior college transfer Jaimie Salazar arrives in the fall. Junior college transfer punter Kyle Dugandzic was signed to start, so he needs to come through.
Redshirt or backup for Scott
: Stoops wants to redshirt backup quarterback
Matt Scott
, which means he could return for a redshirt senior season in 2012. But that might not be doable. Said Stoops, "In a perfect world, we'd love to redshirt him. But we've got to keep him ready to play if things slide or something happens to Nick." Junior
Bryson Beirne
would make things easier on his coaches with an inspired effort this spring.
This is Foles' team
: Foles has been a good quarterback for two years. If he becomes an All-Conference or even All-American quarterback as a senior, the Wildcats could climb to the top of the Pac-12 South Division. Stoops expects a lot out of Foles. "Nick has to have total control of this team and this offense," he said. "He's a premier starter who will become, hopefully, a first-round NFL draft pick. He needs to assert himself in every way possible as a leader."
March, 2, 2011
3/02/11
5:11
PM ET
Arizona won't be Buggin' in 2011.
Senior receiver
William "Bug" Wright
has been dismissed from the team, according to the
Tucson Citizen
.
"Just a violation of team policies and rules," coach Mike Stoops told the Citizen. "It's been a chronic problem that hasn't rectified itself."
Wright caught 25 passes 294 yards and two touchdowns last season, but he was in and out of Stoops' doghouse throughout his career, including a suspension last season.
The good news for Arizona is receiver is the team's deepest position, with the top-five pass catchers back in 2011. Stoops told the Citizen that sophomore
Richard Morrison
, a converted quarterback, and speedy redshirt freshman
Garic Wharton
will get the first shot at replacing Wright at inside receiver. Morrison had 19 receptions last season, including six in the Alamo Bowl.
February, 4, 2010
2/04/10
10:37
AM ET
Arizona needed help on defense, and Mike Stoops thinks his
class of 23
addressed that need, with 12 signees listed as playing on that side of the ball.
Top prospects
: Defensive tackle
Kirifi Taula
and safety
Marquis Flowers
are freshmen who could immediately play their way into the rotation. Junior college transfers
Paul Vassallo
,
Willie Mobley
and
Derek Earls
could play their way into starting jobs.
Under the radar
: Stoops said he believes receiver
Garic Wharton
is the fastest incoming freshman in the nation. Cornerback
Jonathan McKnight
is USC running back
Joe McKnight
's little brother.
Issues
? For those who care about recruiting rankings, this is not a highly rated class, though it's notable that two teams that finished tied for second in the Pac-10 -- the Wildcats and Oregon State -- finished toward the bottom of the rankings. While Stoops aggressively advocated for quarterback
Cameron Allerheiligen
, the late decommitment of
Matt Brown
, who signed with TCU when Arizona offensive coordinator Sonny Dykes left for Louisiana Tech, hurt the class.
Notes
: The class includes players from nine different states ... Stoops said height was a new emphasis -- he wants a taller, longer team ... The class includes five linemen on both sides of the ball ... Stoops said when he was recruiting McKnight, he tried to call his older brother, Joe. But he had the wrong number -- he was calling Jonathan ... Receiver
Dan Buckner
, a transfer from Texas, must sit out in 2010.