NCF Nation:

Garrick McGee
December, 5, 2011
12/05/11
1:00
PM ET
Let's take a look back at the week that was in the non-AQs:
And then there were none.
For the first time since the BCS expanded to five games beginning in the 2006 season, there are no non-AQs represented in BCS games. The shocker of the weekend, of course, was Houston losing to Southern Miss 49-28. The Cougars were the best hope for the non-AQs to get an automatic spot into the BCS for the sixth straight season. All they had to do was win the Conference USA championship game. But Southern Miss came to play with a defense that wreaked havoc for most of the afternoon. The Golden Eagles had six tackles for loss, two interceptions, eight pass breakups and seven quarterback hurries. One of those interceptions was returned for a touchdown -- the eighth of the season to set a new FBS record. Tracey Lampley had 240 all-purpose yards as Southern Miss set championship game records for points scored and touchdowns (seven). Heading into the game, most would have guessed it would be Houston setting the records. But the Cougars were held to season lows in scoring and total offense. The loss opened the door for perhaps TCU to sneak in as an automatic qualifier. All the Horned Frogs had to do was move up two spots from No. 18 to No. 16 in the final BCS standings. But they did not move at all, ending up at 18. Boise State, the top-ranked of the non-AQs at No. 7, was disqualified from automatic selection because it failed to win its conference.
But what feels so inexcusable to Boise State and non-AQ fans is the fact that the Broncos were passed over for an-at large berth into the Sugar Bowl by both Michigan and Virginia Tech, ranked lower than them and with more losses than them. Virginia Tech is most galling, considering the Hokies got blown out in two games against Clemson, lost the ACC championship game and have not beaten anybody ranked in the Top 25 this season. So what if the Hokies travel well? That should not be the reason one team gets picked over another just as deserving. The bottom line is this: No one-loss team from the non-AQs has ever been taken as an at-large team. Boise State has now been passed over four times for BCS games as a top-10 team. That includes 2008, when the Broncos went undefeated. Now you know why they want to join the Big East. That conference's representative in the BCS, West Virginia, went 9-3.
MAC comeback.
Usually it is Northern Illinois on the losing end of heartbreakers in the MAC title game. So maybe it was about time for the Huskies to feel a little bit of love. If you turned your TV set away from the game after Ohio took a 20-0 lead Friday night, you were probably not alone. Northern Illinois appeared lifeless, was mistake prone, with three first-half turnovers. Quarterback
Chandler Harnish
had 13 yards rushing and 35 passing yards at halftime. But it was Ohio's turn to make mistakes in the second half, with three interceptions that allowed Northern Illinois to come back and win. Ohio had just 70 total yards after halftime with 31 on the ground and 39 passing. Mathew Sims kicked a 33-yard field goal as time expired to give Northern Illinois a 23-20 win and cap its largest comeback in modern-day history. Harnish finished the game with 250 yards passing and three touchdowns, and help avenge a heartbreaking, last-minute loss to Miami (Ohio) in last year's MAC game.
Coaching carousel.
Fresno State fired longtime coach Pat Hill after the Bulldogs went 4-9, tying for the most losses in school history. Hill was at the school for 15 seasons and certainly put this program on the national map. But the Bulldogs slipped in recent years, and in the end he simply
did not win enough games
at the end of his career. Colorado State also fired coach Steve Fairchild after a third straight 3-9 season. UAB hired Arkansas offensive coordinator Garrick McGee to replace Neil Callaway. FAU hired Carl Pelini, Nebraska defensive coordinator and brother of Huskers head coach Bo Pelini, to take over for the retired Howard Schnellenberger. Also, according to reports, Ole Miss will hire Arkansas State coach Hugh Freeze after one season on the job with the Red Wolves, and Tulane will hire Saints assistant Curtis Johnson. Hawaii coach Greg McMackin met with the school's chancellor and athletic director on Sunday, and a decision on his future could come soon. The Warriors went a disappointing 6-7 this season after being the preseason choice to win the WAC.
November, 30, 2011
11/30/11
5:00
AM ET
1. Since neither Stanford quarterback
Andrew Luck
nor Alabama tailback
Trent Richardson
is playing this week, their head coaches turned into Heisman flacks. Crimson Tide head coach Nick Saban called Richardson on Monday "as good of a player as I have had the opportunity to coach in terms of the whole package. I think 'bruising back' would be an insult to all that he is." Your serve, David Shaw:
2. The Cardinal head coach said Tuesday that Luck "is the most scrutinized player in college football this year, and here's a guy who still comes through. He throws for 3,000 yards, throws a bunch of touchdowns and leads us to an 11-1 record." Shaw rattled off an example of three plays that Luck calls in the huddle before going to the line, surveying the defense, where he selects one of the three or audibles to a fourth. "He's done more this year than I have ever seen a college quarterback do," Shaw said. Stay tuned.
3. The five coaches nominated as finalists for the Broyles Award, given annually to the top FBS assistant, all are very good coaches: offensive coordinators Paul Chryst of Wisconsin and Garrick McGee of Arkansas, defensive coordinators John Chavis of LSU and Greg Mattison of Michigan and Alabama linebackers coach Sal Sunseri. That said, not only should Chavis be a shoo-in but it would be a great opportunity to explain why one of the best coordinators in the game since 1995 hasn't won this award already.
July, 28, 2011
7/28/11
10:18
AM ET
Now that North Carolina is looking for a head coach, two of the hottest names in the SEC over the past year or so are sure to surface as possibilities.
My colleague at ESPN, Bruce Feldman, has Auburn offensive coordinator Gus Malzahn and Alabama defensive coordinator Kirby Smart among his
top six possibile options
to replace Butch Davis, who was fired Wednesday by North Carolina. The Tar Heels will go through this season with an interim coach.
It's a given that Malzahn and Smart are both going to get head jobs, and they're in a position to be choosy. They're both making some pretty good coin, too. Malzahn is set to earn $1.3 million this season and Smart $850,000.
Malzahn has already demonstrated that it's going to have to be the right job for him to leave Auburn. Vanderbilt came after him hard this past offseason with a deal that would have paid him in the $3 million range annually, but Malzahn chose to stay at Auburn.
Smart has worked under Nick Saban since the 2006 season when Smart was on the Miami Dolphins' staff. Smart's name has already come up in some job searches the last couple of years, but he figures to be an even hotter commodity following this season, especially if Alabama has a big year.
Malzahn and Smart aren't the only two SEC assistants who will be on head-coaching short lists in the next year or two. Alabama offensive coordinator Jim McElwain and Arkansas offensive coordinator Garrick McGee are two others to watch.
January, 14, 2011
1/14/11
10:29
AM ET
After reports surfaced on Thursday that Arkansas offensive coordinator Garrick McGee was in negotiations with Tulsa for its head coaching job, McGee issued a statement Friday through Arkansas saying he was withdrawing his name from consideration.

"My goal is to one day be a head coach, and there are a number of considerations that factor into when that time will come," McGee said in the statement. "I appreciate the opportunity Tulsa gave me to meet about their program and wish them the best of luck in their search. I look forward to continuing to work with coach (Bobby) Petrino toward our goal of winning championships."

McGee was promoted to offensive coordinator following the 2009 season when Paul Petrino went to Illinois. McGee also works with the Hogs' quarterbacks and is a key cog in their recruiting efforts.
June, 1, 2010
6/01/10
9:00
AM ET
Tyler Wilson
came to Arkansas as one of the most decorated passers in Arkansas high school history.
He enters the 2010 season next in line to one of the best passers in all of college football.
[+] Enlarge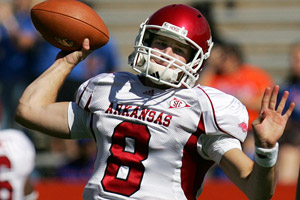 Cliff Welch/Icon SMI Sophomore Tyler Wilson gives Arkansas another solid option at quarterback.
Ryan Mallett
is the Hogs' quarterback. There's no question about that. He's mentioned prominently among the top quarterbacks in the country along with Stanford's
Andrew Luck
and Washington's
Jake Locker
.
But a year ago at this time, Mallett was still battling with Wilson for the Arkansas starting job.
And while Mallett has clearly separated himself with a 30-touchdown season a year ago, Wilson is more than capable as a backup. He passed for more than 8,000 yards and threw 93 touchdown passes in leading Greenwood High School to state championships his junior and senior years.
He's had plenty of work as the Hogs' first-team quarterback each of the last two springs and has played in seven games, albeit mostly in mop-up roles.
With Mallett sitting out this spring with a broken bone in his foot, Wilson took over as the Hogs' No. 1 quarterback with mixed results. Initially, he pressed a bit too much and didn't throw the ball consistently enough, but settled down two weeks into the spring.
Arkansas coach Bobby Petrino is comforted by the fact that Wilson knows the offense much better now than he did at any point last season.
Garrick McGee, the Hogs' offensive coordinator, said Wilson has also successfully made the transition from being a shotgun quarterback in high school to an under-the-center quarterback in Arkansas' system.
Early on, simply taking the snap from center was one of Wilson's biggest problems because he was in the shotgun the whole time he was in high school.
"His freshman year, we put him out there against Alabama and Texas, and he got beat up pretty good," McGee said. "Our team, our players and our coaches have confidence in Tyler. If Tyler were to run out there, our team has confidence he'd get the job done."
McGee said the 6-3, 215-pound Wilson is a classic drop-back passer.
"He can deliver the ball with different release points," McGee said. "He doesn't have to be standing square with his receiver to throw accurately. He can take a five-step drop and throw the ball down the field. There are some throws he makes better than Ryan Mallett."
Even though Wilson played as a true freshman, he did so in just two games before coming down with mononucleosis and ended up receiving a medical hardship from the NCAA for that season. So he'll only be a sophomore in 2010.
He won't be able to coast when preseason practice resumes, which is a good thing for the Hogs. Redshirt freshman quarterback
Brandon Mitchell
had some big plays in the spring game, and talented true freshman Jacoby Walker was also on campus for spring practice.
In other words, Petrino will have some options at quarterback, and he's looking forward to seeing how the competition plays out in the fall for those No. 2 and No. 3 jobs.
April, 23, 2010
4/23/10
1:09
PM ET
FAYETTEVILLE, Ark. -- Now that he's back where it all started for him,
Ryan Mallett
is the first to tell you that everything happens for a reason.
There's a reason he didn't go to Arkansas in the first place out of high school.
[+] Enlarge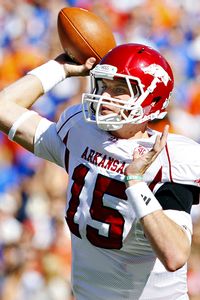 Kim Klement/US PresswireRyan Mallett is working on becoming a more technically sound quarterback in 2010.
There's a reason he stayed at Arkansas last year when the lure of the NFL prompted him to take a look at leaving school early.
"There was always that thought, but I knew where I needed to be," Mallett said. "I mean, look at the team we had coming back. There's lots of money and all that out there, but you only get to play college football once.
"So even if I were to get hurt, I would have no regrets, not here at Arkansas, because it's the team I always wanted to play for."
Mallett was a diehard Arkansas fan growing up in Texarkana. He attended Houston Nutt's football campus and helped park cars at Razorback Stadium as a kid to get into the games free.
But with highly regarded
Mitch Mustain
signing with Arkansas the year before and Nutt's footing wearing thin, Mallett decided it would be best for him to head to Michigan.
That's until Rich Rodriquez and his version of the spread offense showed up in Ann Arbor. It was anything but a fit for Mallett, who decided to transfer after one season with the Wolverines.
Tennessee, Texas A&M and UCLA were all possibilities. But he wasn't going to pass on Arkansas a second time, especially with Bobby Petrino ready to hand over the keys to his pass-intensive offense.
"Ever since I was knee-high, it was the Hogs all the way," Mallett said. "I knew it was the right decision."
While he hasn't been practicing this spring because of a broken bone in his left foot, Mallett has immersed himself in everything the Hogs have done. He just hasn't been able to take the reps.
More than ever, this has become his team.
"I've really been impressed with how he's handled it," Petrino said. "It's killing him not being out there because he's such a competitor, but he's into every play and every meeting. He knows every call and has helped make everybody around him better."
Mallett threw 30 touchdown passes last season and set a long list of school records. His talent is immense and his arm strength legendary.
"Even his touch passes hurt," senior tight end
D.J. Williams
joked.
But where Mallett figures to go from one of the most talented quarterbacks in the country to one of the
best quarterbacks
in the country next season is with his consistency.
Petrino has no doubt that Mallett will be a more technically sound quarterback in 2010.
"The consistency with his footwork is the first thing, so he doesn't have errant throws by his own doing," Petrino said. "He needs to have a little more confidence with his offensive line, so he keeps his focus down the field, and as the year went on last season, he got a lot better at that.
"The other thing is being more accurate on the medium-range throws. I thought his accuracy deep was really good last year, and he did a nice job in the quick passing game. But he's got to become more accurate on the 15-yard curls and 15-yard ins."
And on third down is where all great quarterbacks sparkle.
"As an offense, we'll be better at converting those," said Mallett, who completed 55.8 percent of his passes. "We'll take the big play any time we can get it, but you've also got to move the chains."
Even though he's still wearing the boot around the practice field, Mallett is already throwing in some drills. He expects to be full go by the start of June.
He looks a lot like a basketball player now and is down to 232 pounds. When he arrived at Arkansas in January 2008, he was 265. He expects to put on a few more pounds and play next season at 240-plus like he did a year ago.
"We're just ready to get out there and compete, to take this thing to the next level," Mallett said. "We like the high expectations and thrive on them."
July, 11, 2008
7/11/08
3:11
PM ET
Posted by ESPN.com's Adam Rittenberg
The offseason didn't bring an overwhelming amount of change to Big Ten coaching staffs. Aside from Michigan, which brought in a completely new group, and Northwestern, which lost one coordinator and fired the other, most of the league's assistants remained in their posts. But there were several notable moves, particularly at the coordinator spots. Here's a look at the new -- and, in some cases, familiar -- faces in charge of Big Ten offenses and defenses.
Michigan offensive coordinator Calvin Magee: If anyone had an uglier departure from West Virginia than Rich Rodriguez, it was probably Magee. He's back with Rodriguez at Michigan, helping to implement a wildly successful offense with completely new personnel. Magee coached running backs for the last seven seasons at West Virginia, adding the title of offensive coordinator in 2005. He was named the American Football Coaches Association Assistant Coach of the Year in 2007 and has overseen a top-5 rushing attack in each of the last three seasons. He now must work his magic with Brandon Minor, Carlos Brown and Kevin Grady.
Michigan defensive coordinator Scott Shafer: Shafer must have a very understanding wife. He has been at three spots -- Illinois, Western Michigan and Stanford -- in the last four seasons. But it's for positive reasons. The rising star coordinated a Western Michigan defense that led the nation in both interceptions and sacks in 2006. At Stanford, he played a key role in last season's stunning road win against USC -- one of the biggest upsets in college football history. Shafer's energetic style was a hit at Western Michigan, and he should do well up I-94 in Ann Arbor.
Wisconsin defensive coordinator Dave Doeren: Coach Bret Bielema promoted Doeren to oversee a defense that was hardly porous (38th nationally) last season but fell off from its 2006 form. His decision to fire veteran Mike Hankwitz was surprising at first, but a background check on both Doeren and Bielema shows that this move was coming sooner or later. Both coaches spent time at Big 12 schools in Kansas before moving up the ranks. Doeren brings a fiery personality to a veteran-laden defense. Injuries depleted the unit this spring, so preseason camp will be important for Doeren to cement his philosophies.
Northwestern offensive coordinator Mick McCall: The spread offense has been Northwestern's calling card since 2000, so when coordinator Garrick McGee left for Arkansas, coach Pat Fitzgerald needed someone familiar with the system. He found it in McCall, the Bowling Green offensive coordinator who coached standout quarterbacks Josh Harris and Omar Jacobs. Bowling Green runs a slightly different version of the spread than the Wildcats, but McCall inherits a veteran offense stocked at the skill positions.
Northwestern defensive coordinator Mike Hankwitz: This was the more important hire for Fitzgerald, and he scored a coup by hiring Hankwitz, the Wisconsin cast-off. While the Badgers chose a younger voice to lead their defense, Northwestern hired a much-needed sage. The 60-year-old Hankwitz has served as defensive coordinator at six different schools, first holding the title in 1982. He's known for zone blitzes and provides a veteran ear for the 33-year-old Fitzgerald. He takes over a defense that hasn't finished higher than 68th nationally since 2000.
Minnesota defensive coordinator Ted Roof: Perhaps no new coordinator has as daunting an assignment as Roof, who must fix the nation's worst defense -- one that set several school records for futility in 2007. He couldn't fix Duke -- then again, who can? -- and was fired after four-plus seasons as head coach, but he brings a strong reputation for crafting formidable defenses. He engineered defensive turnarounds at Georgia Tech and, briefly, Duke. Roof made tackling a priority this spring and must figure out how to work in several talented junior-college transfers.