NCF Nation:

Garry Gilliam
October, 13, 2013
10/13/13
12:00
AM ET
STATE COLLEGE, Pa. -- Defensive coordinator John Butler scanned the sideline after the referees signaled touchdown, finally bringing to end an instant classic that'll be talked about five years from now.
He watched as more than 100 Penn State players erupted in ecstasy -- spinning around, hugging, pumping their fists -- as they sprinted to the end zone to join their offensive teammates, who clinched a 43-40 win. In quadruple overtime. Against Michigan.
Two seconds after the game had ended, no one was left on the sideline. Maybe Butler was just looking for an assistant coach to embrace after the season-defining win. But he couldn't find one; they had already started a celebration that's sure to last until morning. He instead looked around, turned to the person closest to him and said one line before jogging off.
"We're going to be fine," he said, with no smile on his face but a sense of conviction in his voice. "Write that -- we're going to be fine."
[+] Enlarge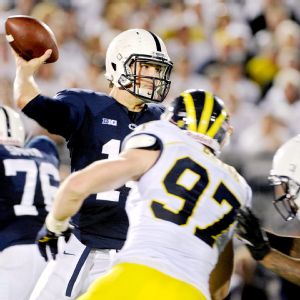 Abby Drey/Centre Daily Times via Getty ImagesChristian Hackenberg passed for 305 yards and 3 TDs in the upset of Michigan.
Beaver Stadium was filled with a sold-out crowd of more than 108,000 -- but it was also filled with question marks. Had Penn State's magic run out? Could this team really come away with a big win? Would this defense collapse again when it counted? Was there anyone on this offense besides
Allen Robinson
who could make plays?
The Nittany Lions didn't punctuate each answer with an exclamation mark. But they won. With dozens of lettermen on the sideline for homecoming, the Nittany Lions did to UM what it did to PSU in 2005: put an end to a perfect season.
"You can't really compare this to anything else; it's pretty much indescribable," quarterback
Christian Hackenberg
said. "It's just one of those things where if you're fortunate enough to be in this type of game and you experience it -- it's something that's going to stick with you for the rest of your life."
Added tailback
Bill Belton
: "Oh, I'm going to remember this. Ten years from now? Yeah."
This wasn't a game that anyone "deserved" to win. Then again, maybe no one deserved to lose. Michigan quarterback
Devin Gardner
paced the sideline, with a headset over his ears, as
Brendan Gibbons
' 40-yard attempt was blocked in the first overtime. Then, in the third overtime, Michigan's players stared at the ground -- tight end
Khalid Hill
yelled, "Damn!" -- when Gibbons' missed a 33-yarder.
Both teams had plenty of opportunities to win. Michigan came into this game always making plays when it needed to, while Penn State always seemed to watch the ball bounce in a bad direction. The roles were reversed this time around. Call it luck, call it skill, call it whatever -- but, whatever it was, it couldn't have come at a better time for Penn State.
"I would just say that in a lot of situations, God was on our side today," Robinson said. "We were able to make some plays down the stretch to keep this game alive."
Safety
Stephen Obeng-Agyapong
promised after the UCF loss that a game like that wouldn't happen again. Then Indiana happened. And wideout
Eugene Lewis
took to Twitter to let everyone know PSU was better than that. If PSU loses this game? Well, at some point, you stop believing it gets better. Those words don't have meaning if the losses pile up.
Bill O'Brien usually heads into every game by taking the dais and telling the media that every game is important. This week, he said he'd be crazy to say this was just another game. It wasn't. Win or lose, this was going to be a turning point for the Lions.
And, for the first time this season, it turned out the right way for Penn State.
"I'm just so jacked-up and so happy because you're putting it out on the line every single play," linebacker
Mike Hull
said. "This says we're a resilient bunch of guys."
Offensive tackle
Garry Gilliam
lingered beneath the tunnel and slapped hands with the fans. Linebacker
Glenn Carson
jumped around as if he were at a track meet. And fans, many of whom wore the same color for a stadium-wide "White Out," didn't move from their seats minutes after the game had ended and the Wolverines had already retired to their locker room.
Penn State had answered the questions by scoring 10 points in the final seven minutes of the fourth quarter to force overtime; then enduring a swing of emotions -- unlike any game either team has played this season -- and coming out with a win.
But, overall, the answers all revolved one simple theme. And it's one these fans can head home through snarled traffic with in mind.
These Nittany Lions are going to be just fine.
August, 31, 2013
8/31/13
9:50
PM ET
EAST RUTHERFORD, N.J. -- Before making his college football debut, Penn State true freshman quarterback
Christian Hackenberg
made a request for teammate
Garry Gilliam
.
"If I get spaced out or anything, give me a smack," Hackenberg told his right tackle.
Gilliam noted that Hackenberg was grinning when he made the request, so he knew the kid was going to be OK. All things considered, he was a lot better than that.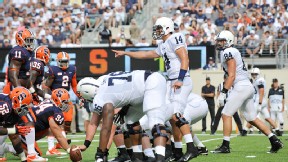 Cal Sport Media/AP ImagesFreshman Christian Hackenberg had some big mistakes but showed poise in Penn State's win.
Hackenberg completed 22 of 31 passes for 278 yards and two touchdowns while leading the Nittany Lions to a 23-17 win over Syracuse at MetLife Stadium. He made some crucial mistakes, including a pair of interceptions. But the guy who finished his high school baseball season earlier this summer faced down an ACC defense on an NFL field. He also played the entire first half without Penn State's top receiver,
Allen Robinson
, who was serving a suspension for undisclosed reasons, and much of the game without injured star tight end
Kyle Carter
.
That's a lot to ask of any first-time starting quarterback, much less an 18-year old. But Bill O'Brien is all in this season with Hackenberg, handing the keys to the Nittany Lions' season over to the talented rookie.
"We're Penn State," O'Brien said. "We can't dip our toe into the water. We've got to come out ready to go. We've got to take our shots."
So O'Brien didn't hold back when Penn State stared at third-and-11 on its own 30, nursing a 23-10 lead with under eight minutes to go. Rather than run, punt and turn it over to a defense that smothered Syracuse all day, O'Brien called for Hackenberg to throw the ball. Defensive end
Robert Welsh
slipped underneath the route and picked off the pass, returning it to the 1-yard line to set up a touchdown and put the Orange right back into the game.
O'Brien blamed himself for the call, but youth also played a part. O'Brien said he doubted that Hackenberg had ever seen that type of coverage from a defensive lineman in high school.
"They threw a lot of blitzes at us today, and I had a little bit of a tough time finding a couple of them and recognizing them," Hackenberg told ESPN.com after the game. "That will definitely be a big emphasis for me this week."
The encouraging part was that Hackenberg kept his cool despite his mistakes, which also included a first-half interception and a near pick-six later in the game. Teammates said they saw no difference in his demeanor throughout the game.
"He's just a confident kid," tight end
Jesse James
said. "He knows what he's doing. He's always been the same [in the huddle]."
Hackenberg's father, Erick, who attended the game and talked to his son before kickoff said his son showed the same calm attitude he usually displays.
"It's something I've had to get used to over the years," Erick Hackenberg said. "My emotions change, but he's always so focused."
Hackenberg also showed at times why he was the No. 1 pro-style quarterback recruit in last year's class, especially on his 54-yard touchdown pass to Eugene Lewis in the fourth quarter. O'Brien wanted only to talk about the job Lewis did on his route and how
Zach Zwinak
picked up the blitz on that play, saying Hackenberg had the easiest job of anyone. But Hackenberg also fired a laser downfield that his predecessor, Matt McGloin, might not have been able to match.
O'Brien walked a fine line in his postgame news conference, predictably dominated by Hackenberg questions. He loves the freshman's potential but doesn't want to heap too much praise on someone with still so much to learn.
"He's a young guy who's got a tremendous future," O'Brien said. "But we're not ready to waltz him into the College Football Hall of Fame."
O'Brien and the Nittany Lions will have to live with some freshman mistakes along with the natural playmaking ability of their quarterback. And as Saturday's game indicated, the team might be in for a bumpy ride all season.
Hardly anyone would call last year a smooth one for Penn State, but at least the program benefited from relative health. The Lions went into the opener with only about 65 scholarship players, and 16 true freshman, including walk-ons, made the trip. Before it was over, starting linebacker
Mike Hull
and tight ends Carter and
Matt Lehman
had to leave the game with injuries. That put even more pressure on the team's depth and ability to adapt, the latter of which it handled beautifully.
Stephen Obeng-Agyapong
, who started the game at safety, played linebacker for long stretches and came up with an interception and a forced fumble. Cornerback
Trevor Williams
, who switched from receiver in the middle of spring practice, secured the clinching interception. The 300-pound Gilliam, a converted tight end playing tackle, made a touchdown-saving tackle when he ran down Syracuse cornerback
Brandon Reddish
following a Robinson fumble.
"It's next guy up," defensive end
Deion Barnes
said. "We're all willing to do whatever it takes to win."
O'Brien downplayed the depth issues, but it clearly will remain a concern all season long. As will the youth under center. Counting
Tyler Ferguson
, who played one series, Penn State's quarterbacks committed three turnovers Saturday. Last year's starter, McGloin, had five interceptions all year long.
Expect some dizzying highs and some head-smacking lows with Hackenberg.
"It depends on how he handles it," Gilliam said. "But he's very mature, very poised."
By the looks of things, the kid is going to be OK.
August, 31, 2013
8/31/13
7:54
PM ET
EAST RUTHERFORD, N.J. -- A pair of new starting quarterbacks in an opening game led to a predictably choppy afternoon at MetLife Stadium on Saturday. It was only a 6-3 game at halftime, but both teams made some big plays in the second half and created some fourth quarter excitement.
In the end, Penn State's defense was a little too good, and the Nittany Lions held on in the final minutes for a 23-17 win.
Here's a brief recap:


It was over when:
Penn State's
Trevor Williams
intercepted Syracuse quarterback
Drew Allen
at his own 28 with 1:53 left. Syracuse had cut the lead to 23-17 with just under seven minutes remaining but couldn't manage any points on its final two possessions as the Nittany Lions defense held.
Game ball goes to:
Penn State's
Christian Hackenberg
. He wasn't perfect, but as an 18-year-old playing in an NFL stadium in his first game out of high school, he was pretty darn impressive. Hackenberg finished 22-of-31 for 273 yards and two touchdowns, though he also threw two interceptions and barely avoided another that could have been returned for a score. He also didn't have his best weapon for the first half, as star receiver
Allen Robinson
served a two-quarter suspension for undisclosed reasons. His perfect 54-yard strike to Eugene Lewis for a touchdown with 11:39 left gave Penn State a 23-10 lead and showed why he was the No. 1 quarterback recruit in the country a year ago. He fared better than new Syracuse starter and former Oklahoma transfer Drew Allen, who started off strong but completed just 17-of-38 passes for 193 yards and two picks of his own.
Stat of the game:
Penn State was just 1-of-16 on third downs and had only 57 rushing yards on 38 attempts. Those aren't normally winning numbers. But the Nittany Lions' defense held Syracuse to just 259 total yards.
Unsung hero of the game:
Garry Gilliam
. Moved from tight end to offensive line this preseason, Gilliam came up with a massive play from a defensive standpoint. Syracuse's
Brandon Reddish
had stripped the ball from Penn State receiver Allen Robinson, scooped it up and ran the other way. Gilliam was all that stood between Reddish and a go-ahead touchdown, but Gilliam made the tackle at the Penn State 27. The Orange would go on to miss a field goal.
Best call:
In the first half, Penn State was lined up for a 47-yard field goal on fourth-and-two. Though Syracuse probably should have been ready for some trickery, Bill O'Brien pulled it off anyway by calling for holder
Ryan Keiser
to run the ball. Keiser barreled up the right side for five yards. That eventually resulted in a much more manageable 36-yarder for
Sam Ficken
, who drilled it. Ficken later made a career-long 46-yarder as one of his three made field goals, so maybe the fake wasn't even necessary. Ficken's improvement is a huge difference for this team over this time a year ago.
What Penn State learned:
It has a future star in Hackenberg, but the ride isn't always going to be a smooth one as he will be prone to freshman mistakes. His interception late in the fourth quarter allowed Syracuse to get back into the game. The running game must improve so as not to put too much pressure on the youngster. Having Allen Robinson around for a whole game should help, too.
What Syracuse learned:
The Orange miss
Ryan Nassib
and Doug Marrone as much as feared. While Allen had some moments and showed off a nice arm, the offense as a whole lacked much punch or creativity. They'll likely need some of that next week against Northwestern.
March, 18, 2013
3/18/13
9:00
AM ET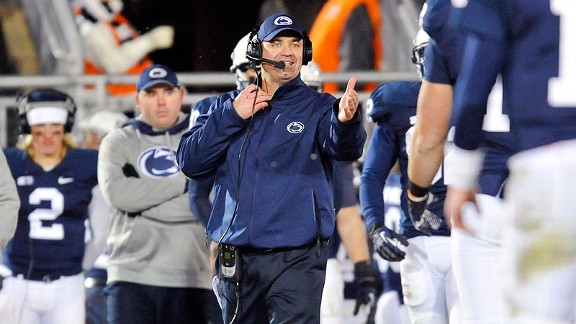 Randy Litzinger/Icon SMIBill O'Brien is excited about his team as he heads into his second season at Penn State.
The last time we saw Penn State, the Lions were celebrating a surprisingly strong finish to the 2012 season and saying farewell to a special senior class. Penn State since has turned the page and will begin spring practice Monday with a mix of familiarity and uncertainty. Bill O'Brien is not the "new coach" in Happy Valley anymore, and players have acclimated to O'Brien and his staff. But the Lions are looking for a starting quarterback for the second consecutive spring. They also must replace several outstanding defenders and fill holes on both lines. But the
depth crisis many of us envisioned
for the Lions when the NCAA sanctions came down last summer simply isn't there in State College.
ESPN.com caught up with O'Brien late last week to discuss spring ball.
What are some of the main objectives you're looking for when you get on the field again?
Bill O'Brien:
The No. 1 objective offensively is to make sure we come out of this spring practice with improvement from the quarterback position. We won't name a starter coming out of the spring, but at least at the end of 15 practices we'll have a good idea of how well these guys are grasping the system, Tyler Ferguson and
Steven Bench
. So that's a big deal for us offensively.
And defensively, some new guys will be in there, and seeing how those guys do, whether it's
Nyeem Wartman
at linebacker or
Jordan Lucas
at corner or some other guys who are going to be playing a little bit more next year, how much they improve. And then we'll work our special teams every single day, so hopefully we'll find some core special-teams players this spring.
What's your message to Steven and Tyler going into the spring? You're not naming the starter, but what do you want to see out of them?
BO'B:
[Thursday] I was talking to them, and I said, 'Look, I just want you guys to put your head down and go to work. Don't worry about what everybody else on the outside of the program thinks about your performance, whether it's in scrimmages or the Blue-White Game or whatever it is. Just try to get better every single day.' These are two really, really good kids. They're smart, they work hard at it, they're grasping it pretty well to this point. We're pretty excited about getting started with them. I don't want them to think about anything other than trying to improve and be as good a leader as they can be.
Will you have to change the offense for one or the other? Do they fit in with what you did last year?
BO'B:
We'll definitely be different. We'll be different in many ways. Matt [McGloin] had certain strengths we tried to play to, no question about it. Our system is expansive enough that you can have different parts in there to take advantage of the talents of the quarterbacks who are playing. So we'll be a different offense than we were last year.
Anything specific on what might change with these two quarterbacks or areas you can draw out more?
BO'B:
I'd rather not get into all of that, but I can tell you these are two guys who are big, they're strong, they're fast, they look to be accurate passers. We're just looking forward to working with them.
March, 15, 2013
3/15/13
2:00
PM ET
When the NCAA leveled severe sanctions against Penn State last summer and made it easy for players to transfer, roster depth became an immediate short-term concern.

It almost certainly looked to be a long-term problem. How would Penn State fare with a reduced roster and a limited number of scholarships to pass out for the 2013 recruiting class?
Early indications suggest the Lions will do just fine. After an 8-4 season under first-year coach Bill O'Brien, Penn State will open spring practice Monday in good shape, both depth-wise and health-wise.
Like every team, the Lions have some holes to fill, most notably quarterback, but they return playmakers on both sides of the ball like wide receiver
Allen Robinson
, defensive end
Deion Barnes
, cornerback
Adrian Amos
and three seasoned tight ends (
Kyle Carter
,
Matt Lehman
and
Jesse James
).
"We feel really good about our depth," O'Brien told ESPN.com on Friday. "Is it exactly the way we would want it? No. We were only able to sign a certain amount of guys, but at the same time, we've got a lot of quality, tough [players]. I really enjoy this football team, being around these kids.
"Obviously, these guys have to go out and play well for us, we have to stay healthy. But we feel like we'll field a very competitive football team in the fall."
Sophomore linebacker
Ben Kline
is the only key player who will miss spring practice after undergoing offseason shoulder surgery. The Lions are looking for bodies at linebacker after losing
Michael Mauti
and
Gerald Hodges
.
Glenn Carson
and
Mike Hull
are virtually assured of starting spots, and with Kline out, O'Brien sees
Nyeem Wartman
opening the spring with the first-team defense. Wartman was limited by injuries as a true freshman in 2012.
"We think he's got a bright, bright future," O'Brien said.
Two quick notes:
O'Brien reiterated that he won't name a starting quarterback after spring practice. Steven Bench and junior college transfer Tyler Ferguson will compete this spring, and heralded recruit Christian Hackenberg arrives in the summer.
Penn State made two offseason position changes: tight end Garry Gilliam moves to offensive tackle, where he can play on either side, O'Brien said. Wide receiver Malik Golden moves to defensive back.
July, 22, 2012
7/22/12
3:39
PM ET
Penn State's specific penalties won't be known officially until Monday, but the consensus is that the NCAA will come down hard on the Nittany Lions football program.
As is the case with NCAA penalties, players who had nothing to do with the problems that occurred are the ones most directly impacted. Although most initial media reports, including
one from colleague Joe Schad
, indicate Penn State won't receive the so-called "death penalty," other penalties such as a postseason ban and scholarship losses are very real. Penn State might be playing football every season, but what the program looks like remains a giant question mark.
There likely will be significant fallout both with the current roster and with recruits, as some players likely will look to play elsewhere.
Several Penn State players have reacted to Sunday's news on Twitter. Not surprisingly, they remain firmly behind their program.
Here are a few tweets:
Quarterback Matthew McGloin:
The hotter the fire, the stronger the steel.

— Matt McGloin (@McGloinQB11) July 22, 2012
Offensive tackle Donovan Smith:
Stop asking if im transferring im staying at PSU no matter what I love my school #WeAre

— Donovan Smith (@PSU_Smith_76) July 22, 2012
Tight end Garry Gilliam:
No matter what happens I'm staying at Penn State ...

— Garry Gilliam " (@GarryGilliam89) July 22, 2012
The people saying this is more than football, are the same people wanting a death penalty, thus making it about football again, really?

— Garry Gilliam " (@GarryGilliam89) July 22, 2012
Linebacker Khairi Fortt
tweeted about not talking to the media
, while cornerback Adrian Amos added, "I am confused to what lessons we are learning from this."
Lot of confusion in Happy Valley right now. We should get plenty of answers in the coming day.
June, 22, 2011
6/22/11
1:00
PM ET
We've been ranking each position group in the Big Ten, and so far we've looked at
running backs
and
quarterbacks
. Today, let's finish off the offensive skill positions with receivers and tight ends.
The Big Ten is blessed with plenty of standout wide receivers, but remember these rankings heavily account for overall depth at the position, not just isolated star power. We're also including the tight ends in this group while acknowledging that the best ones aren't necessarily big-time pass-catchers.
Here's how we rank them:
[+] Enlarge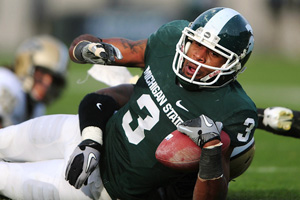 Andrew Weber/US PresswireB.J. Cunningham had the best numbers last season among a deep group of receivers and tight ends.
1. Michigan State:
The Spartans may lack a true superstar, though senior
B.J. Cunningham
(50 catches for 611 yards and nine touchdowns in 2010) is pretty darn good. What Mark Dantonio can really count on is depth. Cunningham has good size at 6-foot-2, while
Keshawn Martin
is a speed-burner.
Keith Nichol
and
Bennie Fowler
fill out a solid cast of receivers, and when you throw in
Brian Linthicum
and
Dion Sims
at tight end, this group deserves the top spot.
2. Michigan:
If Darryl Stonum weren't suspended indefinitely, this group might be No. 1. It's still pretty good as things stand now.
Roy Roundtree
leads the way after catching 72 passes for 935 yards and seven touchdowns last year, and
Junior Hemingway
is a strong secondary option for
Denard Robinson
. Tight end
Kevin Koger
is a third-year starter who can occasionally make big plays in the passing game.
3. Northwestern:
Senior
Jeremy Ebert
(62 catches for 935 yards and eight touchdowns last season) was a first-team All-Big Ten performer as voted by the media.
Demetrius Fields
had 25 receptions last year, and the Wildcats are counting on big improvements from sophomores
Rashad Lawrence
,
Tony Jones
and
Venric Mark
. Northwestern uses its superback position as a tight end, and
Drake Dunsmore
had 40 catches from that spot last year.
4. Indiana:
The Hoosiers languish at the bottom of many of these rankings, but receiver/tight end is a point of pride. Senior
Damarlo Belcher
led the Big Ten with 78 catches last year on his way to 832 yards. Even with the loss of Tandon Doss and
Terrance Turner
, who each had more than 60 catches in '10, new coach Kevin Wilson has a solid corps behind Belcher with
Duwyce Wilson
and
Kofi Hughes
, among others. And
Ted Bolser
is a highly productive tight end who had 27 catches for 407 yards and five scores a year ago.
5. Penn State:
Three of the top four receivers from last year return, including No. 1 target
Derek Moye
(his 16.7 yards per catch average was second in the Big Ten a year ago).
Justin Brown
and
Devon Smith
need to continue moving forward. Will the Nittany Lions get anything out of
Curtis Drake
, who's trying to return from his second broken leg? Penn State hopes to get something out of the tight end position, where
Andrew Szczerba
and
Garry Gilliam
dealt with season-ending injuries last year.
6. Wisconsin:
Once we reach the middle of these rankings, the units start to become interchangeable and a little indistinguishable. Wisconsin doesn't have to throw it too much because of its stellar running game, but the Badgers have some solid choices when they do go to the air. Senior
Nick Toon
has the talent to record more than the 36 catches and 459 yards he produced a year ago.
Jared Abbrederis
should continue to come along after a nice freshman campaign. There's potential but not much experience among the rest of the receivers. Star tight end Lance Kendricks will be tough to replace, but
Jake Byrne
is an outstanding blocker and
Jacob Pedersen
caught two touchdowns last year.
7. Nebraska:
Brandon Kinnie
is the leader here, and the 6-foot-3 senior isn't afraid to make the big catch. Freshmen Jamal Turner and
Kenny Bell
had nice springs and could add some playmaking skills to a largely unproven crew around Kinnie.
Kyler Reed
might be the most dangerous pass-catching tight end in the Big Ten, if not the country, after hauling in eight touchdowns and 18 yards per reception a year ago.
[+] Enlarge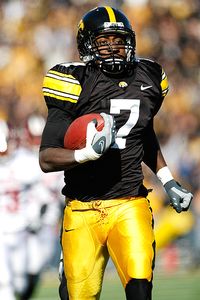 Scott Boehm/Getty Images Marvin McNutt will be expected to be the No.1 wideout for the Hawkeyes this season.
8. Iowa:
Senior
Marvin McNutt
is the go-to option after recording 861 yards and eight touchdowns last season. The Hawkeyes will look to junior
Keenan Davis
to improve and become the No. 2 target. Just about everyone else is green. Tight end is usually a strength for Kirk Ferentz and should be again with senior
Brad Herman
and a group of talented backups behind him.
9. Ohio State:
Seems like we write this a lot, but the Buckeyes would be ranked higher if their star player in this group were available an entire season. But
DeVier Posey
's five-game suspension means this is an awfully young corps, and that inexperience showed with some inconsistent play this spring. Ohio State will need talented sophomore Corey "Philly" Brown to take a big leap forward and youngsters like
Chris Fields
,
T.Y. Williams
and
James Louis
to contribute in Posey's absence. Tight end
Jake Stoneburner
might have to become a bigger presence in the passing game.
10. Purdue:
The Boilermakers have some decent depth but no proven stars.
Antavian Edison
is the leading returning receiver with just 314 yards last year, though the junior does have good speed.
Justin Siller
is talented but has had trouble staying healthy. Purdue lost two solid veterans at tight end in
Kyle Adams
and
Jeff Lindsay
and added a couple of potential replacements, including former basketball player Patrick Bade, this summer.
11. Minnesota:
Da'Jon McKnight
tied for second in the Big Ten last year with 10 receiving touchdowns. But the Gophers' second-leading receiver last season was
MarQueis Gray
, who's now their starting quarterback.
Brandon Green
could help after an injury-plagued season. Tight end
Eric Lair
can grab a few passes, as he did 39 times in 2010.
12. Illinois:
The good news:
A.J. Jenkins
is a reliable weapon who had 746 yards and seven touchdowns last season. The bad news: There's not much experience behind him. Perhaps
Ryan Lankford
, who starred in the spring while Jenkins was out with an injury, will emerge as a star his sophomore year.
Evan Wilson
is back at tight end after starting 11 games as a freshman.
August, 30, 2010
8/30/10
3:47
PM ET
Welcome to National Depth Chart Day. No day on the college football calendar inspires more curiosity about depth charts than the Monday before the season, when most teams release their Week 1 two-deeps.
(And then there's Purdue, which didn't include a depth chart in its game notes for Notre Dame. Ugh.)
I've had the chance to review depth charts from those programs that released them today -- two-deeps from Illinois, Michigan State and Minnesota are coming soon -- and I checked in on several coaches' news conferences.
Here's what stood out:

INDIANA
Even though Indiana will shift to a 3-4 defensive alignment this year, the depth chart lists a 4-3 with Darius Johnson and Fred Jones as the starting ends and Chad Sherer and Tyler Replogle flanking junior college transfer Jeff Thomas at linebacker.
Interesting to see several veteran offensive linemen like Justin Pagan and Cody Faulkner listed as backups rather than starters. Junior Andrew McDonald steps into some big shoes at left tackle as Rodger Saffold departs to the NFL.
The backup quarterback job remains open, as Dusty Kiel and Edward Wright-Baker are both listed as No. 2 behind Ben Chappell.
Indiana expects big things from redshirt freshman Duwyce Wilson, listed as a starter at wide receiver, kick returner and punt returner.

IOWA
Sophomores Micah Hyde and Greg Castillo are listed as the starting cornerbacks. Shaun Prater doesn't appear on the depth chart after dealing with a leg injury in camp. Prater hasn't been officially ruled out for the Eastern Illinois game, but I wouldn't expect to see much of him on Saturday.
James Ferentz is listed as the starting center, a spot where Iowa might be a little thin following Josh Koeppel's motorcycle accident Monday morning.
Starting defensive end Broderick Binns is suspended for the opener, so Christian Ballard is listed as a possible starter at both end and tackle. Mike Daniels and Lebron Daniel are the next options behind Ballard.

MICHIGAN
Sophomores Denard Robinson and Tate Forcier and freshman Devin Gardner are listed as co-starters at quarterback. Head coach Rich Rodriguez reiterated Monday that Gardner won't redshirt this fall.
Vincent Smith and Michael Shaw are listed as co-starters at running back, with Michael Cox behind them.
True freshman Carvin Johnson is listed as the starter at the spur position (safety/linebacker). Pretty big surprise here, and a testament to Johnson's work in camp.
Senior James Rogers steps into Troy Woolfolk's starting cornerback spot opposite J.T. Floyd.
Receivers Martavious Odoms and Kelvin Grady clearly showed enough in camp to be listed as starters or possible starters against Connecticut.

NORTHWESTERN
Sophomore running back Arby Fields returned to practice Monday and wore a no-contact jersey after being sidelined with a shoulder problem. He's listed as a co-starter at running back with Jacob Schmidt and Stephen Simmons. Northwestern wanted a clear No. 1 running back to emerge in camp, but Fields' injury changed the plan.
Junior Bryce McNaul is listed as the third top linebacker alongside returning starters Quentin Davie and Nate Williams. McNaul won the job in camp.
Venric Mark is the only true freshman listed on the depth chart, both as a backup wide receiver and a co-starter at punt returner. I'll go out on a huge limb (sarcasm) and predict Mark will be the man on returns for the Wildcats very shortly.

OHIO STATE
Junior defensive end Nathan Williams, a projected starter, will miss the Marshall game with a knee injury. He should be back shortly thereafter. Solomon Thomas will start in Williams' spot Thursday night.
Starting cornerback Chimdi Chekwa (hamstring) is questionable for the Marshall game, but corner Devon Torrence (hamstring) should be fine.
Sophomore C.J. Barnett's strong performance in camp lifted him ahead of Orhian Johnson on the Week 1 depth chart. Johnson missed a chunk of camp with an injury.
Start salivating, Buckeyes fans, because running backs Jordan Hall and Jaamal Berry likely will handle kickoff returns against Marshall.

PENN STATE
Sophomores Kevin Newsome and Matt McGloin and freshman Robert Bolden are listed as co-starters at quarterback for the Youngstown State game.
Sophomore Devon Smith's strong camp landed him a starting spot at both receiver and kick returner, and a backup role on punt returns.
Redshirt freshman Garry Gilliam is listed as the starting tight end, as Andrew Szczerba likely will miss the opener with a back injury. Penn State obviously is thin here after losing Andrew Quarless and Mickey Shuler.
Veterans Nate Stupar, Chris Colasanti and Bani Gbadyu are listed as the starting linebackers, with promising younger players like Michael Mauti and Gerald Hodges right behind them.

WISCONSIN
After a very impressive camp, freshman running back James White appears at No. 3 on the depth chart behind both John Clay and Montee Ball. White also is the No. 2 punt returner behind David Gilreath. His emergence likely will result in veteran Zach Brown redshirting the season.
Senior Blake Sorensen likely will start at outside linebacker, as Mike Taylor continues to rehab after undergoing a second procedure on his knee in camp. Culmer St. Jean and Chris Borland are listed as the other starting linebackers.
The starting cornerback spots remain open, as Niles Brinkley, Antonio Fenelus and Devin Smith will compete in practice this week.