January, 13, 2012
1/13/12
10:35
AM ET

Maryland defensive coordinator Todd Bradford will not return in 2012, the school announced on Friday. Both parties agreed to a negotiated buyout of Bradford's remaining contract.
"We appreciate Todd's efforts this past season and wish him well in his future endeavors," Coach Randy Edsall said in a prepared statement. "It is the right time for us to move forward in a different direction."
There's only one direction for Maryland to go at this point -- up.
Edsall, whose six-year contract was too lucrative for this season to cost him his own job, has now fired both of his coordinators. Gary Crowton has already been replaced by Mike Locksley. Bradford's dismissal should come as no surprise after the 2-10 finish. Maryland was ranked No. 108 in the country in total defense and No. 102 in scoring defense. With the move, Clemson and Maryland are now both in need of defensive coordinators.
September, 1, 2011
9/01/11
10:15
AM ET
There's always something worth watching in the ACC, but Week 1 is usually one of the most interesting Saturdays of the season because of the anticipation that has been building since the end of the Orange Bowl. Here are 10 things to keep an eye on this week in no particular order as the ACC starts the season:
1. Debut of three new head coaches.
Maryland coach Randy Edsall and Miami coach Al Golden will kick off their first seasons against each other on Labor Day, while North Carolina interim coach Everett Withers takes on James Madison. Golden and Withers have both had trying off-field incidents to deal with, as NCAA investigations at both schools have added extra challenges.
[+] Enlarge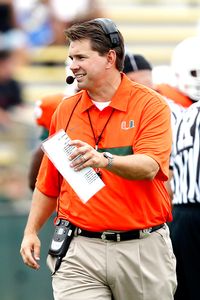 Joel Auerbach/Getty ImagesNew coach Al Golden is ready to shift Miami's focus onto the field.
2. Rookie starting quarterbacks.
Five first-year starters will be introduced this weekend in Clemson's
Tajh Boyd
, Virginia Tech's
Logan Thomas
, NC State's
Mike Glennon
, North Carolina's
Bryn Renner
and Virginia's
Michael Rocco
. FSU quarterback
EJ Manuel
is entering his first season as a full-time starter, along with Georgia Tech's
Tevin Washington
. There are bound to be a few plays they'd like to have back this weekend, but there should also be some signs of a promising future at the position.
3. Miami's replacements.
With eight players sidelined because of the NCAA investigation, Miami's backups have been promoted to critical roles. Players like Andrew Smith, Marcus Robinson and Jordan Futch will have to elevate their games quickly.
4. Georgia Tech's B-backs.
This could be the first season under coach Paul Johnson that the Jackets don't produce a 1,000-yard rusher in their run-based offense, only because the B-backs work more by committee.
David Sims
will start against Johnson's alma mater, Western Carolina, but
Charles Perkins
and
Preston Lyons
could both get some carries.
5. Florida State's offensive line.
This group has had injury problems all offseason, and if there's one question about the Seminoles this year, the offensive line is it. How this group looks intact remains to be seen.
6. New schemes.
Clemson's offense made sweeping changes under first-year coordinator Chad Morris, and Boston College will have some wrinkles under first-year coordinator
Kevin Rogers
. Maryland should also unveil a new look under first-year coordinator Gary Crowton.
7. Clemson receiver Sammy Watkins.
If he starts against Troy as expected, Watkins would be just the 14th Clemson first-year freshman to start the season opener since freshman eligibility returned to college football in 1972. Watkins would be the first wide receiver to start the opening game as a true freshman since Roscoe Crosby started the opener of the 2001 season against Central Florida.
8. Wake Forest placekicker Jimmy Newman.
He's on a serious streak. Newman has made 12 straight field goals, currently the longest streak in school history. He has also made all 65 PAT attempts in his career, the second-longest streak of extra points in school history behind Sam Swank with 121.
9. The Roccos.
Michael Rocco will be making his debut as Virginia's starting quarterback the same day his father, Danny, takes on NC State as the head coach at Liberty. Rocco enters the season with 25 career passing attempts, and his father is entering his sixth season at Liberty with a 40-16 record.
10. Revamped secondaries.
Georgia Tech and North Carolina have both undergone significant transition in the secondary, and Boston College has also had some turnover. The Yellow Jackets had to replace all four starters in the secondary, and the Tar Heels have to replace three starters. At BC, senior safety Dominick LeGrande decided to transfer, and projected starter Okechukwu Okoroha was dismissed from the team for disciplinary reasons.
March, 30, 2011
3/30/11
9:00
AM ET
COLLEGE PARK, Md. -- Maryland began spring practices on Tuesday with a new coach, new schemes and enough new terminology that quarterback
Danny O'Brien
compared it to learning a foreign language.
Many of the players, though, are the same ones who brought the Terps within two wins of clinching the Atlantic Division title last year.
[+] Enlarge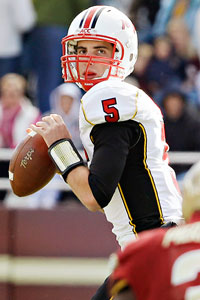 AP Photo/Stephan SavoiaMaryland quarterback Danny O'Brien and 13 other starters return to the Terps in 2011.
There are plenty of questions surrounding the program as Maryland begins its first week of spring practices under first-year coach Randy Edsall, but the players are confident there is enough talent remaining on the roster to build upon the success of last year's nine-win season.
"The reality is all of those things are outside the box," running back
Davin Meggett
said of the coaching transition. "The box is the white lines and the grass fields. We're all the same. We lost a few key playmakers, but there's no doubt in my mind we can't match up, or replace them, or match up even better in between those lines. That really gives us a good look on how well we'll play as far as next season."
There's reason for confidence in College Park. The Terps return 14 starters, including O'Brien, the 2010 ACC Rookie of the Year. Four offensive linemen return along with Meggett, the team's leading rusher (720 yards). Defensively, seven of the top 10 tacklers return.
Maryland's biggest holes to fill are at linebacker, where Alex Wujciak and Adrian Moten have graduated, and at receiver, where standout
Torrey Smith
left early for the NFL.
The biggest reason for concern, though, isn't in College Park. It's in Tallahassee, where Florida State is seemingly on cruise control heading into coach Jimbo Fisher's second season. The Seminoles eliminated Maryland from the division race last year with a 30-16 win in Byrd Stadium.
Despite Florida State's success and Maryland's transition year, the Terps agree there's no excuse not to be in hunt again.
"As players we feel like we're contenders for the ACC championship," said receiver
Kerry Boykins
. "We're just buying into what the coaches say and what the coaches believe because we know they want what's best for us. They're here to win championships just as well."
Boykins said the receivers and O'Brien met separately throughout the season and then had seven-on-seven drills every Wednesday, when O'Brien would help them grasp the concepts of what they were studying. They watched film of LSU, where offensive coordinator Gary Crowton was hired from. The biggest change in the offense will be the tempo, and the Terps will run more no-huddle, but how much is yet to be seen by even the players.
O'Brien said the offensive players are "not anywhere close to where we were last year by any means as far as familiarity with the offense," but that they're still probably further along than one might expect.
"There's been a lot of change, but I think we're really excited because it's the same team coming back," O'Brien said. "We might have a new scheme, new terminology, but it's a lot of the same guys, and we're a really tight family here at Maryland. We're excited about what we're going to put on the field this fall."
March, 8, 2011
3/08/11
9:00
AM ET
COLLEGE PARK, Md. -- Maryland running backs coach Andre Powell put change into a parking meter in downtown College Park for 20 minutes -- just long enough to run into Boston Market for a quick bite.
Twenty-two minutes later, he had a ticket.
Win or lose, moving takes some getting used to.
[+] Enlarge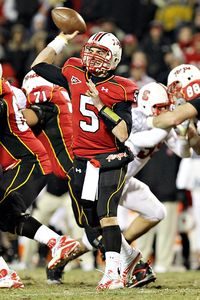 Mitch Stringer/US PresswireDanny O'Brien passed for 2,438 yards and 22 touchdowns on his way to earning conference rookie of the year honors.
Randy Edsall's staff has made a bizarre transition. Instead of replacing a group of coaches that were fired for losing, they're tasked with improving a program that won nine games last season, including a bowl game, and had the ACC's Rookie of the Year and Coach of the Year. While there is obviously talent still remaining on the roster (14 starters return), the new assistants downplayed the notion that their transition might be any easier because they inherited a good team.
"In this profession it's never easy, it's always harder because everything is brand new," said special teams and outside linebackers coach Lyndon Johnson, who was on Edsall's staff at Connecticut. "We're coming in with a different philosophy, different schemes, so there's a learning curve not just for players, but for us as coaches. Our defensive staff, the four of us, none of us come from the same background. We all have to learn Todd (Bradford's) system in order to be able to teach it to our players. It's always going to be an uphill battle, but this isn't like it was an empty-shelf program. These guys were very successful."
And yet only two assistants -- receivers coach Lee Hull and offensive line coach Tom Brattan -- remain from Ralph Freidgen's staff.
"It's a business, and in this business things happen," Hull said. "You just adjust to it and go with the flow. Has it been an easy transition? No, but any new job is an adjustment. Had I left here and gone to another job that would have been an adjustment, too. Coach Edsall has been great through this whole transition and very understanding that Tom and I were on the previous staff. He's been sensitive to that."
The staff is comprised of a variety of backgrounds and two former head coaches in defensive line coach Greg Gattuso (Duquesne) and offensive coordinator Gary Crowton (Louisiana Tech and BYU). Defensive coordinator Todd Bradford and Crowton will both install new schemes and terminology this spring, which will obviously require an adjustment for even ACC Rookie of the Year quarterback
Danny O'Brien
.
Bradford was on the road speaking at a clinic when former defensive coordinator Don Brown left Maryland for a job at Connecticut. A month later, Bradford was hired as Maryland's defensive coordinator.
He said it's still too early to get a read on the talent level the staff inherited.
"It's hard to say because we haven't coached these players yet," he said. "It's hard to say until we start coaching these guys. I don't think it's ever easy when you're a new staff because there's transition, there's coaches getting to know players, there's the learning curve that the players have, there's a transition of how do we handle academics, how do we handle recruiting? Those are the same no matter what happened before we got there. Those challenges are always there. I think it's very similar to any other place I've gone into when I've been on a new staff -- you have the things that have to get done in transition."
Bradford said the staff has all of the necessary resources to be successful, including financial and fan support -- two areas that have been problems for Maryland in the past.
"That's one of the reasons why we came, no question," Bradford said. "I think everyone felt that way, that Maryland's resources, where it was located, the tradition -- all of the things you look for when you're talking about can you win every game, we felt like we had it."
Now their challenge is to get more out of it than their predecessors did.
January, 13, 2011
1/13/11
2:24
PM ET
Maryland has hired former LSU offensive coordinator Gary Crowton
for the same position
on first-year coach Randy Edsall's staff.
Before Maryland fans get too excited about the infusion of SEC knowledge in College Park, you should know that LSU fan's aren't shedding tears about Crowton's departure. They've been wanting him replaced for the past two seasons. LSU's passing game was disastrous in 2010, ranking No. 107 in the country. The Tigers ranked No. 86 in total offense. In 2009, LSU finished 112th in the country in total offense, No. 97 in passing offense, and No. 90 in rushing offense.
Edsall and Crowton worked together at Boston College, so they've got some history, but if they're going to make history together at Maryland, Crowton is going to have to fare better in College Park than he did at LSU.
January, 13, 2011
1/13/11
1:13
PM ET
LSU's offense will have some new leadership next season, as
Gary Crowton has accepted an offer
to be Maryland's offensive coordinator.
Crowton talked with LSU coach Les Miles on Thursday morning, but told The Baton Rouge Advocate that he wasn't fired. Either way, it was obvious that Miles was looking to make some changes on offense. The Tigers finished 11th in the SEC this season in total offense and were last in 2009.
Miles had been consistently evasive about whether or not there would be any staff changes, so the reality is that this probably worked out best for both sides.
The priority for Miles in selecting the Tigers' next offensive coordinator is bringing in somebody who can help jump-start the passing game, and in particular, can develop a quarterback.
Zach Mettenberger, who started his career at Georgia before being dismissed, is expected to battle
Jordan Jefferson
for the starting job in the spring.
January, 12, 2011
1/12/11
5:22
PM ET
Let's make no mistake here. Les Miles is an LSU man.
He might have gone to Michigan, played for the Wolverines and still have some maize and blue running through his veins, but home for him now is LSU.
After this latest flirtation with Michigan, it's obvious that the only way Miles is leaving LSU is if he's pushed out the door. There have been times the fans on the Bayou have wanted to do just that the last two seasons. And, yes, it's always an adventure with Miles any time he's in front of a camera or those final seconds of the clock are ticking down.
But there's no way to interpret his record at LSU any other way than to conclude that the guy's a winner. He's won 62 games, five bowl games, a national championship and has guided the Tigers to four 11-win seasons or better in his six seasons in Baton Rouge.
With a
new contract at LSU that will take him through the 2017 season
, Miles now turns his attention to bringing another SEC and/or national title to LSU. The Tigers return an impressive nucleus of young talent and have recruited like gangbusters.
The big question is on offense, which has floundered each of the past two seasons. The Tigers were 11th in the SEC in total offense this season after finishing last in 2009.
There have been reports that LSU offensive coordinator Gary Crowton won't be back next season and is looking for another job. However, he told The Baton Rouge Advocate on Wednesday that he hasn't been fired and plans on being a part of the LSU staff next season. Crowton did say he spoke with Maryland's Randy Edsall about the Terps' offensive coordinator job.
Until Miles comes out and says that Crowton is definitely going to return as his offensive coordinator next season, you have to wonder.
Miles was again evasive Wednesday about any potential staff changes.
"I really don't know exactly what to tell you," Miles said. "I know we'll have a staff meeting on Thursday morning. I'm not ready to say that there won't be some changes on the staff. I don't know that I necessarily am going to be the factor there as opposed to other great opportunities, so we'll have to see how that goes."
January, 8, 2011
1/08/11
1:57
AM ET
ARLINGTON, Texas -- LSU knew what it wanted to do, or needed to do, rather.
Texas A&M finished its season as the Big 12's best rush defense, reclaiming the "Wrecking Crew" nickname in the process.
"We had to mix it up," said Tigers offensive coordinator Gary Crowton. "We felt like if we could loosen them up with some big passes, we'd be able to run the football."
Few figured the Tigers would have the kind of success they did doing both, but they did. Quarterback
Jordan Jefferson
had thrown four touchdown passes in 12 games entering Friday's Cotton Bowl, including just two in his past 11 games.
[+] Enlarge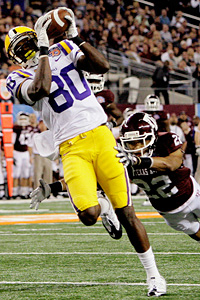 AP Photo/Tony GutierrezLSU softened the Texas A&M defense with long passes to Terrence Toliver, who finished with a three touchdown catches. The Tigers then ran for 288 yards.
He threw three on Friday, and two were longer than 40 yards, softening up the Aggies defense exactly as planned to help beat Texas A&M
41-24
in the AT&T Cotton Bowl Classic in front of 83,514 fans at Cowboys Stadium.
"I thought he threw the ball about as good as I've seen him throw on tape," Texas A&M coach Mike Sherman said. "He was decisive, aggressive and accurate."
With Jefferson keeping the Aggies honest, LSU rolled over the Wrecking Crew for 288 rushing yards. Running backs
Stevan Ridley
and
Spencer Ware
both topped 100 yards, and Jefferson made a handful of plays with his legs, extending drives on third down on plenty of occasions and finishing with 67 yards on 12 carries.
"For our run game, I thought we were doing a really good job of dominating the line of scrimmage," Crowton said.
Early on, the Aggies were up 10-0, but with one torque of a knee they were down a leader. Senior linebacker Michael Hodges suffered a sprained ACL in the first quarter, and Texas A&M's leading tackler never returned.
"He is the heart and soul of our defense in many ways," Sherman said. "At the same time, you can't use that as a reason why we didn't perform the way we should have been capable of performing. ... One guy gets hurt, another guy has to step in and make the play."
His replacement, Kyle Mangan, managed just four tackles, the same amount Hodges had already accumulated in the first quarter.
"I think Kyle, put in the situation he was in, he played well," defensive end Lucas Patterson said. "You can't replace a player like Hodges."
With Jefferson having one of his best games of the year, and the Aggies patching together a run defense that often looked out of character, there was little expectation after Texas A&M's 10-0 lead had evaporated that chants of "Wrecking Crew" would make an encore in Cowboys Stadium.
Early on, it might have. Jefferson's first deep pass -- and the Tigers first attempt to soften the defense -- was interecepted with one hand by Coryell Judie. But Jefferson's first of three connections in the end zone with senior receiver
Terrence Toliver
assured an end to the Aggies' six-game winning streak.
"I came back with the next deep ball call when we got in the right situation," Crowton said. "Jordan stood in there, took a big hit, but got the touchdown. I knew we'd be alright from that point on because we were going to run the ball. We pound it in there."
The Aggies had no answer for the majority of the night. Gaps went unfilled and runners sliced through wide lanes. The Tigers ran the ball 55 times, and averaged 5.2 yards per carry.
"Our offensive line came to play," LSU coach Les Miles said. "Our offensive line said this is a challenge they wanted. I think they played to that challenge."
December, 28, 2010
12/28/10
4:17
PM ET
The bowl smorgasbord is about to kick off for the SEC.
Starting Thursday with Tennessee against North Carolina in the Franklin American Mortgage Music City Bowl, there will be 10 bowl games involving SEC teams over the next 12 days.
[+] Enlarge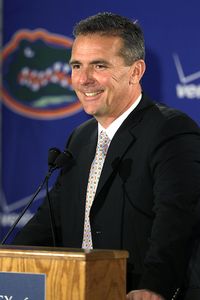 AP Photo/John RaouxUrban Meyer needs a win over Penn State to get a happy ending to an otherwise disappointing season.
Who has the most to prove this bowl season in the SEC (players, coaches and teams)? Here's our top 10 list:
1. Florida coach Urban Meyer:
His overall career at Florida may be unmatched with the two national championships and three BCS bowl victories in six seasons. But it all unraveled for the Gators this season, particularly on offense. Here's a chance for Meyer to get that bad taste out of his mouth and go out a winner over the iconic Joe Paterno and
Penn State Nittany Lions
in the Outback Bowl.
2. South Carolina:
The Gamecocks are just 4-11 all-time in bowl games and have generally been pretty lousy in the postseason, and that goes back way before Steve Spurrier showed up in Columbia. Still, the Gamecocks' last two performances in bowl games were beyond embarrassing. It's time they showed up for a bowl game and played well, especially coming off such a breakthrough season and getting to the SEC championship game for the first time in school history.
3. LSU offensive coordinator Gary Crowton:
The Tigers have been subpar on offense each of the last two seasons. They were 11
th
in the SEC in total offense this season after finishing last a year ago. Crowton would seem to be hanging by a thread. He needs to come up with a good game plan against Texas A&M in the AT&T Cotton Bowl and will have to do it without the Tigers' leading rusher,
Stevan Ridley
, who's been ruled ineligible pending an appeal.
[+] Enlarge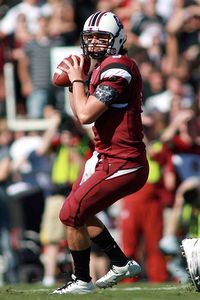 Frankie Creel/US PresswireStephen Garcia has really struggled in South Carolina's past two bowl games.
4. South Carolina quarterback Stephen Garcia:
Garcia has been the poster boy for the Gamecocks' struggles in bowl games the last two years. He was much more consistent this season, and the Head Ball Coach would like to see that same consistency from him against Florida State in the Chick-fil-A Bowl. In his last two bowl outings, Garcia is a combined 25-of-56 for 208 yards, four interceptions and no touchdowns.
5. Georgia coach Mark Richt:
The truth is that Richt has a lot to prove -- period. There's no debating that the program has slipped the last couple of years. The question is: Can he get it back to where the Bulldogs are winning SEC championships again? Richt deserves the chance to right the ship. But a loss to UCF in the AutoZone Liberty Bowl and the program's first losing season since 1996 would almost certainly set up one of those win-or-else seasons for Richt next year.
6. Alabama:
It's not often that one of Nick Saban's teams underachieves, but the Crimson Tide did just that this season when you consider how many future first- and second-round draft choices are on this team. Not only that, but Alabama completely imploded in the second half against Auburn, blowing a 24-0 lead. Here's one last chance for the Crimson Tide to play a 60-minute game.
7. Florida quarterback John Brantley:
There's still a chance Brantley may transfer. He said he will talk it over with his parents after the bowl game. As quarterbacks go this season in the SEC, Brantley was probably the most disappointing when you consider the steep expectations. In his defense, the Gators' spread offense was a terrible fit for him. It would still be nice to see him throw the ball with some confidence in the Outback Bowl.
8. Auburn defensive coordinator Ted Roof
: Disregard the numbers when you analyze Auburn's defense. The Tigers' defenders will tell you they're not about numbers. They're about making clutch plays, and they're about winning. Roof's challenge is to at least slow down Oregon's fast-break offense in the Tostitos BCS National Championship Game. And to do that, the Tigers will have to keep the big plays to a minimum. They gave up 23 touchdown passes this season, which was the second most in the SEC.
9. Tennessee quarterback Tyler Bray:
The true freshman from California was one of the main reasons the Vols came charging back from the dead in November with four straight wins. He threw 12 touchdown passes in those four wins, albeit against weaker defenses. North Carolina has one of the better defensive backfields Bray has seen this season. He can really put a nice bow on this season, both for himself and the Vols, by lighting up the Tar Heels in the Franklin American Mortgage Music City Bowl.
10. Alabama running back Mark Ingram
: We'll never know for sure how much Ingram was bothered by the torn meniscus in his knee that required surgery and caused him to miss the first two games. The fact is that Ingram doesn't make excuses. That said, he wasn't the same player this season. Some of that may have been his injury. Some of it was the way defenses loaded up on Alabama's running game, and the Crimson Tide also had some injuries in their offensive line down the stretch. Either way, Ingram will be primed for what will likely be his final game in an Alabama uniform.
December, 2, 2010
12/02/10
2:54
PM ET
LSU offensive coordinator Gary Crowton has said he expects to be back next season, but the guy who makes that decision isn't really saying.

LSU coach Les Miles told reporters Wednesday that he didn't want to talk about Crowton's status.

"Endorsement, no endorsement ... all those things are really without relevance at this point to me," Miles said. "This is about preparing a team for a bowl game, period. I think our offense has gotten better, and I think that our team is maturing."

Reading between the lines, it sounds like Miles hasn't decided what he's going to do with Crowton, who's entering the last year of his contract. The Tigers are 11th in total offense this season after finishing last a year ago.

They did play better offensively down the stretch this season, but that's after going a stretch of seven games where the passing game was virtually non-existent. LSU finished with just seven touchdown passes all season. The only FBS school to have fewer was Army with five.

"I think our offensive line is maturing," Miles said. "I think our quarterbacks are maturing. I like our receiving corps. I think that this bowl game will be an opportunity for us to play our best."
October, 6, 2010
10/06/10
11:18
AM ET
The bell is ringing, which means it's stock report time in the SEC:
Stock up
1. LSU's defense:
Yes, the Tigers are hard to watch on offense. But they're hard to play against on defense. John Chavis' unit is ranked sixth nationally in total defense and leads the SEC in that category.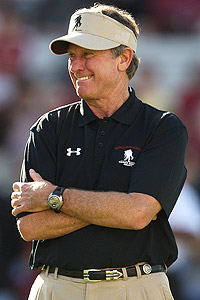 Kevin Liles/US PresswireCoach Steve Spurrier still has a great sense of humor, adding another classic one-liner this week.
2. Steve Spurrier's wit:
The Head Ball Coach isn't winning as many championships as he once did, but he hasn't lost that sharp wit. His "sometimes you can win and still be a dummy" comment Tuesday rates up there with "you can't spell Citrus without a 'U' and a 'T.' "
3. A.J. Green:
We've only seen him for one game this season, but one game was enough to re-establish the Georgia junior as the best receiver in the SEC. He made his one-handed touchdown catch last week against Colorado look easy.
4. Vick Ballard:
Don't look now, but Ballard has an SEC-leading nine touchdowns and has been Mississippi State's go-to guy around the goal line. He's also averaging 6.5 yards per rush.
Stock down
1. Les Miles:
For a guy whose team has yet to lose a football game this season, Miles is catching more heat than any coach in recent SEC history. Of course, there is that little clock thing he might want to wrap his hands around.
2. Gary Crowton:
He's LSU's offensive coordinator and certainly doesn't get a free pass in the Tigers' continued mismanagement of end-of-game situations.
3. Mark Richt:
He's the dean of SEC coaches, and right now, his seat has never been hotter. Georgia has lost four straight games, and even a coach as successful as Richt may not be able to survive a losing season.
4. Tennessee's unlucky 13:
Amid all LSU's confusion last week, Tennessee got caught up in the act and had 13 men on the field there at the end, wiping out what would have been a huge win for the Vols.
Player of the Year race: Offense
1. Cameron Newton, QB, Auburn:
Catching Newton won't be easy. He's accounted for 17 touchdowns (12 passing and five running) and just keeps making big plays.
2. Mark Ingram, RB, Alabama:
He didn't put up big rushing numbers against Florida, but still leads the SEC with 118.3 rushing yards per game and has also scored six touchdowns in three games.
3. Ryan Mallett, QB, Arkansas:
After a week off, Mallett gets a chance against Texas A&M to make amends for his three interceptions against Alabama. He's still on track for another huge season.
4. Alshon Jeffery, WR, South Carolina:
He's averaging 124.5 receiving yards per game, which leads the SEC, and is terrific after the catch.
5. Derrick Locke, RB, Kentucky:
Randall Cobb
gets a lot of the pub at Kentucky and deservedly so. But Locke leads the SEC in all-purpose yardage, is second in rushing and has also scored seven touchdowns.
Player of the Year race: Defense
1. Nick Fairley, DT, Auburn:
The Tigers' enforcer inside remains the SEC leader in sacks (5) and tackles for loss (11.5).
2. Patrick Peterson, CB, LSU:
Not many teams throw his way, which underscores his value. He typically takes away one whole side of the field.
3. Janoris Jenkins, CB, Florida:
The Gators have one of the best defensive backfields in the country, and Jenkins' ability to cover and tackle is a big reason why.
4. Mark Barron, S, Alabama:
He's the veteran back there for the Crimson Tide in the secondary and is playing like one. He had 11 tackles last week against the Gators.
5. Drake Nevis, DT, LSU:
He's been a disrupter up front all season for the Tigers and leads all SEC interior defensive linemen with 26 total tackles.
May, 22, 2009
5/22/09
8:59
AM ET
Posted by ESPN.com's Tim Griffin
As anybody who reads this blog knows, I love all lists.
I came across an interesting list this morning at the Bleacher Report ranking the 11 worst college coaching performances of the 21st century.
It wasn't surprising that the Big 12 was solidly represented with two recent coaches who were fired after unceremonious struggles at traditional powers.
In a list that was topped by Ty Willingham from his Washington days and also included Syracuse's Greg Robinson and BYU's Gary Crowton among its top three spots, the Big 12 also was prominently highlighted with Bill Callahan of Nebraska ranking fourth and Texas A&M's Dennis Franchione coming in ninth.
Here's what the author had to say about Callahan:
"Twenty-two losses in four years. Legendary Cornhusker coach Bob Devaney lost only 20 games in his entire career at Nebraska. Frightening."
Or about Franchione:
"He wasn't that bad at Alabama (17-8), and he was pretty good at TCU and his other stops, but in College Station he went 32-28."
It's fair to remember that Callahan had taken the Cornhuskers to back-to-back bowl games in his previous two seasons, including a Big 12 North title in 2006. But his team's defensive struggles were a factor he couldn't overcome.
And Franchione, who qualified the Aggies for three bowl games in his final four seasons before he was fired, had his moments as well. He left with a two-game winning streak over Texas, becoming only the second coach in school history to leave with an existing multi-season winning streak over the Longhorns.
The other was Jackie Sherrill.
But his admission of selling "state secrets" through his VIP Newsletter eventually pulled his program down.
Today, few fans of either program were sorry to see Callahan and Franchione go.
But it was still interesting to me to see them ranked among the biggest coaching flops in recent history. While they struggled building their programs, I don't know if I would necessarily go that far.
January, 19, 2009
1/19/09
10:27
AM ET
Posted by ESPN.com's Chris Low
On further review, LSU made out as well as anybody in the SEC when it came to holding onto top underclassmen.
Imagine the smile on offensive coordinator Gary Crowton's face when he got the news Sunday that receiver Brandon LaFell was returning to school after he initially declared for the NFL draft. LaFell took advantage of the 72-hour rule that's in place for juniors to change their minds as long as they don't sign with an agent.
Earlier, running back Charles Scott and offensive tackle Ciron Black had already announced that they were coming back. With LaFell joining them and signing on for another year, that means the Tigers will return their three top offensive players next season.
LaFell led the Tigers in catches (63), receiving yards (929) and receiving touchdowns (8). Scott was among the SEC's rushing leaders with 1,174 rushing yards and an SEC-leading 18 touchdowns. Black will be the top returning left tackle in the league next season.
LSU also returns dependable tight end Richard Dickson. So the pieces are in place for the Tigers to make a run in the Western Division if they can solidify the quarterback position. Jordan Jefferson will be the favorite to win that job, but count on incoming true freshman Russell Shepard being a factor at some point next season. He's on campus and will go through spring practice.
The Tigers did lose tackle Ricky Jean-Francois to the draft on defense, but Jean-Francois had a disappointing junior season. There's still plenty of talent on defense for first-year coordinator John Chavis to work with, as LSU's defense tries to shake off what was a forgettable 2008 season.