March, 29, 2012
3/29/12
9:00
AM ET
Iowa quarterback
James Vandenberg
has been brushing up on Greg Davis' history, both recent and ancient.
Since the Hawkeyes hired Davis as offensive coordinator, Vandenberg has watched numerous clips of former Texas quarterbacks Vince Young and Colt McCoy. Davis' last coaching stop took place in Austin, where he helped mold both Young and McCoy into elite college signal callers. As Vandenberg acclimates himself with Davis, he wants to get a sense of the system Davis has run and the quarterbacks he has coached.
But Vandenberg also is keenly aware he's not Young or McCoy. He's a different player with different skills. Will that be a problem for Davis? Hardly.
[+] Enlarge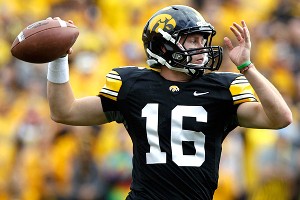 AP Photo/Charlie NeibergallJames Vandenberg passed for 3,022 yards with 25 touchdowns and seven interceptions in 2011.
That's where the ancient history comes in.
"The one thing I always think of is he coached Gary Kubiak, who's the coach for the [Houston] Texans," Vandenberg told ESPN.com. "[Davis] was his college coach when [Davis] was only 28 years old. So he's been in the business for a long time and really knows the ins and outs and has done it with a lot of different people and systems."
Vandenberg is excited to be the next man in line. Before this offseason, Iowa hadn't made any coordinator changes -- offensive or defensive -- during head coach Kirk Ferentz's tenure.
While Vandenberg enjoyed working with former coordinator Ken O'Keefe, he echoes the seemingly program-wide excitement about having new voices in the football building and on the practice field this spring.
"It's some fresh blood," Vandenberg said. "That's what has everybody excited. There was nothing wrong with the old system, and we had a great coach. But the excitement comes with learning a new offense and hearing plays called from a new play-caller. There's a lot yet to be seen, but all these unknowns and knowing the success he's had is what has us all excited right now."
Davis' tenure at Texas ended on a down note in 2010, but his most recent success took place with McCoy and Young. The Longhorns had a top 25 offense every year between 2003-08. They led the FBS in scoring behind Young in 2005 en route to a national title and finished fifth in scoring behind McCoy in 2008.
Under Davis, Texas averaged 39 points per game between 2000-09, which ranked second nationally and first among teams from BCS automatic-qualifying leagues. While the numbers are notable, Davis' versatility has stood out to Vandenberg on tape.
"He knows how to play to his personnel," Vandenberg said. "When he had Ricky Williams there, he knew he was going to get 30 carries a game. When he had Vince Young, there was a lot of zone-read stuff. With Colt McCoy, there was a lot of empty stuff. He's adjusted to the guys he had and been successful in every aspect of offense, from power football to spread football.
"We're all excited to see what his wrinkle is for us."
Vandenberg, who racked up 3,022 pass yards with 25 touchdowns and seven interceptions in his first year as Iowa's starter in 2011, said he's familiar with most of the plays Davis wants to run, but needs to absorb new terminology and some different reads. Davis stresses the need to complete passes and get the ball out quickly, two areas Vandenberg feels are strengths of his.
Accuracy is a focal point this spring for Vandenberg, who completed just 58.7 percent of his attempts in 2011. His goal: 65 percent or better. He also wants to play smarter in games. To do so, he'll have to absorb Davis' system better than anyone else on the field.
"I'm able to bring guys along right now," he said. "I've had a little more time studying it. These practices are vital, just being to make sure we're all on the same page with all these new plays and all these new situations."
November, 4, 2008
11/04/08
2:35
PM ET
Posted by ESPN.com's Tim Griffin
The morning after games are a little different for Texas A&M quarterback Jerrod Johnson these days.
| | |
| --- | --- |
| | |
| | Stephen Mally/Icon SMI |
| | Jerrod Johnson is completing 63 percent of his passes. |
It's not like he's complaining about the assortment of postgame bumps, bruises and scrapes that keep turning up. Johnson is just happy to be playing again on a regular basis.
"On Sundays, things are pretty slow and I'm pretty sore," Johnson said. "But I'm feeling all right. That's what we did was work hard all summer to deal with all of the grueling stuff we face. I think I've held up pretty well."
A&M coach Mike Sherman is relieved at that comment, which might be one of the biggest understatements in recent memory.
After taking over the starting job when Stephen McGee went down with a shoulder injury, the sophomore has pumped some life back into A&M's program. His recent passing binge has fueled the Aggies' modest two-game winning streak leading into their game Saturday against No. 4 Oklahoma.
"I knew he was a very talented player and bright," Sherman said. "But to think he would be as comfortable as he is, I can't say I thought that would happen. He still has a ways to get better at, but his comfort level has exceeded my expectations."
Johnson and McGee were involved in a tight battle for the starting job during fall camp. McGee eventually won out and started the Aggies first three games.
But Sherman found a way to get the 6-foot-5, 229-pound Johnson in the game, starting him at wide receiver to capitalize on his athleticism. Johnson still leads the Aggies with a 20.5 yard per reception average from earlier in the season.
And when McGee went down with a shoulder injury against Miami, Johnson directed the victory off the bench and also started the next game against Miami before returning to wide receiver against Army. But McGee re-injured his shoulder against the Black Knights and Johnson delivered a game-winning touchdown pass in relief.
He hasn't looked back from there, erupting on a record-breaking pace he credits to the growth of his teammates with him. Eight freshmen are listed on Texas A&M's offensive two-deep roster, including three who are listed as starters or co-starters.
"It's slowed down a little bit, but the biggest thing is the guys around me," Johnson said. "They've done a great job of learning the offense. I think the game has slowed down and I've gotten better, but it's a great job of the team coming together."