August, 16, 2013
8/16/13
8:00
AM ET
There's hardly ever a perfect time to part ways with a coach, especially one who has had success. Some programs opt to nudge out long-tenured, mostly successful coaches only to pay the price later for their decisions. Others that part ways with a veteran coach end up seeing improvement. ESPN.com is taking a closer look at this topic today, and we're putting it under the Big Ten microscope.
Here are some notable Big Ten (and Nebraska) coaching forceouts:
LLOYD CARR, Michigan (1995-2007)
What happened:
A longtime Michigan assistant for Bo Schembechler and Gary Moeller, Carr moved into the top job in 1995 and two years later guided Michigan to a national title. He led the Wolverines to at least a share of five Big Ten championships and six bowl victories, including the 1998 Rose and 2000 Orange bowls. Carr had the Wolverines positioned for another national title run in 2006 as they faced archrival Ohio State in an epic matchup of undefeated teams ranked No. 1 and No. 2 nationally. But Carr's squad fell to Jim Tressel's Buckeyes, a theme during the later part of Carr's tenure. The 2007 season began with a humiliating loss to Football Championship Subdivision team Appalachian State. Although Carr officially retired in November 2007, there certainly was some pressure for the school to go in a new direction.
[+] Enlarge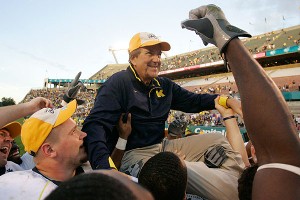 Chris Livingston/Icon SMILloyd Carr is carried off the field following Michigan's win over the Gators in the Capital One Bowl, which was Carr's final game.
What happened next:
Michigan went away from its coaching tree and plucked Rich Rodriguez from West Virginia to succeed Carr. It was a rocky situation from the start that never truly smoothed out. Rodriguez's first Michigan team in 2008 might have been the worst ever, tumbling to 3-9 and ending the school's streak of consecutive bowl appearances at 33. The following summer, Michigan admitted to committing major violations for the first time in its history -- relating to practice time -- and self-imposed probation. The Wolverines once again missed a bowl game in 2009 and struggled to make one in Rodriguez's third season. After a blowout loss in the 2011 Gator Bowl, Michigan fired Rodriguez, who went just 15-22 at Michigan (6-18 Big Ten, 0-3 against Ohio State). Michigan might have slipped a bit from the ranks of the elite under Carr, but the program plummeted to historic depths under Rodriguez. Michigan replaced Rodriguez with former Carr assistant Brady Hoke.
JOHN COOPER, Ohio State (1988-2000)
What happened:
After a rocky start (4-6-1 in 1988), Cooper went on a nice run at Ohio State in the mid- to late 1990s, averaging 10.3 victories between 1993 and 1998. He guided Ohio State to its first Rose Bowl appearance in 13 years during the 1996 season and emerged with a victory against Arizona State. He also won the Sugar Bowl after the 1998 season and coached Heisman Trophy winner Eddie George. But Cooper had two problems: an inability to beat archrival Michigan (2-10-1) and struggles in bowl games (3-8). Three times the Buckeyes entered The Game with a perfect record -- 1993, 1995 and 1996 -- and fell to the Wolverines. After a 6-6 clunker in 1999 and another loss to Michigan in 2000, Ohio State fired Cooper, who finished second on the school's all-time coaching wins list, behind Woody Hayes, with 111.
What happened next:
Ohio State made an unorthodox move in bringing in Youngstown State's Tressel to succeed Cooper. It paid off as Tressel guided the Buckeyes to a national title in his second season. Ohio State remains the only Big Ten team to win a crystal football during the BCS era. Tressel ended up dominating the Big Ten (six titles) and Michigan (8-1) during his tenure, leading Ohio State to five BCS bowl wins (one vacated) and three appearances in the national title game. Although Tressel's tenure ended in scandal, he certainly boosted Ohio State's program after the Cooper era.
BILL MALLORY, Indiana (1984-1996)
What happened:
After mostly successful runs at Miami (Ohio), Colorado and Northern Illinois, Mallory came to Indiana and put together an impressive run, reaching six bowl games between 1986 and 1993. He became the first man to win back-to-back Big Ten Coach of the Year honors in 1986 and 1987. Indiana had three top-four finishes in the Big Ten (1987, 1991, 1993), but after Mallory went just 5-17 (1-15 Big Ten) in 1995 and 1996, Indiana fired him. Mallory remains Indiana's all-time coaching wins leader (69) and is responsible for six of the Hoosiers' nine bowl teams.
What happened next:
Indiana has yet to come close to achieving the type of moderate success it enjoyed in the Mallory era. The program struggled under Cam Cameron and Gerry DiNardo before surging a bit for the late Terry Hoeppner. Still, it took 11 seasons after Mallory's dismissal for Indiana to return to the postseason under Bill Lynch in 2007. Although the Hoosiers are making strides under Kevin Wilson, the program has a ways to go to match where it was under Mallory.
GLEN MASON, Minnesota
(1997-2006)
What happened:
Mason never got Minnesota to the promised land -- its first Big Ten championship since 1967 -- but he made the Gophers a consistent bowl team. He won six to eight games in six of his final eight seasons, slumping to a 4-7 finish in 2001 but breaking through with 10 victories in 2003. Minnesota reached bowls seven times under Mason, but his middling Big Ten record (32-48) and inability to challenge for league titles eventually stirred the administration into action. The school
fired Mason two days after Minnesota squandered a 31-point third-quarter lead
against Texas Tech in the 2006 Insight Bowl.
What happened next:
The program backslid with the overmatched Tim Brewster at the helm, going 1-11 in 2007. Brewster made some splashes in recruiting but couldn't get enough talent to translate to the field. After a 7-1 start in 2008, the Gophers dropped their final five games, including a 55-0 decision to archrival Iowa at the Metrodome. A 6-7 season followed in 2009, and
Minnesota fired Brewster after a 1-6 start in 2010
. Brewster went 15-30 at the school and 6-21 in the Big Ten, which included an 0-10 mark in trophy games. His tumultuous tenure had many questioning why Minnesota ever got rid of Mason.
FRANK SOLICH, Nebraska (1998-2003)
What happened:
A former Huskers fullback, Solich had the nearly impossible task of following coaching legend Tom Osborne, who won national titles in three of his final four seasons at the school. Solich won 42 games in his first four seasons, a Big 12 championship in 1999 and Big 12 North titles in 1999, 2000 and 2001. He guided the Huskers to the 2000 Fiesta Bowl championship, and the 2001 team, led by Heisman Trophy winner Eric Crouch, played Miami for the national title at the Rose Bowl but fell 37-14. Nebraska then went 7-7 in 2002, its first nonwinning season since 1961. Solich rebounded with a 9-3 mark in 2003 but was
fired despite a 58-19 record in Lincoln
.
What happened next:
Much like Michigan, Nebraska went away from its coaching tree and hired Bill Callahan, who had led the Oakland Raiders for two seasons. And much like Michigan, Nebraska paid a price as the program went downhill. The Huskers went 5-6 in Callahan's first year, their first losing campaign since 1961. They won eight games the following year and the Big 12 North in 2006, but a highly anticipated 2007 season fell apart, particularly for the celebrated Blackshirts defense. Nebraska surrendered 40 points or more in six games and went 5-7, leading to Callahan's dismissal. Although Nebraska has rebounded under Bo Pelini, its last conference championship came under Solich's watch, 14 long years ago.
June, 4, 2013
6/04/13
2:30
PM ET
Big Ten bloggers Adam Rittenberg and Brian Bennett will occasionally give their takes on a burning question facing the league. We'll both have strong opinions, but not necessarily the same view. We'll let you decide which blogger is right.
Colleague Ivan Maisel today writes about
the Pac-12's pipeline of sending head coaches to the NFL
and notes how the Big Ten has lost just one coach to the NFL (Indiana's Sam Wyche to the Indianapolis Colts) since 1948.
Today's Take Two topic
is this: Why hasn't the Big Ten sent more coaches straight to the next level, and when will the drought end?
Take 1: Adam Rittenberg
[+] Enlarge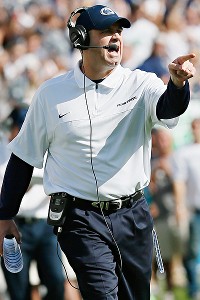 Rob Carr/Getty ImagesBill O'Brien's ties to the New England Patriots should make him an intriguing option as a future NFL head coach.
It's a bit baffling why the Big Ten hasn't sent more coaches directly to the NFL. You can talk about the conference's recent struggles, but the Big Ten still produces a lot of great NFL players and has coaches who have worked in the NFL and who are respected by key decision-makers with those teams.
The Big Ten has featured coaches who had been NFL head coaches (remember Lou Holtz, who coached the New York Jets in 1976, coming to Minnesota in 1984?), a head coach who came to the Big Ten from a USFL top job (George Perles from the Philadelphia Stars to Michigan State) and coaches who left Big Ten teams for other jobs but eventually became NFL head coaches (former Northwestern boss Denny Green, former Illinois boss Mike White, former Michigan boss Gary Moeller). Most Big Ten teams have run pro-style offenses and defenses during the years, and while more squads are going to the spread offense, it wouldn't be a huge transition for most coaches to go to the NFL. I think the tendency for Big Ten coaches to stay at their jobs for longer terms has contributed to the lack of direct NFL departures. Many Big Ten coaches looked at those jobs as destinations rather than springboards to the NFL.
I expect the Big Ten's NFL coach drought to end fairly soon. Kirk Ferentz's name has come up for years as an NFL candidate, and while he has remained loyal to Iowa, you have to wonder whether he'll eventually make that leap, if the opportunity is still there. Although Ferentz's stock has dropped a bit in recent years, he's still held in high regard in NFL circles. The other obvious name is Penn State's Bill O'Brien, who talked with several NFL teams about jobs after his first season with the Lions. Although O'Brien seems relatively happy at Penn State despite the challenges there, few would be surprised if he eventually moves onto the NFL, given his love for that league and his experience with the Patriots. He might not move in the next year or two, but I could see him guiding Penn State through the sanctions and then making the jump. Will the NFL court other Big Ten coaches? I don't see Urban Meyer as an NFL coach, but his success can't be overlooked. I can't see Brady Hoke leaving Michigan, although he might be a good fit in the NFL. Bo Pelini has some NFL experience, but I see him more as a pro coordinator than a pro head coach. I'm still watching Ferentz and O'Brien, and I'd expect one to make the jump sometime in the next 3-5 years.
Take 2: Brian Bennett
Yes, it's surprising that the Big Ten hasn't sent more coaches straight to the NFL, although the track record of college head coaches making smooth transitions into the NFL is spotty at best. For every Jimmy Johnson and Jim Harbaugh, there is a Nick Saban (who, by the way, went from Michigan State to LSU to the Miami Dolphins), and a Steve Spurrier. Time will tell if guys like Chip Kelly and Greg Schiano are ultimately judged as success stories at the next level. Still, you would think more Big Ten coaches would have been more attractive to the NFL, given the league's history of pro-style schemes and, let's face it, conservative play calling that thankfully is starting to erode in the pros.
Adam hit on what I think is the key point: the destination job factor. Think about the top coach in the Big Ten in the past 15 years: Jim Tressel. Wouldn't the Vest have fit right alongside a coach like Tom Coughlin in the NFL? Yet Ohio State was Tressel's dream job, and a place where he built his own fiefdom before it all collapsed. Even though the NFL can pay more, calling the shots at a major college program offers much better job security. I also think back on the story of Joe Paterno and how he was reportedly offered more than triple his Penn State salary to take over the Pittsburgh Steelers in 1969. Of course, he said no and stayed in State College for the rest of his life.
The same can probably be said for Hoke and Northwestern's Pat Fitzgerald, both of whom I think would make strong NFL head coaches. Yet neither seemingly has any desire to ever go anywhere else but their current job. Ferentz is no dummy. Why risk getting fired by taking over an NFL team -- one that probably wasn't very good, or else it wouldn't be in the market for a new coach -- when you have the cushiest contract in college sports? I wonder about Meyer. On the one hand, he has no pro experience. On the other hand, he's incredibly smart and competitive, and perhaps he'll one day view the NFL lifestyle as preferable to the nonstop recruiting demand of college, especially if he can add another national title or two. I feel like Pelini would jump to the NFL if a team wanted him, but I'm not sure how marketable he is as a pro head coach right now. I believe Mark Dantonio would succeed at the next level, but he seems like a college guy through and through.
O'Brien remains the obvious pick to break the drought. There's no question he's the most pro-ready coach in the Big Ten. The NCAA sanctions and constant distractions at Penn State have to wear on him, but you'd also think he'd want to taste the fruits of his labor once the Nittany Lions are eligible for a bowl again. Yet if the 61-year-old Bill Belichick decides to hang it up in the near future, the New England Patriots would have to take a hard look at O'Brien as his successor. If guys like Kelly and Schiano start to win big, the NFL might start looking toward even more college head coaches, including those in the Big Ten.
March, 1, 2011
3/01/11
9:00
AM ET
When Greg Mattison first met with his new Michigan players, he talked about the old days.
Mattison didn't dig up Wolverines game film from the mid-1990s, when he served as the team's defensive line coach and defensive coordinator. He didn't bring back Jarrett Irons, Jason Horn or Ty Law to talk to the group.
If the players needed a link to the past, they only had to look at the man in the center of the room. A man who spent five years as a Michigan assistant and says of former Wolverines coaches Gary Moeller and Lloyd Carr: "They're the ones who really taught me defense."
[+] Enlarge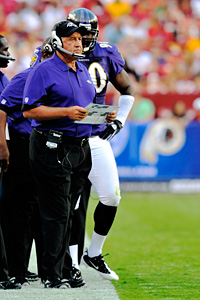 Randy Litzinger/Icon SMIGreg Mattison spent last season with the Baltimore Ravens. He wants to spend next season getting Michigan back on track.
Mattison was the perfect person to provide a little history lesson.
"That's the way I started the meeting out," Mattison recently told ESPN.com. "I told them, 'Fifteen years ago, I was in this meeting room. And the pride and the passion that was played on defense from the guys in this room was second to none. Forever, they've done that. If you're going to be a defensive player who sits in this room, you have to embrace that.
"'You have to now understand that's what Michigan football is all about.'"
But a Michigan defense with a strong track record veered off track the past three seasons.
Mattison takes over a unit that ranked 110th, 82nd and 67th nationally in yards allowed during the previous coaching regime. The Wolverines ranked 108th, 77th and 84th nationally in points allowed. The unit wasn't old enough, deep enough or good enough to stop teams in Big Ten play.
Given the gory results, you couldn't blame Mattison for not wanting to look back at the recent performance. That was his plan, at first.
"I made a concerted effort when I came in here to say, 'I'm not going to watch it,'" he said. "What I wanted to do is give these players the benefit of the doubt and not to even talk about what's happened in the past. Those were good coaches here. I'm never going to second-guess guys who were here before."
But after watching the players go through winter conditioning, Mattison changed his mind. As he got to know who the players were, he decided to check out how they played.
"I saw a lot of guys that had great effort," he said. "I saw a lot of guys that might have been a little young. I saw a lot of guys that might have been not as strong as they should be. And you see technique things. People who watch the [Baltimore] Ravens could see the same things about my defenses."
Mattison will shape Michigan's defense like so many others he has overseen.
The Wolverines will use a four-man front. Mattison's top three priorities are stopping the run, limiting big plays and "being great" in the red zone. He'll stress effort, emotion and technique.
The system will be simple yet effective.
"What happens sometimes when you overload your defense because maybe you don't have enough players or maybe they're light or undersized, people in the Big Ten will get you sooner or later," Mattison said. "There are great coaches in this league, so if you think you're going to come in and totally out-coach them with scheme, you're totally wrong. They're going to get you."
Watching tape from 2010 didn't discourage Mattison -- just the opposite.
"It helped me because in a lot of ways, I felt even stronger about what our mission is here," he said. "I felt like, 'Listen, we can get these guys to get back to that.' I felt good about it. It probably drove me more the next day in running to make these guys step up to that level. Because they have it. It's our job to get it out of them."
July, 13, 2010
7/13/10
4:37
PM ET
The Lloyd Carr era at Michigan ends Sept. 1, as the former Wolverines football coach will
officially retire from his post as associate athletic director
.
[+] Enlarge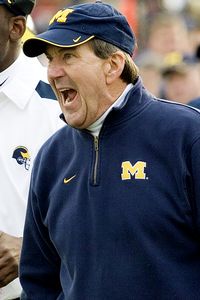 Tony Ding/Icon SMILloyd Carr's tenure as associate athletic director officially ends on Sept. 1.
Few men have been a bigger part of Michigan football for as long as Carr, who came to the school as defensive backs coach in 1980. He was promoted to defensive coordinator in 1987 and took the top job in 1995, following Gary Moeller's resignation. After winning a national championship and five Big Ten titles in 13 seasons as Wolverines head coach, Carr retired following Michigan's win in the 2008 Capital One Bowl and moved into his post in the administration.
He'll turn 65 about a month before his official retirement.
"I am thankful for the wonderful opportunity to assist two great coaches here in Bo Schembechler and Gary Moeller and I will always appreciate Joe Roberson's decision to name me the head coach in 1995," Carr said in a statement. "I am also appreciative for those I worked with and for all the great friendships I have developed. Most of all, I am thankful for the young men I coached and for all the memories I have from my time at Michigan."

Carr will be remembered for many things, including his commitment to Michigan and his charitable work outside the program. He had great success as a head coach early in his tenure and maintained stability, though his struggles against archrival Ohio State can't be forgotten. Still, given the current state of Michigan's program, it's interesting to think how things might be different if Carr still roamed the sidelines.
Here's a quick rundown of Carr's time at Michigan:
30 years of service (15 years as assistant coach, 13 years as head coach, two plus years as administrator)

Overall record 122–40 (81-23 Big Ten)

National championship in 1997

Big Ten championships in 1997, 1998, 2000, 2003 and 2004

AFCA Coach of the Year, Walter Camp Coach of the Year, Bear Bryant Award in 1997

One of only three Michigan coaches to win more than 100 games (Schembechler and Fielding Yost are the others)

Seventh coach in NCAA history to have reached 29 wins in just three seasons

Ninth in Big Ten history in most overall wins (122), sixth in Big Ten wins (81) and ninth in league titles (5)
Statement from Michigan president Mary Sue Coleman: "Lloyd Carr's legacy is an impressive and important part of Michigan's rich history and tradition of excellence in football. He has served the University as well through his advocacy and passion for a number of philanthropic causes. We are grateful for his long and successful service and wish him well in retirement."
Statement from Michigan athletic director Dave Brandon: "I have known Lloyd since he came to Michigan as an assistant coach. Coach Carr is a man of integrity. I admire and appreciate his love for all of our student-athletes and his many contributions to not only our University, but his work on behalf of numerous charitable causes throughout the State of Michigan."
November, 17, 2008
11/17/08
12:23
PM ET
Posted by ESPN.com's Adam Rittenberg
I had a chance to watch Rich Rodriguez's news conference this morning via Webcast. Some good stuff there.
The first-year Michigan head coach seemed much more philosophical than usual, perhaps realizing that this nightmare of a season is almost over and the process of building for the future will soon begin. He reflected on his first season at Michigan, where the program needs to go and reiterated that he recognizes the importance of Saturday's rivalry game at Ohio State.
Here are some notable nuggets from Rodriguez:
First, some housekeeping issues. Quarterback Steven Threet is doubtful for Ohio State with a shoulder injury that Rodriguez didn't know about until after last Saturday's loss to Northwestern. Expect sophomore Nick Sheridan to make his second consecutive start at quarterback. Running back Brandon Minor (ribs, shoulder, wrist) likely will return to action, while running back Sam McGuffie might miss the game because of a death in the family. McGuffie sat out last week with a shoulder injury.

Rodriguez spoke frankly about the mystique Michigan has lost and the importance of regaining it for future seasons.

"Coach [Bo] Schembechler, coach [Gary] Moeller, coach [Lloyd] Carr had built the program to the point where playing at home in that Big House and that winged helmet comes out, there was a certain feeling that, 'Boy, it's going to be a tough game,'" he said. "It's worth 10-14 points right there. That ain't the case anymore. That's obvious. Now I'd like to build it up to that point, and that's part of our challenge and our goal, but we're not there anymore where just putting on the winged helmet means something. We've got to deserve that.
"Everybody wants to know when we're going to win more games. When we deserve to win more games. It's as simple as that. When we deserve to win more games, we'll win more games. That's our challenge as coaches and certainly our challenge in our program in our players to get to that point. We'll get there. It's taken longer than I want, but we'll get there."
August, 6, 2008
8/06/08
4:25
PM ET
Posted by ESPN.com's Adam Rittenberg
I had hoped to post this earlier in the week during my trek through the state of Michigan but got bogged down with practices, interviews, tours and the like.
E-mailer Steven from Phoenix brings up an interesting note about the Michigan-Michigan State rivalry.
Steven writes:
Hi Adam: I read your predictions on the Big Ten Rival football games this fall. As a Wolverine fan, I hope you're right on the Michigan/Michigan State game because there's an interesting historical note to this series. First year coaches don't typically win in this series. The last coach to win in his first try was Nick Saban for MSU in 1995. But something had to give because he was going up against first year coach Lloyd Carr in the game. Saban is the first coach to win in his first try in at least the last ten MSU coaches. At Michigan, the last coach to win in his first try against MSU was Bennie Oosterbaan in 1948. Bump Elliott, Bo Schembechler, Gary Moeller and Lloyd Carr all failed in their first attempt at beating Michigan State. On another note, first year Michigan coaches are nearly perfect against Ohio State in their first try. Just a couple of notes I thought I'd pass along for future use in case you're interested. You can check out the records to see what I mean. Keep up the good work. Steve
Let's check out the history of first-year coaches in the series since the first rookie coach faced the opposing team in 1911:
First-year coaches in the UM-MSU series
Year
New coach
Team
Game result
2007
Mark Dantonio
Michigan State
Michigan 28, Michigan State 24
2003
John L. Smith
Michigan State
Michigan 27, Michigan State 20
2000
Bobby Williams
Michigan State
Michigan 14, Michigan State 0
1995
Nick Saban
Michigan State
Michigan State 28, Michigan 25
Lloyd Carr
Michigan
1990
Gary Moeller
Michigan
Michigan State 28, Michigan 27
1983
George Perles
Michigan State
Michigan 42, Michigan State 0
1980
Frank Waters
Michigan State
Michigan 27, Michigan State 23
1976
Darryl Rogers
Michigan State
Michigan 42, Michigan State 10
1973
Denny Stolz
Michigan State
Michigan 31, Michigan State 0
1969
Bo Schembechler
Michigan
Michigan State 23, Michigan 12
1959
Bump Elliott
Michigan
Michigan State 34, Michigan 8
1954
Duffy Daugherty
Michigan State
Michigan 33, Michigan State 7
1948
Bennie Oosterbaan
Michigan
Michigan 13, Michigan State 7
1947
Clarence Munn
Michigan State
Michigan 55, Michigan State 0
1938
Fritz Crisler
Michigan
Michigan 14, Michigan State 0
1933
Charlie Bachman
Michigan State
Michigan 20, Michigan State 6
1929
Harry Kipke
Michigan
Michigan 17, Michigan State 0
Jim Crowley
Michigan State
1928
Harry Kipke
Michigan State
Michigan 3, Michigan State 0
1927
Tad Wieman
Michigan
Michigan 21, Michigan State 0
1923
Ralph Young
Michigan State
Michigan 37, Michigan State 0
1921
Albert Barron
Michigan State
Michigan 30, Michigan State 0
1920
George Clark
Michigan State
Michigan 35, Michigan State 0
1918
George Gauthier
Michigan State
Michigan 21, Michigan State 6
1916
Frank Sommers
Michigan State
Michigan 9, Michigan State 0
1911
John Macklin
Michigan State
Michigan 15, Michigan State 3
The history obviously doesn't bode well for Michigan coach Rich Rodriguez, who gets his first taste of the rivalry Oct. 25 at Michigan Stadium. Then again, more first-year Michigan coaches have won their first games in the series than their Michigan State counterparts. And it was interesting to see that even though Schembechler and Moeller lost their first games against State, both coaches guided Michigan to Big Ten championships those seasons.
The best debut? Oosterbaan, whose team beat Michigan State in the season opener before running the table and winning the 1948 national title. A quick note: Michigan coach Fielding Yost didn't face Michigan State in his first season of 1901 even though the series began in 1898.
As for first-year coaches in the Michigan-Ohio State series, the last six Wolverines first-year coaches have won their initial matchup with the Buckeyes. In contrast, four of the last six Ohio State first-year coaches dropped their first game against Michigan.