NCF Nation:

Gary Tranquill
February, 15, 2011
2/15/11
9:00
AM ET
It's that time of year, ACC fans. Duke kicks off the ACC's spring football schedule with practice tomorrow, so it's time to take a look at three storylines to watch for each program. We'll start with the Atlantic Division:

BOSTON COLLEGE
Spring practice starts:
March 15
Spring game:
April 16
What to watch:

CLEMSON
Spring practice starts:
March 7
Spring game:
April 9
What to watch:

FLORIDA STATE
Spring practice starts:
March 21
Spring game:
April 16
What to watch:

MARYLAND
Spring practice starts:
March 29
Spring game:
April 30
What to watch:

NC STATE
Spring practice starts:
March 17
Spring game:
April 16
What to watch:

WAKE FOREST
Spring practice starts:
March 15
Spring game:
April 16
What to watch:
April, 22, 2010
4/22/10
11:31
AM ET
CHESTNUT HILL, Mass. -- It remains one of the unsung feats of 2009. Boston College began the season with a quarterback who had never taken a snap in a game, a 25-year-old former Double-A reliever named
Dave Shinskie
, and finished with an 8-5 record. Smoke, meet mirrors.
It is logical to assume that now that Shinskie has earned a letter, all is well and good with the Eagles. Shinskie believes so.
[+] Enlarge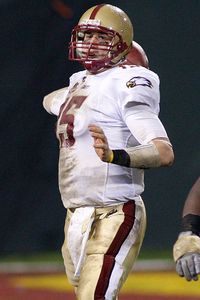 Ric Tapia/Icon SMIDave Shinskie threw for 2,049 yards and 15 touchdowns last season.
"I have come a long ways on the football field from when I came here last summer," he said.
His coaches are waiting to be convinced that Shinskie understands the work it takes to be a good quarterback in the Atlantic Coast Conference. They understand why Shinskie may not have figured it out. When you ride buses for seven summers, and your biggest intellectual challenge is a scouting report and which fast-food place the bus may stop at, it's tough to dive into a daily diet of pass-coverage video.
"You have a game every day," Shinskie said, "but as a relief pitcher, I wasn't pitching every day. Here, you have practice or you lift, you're running or you're rushing out to make classes in between. You're rushing out every day somewhere, two meetings a day. It's the mental part of football that's time-consuming. That's the thing that people outside of football don't understand."
Shinskie, of course, was outside of football until he came to Boston College. When he describes the difference in him this spring from last season, he sounds as if the light bulb above his helmet may have gone on.
"I can do this," he said, "if I just know what coverage they are playing before the ball is snapped."
Veteran coach Gary Tranquill reaffirmed his stature as a master teacher by transforming Shinskie into a serviceable quarterback last season. Shinskie threw for 2,049 yards last season. He threw 15 touchdowns and 14 interceptions. Tranquill spoke in automotive terms. Last year, he said, the offense under Shinskie was "maybe first gear. We're a little ahead of that; maybe second gear now."
Shinskie, Tranquill said, "sees things better. He has a little bit better understanding of what's going on. He throws the ball well. He's pretty accurate. ... I still think he doesn't totally understand that one of the things, if the goal is to do better, is spend a little bit more time studying the football part of it, not come over here and forget it until you come back over here."
Boston College wants more. The analogy that Eagles head coach Frank Spaziani uses indicates how far he believes Shinskie has to go.
"We were admitted to the emergency room last year, with the quarterback situation," Spaziani said. "We were in dire straits. We came out of the emergency room and we lived. We're still in intensive care."
Tranquill has seen more leadership this spring from Shinskie, a guy who lives his life in a low key. And it's hard to lead when you don't know Cover 2 from, well, third base.
"You learn that if you might not know what you're doing, you have to act like you know what you're doing," Shinskie said.
Behind Shinskie is sophomore
Mike Marscovetra
and two January enrollees. No one has put away the smoke and mirrors just yet.
February, 15, 2010
2/15/10
11:00
AM ET
At Duke, former scout team quarterback
Sean Schroeder
has been reciting the names of plays so he can spit them out a little easier in the huddle as the No. 1 signal-caller this spring. At Wake Forest, coach Jim Grobe would like nothing more than to say he feels good about his quarterbacks, but he hasn't seen any of them play significant game time yet. And at NC State, backup
Mike Glennon
plans on working to unseat his friend and teammate
Russell Wilson
as the starter this spring.
[+] Enlarge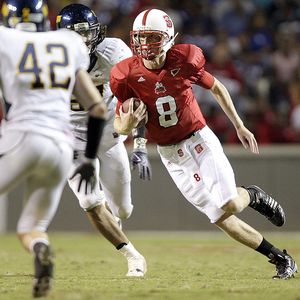 AP Photo/Gerry Broome Mike Glennon will get extra reps under center this spring while incumbent starter Russell Wilson plays baseball.
Bring on the competition in the ACC.
All across the conference, uncertainty looms at quarterback heading into spring practices. The biggest transitions will occur at Duke and Wake Forest, where two of the ACC's most accomplished quarterbacks --
Thaddeus Lewis
and
Riley Skinner
-- have graduated. Virginia is also starting from scratch to replace
Jameel Sewell
, and nobody on the roster but
Marc Verica
has experience. Maryland's
Jamarr Robinson
has two starts ahead of the competition. Some schools, like North Carolina and Boston College, have experienced starters returning, but have welcomed an audition from the backups. At NC State and Clemson, the position's future depends on whether or not starters
Kyle Parker
and Wilson decide to pursue their baseball careers.
"My goal is to prepare to be the starter, regardless of what decision [Wilson] makes, whenever he has to make a decision," Glennon said. "… Once spring comes around, I'll be getting all of those extra reps I wouldn't have been given if he was there. Every ball I throw is really an advantage to me."
Florida State is the only school in the Atlantic Division without any questions about who the starter is, as
Christian Ponder
will return from a shoulder injury and has the potential to factor into the Heisman race. The Coastal Division is a little more secure, with Georgia Tech's
Josh Nesbitt
, Miami's
Jacory Harris
, and Virginia Tech's
Tyrod Taylor
all established and on the brink of their best seasons yet. Whether or not that gives them an edge in the conference race will depend upon how quickly the league's rookies can catch up.
"It's always difficult to replace a guy who had the ability [Lewis] had," said Duke offensive coordinator and quarterbacks coach Kurt Roper. "He's obviously very, very talented, and then the experience factor. You don't have a four-year starter very often ever at many positions, especially at quarterback."
Boston College is in a much better position than it was this time a year ago, as the staff had no idea who its quarterback would be until 25-year-old
Dave Shinskie
arrived on campus. Shinskie is the front-runner heading into the spring, but
Mike Marscovetra
and two true freshmen -- Chase Rettig and Josh Bordner -- are on campus and will be given a chance.
"I think there should always be competition," said offensive coordinator/quarterbacks coach Gary Tranquill. "It's Shinskie's job, and if they can unseat him, then they can unseat him."
Duke's quarterback depth took a hit after Lewis graduated and his backup,
Sean Renfree
, tore his ACL. Renfree is expected to be the Blue Devils' starter this fall, but he will miss all of spring drills while he recovers.
Next man up? Schroeder.
"I'm expecting to really get a hold of the offense," he said. "I've got a year under my belt as a redshirt freshman. That helped a lot. I'm looking to grow from that and master the offense and different schemes we have."
Wake Forest has to replace the winningest quarterback in school history in Skinner. Truth is, there really is no front-runner. Not when the most experienced player,
Ted Stachitas
, has one series against Elon to fall back on.
"It is legitimately wide open," said quarterbacks coach Tom Elrod.
The contenders include
Skylar Jones
, who was moved to wide receiver last year; Stachitas, who has had two shoulder surgeries on his right shoulder but said he feels almost 100 percent;
Brendan Cross
; walk-on
Turner Faulk
; and true freshman Tanner Price.
"I can't tell you that I'm very confident, just because we haven't seen the guys in live fire," Grobe said. "I don't know that we'll feel good about them until they get a real game under their belt. I like what we've got – I like the kids who are playing quarterback for us, but even in practice and the scrimmages, it's just really hard to tell who the guys are until they get out in games that really mean something."
The one thing Grobe can take some solace in? He's hardly alone this spring in the ACC.
September, 13, 2009
9/13/09
4:44
PM ET

Posted by ESPN.com's Heather Dinich
Boston College quarterback
Dave Shinskie
didn't watch Thursday night's game between Clemson and Georgia Tech, even though the Eagles will travel to Death Valley to face the Tigers in their first ACC game of the season on Saturday.
It's hardly as if Shinskie was the only one on the team who ignored the prime-time game, and coach Frank Spaziani was hardly surprised to hear it.
| | |
| --- | --- |
| | |
| | AP Photo/Lisa Poole |
| | Frank Spaziani's Eagles have outscored their first two opponents 88-7. |
"Well, I asked him not to watch it," Spaziani said. "It doesn't surprise me that they listened to their coach. It's a distraction. We have had everybody, ever since the summer, talking about the third game of the year before we played our first two. We hadn't played No. 2 yet, and there was still a lot of talk about Game No. 3. We usually like to watch the Thursday night game, it was just bad timing that it was Clemson."
Now, after outscoring their first two opponents 88-7, Clemson is all they're watching. Granted, Boston College's first two wins against Northeastern and Kent State were somewhat expected, considering the first was an FCS program and the second a 4-8 team in the MAC a year ago. But the Eagles, which were predicted by the media this summer to finish last in the Atlantic Division after winning it the past two seasons, have looked more promising despite the many questions the team faced heading into September.
Remember, this is a team that entered the season without a quarterback with any collegiate experience. There was a staff overhaul that included promoting Spaziani from defensive coordinator to head coach, and hiring Gary Tranquill as offensive coordinator. Two NFL draft pick defensive tackles had to be replaced, as did the entire linebacking corps after standout Mark Herzlich was diagnosed with cancer, and leader Mike McLaughlin has been sidelined with an Achilles injury. It seemed as if they couldn't catch a break this offseason.
And yet the Eagles enter this week 2-0.
Asked if he has any sense of what this team is capable of this year after its commanding start, Spaziani didn't hesitate when he said, "no."
"Nope," he said. "This is a real, real young squad in a lot of ways, with a new staff and a new system. I'm not sure. It's going to take four or five more weeks before we know really what kind of football team we have. We've got good kids, I'll tell you that. We've got good kids who know how to work."
| | |
| --- | --- |
| | |
| | Michael Tureski/Icon SMI |
| | Dave Shinskie has thrown one TD pass in each of BC's first two games. |
Led by a veteran offensive line, Boston College's offense has steamrolled its opponents, despite not knowing who its starting quarterback will be this season. The running game, led by
Montel Harris
, has flourished, and both quarterbacks,
Justin Tuggle
and Shinskie, have had their moments. There has only been one turnover so far -- an interception by Shinskie against Kent State. Spaziani said Sunday they're still evaluating the position and that "there's not a great deal of separation."
"Me and Justin, we're going at it at practice every day and in the games, and we've both been successful," Shinskie said. "It's been fun so far. We back each other up every week, we back each other up every series. When Coach Spaz makes a decision and gives the nod to one of us, I'll be happy for him, he'll be happy for me. Whatever works out."
While they might not yet know where their place is in the Atlantic Division, or who their quarterback will be on Saturday, or how the young defense will fare against the veteran talent and speed of Clemson, the Eagles have definitely learned a few things about themselves in the first two weeks.
"We've learned that we can overcome adversity, in losing some guys on defense and having no quarterback," Shinskie said. "By working hard we've overcome all the stuff people have said about us in the beginning of the year. I mean, they expected us to win these first two games, but we're going to work hard this next week and the week after. We're looking one game at a time and this Clemson game is the biggest game of the year so far.
"We might have to work a little harder than we did the past two weeks," he said, "but that's what BC football is all about -- overcoming adversity and working hard."
And in that respect, the Eagles are also 2-0.
Posted by ESPN.com's Heather Dinich
It's almost Friday -- almost ...
Boston College offensive coordinator Gary Tranquill has been around the game so long he can't remember if it's his 46th or 47th season, but in all that time, he's never dealt with so many untested quarterbacks like he has this spring.
It's not often sports reporters cover an athlete for the duration of their careers, but I've been following cornerback Kevin Barnes since he was in high school at Old Mill and I was a preps reporter for the Washington Post. Now, the kid who laid out the gut-wrenching hit on Cal's Jahvid Best (literally) is the Terps' second-best shot at being drafted on Saturday.
Miami just hasn't been the same since it joined the ACC, and tonight will be a reminder of how good it once was. Miami plans on inducting a few of its athletes into its Hall of Fame -- that is, if they believe the woman who told them they're in.
NC State coach Tom O'Brien told Wolfpack fans he knows his program has to "live up to the expectations." No doubt they're higher in his third season.
Here are 10 questions for Virginia's football team, and Al Groh and his quarterbacks give the answers.
March, 5, 2009
3/05/09
9:48
AM ET
Posted by ESPN.com's Heather Dinich
Good morning, ACC fans. Amazingly, we survived February with no college football. March is when 10 of the 12 schools begin spring practice, with Miami having already started, and Virginia Tech waiting until April 1. We've taken a look at what to watch for each team during spring football, but there are a few overriding themes to keep an eye on throughout the entire conference this spring. We've touched on some of these in individual posts, but here it is wrapped up with a little spring bow:
1. New coordinators -- Boston College, Clemson, Miami and Virginia all have them, on both sides of the ball. BC should have a smooth transition on defense, because coach Frank Spaziani was previously defensive coordinator and promoted linebackers coach Bill McGovern. But how involved Spaziani will be remains a question. The Eagles will have to get used to first-year offensive coordinator Gary Tranquill, and could have a new starting quarterback. Clemson's offense will be interesting to watch unfold under Billy Napier, who was promoted from recruiting coordinator. Jacoby Ford said he thinks they're going to let loose a little bit, but the Tigers have the benefit of familiar faces on that side of the ball. The biggest question marks are at Miami and Virginia, where there are some serious expectations for improvement.
2. Backup quarterbacks -- The importance of these guys just can't be underestimated, and Virginia Tech could attest to that last season when their top two quarterbacks were both injured at Florida State. This spring, it will be an area of big competition at almost every school, particularly Miami, Maryland, North Carolina, Virginia Tech, Wake Forest and Duke. Backups either transferred or quit at Miami, Maryland and Wake Forest.
3. Third-year coaches -- Butch Davis, Tom O'Brien and Randy Shannon. The progress watch has begun. All of these coaches took an important step last year and won more games than they did in their first season, but the next step -- contending for their division titles -- is more difficult. Both Davis and Shannon, at some point last year, were in the mix to win the Coastal Division. O'Brien has a little bit further to go, but the team's success at the end of the season was something to build on.
4. Running backs and wide receivers -- For different reasons, these are the two positions to keep an eye on offensively in the ACC. Many of the league's top receivers from a year ago are gone, but the talent at running back runs deep at a lot of schools.
5. The next defensive superstar -- Who is it going to be? Macho Harris is gone at Virginia Tech, as is the ACC's leading tackler, Michael Tauiliili of Duke. Everette Brown, Trimane Goddard, Michael Hamlin, Clint Sintim, Jon Copper, Aaron Curry, Alphonso Smith -- a lot of big names on defense have to be replaced. The ACC's Defensive Player of the Year returns in Mark Herzlich, but who will challenge him for that title this year?
January, 25, 2009
1/25/09
2:14
PM ET
Posted by ESPN.com's Heather Dinich
Considering the time crunch he was under, Frank Spaziani's first hire as head coach was a respectable one.
Not only did he bring in someone with head coaching experience, Spaziani also brought in a longtime friend in Gary Tranquill. Those two intangibles should help make the coaching transition a smooth one. The two were assistants together on George Welsh's staff at Virginia in 1990, and both coached at Navy during the 1970s.
Tranquill, who had retired after the 2005 season as offensive coordinator at North Carolina, brings a wealth of coaching experience to Chestnut Hill, and has spent plenty of time in the ACC, with stops at Virginia, Virginia Tech and UNC. He also brings NFL experience, and worked with Bernie Kosar and Vinnie Testaverde. The one thing he doesn't bring is a lot of winning records. Tranquill was a part of five winning seasons during his 12 years as an offensive coordinator at the collegiate level.
The biggest question hanging out there is Tranquill's age and the fact that he has already retired -- twice. For a staff desperately seeking stability, it's hard not to wonder if Tranquill, 68, will stick around long enough to see a full recruiting class through. He turns 69 in April, and yes, other coaches will use his age against BC in recruiting. This hire reminds me a lot of Joe Paterno's hire of Galen Hall, and -- surprise -- they're both still there.
As for his work on the field, let's let the numbers tell the story. Here is how UNC fared during Tranquill's time there:
UNC's Numbers During Gary Tranquill's Tenure
Year
Record
Points Per Game
Yards Per Game
2001
8-5
26.8
366.8
2002
3-9
18.6
369.1
2003
2-10
26.4
394.3
2004
6-6
26.6
390.7
2005
5-6
18.0
315.7

Wide receivers coach Ryan Day was reported by The Boston Globe to had been a favorite to take over as offensive coordinator. Will he stick around after being passed up for the job he wanted, like Jack Bicknell Jr. did, or will Spaziani have yet another coach to replace with signing day less than two weeks away? Spaziani still has to fill the defensive coordinator spot and offensive line position.
TOP 25 SCOREBOARD
Saturday, 12/21
Monday, 12/23
Tuesday, 12/24
Thursday, 12/26
Friday, 12/27
Saturday, 12/28
Monday, 12/30
Tuesday, 12/31
Wednesday, 1/1
Thursday, 1/2
Friday, 1/3
Saturday, 1/4
Sunday, 1/5
Monday, 1/6
TOP PERFORMERS