NCF Nation:

Gators-Bulldogs-102712
October, 27, 2012
10/27/12
11:02
PM ET
JACKSONVILLE, Fla. -- Well after
Aaron Murray
's final kneel-down and Florida fans had cleared their side of EverBank Field, Mark Richt tried to absorb every moment he could before such a special night had to end.
He spent nearly 15 minutes on the field, clapping and cheering as he hiked from midfield to both end zones to acknowledge the handful of Georgia fans who stuck around to celebrate into the night.
He was ready to put them on his back and carry them to The Landing, but he would have had to make room for his defense first. The unit deserved a real victory lap.
After hearing the word "soft" basically become synonymous with Georgia's defense, the Bulldog defenders put Georgia directly into the SEC Eastern Division driver's seat with a dominating performance against a Florida team that had prided itself on pounding opponents with its running game.
All that soft talk quickly vanished after the Bulldogs repeatedly left the Gators' offense in reverse and forced six turnovers in Georgia's
17-9 victory
. The defense felt disrespected this week and was out to prove that it was ready to do all the pushing Saturday.
"As a man, you're going to take the personally," linebacker
Jarvis Jones
said of Georgia's defense being labeled as soft. "I took it personally, they took it personally. We came out here to show everybody that we have a great defense and we can execute and be one of those teams leading the nation in defense."
This all started with senior safety
Shawn Williams
calling the defense's play soft after that lackluster win over Kentucky. He was right, and every talking head on just about every sports platform backed him up and expanded on Georgia's softness.
[+] Enlarge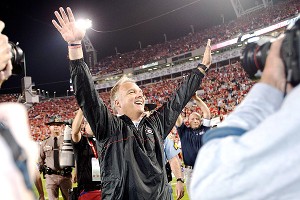 Kevin Liles/US Presswire After suffocating Florida, Mark Richt's Georgia squad can smell another trip the SEC title game.
It was hard not to after the defense's recent performances. It was gutted for 478 yards and 37 points against Tennessee, and South Carolina punched it in the mouth; it didn't respond and Kentucky, which hadn't done much of anything right on offense all season, ran for 206 yards on the Dawgs.
"Shawn said what everybody else was already saying," Richt said. "It bothered them enough to get after it."
All that soft chatter obviously struck the right nerve, because Georgia's defense came out inspired from the jump, as every hit looked to be delivered harder, faster and more fiercely as the game continued.
With the offense stalling just about every time it got the ball, the defense had its back with crucial stops and by creating favorable field position. For the first time in a while, the defense carried the offense.
Florida quarterback
Jeff Driskel
was either running for his life or being drilled into the ground, mostly by Jones, who had a stellar performance with 13 tackles (12 solo), 4.5 tackles for loss and 3 sacks.
The only thing soft about Georgia's defense was how Jones was constantly helping up the Florida players he left battered and bruised Saturday.
This team was challenged all week and basically counted out. Wide receiver
Malcolm Mitchell
knew people were jumping off Georgia's bandwagon, and it motivated players.
"We knew that. We're not clueless on what's going on with the media," said Mitchell, whose 45-yard touchdown reception gave Georgia its final points. "We knew most people were rooting against us, so we wanted to come out and show we could fight. We got the term 'soft' all week -- ESPN calling us soft -- so we just wanted to come out and show that we ain't soft. We're men just like they're men. They weren't born any different than us."
They liked being looked down upon.
"I love it when people doubt us or are talking trash because it fuels me inside to play even better and shut them up and prove that we were a great defense, we know what we're doing and we're not soft," linebacker
Jordan Jenkins
said.
The Gators couldn't run (81 net yards) and really couldn't move comfortably all day, averaging 3.9 yards per play. And when Florida found some sort of rhythm on its potential game-tying drive in the fourth, Jones was there to steal its thunder with a sneaky forced fumble on
Jordan Reed
before he attempted to hurdle into the end zone.
"I think they call it 'violators,'" Jones said with a smile. "He was a violator, so I went after it."
Now, everyone is back to going after the Bulldogs. Wins over Ole Miss and Auburn will send Georgia back to Atlanta for the second consecutive year. We were ready to hand the East to the Gators, and now it's the Bulldogs' to lose.
They can thank their defense for that.
"That defense you saw tonight is the defense we'll be for the rest of the season," Jenkins said.
October, 27, 2012
10/27/12
7:45
PM ET
The main storyline that will come out of this year's edition of the Georgia-Florida rivalry is ugliness. Saturday's four-hour marathon was a grinding affair of turnovers and penalties -- an absurd amount of both of them. But it's safe to say nobody wearing red and black will care much, as the Bulldogs slogged their way to a
17-9
win -- their first back-to-back wins against Florida since 1988-89 -- and pole position in the SEC East championship race.
Here's how it played out in Jacksonville, Fla.:


It was over when:
Georgia linebacker
Jarvis Jones
stripped Florida tight end
Jordan Reed
on the Bulldogs' 5-yard line with two minutes to play. Georgia recovered in its own end zone and subsequently ran the clock out. The turnover denied the Gators an opportunity at a first-and-goal and a potential game-tying touchdown and two-point conversion.
Game ball goes to:
Much was made of how badly the Bulldogs needed Jones to step up after he missed the narrow win against Kentucky. Suffice to say Jones got the memo. He almost single-handedly mauled the Florida offense, as he finished with 13 tackles, 3 sacks, 2 forced fumbles and 2 fumble recoveries. It was only fitting that Jones made the play that preserved the win.
Key play:
The Georgia passing game delivered one of its only big moments when it absolutely had to, at the midpoint of the fourth quarter.
Aaron Murray
beat a Florida blitz on third-and-5 to find wide receiver
Malcolm Mitchell
on a 7-yard curl route. Mitchell shook off Florida cornerback
Loucheiz Purifoy
and beat three other tacklers on the way to a 45-yard touchdown and a 17-9 lead. Mitchell's big moment came just two plays after he was hit with a costly unsportsmanlike conduct penalty.
Key play part II:
Trailing 7-6, Florida faced a second-and-goal from the Georgia 5-yard line with 17 seconds until halftime. The Gators had the opportunity to take a lead with either a touchdown or a field goal, but Driskel rolled to his right and fired across his body into end zone traffic. Georgia safety
Bacarri Rambo
nabbed it for an interception to preserve the Bulldogs' slim advantage. It was perhaps the most costly of Driskel's mistakes in an uncharacteristic game for the young quarterback.
Key stat:
The game saw a staggering total of nine turnovers -- six by the Gators, three by the Bulldogs. Georgia converted just 1 of 11 third downs. Perhaps the most amazing stat: The referees threw a total of 24 flags during the 60 minutes of game play. Georgia drew 14 flags for 132 yards; Florida earned 10 for 95 yards.
Key stat part II:
Florida entered the game averaging 212 rushing yards per game. Georgia's defense limited the Gators to just 81 yards on 41 carries, while Bulldogs running back
Todd Gurley
racked up 124 yards and a touchdown on 27 carries.
What it means:
The Bulldogs now become the favorite to claim a second consecutive SEC East title and advance to the SEC championship game in Atlanta. All is not lost for Florida, however. The Bulldogs must still face Ole Miss next week, and their annual rivalry game against Auburn comes on the road in two weeks. If the Gators can hold serve against Missouri, there is still some hope of a division title.
October, 27, 2012
10/27/12
3:36
PM ET

Edward Aschoff and Gene Wojciechowski discuss the Florida-Georgia matchup.
October, 27, 2012
10/27/12
2:48
PM ET
JACKSONVILLE, Fla. -- Greetings from EverBank Field, where No. 2 Florida is set to take on No. 10 Georgia.


There's a big party going on outside the stadium, and there figures to be a pretty big one inside here shortly.
This is one of the great rivalries in college football, and the SEC East is at stake today. Florida takes the division with a win, while the Bulldogs are firmly in the driver's seat with a victory. Both teams despise each other, so just imagine the emotions that will be flowing for the winner.
The weather will be interesting to monitor today. Hurricane Sandy is slowly moving up the East Coast, and it's bringing some pretty strong wind gusts through Jacksonville. That could be a bad thing for both quarterbacks, so expect to see a lot of running for both squads. Florida's been excellent running the ball this season, while the Bulldogs have really struggled stopping the run game in the past few games.
For the first time in a while, the Gators have the pressure on them, while the Bulldogs are up against the wall again. Florida hasn't been in this situation in two years, and Georgia worked its way out of an 0-2 start last season. It'll be interesting to see how both sides handle today.
The Georgia fans haven't shown a ton of confidence around here, but one die-hard fan is hoping that luck and history are on his side. Blake Nealey showed up today in an aged red polo covered with little Bulldog heads and Georgia G's. When he wears the shirt to a Georgia game, the Bulldogs are 6-1, with that lone loss coming against Auburn in 2010.
Cam Newton was in charge of that Auburn team, and he isn't in the building today ...