NCF Nation:

Gators-Tigers-100811
October, 8, 2011
10/08/11
10:11
PM ET
BATON ROUGE, La. -- Things should have been worse.
A lot worse.
LSU dominated all aspects of Saturday's
41-11
drubbing of Florida in front of the third-largest crowd (93,022) ever in Tiger Stadium.
Had the Tigers not momentarily called off the dogs in the third quarter, Florida's wounds might be impossible to lick.
Despite giving up just 213 total yards to the Gators, LSU linebacker Ryan Baker said the defense was upset that Florida scored at all.
"In a way, guys were upset that we actually gave up some points," said Baker, who had five tackles Saturday. "Every time we come into a game, we feel like we can shut a team out."
That might seem a bit arrogant, but he's right. If not for an uncharacteristic mistake by cornerback Morris Claiborne on
Andre Debose
's 65-yard touchdown reception, Florida wouldn't have gotten in the end zone. If not for the LSU defense's failure to adjust to Florida's Wildcat on its final drive of the first half, the Gators wouldn't have made it into the scoring column.
[+] Enlarge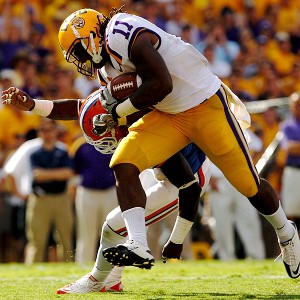 Chris Graythen/Getty ImagesSpencer Ware had 110 yards and two touchdowns on 24 carries as LSU ran over Florida.
These two teams -- really the programs in general -- are on completely different levels right now.
LSU is on pace for another double-digit win total behind a beastly defense and its efficient, pound-it-on-the-ground offense. Florida is fading with five stars.
LSU has confidence seeping out of its ears, while Florida looked out of this one after
Rueben Randle
's 46-yard touchdown catch less than four minutes in.
LSU is tough. Florida just isn't.
When Claiborne looks at his teammates, he doesn't see hesitation in their play or anyone holding something back. They go 100 percent, every down, every chance they touch the field.
"I sit back and watch the confidence that we have on defense and it's amazing," Claiborne said.
"You gotta have confidence. You have to feel like you're the best on the field. Each 11 guys that are on the field, they feel like they're the best and we go and play like it."
It's not just the defense. LSU's offense overpowered the Gators with its running game, getting 238 yards, with
Spencer Ware
collecting 109 of those and two touchdowns.
But after LSU's offense stalled in the third quarter, quarterbacks
Jarrett Lee
and
Jordan Jefferson
injected some life into the Tigers with touchdown drives of 81 and 76 yards.
LSU exacted its will on Florida and its gang of highly recruited, maybe highly overrated, high school All-Americans.
"We pay no attention to stars whatsoever," Claiborne said.
When asked about facing Florida's defensive line, LSU offensive lineman Will Blackwell said he was impressed and expects a lot of improvement, but it's not there yet and LSU was more than ready for it.
"We face a D-line that's as good, if not better, every day," Blackwell said. "They're going to be good, but we had a good day today and got the best of them.
"It's a different game now. This isn't high school anymore. It's Division I, SEC football."
And LSU clearly knows that. LSU also clearly has the talent to not only play lights-out but have fun, too. There was Brad Wing's foolish taunt, Tyrann Mathieu's honey badgering and that jump pass that must have eaten Gator Nation up inside.
This team is businesslike, but it knows when to clown around at the appropriate times.
"It's like backyard football," Baker said. "Anytime someone comes into your backyard, invades your space, you have to give them your best that day, but at the same time you want to keep it fun."
When you look at these two teams, you see polar opposites. Florida has taken a step back in the past two seasons, getting outscored by Alabama and LSU 143-56 in the process. LSU, meanwhile, is a national darling.
It won 11 games last season with a team that struggled on offense, but made teams suffer with its defense. This season, the offense is improved, but not great. However, the defense is just plain scary, there is no letup and the mistakes are either limited or almost nonexistent.
Those characteristics are what make this team special.
"I like the idea that we've played quality opponents and had the earnest to really gain the advantage and then withhold the opportunity to let them recover, especially in the beginning, and we did that," LSU coach Les Miles said.
October, 8, 2011
10/08/11
7:04
PM ET
BATON ROUGE, La. -- We are finally down done here and LSU is done with its domination of the Gators with a
41-11
performance.


The Tigers used a stout running game led by
Spencer Ware
and a suffocating defense to send Florida home with its second straight loss.
Florida's offense went nowhere fast, starting true freshman
Jacoby Brissett
for the injured
John Brantley
and
Jeff Driskel
. While Brissett didn't do a lot of throwing Saturday, he did connect with
Andre Debose
for a 65-yard touchdown.
But that wasn't nearly enough as LSU just had its way with Florida's offensive and defensive lines. LSU became the second straight opponent to put up more than 200 yards rushing on Florida's defense and Ware and
Alfred Blue
combined for three touchdowns on the ground.
The Tigers seemed to call off the dogs in the third, but came revving back in the fourth with 14 more points.
October, 8, 2011
10/08/11
6:06
PM ET
BATON ROUGE, La. -- Are my eyes deceiving me or has the 2010 Florida offense entered the building?
We thought we were through with the in-game quarterback rotation in Florida's offense, but it has reared its ugly head inside Tiger Stadium today.
Shocker: It's not working.
Florida has used
Chris Rainey
and
Trey Burton
in the wildcat formation on first and second down and then inserted Jacoby Brissett, a true freshman throwing his first college passes today, on third-down situations. That didn't work for
John Brantley
when he was junior and it certainly isn't working for Brissett.
LSU has just dominated Florida's offensive line and isn't really giving Brissett anything in the passing game on long downs.
Florida's offense hasn't done much today, but it's going backward with this plan.
October, 8, 2011
10/08/11
5:42
PM ET
BATON ROUGE, La. -- It's felt like hours, but we're finally at halftime here at Tiger Stadium with
LSU leading Florida 24-3
.


Stat of the half:
Florida's front seven was gutted by
Trent Richardson
and Alabama's running game for 226 yards a week ago. Today, LSU is looking to duplicate that effort after pounding away at Florida's front seven on the ground. The Tigers entered the half with 128 yards and two touchdowns by
Spencer Ware
. Ware leads all rushers with 63 yards on 12 touches. LSU has eight more rushing yards than Florida has total yards at the half.
Best call:
With LSU up 14-0 in the first, Les Miles reached under his magical hat and pulled out a fake punt after back-to-back 5-yard penalties on the Tigers. Florida's punt unit tore away from the line as fast as it could, leaving nothing but green grass for LSU punter Brad Wing. Instead of punting, Wing sprinted down the left side of the field 54 yards and into the end zone. However, the touchdown was negated after he foolishly flashed the ball to a Florida defender, triggering a personal foul call for taunting.
What Florida needs to do:
The Gators' offense came alive on its last drive once bruiser
Mike Gillislee
started getting the ball. Honestly, he should have gotten the ball from the start with his size and strength. Outside runs with small backs like
Jeff Demps
and
Chris Rainey
aren't working, so continue to hand the ball off to Gillislee. Also, let
Jacoby Brissett
throw the ball. He has thrown a couple of nice balls here and there, but Charlie Weis should give him more chances to throw the ball around if Florida wants a shot at getting back in this game.
What LSU needs to do:
The Tigers just need to run the ball. There is no point in throwing the ball too much to risk turnovers. This game is very much in LSU's hands right now, so there is no point in letting the Gators creep back into this game. Putting more pressure on Brissett will certainly help that as well.
October, 8, 2011
10/08/11
4:33
PM ET
BATON ROUGE, La. -- Florida's front seven was supposed to keep the Gators in this one, but it didn't even come close in
the first quarter
.
LSU just sliced and diced Florida's defense with running backs
Spencer Ware
and
Alfred Blue
, who combined for 61 yards and a touchdown on 10 touches.
On Ware's first couple of touches he just seemed to bounce right off of Florida defenders. It looked unfair at times.
Florida's front seven was carved up by Alabama's
Trent Richardson
last week, and it hasn't had a great start to this one either, which could spell doom for a team struggling to move the ball on offense.
In other news, we saw yet another Les Miles classic on a fourth-and-long. Punter Brad Wing looked like he was all set to punt and as Florida dropped way back into coverage, Wing just calmly sprinted down the left sideline. He even showboated a little before the end zone, extending the ball out to taunt a Florida player. Because of the new taunting penalty, that touchdown was negated, enraging the Tiger faithful.
But it might not matter at this point. Sure, a punter scoring is a fun story for the grandchildren, but LSU settled for a field goal to go up 17-0 shortly after the second quarter started and with the offense Florida has today, 17 might be enough.
October, 8, 2011
10/08/11
3:49
PM ET
BATON ROUGE, La. -- There are a couple of changes to LSU's depth chart today.
Will Blackwell will move from right guard and start at left guard in place of T-Bob Hebert for the Tigers today. Hebert is expected to play, but won't start on the line today.
With Blackwell moving over to left guard, Josh Williford will start in his place at right guard.
LSU kicker James Hairston will wear No. 30 today instead of his regular No. 38.
The Tigers have just run out of the tunnel and things are definitely rocking inside Tiger Stadium. These fans and players have something special for Florida freshman quarterback
Jacoby Brissett
, who is making his first career start and will throw his first career passes today.
LSU won the toss and will defer to the second half. Florida has elected to receive, meaning we will see Brissett right from the start for the Gators.
It is around 86 degrees, but there is a slight breeze and the humidity is 51 percent.
October, 8, 2011
10/08/11
3:23
PM ET
BATON ROUGE, La. -- Hello, from the
real
Death Valley!
The speculation as to which freshman quarterback would get the start for the Gators appears to be over.


According to a report by
The Orlando Sentinel
, true freshman
Jeff Driskel
will miss today's game with an ankle injury and classmate
Jacoby Brissett
will get the start in his place.
Earlier this morning, word from Florida's camp was that both freshmen could get snaps today. Now, it seems as though just one of them will.
Florida's offense is warming up as we speak and Driskel isn't dressed or taking snaps with Brissett or redshirt freshman
Tyler Murphy
. The offensive players have been talking with Brissett and giving him some extra love during warmups, probably looking to give him some extra encouragement.
Did we mention he has yet to take a snap this year?
Both quarterbacks have thrown the ball well so far, but there hasn't been any pressure in their faces. Well, outside of a very, very focused Charlie Weis who is eyeballing these two like a hawk on the field.
After talking with a couple Florida people up here, there could be some new wrinkles in this Florida offense today. I say keep it simple with the young guns, but some trickeration might throw the Tigers off a little bit. The Gators are going to need to do a lot of new things to frustrate this LSU defense ... a lot.
It doesn't help that LSU's student section is extremely fired up. These guys were out in full force inside Tiger Stadium a couple of hours before game time and were really giving it to Florida's young quarterbacks.
Mike the Tiger is making his way around the stadium, which is always pretty cool. One reporter said she wanted to pet him. Yeah, at your own risk. Still, I wonder if he'll be doing postgame interviews after the game.
It's a sea of yellow down there and there is a slight breeze. What a great atmosphere for football.