NCF Nation:

Gators-Vols 091512
September, 16, 2012
9/16/12
1:45
AM ET
KNOXVILLE, Tenn. -- Florida coach Will Muschamp, who played at Georgia and worked as defensive coordinator at LSU and Auburn before replacing Urban Meyer as the Gators' coach, knows a thing or two about playing and coaching in the SEC.
And after the Gators went 7-6 in his first season as a head coach in 2011, Muschamp knew his program needed an attitude adjustment.
"I do know a little bit about this league," Muschamp said Saturday night. "You can't win in this league if you can't run the football."
Tell that to Tennessee.
The No. 18 Gators ran for 336 yards, including 250 in the second half, to run away with a 37-20 victory over the No. 23 Volunteers in front of a sold-out crowd of 102,455 fans at Neyland Stadium. It was Florida's eighth consecutive victory over the Volunteers and 16th in their last 21 meetings.
For Mark Schlabach's full column, click
here
.
September, 16, 2012
9/16/12
1:31
AM ET
KNOXVILLE, Tenn. – Good thing the Knoxville Police Department put out that warning earlier in the week about fans rushing the field at Neyland Stadium.
The next time, somebody might want to instead put out a warning about expecting a different ending to a movie we've all seen over and over again for much of the last decade.
In this case, it's eight years and counting.
That's how many times Florida has beaten Tennessee in a row after the latest flop on Rocky Top,
a 37-20 romp
by the Gators on Saturday night that spoiled what the Vols had hoped would be their breakout party.
The buildup was as loud as Tennessee's shade of orange.
ESPN's "College GameDay" was in the house. The Vols were ranked nationally for the first time since the beginning of the 2008 season, and Tennessee defensive end
Darrington Sentimore
even went semi-Joe Namath on us earlier in the week when he said, "I think people want to wait and see how we do against Florida, but I'm here to tell them that we're going to beat them."
For a while, it looked like Sentimore might be a prophet and that the Vols would make the splash they were looking for on this big stage.
But a 20-13 Tennessee lead midway through the third quarter turned into one big Gator-chomping party. Florida reeled off 24 unanswered points to rudely remind the Vols of their place in this rivalry, which really hasn't been much of a rivalry at all for a long time.
Since the SEC's divisional split in 1992, Florida has won 16 of the 21 meetings between the schools.
"They're front-runners. They talk a lot," Florida running back
Trey Burton
said of the Vols. "As soon as we got up, their fans started leaving. It's a big win for us."
Indeed, the anticipated rush of the field became a rush of the aisles, as frustrated Tennessee fans scurried to the exits.
Afterward, the Vols' coaches and players sounded equally frustrated. They talked about crumbling under the pressure, not responding to adversity, not making the proper checks on defense and being confused at times by what the Gators were doing on offense.
[+] Enlarge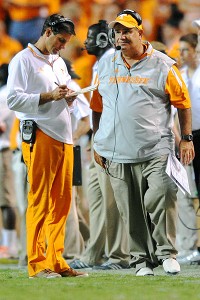 Randy Sartin/US PresswireCoach Derek Dooley and the Vols brain trust couldn't find any answers during the second-half meltdown.
"Once you get in the heat of battle and once adversity hits, you've got to respond to adversity and not crunch under adversity, and that's what we did," Tennessee linebacker
Herman Lathers
lamented.
The Vols' defense was torched for 555 total yards, including 336 rushing. Burton's 80-yard touchdown run out of the Wildcat package tied the game at 20-20. Then came a three-play, 70-yard drive by the Gators with
Jordan Reed
catching a 23-yard touchdown pass from
Jeff Driskel
.
The Gators' third touchdown in the decisive spree was
Frankie Hammond
gathering in a short toss when the Vols came on a corner blitz and then sprinting through the Tennessee secondary for a 75-yard touchdown.
"You can't give up those in this league and expect to win the football game. You just can't," said Derek Dooley, who dropped to 0-11 against nationally ranked teams as Tennessee's coach.
The truth is that the Vols didn't do much of anything it takes to win in this league.
Getting gashed for 336 rushing yards is one thing. But the Vols looked slow in trying to recover when they were out of position, and there were more than a few orange-shirted players with their hands hanging for much of the fourth quarter.
"We've got to go to work on that and keep guys motivated for 60 minutes," Tennessee cornerback
Prentiss Waggner
said.
It wasn't all on the Tennessee defense, either.
The Vols melted on offense after Florida tied the game at 20-20. They managed just five total yards in the fourth quarter. Quarterback
Tyler Bray
, who threw a pair of touchdown passes in the first half, was 1-of-10 in the fourth quarter and wasn't helped much by his two star receivers.
Cordarrelle Patterson
couldn't pull in a deep pass down the left sideline that might have been a touchdown, and
Justin Hunter
dropped one over the middle on the next possession that would have been a first down.
"It looked like we lost a little juice at the end, on both sides," Dooley said. "When the ball broke out, it looked like we were lumbering on both sides."
The Vols also seemed to panic in the play-calling department. They had 67 rushing yards at the half, but forgot about trying to run the football in the second half. In fact, after Florida tied the game at 20-20, Tennessee threw the ball on 11 of its next 13 plays.
"We weren't responding well," said Bray, whose intentional grounding penalty after the Vols snuffed out a Florida fake punt in the third quarter was when the game turned in the Gators' favor.
"We knew that we were going to be the ones that stopped us. We just fell apart."
Dooley did his best to emphasize that it was just one game. But this was more than just one game for the Vols, who get Akron at home next week before starting a grueling stretch that includes away games at No. 7 Georgia, Mississippi State and No. 9 South Carolina and a home game with No. 1 Alabama.
Nope, this was a chance for Tennessee to make some real noise with the rest of the country watching and serve notice that the Vols were at least on their way back.
The only thing they're back to is the proverbial drawing board, and Dooley didn't sound like he had a lot of answers.
"We felt like we were equipped to go toe-to-toe with them for four quarters," Dooley said. "There's no excuses. We didn't get it done and give Florida the credit. They did what they needed to do. I don't know what else to say."
September, 16, 2012
9/16/12
1:29
AM ET
KNOXVILLE, Tenn. --
Jeff Driskel
is only two weeks into his job as Florida's starting quarterback, but there shouldn't be any remaining doubts that he was the right choice.
Not after what he's done in back-to-back road games at Texas A&M and Tennessee. He played as well as anyone -- even his head coach -- could have hoped and has proven that he's more than just a game manger. He's someone who can carry the Gators (3-0, 2-0 SEC) when needed.
Which is pretty significant considering Florida's challenging October schedule.
"Driskel is definitely improving," buck linebacker
Lerentee McCray
said after
Florida's 37-20 victory over Tennessee
in front of 102,455 at Neyland Stadium on Saturday night. "He made some plays, and I was like, 'Wow. I didn't know he could do that.' He definitely impressed me."
Driskel went 14-for-20 for a career-high 219 yards and two touchdowns against the Vols. But it was more than his passing numbers that impressed everyone. It was the way he handled himself on the road in an environment that was even more hostile than what he experienced at Texas A&M. He didn't turn the ball over and didn't take a sack one week after getting sacked eight times.
Read the rest of the story here
.
September, 15, 2012
9/15/12
10:01
PM ET
Call it a happy case of déjà vu for No. 18 Florida. The Gators went into an electric atmosphere and fell behind to a motivated opponent for the second straight weekend. And for the second straight weekend, the Gators made some halftime adjustments and roared to a second-half win. With a surprising 555 yards of total offense, Florida's
37-20 victory
over No. 23 Tennessee on Saturday night was a bit more explosive than the defensive slugfest against Texas A&M.


Here's how the Gators overcame their SEC East rival for the eighth consecutive season:
It was over when:
Florida quarterback
Jeff Driskel
beat a blitz to hit wide receiver
Frankie Hammond
for a 75-yard touchdown in the fourth quarter. The score gave the Gators 21 unanswered points in the second half and put them up 34-20 with just 10 minutes to play in the game.
Game ball goes to:
Driskel continued his rapid maturation as the Gators' starting quarterback in front of a packed house at hostile Neyland Stadium. The sophomore connected on 14 of 20 passes for 219 yards and two touchdowns with no turnovers against a hapless Tennessee secondary. He ran for 81 clutch rushing yards without taking a sack, and he found Hammond for the game-clinching points.
Key stat:
Florida gashed its way to 336 rushing yards. The Gators' ground game absolutely eviscerated the Volunteers' defense -- especially as the game wore on in the second half. That must be gratifying to Florida coach Will Muschamp, who wanted his team to get tougher this season. Florida running back
Mike Gillislee
chalked up another nice effort with 18 carries for 115 yards. Wide receiver
Trey Burton
murdered the Vols from the Wildcat spot -- he carried just three times for 91 yards and two scores.
Key stat II:
Florida turned 13 plays of 20 yards or more. The Gators' offense looked stagnant throughout last week's victory against Texas A&M, and it seemed like it might stumble through another mediocre offensive performance. But with eight of those 13 explosive plays coming in the final two quarters, the Gators' playmakers spent much of the second half racing up and down the field.
What it means:
The Gators are undefeated, with two wins in conference already. The schedule isn't going to let up, but Florida might have more of a say in the SEC East race than many people thought in the preseason -- especially if Driskel continues to improve.
As late as the midway point of the second quarter, it looked like Tennessee was on its way to a statement win against one of its biggest rivals. But the manner of the Volunteers' late-game collapse -- outscored 27-6 in the second half -- kills even the moral victories from Saturday night, such as the impressive passing game or the 14-10 halftime lead. Tennessee coach Derek Dooley and Co. had a chance to make a statement and came up quite short.
September, 15, 2012
9/15/12
6:08
PM ET
KNOXVILLE, Tenn. -- Florida running back
Mike Gillislee
, who suffered an injury to his groin last week in the win against Texas A&M, went through warm-ups and appeared to move well.
Gillislee will definitely be worth watching Saturday night. He's the SEC's leading rusher through two games and the centerpiece of the Gators' offense. If he's not 100 percent or can't finish the game, that's a huge blow for Florida.
He practiced this week, and the Florida coaches say he's ready to go. But groin injuries tend to linger and can always be tricky.
Speaking of the running game, the Vols have managed just 20 total yards on the ground in the past two games against Florida. Tennessee doesn't necessarily need to rush for 150 yards to win this game, but the Vols will have to muster some semblance of a running game to keep Florida's front seven honest, and keep the Gators from teeing off on quarterback
Tyler Bray
.
The other thing to watch is special teams. Florida has won 15 of the past 20 games in this series, and in most of those wins, the Gators either made a big play on special teams or the Vols committed a major blunder.
September, 15, 2012
9/15/12
5:22
PM ET
KNOXVILLE, Tenn. -- This is the way Florida versus Tennessee used to feel.
It's the way this game is supposed to feel.


Nobody is saying the winner of Saturday's game in Neyland Stadium will emerge as the favorite to win the Eastern Division, but the winner will at least be in the conversation.
Tennessee is oozing with confidence. Some might say too much confidence when you consider the Vols have never beaten a nationally ranked team under Derek Dooley.
But these Vols believe it's their time to break through after suffering through losing seasons in three of the last four years.
The Gators are equally confident after smothering Texas A&M in the second half last week in a 20-17 road win over the Aggies. This is a much more physical Florida team than the last two seasons, and that's exactly the way second-year coach Will Muschamp wants it.
In a lot of ways, these two teams have swapped roles from years gone by.
The Vols like to throw it around the park and have a couple of dynamic playmakers at receiver in
Justin Hunter
and
Cordarrelle Patterson
.
The Gators want to establish the running game, possess the football and take the ball away on defense, although the latter has been a struggle recently.
Dooley is 0-10 against nationally ranked schools at Tennessee, and Muschamp is 0-5 against ranked foes at Florida. So something has to give Saturday.
This is probably Tennessee's most anticipated game at Neyland Stadium since the 2006 opener when No. 12-ranked California came to Knoxville.
There hasn't been a lot to cheer about on Rocky Top the last four years.
The Gators would like to keep it that way.
September, 15, 2012
9/15/12
12:27
PM ET
It's long overdue, but Tennessee will retire the No. 45 jersey of former coach and player John Majors prior to Saturday's game against Florida at Neyland Stadium.
The Majors name has long been intertwined with Tennessee football, and honoring him in this fashion was a no-brainer. He starred on the field for the Vols as a Heisman Trophy runner-up in 1956, then returned to revive the program in 1977 as head coach.
[+] Enlarge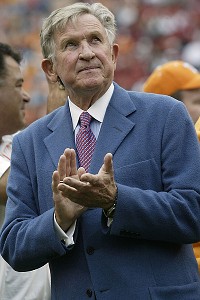 AP Photo/Wade PayneFormer Tennessee great Johnny Majors, shown at the Georgia game in 2005, was the Heisman Trophy runner-up in 1956.
"It is only fitting to honor such a distinguished playing career," Tennessee athletic director Dave Hart said in a release. "Johnny Majors is one of the greatest players in the rich and storied tradition of Tennessee football, and we are proud to bestow this honor upon him."
Majors is the eighth Tennessee player in history to have his jersey retired. Initially, only Clyde "Ig" Fuson (62), Rudy Klarer (49), Bill Nowling (32) and Willis Tucker (61) had been honored with retired numbers. They were killed in World War II and had their numbers retired in 1946.
In 2005, Tennessee retired the numbers of Doug Atkins (91), Peyton Manning (16) and the late Reggie White (92). They were the first players in Tennessee history to have their numbers retired for football achievement. At the time, many Tennessee fans wondered why Majors wasn't included in that group.
Majors, 77, played for the Vols from 1954-56 and was a two-time SEC Player of the Year. He was inducted into the College Hall of Fame as a player in 1987. He was Tennessee's head coach from 1977-92 and won three SEC championships, but was forced out toward the end of the 1992 season in what was a messy departure. Majors had a heart attack earlier that season and missed the first three games. He contends to this day that he had a contract extension sitting on his desk that was rescinded when he was in the hospital having heart bypass surgery.
Majors has emphasized that he never had any bitterness for the Tennessee people or the university, and that it was a select group of individuals he holds responsible for orchestrating his ouster.
Either way, it's refreshing to see Tennessee do the right thing and appropriately honor a man who's meant so much to the program, and do it at a time when he and his family can be here to enjoy it.
Majors' No. 45 jersey will continue to be worn by future players. According to Tennessee, all future retired jerseys will remain in circulation. The seven previous numbers retired will not be worn unless special permission is given by the honoree or surviving family members.