NCF Nation:

Gators-Vols 091810
September, 18, 2010
9/18/10
9:52
PM ET
KNOXVILE, Tenn. – When Florida coach Urban Meyer took a leave of absence last year, little did we know that the Gators' offense would follow suit.
Then again, maybe that is the Gators' offense we saw Saturday at Neyland Stadium, the same offense we've seen for three straight weeks now.
[+] Enlarge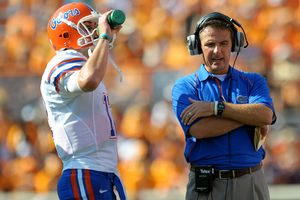 Jim Brown/US PresswireFlorida quarterback John Brantley was held under 175 yards passing for the third straight game.
"We don't really care how it looks … as long as we win," junior quarterback
John Brantley
said following Florida's
31-17
win against a Tennessee team that fought hard, but simply didn't have the horsepower to avoid its sixth straight loss to the Gators.
On the surface, Brantley is right. They don't pass out style points in football.
But there's a bigger picture here.
Is there any way the Gators (3-0, 1-0) can win an SEC championship playing this erratically on offense.
Is there any way the Gators can even make it to the SEC championship game when they're leaning on one player (Jeff Demps), not running the ball with any consistency and making few, if any, explosive plays down the field in their passing game?
Meyer didn't seem overly concerned about the bigger picture early Saturday evening, his players making their way to the team buses victorious after their first road test of the season.
"Coming on the road and winning in the SEC is something we'll never take for granted," Meyer said.
"That's kind of who we are right now."
Asked point-blank if this team was good enough, Meyer turned philosophical.
"Good enough for what? We're 3-0. I don't know," Meyer said. "We've got to somehow beat Kentucky (next week) and get to 4-0. Are we good enough yet? We went on the road and won at Neyland Stadium, and a bunch of guys worked real hard against a very talented team. Are we good enough to win at Neyland Stadium? That's all I'm worried about. We were.
"Now, we've got to find a way. Right now, can we beat Kentucky at home? I don't know that. Flip a coin, man."
Other than a couple of busted coverages that led to a pair of long Tennessee touchdown passes, Meyer was pleased with his defense. The Gators sacked quarterback
Matt Simms
six times, intercepted two passes and held the Vols to 29 rushing yards.
But Brantley's hoarse voice during postgame interviews told you all you needed to know about the Gators' offense.
There was another bad snap to start the game, several instances where the Gators were slow getting out of the huddle and struggling to get lined up and a running game that's pedestrian at best.
Especially telling was a failed third-and-1 in the first quarter followed by a fourth-down play where the Gators couldn't make a foot.
"Disappointing," Meyer said. "It's going to be a long season if we can't hit that third-and-1. It's going to be a real long season."
The Gators ran the ball 49 times with Demps getting 26 of those carries. They averaged just 3.1 yards per carry, and it was the third straight game in which Brantley was held under 175 yards passing.
In fact, Florida's longest play of the game came on a fake punt, a play that changed the complexion of the game after Tennessee had tied it at 10-10 midway through the third quarter.
Omarius Hines
rambled for 36 yards on fourth-and-6 from the Gators' own 39 to set up Brantley's 7-yard touchdown pass to Frankie Hammond.
Without that successful fake punt, it might have been anybody's game in the fourth quarter.
"When momentum shifts, you have to find a way to get it back somehow," Meyer said. "When you have experienced offensive players, you don't have to do that stuff. When you have inexperienced players, you have to somehow create a play."
The other saving grace for the Gators was that they converted on third down when they needed to in the second half, in particular some key third-and-long situations in the passing game.
"I didn't put the ball in the best spots, but they went up and got the ball," said Brantley, who's obviously still feeling his way into this whole starting quarterback role after watching Tim Tebow from the sideline the past two years.
Meyer noted that the Gators' 2006 national championship team wasn't always a work of art offensively.
"At times, we looked pretty good (in 2006). At times, this offense has looked pretty good," Meyer said. "However, we're nowhere near where we need to be, so if that happens, how do you win?
"You play great defense. You score in the red zone, which we're getting a little better at, and then you have a great kicking game and take care of the football, and we've been doing that."
Is it enough for the Gators to get back to Atlanta for a third straight year?
A better question might be: Is it good enough to beat Kentucky next week?
"As long as we're the better team on the field that day, that's all that matters," Brantley said.
The bigger picture can wait.
September, 18, 2010
9/18/10
7:04
PM ET
KNOXVILLE, Tenn. – The final score will say one thing. Florida's performance offensively screams quite another.


The No. 10-ranked Gators stuttered and puttered along on offense again, but had enough in the tank to hold off Tennessee for a
31-17
victory Saturday at Neyland Stadium.
All you need to know about this game is that Florida's longest play from scrimmage came on a fake punt.
Omarius Hines
rambled for 36 yards on a fourth-and-6 play from the Gators' own 39 in the third quarter.
The Gators (3-0, 1-0) used that fake punt to go ahead 17-10 and then held off the Vols in the fourth quarter.
Nothing about it was pretty, though, for Florida, which again struggled to find any continuity in its offense.
The Gators' defense was strong for much of the game, but gave up a pair of long touchdown passes on what appeared to be busted coverages.
September, 18, 2010
9/18/10
6:49
PM ET
KNOXVILLE, Tenn. -- Florida will look back on this game and count its blessings that it was able to convert on so many third-and-long situations.
Similarly, Tennessee will look back and wonder "what if" had the Vols been better defensively on third-and-long.
When the Gators have needed to make a play on third-and-long, they've typically come through. It has to be refreshing for Florida fans to see
Carl Moore
come through with such an acrobatic catch on third down. He's a guy who has to make plays if this offense is going to ever start clicking this season.
Meanwhile, Tennessee fans can't blame former defensive coordinator John Chavis for this. For all of Chavis' success at Tennessee, fans complained that his defenses gave up too many third-and-long conversions.
Well, Chavis has been at LSU for two years, and it's still happening.
September, 18, 2010
9/18/10
6:13
PM ET
KNOXVILLE, Tenn. -- This is starting to look like the Oregon game a week ago, from Tennessee's perspective.

The Vols, down two touchdowns and needing to throw the ball to get back into the game, are one big Florida play away from having this one get completely out of hand.

Tennessee coach Derek Dooley was disappointed in how his team dealt with adversity against Oregon and felt like the Vols wilted in the second half. They're teetering again this week, too.
September, 18, 2010
9/18/10
6:01
PM ET
KNOXVILLE, Tenn. -- Florida is still trying to find itself offensively, no doubt about it.
But junior quarterback
John Brantley
engineered one of his most important drives of the season after Tennessee had tied the game at 10-10 midway through the third quarter.
Brantley's third-down touchdown pass to
Deonte Thompson
in the back of the end zone ought to be a confidence-builder for him, even though this passing game remains as pedestrian as it gets.
September, 18, 2010
9/18/10
5:09
PM ET
KNOXVILLE, Tenn. -- With both offenses struggling mightily, Florida took a 7-3 lead over Tennessee into halftime Saturday at Neyland Stadium.
Here's a quick halftime analysis:
Turning point:
Tennessee was threatening to take the lead midway through the second quarter after Florida's Janoris Jenkins mishandled a punt and gave the Vols great field position. With it third-and-goal at the 3,
Matt Simms
tossed a pass into the end zone that was intercepted by Florida linebacker Jon Bostic.
Player of the half:
Tennessee linebacker Nick Reveiz was everywhere in the first half for the Vols, almost single-handedly keeping them in the game. He had seven tackles a few plays into the second quarter and also recovered a fumbled punt.
Stat of the half:
The two teams were a combined 4-of-13 on third down in the first half.
September, 18, 2010
9/18/10
4:28
PM ET
KNOXVILLE, Tenn. -- Grinding it out continues to be a problem for Florida's offense.
And without Tim Tebow, teams are all playing the Gators the same way. The Gators couldn't get a yard against Tennessee in the first quarter. They were stopped on third-and-1 and then tried again on fourth down and a foot, and
Emmanuel Moody
was stuffed.
Those third- and fourth-down conversions aren't quite as easy with No. 15 no longer around.
September, 18, 2010
9/18/10
4:05
PM ET
KNOXVILLE, Tenn. -- At this rate, Florida is going to have as many bad snaps this season as the Gators have racked up arrests.
On the Gators' first possession, Mike Pouncey rolled a bad shotgun snap to
John Brantley
on third down that Brantley had to fall on.
The Gators have had trouble with snaps in all three games now. After seeing Brantley fall on this one, a clearly frustrated Florida coach Urban Meyer threw his headset, and it sort of wrapped around his neck because it was still attached to his body.
September, 18, 2010
9/18/10
3:36
PM ET
KNOXVILLE, Tenn. -- Florida already leads the country with eight interceptions and has one of the best defensive backfields in the country.
But the Gators are getting junior safety Will Hill back today from a two-game suspension.
The Gators have supreme confidence in their defensive backs and will no doubt dare Tennessee to beat them down the field. The Vols'
Tauren Poole
is leading the SEC in rushing through two games, and the Gators will look to stop him early and force
Matt Simms
to beat them throwing the ball.
September, 18, 2010
9/18/10
3:06
PM ET
KNOXVILLE, Tenn. – Welcome from Rocky Top, where the Vol Navy is out in full force.
There are few settings around the college football landscape that compare to Neyland Stadium, the way it sits on the banks of the Tennessee River and the color and pageantry that are a part of game day on the Tennessee campus.
But there's also been a dark could that's hovered over the entire Vols' athletic department for the past year and a half – from the whole Lane Kiffin disaster, to some embarrassing off-the-field problems for the football and basketball teams, and most recently the NCAA investigations of the football, basketball and baseball teams.
In short, Tennessee could use a win against Florida in the worst way. This hasn't been much of a rivalry lately. The Gators are gunning for their sixth straight win in the series.
Looking at it from the Florida perspective, the Gators need to get that offense going in the worst way, and playing on the road for the first time this season, need to avoid another poor start offensively.
This is a big stage for Florida quarterback
John Brantley
. He seemed to find some rhythm, in the second half last week. The Gators are going to need more from him as they go forward.