NCF Nation:

Gene Bleymaier
August, 15, 2011
8/15/11
1:26
PM ET
Boise State coach Chris Petersen made his
first public comments
about the departure of athletic director Gene Bleymaier during a news conference this past weekend. Petersen said he felt bad for Bleymaier, but emphasized the need to move forward for the good of the program.

Bleymaier
was fired last week
, and his last day is Sept. 8. The athletic director had been at Boise State for 29 years and helped the program achieve the top status it holds today. Here is a little bit of what Petersen said about Bleymaier and the future at Boise State:
Petersen said he was "surprised" by the move then added, "But then ... nothing really surprises me anymore the way college athletics is going. This is a tough business, and tough decisions have to be made and are going to be made. I think you see it more and more everyday. And that's just the nature of the beast.
"I go back to the same old thing, our whole focus, my whole focus is worrying about my area of responsibility and what I can control and we get our kids to think about that as well."
On the ultimate decision made by school president Bob Kustra: "I think in this whole thing, it's never one person. There's a lot of people involved in this Bronco machine. I think about that. I think the administration on campus has been unbelievable. The ultimate decision-maker around here is Dr. Kustra in terms of, 'Yeah, this is going to happen or no that's not going to happen.'
"I think Gene was instrumental, but I know Dr. Kustra's got a vision how he wants this thing to continue to go and grow as well."
There perhaps were some other forces at work in the dismissal, which has been pinned on an NCAA investigation into improper benefits given to student-athletes in five different sports. Fundraising, stadium expansion and the need for a football facility have become major storylines at Boise State. The program is vastly different today from the one Bleymaier took over 29 years ago, and now the need for top-of-the-line facilities has been highlighted.
In fact,
getting a new football facility
has been high on the agenda for Petersen. Construction on that facility has yet to get underway, and the school still needs to raise millions of dollars to completely fund all the projects it wants to complete. Whoever the new athletic director is will need to have not only a good relationship with Petersen, but a firm business background with plenty of experience trying to raise money.
August, 11, 2011
8/11/11
5:00
AM ET
1. After reading Pat Forde's optimistic column coming out of the NCAA Presidential Retreat, it sounds as if substantive change is nigh. The last time the NCAA made these kind of changes, some 20 years ago, brought an era of relative stability. The problem is that the NCAA hasn't changed many rules since that Dark Age. The biggest question: if the presidents allow schools to increase a grant-in-aid to full cost of attendance, are they willing to live with how that will widen the gap between Haves and Have-Nots?

2. In Gene Bleymaier's 29 years as Boise State athletic director, the program has grown from I-AA to become a national power in football. He has had a knack for hiring smart young coaches – Houston Nutt, Dirk Koetter, Dan Hawkins and Chris Petersen – and given them the tools to succeed. His marketing prowess can be summarized in two words – blue turf. After the NCAA penalized the school for a rash of mostly sloppy violations, Boise State president Bob Kustra is making a change. There are big loafers to fill.

3. Tennessee coach Derek Dooley, a former athletic director himself, didn't mention former Vol AD Mike Hamilton by name. He didn't have to. "It used to be most athletic directors had a background in coaching," Dooley said. "They understand that world. They're not driven by the daily public opinion poll. As good as some of those business-model (types) have been for the (bottom line), I think it's just as destructive...as far as supporting and managing the product, and evaluating the product, which is your coach and your team."
August, 10, 2011
8/10/11
9:07
PM ET
Boise State has decided to
part ways
with athletic director Gene Bleymaier in the wake of
NCAA violations in five different sports
, including football.
His last day will be Sept. 8 -- five days after the all-important season opener against Georgia in the Georgia Dome. President Bob Kustra announced the decision in a statement, after saying earlier this year he would conduct a full review of the athletic department as a result of the NCAA investigation.
"I did not come to this decision lightly," Kustra said in a statement. "After a careful management review and discussions about the future of the program, I determined that new leadership will be needed as we commit ourselves to the highest level of attention and enforcement of NCAA standards, and also continue to move Boise State athletics to the next level of success."
In his own statement
, Bleymaier said, "I am very disappointed in President Kustra's decision to remove me from my position as Athletic Director here at Boise State. ... This is a job I truly love, and I had every hope and expectation that I would serve out my professional career here at Boise State University."
"I was told by President Kustra that his decision is predicated on the confidence level he believes he needs to have as President in the University's compliance operation during an NCAA probationary period. And, it is President Kustra's determination that this can best be accomplished with a new athletic director."
Boise State reached national prominence under Bleymaier, as the football program became one of the top non-AQs in the country. Its blue turf has become one of the most well-known fields in the country -- blue turf that was put down because Bleymaier wanted it to set Boise State apart.
But the NCAA case cited a lack of institutional control for compliance issues. Secondary violations in five sports, coupled with a major violation in women's tennis, led to the first major infractions case in school history. For that, Bleymaier paid the ultimate price.
April, 27, 2011
4/27/11
4:00
PM ET
Time for another mailbag. Keep your letters coming!
Aaron in Tampa writes:
Hi Andrea. Just read about (Boise State athletic director Gene) Bleymaier's recent comments on the NCAA giving up the college football championship for free. Obviously the NCAA is not in the position to implement a playoff by force against the wishes of its member institutions (that is, against the schools that fund the NCAA). So I have to assume that Bleymaier is either trying to stir the pot and keep some discontent with the BCS alive, but maybe he really just doesn't understand the position of the NCAA. What are your thoughts?
Andrea Adelson:
Good to hear from you again, Aaron. For quick reference, last week Bleymaier said the following during a speech in Boise, according to the Idaho Statesman:
"It's truly amazing," Bleymaier said. "The sport where the NCAA can generate the biggest revenue, and they end up giving it away for free. If the university presidents ever really truly understood what is happening, they would be in disbelief. The NCAA leadership over the past 30 years has been lulled to sleep while this transformation took place."
The FBS bowl system is the only postseason that the NCAA does not control, which is completely mind-boggling as Bleymaier suggests. Bleymaier consistently has been a BCS critic for obvious reasons. He clearly knows exactly what is going on. But can you blame him for trying to stir the pot when he sees other conferences rake in more than $20 million a piece from the BCS while the five non-AQs collectively earn the same amount? Clearly something has to be done to get the NCAA at least a little more involved, especially in the wake of the Fiesta Bowl fiasco. Look at the money the NCAA makes off the men's basketball tournament. Imagine how much it would make off a postseason playoff, even a small one. That is his whole point. Will he spur change? Doubtful. He is a lone voice in the BCS wilderness. One side note: The other BCS bowls should be investigated as well to see if similar improprieties are the way they do business.
---
David Moore of Salt Lake City writes:
How long do you give this independence gig for BYU? With the Big 12 now more financially stable with a new second tier rights TV contract with FOX, do you see the Cougars perhaps being invited to the Big 12 as early as 2013?
Adelson writes:
Let us all remember the first rule of college expansion -- you need an invite first. I do not see the Big 12 inviting BYU in the next two years, so long as the college landscape does not undergo another radical change. But let us say the Cougars do get an invite. Why would they leave an eight-year deal with ESPN where it gets to keep all its revenue and go to a conference? BYU also has its own TV network. I just think it will be too early to know after two years whether being an independent is the right move. I am more interested to see what happens after five to six years, when you will be able to better judge whether BYU has the national interest to remain an independent. If the TV deal does not work for ESPN, then BYU could be looking for a new conference home.
October, 8, 2010
10/08/10
12:00
PM ET
September, 24, 2010
9/24/10
6:41
PM ET
One of the biggest talking points about Boise State is its weak of strength of schedule and why the Broncos are not doing anything about it. Athletic director Gene Bleymaier has talked many times about the difficulty of getting top-tier opponents on their schedule, because most do not want to play in Boise.
Some headlines were made a few weeks ago when Nebraska came out and said a two-for-one deal to play Boise State fizzled because the Broncos wanted $1 million to play in Lincoln. Now there are more headlines today.
Alabama athletic director Mal Moore told The Tuscaloosa News that he has
never been contacted by Boise State to schedule a game.
Reached Friday for a response, Bleymaier said it was because he wants a home and home, not a one and done on the road.
"We'll play anybody in the country home and home," Bleymaier told ESPN. Although Boise State's 2011 schedule isn't yet finalized, Bleymaier said the Broncos do have a Southeastern Conference opponent -- Ole Miss. That is not a home-and-home, and Boise State is being paid $900,000 for the one-time trip.
So is this going to become a standard story, where all the athletic directors at the elite programs around the country are asked whether they have heard from Boise State? If not, then shame on Boise State?
The Broncos have every right to want a home-and-home agreement here. If Alabama wanted a piece of Boise State, then why not call up Bleymaier and schedule a home-and-home? Right, because Alabama has nothing to prove, and there is no reason for the Tide do that when they already play in the ultra competitive SEC. Well, if that was the case, then why is Alabama playing one marquee non-conference game a year?
Boise State has much more to prove and should make every attempt to strengthen its schedule. But it needs enough home gates, too.
August, 18, 2010
8/18/10
10:24
AM ET
BOISE, Idaho -- I had a chance to sit down and interview Boise State athletic director Gene Bleymaier on a wide range of topics, from the high expectations this season to the possibility of getting an automatic bid for the Mountain West Conference. Please note that this conversation took place before news of BYU's possible exit from the MWC surfaced. Here is a little of what he had to say:
Andrea Adelson
: Boise State has gone undefeated in the past but never had the chance to play for a national championship. Where do you stand? Do you like the current system or do you want to see a playoff?
Gene Bleymaier
: I'd like to see a playoff. I think that the NCAA sponsors 88 championships but not the biggest one, and that seems a little ironic to me. I think that championships ought to be decided on the field, and the men's basketball tournament is the great spectacle that it is because it is a playoff. I'd like to see that in college football.
[+] Enlarge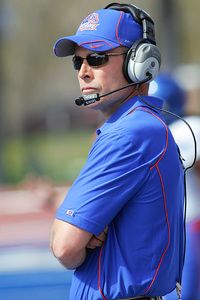 Brian Losness/US PresswireChris Petersen's Broncos are coming off a 14-0 season.
AA
: Do you think that will happen?
GB
: I don't know. There's more of a chance that it'll happen in the future. It's obviously going to take some time, but hopefully it will evolve to that.
AA
: What do you think when you hear people talk about how this could be the year for Boise State or TCU to break into the BCS national championship game?
GB
: I think I'd be fantastic. Had Nebraska beaten Texas last year, who knows -- TCU might have played in the game last year, so I think that's good for college football. The parity in college football makes it more attractive and spurs more interest nationally from everybody that it's not just a handful of the old guard that is fighting for a national championship, that you can have access with other programs like ourselves or like TCU.
AA
: Do you like the fact that your program is now mentioned up there and as one of the top teams? It's a different spot Boise State is used to going into a season.
GB
: That's all a result of the success that we've had. That comes with winning and so all that's good. So yes, this is where you want to be. You want to be in the spotlight, and you want to be in the playoff picture, in the national championship discussion. That's what every program in Division I is working toward, so we're thrilled to be in this position.
AA
: Do you think about the possibilities of what happens down the line if you are undefeated but there are one-loss teams like Florida or Alabama ahead of you and how that might once again keep Boise State out of the title game?
GB
: I certainly know it's a possibility. Who knows what would have happened if that field goal by Texas with 1 second to go was 6 inches further to the left. That would have been a tragedy if we hadn't been invited to the Fiesta Bowl and yet there was talk that Texas had to beat Nebraska. I don't agree with that. I think if we're undefeated hopefully the system will work and we'll be given that opportunity to play for the national championship.
AA
: How does joining the Mountain West benefit Boise State?
A: In just about every way. Academically, athletically, geographically it's a much better fit for us. The rivalries will be exciting with BYU and Colorado State and Wyoming and Air Force. Those are all positives. With the strength of the Mountain West Conference and what they've done, and now with us, I think we can make a real case for an automatic bid.
AA
: Are you hopeful that will happen?
GB
: Absolutely. We're going to have to have two more good years like the two we've had. We need some schools at the top to do very well and we need everybody to do better across the board than they've done. If we can get two more years, with the two we've had it should put us in position to get an automatic bid.
AA
: If you can't get it by the criteria, are you hopeful the waiver to get in would be approved?
GB
: I can't speak for them. I hope our numbers will be compelling to where they go, 'Wait. They're every bit as good as these other conferences that get an automatic bid.'
AA
: Has a decision been made on the Idaho series?
GB
: Nothing definitive. With our move to the Mountain West, our scheduling has to be looked at again and reviewed. We're working on that. We haven't made any definitive determinations on that.
AA
: Is there a timetable?
GB
: I think something needs to get worked on this fall, but we do have some time, at least for the near future. For the three, four, five years down the road, we may have a year or so before we have to decide something.
August, 17, 2010
8/17/10
10:14
AM ET
BOISE, Idaho -- The expectations are higher. The spotlight is bigger. The media attention is greater.
They really are underdogs no more.
[+] Enlarge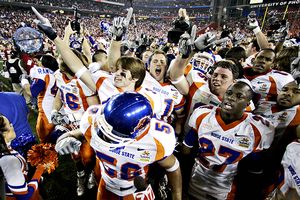 AP Photo/Matt YorkAfter an undefeated season Boise State can no longer be considered an underdog.
Yet given all the talk about Boise State going into the 2010 season, players insist they are keeping the under-the-radar mentality that has shaped this program.
"There's definitely a chip," linebacker Derrell Acrey said. "Rankings don't mean anything to us. How can they tell how far we are, we haven't played a game yet."
How does the team maintain that mentality? As coach Chris Petersen has said, Boise State still has something to prove. In the past, the Broncos had to prove they belonged in the national conversation. Now, they have to prove worthy of all the praise and expectations.
Indeed, Boise State is one of the biggest storylines going into the season. The Broncos are ranked No. 5 in the preseason coaches' poll, their highest ranking to start the year. That puts them in position to potentially be the first non-AQ team to play for a BCS national championship.
They were featured on one of the regional covers for the Sports Illustrated college football preview. All 10,000 copies in Idaho have sold out, and the magazine plans to ship another 30,000 to Boise later this week.
"I don't think much has changed except you're hearing it a little more," safety Winston Venable said. "We haven't gone about business any differently. We attack practices the same way. We look at our opponents the same way. Maybe we have a bigger target on our chest but we like that. We probably wouldn't want it any other way."
The first team to have a shot at that target is Virginia Tech on Sept. 6 at FedEx Field. That one game could determine whether the Broncos stay in the conversation for a national championship. So much so, that many observers believe the Broncos essentially have a one-game season on their hands.
Win and stay in the title hunt. Lose, and those hopes are dashed. After all, no undefeated non-AQ team has ever gotten a spot in the national title game, much less a non-AQ team with one loss. Getting into a BCS game would be tougher, too.
Boise State scoffs at that notion.
"I've never known of any school having a one-game season when it's the first game of the year against a Top 6 opponent," athletic director Gene Bleymaier said. "That's never knocked Florida or Ohio State or Alabama or 'SC or Texas out of the national championship picture.
"It's a big game and there's a lot riding on it, but we can win that game we still have 11 more we've got to play. There's a huge target on our chest and we've got a lot of tough games in there. It's going to be a long four months for anybody. It's not going to be the end of our season. Coach Pete has been excellent saying look one game either way is not going to make … you have to play all 12 games and then see what happens. We can't let one game determine our season."
Boise State is no Florida or Ohio State, and despite all the equity the Broncos have built up with their previous success, they won't get the benefit of the doubt if they lose a game at some point this season when it comes to the national championship. Naysayers may even start shouting, "Told ya so!"
The critics are out there, but so are the supporters. For Boise State, it is a matter of staying focused despite the increasing hype.
"Maybe the media's more involved but we don't get caught up in the media anyway," Venable said. "We've got one game at a time and that's the way we look at it."
April, 15, 2010
4/15/10
12:06
PM ET
BOISE, Idaho -- Gene Bleymaier has been the athletic director at Boise State since 1988. He understands perfectly well the odds stacked against the Broncos. As much as Boise State has flourished on the football field during his time there, the school is king of the have-nots in an industry in which the haves make the rules.

But he's going to try to change the rules anyway.

In this case, Bleymaier wants to change the rules for scheduling. Haves will play have-nots as long as they can beat them. These are referred to as "guarantee" games. The have-not travels to the have's campus for a guaranteed fee that, in recent years, has crept into seven figures. In most cases, there is also an understood guarantee that there's no way the have-not can win.

That is not the case with Boise State, which is why Bleymaier has such a tough time finding games.

"I make 30 calls at a norm to get a game," he said. "To get a home game, it takes 50 calls."

An athletic director who needs a game may send an e-mail blast saying, "We have this date open for a home game." Bleymaier will call and say, "We have that date open. We'll come." After some throat-clearing, hemming and hawing, Bleymaier will hear that it's not going to work out.

"We work so hard to level the playing field," Bleymaier said, referring to the NCAA membership. "When it comes to scheduling, it's 'Let's not worry about that.' It's a big advantage."

Bleymaier idea for change is simple. He intends to propose NCAA legislation that would eliminate guarantee games.

"When you schedule an opponent," Bleymaier proposed, "you play one at their place, one at your place."

He believes the proposal is dipped in logic and washed in fairness.

"Little League baseball, Pop Warner football, high school, Major League Baseball, NFL, hockey, everyone in the country plays half at home and half on the road," Bleymaier said. "It's a given. In a baseball season, a team plays 81 and 81. It's a given. You wouldn't even suspect anything different. People would say, 'That's unfair.'"

Michigan, Penn State, Tennessee and Auburn each played eight home games in a 12-game schedule last year. Picture what might happen if the pros adopted the collegiate model.

"The Yankees ought to get more home games," Bleymaier said. "Nobody wants to go to Green Bay. 'We shouldn't have to go there.' The owners would laugh at you."

In basketball, Bleymaier said, the issue of fairness is heightened by the number of road games and when they take place.

If you've missed games at home, you're traveling in November and December," Bleymaier said. "What happens then? Final exams. If you're Boise State, you're missing two weeks prior to final exams. UCLA and North Carolina are sleeping in their beds. That, to me, is wrong. We're asking a number of schools to miss school, not sleep in their beds and travel. Nobody cares. They say, 'We can't do anything about that.'"

Bleymaier intends to try. In the world of NCAA politics, his chances may hover between slim and none. But that's where the Boise States live. Or in the case of the Broncos football program, used to live.
March, 15, 2010
3/15/10
6:24
PM ET
Boise State's Gene Bleymaier has been nominated for the Athletic Director of the Year award given by Street & Smith's Sports Business Journal and Sports Business Daily.
Bleymaier is one of five nominees for the award. The other nominees are Dan Guerrero (UCLA), Mal Moore (Alabama), Gene Smith (Ohio State) and Dick Baddour (North Carolina). You can check out the entire awards list
here
.
The nominees were chosen from all colleges and universities throughout the U.S. The award will be presented in New York on May 20.
Bleymaier was responsible for Boise State's "Bronco Stock," an initiative that allowed the public to buy shares in Boise State athletics. He developed the program in an effort to raise $20 million for the athletic department.
The Boise State football team has flourished under Bleymaier's guidance. It finished the 2009 season undefeated with a win over TCU in the Tostitos Fiesta Bowl. It was one of two FBS programs with 14 wins last year.
In 2008, Bleymaier won the Astro Turf Athletic Director of the Year Award at the national athletic directors' conference in Dallas.
He is currently Western Athletic Conference's representative to the Bowl Championship Series.