NCF Nation:

Gene Stallings
June, 6, 2013
6/06/13
2:00
PM ET
South Carolina coach Steve Spurrier looked around the room recently at a meeting of SEC head football coaches and couldn't help but notice he was in the minority.
No, it had nothing to do with his customary visor, and he wasn't drawing up ball plays on a napkin or looking at his watch and wondering if he'd make his tee time.
"I got to thinking, 'Where are all the guys who played football in this league over the last 30-some years?'" Spurrier recounted. "You don't see many former players from the league coming back [to the SEC] to be head coaches anymore."
Over the past decade, there have been a few such as former Mississippi State coach Sylvester Croom (Alabama), former Kentucky coach Joker Phillips (Kentucky) and former Auburn coach Gene Chizik (Florida). And before Nick Saban took over at Alabama, former Alabama quarterback Mike Shula headed up the Crimson Tide's program.
Currently, though, Spurrier and Florida's Will Muschamp are the only two. Matter of fact, more of the current SEC head coaches played their football in the Big Ten -- Arkansas' Bret Bielema and Kentucky's Mark Stoops at Iowa, LSU's Les Miles at Michigan and Texas A&M's Kevin Sumlin at Purdue.
An SEC pedigree was once a must for becoming a head coach in the SEC, but times have changed.
Click
here
to read my entire column on the changing guard in the SEC.
April, 30, 2013
4/30/13
11:45
AM ET
SEC commissioner Mike Slive
says he wants "football expertise"
on the selection committee that will pick the four teams for the College Football Playoff starting in 2014.
The most intriguing component in the whole move to a playoff remains the makeup of that committee.
Who's going to be on it? Better yet, who wants to be on it?
From an SEC perspective and a football perspective, I've come up with a few possible candidates. And, yes, I realize that just about every one of these would be perceived as having some kind of bias, which is going to be the problem in finding a panel that satisfies everybody.
They're listed in alphabetical order:
Bill Battle:
The new Alabama athletic director was the head coach at Tennessee in the early 1970s and later founded Collegiate Licensing Company and built it into a money-making empire.
Charles Davis:
A former defensive back at Tennessee, Davis has carved out an impressive broadcasting career at several different networks and provides analysis for both college football and the NFL.
Vince Dooley:
A true legend in SEC coaching circles, Dooley is about as intertwined with SEC football as it gets. He played at Auburn and was a Hall of Fame coach at Georgia.
Jeremy Foley:
He's easily the SEC athletic director with the most clout nationally, although he's already said he wouldn't be interesting in serving on the committee.
Phillip Fulmer:
Granted, the Alabama fans wouldn't be thrilled, but Fulmer won 98 SEC games, tied for the fifth most in history, and he's available.
Bo Jackson:
Still very involved at his alma mater, Auburn, Bo knows football as well as he played it ... and just about every other sport imaginable.
Bobby Johnson:
Now retired and living in Charleston, S.C., the former Vanderbilt coach is as sharp and respected as they come and would be a terrific choice.
Roy Kramer:
He might be the father of the BCS, but few men have helped to shape college football and the SEC in a positive way more so than Kramer, who's retired and living in East Tennessee.
Archie Manning:
One of the SEC's greatest players, Manning still keeps close taps on college football in between watching his two famous sons play in the NFL.
Joe Pendry:
A veteran of both the college and pro game, Pendry is now retired from coaching after helping to build some powerhouse offensive lines at Alabama.
Bill Polian:
He's currently doing NFL analysis for ESPN, but few people anywhere know the game inside and out any better than Polian, one of the NFL's top executives for a long time.
Gene Stallings:
He has ties to both Alabama and Texas A&M and played under the legendary Bear Bryant. Stallings knows what championship teams look like.
Sterling Sharpe:
The former South Carolina and Pro Bowl receiver for the Packers is doing a little radio now in addition to his NFL Network duties. He would offer some keen insight in the selection of the teams.
Danny Wuerffel:
The former Heisman Trophy winner at Florida would be an excellent choice. He was as smart as he was good and is one of the best people you're ever going to meet. He's also doing better after battling some health problems.
March, 28, 2013
3/28/13
3:05
PM ET
In honor of Florida Gulf Coast's stunning run in the NCAA basketball tournament, I started thinking back to some of the biggest SEC football upsets of my lifetime.
The mid- to late-1970s is about as far back as I go, but I've gone back and picked out some of the more memorable ones over the past 30 or 35 years.
These are all SEC vs. SEC matchups, and I'll rank the top 5 as well as five more that just missed the cut. I'll come back later Thursday with a few more, including some upsets in non-conference and bowl games.
Here goes:
1. Mississippi State 6, Alabama 3 (1980):
The No. 1-ranked Crimson Tide had won 28 straight (and an SEC-record 27 straight conference games) and were heavily favored against the unranked Bulldogs. But Mississippi State played suffocating defense that day in Jackson, Miss., and snuffed out a late Alabama drive. The Crimson Tide had moved to the Bulldogs' 4, but were out of timeouts. Alabama quarterback Don Jacobs took the snap and started down the line of scrimmage to the right side. Mississippi State's Tyrone Keys shot through and tackled Jacobs, forcing a fumble that Billy Jackson recovered to seal one of the greatest wins in Mississippi State history. Alabama's wishbone attack, which had been averaging more than 300 yards per game, mustered just 116 rushing yards against the Mississippi State defense. The Crimson Tide lost four fumbles in the game. And in a classy gesture afterward, Alabama coach Paul "Bear" Bryant visited the Mississippi State locker room to congratulate the Bulldogs on the win.
2. LSU 17, Alabama 13 (1993):
The No. 5 Crimson Tide had gone 31 straight games without a loss and were coming off an unbeaten national championship season. Inexplicably, they lost at home to an unranked LSU team that had lost five of its first seven games that season and finished 5-6. The Tigers were a 24-point underdog that day and in the midst of their fifth straight losing season. Alabama starting quarterback Jay Barker was out with an injured shoulder, and the Tide -- using three different quarterbacks -- threw four second-half interceptions. Coach Gene Stallings finally went to David Palmer at quarterback late in the third quarter, and "The Deuce" directed the Tide on a pair of scoring drives. But LSU held on for the win, and Stallings said afterward that he waited too long to go to Palmer, who was normally a receiver.
[+] Enlarge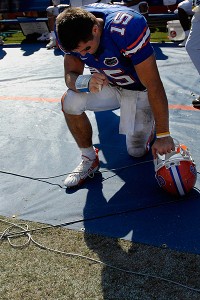 AP Photo/Phil SandlinTim Tebow bows his head in dejection after his No. 4 Gators lost 31-30 at home against Mississippi on Sept. 27, 2008.
3. Ole Miss 31, Florida 30 (2008):
The Rebels would go on to have a very good season, but ventured into the Swamp that day as a 22-point underdog with losses to Wake Forest and Vanderbilt during the first month of the season. Nobody gave them a chance. The Gators were ranked No. 4 and riding high with Tim Tebow running the show. But the Rebels stuffed him on fourth-and-short late to pull off an improbable road win. The game is best remembered for Tebow's emotional speech afterward, when he promised that nobody would work harder than him and his teammates the rest of the season. The Gators would go on to win their next 22 games in a row, including the 2008 national championship.
4. Auburn 23, Georgia 23 (1994):
Even though it wasn't a loss, it sure felt like one for No. 3 Auburn, which had its 20-game winning streak under Terry Bowden stopped. The Bulldogs were unranked and had lost at home to Vanderbilt a few weeks earlier. But they rallied from 14 points down on the road thanks to a couple of Eric Zeier touchdown passes and survived a missed 44-yard field goal attempt by Auburn's Matt Hawkins with 13 seconds to play. That was Ray Goff's next-to-last season at Georgia, which finished 6-4-1 and didn't play in a bowl game. It didn't get any better the next week for Auburn. The Tigers, who were on NCAA probation, lost to Alabama.
5. Alabama 9, Tennessee 6 (1990):
The Vols were ranked No. 3, coming off a 45-3 demolition of Florida and very much in the national title picture. Alabama had started the season with three straight losses, the first season with Stallings as coach, and was unranked entering the game. But Alabama's defense stole the show that day before a stunned crowd at Neyland Stadium and shut down Tennessee's high-powered offense. With the game tied at 6-6, the Vols were able to get into a position for a 50-yard field goal attempt with 1:35 to play, but Alabama's Stacy Harrison blocked it. The ball scooted more than 20 yards the other way to the Tennessee 37, and Phillip Doyle won it for the Crimson Tide with a 47-yard field goal on the last play of the game to make it five in a row against the Vols.
The five that just missed the cut:
Ole Miss 22, Alabama 12 (1988):
Yep, it's the infamous brick through the window game. An irate fan tossed a brick through the office window of Alabama coach Bill Curry after the Rebels stunned the No. 12-ranked Tide in Tuscaloosa. It was Ole Miss' first win ever against Alabama in the state of Alabama, and spoiled the dedication of the new Paul "Bear" Bryant Museum. Alabama didn't complete a pass that day.
Alabama 17, Auburn 15 (1984):
The Alabama fans refer to it as the "Wrong Way Bo" Iron Bowl. Auburn coach Pat Dye elected to go for it on fourth-and-goal from the 1 late in the fourth quarter, but Bo Jackson went the wrong way on the play. Alabama's Rory Turner forced Brent Fullwood out of bounds on the sweep, and the Tide held on to beat the No. 11-ranked Tigers and knock them out of the Sugar Bowl. It was a sweet end for Alabama to its first losing season since 1957.
LSU 31, Tennessee 20 (2001):
The No. 2-ranked Vols were coming off a huge win at Florida and poised to go to the Rose Bowl to face Miami for the national championship, but backup quarterback Matt Mauck rallied the Tigers in the second half after filling in for the injured Rohan Davey and gave Nick Saban his first of two SEC titles in Baton Rouge.
Georgia 24, Florida 3 (1985):
The Bulldogs romped past the No. 1-ranked Gators with freshman running back backs Keith Henderson and Tim Worley both rushing for 100 yards. It was the only game Florida lost all season. The Gators were ineligible to play in the Sugar Bowl because of NCAA sanctions, but finished No. 5 in the final Associated Press poll.
Arkansas 25, Tennessee 24 (1992):
The Vols were ranked No. 4 and had already beaten Florida, Georgia and LSU. The Hogs opened that season, their first in the SEC, by losing to The Citadel, resulting in the firing of Jack Crowe as coach. Joe Kines took over as interim coach and guided a 1-4 Arkansas team to a stunning comeback win against the heavily favored Vols in Knoxville. Todd Wright won it for the Hogs with a 41-yard field goal with two seconds left.
June, 11, 2010
6/11/10
1:31
PM ET
Reports continue to circulate that Texas A&M is at least
considering its options with the SEC
.
Ultimately, you wonder if Texas and Texas A&M would really split off from each other and what political pressure would be applied for them to stay together, because it sounds like Texas doesn't have much interest in coming to the SEC.
At the SEC spring meetings in Destin, Fla., last week, several league officials and athletic directors I talked to made it clear that being able to get into the Texas market would be especially appealing for the SEC.
Obviously, Texas is the big dog, but landing Texas A&M would still enable the SEC to get a foothold in the Lone Star State.
And if the SEC did get Texas A&M, who else would the league go after to make it an even 14 teams? I still say brand new markets such as Virginia Tech or possibly Maryland would make the most sense for the SEC.
In the meantime, we'll all watch with great interest to see how it all plays out.
Something to consider if Texas A&M did decide to come to the SEC is that Arkansas already has a 10-year contract to face the Aggies every year in the Dallas Cowboys' new stadium in Arlington, Texas. Last year's game was the first in the deal.
May, 27, 2010
5/27/10
1:37
PM ET
Two Big 12 players and a coach are among 14 inductees to the College Football Hall of Fame's Class of 2010.
Ray Childress spent two seasons dominating on the defensive line for the Texas A&M's defense in the mid-80s. He was a two-time All-American and two-time All-Southwest Conference selection after racking up 25 sacks and 241 tackles in his final two seasons.
His 360 career tackles and 25 sacks rank fifth all-time in school history, and Childress was drafted by the Houston Oilers with the third pick in the 1985 NFL Draft.
Alfred Williams helped the Buffaloes capture the 1990 national title and won the Butkus Award as college football's best linebacker. He also earned All-American honors in 1989 and 1990. He's the school's all-time leader in sacks, with 35.
Williams is the program's fifth Hall of Fame selection, and the school plans to honor him with a celebration surrounding the Sept. 18 home game,
according to the Boulder Daily Camera.
"I'm speechless," Williams said. "I'm honored ... I've been nervous all day. I was supposed to be waiting for some kind of envelope, and I was sitting around the house waiting for it all day. I started to think it wasn`t going to come."

Williams had been on the list of nominees for the last three years. "I was beginning to think it wasn't going to happen," he said.

[...]

At one point after being told of the honor, Williams teared up in the radio studio and briefly took a break from the show.
Gene Stallings might be best known for winning a national title at Alabama in 1992, and being a part of Bear Bryant's staff for championships in 1961 and 1964, but his first head coaching job came as a 29-year-old in College Station. He was also one of Bryant's "Junction Boys" at A&M before joining his staff at Alabama when his playing career was up.
In 1967, under Stallings' direction, the Aggies won the Southwest Conference title.
October, 24, 2008
10/24/08
1:00
PM ET
Posted by ESPN.com's Tim Griffin
Oklahoma State and Texas will renew a fierce rivalry Saturday involving two of the top six teams in the country. An entire nation will be watching a game with Bowl Championship Series and Big 12 title ramifications.
And even though the competition between the two schools will be fierce, there's a connection between the two schools that goes much deeper than any football game.
San Antonio Express-News columnist David Flores writes about how Texas coach Mack Brown and his wife, Sally, helped start the Rise School of Stillwater, a school for special-needs children. The idea came after Oklahoma State director of football operations Jimmy Gonzales' daughter, Mya, was born with Down Syndrome in 2005.
Gonzales was the director of football operations at Texas under John Mackovic. And although Brown brought his own person to fill the job after the coaching change, he has maintained a close relationship with Gonzales over the years.
Soon after their daughter was born, Gonzales told Brown about Mya's diagnosis. Brown told him about his family's work in starting the Rise School of Austin, a school modeled along the lines of the Rise School, a nationally recognized early childhood program at the University of Alabama for children with disabilities.
The University of Alabama Rise School-Tuscaloosa is housed in the Stallings Center, named after the late Johnny Stallings, the son of former Alabama football coach Gene Stallings.
The Browns, along with the Gonzales family, have played active roles in the start of the Stillwater center that opened last October.
The facility celebrated its grand opening the following week, coinciding with last season's Texas-OSU football game. Sally Brown came early to attend the festivities.
"I went to the airport to pick her up," Gonzales told the Express-News. "Even though we had a big game with Texas the next day, it was neat to have her share that occasion with us because we found out about the Rise School through her and Mack."
The following day, Gonzales met with Brown on the field before the game between the Cowboys and Longhorns.
"Mack shook my hand and gave me a hug, and then he said, 'How's Mya?'" Gonzales told Flores.
That's why tomorrow's game between the Cowboys and Longhorns would be special, even if the attention for the game wasn't nearly as high as it is.
More information about the Mya Gonzales Foundation, a non-profit organization created for families of children with Down Syndrome and other special needs, can be obtained here.
And here are some other links from across the Big 12 for your edification. Enjoy them.