January, 12, 2010
1/12/10
11:00
AM ET
Having had a few days now to digest the 2009 bowl season, here's a look at the All-SEC bowl team:
OFFENSE
[+] Enlarge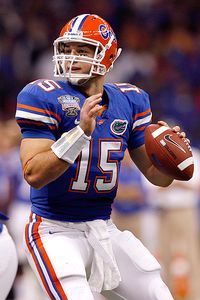 Matthew Stockman/Getty Images Tim Tebow torched Cincinnati for a career-high 482 passing yards and three TDs.
QB Tim Tebow, Florida

Broke Vince Young's record for total offense in a BCS bowl game with 533 yards in the Gators' 51-24 rout of Cincinnati in the Allstate Sugar Bowl. Completed 31 of 35 passes for a career-high 482 yards.
RB Dexter McCluster, Ole Miss

Was there a better player in the SEC the second half of the season? McCluster rushed for 184 yards and two touchdowns in the AT&T Cotton Bowl win.
RB Mark Ingram, Alabama

Despite cramping up in the Citi BCS National Championship Game, the Heisman Trophy winner showed his grit and led the Crimson Tide with 116 rushing yards and two touchdowns.
WR Riley Cooper, Florida

Led the Gators' offensive explosion in the Sugar Bowl with 181 receiving yards, including an 80-yard touchdown. Cooper averaged 25.9 yards on seven catches.
WR Brandon LaFell, LSU

The Tigers didn't put up much offense, but LaFell had five catches for 87 yards, including a 24-yard touchdown. LaFell led all SEC players with 19 touchdown catches over the past two seasons.
TE Aaron Hernandez, Florida

His nine catches led all players in the Sugar Bowl, and he finished with 111 receiving yards. Hernandez opened the Gators' scoring with a 7-yard touchdown catch.
OL John Jerry, Ole Miss

Helped clear the way for Ole Miss' 193 rushing yards against an Oklahoma State defense that finished ranked 11
th
nationally against the run.
OL James Carpenter, Alabama

Combined with
Mike Johnson
to make the key block that helped spring
Trent Richardson
on his 49-yard touchdown run in the second quarter of the Citi BCS National Championship Game.
OL Justin Anderson, Georgia

The Bulldogs were playing without starting right tackle Josh Davis, and Anderson came off the bench in the second half to help give a much-needed lift to the running game.
OL Mike Johnson, Alabama

The anchor of an Alabama offensive line that paved the way for both Mark Ingram and Trent Richardson to each rush for more than 100 yards against Texas' vaunted defense.
C Maurkice Pouncey, Florida

Spent more than five hours at Tulane Hospital with kidney stones and had several IV's, but didn't miss the start and led the way for the Gators up front.
DEFENSE
DE Marcell Dareus, Alabama

Had the hit that knocked Texas quarterback
Colt McCoy
out of the game and also returned an interception 28 yards for a touchdown right before halftime.
DE Carlos Dunlap, Florida

Came back strong from his suspension in the SEC championship game with two sacks in the Gators' Sugar Bowl romp.
DT Geno Atkins, Georgia

Pressured Texas A&M quarterback
Jerrod Johnson
relentlessly. Atkins finished with a sack and also blocked a field goal attempt in the second quarter.
DT Dan Williams, Tennessee

A rock all season long in the middle for the Vols, Williams ended his career with nine tackles, including a half a sack in the 37-14 loss to Virgina Tech in the Chick-fil-A Bowl.
LB Patrick Trahan, Ole Miss

His 34-yard fumble return for a touchdown sealed the game for the Rebels with 3:12 remaining. Trahan also had an interception on Oklahoma State's next possession.
LB Jerry Franklin, Arkansas

Finished with 10 tackles and had a third-quarter interception that turned the game around for the Hogs. East Carolina was leading 10-0, but Franklin intercepted a pass and returned it 31 yards to set up an Arkansas field goal.
LB Eric Norwood, South Carolina

Wrapped up a record-setting career at South Carolina by leading the Gamecocks with 10 tackles in their 20-7 loss to Connecticut in the Papajohns.com Bowl.
DB Walter McFadden, Auburn

Intercepted two passes in Auburn's Outback Bowl win. McFadden's first pick set up a touchdown, and he did the honors himself on the second one – returning it 100 yards for a touchdown.
DB Tramain Thomas, Arkansas

His 37-yard interception return for a touchdown tied the game in the third quarter. Thomas also tipped away a pass at the goal line in the final minutes that might have saved the game.
DB Kendrick Lewis, Ole Miss

Intercepted two passes in Ole Miss' 21-7 Cotton Bowl victory over Oklahoma State. His big hit in the fourth quarter also forced the fumble that Patrick Trahan returned 34 yards for a touchdown to break the game open.
DB Chad Jones, LSU

Did a little bit of everything in his final game at LSU. Led the Tigers with eight tackles, including one for loss, while also forcing a fumble, breaking up a pass and blocking a kick.
SPECIAL TEAMS
K Alex Tejada, Arkansas

His 37-yard field goal in overtime was the difference in Arkansas' 20-17 victory over East Carolina in the AutoZone Liberty Bowl.
P Spencer Lanning, South Carolina

In extremely cold conditions, Lanning punted seven times for a 42.3-yard average and had a long of 48 yards. He also doubles as the Gamecocks' place-kicker.
KR Brandon Boykin, Georgia

Tied an SEC record with his third kickoff return for a touchdown this season, taking one back 81 yards to answer Texas A&M's first touchdown.
October, 29, 2009
10/29/09
8:06
AM ET
Posted by ESPN.com's Chris Low
One of the Big Two is off this week in the SEC. Alabama has a bye.
But Florida faces a key showdown with archrival Georgia. South Carolina and Tennessee square off in a game that could have bowl implications, and Ole Miss is looking to get on the kind of roll it did last season about this time.
Here's a look at what to watch in the SEC in Week 9:
1. Halloween tricks:
What trick might we see in Jacksonville this Saturday other than gridlock traffic on the way to the game? Two years ago, it was Georgia's sideline emptying and the players dancing in the Gators' end zone following the Bulldogs' first touchdown. Georgia was hit with an unsportsmanlike conduct penalty, but went on to win for only the second time in 10 years against Florida. It goes without saying that Urban Meyer wasn't amused. In fact, he was livid and exacted a little payback last year when he called a pair of timeouts in the final seconds of Florida's 49-10 blowout victory just to rub it in. The wand is in Georgia's hand this year. Of course, the real trick may be simply winning the game. The Gators have won 17 in a row, are huge favorites, and the Bulldogs have lost 16 of the last 19 games in the series.
2. Halloween treats:
Any time you get a receiver like Georgia's
A.J. Green
and a cornerback like Florida's Joe Haden on the same field, it's a treat. Green leads the SEC in receiving with 41 catches for 682 yards and six touchdowns. He'll go up and get the football no matter where it's thrown and is just as accomplished at running by someone as he is making a move and running around someone. Haden has been the Gators' best defensive player this season. Teams don't like throwing to his side. But sophomore cornerback Janoris Jenkins on the other side is just about as good. Haden's fast, physical and athletic enough to play man coverage against anybody, including Green. Let's hope they're matched up often Saturday in Jacksonville, because they're two of the best in the college game.
3. Tebow through the air:
Tim Tebow
's passing numbers are pretty pedestrian. OK, they're bordering on anemic. He's ninth in the league with an average of 165.6 passing yards per game and has thrown just eight touchdowns. In fact, he's thrown as many touchdowns to the other team in his last three games (two) as he has for his own team. Maybe this is the game where Tebow and the Gators' passing game gets well. They're ranked 80
th
nationally in passing offense. Georgia is ranked 90
th
nationally in passing defense. Tebow has still been plenty effective running the ball. But he knows as well as anyone that the Gators have to be more effective throwing the ball down the field if they want to win another championship.
4. Show Dogs:
Georgia's much more talented than it's played this season on both sides of the ball. If ever there was a time to put it all together, it's this Saturday in Jacksonville. The Bulldogs have had an extra week to prepare for this game and should be as healthy as they've been all season. They're also due to play a complete football game. That starts up front on offense and defense. The Bulldogs haven't been as consistent on the offensive line as anybody would have thought, and on defense, this has to be a game where Jeff Owens, Geno Atkins and Kade Weston play like the best tackle rotation in the SEC and consistently push Tebow out of the pocket. He's been sacked nine times in his last two games.
5. Mallett's accuracy:
Ryan Mallett
has been the best pure passer in the league this season, and as crazy as it sounds, he could make a case for first-team All-SEC honors at quarterback with a strong close to the season. He's passed for 1,900 yards and 15 touchdowns, while throwing just three interceptions. But to take that next step, he has to be more consistent, which means he has to be more accurate. Eastern Michigan should make for some good target practice, and look for Mallett to try and spread the ball around to his receivers. The Hogs need to find a way to get junior tight end
D.J. Williams
more involved this second half of the season. He instantly helps a quarterback's accuracy and his productivity. There's definitely another level for Mallett, and we'll see if he can get there this season.
6. Rebels' 'D' digging in:
There was a time this season when the Rebels looked like they might be in the middle of Pacific Ocean without a life preserver. Fortunately for them, they had their defense to cling on to. The Rebels are tied for ninth nationally in scoring defense and have allowed just eight touchdowns in seven games. They've given up more than 17 points only once all season, and that was to Alabama in a 22-3 loss. They face an Auburn offense on Saturday that is coming off its worst stretch of the season. The Tigers were held to a season-low 193 yards of total offense last week in a 31-10 loss to LSU. If the Rebels' defense continues to get the kind of help it got from its offense the last two weeks, Tyrone Nix's guys should really turn up the heat during the stretch drive.
7. Kiffin vs. Spurrier:
Lane Kiffin has said lots of nice things about Steve Spurrier this week. Spurrier has said very little about Kiffin. They might be separated by 30 years, but they're very much alike in that they both have a fondness for wearing visors and will say exactly what's on their mind … even if it gets them reprimanded and even if it makes them an enemy in opposing SEC camps. They traded a few barbs back in the offseason, and then Spurrier confronted Kiffin in front of several media members at the SEC spring meetings. Spurrier is still looking for his first SEC championship at South Carolina after winning six at Florida. Kiffin is looking for his second SEC win at Tennessee after playing Alabama to the wire last week and clobbering Georgia three weeks ago. In no way does the Head Ball Coach want to lose to the Kid, and the Kid in the worst way would love to take down the Head Ball Coach.
8. Rapping with Lane:
Kiffin was already pretty popular with the high school generation based on the way the Vols' recruiting is going. They were fifth in ESPN.com's latest ranking of the 2010 class. But wait until the recruits get a load of Lil Wayne's newest song. The popular rapper mentions Kiffin in his song "Banned From TV" and raps, "Smoke weed, talk [expletive] like Coach Kiffin." Needless to say, Kiffin is eating it up and joked with reporters that the Vols were getting a little "street cred." They began practice Wednesday with the song blaring, but there is no truth to the rumor that Lil Wayne will replace the sounds of the Pride of the Southland Band when the Vols run through the "T" on Saturday night at Neyland Stadium. Now, if only that rumor about black jerseys would go away.
9. McPhee a must-see:
When you started listing the most dominant defensive linemen in the league back in August, Pernell McPhee wasn't at the head of the list. After coming over from junior college, he'd made a few waves during spring practice, but hadn't done it on an SEC stage. Well, he's now done it on an SEC stage -- for eight weeks to be exact -- and is one of the up-and-coming stars in this league at defensive end. He's a wrecking machine whether he's rushing the passer or playing the run and never takes a play off. He's second among SEC defensive ends with 7.5 tackles for loss and is only going to get better as he becomes more fundamentally sound. The matchup with Kentucky's offensive line should be a good one. The Wildcats have given up only seven sacks all season, which is the second fewest in the league behind Georgia's seven.
10. Todd's final chance?
It's not a coincidence that
Chris Todd
's three worst games of the season have all resulted in Auburn losses. He hasn't thrown for more than 133 yards in any of his last three games, and Auburn heads into Saturday's home contest with Ole Miss riding a three-game losing streak. This may be Todd's final chance to hold onto his starting spot. There was a lot of chatter earlier this week that the Tigers might go with junior
Neil Caudle
after Todd completed just eight passes for 47 yards and an interception in the 31-10 loss to LSU. Auburn coach Gene Chizik, though, said Todd still gives the Tigers the best chance to win despite his recent struggles. That vote of confidence will only go so far. Todd has to find a way to regain the form that saw him throw 12 touchdown passes and only one interception in his first five games.
February, 25, 2009
2/25/09
10:59
AM ET
Posted by ESPN.com's Chris Low
Georgia's Jeff Owens was like any other Bulldog a year ago. He couldn't wait for the season to begin.
| | |
| --- | --- |
| | |
| | Doug Benc/Getty Images |
| | Jeff Owens is hoping to bounce back from a torn ACL. |
The Bulldogs were ranked No. 1 in the country, and Owens was one of the anchors of the defense from his tackle position. He was primed for a big senior season.
But in the first quarter of the opener against Georgia Southern, his season was over. He tore the ACL in his right knee while running to make a play. He jumped over a player, landed awkwardly on his right knee -- and just like that -- was done for the season.
Because Owens hadn't previously redshirted, he was eligible to return to Georgia for the 2009 season and elected to do so rather than test the NFL waters. Projected as a high NFL draft pick before his injury, Owens will team with Geno Atkins to give Georgia the best tackle tandem in the SEC.
Owens is still working his way back to full health, but said he's getting close.
Here's my conversation with the 6-foot-3, 298-pound senior, who had started in 15 straight games before his injury and will be an integral part of the Georgia defense in 2009:
What percentage are you right now coming off that knee injury?
Jeff Owens: I'd have to say I'm about 75 or 80 percent, around that area. I'm doing close to everything. I'm running now, and that's a big plus. I'm getting my strength back, and everything is coming along well.
How difficult was last season, especially watching the defense struggle at times?
JO: It was rough; your senior year and you get hurt and you know you could have helped your teammates out there. But you've got to bounce back and weather the storm. Injuries always happen. They happen every year, and it unfortunately happened to me. It wasn't just me, either. We had a lot of guys get hurt last year.
When was it the hardest for you?
JO: When they'd get ready to go on the road and I couldn't travel with the team. I'd just have to sit back at home and watch. That hurt me more than you will know. I think it was the lowest point in my life so far. I knew I just had to have the courage to get back out there and work hard. There's nothing fun about rehabbing an ACL tear.
November, 19, 2008
11/19/08
12:47
PM ET
Posted by ESPN.com's Chris Low
Our daily look at what else is out there in the SEC: