October, 7, 2014
Oct 7
12:00
PM ET
If you spent Sunday looking at your spouse, your kids or your dog with raised eyebrows, you're not alone. Blame college football. After weeks like this past one, everyone is reassessing everything.
That's what happens when five of the top eight teams lose on the same week for the first time in the history of the AP poll.
Rather than bolting to the divorce lawyer, the adoption agency or the pound, realize this is probably just a football issue. In that spirit, let's reassess the Big Ten teams six weeks into the season.

Illinois (3-3):
Unfortunately for embattled coach Tim Beckman, the Illini are what we thought they were. It's bad but somewhat understandable to allow 458 rush yards to Nebraska on the road. It's inexcusable to allow 349 to Purdue at home. The offense is fun, but top quarterback
Wes Lunt
is
out 4-6 weeks with a fractured leg
. Beckman Watch has begun.

Indiana (3-2):
We've seen what Indiana can be (road upset of Missouri) and what Indiana still is (disappointing losses to Bowling Green and Maryland). Kevin Wilson's team is halfway to bowl eligibility but must pull off an upset or two to get there. Running back
Tevin Coleman
(841 rush yards, 8 TDs) might be the nation's best-kept secret. It will remain that way unless Indiana starts winning more.

Iowa (4-1):
The record is nice, but Iowa has played well for about six quarters this season. The defense is fine, but an inconsistent run game remains baflfling. The two-quarterback system will be fascinating theater.
C.J. Beathard
makes Iowa's offense more interesting, but does he make it better? The West Division is wide open, and Iowa has an advantageous home slate (Northwestern, Wisconsin, Nebraska).

Maryland (4-2):
The most recent performance notwithstanding, Maryland's first half exceeded expectations. The Terrapins delivered big plays, which covered up some general sloppiness (12 giveaways, 53.7 penalty yards per game). We are finally seeing what a relatively healthy Maryland team can do. The Terrapins are 3-0 on the road, so if they can take care of business at home, they'll secure a nice bowl trip.

Michigan (2-4):
Most of us, if not all of us, were wrong to varying degrees about this team. Doug Nussmeier hasn't fixed the offense. The defense remains unremarkable. Brady Hoke's days as coach seem numbered. Whether it's the talent evaluation, the talent development or the schematic vision, something went dreadfully wrong. It looks like a lost season.

Michigan State (4-1):
The Spartans remain the class of the Big Ten. If they had held a lead at Oregon, they would be in the thick of the playoff discussion. They still can get to the final four but must run the table in Big Ten play for the second straight year. Quarterback
Connor Cook
is better and so is an offense that leads the Big Ten in scoring (45.6 ppg). The Spartan Dawgs aren't quite as dominant but showed against Nebraska that they can still stifle good offenses.

Minnesota (4-1):
This is a similar, potentially better version of recent Minnesota teams. Tracy Claeys' defense once again looks very solid. The offense is extremely run-heavy (67 percent of yards), although quarterback
Mitch Leidner
provides a small passing threat. Minnesota has a real chance to make some noise in the West Division, although its closing schedule will tell a lot about the state of the program.

Nebraska (5-1):
We knew
Ameer Abdullah
was great. but he's still exceeding expectations. The offense can light up the scoreboard against soft defenses but struggled for most of the Michigan State game. Nebraska has the most overall talent in the West Division, but the road schedule (Northwestern, Wisconsin, Iowa) could prevent a trip to Indy.

Northwestern (3-2):
Woeful the first two weeks, wonderful the past two, these Wildcats are hard to identify. Pat Fitzgerald's tough talk seems to be hitting its mark, and the emergence of young defenders like
Anthony Walker
and
Godwin Igwebuike
is encouraging. The offense still struggles to score. A win Saturday at Minnesota validates Northwestern as a threat in the West.

Ohio State (4-1):
The forecast looks a lot brighter now than after a stunning Week 2 home loss to Virginia Tech.
J.T. Barrett
development at quarterback is the biggest reason for optimism, and Ohio State is generating first downs and points at a dizzying pace. The defense's development remains the big question mark. The Nov. 8 showdown at Michigan State looms.

Penn State (4-1):
The Lions have found ways to win despite obvious flaws exposed in their lone loss. If the offensive line doesn't make strides, it could be a tough second half for James Franklin's team. A solid defense should win PSU some games, and the pass game has potential with young wideouts
Geno Lewis
and
DaeSean Hamilton
. The next two games (Michigan, Ohio State) will be telling.

Purdue (3-3):
Improvement was expected as Purdue couldn't get much worse than last season. The Boilers finally found a spark on offense last week thanks to speed backs
Akeem Hunt
and
Raheem Mostert
and new quarterback
Austin Appleby
. Wins could be scarce the rest of the way, but Purdue is on the uptick.

Rutgers (5-1):
The biggest surprise in the B1G, at least outside the Garden State. Rutgers is a play or two away from being undefeated. Kyle Flood's staff changes have paid off, quarterback
Gary Nova
has made obvious strides, and the defense is holding its own, especially up front. Rutgers is more than holding its own in its new league.

Wisconsin (3-2):
I'm not as surprised as some, as Wisconsin never looked like a top-15 team, not with its problems at quarterback and receiver.
Melvin Gordon
has been as good as advertised, but teams still need some semblance of a passing attack to win consistently, especially away from home. Wisconsin isn't out of the West race but likely can't afford another slip-up.
September, 22, 2014
Sep 22
3:30
PM ET
Our crew of Big Ten reporters will occasionally give their takes on a burning question facing the league. They'll have strong opinions, but not necessarily the same view. We'll let you decide which one is right.
Today's Take Two topic: Who has the best receiving tandem in the Big Ten?
[+] Enlarge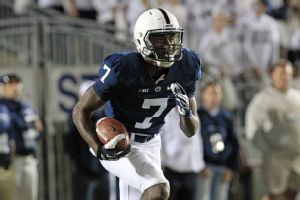 Matthew O'Haren/USA TODAY SportsPSU's Geno Lewis has the stats and intangibles to make a case for one of the Big Ten's best WRs.
Take 1: Josh Moyer
Dan, Dan, Dan -- let's not overthink this. Michigan has the Big Ten's best receiver in
Devin Funchess
, but there's really no No. 2 there.
Stefon Diggs
is an elite talent, but
Deon Long
hasn't made a huge impact this season. So, let's not get cute with this pick. The answer is really simple: Penn State's
Geno Lewis
and
DaeSean Hamilton
.
Now, before the season, I wouldn't have guessed this. Lewis was inconsistent last season, and Hamilton missed his true freshman season with an injury. But you can't argue with their production this season. Only four receivers in the Big Ten are averaging at least 100 yards a game, and Lewis and Hamilton are two of them. Lewis leads the conference in receiving yards (462) and is second in receptions (25); Hamilton leads the conference in receptions (30) and is second in receiving yards (402). How's that for complementary?
But you know what, Dan? Let's forget about the stats. You want a deep threat with great focus and athleticism? Lewis has made several highlight-worthy catches, including a
tipped ball he pulled down for a 41-yard gain
against UCF. You want consistency and a target on more underneath routes? Hamilton caught a pass in 13 of this season's first 14 quarters. You want clutch plays? Well, on PSU's game-winning drive against Rutgers, Lewis
accounted for 76 yards
on the Nittany Lions' 80-yard drive. You want a guy who has the potential to grow a lot more just this season? Hamilton was called "one of the biggest sleepers in the Big Ten" in the preseason by his receivers coach and, despite an 11-catch performance in Week 1, Hamilton said he didn't feel 100 percent.
This is a young tandem -- Hamilton is a redshirt freshman, Lewis a redshirt sophomore -- but their ability is not in doubt. We'll probably see these guys a few times on "SportsCenter"'s top 10 plays, and it certainly doesn't hurt that they have
Christian Hackenberg
throwing to them. So the answer here is an easy one: It has to be Penn State's tandem.
Take 2: Dan Murphy
[+] Enlarge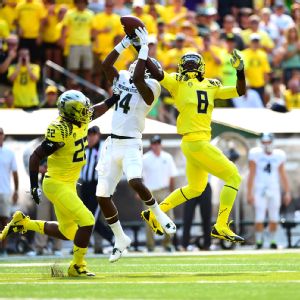 Phil Ellsworth/ESPN ImagesThrough three games this season, Spartans WR Tony Lippett has 18 receptions for 345 yards and 5 TDs.
Michigan State veteran
Tony Lippett
played less than a half
on Saturday
in Sparty's blowout
73-14 win
against Eastern Michigan, but he still had time to add to his league-leading total of five receiving touchdowns. Getting to the end zone was the main thing missing from Lippett's game in past years. Now he's on track to contend for the conference's best receiver and a shot at the Biletnikoff Award short list.
To make this list, though, he'll need a partner. That's where junior
MacGarrett Kings Jr.
comes in. The 5-foot-10 speedster has only four catches through three games this season, but he has the physical skills to complement Lippett when he reaches his potential.
Kings missed the majority of spring practice after a DUI arrest and has been playing catch up ever since. Spartans coach Mark Dantonio made Kings scrape his way back toward the top of the depth chart during fall camp. His day against Eastern Michigan was short as well, but he did flash his big-play ability with a 43-yard punt return to set up the first of many scores.
Lippett is averaging six receptions and 115 yards per outing after three games, one of which came against a talented Oregon team that boasts one of the best cornerbacks in the country in
Ifo Ekpre-Olomu
. He has reached the end zone in every game this season, more than doubling his career touchdowns after starting the year with only four to his name.
Penn State's Lewis owns the Big Ten passing play of the year so far with his 53-yard catch-and-run to help take down Rutgers two weeks, but we're only four weeks (and one league game) into the season. Lewis and Hamilton rank among the top three receivers in the conference in catches per game and yards per game, but small sample sizes make it hard to extrapolate in September.
Lippett and Kings should be able to pass Lewis and Hamilton as the conference's top receiving tandem once they get up to full speed.
The battle for wide receiver duo supremacy is likely to remain between these two programs this season for one main reason -- both pairs have the luxury of a quality quarterback. The league has other talented receivers such as Diggs, Funchess, and
Kenny Bell
and
Jordan Westerkamp
in Nebraska, but no one from that group has a proven consistent passer to feed them the ball.
September, 9, 2014
Sep 9
4:00
PM ET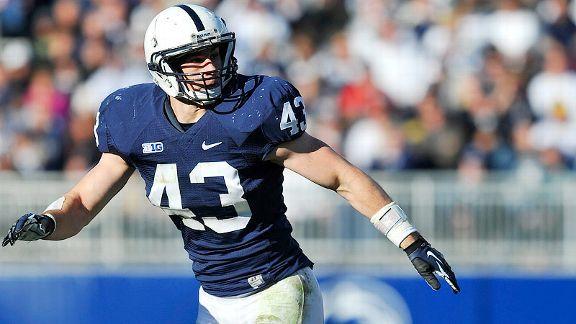 STATE COLLEGE, Pa. -- Linebacker
Mike Hull
finished up his spicy chicken sandwich at an off-campus fast-food joint while chatting and joking around with his roommates. They didn't have the slightest idea on Monday that they were moments away from an announcement they had waited for two seasons to hear.
Sure, they knew the Mitchell Report was set to be released. And, yes, they were even aware of rumors -- first started by
a clothing store blog
-- that Penn State might gain bowl eligibility
or
its missing scholarships. But they didn't expect it all to
come down that afternoon
; they just expected to sit at their small table, use their BOGO discount and enjoy their day off from football.
Then defensive back
Jesse Della Valle
checked his cell phone and told the group, wide-eyed, about what he saw. They didn't believe him – until they checked.
Due to Penn State's progress in ensuring athletics dept functions with integrity, NCAA immediately restores football postseason eligibility. - NCAA (@NCAA) September 8, 2014
Moments later, the four teammates received a mass group text for an instant team meeting. It was happening. And, even while recalling it all Tuesday afternoon, Hull seemed like he still couldn't quite believe it.
"I was smiling ear to ear and a lot of the other guys were just ... we couldn't believe everything turned around like that," Hull said. "We were expecting the worst when those were handed down."
Coach James Franklin opened his news conference on Tuesday with a big smile and by performing a little jig while jazz music played from the nearby phone line. He seemed reluctant at first to touch on the NCAA's decision, in part because it took him more than eight minutes to take questions from the media, but he couldn't stop the flood of that topic.
He wanted to focus on Rutgers, talk about Rutgers, but Penn State's newfound potential for a bowl drove the conversation. He pledged the team wouldn't look back to Monday's celebratory news and let it interfere with Saturday's game. But he also said he knew how important this was for players -- some of whom cried and most of whom looked dejected -- following the sanctions announcement in July 2012.
"This is great, now there's nothing being held back from them in terms of opportunities," Franklin said. "They have the ability to chase their dreams. But, we're going to go back to our same approach: One game at a time."
These players, especially these seniors,
didn't want to talk about this possibility
two months ago. They didn't want to think about it. At Big Ten media days in Chicago, Hull said as much. His teammate, the normally softspoken
Bill Belton
, snapped at a reporter who asked what a bowl game would mean to them.
"How would you react if you were on a bowl ban?" an agitated Belton asked, before some mild back and forth. "I'm just saying, like, if you were a kid in a program and you were in a bowl ban, it would be exciting. That's what I'm saying."
A lot of the players on this team had already resigned themselves to the NCAA's fate. Their hopes were dashed in July 2012 and, perhaps, the only thing worse would have been to get them up once more -- only to see them dashed again.
But then Monday came.
"A lot of times, you don't realize how much you miss something until you don't have it," senior safety
Ryan Keiser
said. "And we're thankful we're eligible again."
The 49 remaining players who stuck through Penn State's sanctions were called up to the front of the team meeting Monday afternoon. Their teammates showered them with a standing ovation; a smile was fixed to nearly everyone's face.
It wasn't just the seniors who were commended, it was everyone -- such as redshirt sophomore
Geno Lewis
, who was part of Penn State's 2012 recruiting class. He lived on campus for just weeks when the sanctions came down. But he chose to stay.
Lewis lingered outside Beaver Stadium on Tuesday afternoon. He knew, back as an 18-year-old, he might wind up graduating without ever going to a bowl. So when asked Tuesday if he ever thought, ever dreamt, of experiencing back-to-back winning seasons and
then
going to a bowl, he stopped walking for a moment and just paused.
"I was surprised about the bowl, but I always had faith," he said. "That's really all you can do. I'm just very happy and humbled."
Added Hull: "It's really worked out the best it possibly could."
September, 8, 2014
Sep 8
6:30
PM ET
April, 7, 2014
Apr 7
9:00
AM ET
STATE COLLEGE, Pa. -- Last Thursday morning, a barefoot James Franklin exited his office and walked -- Franklin's walk is most people's jog -- through the
Penn State
football lobby.
Asked about his footwear situation, Franklin explained he had a speaking engagement and needed to change. Moments later, he returned to the lobby and opened a side door filled with shirts and suits.
"That's what happens," Franklin said after selecting his outfit, "when you live in the office."
A lot of football coaches say they live in their offices. It fits the round-the-clock, pedal-down, never-stop-working-'cause-the-other-guy-won't culture of their chosen profession. But at some point, they actually go home, if only for a few hours.
Franklin is actually living in his office at Penn State. He hasn't left for weeks. He recently drove around town simply to get away from the building.
His nights end on couches or on a faulty air mattress. Makes it tougher to do those back handsprings out of bed that Franklin famously begins his days with.
[+] Enlarge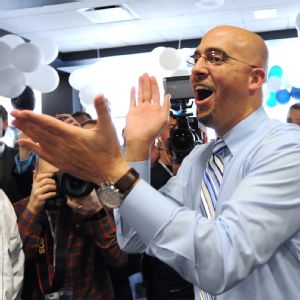 MCT via Getty ImagesEven while sleeping in the office, James Franklin has not lacked for energy in his first few months on the job at Penn State.
"Every night when you leave, you see him pushing couches together," Penn State defensive line coach Sean Spencer said. "You're like, 'You're not staying here again, are you?' And he just shuts his door.
"If he wasn't in here, he'd be in at 5 in the morning and probably leave at 10 or 11 at night anyway. So I guess for the six hours he's going to take a nap, he'll just stay."
There's a somewhat reasonable explanation for Franklin's living situation: His family remains in Nashville, Tenn., and they've yet to secure a new home here. On the other hand, Franklin could easily spring for a hotel room. After signing a contract with Penn State that will pay him $4.25 million annually, he could buy out the entire hotel.
This is more his style. Franklin's corner office is more luxurious than the spare room he lived in while working at Kutztown University, where he earned a $1,200 salary and made ends meet by filling soda machines and tending bar on Sundays. But his approach to coaching -- total immersion, relentless energy -- is the same.
At
Franklin's introduction Jan. 11
, he delighted Penn State fans with talk of dominating the state in recruiting and unifying the community. He didn't win the news conference. He crushed it.
But his performance left some people wondering two things:
1. Is this guy for real?
2. Is he always like this?
According to Franklin's new players, the answer to both is a resounding yes. Franklin doesn't downshift and neither does his staff. They're propelling Penn State through another potentially treacherous transition -- Franklin is the Lions' fourth coach since November 2011 -- and they aren't slowing down.
"I've never lacked for energy, I've never lacked for enthusiasm," Franklin said. "I'm a realist and see the challenges and issues, but we're going to find ways to overcome 'em."
Penn State faces many challenges in Franklin's first season. The program is only halfway through the four-year period of severe NCAA sanctions.
The
scholarship penalties were reduced last year
, but the Lions are thin in several spots: offensive line, wide receiver and linebacker. The
Lions return an excellent centerpiece
in quarterback
Christian Hackenberg
and other potential All-Big Ten players, but they have to keep them all healthy. Franklin said of the offense: "We're probably going to spend our first two years here solving problems, hiding deficiencies, rather than attacking the defense."
One thing that will never be deficient: Franklin's drive. Penn State players he recruited at past stops see the same full-throttle approach from the coach.
"He's that person all the time," safety
Adrian Amos
said. "That's very important. It builds a little bit of trust. You know what you're getting."
Added offensive tackle
Donovan Smith
: "Being a big recruit, coaches would tell you things just because. Coach Franklin always kept it real. Genuine since day one."
Franklin and his assistants, eight of whom he brought to PSU from Vanderbilt, needed to create trust with a team that has endured more recent adversity than any in the country. Although Hackenberg said he's never been on a team so close, players needed to open themselves up to new coaches and schemes.
"Any time there's transition, the players are anxious," defensive coordinator Bob Shoop said. "Sometimes the relationships get tested because you're challenging and pushing them. But [Franklin] always says we can demand a lot as long as we show them how much we care."
During the recruiting rush after Franklin's hiring, Shoop sent late-night text messages to his players, introducing himself and commenting on their play. If he rides a player during practice, he'll send an encouraging text afterward (
We're critiquing the performance, not the performer)
.
Spencer and special teams coordinator Charles Huff use symbolism such as
wild dogs
and nektonic sea predators to inspire their players. As the team practiced the two-minute drill Wednesday, Franklin called a timeout, clapped his hands in front of kicker
Sam Ficken
's face and screamed, "I'm icing your ass!" Not only did Ficken make the ensuing field goal, but he drilled a 55-yarder to prevent a team run. Players mobbed Ficken and Franklin.
"I always talk [to players] about matching my intensity," Spencer said. "And as coaches, we have to match the intensity of the head coach, which is hard to do. Ever walk behind that guy? I've never seen anything like it. It's a full-on sprint."
Shoop calls the staff's spirit "our secret sauce," but enthusiasm and hard work don't guarantee wins in the fall.
The Lions have only two healthy offensive linemen (Smith and
Angelo Mangiro
) who lettered last year. Their leading returning wide receiver,
Geno Lewis
, had 18 catches in 2013. They lose their only All-Big Ten defender, tackle
DaQuan Jones
, from a unit that, by Penn State's standards, really struggled. They enter a division featuring Michigan State, Ohio State and Michigan.
PSU needs versatile players
, walk-on contributions and good fortune on the injury front.
But after the most turbulent period in team history, the Lions also need consistency. Franklin and his staff intend to provide it.
"The coaches the players see the first week are the same guys they're going to see when they show up here for the 20-year reunion," Franklin said. "It's going to be the same energy and the same personality."
February, 24, 2014
Feb 24
3:30
PM ET
STATE COLLEGE, Pa. -- Two children, no older than 12, stood in matching gray Penn State T-shirts on Saturday while one pointed to
Geno Lewis
' paper nametag on his locker.
"That's the Lewis guy I was talking about," one of the boys said, turning to the other. "Is he here? I want to talk with him."
[+] Enlarge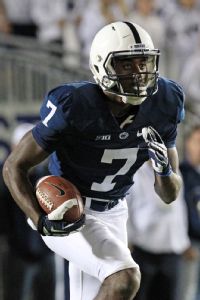 Matthew O'Haren/USA TODAY SportsPenn State receiver Geno Lewis is looking forward to breaking out in 2014.
Lewis was out of earshot of the boys' conversation in the Lasch Football Building, one that occurred during the team's
annual Make-A-Wish event
, but he smiled upon hearing the anecdote. The redshirt sophomore wideout wasn't all that surprised -- he admittedly signed more autographs this year compared to last -- because he has become this passing attack's new No. 1 receiver.
And everyone, even kids too young for a PG-13 movie, know it.
"I still feel like I have a long way to go, but I'm getting better every day," Lewis said. "And when kids remember my name like that and everything, it's just a blessing."
For two seasons, Lewis' name hid beneath the shadow of NFL-bound
Allen Robinson
, who quickly rose from an unknown to one of the Nittany Lions' greatest wideouts. Lewis spoke quickly on Saturday without breaking eye contact. He was confident, but he also seemed realistic. He didn't know if he'd reach Robinson's production -- a bar raised so high it's hard not to perform the limbo the season after -- and he didn't seem eager at guessing how the 2014 season might end up.
"All I know," he said, "is I'm blessed to be put in this situation, and I wouldn't ask for it any other way. I'm going to go out there and play to the best of my ability and give this team all I've got to get a win."
While chatter grew during every week of the 2013 season about Robinson's next school record -- he set the school marks for both catches (97) and receiving yards (1,432) -- Lewis either stood on the sideline or played the role of distraction while on the field. Robinson accounted for more than 46 percent of the Nittany Lions' passing yards last season, while Lewis finished with 18 catches for 234 yards.
But it's obviously not Lewis' production that has excited fans and increased the number of autograph seekers. It's his potential and athleticism. Lewis was the headliner of the 2012 recruiting class, a solid four-star prospect, and he wowed onlookers with an
over-the-shoulder 59-yard TD grab
against Wisconsin.
If Lewis wasn't forced to shift from high school quarterback to college receiver, he most certainly would've contributed as a freshman. But he has spent these past two seasons not as a bitter rival to Robinson and
Brandon Felder
, but as a patient student who has tried to perfect his route-running. And the time for patience has passed.
"I'm smarter, more ready and I'm going to be more physical," he said. "Just as long as I'm getting better, that's all that matters."
But, even with his improvement, does he really think this passing attack can somehow get better without a player like Robinson? Can Penn State really be better without its MVP?
"I think we can," he said, adding that his fellow receivers and tight ends now have a full offseason to work with
Christian Hackenberg
.
Lewis said his teammates have wasted no time in improving their chemistry with the Big Ten's reigning freshman of the year. The receivers and defensive backs have already taken to meeting in Holuba Hall and elsewhere, practicing routes and developing better timing with their quarterback.
And Lewis is looking forward to seeing how his patience -- and his teammates' work -- pays off.
"I think we're going to surprise a lot of people," he said. "I just can't wait."
January, 23, 2014
Jan 23
9:00
AM ET
A record number of underclassmen elected to take the NFL plunge this year, but the Big Ten barely made a splash. Only four Big Ten juniors are entering the draft, continuing a recent downturn
after just six left early a year ago
. Several stars certainly could have entered the draft, so this is good news for fans who enjoy seeing the league's top players stay for a fourth year. But it also underscores a lack of top talent, especially when compared to the SEC and Pac-12.
Despite a small contingent of early entries, Big Ten teams have some significant holes to fill. As spring ball approaches, here's a look at who's gone and who might replace them.
Leaving:
Indiana WR
Cody Latimer
[+] Enlarge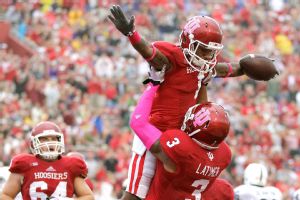 AJ Mast/Icon SMIShane Wynn averaged 13.8 ypc this season and scored 11 TDs. His stock and those numbers should soar higher as he takes on a bigger role next season.
The replacement:
Shane Wynn
Wynn and Latimer obviously have different body frames, but both produce at a high level, particularly when it comes to touchdowns. Latimer led Indiana by wide margins in both receptions (72, next highest: 47) and receiving yards (1,096, next highest total: 739), but Wynn had more touchdowns with 11 (Latimer at nine). The departures of Latimer,
Kofi Hughes
and tight end
Ted Bolser
make Wynn the team's only returning receiver with more than 15 receptions in 2013.
Indiana certainly could use a bigger receiver to play on the outside where Latimer roamed, and perhaps
Nick Stoner
or incoming recruit
Dominique Booth
fills that role. But the Hoosiers undoubtedly will rely more on Wynn, a 5-foot-7 dynamo who averaged 13.8 yards per reception last season. Of the Big Ten's early entries, Latimer is the most surprising, given the strength in the draft at wide receiver, but Indiana has had little trouble developing strong pass-catchers.
Leaving:
Penn State WR
Allen Robinson
The replacement:
Geno Lewis
Latimer's departure raised a few eyebrows, but Robinson's had been expected for some time, especially after coach Bill O'Brien left Penn State for the NFL's Houston Texans. Robinson earned the Big Ten's Richter-Howard Receiver of the Year award in both 2012 and 2013 after recording back-to-back 1,000-yard seasons to lead the league each year. The Penn State standout had 97 catches for 1,432 yards last season, topping the Big Ten charts in both categories despite not playing in the postseason.
Lewis likely will move into the No. 1 spot, in part because Penn State doesn't much experience at receiver. In addition to Robinson, the Lions lose No. 2 wideout
Brandon Felder
. Although Penn State returns a wealth of talent at tight end, Lewis is the leading returning wide receiver with 18 catches for 234 yards and three touchdowns in 2013. Lewis showed potential during his redshirt freshman season, especially with a 91-yard performance in the finale at Wisconsin. After struggling midway through the fall, Lewis' strong finish sets him up well to be quarterback
Christian Hackenberg
's top option in 2014.
Leaving:
Ohio State CB
Bradley Roby
The replacement:
Doran Grant
. Grant played opposite Roby throughout last season and recorded 58 tackles, 3 interceptions, 10 pass breakups, a forced fumble and a blocked kick. He endured some ups and downs in a secondary that struggled for much of the season, especially after losing safety
Christian Bryant
to injury, but the experience should prove valuable going forward. Not surprisingly, Grant was challenged more than Roby, but as
these numbers show
, he held his own despite some mistakes here and there.
Roby's early departure is the least surprising of the group, as he announced before the season that it would be his last at Ohio State. His presence will be missed, especially on special teams, but Grant could develop into a top corner. Ohio State certainly has bigger problems to address in the back four as it welcomes in new coordinator/secondary coach Chris Ash from Arkansas.
Leaving:
Ohio State LB
Ryan Shazier
The replacement:
Trey Johnson
. Ohio State returns starters at the other two linebacker spots in
Curtis Grant
and
Joshua Perry
, and it's possible Perry could slide over into the role where Shazier excelled. But Johnson served as Shazier's backup in 2013 and boasts the athleticism to step in and perform. Johnson played sparingly last fall, recording 11 tackles in six games, but his role undoubtedly will expand with Shazier moving onto the NFL.
There should be plenty of competition at linebacker, a spot where depth has been a concern for head coach Urban Meyer. Like Johnson,
Mike Mitchell
came to Ohio State as an extremely decorated recruit and should push for playing time this spring after a redshirt season.
Camren Williams
and converted safety
Devan Bogard
also are possibilities, although Bogard will be coming off of a second ACL tear.