NCF Nation:

George DeLeone
April, 30, 2013
4/30/13
9:00
AM ET
One of the bigger surprises nationally from an NFL draft weekend that produced no shortage of them was just how well UConn fared. The Huskies had a school-record five players selected in the 2013 draft, a number that was tied for 10th-most among all colleges, along with Oregon, Texas A&M and North Carolina.
Gee, which of those is not like the other?
In fact, you could extend that question to include all 13 schools that had five or more players taken in this year's draft. The Tar Heels are the only team among the group of 13 that did not play in the postseason, and that's because the 8-4 program was dealing with a bowl ban.
Do UConn fans look at this year's record NFL sendoff as a positive recruiting tool, or does it just make consecutive 5-7 seasons in Paul Pasqualoni's first two years all the more disappointing?
To be fair, anyone who has followed this program closely either during this past season or throughout the lead-up to the draft should not be all that surprised by the showing this past weekend.
Trevardo Williams
(fourth round, 124th overall, Texans) led the Big East in sacks in each of the past two seasons,
Blidi Wreh-Wilson
(third, 70, Titans) was the team's MVP and
Sio Moore
(third, 66, Raiders)
dazzled throughout the evaluation process
.
The Huskies, after all, ranked No. 9 nationally in total defense in 2012, allowing just 309.92 yards per game. Four of their five draftees were on the defensive side of the ball, with tight end
Ryan Griffin
(sixth, 201, Texans) being the lone outlier.
The problem, of course, was an offense that ranked 110th nationally in yards per game, 118th in scoring, 117th in rushing and, most of all, 110th in turnover margin.
Pasqualoni
was quick to the point in an interview Monday with the Hartford Courant's Desmond Conner
:
"Well if you turn the ball over [on offense] and you give up a big play at an inopportune time [on defense] regardless you're chances of winning are slim," Pasqualoni said. "That would be my first response to it. The biggest factor in winning football games, still, and it's no revelation, nothing new and it's not anything anybody doesn't know, it's that the turnover…if you turn the ball over in tight games you stand a good chance of losing, No.1."
UConn brings back
Chandler Whitmer
under center and
Lyle McCombs
in the backfield, along with its entire starting offensive line from 2012. It also stripped George DeLeone of his offensive coordinator duties, though he is still in charge of the line.
Whether all of those pieces, plus the addition of offensive coordinator T.J. Weist, can help the Huskies make the jump to postseason play in 2013 remains to be seen.
April, 19, 2013
4/19/13
9:00
AM ET
Nine of 10 Big East teams will be through with spring practices come Monday, with Rutgers serving as the outlier. With UConn, Temple and SMU all gearing up for their annual spring games this Saturday, here's a peek at what to look for.

UCONN
Fans in attendance for the noon start at Rentschler Field should keep an eye on how the offense moves under new coordinator T.J. Weist. The Huskies ranked 118th in total offense last year as coordinator George DeLeone was stripped of his duties, though he remains the offensive line coach. But the squad returns all five starters up front to protect incumbent quarterback
Chandler Whitmer
, as well as top running back
Lyle McCombs
, as the unit will look to keep pace with a defense that was nothing short of outstanding last season but is down a few stars who will hear their names called next weekend in New York.
Hank Hughes is the new man in charge of the defense, and he has
Yawin Smallwood
back to anchor a unit that has said goodbye to
Sio Moore
,
Jory Johnson
,
Trevardo Williams
and
Blidi Wreh-Wilson
. The Huskies boast plenty of potential in the middle with linebackers
Graham Stewart
,
Ryan Donohue
,
Jefferson Ashiru
and
Omaine Stephens
-- but that is just potential, for now.
UConn needs answers on both sides of the ball if it hopes to improve off head coach Paul Pasqualoni's consecutive 5-7 seasons.

SMU
The Mustangs will have an open practice at 9 a.m. local time at Pettus Practice Field, with many current and former players signing autographs afterward. There will be an NFL Punt, Pass and Kick competition afterward for kids ages 6 through eighth grade.
The Mustangs are intriguing, first and foremost, because they brought Hal Mumme aboard as their assistant head coach and passing game coordinator. Pairing the Air Raid curator with head coach June Jones and his run 'n' shoot pedigree is a fascinating experiment in and of itself.
Kenneth Acker
, who is coming off a second-team All-Conference USA season in the secondary, is another experiment this spring, with the staff splitting the cornerback wide to catch some passes with the offense.
Defensively, the Mustangs are replacing a bulk of their production from last season, with
Margus Hunt
,
Ja'Gared Davis
and
Taylor Reed
all gone.
Kevin Pope
and
Robert Seals
must step up at linebacker.

TEMPLE
Head coach Matt Rhule's first spring will feature live kicking and punting, normal scoring and 15-minute quarters. Who will eventually emerge as quarterback, however, is another matter. Juice Granger and
Thomas Rumer
will see action on the Cherry squad, which is coached by defensive coordinator Phil Snow, while
Chris Coyer
and
Connor Reilly
will take reps for the White team, coached by offensive coordinator Marcus Satterfield.
Reilly has thrived under the pro-style attack, ascending to No. 1 on a depth chart that was expected to see Coyer and Granger fight for the top spot. Coyer has seen time as an H-back in practice, but Rhule said he will remain under center.
Kevin Newsome
, out with a shoulder injury, has been moved to H-back.
Reigning conference freshman of the year
Tyler Matakevich
leads a defense that struggled across the board last season, while
Levi Brown
and
Sean Daniels
are the big guys up front worth keeping an eye on.
The live kicking and punting part of Saturday's 1 p.m. contest at Edberg-Olson Hall is worth noting in that the Owls need to replace
Brandon McManus
, who held the school records for field goals made and punting average.
December, 1, 2012
12/01/12
7:19
PM ET
Tell me if you have heard this one before: Cincinnati, Big East champs.
The Bearcats won at least a share of the Big East for the second consecutive season and the fourth time in the past five years with a
34-17
win over UConn on a frigid Saturday, denying the Huskies a bowl spot for the second straight season.


Neither team had much success rushing the football -- nobody went over 100 yards on the ground. Instead, both had to rely on the pass and the Bearcats are simply better in that area than the Huskies. They have been all season. UConn tried to hit some big plays early in the game, but its receivers had a hard time hanging onto the football.
Meanwhile, UConn saw first-hand why other teams have had a tough time slowing down
Travis Kelce
, who showed why he is the best tight end in the Big East this season. The Huskies had no answer for him, as Kelce accounted for three total touchdowns -- two receiving and one passing.
The turning point, though, came in the third quarter, after
Chandler Whitmer
took a shot to the head and was forced to leave the game for the second straight week.
Johnny McEntee
came on in relief. Last week, he was able to lead the Huskies (5-7, 2-5) to the upset win over Louisville. But this week, he threw two interceptions -- including a critical one with UConn trailing 24-17. The Bearcats (9-3, 5-2) converted that mistake into a touchdown run by
George Winn
, and they never looked back.
Cincinnati finishes the season in a four-way tie atop the Big East standings, declared co-champions with Rutgers, Louisville and Syracuse. The Bearcats' most likely postseason destination is the Belk Bowl in North Carolina against an ACC opponent. But perhaps the bigger question now is whether coach Butch Jones will stick around for another season.
Jones' name has come up for the openings at Purdue and Colorado. Last season, Jones turned down an offer from Illinois -- where his former athletic director is now in charge. Though Jones has continually said that he is happy with the Bearcats, this is a story that bears watching.
As for UConn, there will now be questions about whether coach Paul Pasqualoni enters next season on the hot seat. UConn made a BCS bowl in 2010 and has followed that up with consecutive 5-7 seasons. The offense leaves plenty to be desired and has led some to wonder whether offensive coordinator George DeLeone is on the hot seat himself.
The defense played well enough to make a bowl game this season. The offense did not, and now the Huskies have to re-evaluate in the offseason.
October, 12, 2012
10/12/12
4:00
PM ET
Looks like I've got lots of mail. Let's start with some feedback on Cincinnati.
Ron in Harrison, Ohio, writes:
Andrea,
excellent article on Cincinnati
this week about the lack of national respect. The continued lack of attention is frustrating. No reasonable fan believes this is a Top 5 program, but it has been most decidedly a Top 20 program the last five years. Yes, there are advantages for being under the radar, however those are greatly overshadowed by the lack of recognition, especially in recruiting. In 2009, if you objectively look at UC's resume and Texas' resume, they were pretty much the same. The biggest reason Texas was in the NC game was because they were ranked preseason, while UC was not (even though they were coming off a BCS appearance and returning their entire offense). I don't necessarily believe UC was a better team that year, but rather just pointing out that these rankings do have an influence on these types of decisions. When the playoff system starts, this importance may even be heightened since only four teams are picked. What if there are five or six 1-loss teams for only four slots? It is naive to think that name recognition won't play a role there. Anyhow, thanks for a great article.
Jordan in Galveston, Texas, writes:
AA--I love my Bearcats more than anyone, but why is no one saying what I'm sure all the writers at ESPN know: the reason that UC gets no love, especially preseason, is that we have zero, yes zero, marquee non-Big East wins. Since joining the Big East, UC has the following records against perennial football powers: 0-1 vs. Ohio State; 0-2 vs. Oklahoma; 0-1 vs. Florida; 0-1 vs. Tennessee; 1-2 vs. Virginia Tech; 0-1 vs. Penn State. My 'Cats are 3-0 vs. Oregon State and Illinois but they aren't really marquee wins. So just say what we're all thinking. Win a BCS bowl against a big team and everything changes. Simple as that.
Andrea Adelson:
Thank you all for the terrific feedback. There were many other notes in the mailbag on that column, but these two best represented your sentiment. Jordan brings up good points -- winning a BCS game would help a lot. BUT, let us just take a look at a team like Virginia Tech. Tell me a marquee nonconference win that program has had in the last five years. Nebraska? This is a team that has fallen flat on its face in BCS games, but is a preseason Top 25 mainstay. I truly believe you have to put in more than five years to get people to accept you as a legitimate contender. That is why the Hokies are now a part of the Top 25 "establishment." As for Ron, I also believe name recognition will impact future playoff selections and am a firm supporter of having no rankings until October, the way the BCS does it. Preseason rankings do have an impact on how some of these teams end up.
---
Eric in Dublin, Ohio, writes:
Please explain to me how (George) DeLeone at UConn is not on the hot seat. Year 2 or not, he was brought in as an offensive guy, and after the first year couldn't move the ball. He takes over for an offensive line that was great in the past but was weak that first year promising to fix it and it looks even worse since. If Coach Pasqualoni wants to keep his job for more then three years, he better expect more out of his offensive guru. If not, let me be the first to overreact and ask that Coach (Don) Brown take over.
Andrea Adelson:
I agree with you -- there should be serious questions asked of DeLeone and his job performance. This is a team that returned a 1,000-yard running back and a quarterback with junior college starting experience, who was pretty heavily recruited out of high school as well. But UConn looks worse than last year. Scoring is down nearly 5 points a game; total offense is nearly the same (313 last year; 310 this year); and rushing offense is down 16 yards per game. In fact, UConn is averaging 102.2 yards rushing per game -- en route to its worst mark as an full-time FBS team. The worst? Set last year, at 118.5. So that means under DeLeone, UConn would have its two worst rushing seasons since 2002. That is a problem.
---
Manan in East Brunswick, N.J., writes:
Who's on bigger upset alert: Louisville at Pitt or Rutgers at home against Syracuse? Both underdogs are good teams when they actually show up.
Adelson:
I think Louisville. The Panthers have dominated the series of late and are capable of controlling the clock if their run game is working. Louisville can get leaps better on defense as well.
---
Rich in WH, Conn., writes:
Hello. Appreciate the coverage. I have a question....Is it wrong that as a UConn fan I root against UConn when they play Cincy and Louisville, just for the sake of the conference? Big picture, strong Big East will make for stronger programs, including UConn? If UConn beats either or both, it would tarnish the entire league and do little for UConn's season. I mean, it seems to be a lost season and at this point. Signed, Seriously Conflicted.
Adelson:
A lost season why? UConn is only 0-1 in conference. Wins over Louisville and Cincinnati would go a long way toward winning the Big East, right? I don't see how any fan roots against his own team for the good of the Big East. Buck up, Rich, and just root for the Huskies to run the table!
---
Andrew in Houston writes:
Hello Andrea, I don't normally write columnists but I think your Big East bias is just far too blatant to not be addressed by someone who understands reality. I just read your article about how
Geno Smith might not have the same success
against the Big East as he's having against the Big 12. First of all, you were right about one thing. He probably wouldn't be a Heisman candidate because people wouldn't take his level of competition seriously. The Big East is a mid-major disguised as a major conference. Look at Rutgers, who I know as a Big East lackey you are so proud of...beat Arkansas 35-26 in a game that was a struggle and Arkansas put up huge numbers in the passing game. In the games before and after Rutgers, Arkansas was outscored 108-10. Are you seriously talking about Big East defenses? Look, everyone knows the Big 12 isn't a conference built on defense but the talent level IN EVERY FACET OF THE GAME is better in the Big 12, Pac-12 and SEC is better than in the Big East. I don't quite understand how you have a serious job as a sports reporter. It seems like ESPN will just hire anyone these days and let them talk complete unfounded rubbish and pretend it's journalism. Maybe you should actually watch some football before you write another column.
Adelson:
Andrew, how is this for unfounded rubbish? West Virginia scored more than 45 points ... zero times in seven Big East games last year, averaging 31 points per league contest. In two Big 12 games, the Mountaineers have gone over 45 both times to average 59 points per league game. Four different Big East players had multiple sacks on Smith last year, including current Cincinnati defensive end
Walter Stewart
, who leads all players last year AND this year with 2.5 sacks on Smith.
Oh, and one more thing. The Big East had five defensive players drafted before any defensive player from the Big 12 was taken this past April. Two of those players were first-round picks. Yeah. The NFL knows nothing about football, just like me!
November, 3, 2011
11/03/11
10:15
AM ET
Here are the top storylines to watch in the Big East in Week 10.
1. Separation.
The top four teams in the league play each other, as Cincinnati travels to Pitt and Louisville plays at West Virginia. The Bearcats are 2-0 in the Big East; the other three each have one loss. If Cincinnati and West Virginia win, they would set up a huge conference showdown next week with Big East championship hopes on the line. Cincinnati, West Virginia and Pitt control their own destiny. If one of those teams wins out, it wins the conference.
2. Fast start?
Cincinnati has won five consecutive games, but the Bearcats have scored just 23 first-half points in their past three. That is a trend coach Butch Jones wants reversed. While it says plenty about the ability of this team to be able to bounce back after falling behind in its past two games, there also is a sense that it has to start putting together complete games with the toughest part of their schedule ahead.
[+] Enlarge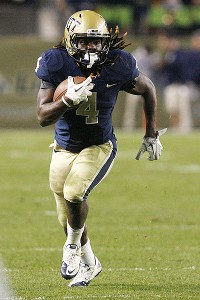 Charles LeClaire/US PresswireSenior Zach Brown will step in as Pitt's starting running back following the season-ending injury to standout Ray Graham.
3. Life without Ray Graham.
Pitt embarks on life without its best player Saturday. How will Wisconsin transfer
Zach Brown
do in his place? Will
Tino Sunseri
be able to shoulder increasing responsibility without the best player on offense? The Panthers did just fine without him last week against UConn, but they are playing a much better team Saturday. The Bearcats have the No. 1 run defense in the league, and no doubt will try to make Sunseri beat them.
4. Which West Virginia D shows up?
The one that played against Syracuse and the first half against Rutgers? Or the one that dominated in the second half of a comeback victory against the Scarlet Knights? Even defensive coordinator Jeff Casteel has been puzzled by the inconsistent personality of his unit. One player to watch has got to be Louisville tight end
Josh Chichester
. The Mountaineers could not cover the tight ends in a loss to Syracuse a few weeks ago; Chichester presents major matchup problems.
5. Hostile environment?
The West Virginia game provides a crucial challenge for Louisville, winners of two straight. Not only are the Mountaineers one of the best teams they have faced, but the environment may also be extra hostile because of the way both schools fought to get into the Big 12. Louisville reportedly threw a last-minute wrench into the plan for West Virginia to join the new conference, delaying the move a few days. The Cardinals remain in the Big East.
6. Coach P reunion.
UConn coach Paul Pasqualoni might be downplaying it, but the fact remains that his first game against his old team is one of the biggest stories going into this game. Pasqualoni took Syracuse to BCS games and a string of success before a downward spiral ended up dooming him. There is one other important connection in this game -- UConn offensive coordinator George DeLeone has served as a mentor to current Syracuse coach Doug Marrone, and the two remain close.
7. Bounce-back Syracuse?
The Orange have been a hard team to figure out because they have been so inconsistent. It is hard to think about BCS games when they missed a chance to build momentum off an important win over West Virginia. The offense really struggled in the face of the Louisville pressure last week, while the defense came out flat and allowed Louisville to score 14 first-quarter points. It was the first time all season Louisville scored that many points in the first quarter against an FBS opponent. How do the Orange respond against a team they should beat? Hint: Throw the ball. A lot.
8. UConn desperation?
The Huskies (3-5) are on the verge of being in a BCS game one season and on the couch the next, a similar fate to that which befell Cincinnati in 2010. There is a variety of reasons why this season has not gone well for UConn, and now fans are wondering why Pasqualoni insists on sticking with
Johnny McEntee
as his starter. McEntee has shown little since being named to the job, but Pasqualoni could not keep going rotating three quarterbacks. He did say this week that freshman
Michael Nebrich
would not redshirt, so he could get more playing time down the stretch.
9. Gary Nova improvement.
You wonder how much longer Rutgers coach Greg Schiano will stick with true freshman Nova, who has had a hand in nine turnovers over the past three games. Schiano still believes Nova gives his team the best chance to win, but also admitted the mistakes have got to stop. Will they against a USF defense that has been shaky at times? If Nova throws more interceptions, how would Schiano handle it during the game?
10. USF oh-fer?
It is possible that a team most pegged as being in the top tier of the conference could begin conference play 0-4. USF needs the ship righted, and fast, to stop its three-game slide. The Bulls are coming off a bye, but is that a good thing? The last time they played after a bye, they lost
16-10
to UConn in a game riddled with missed opportunities inside UConn territory, turnovers and penalties. The Bulls are not playing disciplined right now (23 penalties in three losses) and that has to change.
June, 21, 2011
6/21/11
5:00
AM ET
1. Dawgfather Don James, the College Football Hall of Fame coach who led Washington to a share of the 1991 national championship, spent his first day on the golf course Monday after a six-week recovery from the removal of multiple skin cancers. James, who coached at Kent State before arriving in Seattle in 1975, said excitement in Seattle is palpable after the Huskies finished last season with four straight wins. "I think Sark's done a good job," James said. Sark, of course, is head coach Steve Sarkisian.

2. Kudos to another Hall of Famer, Nevada coach Chris Ault, coming off the most successful season in Wolf Pack history, for taking a pay cut of nearly five percent after agreeing to a two-year contract extension. The next time that Ault talks to his players about the sacrifices they need to make for each other, they won't have to look very far for an example.

3. UConn coach Paul Pasqualoni made his first stop during an ESPN carwash Monday at the podcast studio. Coach P discussed his readjustment in returning to college football after seven years with the Dolphins and the Cowboys, his reunification with his friend and colleague, offensive coordinator George DeLeone, and the deTexasification of his three children. "They were starting to think they were born there," Pasqualoni, a Connecticut native, said. It's one more reason he's happy to be in New England. Listen to him and LSU coach Les Miles in a special podcast that will post Tuesday.
April, 5, 2011
4/05/11
9:00
AM ET
Coaching changes can be difficult on players. But when Randy Edsall left Connecticut for Maryland,
D.J. Shoemate
wasn't all that upset.
Change, in Shoemate's case, meant a fresh start. After transferring from USC last year, Shoemate came to Storrs with a lot of hype. Yet after fumbling the ball in a costly situation at Michigan in the opener, he established residency in Edsall's doghouse. He would only carry the ball 28 times all season.
When Paul Pasqualoni took over the job in January, he made it clear to Shoemate that 2010 was ancient history.
[+] Enlarge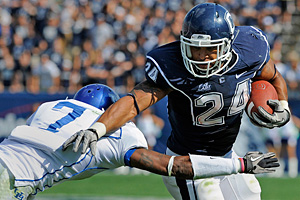 AP Photo/Fred BeckhamD.J. Shoemate hopes a fresh start will pay off for himself and the Huskies.
"In my first meeting with Coach P, he told me it was a clean slate," Shoemate said. "He said, 'We want to see what you can do, and we're not going to criticize you on what happened in the past.'"
Pasqualoni and offensive coordinator George DeLeone don't have a lot of choice other than to give Shoemate a long look at tailback this spring. Star runner
Jordan Todman
skipped his senior year to enter the NFL draft, and backup
Robbie Frey
transferred after the season. Shoemate and Martin Hyppolite are the only real contenders to replace Todman this spring.
"It's one of the greatest opportunities of my life," Shoemate said. "I'd be foolish not to answer the call."
First, Shoemate realizes he must fix the ball-security issues that plagued him last year. He said he has worked on keeping the ball high and tight and to get comfortable carrying it in his left arm when running to that side. He has also been using a strap that attaches to the ball while he runs, as another player tries to pull it away.
Then he'll have to re-establish himself and show the talent that made him the No. 5 athlete in the Class of 2008, according to ESPN Recruiting. At 5-foot-11 and 220 pounds, he has power and speed. USC used him as a fullback and a receiver, and he can do a lot of different things out of the backfield. He likes the way Pasqualoni and DeLeone are running this Huskies offense.
"I think it's more suitable for myself and my style of play," he said. "It's more of a pro-style attack. I feel I can carry that on to the next level, hopefully."
Asked if he could be a workhorse back like Todman, Shoemate doesn't hesitate by answering, "I know I can." This is his last shot to prove it, in his senior year. Last season, he said, taught him to be more patient and mature, as he made his contributions on special teams and didn't complain about his diminished role.
This year, he's looking for a much larger role in the UConn offense. At the very least, he's starting with a new opportunity.
"I'm ready to pick the load up and run with it," he said.
March, 24, 2011
3/24/11
1:30
PM ET
As spring practice kicks into high gear around the Big East, here's your handy-dandy guide to all of the offseason coaching moves around the league. Clip and save: (Oh, wait. This is a blog. Do not clip your computer screen.)
Cincinnati
No changes
Connecticut
Out:
Randy Edsall, head coach (to Maryland)
Todd Orlando, defensive coordinator/inside linebackers (to Florida International)
Lyndon Johnson, outside linebackers/special teams coordinator (to Maryland)
Terry Richardson, running backs (to Miami)
In:
Paul Pasqualoni, head coach
George DeLeone, offensive coordinator
Don Brown, defensive coordinator
Clayton White, special team coordinator/running backs
Internal moves:
Former offensive coordinator Joe Moorhead is now quarterbacks coach
Quick take:
Pasqualoni, the Connecticut native, comes aboard with two new coordinators (three if you count special teams). But the rest of the staff stayed intact. Edsall took only one assistant with him to Maryland, which is strange. There should be more continuity in this coaching change than most. The trick will be getting the old and the new styles to mesh.
Louisville
Out:
Mike Groh, quarterbacks (to Alabama)
In:
Shawn Watson, quarterbacks
Quick take:
Charlie Strong scored a victory by keeping his staff almost fully together after a successful first year. Watson, the former Nebraska offensive coordinator, looks like a great addition to coach a position in flux.
Pittsburgh
Out:
Dave Wannstedt, head coach (forced resignation)
All of Wannstedt's assistants
In:
Todd Graham, head coach
Paul Randolph, executive associate head coach/co-defensive coordinator/defensive line
Calvin Magee, assistant head coach/co-offensive coordinator/running backs
Mike Norvell, co-offensive coordinator/wide receivers/director of recruiting
Keith Patterson, defensive coordinator/linebackers
Tony Dews, tight ends
Todd Dodge, quarterbacks
Tony Gibson, cornerbacks,/recruiting coordinator
Spencer Leftwich, offensive line
Randall McCray, safeties/special teams coordinator
Quick take:
It's certainly a sea change at Pitt, with an new staff and a whole new philosophy. The presence of several West Virginia assistants lends a little more spice to the Backyard Brawl, as well. Graham has done a good job of building some excitement after the whole Wannstedt/Mike Haywood mess.
Rutgers
Out:
Kyle Ciarrocca, co-offensive coordinator/quarterbacks (not retained)
Randy Melvin, defensive line (not retained)
Ed Pinkham, co-defensive coordinator/defensive backs (to Elon)
In:
Frank Cignetti Jr., offensive coordinator/quarterbacks
Brian Angelichio, tight ends
Jeff Hafley, defensive backs
Internal moves:
Phil Galiano moves from tight ends to defensive line
Robb Smith will coach linebackers as well as special teams
Quick take:
After a 4-8 season, Rutgers needed to make some major changes. Head coach Greg Schiano took advantage of the Pitt staff turnover to hire three former Panthers assistants. Hafley's ties in New Jersey already helped in recruiting. Cignetti will be charged with fixing a stale offense.
South Florida
No changes
Syracuse
Out:
Bob Casullo, assistant head coach/special teams (parted ways)
In:
Tim Daoust, defensive end
Internal moves:
Nathanial Hackett was
promoted to offensive coordinator
John Anselmo becomes assistant head coach and will work with linebackers
Dan Conley will concentrate on inside linebackers
Defensive coordinator Scott Shafer will work with defensive backs
Jimmy Brumbaugh will coach defensive tackles
Special teams will be divided among the staff
Quick take:
Casullo left before last season ended, so Syracuse had already moved on. The changes in responsibilities reflect the areas of concentration for the Orange this summer, as they have many young players who need tutoring.
West Virginia
Out:
Jeff Mullen, offensive coordinator/quarterbacks (not retained)
Lonnie Galloway, receivers (to Wake Forest)
Dave Johnson, offensive line (not retained)
Chris Beatty, running backs/slot receivers
(not retained)
Dave McMichael, tight ends/special teams (not retained)
In:
Dana Holgorsen, offensive coordinator/head coach in waiting
Shannon Dawson, receivers
Bill Bedenbaugh, offensive line
Robert Gillespie, running backs
Quick take:
The entire offensive staff was let go except for Galloway, who left for Wake Forest a couple of weeks ago. West Virginia hasn't named a replacement for Galloway yet, but Dawson and Holgorsen will likely coach the receivers, with someone coming on board for special teams. The defensive staff remains intact, and Bill Stewart will coach his final year before handing the reins to Holgorsen. It will be a fascinating chemistry test.
February, 28, 2011
2/28/11
4:15
PM ET
We're talking about practice.
Specifically spring practice, which opens in the Big East on Thursday when South Florida takes the field. Syracuse will follow suit next week, and all eight league teams will be practicing before March is over. This month, I previewed the
spring for every team
. Colleague Mark Schlabach has offered his biggest
national spring storylines
. Here are what I think are the five biggest questions as a whole this spring in the Big East:
[+] Enlarge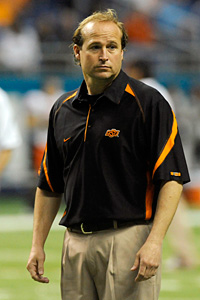 Matt Strasen/US PresswireDana Holgorsen takes over West Virginia's offense after a successful run at Oklahoma State.
1. How quickly can Pitt and West Virginia pick up their new offenses?:
Dana Holgorsen might hold the key to the entire Big East 2011 race in his playbook in Morgantown. Meanwhile up I-79, Todd Graham will bring a wide open no-huddle attack to Pittsburgh. Both Holgorsen and Graham have overseen some of the most productive offenses in the nation at their previous coaching stops. How quickly can they install their systems at their new jobs?
2. How different will Connecticut be?:
The defending Big East champion and league BCS representatives has most of the coaching staff back except for at the top, where Paul Pasqualoni takes over with two new coordinators. Will the Huskies look like the old Syracuse teams that Pasqualoni and offensive coordinator George DeLeone ran? How much did Pasqualoni pick up as an NFL assistant? Who will be the offensive stalwarts with new leaders needed at quarterback and running back?
3. Is South Florida ready for prime time?:
The Bulls closed 2010 strong and are drawing some buzz for Year 2 under Skip Holtz. For them to fulfill the promise, they'll need a lot better offensive consistency, starting with quarterback
B.J. Daniels
. Can transfers
Darrell Scott
and
Dontae Aycock
beef up the running game? Is the wideout position in better shape with more experience, or does it still lack go-to guys?
4. What now, Syracuse and Louisville?:
The Orange and the Cardinals were two of the feel-good stories of 2010, escaping the league basement and going on to win bowl games. Both relied on a large amount of seniors last season, though, raising questions about how they will follow up their breakthroughs. For Syracuse, who steps up at linebacker, running back and wide receiver? Can freshman Teddy Bridgewater jump right in this spring at quarterback, and can a rebuilt offensive line repeat last year's success, especially without
Bilal Powell
running the ball?
5. Can Rutgers and Cincinnati bounce back?:
Both the Scarlet Knights and Bearcats finished 4-8 last year in very disappointing seasons. Rutgers has a new offensive coordinator in Frank Cignetti Jr. and is getting back to its pro-style ways. The biggest question is, can the offensive line come together and play better than it has the past two years? Cincinnati brings back its entire coaching staff and all of its defensive starters from a year ago, plus the nucleus of the offense. Can the Bearcats improve on defense, cut down on turnovers and find more leadership within the program?
These questions and more will begin to be answered in March.
February, 23, 2011
2/23/11
9:00
AM ET
Spring practice is just around the corner -- South Florida will be on its new practice fields next week, while other Big East teams will follow suit shortly after.
So here's a look at what to expect from each league team this spring.
Cincinnati
Spring practice starts:
March 29
Spring game:
April 16
What to watch:
Fixing the defense: There's little doubt that improving the defense is the first order of business in Clifton. The Bearcats ranked last in the Big East last season while giving up 28 points per game. The good news is that all 11 starters on that side of the ball are back. The bad news is those are the same guys who couldn't get it done a season ago. An extra year of maturity should help, and Butch Jones expects more depth and competition on defense, including the arrival of junior-college import Malcolm Murray at safety.
Restocking the Binns: Cincinnati should still be strong on offense with the return of senior quarterback Zach Collaros and senior Isaiah Pead, the leading returning rusher in the Big East. Yet the loss of the league's most productive receiver in 2010, Armon Binns, means the Bearcats need to find a few more guys to make plays at receiver. D.J. Woods is an obvious choice as the new go-to guy, but he'll have to solve his fumble problems. Transfer Kenbrell Thompkins, who couldn't get eligible last season, will look to step forward. Another sidelined receiver, freshman Dyjuan Lewis, won't be cleared to join in team activities until the summer.
Looking for leaders: One of the problems during the 2010 4-8 season, as voiced by departing senior Jason Kelce and implied by Jones, was a lack of leadership on the team. Hey, it happens sometimes when your program has been to back-to-back BCS games and young players feel an undeserved sense of entitlement. Jones has been trying to change that, and we should be able to tell during the spring whether some new leaders have emerged.
Connecticut
Spring practice starts:
March 15
Spring game:
April 16
What to watch:
Back to the future: For the first time since the end of 1990s, and for the first time ever as an FBS-level program, the Huskies will have someone other than Randy Edsall leading them through practice in March. Former longtime Syracuse coach Paul Pasqualoni took over when Edsall left for Maryland, and Pasqualoni hired new coordinators (George DeLeone on offense and Don Brown on defense) to mix in with the holdovers from Edsall's staff. UConn has been doing things the same way for a long time, and with pretty strong results. How will the team react to Pasqualoni's new-look, old-school ways?
Backfield in motion: Quarterback Zach Frazer is gone. Star tailback Jordan Todman left early for the NFL. Fullback Anthony Sherman graduated. Everything behind center is new. The quarterback position looks pretty wide open, with sophomore Michael Box perhaps having the edge after making one (very unsuccessful) start in 2010. Early enrollee Michael Nebrich is one to watch. How will the Huskies replace Todman? Good question. Robbie Frey decided to concentrate on graduate school, leaving USC transfer D.J. Shoemate as the only experienced ballcarrier. Freshman Lyle McCombs' status is unclear for spring after his offseason arrest, and the two running backs in the signing class won't arrive until summer. Right now, it's anybody's guess as to who might carry on the UConn running back tradition.
Reloading at linebacker: The Connecticut defense brings a lot back, but one position that needs refilling is linebacker. Lawrence Wilson, who led the Big East in tackles the past two seasons, and Scott Lutrus, a four-year starter and solid leader, both exhausted their eligibility. Sio Moore looks like a rising star and had some huge games in 2010, but the other two positions have large shoes to fill.
Louisville
Spring practice starts:
March 23
Spring game:
April 15
What to watch:
Smooth sailing for Bridegwater?: The Cardinals' most pressing issue is at quarterback, where senior co-starters Justin Burke and Adam Froman are gone. Highly-touted recruit Teddy Bridgewater will participate in the spring, and how quickly he picks up the college game and coordinator Mike Sanford's system could go a long way to determining what happens this fall. If he needs more time, senior Will Stein will happily take the reins.
Rebuilding the O-line: The key to Louisville's offensive success was its senior-laden line, which proved to be the best in the Big East a year ago. But now four new starters must be found to go along with center Mario Benavides. The new guys must get up to speed and develop chemistry quickly for the running game and presumed new starter Jeremy Wright to duplicate last season's progress.
Last line of defense: Louisville's defense was most vulnerable at its back end at times last season, and now the Cardinals must replace both starting cornerbacks (including All-Big East first team performer Johnny Patrick), no to mention two senior linebackers. An obvious candidate to take over some leadership is safety Hakeem Smith, who was the Big East rookie of the year. The plus side is that Charlie Strong and coordinator Vance Bedford will have more young talent to work with.
Pittsburgh
Spring practice starts:
March 15
Spring game:
April 16
What to watch:
Golden Graham?: There will be no more drastic change in the Big East this spring than the offense at Pittsburgh, which will go from a run-based pro-style attack to Graham's no-huddle, wide-open, points-per-minute machine. Can the Panthers get this new offense up and running this spring? Does Graham have the players to make it work? And how will his offense, so successful in Conference USA, translate into the more rugged Big East? All those questions will be fascinating to follow.
Quarterback competition: Junior Tino Sunseri started every game in his first year at the controls in 2010, and he played well at times. But a new style and new coaching staff means that he might have an edge, but not necessarily an insurmountable one, in this spring's competition. Redshirt freshman Mark Myers is multi-talented and will be given a look, along with classmate Anthony Gonzalez and Kolby Gray. The current staff has no loyalty to Sunseri, so he'll need to perform at a high level this spring to keep his job.
Shoring up the 'D': It's no secret that Pitt struggled in defending the pass last season. Graham's offense may be more explosive, but he doesn't want to have to get into shootouts all the time. He and defensive coordinator Keith Patterson have experience running 3-3-5 and 4-2-5 formations and may go to more of those kinds of looks to counter the increasing spread offenses throughout the league. First Pitt will have to get better play from its secondary and linebackers in pass coverage, and that starts this spring.
Rutgers
Spring practice starts:
March 29
Spring game:
April 30
What to watch:
Line change: The first thing to focus on this spring for the Scarlet Knights is the front five on offense. The offensive line has been a mess for the past two years and was an utter disaster a year ago. Head coach Greg Schiano is counting on junior-college center Dallas Hendrickson to provide some immediate help, and that another year will lead to better things for the returnees. Rutgers needs answers at right tackle, especially, and if the line can't block its own defense in spring practice, you'll know there's trouble.
A Frank re-assessment: Former Pitt offensive coordinator Frank Cignetti takes over the Scarlet Knights' playcalling duties this spring, and his pro-style background seems like a perfect match for what Schiano likes to do. Look for Cignetti to try to establish a stronger running game this spring (while waiting for mega-recruit Savon Huggins to arrive this summer) and abandon the Wildcat formation and other gimmicks that Rutgers desperately turned to the past two years. His work with sophomore starter Chas Dodd will also be critical, since there are no other experienced quarterbacks on campus.
Recharging the defense: You always expect a Schiano-led defense to be rock solid, but that defense wore down last season and ended up allowing more points in conference play than anybody. Three of the starting four defensive linemen are gone, as well as the team's leading tackler -- linebacker Antonio Lowery -- and safety Joe Lefeged. Schiano has recruited well and has lots of young players ready to step into bigger roles. Spring will be the time we start to learn who's ready to handle increased responsibilities.
South Florida
Spring practice starts:
March 3
Spring game:
April 2
What to watch:
Transfers accepted: Running backs Darrell Scott and Dontae Aycock have strong credentials; Scott was one of the more sought-after recruits in the country before disappointing at Colorado, while Aycock was set to play for Auburn. Both become eligible this year and will show their stuff this spring. The two big-bodied ballcarriers could add some power and explosiveness to the Bulls offense. Notre Dame transfer Spencer Boyd should bring depth, at the very least, to the secondary.
B.J. still the main Bull?: Junior B.J. Daniels seemed to reassert himself as the starter with a big performance in the Meineke Car Care Bowl win over Clemson. But before that, there were serious questions about whether sophomore Bobby Eveld might unseat him. Daniels goes into the spring with an obvious edge, but he'll be pushed by Eveld and redshirt freshman Jamius Gunsby. He'll need to perform at a consistent level to stiff-arm questions about his job security.
Receiver reconstitution: No doubt, receiver was the position that needed the largest upgrade a year ago. The bad news is, the Bulls lost leading pass-catcher Dontavia Bogan, who was nearly a one-man show at wideout in 2010. On the flip side, A.J. Love and Sterling Griffin return from injury. And Skip Holtz hopes getting thrown into the fire last season sped the development of guys like Evan Landi, Joel Miller and Lindsey Lamar. At the very least, the position has a lot more experience and depth than it did a year ago at this time.
Syracuse
Spring practice starts:
March 8
Spring game:
April 16
What to watch:
Displacing Delone: Senior Delone Carter brought the thunder to the Syracuse running game the last two years, and he may have been the least favorite ballcarrier for opposing tacklers to bring down. With him gone, it remains to be seen whether the smaller Antwon Bailey can be an every-down back, or if youngsters like Prince-Tyson Gulley and Jerome Smith are ready for an increased role in the offense.
Linebacker makeover: It would be hard for any team to lose a more productive linebacker tandem than the Orange did with seniors Doug Hogue and Derrell Smith. They were both crucial to what defensive coordinator Scott Shafer liked to do. The lone returning starter is Marquis Spruill, who played as a true freshman last year. Could a newcomer like junior-college transfer Siriki Diabate be ready to help immediately?
Wideout wonders: Marcus Sales helped rescue an ailing passing game with his breakout performance in the New Era Pinstripe Bowl. Is Sales ready to play like that all the time now, or was he a one-game wonder? Will Van Chew continue the improvement he showed last season before getting injured? Can the Orange get more out of Alec Lemon? What new faces might help at receiver? The answers to these questions will be key to the attack under Nathaniel Hackett, who was promoted to offensive coordinator this offseason.
West Virginia
Spring practice starts:
March 28
Spring game:
April 29
What to watch:
Dana days: Mountaineer Nation is salivating at the thought of what Dana Holgorsen will do to revive the offense. Holgorsen has had an immediate and incredible impact at the last two places where he called plays, and some solid work in the spring is required to do the same in Morgantown. A couple of things are for sure: the Mountaineers will be throwing it around a whole bunch during practice, and fans will breathlessly gobble up every small detail. Another thing to watch will be the chemistry between Holgorsen's hand-picked offensive staff and Bill Stewart, the man he'll replace at the end of the season. That relationship will also be dissected relentlessly.
Defense reload or rebuild?: Most people assume West Virginia will continue to field an excellent defense because of coordinator Jeff Casteel. That may be true, but no team lost more defensive talent than the Mountaineers, who must replace frontline players like tackle Chris Neild, linebacker J.T. Thomas, safety Robert Sands and cornerback Brandon Hogan, among others. There's still a lot to like here, including ends Julian Miller and Bruce Irvin and corner Keith Tandy, but for Casteel must find new contributors to keep his 3-3-5 humming along.
Who's in the backfield?: It's not yet know just how much quarterback Geno Smith will be able to do during spring practice after his offseason foot surgery. Obviously, the more reps he can take, the better he'll be able to get Holgorsen's system down. And there's no experience behind him. West Virginia will be cautious with Smith, though, because the fall is way more important. With Noel Devine gone and Tavon Austin seemingly making his move to receiver permanent, there will be competition for the starting running back spot. Shawne Alston and Ryan Clarke are bulldozers who could add an interesting wrinkle to Holgorsen's spread if they get the job done.
January, 20, 2011
1/20/11
2:00
PM ET
It looks like new Connecticut coach Paul Pasqualoni will employ a trusted old friend as his offensive coordinator.
Multiple outlets
are reporting
that Miami Dolphins tight end coach George DeLeone has been tapped as the new UConn playcaller. And it makes perfect sense.
DeLeone is a New Haven native and a UConn graduate who worked alongside Pasqualoni at Southern Connecticut State in the 1970s and throughout most of his run at Syracuse. He was an Orange assistant from 1985 to 1996 and again from 1998 to 2004. He served as offensive line coach, offensive coordinator and quarterbacks coach, and even spent one year as defensive coordinator. He was the associate head coach during Pasqualoni's final six years at Syracuse.
DeLeone also worked at Rutgers as an assistant from 1980 to 1983. Before heading to the NFL, he coached at Temple and Ole Miss.
Joe Moorhead has been UConn's offensive coordinator the past two seasons. Pasqualoni, who was hired late last week, hasn't officially announced any staff hirings yet.