NCF Nation:

George Farmer
March, 1, 2013
Mar 1
12:00
PM ET
While quarterback competitions are typically front-and-center during Pac-12 spring practices, there are always other interesting spring storylines.
Here are two.
[+] Enlarge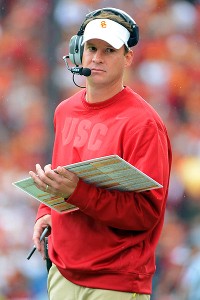 Harry How/Getty ImagesUSC coach Lane Kiffin enters the spring with several new assistants, a new defensive scheme, and uncertainty at quarterback.
Ted Miller
: It was a horrible, no-good, rotten, very bad 2012 season for USC coach Lane Kiffin. And the 2012-13 offseason has been no picnic either. Some Trojans fans wanted Kiffin fired. Just about all were frustrated. Justifiably so, by the way.
Lane: Welcome to spring, the season for rebirth! Time to turn the page. Or, perhaps, pick up an entirely new book.
At the very least, the situation at USC is interesting. One of the nation's premier programs is front-and-center for many of the wrong reasons, but there is enough talent on hand for Kiffin to turn things around and shut up his critics.
Interesting plot lines? Kiffin will be breaking in four new assistant coaches, including a pair of new coordinators, his defense will be transitioning from a 4-3 base to a 3-4, and he's looking for a new quarterback for the first time in his tenure.
There's a lot going on. Lots of questions. Lots of doubt, too. Yet negative momentum isn't irreversible.
What if the Trojans have an exceptional spring?
What if Clancy Pendergast shakes things up and, suddenly, the defensive guys are playing hard and fast in a sound scheme they understand? And what if the offense, nonetheless, makes plenty of plays because the quarterbacks are sharp and the line is manning up? What if the fitness level of the Trojans improves? What if offensive tackle
Aundrey Walker
breaks through, realizing his future NFL contract will be based on performance, not measurables? What if
Devon Kennard
proves a perfect fit as a 3-4 outside linebacker, as we believe he is? What if guys like
Marqise Lee
,
Hayes Pullard
,
Silas Redd
,
Dion Bailey
and
Kevin Graf
step up as leaders? What if receivers
George Farmer
and
Victor Blackwell
decide they don't want to be left in the dust behind Lee and
Nelson Agholor
? What if running back
Tre Madden
says, "Hey, remember me?"
What if Kiffin simultaneously refocuses and relaxes? What if he uses his capable brain to be smart, not a smart aleck, to be creative, not sneaky? What if he realizes the media is not an enemy, but just a bunch of folks trying to do their job whom he should humor with vague though sometimes amusing answers?
There are a lot of "What ifs?" with USC and Kiffin. It's not difficult, by the way, to talk yourself into believing a bounce-back is entirely possible.
That's what is interesting. Kiffin 2.0 was 2010 and 2011, when he seemed to find his rhythm as a coach after controversial stints with the Oakland Raiders and
Tennessee Volunteers
. Kiffin 3.0, was 2012, a complete face-plant.
This spring presents us with Kiffin 4.0. It could prove to be the most important transition of his career as a head coach.
And that is interesting.

Kevin Gemmell
: Besides quarterback battles -- which I think are always the most exciting position battles there are -- I'm most curious to see how the running back battle is going to play out at Stanford.
When you look at a Stanford squad that is very heavy on upperclassmen -- on both sides of the ball -- you have to wonder if all of the pieces are in place for Stanford to make a legitimate run at the national championship.
I wasn't sure before, but with the addition of Tyler Gaffney to the running back corps, I'm warming up to the idea that the Cardinal could challenge any team in the country for a BCS championship -- if they can get out of their own conference (or division for that matter) -- which anyone will tell you is no easy task.
It's no surprise that Stanford's primary offensive weapon is the quarterback. Not because of what he does with his arm -- but because of what he does when he goes under center -- checking out of bad plays and putting the offense in the best possible play against the defense shown. This allows running backs to flourish. Andrew Luck was phenomenal at it.
Kevin Hogan
should get better.
So, when Hogan turns to handoff on power right or power left, who is going to be the primary ball carrier?
Anthony Wilkerson
has shown bursts and outstanding top-end speed. But injuries have slowed him, and playing behind
Stepfan Taylor
the past few years didn't allow him to really break out following his strong true freshman season. Gaffney is a rock and hard to bring down. He's the kind of guy who could carry the ball 10 times for 4.5 yards a pop.
Barry Sanders
is an interesting X-factor. He obviously was a high-profile recruit because of his name -- but beyond that, he's supposedly a pretty darn good back. Maybe he ends up winning the job and can be a 15-carry type of guy.
Then you have
Ricky Seale
, a shifty runner with great vision who has been trapped at the bottom of the depth chart, but continues to receive praise from David Shaw.
Remound Wright
and hybrid
Kelsey Young
are also in the mix.
Whoever is Shaw's go-to back, he'll have the benefit of running behind an outstanding offensive line that is only going to get better with
David Yankey
-- an All-American and last year's Morris Trophy winner -- moving back to his natural position at guard. And Shaw has said he plans to keep
Ryan Hewitt
at fullback -- giving the running backs a cadre of blockers that rivals any other in the country.
By season's end, this could be your national championship team. The question is, which back will carry it there?
April, 13, 2012
4/13/12
12:00
PM ET
Our question this week: Who has the best position group in the conference?
Lots of teams have a strength at a certain area -- running back, receiver, linebacker, etc. -- but whose team strength is the strongest?
Our thoughts.
Kevin Gemmell
: Anytime you have a four-man position group and half of them could be All-Americans, that's phenomenal. And that's what Stanford is looking at this year and that's why I'm picking its linebackers as the best individual position group in the conference.
[+] Enlarge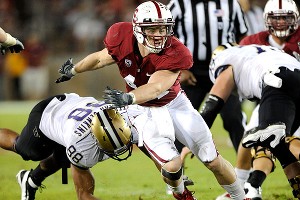 Bob Stanton/Icon SMIChase Thomas, who had 8.5 sacks last season, helps make Stanford's linebackers one of the Pac-12s top position groups.
It starts on the outside with
Chase Thomas
(52 tackles, 8.5 sacks, 17.5 tackles for a loss) -- a first-team All-Pac-12 performer and All-American. On the other side,
Trent Murphy
(40 tackles, 6.5 sacks, 10 tackles for a loss) is underappreciated because of all the attention Thomas gets. But Murphy is a beast at 6-foot-6, 255 pounds.
Then you move to the inside linebackers where
Shayne Skov
is one of the best in the nation. There is a to-be-determined punishment pending for his DUI arrest and he's still recovering from a season-ending knee injury from last year. But once he's paid his penance and is 100 percent healthy, he'll be on par with the best middle linebackers in the country.
Who lines up next to Skov is a question. And also a good problem for the Cardinal to have.
Jarek Lancaster
(team-leading 70 tackles) and
A.J. Tarpley
(57 tackles) were both outstanding in Skov's absence last year. Lancaster in particular came on very strong at the end of the season.
Highly touted sophomore
James Vaughters
is also slotted for inside linebacker. The coaching staff treated Vaughters with kid gloves last season -- using him mostly as an extra pass-rusher on third downs, where he tallied 11 tackles, four for a loss, and a sack. But he's expected to be unleashed in 2012.
Another aspect that makes this group so scary is the overall depth. Because of guys like Lancaster, Tarpley, Vaughters,
Alex Debniak
,
Kevin Anderson
and incoming freshman Noor Davis, the Cardinal are in a position to absorb a significant injury like they did with Skov last season. Of course, no one wants to see that happen for any team. But injuries are part of the game. And if something happens to one of Stanford's starters, there is significant talent that can rotate in.
One thing to keep in mind is the loss of co-defensive coordinator and inside linebackers coach Jason Tarver. He was a brilliant operator of the 3-4 defense -- which is why he's now a defensive coordinator in the NFL. He did an amazing job coaching up Lancaster and Tarpley, which helped Stanford boast the No. 1 rush defense in the conference last year. Allowing just 84.4 yards per game on the ground, Stanford was the only Pac-12 team to hold opponents below 100 yards per game on average.
Factor in the talent returning on the defensive line and that makes the linebacking corps that much better. Stanford not only has the deepest and most talented group in the conference, but you can make an argument that as a unit it is one of the best groups in the country.
Ted Miller
: I know you guys are going to get on Kevin for picking Stanford, but I agree with him: Stanford's linebacking corps is the best complete unit in the Pac-12 in terms of both skill and depth. But, of course, a "ditto" doesn't make for much of a "Take 2" now, does it?
I like California's running backs, Oregon's LBs, Arizona State's RBs and Utah's defensive line, but I'm going to go with USC's receivers.
The Trojans aren't terribly deep at receiver. In fact, they are decidedly top-heavy. But what a top.
[+] Enlarge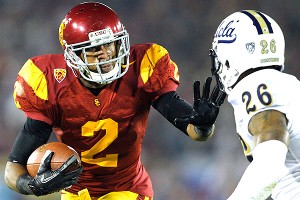 Ric Tapia/Icon SMIUSC's Robert Woods, arguably the nation's top wide receiver, averaged over 107 receiving yards per game last season.
First, you have junior
Robert Woods
, a 2011 first-team All-American. He ranked eighth in the nation with 107.7 yards receiving per game in 2011. He's the leading candidate heading into 2012 to win the Biletnikoff Award given annually to the nation's best receiver.
Second, you have
Marqise Lee
, second-team All-Pac-12, who actually outplayed a banged-up Woods over the home stretch of the 2011 season. He ranked 15th in the nation with 95.3 yards receiving per game. He also is a Biletnikoff candidate, and it wouldn't be too shocking if both of these guys earned All-America honors this upcoming season.
They combined for 26 touchdown receptions. The next highest total in the Pac-12 for a receiving combo was 19 (Oregon's
De'Anthony Thomas
and
Lavasier Tuinei
).
Put it this way: If you made a list of the top-five receivers in the nation this fall, most folks would include Woods and Lee.
Now, it's not unreasonable to question the Trojans' depth at the position. Both
Brice Butler
and
Kyle Prater
opted to transfer. Both are capable and would have made this unit scary good. While there's plenty of talent behind Woods and Lee, it's unproven.
That said: It's entirely possible speedy sophomore
George Farmer
has his own star turn this fall. Folks thought that might happen last year for everybody's prep All-American, but injuries and an odd position change to running back slowed that down. No question Farmer has All-American talent. If he stays healthy, the Trojans could end up with a troika that is almost impossible to defend, one that is superior to many NFL teams. For real.
Other guys who have the ability to help: Junior
De'Von Flournoy
and redshirt freshman
Victor Blackwell
. In the fall, true freshmen
Nelson Agholor
and
Darreus Rogers
could potentially get into the mix.
So there will be solid options for the Nos. 3, 4 and 5 receivers.
Still, this is about the top. It's not hyperbole to project that Woods and Lee, with QB
Matt Barkley
returning, are in position to write themselves onto a very short list of the best receiver combinations in college football history this fall.
March, 30, 2012
3/30/12
11:00
AM ET
LOS ANGELES -- The guy who had the best touchdown-to-interception ratio in the Pac-12 last season is tossing a few more picks during spring ball than his coach would like to see. But USC coach Lane Kiffin isn't too worried about quarterback
Matt Barkley
, who has thrown seven interceptions in eight practices. No expletives are being hurled, no panic buttons being pushed.
[+] Enlarge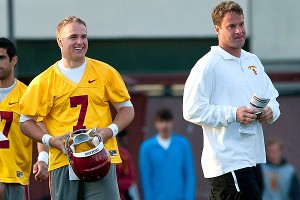 Joe Andras/WeAreSC.comQB Matt Barkley, left, has thrown more interceptions with his favorite receivers absent from spring practices, USC coach Lane Kiffin said.
"He can still declare for the supplemental draft so I can't yell at him quite yet," Kiffin joked after practice Thursday night.
Not to worry, Kiffin said, explaining that the rise in picks is a product of Barkley not being able to work with his usual guys.
Robert Woods
is out for spring.
Marqise Lee
is balancing football with track and
George Farmer
continues to be hampered by a hamstring injury.
"Part of it is him getting a little bored," Kiffin said. "He scrambles out and gets frustrated because he doesn't have his normal guys out there and he throws the ball downfield. We'll get him back out of it. We don't like it, but it's not the end of the world. As we get closer to game time, we'll get him back to normal."
Kiffin said to keep Barkley motivated, they have installed some different routes and concepts they've taken from the NFL.
"It's been good to expose him to those and really challenge him to continue to master what he already has, but also add to his game," Kiffin said.
Last season, Barkley threw 39 touchdowns to just seven interceptions. His 69.1 completion percentage was tied for second-best in the conference.
In other practice notes:
With so many injuries at wide receiver, Lee has been rotating in at every receiver spot. Kiffin recently said he thought Lee has the chance to be the best wide receiver ever at USC. "Marqise is doing great," Kiffin said. "We're so hurt so we move him around so much that he has to play every position with Robert and George not being there. But it's good for him, any time you have to play all the spots. We really try to wear him out when we get him because we lose him sometimes [to track] so we try to maximize the time we get with him."

The Trojans were scheduled to hold a scrimmage on Saturday – which will be open to the public at 11 a.m. at Los Angeles Memorial Coliseum – but might have to put that on hold due to the number of injuries. Tight end Junior Pomee re-injured his foot on Thursday, and with Xavier Grimble, Randall Telfer and Christian Thomas all dinged up, there aren't many options left at tight end. Kiffin said they might ditch the scrimmage and just hold a normal practice. "Unfortunately we can't seem to keep a tight end healthy," said Kiffin. "The problem right now is the offensive skill players [who are out with injury] aren't allowing us to practice the way we'd like, but we're making the best of it."

Tre Madden, who made the move last week from linebacker to running back, fumbled for the third time in three practices.
February, 23, 2012
2/23/12
10:00
AM ET
Pac-12 spring preview: South Division
Spring practice is almost here. Here's a snapshot at what to expect from the Pac-12 South in the coming weeks.

ARIZONA
Spring practice starts
: March 4
Spring game
: April 14
What to watch
:
Hello, my name is ... Like the other two teams in the South Division with new head coaches (Arizona State and UCLA) much of Arizona's first few weeks will be Rich Rodriguez evaluating his personnel and getting to know what he has to work with. Likewise, the players are going to have to figure out what this new coaching staff is about. Everything from how they do pre-practice stretches to how they call the cadence is going to change.
New scheme and a new scheme: A spread option on offense and a 3-3-5 on defense. That's a lot of new material to digest on both sides of the ball. Until Rodriguez can recruit the players he likes into his scheme, he's going to have to make it work with the players he has. Fortunately on the defensive side of the ball, Arizona has good depth in the secondary with Cortez Johnson, Marquis Flowers, Shaquille Richardson, Jourdon Grandon and Tra'Mayne Bondurant. The Wildcats should also get a boost with the return of injured players Jake Fischer (LB), Jonathan McKnight (CB) and Adam Hall (S).
Perfect fit? Former starter Matt Scott, who was beaten out by Nick Folesin 2009, is expected to reprise his starting role under Rodriguez. He redshirted the 2011 season and -- magically -- Foles never got hurt last year despite taking 23 sacks and countless hits. Scott is considered the more versatile quarterback and should fit nicely into the new run-based spread attack.

ARIZONA STATE
Spring practice starts
: March 13
Spring game
: April 21
What to watch
:
QB competition: We know what kind of offense new coach Todd Graham is going to run; now it's a matter of figuring out who is going to run it. Graham has his choice of three players -- Mike Bercovici, Taylor Kelly or Michael Eubank -- to replace NFL-bound Brock Osweiler. Graham said earlier this month that there are no favorites heading into the competition and each one brings his own skill set to the table. Eubank has the size (6-foot-5, 235 pounds), Bercovici (6-1, 205) is a mechanic and Kelly (6-1, 202) is a little bit of everything.
Get the locker room: By the end of the 2011 season, ASU's locker room wasn't just divided, it was completely splintered. Graham's task -- and that of his new coaching staff -- is to pick up the pieces, mend internal fences and find some chemistry on both sides of the ball. Linebacker Brandon Magee, long considered a great locker room leader, should help get the Sun Devils back on track as he returns from a season-ending Achilles injury.
Hands competition: The Sun Devils lose three of their top four wide receivers from last season -- Gerell Robinson, Aaron Pflugrad and Mike Willie. Jamal Miles returns after finishing second on the team last season with 60 catches and six touchdowns. Rashad Ross figures to be the No. 2 guy, but establishing depth in that corps -- especially if Graham wants to be up-tempo -- is key.

COLORADO
Spring practice starts
: March 10
Spring game
: April 14
What to watch:
Momentum, maybe? For as rough as 2011 was for the Buffs, they ended the year on a high note, winning two-of-three down the stretch -- including a 17-14 win over Utah in the season finale. But there is also the possibility that things might get worse before they get better. With just four returning starters on offense, spring in Boulder will likely be more about teaching and less about refining.
Where to start (offense)? Well, quarterback might be a good place. In the court of public opinion, Connor Wood, a transfer from Texas, seems to be the favorite. Nick Hirschman appeared in five games last season, mostly in mop-up time when the game was already out of hand. It's also possible a starter could be named by the end of spring ball. Finding offensive weapons to surround the new quarterback will also be a challenge. Wide receiver Paul Richardson caught 39 balls last season, and running back Tony Jones showed a flare for catching the ball out of the backfield. He'll likely step in as the new workhorse back for the departed Rodney Stewart.
Where to start (defense)? Last in this. Last in that. Last in almost every team statistic the Pac-12 has to offer. But there are some intriguing youngsters on the roster. Cornerback Greg Henderson was all-conference honorable mention as a freshman with a team-high nine passes broken up. Jered Bell also returns from injury after blowing out a knee last preseason. If healthy, he's expected to be a big contributor in the secondary. Linebacker Jon Majorreturns as the team's leading tackler, and if Doug Rippy is fully recovered from his knee injury, he'll look to build on what was a pretty good season last year before getting hurt.

UCLA
Spring practice starts
: April 3
Spring game
: May 5
What to watch
:
QB up for grabs: Like the majority of the conference, UCLA enters spring with a quarterback competition. New offensive coordinator Noel Mazzone said he doesn't care how much experience (or lack thereof) a player has -- if he can play, he wins the job. So don't be surprised if Brett Hundley passes Kevin Prince and Richard Brehautas the new man leading the Bruins. Fans have been clamoring for a change. Hundley might be it.
Attitude adjustment: One of the first things new head coach Jim Mora did was slam the team for its tradition of going "over the wall," a time-honored senior ditch day, saying if they want to jump the wall, they should just keep on going. How's that for sending a message? UCLA has earned a reputation for being soft and underachieving despite good talent. Attitude and toughness is needed -- and so far, Mora appears to be hammering that point home.
Speaking of toughness ... The defense has to get tougher. No two ways about it. It was weak against the run last season, allowing more than 190 yards per game on the ground; couldn't get to the quarterback; and couldn't get off the field almost 50 percent of the time on third down. It's time for potential all-conference players such as defensive end Datone Jones to start living up to the hype and the defense as a whole to stop getting pushed up and down the field. At 6-5, 275 pounds, Jones has the physical makeup to be a major force in the conference and catapult himself into the elite class of collegiate defensive players.

USC
Spring practice starts
: March 6
Spring game
: April 14
What to watch
:
Ignore the hype: Few teams ended last season hotter than USC and returning quarterback Matt Barkley. The Heisman talk has already started, the way-too-early rankings already have the Trojans as national championship contenders, and the public perception is that the offense is unstoppable. Nice to hear, but hype is a double-edged sword. Head coach Lane Kiffin has a knack for deflecting hype. This season will be his toughest test to date.
Insurance? The Trojans are loaded on both sides of the ball with returning players. But after the starting 22, things start to get dicey. Developing depth and keeping the starters healthy is a top priority -- particularly on the offensive and defensive lines and at running back, where experience is thin outside of the starters. The entire back seven returns on defense -- headlined by hard-hitting safety T.J. McDonald. Stopping the pass has been a major priority for Kiffin, and if this group stays healthy it should see the pass-efficiency numbers improve even more.
Other options: Along those same lines, wide receivers Robert Woods and Marqise Lee make up the most feared receiving duo in the conference -- maybe the country. But who are the Nos. 3 and 4 receivers behind them? George Farmer? Victor Blackwell? De'Von Flournoy? Don't overlook the tight end duo of Xavier Grimble and Randall Telfer, which should rival Stanford's Zach Ertz and Levine Toilolo as the best tight end tandem in the conference.

UTAH
Spring practice starts
: March 20
Spring game
: April 21
What to watch
:
Youthful approach: Head coach Kyle Whittingham turned some heads by naming former Utah quarterback Brian Johnson as his offensive coordinator. Johnson, who recently turned 25, said he's not looking to make wholesale changes to the offense, though he wants to put his stamp on it and continue to build around running back John White IV, who had a breakout season in his first year of major college football. Having quarterback Jordan Wynn back healthy should also help as the team transitions to Johnson running the offense.
Fixing the line: Who is going to protect Wynn (if he does indeed win back the starting job) and make holes for White? That's a major concern heading into spring as the Utes have to replace a pair of all-conference linemen in Tony Bergstrom and John Cullen. The Utes should be set at the interior but have to adjust to a new position coach, with Tim Davis leaving for Florida after just one season and Dan Finn -- a former Utah graduate assistant who was brought on to help Davis -- taking over the whole line following a one-year stint at San Diego State.
Work the experience: The defensive line should be one of the best in the conference, especially with the return of Star Lotulelei, who won the Morris Trophy last season as the conference's best defensive lineman. With the Kruger brothers returning to the line -- Joe at defensive end and Dave at tackle -- Derrick Shelby is the lone starter who has to be replaced. There's also some pretty good depth in the secondary that was tops in the conference last season in pass-efficiency defense.
August, 10, 2011
8/10/11
11:00
AM ET
Every season true freshman make an impact and underclassmen become stars. Who might those guys be in the Pac-12 in 2011?
(Note: With "underclassmen to watch," we mostly stayed away from guys who made a significant impact in 2010, such as Arizona State defensive end Junior Onyeali, Colorado receiver
Paul Richardson
or California receiver
Keenan Allen
).
Underclassmen to watch
[+] Enlarge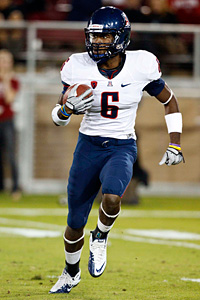 Jason O. Watson/US PresswireArizona cornerback Jonathan McKnight has a bright future.
Jonathan McKnight, CB, So, Arizona
: McKnight, younger brother of former USC running back Joe McKnight, might already be the best cover guy in an already good secondary.
Davon Coleman, DE, So, Arizona State
: The junior college transfer -- a late signing for the 2011 recruiting class -- might already be the Sun Devils' No. 3 defensive end, and ASU needs him to step up after returning starter James Brooks quit the team.
David Wilkerson, OLB, RFr., California
: While fellow outside linebacker Cecil Whiteside might be more heralded, Wilkerson was listed as a starter on on the post-spring depth chart.
Parker Orms, CB, So., Colorado
: Orms was the starting nickel back in 2010 before he blew out his knee on the third play of the season-opener against Colorado State. He's now No. 1 at cornerback -- the Buffs more worrisome position -- despite sitting out spring practices.
Scott Crichton, DE, RFr., Oregon State
: The Beavers have major questions at defensive end -- a traditionally strong position for their defense. While he didn't come from nowhere, it was a bit of a surprise to see Crichton atop the depth chart after spring practices.
Dietrich Riley, So, SS, UCLA
: By the end of the season Riley and Tony Dye might be widely viewed as the best safety combo in the conference. Heck, they might already be.
Dres Anderson, RFr, WR, Utah
: Anderson already looks like the Utes' No. 2 option after junior
DeVonte Christopher
.
Josh Shirley, RFr., LB, Washington
: Shirley was such a force as a pass-rusher this past spring, they created a position for him: "Rush" linebacker.
Rickey Galvin, RFr, RB, Washington State
: Galvin broke his arm at Oklahoma State on the first play of his college career, which ended his debut season. He's speedy and shifty and the Cougars really need him to provide a running threat to help out quarterback
Jeff Tuel
.
Impact freshmen
Hank Hobson, LB, Arizona
: The Wildcats have major depth issues at linebacker. Hobson looks like the most ready-made guy in the incoming class. He might not start, but he's a good bet to be the No. 4 guy behind the starting three.
Stefan McClure, CB, California
: While many Cal fans are more eager to see 325-pound nose tackle Viliami Moala, the Bears have depth issues at cornerback, and McClure is almost certain to be in the mix.
Colt Lyerla, TE, Oregon
: While Oregon needs help at receiver, and at least one one of the incoming guys is almost certain to climb into a prime spot in the rotation, we don't know who that will be. We feel pretty good projecting Lyerla as the Ducks' No. 2 tight end behind
David Paulson
.
James Vaughters, ILB, Stanford
: The word most often used to describe Vaughters? "Beast." Stanford is solid at linebacker, but this guy is going to play, and and might well end up suggesting a second-coming of Vontaze Burfict by season's end.
George Farmer, WR, USC
: There might be somebody who doesn't believe Farmer is a budding star but I have yet to speak with him. Even USC super-soph
Robert Woods
talks about Farmer's freakish skills.
Austin Seferian-Jenkins, TE, Washington
: Seferian-Jenkins showed this past spring that he's ready for prime time. He's likely to be the Huskies' starting tight end. A runner-up for the Huskies, by the way, is receiver Kasen Williams, but he will join a deep, veteran crew of receivers.
June, 29, 2011
6/29/11
6:05
PM ET
It has become a difficult day to rank Pac-12 teams at receiver due to reports of the
uncertain health
of Arizona's
Juron Criner
.
Criner is only the best returning receiver in the conference, a potential All-American and the leader of one of the nation's best units. Still, the Wildcats would rate in "great shape" on this list even without Criner, though they wouldn't top it.
As for the conference as a whole at receiver, things look pretty solid, top-to-bottom. Even the two teams in "We'll see," aren't desperate at the position.
So how do things stack up? Read on.
Great shape
Arizona
: The Wildcats may have the best collection of receivers in the nation. First-team All-Pac-10 selection Criner is the headliner, but there's also
David Douglas
,
David Roberts
,
Terrence Miller
and
Richard Morrison
-- each caught between 19 and 52 passes a season ago. Oh, and there's also Texas transfer
Dan Buckner
,
Austin Hill
,
Garic Wharton
and
Tyler Slavin
. There's size, speed, depth and experience.
[+] Enlarge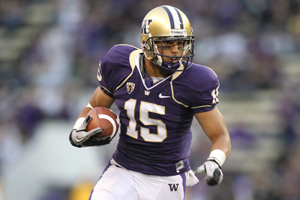 Otto Greule Jr/Getty ImagesJermaine Kearse had his best season yet for the Huskies, catching 63 passes for 1,005 yards.
Washington
:
Jermaine Kearse
, second-team All-Pac-10, is a 1,000-yard receiver who caught 12 touchdown passes.
Devin Aguilar
has 90 career receptions.
James Johnson
struggled to get in sync last season but caught 39 passes as a true freshman in 2009.
Kevin Smith
turned in a good spring, and hopes are stratospheric for incoming freshman All-American Kasen Williams.
Washington State
:
Marquess Wilson
was a 1,000-yard receiver as a true freshman.
Jared Karstetter
caught 62 passes.
Gino Simone
has seen plenty of action, while hopes are high for redshirt freshman
Kristoff Williams
and
Bobby Ratliff
. Quarterback
Jeff Tuel
has plenty of targets for what should be a potent passing attack.
USC
: Perhaps no team has more upside than the Trojans. Sophomore
Robert Woods
is a potential All-American, while
Brandon Carswell
and
Brice Butler
are experienced players. But the upside is all about incoming freshman George Farmer and redshirt freshman
Kyle Prater
. If those two live up to their talents, the Trojans will be tough to stop in the passing game.
Good shape
California
:
Keenan Allen
and
Marvin Jones
are a potentially strong tandem if the Bears get good quarterback play. Oft-injured
Michael Calvin
posted a solid spring.
Kaelin Clay
has a lot of speed, and he and
Coleman Edmond
need to step up.
Arizona State
:
T.J. Simpson
's knee injury didn't help, but the Sun Devils are fairly deep and experienced at the position.
Gerell Robinson
was a standout this spring, while
Mike Willie
,
Aaron Pflugrad
and
Jamal Miles
each caught at least 25 passes in 2010.
George Bell
,
A.J. Pickens
,
J.J. Holliday
and
Kevin Anderson
provide good depth.
UCLA
: Just because UCLA couldn't pass in 2010 doesn't mean it's bad at receiver. It certainly will be experienced in 2011 because everybody is back.
Nelson Rosario
has the talent to be a star, as do
Randall Carroll
and
Josh Smith
. Still, the Bruins lack consistency at the position -- too many dropped balls, too few big plays.
Oregon State
: With a healthy
James Rodgers
and
Jordan Bishop
, the Beavers are in "great shape." But they have enough talent and experience at the position to at least end up in pretty good shape even if they don't.
Markus Wheaton
caught 55 passes as a sophomore, while
Darrell Catchings
and
Geno Munoz
are two guys who can help, if they can stay healthy.
Kevin Cummings
also should see action in the slot.
Utah
:
DeVonte Christopher
, the second-leading receiver from 2010, and he's the only returning receiver who caught more than 20 passes, but the Utes feel pretty good about the guys they have coming back. With
Reggie Dunn
,
Dres Anderson
,
Luke Matthews
,
Dexter Ransom
and
Kenneth Scott
.
We'll see
Oregon
:
Jeff Maehl
and
D.J. Davis
are gone and they took 119 receptions with them.
Lavasier Tuinei
caught 36 passes and
Josh Huff
caught 19, but there's little experience beyond that. The Ducks are stacked at tight end and the incoming class is thick with speedy, touted receivers. But, as we've said before, "we'll see."
Colorado
: Colorado has two guys it can count on in
Paul Richardson
and Tony Clemons, who combined for 77 receptions in 2010. After that, things are fairly questionable.
June, 22, 2011
6/22/11
7:47
PM ET
ESPN.com's Bruce Feldman has ranked the top-10 "
impact true freshmen
,"

and USC receiver George Farmer ranks third. Here's what Feldman wrote about Farmer:
3. George Farmer, WR, USC Trojans:

If, as many Trojans insiders insist, Farmer is even more talented than his buddy Robert Woods, Matt Barkley is going to have a startling array of firepower to work with (don't forget about former blue-chip WR Kyle Prater, who redshirted in 2010). Farmer has blazing speed, and at 6-foot-2, 205 he has a very strong, sturdy frame to go with it. With him in the lineup, defenses will be seriously tested, having to cope with Farmer's speed and Woods' explosiveness at the same time.
Woods was dominant this spring, but many expect Farmer to be Woods' equal this fall. We'll see. If so, Barkley and the Trojans might not need much of a running game with their patchwork offensive line. What about the other 11 Pac-12 teams? Who is the most likely impact freshman for each? Because of our "heck yeah!" attitude, we've decided to take a stab at this query. Understand that it's not just about highly rated, it's about who might help immediately.
Arizona:
The Wildcats signed three touted linebackers, but we're tapping
Rob Hankins
as the one who will make the most impact -- and by impact, we mean start. While Hankins is a pure inside linebacker, the Wildcats need immediate help on the outside due to Jake Fischer's knee injury.
Arizona State
: With so many returning starters, the Sun Devils won't need a true freshman to start immediately. But after the knee injury to Omar Bolden, cornerback went from a position of strength to a questionable one -- at least in terms of depth. So the best guess is
Rashad Wadood
will get an early opportunity to work his way into the rotation.
California
: The Bears reeled in an outstanding class, particularly on defense. A number of those guys are going to play. But a need area next fall for Cal is running back, where 5-foot-7, 188-pound junior
Isi Sofele
is atop the depth chart. So we're tapping running back
Brendon Bigelow
as the impact freshman, with the caveat that he is coming back from a knee injury. If not Bigelow, then perhaps it will be
Daniel Lasco
.
Colorado
: The Buffaloes lost two starting corners to the NFL and struggled against the pass in 2010. They need help in the secondary, and
Sherrard Harrington
looks like the best bet, either at cornerback or perhaps at safety.
Oregon
:
Colt Lyerla
is going to play for Oregon next fall, likely as a hybrid tight end/H-back sort. But the Ducks are solid at tight end. They
need
either
Devon Blackmon
or
Tacoi Sumler
to step up as an outside receiver. We're going with Sumler who has special speed and is more polished as receiver.
Oregon State
:
Rusty Fernando
was penciled in as a starting defensive end at the beginning of spring practices, and it appears it will remain that way. But he's a junior college transfer. So, in the interest of focusing on incoming freshmen, we're going with
Terron Ward
, a grayshirt freshman running back who flashed ability this spring. At least one of the three true freshmen running backs figures to get touches.
Stanford
: Linebacker
James Vaughters
is a beast. His film will give you goose bumps. He's going to play. But in terms of need, receiver is a far more questionable position for the Cardinal this fall. So watch out for
Ty Montgomery
.
UCLA
: A lot of UCLA fans would say quarterback
Brett Hundley
. He finished No. 3 on the depth chart after spring practices and, while he's the quarterback of the future, it likely would be better to redshirt him, if possible. But
Kevin Prince
's inability to stay healthy and
Richard Brehaut
's inability to be consistent might make that impossible. And the Bruins recruiting class doesn't include any other obvious impact guys for this fall.
Utah
: This one is easy -- running back
Harvey Langi
was No. 2 on the post-spring depth chart behind
John White
, and that competition is ongoing. Langi is going to get plenty of carries.
Washington
: Another easy one --
Austin Seferian-Jenkins
finished spring as a push with
Michael Hartvigson
as the Huskies starting tight end. Nothing suggested that he won't live up to the considerable hype he received during recruiting.
Washington State
: Outside linebacker
Logan Mayes
has great Cougar bloodlines; he's the son of former Washington State All-American running back Rueben Mayes. He has the athletic ability and football smarts to work his way into the mix immediately, mostly likely at strong side linebacker.
May, 9, 2011
5/09/11
7:17
PM ET
USC junior receiver
Brice Butler
has decided not to transfer and will rejoin the Trojans next fall, the school announced Monday.
"We are pleased with Brice's decision to continue his development as a student-athlete at USC," Trojan head coach Lane Kiffin
said in a statement
.
Butler, a once-touted recruit out of Norcross, Ga., has struggled to break through. He has 29 career receptions with three touchdowns. Last fall, he caught just nine passes for 112 yards and a score.
He did not participate in 2011 spring practice, but remained in school at USC. He will face an uphill battle to work his way into a young and talented receiver rotation that includes
Robert Woods
,
Brandon Carswell
and
Kyle Prater
, as well as highly rated incoming freshman George Farmer.
TOP 25 SCOREBOARD
Thursday, 12/5
Friday, 12/6
Saturday, 12/7
TOP PERFORMERS