November, 15, 2011
11/15/11
3:00
PM ET
There are heartbreaking ways to lose. Then there are the ways Boise State has lost the past two years.
Crushing. Agonizing. Dream shattering.
Missed field goals, missed opportunities, blown leads. These are generally not the things Boise State does. But in two losses to Nevada and TCU, the Broncos could not hold on when they needed to most. That means BCS hopes are dashed, and the debate about the worthiness of the Broncos will not be put to rest.
[+] Enlarge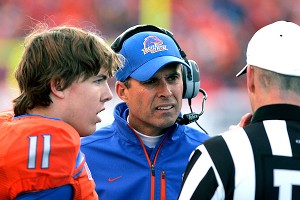 AP Photo/Matt CilleyChris Petersen, Kellen Moore (11) and the Broncos need to regroup after last week's defeat.
It may be cruel, but those two losses may end up defining a group of seniors who have won an incredible 46 games -- and counting. Because so much more was expected of a group led by quarterback
Kellen Moore
, future NFL running back
Doug Martin
and what was supposed to be one of the top defensive lines in the nation.
The Broncos have beaten teams like Virginia Tech, Georgia and Oregon. But who remembers that when you lose to teams from non-AQ conferences. These are the must-win games, the ones you are expected to dominate.
Injuries played a major role Saturday against TCU. Martin and running back
D.J. Harper
were hurt. The top three cornerbacks were hurt. The starting center was hurt. But everybody has injuries this time of year. Boise State did not have enough to respond.
So here the Broncos sit for a second year in a row, trying to come to terms with a season that will end away from the national spotlight.
"We're definitely bummed about it," senior safety George Iloka said in a phone interview. "We're not used to losing, but I feel the mood is a little different this year. Last year, the depression was a lot longer. It was a full-out depression. But now guys know what we have to do to bounce back. We have a lot more seniors this year, so as veterans if we have our heads down, there is no way the younger guys are going to have their heads up. We have to lead by example. It's about the next game and getting better and proving we are better."
This a group that has lost three total games by a combined five points. Crushing to be sure. But the Broncos still have a chance to set the school record for wins by a senior class. They need to win out to make that happen. They have been to and won a BCS game, in 2009. They have had a player in Moore become the first Heisman finalist in school history. They beat a team from the SEC for the first time in history.
Iloka has been trying to emphasize those positives as the Broncos prepare to move forward at San Diego State on Saturday.
"This loss doesn't define us," he said. "The loss from last year doesn't define us nor does any win define us. It's a body of work. That's why we keep our heads held high. We've only lost three games. We can't be down in the dumps, and we've got to get better to prepare for San Diego State. They're a good team. We definitely can't be hungover from last Saturday."
Coach Chris Petersen expects Martin and Harper back for the game, but said the Broncos will be without their top three cornerbacks -- Jerrell Gavins, Jamar Taylor and Ebo Makinde. True freshman Lee Hightower and sophomore Quaylon Ewing-Burton will start.
Boise State has three games left in the regular season before going to either the MAACO Las Vegas Bowl or the San Diego County Credit Union Poinsettia Bowl. Not the way the Broncos envisioned closing the season.
"All the losses are crushing," Petersen said during his news conference Monday. "People don't understand how tough these losses are to the coaches, to the kids. You put your heart and soul into it year-round, and when you don't get it done, it's hard."
September, 15, 2011
9/15/11
3:00
PM ET
Boise State easily beat Toledo 57-14 early last season, but coach Chris Petersen walked off the field impressed with the Rockets.
[+] Enlarge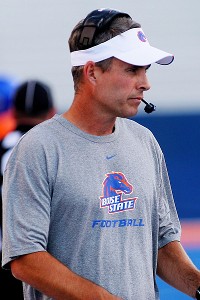 Brian Losness/US PresswireBoise State coach Chris Petersen is impressed by Toledo.
"I remember thinking these guys are going to be good sooner than later," Petersen said earlier this week. "How they finished last season and the first two games have proven that out. It's not surprising to this coaching staff how those guys are playing right now."
Indeed, the No. 4 Broncos go into their game at Toledo on Friday night (8 p.m., ESPN) prepared for an upset-minded team that nearly beat Ohio State last week and got the rest of the country talking. Toledo is not a revelation to those who follow the MAC. The Rockets were the preseason pick to win the conference, with 18 returning starters off a team that made a bowl appearance last season for the first time since 2005.
But playing well in Columbus is little consolation to Toledo, which held a third-quarter lead on the Buckeyes. The Rockets had one last chance to win, but
Terrance Owens
threw incomplete on fourth down from the OSU 17-yard line with 52 seconds left and they came up just short 27-22. In the game, Toledo had 14 penalties, a missed field goal and botched another field goal attempt.
When the team reviewed the game tape afterward, players saw how they hurt themselves with all their mistakes, costing them a chance to win. It was little consolation that the 22 points were the most an in-state school had scored on the Buckeyes since 1909.
"It was a tough defeat, no question about it," Toledo coach Tim Beckman said. "The kids and the coaching staff set their hearts out on the line to win that football game. As I told them, be there in the fourth quarter and we'll have a chance and that's what we had. ... We still have many, many things we have to get accomplished for this to be a successful year."
Meanwhile, the Broncos had an impressive 35-21 win against Georgia to open the season but had to sit for a week because of a bye. Nothing like getting geared up to start the season, get a nice win, then hit the practice field two weeks in a row. The same thing happened last year, when they had a bye after an opening week win against Virginia Tech. Boise State responded with a 51-6 win against Wyoming.
"It's tough, but we've done that," Boise State safety George Iloka said. "You get amped up with the whole offseason to play your first game against a very tough opponent, you get the win and think, 'Let's keep it rolling,' but then you have a bye week and it's like, 'Oh we just started playing. We have to stop again?' The schedule is set up in a way to help us recover, so you can see it both ways."
There are two big challenges for the Broncos -- preparing for two Toledo quarterbacks, and trying to slow down all-purpose player
Eric Page
. The Rockets play both
Austin Dantin
and Owens, to try to keep teams off balance. Page had 12 receptions for 145 yards and two touchdowns against the Buckeyes, and also returns kicks and punts as well. Last year against the Broncos, he had 11 receptions for 120 yards.
"They do have a lot of the same guys, but they're running their offense a lot better and doing what they do a lot better," Iloka said. "They're on the same page, a lot more crisp and more exact in what they're doing."
Toledo is a better team than it was at this point last season. We'll see whether that has any impact on the outcome of the game.
August, 24, 2011
8/24/11
9:00
AM ET
So here we are at the start of another college football season, and once again, Boise State sits right near the top of the rankings.
[+] Enlarge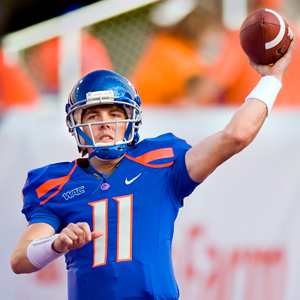 Douglas C. Pizac/US PresswireIn three seasons as a starter, Kellen Moore has thrown for 99 touchdowns and 19 interceptions.
The Broncos begin the season ranked No. 5, the top non-AQ team in the nation, hoping to make history with a spot in the BCS national championship game. That they are ranked so high should come as little surprise.
This Boise State team is just as loaded as the one that climbed to as high as No. 2 in the rankings in 2010. Heisman Trophy finalist
Kellen Moore
returns. So does his excellent running back
Doug Martin
, first-round NFL talent Nate Potter at left tackle, and one of the strongest defensive lines in the nation.
What do those players have in common? They are all seniors, accustomed to playing their careers in the bright spotlight that has become the norm for this program. In fact, Boise State will have 14 senior starters this season, a veteran team that has played in a BCS bowl game and lost just twice in their careers.
Twice. Think about that one for a minute.
This senior class is 38-2 since 2008 and needs 12 wins to set the school record for a senior class, currently held by the 2009 group.
Winning 40-plus games in a career has become something of the norm in Boise. Nine straight senior classes have gone past 40 wins, an incredible testament to their consistency.
"The bottom line is this program has been built year after year in making a constant progression," Moore said. "You have to be very aware of what has gone before you. We constantly talk about when you came into the program it was at this level, and our goal is to leave it a better place and someone else will pick it up and hopefully take it to another level."
But this senior class in particular has stood out because of the notoriety it has received.
Boise State made a BCS game following the 2006 season, and that stunning win against Oklahoma served notice to everyone in the country. But the Broncos have gotten much more national attention over the past three seasons, helped in part by that win.
But a bigger reason has been the player at the helm of this team for the past three years: Moore. Last season he became the first Boise State player to become a Heisman Trophy finalist. His three seasons as a starter have been stunning -- Moore has thrown for 10,876 career yards, 99 touchdowns and 19 interceptions.
He is a big reason why Boise State started 2010 ranked No. 3, the highest preseason ranking in school history. He is a big reason why many wondered at the start of last season whether Boise State had a realistic shot at playing for a national championship.
He is a big reason why Boise State is being tabbed as a favorite to make it back into a BCS game. That would be a fitting "last hurrah" for a senior class that has accomplished so much.
"Our body of work shows we've been a pretty good class, but your senior year is how you're remembered," safety George Iloka said. "I want my class to go out with a bang. We have a chance to get the most wins in our class in school history. So that's something you want to accomplish."
Boise State has its share of questions headed into 2011. For one, the Broncos have to replace their top two receivers in Titus Young and Austin Pettis. For another, they have to replace three starters in the secondary, including leading tackler Jeron Johnson and playmaker Winston Venable. They also will have a new kicker and punter.
The season opener against Georgia will put this team under scrutiny from the start of the season. Boise State has never beaten an SEC team, and this game will be in the Georgia Dome, a veritable home game for the Bulldogs.
But the Broncos are used to scrutiny. Last season, Boise State had its BCS dreams crushed when it lost to Nevada in an overtime stunner. Coach Chris Petersen called last season's team "awesome" except for one half of football.
So can this year's senior class be even better than last year, and leave with yet another BCS appearance?
"Those are big shoes to fill," Petersen said. "Some of the young guys are going to have to step up. So we'll have to see."
August, 12, 2011
8/12/11
11:07
AM ET
Here is a look at your non-AQ preseason team. All five conferences, BYU, Army and Navy were considered.
Offense
QB
Kellen Moore
, Boise State
RB
Ronnie Hillman
, San Diego State
RB
Doug Martin
, Boise State
OT Nate Potter, Boise State
OT Matt Reynolds, BYU
C Scott Wedige, Northern Illinois
OG Chris Barker, Nevada
OG Braden Hansen, BYU
TE
Ladarius Green
, Louisiana
WR
Damaris Johnson
, Tulsa
WR
Patrick Edwards
, Houston
Defense
DE Vinny Curry, Marshall
DE Jonathan Massaquoi, Troy
DT Logan Harrell, Fresno State
DT Billy Winn, Boise State
LB Tank Carder, TCU
LB Corey Paredes, Hawaii
LB Tanner Brock, TCU
CB Josh Robinson, UCF
CB Leon McFadden, San Diego State
S Marco Nelson, Tulsa
S George Iloka, Boise State
Specialists
K Danny Hrapmann, Southern Miss
P Brian Stahovich, San Diego State
KR
T.Y. Hilton
, FIU
PR
Eric Page
, Toledo
August, 4, 2011
8/04/11
1:14
PM ET
By now, we have come to expect to see Boise State and TCU in the Top 25 every season. So when the preseason
USA Today coaches Top 25
was released Thursday, the top non-AQ teams were right there in the top 15.
The Broncos will start the season ranked No. 7, while TCU is ranked No. 15. Boise State returns Heisman Trophy finalist
Kellen Moore
, along with
Doug Martin
, Nate Potter, Billy Winn, Shea McClellin and George Iloka, and expectations are high once again to return to a BCS game.
TCU, meanwhile, loses Andy Dalton off its Rose Bowl-winning team, which is why the Horned Frogs are outside the top 10.
Both teams open up their fall camps Thursday, so let us take a look at a few of the burning questions that they face.
Boise State

1. Developing depth.
No question the Broncos have some big-time senior players in Moore, Martin, McClellin and Iloka. In fact, 15 projected starters are seniors. That means Boise State has to develop its young players, something coach Chris Petersen emphasized at Mountain West media day in July. "We have some players that have played a lot of football that are very good players, and then we've got a big gap to some young guys that haven't played and need the experience and need the knowledge," Petersen said. "On our team right now, I think it's fairly wide. Our job as coaches is to narrow that gap."
2. Developing receivers.
Petersen and Moore both emphasized they are not worried about their receiving group. Rather than relying heavily on two players the way they did the past few seasons with Titus Young and Austin Pettis, you will see more players involved. That means
Tyler Shoemaker
,
Chris Potter
,
Kirby Moore
,
Mitch Burroughs
,
Aaron Burks
and
Geraldo Boldewijn
(formerly Hiwat) will have expanded roles. True freshman
Troy Ware
had a nice spring and could contribute as well.
3. The kicker is ...
Kyle Brotzman is gone, leaving a bit of inexperience at the kicker position. The Broncos have scholarship true freshman Jake Van Ginkel, who will practice for the first time this fall, along with walk-ons Dan Goodale and Michael Frisina.
TCU

1. Casey Pachall era begins.
Much has been written about how Pachall will do in replacing Dalton. Pachall has heard all of it. "I am ready,"
Pachall said
at a news conference earlier this week. "I am ready to be the guy that everybody looks to when things are good or bad. [The comparison to Dalton] doesn't bother me. It just gives me incentive and a little bit more motivation to be more of a leader and get more in that role."
2. Developing receivers.
Leading receiver
Josh Boyce
returns, but Jeremy Kerley,
Jimmy Young
and
Bart Johnson
are gone. There is talent in Fort Worth, but much of it is unproven. It is tie for players like
Antoine Hicks
and
Skye Dawson
to step up and help Pachall get the job done. Boyce is confident in his teammates. "We've worked really hard this summer with Casey, to get our chemistry going," Boyce said. "We will be just fine."
3. Can TCU be No. 1 in total defense again?
The stat is incredibly impressive -- TCU has led the nation in total defense for three straight seasons. Can TCU make it four in a row? Gary Patterson believes this unit can be even better than last season, even without defensive leader Tejay Johnson. Linebacker tandem Tanner Brock and Tank Carder return, and they should be the heart of the defense. Even with the potential, Patterson has no idea what type of identity this unit will take on. Each season, that changes. He will have a better idea once the season begins.
July, 19, 2011
7/19/11
11:00
AM ET
We are closing in on media day season. The Mountain West is holding its annual media event July 26-27 in Las Vegas, and I will be there to bring you the latest. Down below you will find the student-athletes each school is bringing for interviews. But first, my most pressing questions headed into 2011:
1. How will the reconfigured Mountain West fare and what will that mean for BCS inclusion?
This is the biggest question hanging over the league, one that is certain to be asked of commissioner Craig Thompson. Even though we all want an answer, we will not get one until the season ends. Still, there is no debating that teams such as New Mexico, Wyoming and Colorado State have to be improved for there to be any real shot at becoming an AQ.
2. Along those lines, how will Boise State fare in Year 1?
The Broncos are almost certain to be the preseason favorite to win the Mountain West in their first year in the league. This, of course, is not a new position for Boise State, the preseason favorite every year in the WAC. But how does the team feel about these expectations considering it will be facing a new slate of conference games in what is a more difficult conference than the WAC?
3. How does TCU feel about being in its final MWC season?
This is a similar storyline to last season with Utah and BYU. These three teams essentially put the Mountain West on the map and all are going to be gone in 2012. But TCU was given what it believes is a raw deal, when its game against Boise State was moved to Boise in November. That one could end up determining the league title. You can bet there is nothing the Horned Frogs would enjoy more than leaving the league as champion. There most definitely is a rivalry that has formed between TCU and Boise State. It's too bad we won't see that play out every year.
4. Is Air Force really a dark horse to win the league?
One of the bigger under-the-radar teams that has gotten national attention is Air Force. Some are calling the Falcons a dark horse to win the league. Coach Troy Calhoun is going to do everything he can to avoid talking about or answering that question. But with
Tim Jefferson
,
Asher Clark
and
Jonathan Warzeka
returning on offense, and Jordan Waiwaiole, Jon Davis and Brady Amack returning on defense, the Falcons should have another strong season.
5. Is San Diego State a threat to win the league?
The top four teams in the conference should be pretty strong. That includes San Diego State, which had a breakthrough season last year and returns several of its best players, including
Ryan Lindley
,
Ronnie Hillman
, Miles Burris and Leon McFadden. But there are some questions within this question -- how do the Aztecs do without Vincent Brown and DeMarco Sampson, and can Hillman avoid a sophomore slump?
List of student-athletes attending MWC media days:
Air Force
: WR/KR Jonathan Warzeka, DL Zach Payne
Boise State
: QB
Kellen Moore
, S George Iloka
Colorado State
: OL Paul Madsen, LB Mychal Sisson
New Mexico
: LB Carmen Messina, TE
Lucas Reed
San Diego State
: QB Ryan Lindley, DL Jerome Long
TCU
: WR
Josh Boyce
, LB Tank Carder
UNLV
: TE
Anthony Vidal
, DB Quinton Pointer
Wyoming
: LB Brian Hendricks, DE Josh Biezuns
May, 10, 2011
5/10/11
12:00
PM ET
2010 overall record:
12-1
2010 conference record:
7-1 WAC (co-champs)

Returning starters
Offense: 7, defense 7 , punter/kicker 0
Top returners
QB
Kellen Moore
, RB
Doug Martin
, OT Nate Potter, S George Iloka
Key losses
WR Austin Pettis, WR Titus Young, S Winston Venable, S Jeron Johnson
2010 statistical leaders
(* denotes returners)
Rushing:
Martin* (1,260 yards, 12 TDs)
Passing:
Moore* (273-of-383 for 3,845 yards, 35 TDs, 6 INTs)
Receiving:
Young (1,215 yards, 9 TDs)
Tackles:
Johnson (82)
Sacks:
Shea McClellin* (9.5)
Interceptions:
Brandyn Thompson (3)
Spring Answers
1. Geraldo Hiwat emerges.
The biggest question going into the spring was who would fill the big gap created with the departure of Austin Pettis and Titus Young. After the spring, the name on everyone's mind is Hiwat, who turned heads. He needs to continue to develop and has the potential to follow in line.
2. Tyrone Crawford is a handful.
Crawford played well behind Ryan Winterswyk last season, recording seven sacks. Now he takes over at defensive end full time, and he had a great spring, leading coaches to believe that position is in good hands.
3. Smooth transition to Pease.
When offensive coordinator Bryan Harsin went to Texas, Boise State went and hired back receivers coach Brent Pease, who had left for a coordinator job at Indiana. Because Pease is so familiar with the Boise State offense, the transition in coordinators was smooth during camp. There will be a few new wrinkles, but nothing overly dramatic.
Fall Questions
1. Receivers.
Hiwat may have stepped up this spring, but playing in games as a featured receiver is another matter entirely.
Tyler Shoemaker
,
Kirby Moore
and Hiwat do have experience, but what is it going to be like when they are going to be relied upon full time?
2. Safeties.
Boise State loses so much without Johnson and Winston Venable, and coach Chris Petersen knows it. The starters here are not solidified yet, partly because of injuries during the spring that took out some top competitors. Hunter White and Dextrell Simmons are the top competitors for Venable's spot while Jeremy Ioane, Cedric Febis and Travis Stanaway are competing for Johnson's spot.
3. Mountain West.
How will the Broncos fare in their first season in the Mountain West? Many are picking them to win the league, but remember Boise State is going to be facing a slew of teams it has never seen before. That unfamiliarity could be a problem in some of the tougher matchups against Air Force and San Diego State.
December, 8, 2010
12/08/10
10:30
AM ET
Coming up with the all non-AQ team is never easy, because there are so many good players across all five conferences, Army and Navy. Unfortunately, many talented players get left off this list because there isn't room for everybody.
I tried to pick the players who had the most outstanding seasons at their respective positions. The toughest positions for me to pick were defensive line, receiver and linebacker, where I had 10 worthy candidates to whittle down.
It was also tough selecting a quarterback, so I went with two: Heisman Trophy finalist
Kellen Moore
of Boise State and record-setting
Colin Kaepernick
of Nevada. Both had incredible seasons worthy of recognition. My lone Sun Belt selection had the best player in the conference -- Western Kentucky running back
Bobby Rainey
, who ran for 1,649 yards on an astounding 340 carries, with 15 touchdowns.
My lone MAC selection was KR
Eric Page
, who led the nation with three kickoff returns for touchdowns.
Here is the complete list. Feel free to debate in the comments section.
OFFENSE
QB – Kellen Moore, Boise State; Colin Kaepernick, Nevada
RB – Bobby Rainey, Jr., Western Kentucky
RB –
Vai Taua
, Sr., Nevada
AP –
Damaris Johnson
, Jr., Tulsa
WR –
Greg Salas
, Sr., Hawaii
WR –
Titus Young
, Sr., Boise State
TE –
Virgil Green
, Sr., Nevada
OL -- Matt Reynolds, Jr., BYU
OL – Marcus Cannon, Sr., TCU
OL – Nate Potter, Jr., Boise State
OL – Rob McGill, Sr., Louisiana Tech
C -- Zane Taylor, Sr., Utah
DEFENSE
DL -- Chris Carter, Sr., Fresno State
DL – Vinny Curry, Jr., Marshall
DL – Dontay Moch, Sr., Nevada
DL – Shea McClellin, Jr., Boise State
LB – Tank Carder, Jr., TCU
LB – Corey Paredes, Jr., Hawaii
LB -- Mario Harvey, Sr., Marshall
DB – Reggie Rembert, Sr., Air Force
DB – Mana Silva, Sr., Hawaii
DB – Tejay Johnson, Sr., TCU
DB – George Iloka, Boise State
SPECIAL TEAMS
K – Danny Hrapmann, Jr., Southern Miss
P – Kyle Martens, Jr., Rice
KR – Eric Page, So., Toledo
PR –
Shaky Smithson
, Sr., Utah
December, 2, 2010
12/02/10
2:50
PM ET
Boise State has plenty of experience when it comes to winning. But when it comes to losing? Not so much.
So a true test of its mettle will come Saturday in its regular-season finale against Utah State, a week after its BCS national championships dreams died in a 34-31 overtime loss to Nevada. Since then, kicker Kyle Brotzman has been the target of death threats and hate mail, and the Broncos have had to come to terms with a sobering reality: They were national championship contenders one week, Kraft Fight Hunger Bowl contenders the next.
How does a team respond when it rarely has been asked to respond?
[+] Enlarge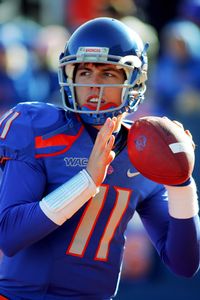 Brian Losness/US PresswireThe last time Boise State was coming off of a regular-season loss, junior quarterback Kellen Moore was redshirting.
"We'll find out," coach Chris Petersen said this week. "We haven't lost in a long time, let alone in this tough fashion, so we'll see what kind of toughness and resiliency we have."
No. 11 Boise State (10-1) had won 24 straight before last week's heartbreaking loss to the Wolf Pack. The Broncos' last loss came to TCU in the Poinsettia Bowl in 2008. But go even further back than that to find the last time Boise State had to play a game immediately following a regular-season loss.
It happened over three years ago -- in September 2007.
Kellen Moore
was redshirting.
Titus Young
and
Austin Pettis
were freshmen. Ian Johnson was the star of the team. Boise State lost its second game of the season, 24-10 at Washington, ending a 14-game winning streak.
The Broncos faced Wyoming at home the following week, and though they managed just 107 yards of offense and one touchdown in the first half, they won 24-14. Still, only a handful of players on the team this year played in that game, putting them in an unfamiliar spot come Saturday.
"You've got to move on," said safety George Iloka, a junior who has only lost twice in his career at Boise State. "You have to get past it because Coach made a good reference. You don't want to have Nevada beat you twice. You can't be stuck on this loss and have them beat you mentally."
"It's a good test to see how I handle this as a player, character-wise how can you come back after a loss. I've never had to come back and play a game after a loss. It's going to be interesting to see how we play -- do we play better or do we play worse?"
Boise State is on the outside looking in when it comes to getting an at-large berth in the BCS. No one-loss non-AQ team has ever gotten an at-large berth, and the chances seem remote this season, especially if Stanford stays at No. 4 in the BCS standings. The Cardinal would get an automatic bid for finishing that high.
Though there is a perception that there is nothing left to play for this season, the Broncos do have several goals within reach. The first is to win a share of the WAC. Yes, Boise State wanted to be the sole champion but there is still a chance at being co-champs with Hawaii and Nevada, should the Wolf Pack also win on Saturday.
They also have a chance to end WAC play with a 40-0 home record. Plus, they have an opportunity to send their seniors out on the right note.
Despite the disappointment, this senior class has been incredibly accomplished: a 46-5 record, a Fiesta Bowl win, two undefeated regular seasons, and an all-time high No. 2 ranking in the AP and coaches polls this season. Ten seniors will be making their final home start on the blue turf.
"We're strong minded, have strong hearts and we don't accept anything other than greatness, so the senior class going out will be fine," senior safety Winston Venable said in a phone interview. "We've done something special here. We set a standard and put a mark on this program."
November, 3, 2010
11/03/10
1:45
PM ET
Boise State safety George Iloka knows what people are saying: that the secondary is the weak link of the defense.
He disagrees, of course, but he realizes the big test that awaits the defensive backs Saturday against pass-happy Hawaii (7-2, 5-0) on Saturday. The Warriors have the No. 1 passing offense in the country behind
Bryant Moniz
, the only quarterback in the nation with over 3,000 yards.
Receivers
Greg Salas
and
Kealoha Pilares
are each averaging 100 yards a game, both ranking in the Top 7 nationally.
"We haven't played a receiving corps like the Hawaii team we're about to face, so here's our real challenge as a secondary," Iloka said in a telephone interview. "As a secondary, you have to want games like this against big-time receivers."
Louisiana Tech was able to make a few big plays in the passing game last week, and so were Virginia Tech and Oregon State. That has led to some alarm from fans who are concerned about the play of the secondary headed down the stretch.
But this is a unit that has remained largely untested. Hawaii may want to try to take advantage of Jamar Taylor, who has taken over at cornerback for first-round pick Kyle Wilson. But no matter who is back there starting for No. 4 Boise State (7-0, 3-0), Hawaii will keep on passing.
That is just the style the Warriors play, a version of the Run and Shoot that can give teams fits. Moniz has simply followed in the footsteps of Colt Brennan and Timmy Chang before him. He has grown more comfortable in the complicated offense, and has two great receivers to help him out.
"The more games I've played, the better I've gotten," Moniz said. "That's just chemistry and getting on the same page. Strengthening my arm has made me make throws I might not have been able to get into tight spaces last year."
Running back
Alex Green
has also emerged for Hawaii. There is no question this is a vastly different team than the one Boise State beat 54-9 last season. Moniz was making his third start in that game, but got knocked out near the end of the first quarter with a concussion.
"He's just in a really good rhythm and groove," Boise State coach Chris Petersen said. "He reminds me of all those other guys they've had. They work in the pocket well and they throw it all over the field. It's just not short it's just not deep. From hash to sideline, you have to cover them all at all times."
So what is the key to slowing down such a high-powered offense?
"You have to make sure the quarterback doesn't have time to throw," Iloka said. "If he can't throw the ball, the receivers won't get the ball. But we have to play sound football in the secondary -- keep everything in front of us, make tackles when you're supposed to. As long as you don't give up the deep ball, you're somewhat fine. But if the D-line gets back there, that would be awesome."
The Boise State front has been called one of the best in the nation. The Broncos are No. 4 in sacks, averaging 3.4 in a game with 24 total on the season. They also rank No. 3 in tackles for loss with 8.4 a game.
Hawaii has given up its fair share of sacks this season, with 21 total. No doubt Boise State will try to bring pressure to slow down Moniz. If the Warriors are going to pull the upset, then they are going to need a big day out of him.
"We all know the stakes," Moniz said. "It's a big game for us, and for our program."