NCF Nation:

George Rogers
November, 29, 2013
Nov 29
8:00
AM ET
Even now, after all these years of covering college football, there's something about the Clemson-South Carolina rivalry that has an almost mystical feel for me.
Maybe it's because I grew up in the state of South Carolina and spent many of my Saturday afternoons and evenings in the fall listening to Bob Fulton and Jim Phillips paint a picture on the radio as only those two late, great broadcasters could.
If you grow up in that state, you're either a Gamecock or a Tiger, a "chicken" or a "tater," as the two fanbases refer to each other. There's really no in between, although I somehow managed to hover in that margin as best I could.
Going back to the Jeff Grantz and Ron Bass days in the 1970s and attending a smattering of games at Williams-Brice Stadium before there was an upper deck on the East side, I cheered for the Gamecocks.
George Rogers won the Heisman Trophy in 1980, my sophomore year of high school. I can still remember somebody in the principal's office at Rock Hill High School coming over the intercom and announcing that Rogers had won.
[+] Enlarge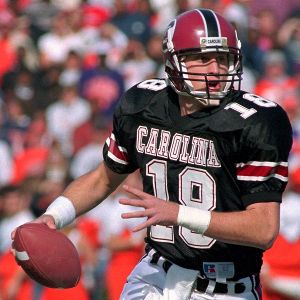 AP Photo/Lou KraskyNearly 20 years after he quarterbacked South Carolina, Steve Taneyhill's antics, and success, against Clemson is a sore subject for Tigers fans.
That was a huge deal for the state, and Rogers was the running back we emulated in our backyard games. We all wanted a No. 38 tear-away jersey.
So at the time, I leaned more toward the Gamecocks.
But, boy, were those Danny Ford years at Clemson a lot of fun, and I had several dear friends who were Clemson fans. I'll never forget my first trip to Death Valley and the pristine beauty of that campus. The same goes for seeing the Clemson players get off that bus for the first time and come galloping down the hill to a sea of orange.
This rivalry will always hold a special place in my heart, which is why I'm so stoked to be going back Saturday and covering my first Clemson-South Carolina game in nearly two decades.
And talk about good timing.
It's the first time in the history of the rivalry that both teams have been ranked in the top 10 nationally. There are BCS bowl implications for both teams, and South Carolina is trying to win five in a row in the series for the first time ever.
Back in the day, I'm not sure I ever envisioned a game between these two old rivals being this big nationally.
But my memories of the rivalry are as rich today as they were 30-plus years ago.
The first Clemson-South Carolina game I ever saw was on television, and very few games were on TV back then. It was the 1977 classic in Columbia, as Jerry Butler seemed suspended in midair for an eternity as he pulled in a leaping, twisting touchdown catch to beat South Carolina 31-27 in the final seconds.
I was watching that day from the sprawling metropolis of Taylors, S.C. (just outside Greenville) with childhood friend Mike Campbell and his family. They were huge Clemson fans, and you can bet it was one festive party at their house the rest of the evening.
The upset I remember most was the 1980 game when Willie Underwood intercepted a pair of passes, and Clemson -- adorned in all-orange -- stunned No. 14 South Carolina 27-6 in Death Valley. It was Rogers' final game in the series, and Clemson fans will still tell you proudly that he never scored a touchdown against the Tigers.
The first game in the series that I personally attended was in 1984 at Death Valley. South Carolina's "Black Magic" team rebounded from a disastrous upset loss at Navy the week before to rally from a 21-3 deficit and win 22-21. Mike Hold guided South Carolina on a game-winning 84-yard touchdown drive in the final minutes. Scott Hagler actually missed the extra point. But Clemson was penalized for having too many men on the field, and Hagler didn't miss a second time to win it for the Gamecocks.
I was also on hand for one of the signature moments in the rivalry in 1992, when South Carolina freshman quarterback Steve Taneyhill pretended to autograph the Tiger Paw at midfield after throwing a touchdown pass to seal the Gamecocks' 24-13 win.
Taneyhill was a jewel in those days, running around like a wild man and sporting one of the most hideous mullets the sport has ever seen. But he never lost at Clemson and told me a few years ago that he still catches some serious grief for his "defacing" of the Tiger Paw.
The mullet is now gone, but Taneyhill is scheduled to be at Saturday's game to lead the "Game-Cock" cheer right before the team makes its famed entrance to the "2011: A Space Odyssey" theme. Taneyhill has gone on to carve out a hugely successful high school coaching career in the state of South Carolina. And, yes, he even sent one of his players to Clemson.
This is a rivalry that transcends bloodlines. Former South Carolina kicker/punter Spencer Lanning, who's now punting for the Cleveland Browns, grew up in a family that was Clemson to the core. His grandfather, Don Lanning, even helped Danny Ford do a little recruiting back when the rules were different.
In 2005, James Davis rushed for 145 yards and scored the winning touchdown to lift Clemson to a 13-9 victory over South Carolina in Columbia. Davis plans to be back in the Williams-Brice Stadium stands on Saturday to watch his younger brother -- South Carolina star running back
Mike Davis
.
I'll be there, too, and I'm sure the memories will come flowing back.
It's been 36 years since Butler made his legendary catch in what was my introduction to the rivalry.
I can only hope my return is equally memorable.
December, 7, 2012
12/07/12
10:00
AM ET
Hugh Green looks at the evolution of football over time and cannot feign surprise when seeing that no exclusively defensive player has ever walked away with the college game's most prized individual award. But that doesn't mean he thinks it's right.
From spread offense variations to wider definitions of "unnecessary roughness," from 7-on-7 passing leagues all the way back to the legalization of the forward pass, Green sees one common theme as the sport has progressed.
"They have not made a rule change where offenses have the opportunity to score less points," said Green, the former Pitt and later Buccaneers and Dolphins star defensive end. "They always have rule changes that hamper the defense so that the offense can score more points. Like everything else that happens over the decades with that, defenses adjust. They make the offenses come up with another rule, which is the formula of why a defensive player is so important and why he should be characterized into that major award."
That major award is the Heisman Trophy, which will be given Saturday night to one of three finalists: Texas A&M quarterback
Johnny Manziel
, Kansas State quarterback
Collin Klein
or Notre Dame linebacker
Manti Te'o
.
[+] Enlarge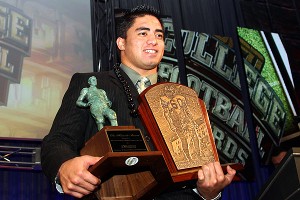 Cliff Welch/Icon SMI Manti Te'o has already garnered several awards, but can he add the Heisman to his trophy case?
No solely defensive player has notched the Heisman, with Michigan cornerback Charles Woodson being the lone winner (1997) who played mostly defense, though he also took reps at receiver and on special teams.
Green's 1980 season -- which featured 123 tackles, 17 sacks and four fumble recoveries -- earned him a second-place finish in 1980 behind South Carolina running back George Rogers. Green is closest to accept the famous stiff-arming trophy soley as a defender. (Iowa tackle Alex Karras finished second in 1957, too.)
That could change if Te'o's name is called this weekend at the Best Buy Theater in Times Square.
"I think first and foremost, for me it would be a great honor for my team," Te'o said. "Without my team, I wouldn't be a Heisman candidate. If we weren't 120, I wouldn't be a Heisman candidate. So without my team and their help, I wouldn't be going to New York. But definitely if I were to win and representing my school and my team and my family and defensive players in general, it would definitely be a great step for all of us.
"If it doesn't happen, then whoever does win it is truly deserving of the award. Anything, whatever happens, it's going to be good."
Manziel is considered the front-runner following an SEC-record 4,600 yards of total offense for the 10-2 Aggies. The redshirt freshman has the catchy nickname ("Johnny Football") and signature moment (last month's upset of then-No. 1 and defending champion Alabama) that have been Heisman hallmarks, based on history.
Working in Te'o's favor are nine takeaways (seven picks, two fumble recoveries), which are tied for the national lead, along with 103 tackles and the label of best player on the nation's No. 1 and only bowl-eligible undefeated team. Notre Dame's seven Heisman winners are tied with Ohio State for most of all time.
"People characterize what a defensive player does and doesn't do, which is score points," Green said. "I thought each and every time, [Te'o's] interceptions either prevented a touchdown or put his offense in position to score a touchdown or kick field goals. So it can be warranted that he does score points."
Te'o also has the character element, an often-overlooked part of the Heisman Trust mission statement, and something he has embodied in overcoming the deaths of his grandmother and his girlfriend within hours of each other earlier this season.
"There are so many superlatives that you can use about players throughout the country," Irish coach Brian Kelly said. "He's a college football player. He loves the game. He's passionate about the game. He's 21 years old and he acts like that. When he walks into a room, there's an energy and a passion for what he does.
"He raises the level of accountability amongst his teammates, and when you have that kind of energy and that kind of personality, it rubs off on everybody. He's a college football player that loves the game and he elevates the play of others around him."
Still, Te'o faces an uphill climb. Only seven defensive players have even been invited to the Heisman ceremony since players first began attending in 1981, the most recent being LSU fifth-place finisher Tyrann Mathieu last year. The Honey Badger, like Woodson, also made a big special teams impact and, like Manziel, also boasted the catchy nickname.
Nebraska tackle Ndamukong Suh's invite to New York following his monstrous 2009 campaign -- 85 tackles, 24 tackles for loss, 12 sacks, 26 hurries, three blocked kicks -- marked the first top-five finish by a defense-only player in 18 years.
That history was not lost on Suh, who was reminded of it everywhere he went after a Big 12 title game loss to Texas in which he notched seven tackles for loss, 4.5 sacks and two hurries. He felt he had a decent shot at winning, but he also knew that the crowded field that year could create some unpredictability, as he was joined in New York by a past winner (Tim Tebow) and two players who would face off in the national title game (Colt McCoy and winner Mark Ingram), along with Toby Gerhart.
"It's unfortunate that defensive guys don't get a better look," said Suh, who finished fourth and is now with the Lions. "I'm happy for Manti Te'o. I'll definitely be rooting for him. If I could vote for him, I'd definitely vote for him.
"I only saw one game of him playing, when he played against Oklahoma, but he seemed like a very dominant defensive player and I wish him the best, especially since I'm on the same side of the ball as him."
October, 6, 2012
10/06/12
6:43
PM ET
COLUMBIA, S.C. -- The Georgia-South Carolina game has always been big, even before the Gamecocks joined the SEC.
These two teams have had some memorable battles going back more than three decades.


In fact, South Carolina Heisman Trophy winner George Rogers was reminiscing about the 1980 game in Athens earlier Saturday while standing on the field at Williams-Brice Stadium.
The Bulldogs, led by freshman Herschel Walker, were ranked No. 4 nationally and would go on to win the national championship that season. The Gamecocks were ranked No. 14, their highest ranking in the AP poll since 1959.
"I can still see Herschel running down that other sideline," Rogers said of Walker's long touchdown run. "Nobody could catch him."
Georgia prevailed 13-10, but only after Rogers lost a fumble late in the game with South Carolina driving deep in the Bulldogs' territory.
"It happened right over there," said Rogers, pointing across the field to the approximate spot where the fumble occurred 32 years ago in Sanford Stadium. "I still can't believe I fumbled that ball."
Rogers, who now works for the University of South Carolina, said the game Saturday night between No. 5 Georgia and No. 6 South Carolina reminds him of that 1980 affair, especially with the national build-up and ESPN's "College GameDay" being in town.
He just hopes it turns out a lot better for the Gamecocks, who've never won three in a row over the Bulldogs.
This is also the first-ever top -0 matchup between the border rivals.
"It's the way this rivalry is supposed to be," said Rogers, who was from Duluth, Ga. "It's one of the best ones out there and always has been."