NCF Nation:

George Whitfield
May, 2, 2014
May 2
9:00
AM ET
BATON ROUGE, La. -- Michigan. USC. Stanford. LSU?
[+] Enlarge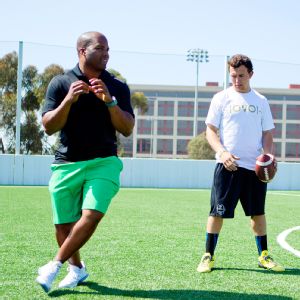 AP Photo/Nick LuceroGeorge Whitfield Jr. has become known as a tutor to such quarterbacks as Johnny Manziel.
Three of those football powers are known for their abilities to attract the nation's top quarterback prospects. The fourth could join their ranks, said quarterback guru George Whitfield Jr., largely because of his mentor, Cam Cameron.
"When your guy that you spend all day with -- meetings, practice, this and that -- has built and grown
Drew Brees
,
[Philip] Rivers
,
[Joe] Flacco
, who two of the three have won Super Bowls and the other one I think is one of the top six, seven, eight quarterbacks in the league, and now you get a chance to partake in this? That's what I'm telling you. This is one of the top destination spots now," Whitfield said during a visit to LSU.
"If I'm a big-time high school quarterback with aspirations to play in the NFL and I want to win in college, this is one of those places on one hand now that you're going to find. And they will be for some time. The recruiting's going to shift now."
Whitfield's respect for Cameron -- now entering his second season as LSU's offensive coordinator and quarterbacks coach after a decade in the NFL as a coordinator and head coach -- traces back more than 20 years. He first worked with Cameron as a pupil, picked his brain as a graduate assistant at Iowa and later interned under Cameron with the San Diego Chargers, where he learned about the importance of attention to detail.
"I would watch how pre-practice he would film quarterback-center exchange for 45 minutes," recalled Whitfield, who interned with the Chargers in 2007, Rivers' rookie season. "I admit there were times I was like, 'Come on, there's nothing to see here folks,' but … he put a guy on the ground with a camera shooting up through the center, from the center's head, and he put a guy on the ground shooting through Philip's legs so they could see the snap.
"That's how meticulous he was. And that's when I thought to myself, 'Oh I get it. I get it. It ain't about rah-rah and a good little soundbite. There's some diligence here.' That's why they never lost a snap, the Chargers, in I think like four or five years."
Today, Whitfield has implemented Cameron's lessons in his own professional life. He is a noted quarterback guru who runs a youth training academy in San Diego and annually works with some of the NFL draft's top quarterback prospects.
Among Whitfield's pre-draft clients were top overall selections
Cam Newton
and
Andrew Luck
, plus
Johnny Manziel
, one of this year's top quarterbacks.
[+] Enlarge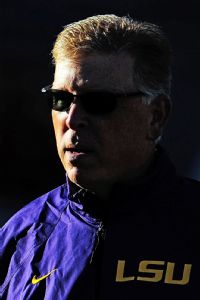 Stacy Revere/Getty ImagesCam Cameron has a long history of working with quarterbacks, a skill he's brought to LSU.
"He's passionate about quarterback play, cares about people and he's become a pro," Cameron said. "He's not just some guy trying to make a buck teaching quarterback play, he's a pro. Pros are passionate about what they do and experts at what they do, and I look at George that way."
In a strange twist, Cameron was actually serving as a guest lecturer at Whitfield's quarterback academy when an old coaching acquaintance, LSU coach Les Miles, called to gauge his interest in returning to college.
"I was out there and he called and obviously I was looking for a job at the time," Cameron said. "That's kind of where that thing kind of got going."
Whitfield remembers well how intrigued his mentor seemed with the opportunity.
"He was so excited. And I was surprised by that," Whitfield said. "This is a longtime NFL coach, now. He'd been a head coach, he hadn't been in college since Indiana [in 2001] and the lowest position he's held since he's been in the NFL is coordinator.
"I said, 'You're about to go to college?' And he goes, 'Yeah, but this isn't any college. This is LSU.' And he goes, 'It's really like a young NFL team. We can teach, coach.' He said, 'I can get back down here. It's not about contracts, 'Can we keep this guy? He's got a bonus.' It's back to teaching.' And I thought, 'Holy cow.' "
In his first year on the job, Cameron helped
Zach Mettenberger
emerge as one of the most improved quarterbacks in the country. And now one of his star pupils, freshman
Brandon Harris
, is one of Whitfield's protégées.
Not that it should come as much of a surprise. Whitfield's reputation has grown to the point that he mentors elite quarterback prospects each year -- a point of pride for an old teacher who has enjoyed Whitfield's rise.
"George and I would sit down at Denny's and eat breakfast, and the biggest difference is I used to buy George breakfast and now he's buying me breakfast," Cameron chuckled. "So yeah, you do [enjoy his success]. I think any parent or any coach who sees a young man grow and flourish in what he's passionate about, it's something that you feel good about."
Whitfield was 13 when he first convinced his parents to let him participate in a high school quarterback camp that Cameron led at Michigan, where he was then coaching receivers and quarterbacks. Their relationship recently came full circle, with Whitfield mentoring Cameron's son Danny and taking him on a prospect tour to visit college campuses.
"It just meant the world that he'd say, 'All right, I want you to work with my son,' " Whitfield said. "I started working with Danny a couple, three, four years ago and now I'm the same age I was when I was working with his dad. "I thought, 'Man, I'm working with your son, but you taught me the majority of what I know, or the foundation, and I'm going to pass it on to your son.' "
Perhaps this mutual admiration society of coaches will someday span three generations.
If
Danny
-- a 2015 quarterback prospect -- one day enters the profession and similarly reflects on the influence that Whitfield had on his development, it would only be fitting. So many of those lessons came from a familiar source.
March, 18, 2014
Mar 18
12:30
PM ET
It's that spring break time of year, and college seniors across the country are enjoying a "last hurrah," so to speak. Arizona State's
Taylor Kelly
is no different.
Well, he's actually completely different.
Instead of hitting the beach with some buddies and making like Dionysus, he jetted on March 9 to San Diego to "work on my craft" with QB guru George Whitfield and several other college quarterbacks.
"I felt like it's my last hurrah, in the sense of my football senior year," Kelly said.
Also on hand in San Diego for a week of quarterback two-a-days were Baylor's
Bryce Petty
, North Carolina's
Marquise Williams
, Virginia's
David Watford
and Texas signee
Jerrod Heard
.
Johnny Manziel
and
Logan Thomas
were hanging around getting ready for their pro days and the NFL draft.
[+] Enlarge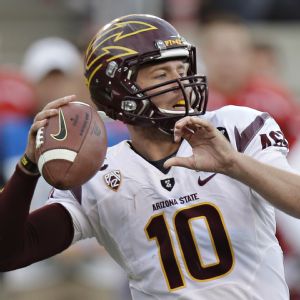 AP Photo/Rick BowmerTaylor Kelly is staying busy, getting ready for his senior season as Arizona State quarterback.
But wait ... there's more. Kelly drove back to Tempe, Ariz., on Saturday only to fly back to California at 7 a.m. Sunday to film a segment with Rich Neuheisel and the Pac-12 Network. He returned to ASU that evening at 6 p.m. so he could make an 8 p.m. team meeting in advance of spring practices, which begin Tuesday. He had a 5:45 a.m. workout on Monday morning, by the way.
Busy, yes. But worth it, Kelly said.
"I learned a lot," he said.
Two springs ago -- and 57 touchdowns and 6,705 passing yards ago -- it would have been difficult to imagine Kelly being in such demand. He was the consensus pick to finish third behind
Mike Bercovici
and
Michael Eubank
in the Sun Devils QB competition to replace
Brock Osweiler
. Instead, he's a budding three-year starter, with Bercovici his big-armed backup. Eubank transferred to Samford after the 2013 season.
Kelly has played himself onto NFL radars and could improve his standing with a strong senior season. While few saw that coming in the spring of 2012, Kelly said his self-belief never wavered.
"With my competitive nature, I've always thought I could [play in the NFL]," he said. "I wanted to be that great quarterback, to lead a team to championships. That's who I've been my whole life. I never had any doubts in myself or my ability to be the starting quarterback three years ago."
Kelly is just the second Sun Devils quarterback to have thrown for more than 3,000 yards in consecutive seasons in school history. He set a school record for completion percentage (67.1 percent) and moved into the top five in seven school-record lists, including passing yards, passing yards per game, completions, attempts, total offense, yards per game and points responsible for.
Of course, if he wants to be remembered in Tempe like
Jake Plummer
, he's got to get the Sun Devils back to the Rose Bowl. Or the College Football Playoff.
Kelly said he's focused this spring on improving his efficiency and reducing interceptions and sacks. While he's put up big numbers as a dual threat, he also only ranked seventh in the Pac-12 in passing efficiency last year. He's thrown 21 interceptions in the past two years, including 12 in 2013. He's been sacked 79 times (ouch!). One of the surprising Pac-12 stats from 2013: The Sun Devils yielded a conference-worst 41 sacks (2.93 per game) -- five more than anyone else, though that was in 14 games -- despite having a mobile QB in Kelly and a good offensive line.
"Sometimes when I'd feel pressure, I'd release the pocket, and that's really hard on our offensive line," Kelly said.
Proving he can make plays under duress will answer a lot of NFL questions. It also would boost the Sun Devils' chances to repeat as South Division champions.
Another spring question for Arizona State is who Kelly will target. Receiver
Jaelen Strong
is back and likely will become an All-American candidate, but the next leading returning wideout is sophomore
Cameron Smith
, who caught just eight passes in 2013.
Kelly doesn't seem too worried, however. He named
De'Marieya Nelson
-- tight end
Chris Coyle
's 2013 backup -- touted juco transfer
Eric Lauderdale
, 6-foot-4 redshirt freshman
Ellis Jefferson
and walk-on Fred Gammage as players who should step up this spring.
What is clear is that Kelly is the undisputed leader of the Sun Devils, a role that he's set to embrace despite a laid-back nature.
"I'm just going to be myself," he said. "If I need to speak up and say something, I feel a lot of the guys respect me enough that they are going to listen to what I say."
Arizona State is almost certain to fall behind UCLA in the Pac-12 South pecking order among preseason publications. Further, Kelly, not unlike Oregon State's
Sean Mannion
, falls in behind Oregon's
Marcus Mariota
and UCLA's
Brett Hundley
in terms of Pac-12 and national quarterback Q-rating.
That doesn't figure to worry Kelly. He's been counted out before. It's pretty clear that he's not going to be outworked as he prepares for his last hurrah.
April, 10, 2013
4/10/13
9:00
AM ET
CLEMSON, S.C. -- There are the little things Clemson quarterback
Tajh Boyd
has to work on this offseason to become, as he says, "the most well-put-together quarterback" in the nation come August.
But before the little things came one giant thing.
Taking a shotgun snap.
Three springs ago, new offensive coordinator Chad Morris looked on in horror as he watched Boyd manhandle one snap after another. Boyd had never taken a shotgun snap before, and, well, he had problems.
"He would catch them with his stomach -- just like this," Morris said, jabbing his hands into his belly. "And it would just drive me crazy. So I didn't think at that point that he would be where he is today. I thought we had to start with baby steps."
Those baby steps turned into monolithic steps. Boyd is the reigning ACC Player of the Year, has rewritten school and league quarterback records, and now has an eye toward a third consecutive 3,000-yard passing season. All those records are nice, but Boyd came back to school for something bigger: to help the Tigers win a national championship.
To do that, Boyd knows he has to be better than ever. If a trip to New York at the end of the season as Heisman finalist is the end result, so be it. But the goal this season is to win; and to win, Boyd has to improve in three key areas: footwork, decision-making and holding onto the football.
Footwork is one of the most overlooked aspects of good quarterbacking. Bad footwork often results in bad passes. To hone his skills in this area, Boyd spent his spring break in California learning from quarterback guru George Whitfield.
"Footwork leads to better decision-making and allows you to be more accurate," Boyd said.
And better decision-making means?
[+] Enlarge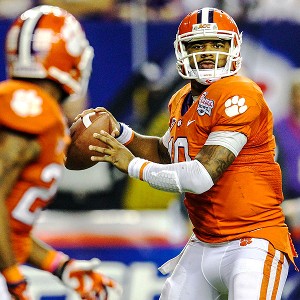 Daniel Shirey/USA TODAY SportsQuarterback Tajh Boyd has his sights set on some lofty goals for his senior season at Clemson: a national title and Heisman consideration.
"Just being in better positions," he said. "Sometimes you have to play unorthodox. There will be times where you go out on a limb and make plays here and there, but other things are tactical, precise. When you're talking about quarterbacking, one of the things that gets brought up is being a surgeon. What's the difference between a surgeon and a butcher? They both cut meat. But you don't want to get chopped up by a butcher. A surgeon is more precise, very into the details and that's the biggest part of my game, just being so critical and precise on the small details of the game.
"It might not be that big of a deal to the blind eye but for people who study the game and understand what goes into a completion and things of that nature. Me, personally, I want to be the most well-put-together quarterback this fall."
And being the most well-put-together quarterback this fall means?
"Mechanically, decision-making and just being able to lead the team," Boyd said. "We open with a banger against Georgia, and we're excited about that.
Aaron Murray
is a guy who is rated highly. I want to be able to outperform him. I don't want question marks about my game after the season."
One of those question marks has focused on the aforementioned decision-making. Boyd threw 13 interceptions last season. Morris wants that number down to the single digits. Of the picks Boyd threw, Morris estimates that five were on bad decisions. A few, he says, were on him, for putting Boyd in a bad spot on third down. A few others were completely on Boyd, for throwing across his body and making an "impulse decision." And, as Morris says, "impulse decisions lead to bad things."
One of the most crucial mistakes came early in the fourth quarter against South Carolina. Trailing 20-17 and with momentum on the Tigers' side, Boyd stepped back to pass. He did not see
Brison Williams
coming across the middle. Williams made the interception, and Clemson dropped another heartbreaker to its instate rival.
"Tajh was one drive away from being in New York," Morris says. "If he would have completed the drive against South Carolina in the fourth quarter and we win the game, he goes to New York the next week for the Heisman Trophy. I think he was that close. It didn't happen. There's a few things we have to continue to work on, his reading of defenses, his footwork, just to be a well-rounded quarterback."
Does Morris expect Boyd to be in New York in December?
"Absolutely. I'm expecting to be there with him," Morris said. "That's a goal of ours. It's a goal he set for himself to come back. He feels like he can do that, and there's no doubt. I think he's one of the best in the country, I really do. You look at how many yards he's accounted for in this offense, he's rewritten every record Clemson's had for quarterbacks. To have a third year underneath him in this system, I think the sky's the limit."
April, 4, 2012
4/04/12
9:45
AM ET
NORMAN, Okla. --
Landry Jones
was watching ESPN the first time he'd heard of George Whitfield. The California-based quarterbacks coach helped Heisman Trophy winner -- and eventual top pick -- Cam Newton prepare for the NFL draft last year, and ESPN's cameras followed both Whitfield and Newton for much of the process.
After Whitfield contacted Jones' father earlier this offseason, the Oklahoma quarterback decided he wanted a closer look.
[+] Enlarge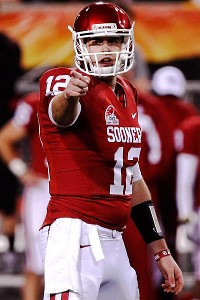 Rick Scuteri/AP ImagesTo his coaches' surprise, Landry Jones visited a quarterback guru in California over spring break.
Jones left last Friday for Stanford's campus to work with Whitfield for two hours in the morning and two hours in the afternoon for nearly a week, returning home the following Wednesday.
"I heard he was a good fundamentals coach, so I decided instead of spending all my time at the beach or something like that, I'd go out there and get some work in," said Jones, set to embark on his senior season in the fall.
The visit focused on those physical fundamentals, and Jones didn't get much coaching on the mental side of the game. For one, he was looking to shorten his release by holding the ball higher in the pocket, but doing so in a manner that remained comfortable.
Despite traveling to the San Francisco Bay Area, Jones didn't get any time on Northern California's scenic coast.
"I was pretty exhausted at the end of the day," he said.
Oklahoma's coaches, however, said they were unaware of Jones' jaunt to the West Coast during his time off. Coach Bob Stoops didn't know about it, and neither did co-offensive coordinator Jay Norvell. Norvell added that fellow offensive coordinator Josh Heupel, the Sooners' quarterbacks' coach, likely did not know. Heupel was not made available for interviews on Tuesday.
"I think it's always good to get any pointer from anybody you can. You can assess it all you want and how much you use of it," Stoops said. "If you think I'm at all sensitive about our quarterback lineage here and how they've been schooled, I think you're mistaken. I think ours is maybe as good as anyone's in the country, so I'm not real insecure about what we've been doing."
Said Jones: "Heupel's a great coach, I'm just getting a little different perspective on things and seeing if he could help me out. It was just one of those deals where I wanted to get some extra work in."
Norvell, who had met Whitfield but didn't have an opinion on the coach, also supported Jones' decision.
"They work hard and help kids out there," Norvell said. "I think it's good that he goes and talks to people and learns, I know he's been to camps in the summer."
Jones was joined by Clemson quarterback Tahj Boyd, who Jones noted "likes" new defensive coordinator Brent Venables, who spend the past 12 seasons at Oklahoma before taking the Clemson coordinator job.
Presumed No. 1 pick
Andrew Luck
also worked with Whitfield on Stanford's campus while Jones was in California. Luck would work out after Jones, and the two got time to talk between sessions.
As for results, Jones says it still may be time before he sees them.
"I think it's an over time type deal," he said. "It's pretty soon after spring break, I'm still trying to work on stuff, trying to button some stuff up."
And Stoops says he's not worried about any coaching advice from Whitfield or Heupel clashing, or the almost-four-year starter getting overwhelmed.
"I didn't notice any clashing out there today," Stoops said. "He seems to be good ol' Landry like he usually is."