December, 1, 2012
12/01/12
11:29
PM ET
By
ESPN Stats & Information
| ESPN.com
John David Mercer/USA TODAY SportsEddie Lacy ran for 181 yards for Alabama.
Alabama won its first SEC championship since 2009, handing Georgia an SEC championship game loss for the second straight season.
The Tide got it done on the ground. They ran for 350 rushing yards, the most in SEC championship game history.
Eddie Lacy
and
T.J. Yeldon
became the first teammates to each run for 100 yards in SEC championship game history. Lacy's 181 rushing yards are the third-most in the history of the SEC title game.
The Tide were committed to the run, as they ran the ball 51 times, two shy of the SEC championship game record of 53.
Two tight ends, too much
Alabama ran 36 times for a season-high 298 yards with two or more tight ends in the formation. The Tide ran out of this personnel package on 26 of their 34 second-half plays, gaining 199 yards and two touchdowns. Alabama averaged a season-high 5.5 yards before contact out of this formation.
AJ McCarron
completed 8 of 9 passes for 114 yards and a touchdown with two or more tight ends in the formation.
Getting it done inside the tackles
Alabama outrushed Georgia 304-72 inside the tackles. The Tide averaged 8.0 yards per carry on such runs, including a season-high 13 that gained 10 yards or more. Lacy (172) and Yeldon (125) led the way for Alabama, with both running backs gaining over 100 yards inside the tackles for the second time this season. They also did it against Missouri.
Strong run game leads to play action
McCarron completed 5 of 7 passes off play action for 116 yards and a touchdown. McCarron has 11 touchdown passes off a run fake this season, six more than he had all of last season. Eight of the 11 touchdowns have been on passes thrown 20 yards or longer, including Cooper's 45-yard touchdown against Georgia.
Georgia's defense allowed a season-high 512 total yards, just the second time the Bulldogs allowed 500 yards in the past seven seasons. For the first time since at least 2000, they've allowed 300 rushing yards in three straight games.
Alabama will most assuredly face Notre Dame in the BCS National Championship Game on January 7, as the SEC goes for its seventh straight BCS National Championship.
January, 8, 2012
1/08/12
10:10
AM ET
The retail market for licensed collegiate apparel is, quite simply, a behemoth of a business that brings in about $4.3 billion annually.
Seemingly everyone wants a piece of it, which is why so many people at so many major events hawk items of all shapes, types and sizes -- whether the items are legitimately made and licensed or counterfeit.
[+] Enlarge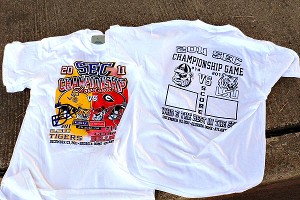 Kristi Dosh/ESPN.comSome counterfeit shirts look more authentic than others.
Vendors selling counterfeit goods mixed right in with legitimate vendors at the SEC Championship game in December in Atlanta. They did it at the Rose Bowl, too. And they'll do it again Monday night at the 2012 Allstate BCS National Championship Game.
Last year, more than 60,000 pieces of counterfeit merchandise valued at more than $1 million overall were seized by Collegiate Licensing Company. While CLC represents nearly 200 colleges, universities, bowl games, athletic conferences, the Heisman Trophy and the NCAA, it's not the only licensing agency around; Learfield Sports, Licensing Resource Group, and Silver Star Merchandising represent collegiate properties in their licensing efforts as well.
At the 2011 SEC championship Game, CLC took possession of 1,012 pieces of unlicensed product with an estimated retail value of more than $15,000. That's up from 2010, when 541 pieces of unlicensed produced were seized or voluntarily surrendered by vendors. More than twice that many products were seized last January at the Rose Bowl by CLC.
CLC officials said that on average, nearly 5,000 counterfeit items, from T-shirts to hats to bracelets, are seized outside the host stadium of the BCS title game each year.
Some of the items are obvious: In December in Atlanta, a roaming vendor on Mangum Street south of the Georgia Dome peddled T-shirts, gold letters emblazoned on purple reading: "BATON [expletive] ROUGE." The back of the shirt warned: "IF YOU DON'T BLEED PURPLE AND GOLD TAKE YOUR [double expletive] HOME!"
Most people wouldn't consider such a shirt an officially licensed product of Louisiana State University because of the vulgar language. But another vendor sold shirts proclaiming a "2011 SEC Championship Showdown" and featured the trademarked logos for LSU and Georgia. Few buyers would be able to determine the shirts were counterfeit.
CLC investigators team with local police at major events and seize such material, give citations to the vendors or arrest them. Companies like CLC conduct such enforcement activities because federal law requires trademark owners to "police" their mark. Trademark law is largely enforced through private lawsuits, although there are also criminal penalties for counterfeiting goods. Failure to police a mark by attempting to prevent infringing uses can result in a loss of protection for a trademark.
[+] Enlarge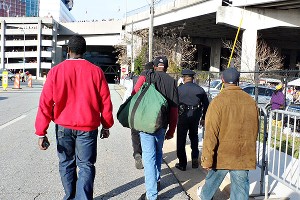 Kristi Dosh/ESPN.comAtlanta police and investigators from Collegiate Licensing Company walk a man accused of selling counterfeit apparel away from the SEC championship game in December.
The most clear-cut violations by vendors are those involving the use of trademarks that are registered at the state or federal level. Trademarks include more than just the university, conference or BCS logo. For example, University of Georgia lists the following trademarks: "Georgia," "University of Georgia," "Georgia Bulldogs," "Bulldogs," "Dawgs," "UGA," "University of Georgia Athletic Association," "Between The Hedges," "How Bout Them Dogs," "Go You Silver Britches," "Hairy Dawg," the oval "G" mark and many others.
In addition to registered trademarks at the state or federal level, universities can also claim common law rights to marks or wording typically associated with the university.
In 2008, the Fifth Circuit Court of Appeals upheld a decision by a Louisiana federal district court against Smack Apparel for intentional trademark infringement based on its use of school colors in combination with other designs and words that made it apparent the references were designed to associate with a particular school. For example, one shirt featured the following: "Got Seven?" "We do! 7 Time National Champs." The shirt included a depiction of the state of Ohio and a marker noting Columbus, Ohio, on the back. The court decided the shirt referred to the seven college football national titles claimed by Ohio State University.
The court ruled that the schools involved in the suit owned trademark rights in their color schemes and that combined with other indicia on the various shirts, such as the reference to Ohio State's location in Columbus and national titles in the example above, trademark infringement had occurred, even without use of the school name or logo.
So, who are these vendors?
One of them cited in Atlanta was the man selling the shirts with the expletives. He said he planned to keep $8 of the $20 shirt cost, with $12 going to his boss. He expected to make $1,500 to $2,000 that day before he was stopped by CLC investigators and Atlanta police for vending without a permit.
The man said he was based out of Cleveland but traveled nearly every weekend for major sporting events. He said he worked for a company named Street Talk Tees, which is registered as a business in Ohio for "novelty tees and apparel." The vendor said his company employs about 30 people who travel to events -- two others also worked the SEC game.
Requests for comment from Street Talk were not answered.
[+] Enlarge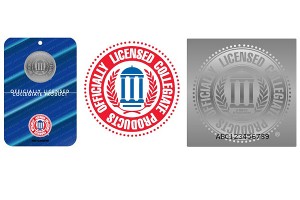 CLCThese tags and holograms can be found on licensed collegiate apparel and items.
CLC says buyers have a few ways to determine the authenticity of their purchases:
• Look for an "Officially Licensed Collegiate Products" hologram on the product or hangtag.
• Consider taste of the product, as distasteful designs are not approved by trademark holders.
• A torn or missing tag usually is evidence of a second-hand garment.
• The name of the manufacturer will be on the product somewhere, either in the form of a hangtag, a neck label, or screen-printed directly.
• All merchandise should have appropriate trademark designations next to a specific name or design.
Why be so conscientious when you buy collegiate merchandise? Each year, universities depend on millions of dollars in royalties to fund athletic programs and other university initiatives. For example, the University of Florida showed more than $6 million in licensing revenue on its audited financial statement for 2010-11, with just $40,000 of that going to CLC in marketing fees.
Ohio State budgeted for $3.5 million in licensing revenue for 2011-12 and projects $1.58 million of that will move from the athletic department to the university, to be used for academic programming and scholarships.
September, 17, 2010
9/17/10
11:30
AM ET
Monster Saturday may have turned into a dud, but there are plenty of intriguing national storylines to watch in Week 3.
Here is a little sampling:
1. How does the ACC rebound?
To call the ACC's performance last week abysmal would be giving the word abysmal a bad name. Virginia Tech loses to James Madison. Miami and Florida State lay eggs in their big non-conference showdowns. Kansas beats Georgia Tech. N.C. State got the league off to a good start Thursday night with a win over Cincinnati, but that is not really saying much considering the Bearcats hardly look like their 2009 selves. Florida State-BYU, Maryland-West Virginia, East Carolina-Virginia Tech and Clemson-Auburn highlight Saturday. Here's hoping the league doesn't embarrass itself again.
2. What will we see out of Boise State?
The Broncos had the week off last week, but you wouldn't have known it for all the chatter about them once Virginia Tech lost. They finally return to the field Saturday against Wyoming to play in Game 2 after what feels like a very long layoff. The Cowboys have played Boise State tough in recent meetings. The game will be sold out, and the crowd fired up. Key to watch: Will the Wyoming spread offense be able to take advantage of a Boise State secondary that looked shaky at times in the opener?
[+] Enlarge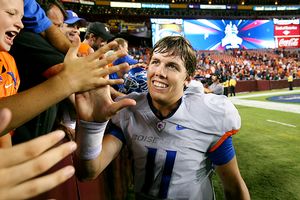 AP Photo/Joe Jaszewski/Idaho StatesmanThe last time we saw Kellen Moore and Boise State they were celebrating a win over Virginia Tech.
3. Jake Locker vs. Nebraska.
It may be unfair to pit one player against an entire team, but that is what this one is going to come down to on Saturday. Locker essentially had his Heisman campaign parked in a season-opening loss to BYU, a team that it turns out may not be as good as advertised. How will he do against a defense that continually brings pressure and is considered to be one of the best in the country? That will go a long way toward determining how people view Locker the rest of the way.
4. Can Georgia keep itself in the SEC East race?
It may be a stretch to say the Bulldogs are reeling, but Saturday's game against Arkansas has got to be considered a must-win. Georgia struggled in a 17-6 loss to South Carolina last week, with shoddy tackling headlining the defensive performance. While
Marcus Lattimore
and run-oriented South Carolina punished them last week, a different type of offense meets them this week behind pass-happy
Ryan Mallett
. Georgia is expected to open up more of its playbook for redshirt freshman
Aaron Murray
, but the onus is going to fall on the Georgia defense to stop Mallett and the Razorbacks.
5. Nick Foles vs. Adrian Clayborn.
Arizona faces its biggest test of the season against the No. 9 Hawkeyes, and this one is going to come down to the way quarterback Nick Foles is able to handle the pressure the Iowa defensive line is sure to bring. And by that we mean Clayborn, who is still waiting on his first sack of the season after notching 11 in 2009. Of course, there is this from ESPN Stats & Information: Since 1990, Pac-10 teams are 25-6-1 at home against Big Ten teams.
6. What does Denard Robinson do for an encore?
Surely the Michigan quarterback can't keep up his torrid pace, what with 885 yards of total offense in the first two games. He may not have to do as much Saturday against Massachusetts, though FCS teams have proven to be problematic for several teams this season. Still, Robinson has inspired awe throughout the country, and now word is out that high school players are leaving their shoelaces untied in order to be just like him.
7. Does Notre Dame rebound against Michigan State?
Surely a heartbreaking loss to Michigan won't be easy to get over, but the bigger question is whether
Dayne Crist
is 100 percent after he admitted he played against the Wolverines with blurred vision before being pulled from the game. If you thought the series against Michigan was a nail biter, check this out from ESPN Stats & Information: Over the past 10 meetings, the Notre Dame-Michigan State game has been decided by seven points or less eight times, with the game-winning score coming late in the fourth quarter or overtime in seven of the 10 meetings.
8. Any FCS upsets this weekend?
Already this year, five FCS schools have beaten their upper division opponents, headlined of course by James Madison over Virginia Tech. Last year there were only four. There isn't an overload of FCS-FBS games this week, but these are the teams on alert: Oregon, South Carolina, Michigan, Syracuse and San Jose State.
9. What do we see out of Alabama running back Mark Ingram?
The Heisman Trophy winner is getting his first action of the season after missing the first two games while recovering from knee surgery. Does Alabama need him to beat Duke? No. But they will need him for its run through the SEC, which begins next weekend with a huge game at Arkansas. Better get him game ready before then.
10. Any last-second heroics between Texas and Texas Tech?
We all remember the last time Texas visited Lubbock -- Graham Harrell to Michael Crabtree ruined the No. 1 Longhorns' shot at the BCS national championship. Point to remember from ESPN Stats & Information: Texas Tech has upset a top-10 Texas team twice in the Longhorns' previous four visits (2002 and 2008).
September, 6, 2010
9/06/10
9:00
AM ET
The big day has finally arrived for No. 3 Boise State. We will know once and for all whether the Broncos will continue to be in the national title conversation after their huge game against No. 10 Virginia Tech tonight.
Throughout the course of the last month, many people have brought up the 2005 game between Boise State and Georgia as an example of why the Broncos do not belong anywhere near the national stage. Boise State got embarrassed 48-13 in Athens. News flash -- Boise State 2010 is not Boise State 2005.
Here's why:
1. This team is better. In 2005, the Broncos were just making their national reputation. They went into the game ranked No. 18 -- the first time they were ever ranked going into the season. Simply put, Boise State lacked much of the national exposure and experience playing in such big games with the spotlight turned on them. The 2010 version returns 20 starters from a team that won a BCS game last season. In 2005, Boise State had yet to crash the BCS party.
[+] Enlarge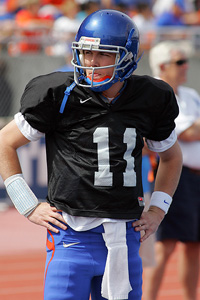 Brian Losness/US PresswireBoise State quarterback Kellen Moore will face a big challenge against Virginia Tech.
2.
Kellen Moore
is better than Jared Zabransky. The offenses are both high-powered, but Moore is much more disciplined, poised and better equipped to handle the pressure. Zabranksy threw four interceptions and had two fumbles in the first half before got yanked from the Georgia game, essentially dooming Boise State from having any shot at winning. Moore threw three interceptions in all of 2009. Boise State coach Chris Petersen, who was offensive coordinator in 2005, was asked about lessons learned from that game. "Hope our quarterback plays a little bit better than we did back then," he said.
3. This defense is better. A very underrated unit, the defense has started to get some national attention following its performance against TCU in the Fiesta Bowl. The defense ranked No. 14 in the country last season, giving up about 300 yards a game. The 2005 defense was statistically one of the worst Boise State has fielded in the last 10 years.
4. They have more experience. As I alluded to in the first point, Boise State has gone up against teams from AQ conferences and won those games since the Georgia debacle. Boise State 4-1 against teams from AQ conferences in the last four seasons. That includes one BCS win against Oklahoma in the Fiesta Bowl. It is no fluke this team is ranked No. 3 in the preseason. These Broncos know how to handle pressure and national media attention. They understand what is at stake in this game.
"This program is in such a different place today than it was six years ago," said Scott Huff, tight ends coach. "I just think these guys are close. They've been through a lot together and if they go through some adversity they'll rally around together."
Petersen, of course, scoffs at the notion that this season has anything to do with what happened in 2005: "I don't think Georgia has anything to do with this game. That hasn't even come up."
September, 3, 2010
9/03/10
11:30
AM ET
Our esteemed conference bloggers gave us their top 10 storylines to watch yesterday. Today, we present the top 10 storylines to watch across the country.
1. How does North Carolina recover emotionally from losing so many players?
We know North Carolina is going to be depleted on the field against LSU on Saturday.
Twelve players have been declared ineligible
, including six starters. Of those six, five are on what is supposed to be one of the best defenses in the country. Players are going to have to step up, yes, but you have to wonder what type of toll this is going to take on the team from a mental standpoint. North Carolina is going into one of the biggest national games in the country with one arm tied behind its back. Surely the players know this. Surely coach Butch Davis knows this. He is going to have to do one heck of a coaching job to get his players to focus on the actual game and not all the outside distractions.
2. Big debut for Notre Dame coach Brian Kelly:
Opinions are mixed on just how well Kelly will do in his first season as Irish coach. There are some who believe a 10-win season is possible. Others think seven wins is more likely. We will have to see how
Dayne Crist
does in the new spread offense, but more importantly -- how much better is the defense going to be this season? This is a team that returns nine starters from a defense that ranked 86th in the country last season. Yes, there is another new defensive scheme in place, but it should get a big test from Purdue and pass-happy quarterback
Robert Marve
.
3. How much of a home-field advantage will Virginia Tech have against Boise State?
We have gone over some of the matchups, most notably the Hokies running backs vs. the Boise State defense. But intangibles are going to play a role here. How does Boise State handle traveling across the country and going into what should be a hostile environment? It has practiced for the heat and humidity, but it is hard to simulate actual game conditions with 90,000 fans -- most of whom are against you. Boise State has played in front of hostile crowds before, but this should be especially loud.
4. How does Year 3 of the Rich Rodriguez era start?
Rodriguez could have the hottest seat of any coach in the country right now, what with NCAA sanctions looming and two straight losing seasons on his resume. Michigan fans want to win yesterday, let alone now. There is still uncertainty at quarterback, where up to three players could play against Connecticut. Every game Michigan plays these days feels like a must-win, but especially this one because of all the distractions outside the program.
5. No Tim Tebow, now what?
The
Florida Gators
are ranked so high in the preseason polls this year largely because of the expectations on new quarterback
John Brantley
. He has a different style to be sure, more of a drop-back passer with a much stronger arm, but many expect him to step in and keep the Gators offense rolling along. He will have to do it without two of the team's top receivers, Riley Cooper and Aaron Hernandez. Who is going to step up to be the leader of that receiving group? Will the Gators have an effective way to run the ball with Tebow gone? After all, Tebow led the team in rushing the past three seasons.
6. How does Alabama handle playing without Mark Ingram and defensive end Marcell Dareus?
Yes, the Tide is only playing San Jose State, but a big game against Penn State looms and the Tide could potentially be without both players in that one. Alabama has a capable back in
Trent Richardson
, and Damion Square is expected to play in Dareus' place. Both are going to need to get comfy out there before Sept. 11.
7. Does Nebraska have an offense to match its defense?
The Cornhuskers are getting much love based on the way their defense played last season, and their near-upset of Texas. But their offense was atrocious, ranking 99th in the entire country. Once again, there is quarterback uncertainty, so that does not exactly project the confidence that this unit is going to magically be better. In its four losses last season, Nebraska averaged 11 points.
8. Can Oregon State put enough pressure on TCU quarterback Andy Dalton?
Much of the focus on this game has centered around the Rodgers brothers and their return to Texas.
Jacquizz Rodgers
vs. the always strong TCU defense is a great matchup to watch. But another one is how Oregon State defends Andy Dalton. The last time we saw Dalton, he was frazzled into throwing three interceptions, including one that was returned for a touchdown in the Fiesta Bowl against Boise State. He threw only five in the regular season.
9. Georgia breaks in a new quarterback and new defense:
How are the Bulldogs going to look with a redshirt freshman in
Aaron Murray
leading the offense, and a new defense playing the 3-4? Georgia is going to need answers fast with a road game at South Carolina looming. The Gamecocks looked pretty good Thursday night.
10. Charlie Strong vs. Joker Phillips:
It's great to see two African-American head coaches making their debut in such a huge rivalry game. Their rise has helped increase the number of minority head coaches to 13 going into the 2010 season, up from nine in 2009.
August, 26, 2010
8/26/10
4:50
PM ET
Here are a couple of non-AQ scheduling notes:

Utah State will play at USC in 2013, and has a four-game series set with Wyoming. The game at USC will be played Sept. 21, 2013, the first matchup between the schools since 1989. The Aggies are 0-4 all-time against USC.

The Wyoming series begins Oct. 8, 2011 in Logan. The Aggies will play at Wyoming on Sept. 13, 2014 before hosting the Cowboys on Sept. 19, 2015 and then returning to Laramie on Sept. 10, 2016.

Buffalo added Tennessee and Georgia to its non-conference slate. The Bulls announced Thursday that they will play at Neyland Stadium on Oct. 1, 2011, and will open the 2012 season at Sanford Stadium on Sept. 1, 2012. Buffalo's only other game against an SEC team came in 2006 against Auburn. The game against Tennessee was officially announced after it was reported the Bulls would replace North Carolina on the Vols' slate to help ease the difficulty of the schedule.