October, 22, 2014
10/22/14
11:36
AM ET
By
Brian Fremeau
| ESPN Insider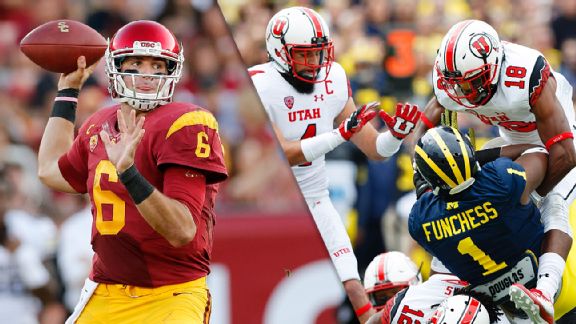 Icon Sportswire/USA Today SportsStatistics show the battle between USC's offense and Utah's defense will be one to watch.
One of the more intriguing matchups of the weekend takes place in the Pac-12 South, a showdown Saturday night between the
USC Trojans
and the
Utah Utes
. With a victory, USC would be the first Pac-12 team in either division to five conference wins. Utah looks to remain undefeated against the Pac-12 South division as it begins a brutal five-game stretch against the league's best.
The game is intriguing from an advanced stats view, as well, a head-to-head battle between one of the nation's best offenses and one of the best defenses. Traditional box score statistics might not recognize the matchup as particularly remarkable. USC's offense ranks 28th nationally in points per game and 31st nationally in yards per game. Utah's defense ranks 35th in points allowed and 55th in yards allowed per game. But those raw numbers don't account for the strength of opposition faced or the context of play and drive efficiency.
December, 21, 2011
12/21/11
7:26
PM ET
It's long been one of the difficult questions college football fans ask: Why won't anyone give Norm Chow a chance to run a program?
Chow, widely considered one of the best offensive minds in college football history, got plenty of interviews, most notably of late at Stanford in 2005, and made plenty of "candidates" lists during the annual coaching carousel. He also turned down the head coaching job at Kentucky in 2002 to remain at USC. But, in reputation and reality, he was the perennial bridesmaid.
You'd hear things, of course. All the why-nots. He wasn't terribly good at interviews. He was an Xs-and-Os guy who didn't have people or management skills. Most schools wanted a dashing, young, charismatic guy who could slap backs, enticing a flood of elite recruits and booster checks. Chow was never reputed to be much of a recruiter, something he doesn't particularly enjoy.
[+] Enlarge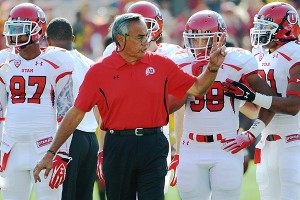 Kirby Lee/Image of Sport-US PresswireNorm Chow, 65, is moving up from Utah offensive coordinator to Hawaii head coach.
Chow, 65, is professorial. His personality isn't "big." He's not a commanding presence. He also is stubborn, territorial and not terribly good at coaching politics. He holds grudges — just ask Washington coach Steve Sarkisian and USC coach Lane Kiffin, whom Chow -- not unfairly -- believes pulled the carpet out from under him at USC with head coach Pete Carroll. (Carroll's almost childish jealousy of the credit given Chow during USC's glory days is another story entirely).
It also was perfectly fair to wonder if Chow's being Asian-American had anything to do with the critiques and whispers. His
hiring at Hawaii
, after all, makes him the first Asian-American head coach of a major football program.
First. That's pretty big, folks, even if most FBS rosters have little to no Asian presence, though if you go with that old standard "Asian/Pacific Islander" category, things change dramatically there.
Not only is Chow, after 39 years as an assistant coach, finally getting his shot as a head coach, he's going home to do it. He was born in Honolulu and is a Punahou School alum. He began his coaching career as head coach at Waialua High School on the North Shore of Oahu from 1970-72. This seems like a good fit, though coaching at Hawaii has built-in challenges, starting with geography.
Chow will serve as Utah's offensive coordinator in the Hyundai Sun Bowl against Georgia Tech on Dec. 31 before officially taking over the Warriors. For the Utes, it's a blow, but not a crippling one. Coach Kyle Whittingham brought Chow aboard to install a pro-style offense with a downhill running game, replacing the spread the Utes had long used. After quarterback
Jordan Wynn
went down in the fourth game against Washington with another shoulder injury, Chow's chief task was managing an extremely conservative, almost run-exclusive offense that didn't mess things up for a very good defense.
Chow did a good job of making running back
John White
into an effective weapon even when everyone knew he and his 24 carries a game were coming. But the Utes never got the full Chow offense. The expectation here is that Whittingham will look for a guy who believes in the same pro-style, run-first concepts. The Utes don't figure to go back to a spread, though that does seem to be the thing in the Pac-12 after the hiring of four new coaches who all run a version of it.
Utes fans should be more concerned about who's going to play quarterback in 2012. Whittingham is going to make a good hire at OC.
And this day is about Chow.
He's a three-time national assistant coach of the year. He's served as offensive coordinator for three national championship teams (Brigham Young, 1984; USC, 2003 and 2004). He has tutored three Heisman Trophy winners (Ty Detmer, BYU; Carson Palmer, USC; Matt Leinart, USC) and six NFL first-round draft picks.
His resume has always been impressive. Just not impressive enough to overcome the things whispered about him.
Over the past decade, he's been portrayed as a bit of a nomadic mercenary, but keep in mind he was a bastion of stability most of his career, coaching at BYU for 27 years before things turned sour and he bolted to N.C. State in 2000, the first of five jobs he'd hold over the next 11 seasons before landing at Hawaii.
Chow is coming home to get his big chance. No matter what happens at Hawaii, his coaching legacy is secure. But, let's face it, if he retires a big winner in 10 years, he'll surely enjoy at least thinking "I told you so" through a big grin.
November, 8, 2008
11/08/08
11:43
AM ET
Posted by ESPN.com's Heather Dinich
There's a lot more than pride at stake this month (unless you're NC State). Boston College is playing for bragging rights and bowl eligibility today against Notre Dame while everyone else fights it out. With the way things are going, it won't be impossible for a three-loss team to wind up in the ACC championship game. Still, that's a scenario everyone would obviously like to avoid.
Here's a look at who's got what left to gamble with in the ACC:
Maryland can still win out and win the Atlantic Division.

The pressure is on in Tallahassee, though, for Florida State to do the same. If the Noles beat Clemson today and Wake Forest loses to Virginia, their outlook will be much brighter.

It's hard to imagine, but technically, Clemson is still in it. The Tigers need a lot of help, but if Maryland and Wake Forest continue to lose and Clemson wins out, it's not impossible. They're also playing for Dabo Swinney's job.

Both Georgia Tech and North Carolina must win today, which is obviously impossible, so one of their chances at winning the Coastal Division will take a serious hit today. Just like last week, when Maryland moved up in the standings just by watching during its bye week, Miami could do the same today.

Wake Forest got some help from Maryland's loss, but the Demon Deacons still need the Terps to lose again. Oh, and they have to beat Virginia today, not to mention their remaining league games. Both Wake and UVa are playing for bowl eligibility today.

The Cavaliers, on the other hand, also have no margin for error today. Because of their loss to Miami, they now need the Hurricanes to lose a conference game.