College Football Nation:

Gerald Myers
January, 19, 2011
1/19/11
9:00
AM ET
The results weren't quite there on the field just yet, but Texas Tech is confident Tommy Tuberville will bring them.
The school rewarded its first-year coach
with a one-year extension and a raise on Tuesday.
He's now contracted through 2015 and he'll be paid $2 million next year with yearly raises building to a $2.4 million salary in 2015.
From the
Lubbock Avalanche Journal:
[Texas Tech athletic director Gerald] Myers said Tuberville's agent was not involved in negotiations on the new deal.

"We just negotiated with Tommy," he said. "We totally talked to Tommy about this and it probably took us about a week to get it done. We've been talking about it internally for a while. We didn't talk to Tommy about it until maybe a week or so ago."

Myers said the buy-out in Tuberville's contract is unchanged from last season. It is his base pay of $300,000 a year times the number of years remaining on the deal. According to the the mutual buy-out, Tuberville must pay that amount should he decide to leave Tech before the contract expires and Tech must give him $300,000 times years remaining should it opt to fire Tuberville without cause.
Texas Tech finished the year 8-5, which is certainly respectable, but Mike Leach's teams had better records in four of his final years in Lubbock. The transition wasn't perfect -- the offense was inconsistent and the defense was consistently bad -- but no one expected it to be. And if a "down year" results in eight wins, the Red Raiders will certainly take that. Breaking in a new quarterback this year could mean another season hovering around eight wins, but Texas Tech is clearly pleased with the direction the program is moving.
Tuberville is building a program, and defensive recruits like nationally ranked cornerback Marcus Roberson, who made a soft commit to Texas Tech on Tuesday, can help give the Red Raiders a defense it never had under Leach.
Plenty of teams across the Big 12 have great offenses. The best teams have great defenses. It's difficult to overestimate the importance of Tuberville's looming defensive coordinator hire, but
he says he plans to take his time.
More than anything, the extension signifies a level of comfort for Tuberville at Texas Tech. He was a big catch for the Red Raiders, and if he bolted back to an SEC job, it's highly unlikely Tech would be able to reel in a coach with anywhere near his résumé.
Hence, they've made keeping him a priority, and it sounds like he's not making it to difficult. Tuberville maintains the talks between himself and Miami were never very serious this offseason, but that was the only job opening that Tuberville's name ever seriously came up for.
That, combined with this newest extension, is great news for the future of Texas Tech's program.
January, 11, 2010
1/11/10
5:38
PM ET
By
Tim Griffin
| ESPN.com
Tommy Tuberville was the best choice for Texas Tech to fill the vacancy created when Mike Leach was fired.
But I'm still a little surprised Tuberville took the job.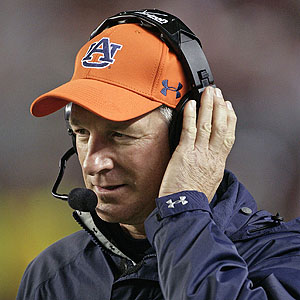 AP Photo/Dave MartinTommy Tuberville says he will stick with Tech's wide-open passing offense.
Tuberville's introductory press conference in Lubbock Sunday found him about 180 degrees opposite from Leach -– both in appearance and in candor. He will be the anti-Leach in a lot of what he will do and represent.
It surprised me, however, when Tuberville expressed his continued commitment to a wide-open passing attack.
When Tuberville has been most successful, his teams had a defense-first, offense-second mentality. It's not surprising considering his own background as a defensive coach when he was coming up the circuit.
Tech's current roster is heavily stacked to playing a wide-open passing offense. But it's surprising Tuberville so quickly and easily endorsed it.
Naysayers will remember that Tuberville tried to embrace some of the new offensive philosophies in his final season at Auburn. The results were disastrous, mainly because of philosophical differences among his coaching staff.
That should change after his arrival at Tech as he appears ready to keep many of Leach's assistants on board. Tuberville hopes, in his own words, to keep Tech's offense "exciting" and "versatile."
"We're going to air out. We're going to keep the air raid," Tuberville said. "I think it's something that Tech has hit upon that gives them that identity to recruit and we all want to have."
That idea was what Gerald Myers had in mind when he hired Leach after the 1999 season. Leach built his reputation as an offensive coordinator before getting his break at Tech.
Myers and the school's other power brokers thought they needed a flashy offense when Leach replaced the venerable Spike Dykes after 14 years as coach.
As such, they scoured the nation for the nation's top offensive minds. The other finalist when they settled on Leach was Rich Rodriguez, then the offensive coordinator at Clemson.
It's hard to argue with their choice today. Leach has brought the school unexpected national attention -– from stories on "60 Minutes" and a cameo appearance on "Friday Night Lights" to a fawning cover story in the New York Times Sunday Magazine about his quirky personality and offensive wizardry.
And his teams have played a little football too, considering they made bowl trips in each of his 10 seasons coaching the Red Raiders.
Tuberville is more of a traditionalist, although he said he likely will lean heavily on a defense with a three-man front and four linebackers.
"I believe in consistency," Tuberville said. "If you look at the top teams in the country, they are all based on consistency. Not changing one week or one year. You change subtly.
"We'll have a base offense. We'll have a base defense, and we'll build from that each week. When we play on Saturday, we won't be complicated. We'll be simple in the fact in terms of what our players think. It will look a little bit more complicated in the naked eye."
Tuberville represents the biggest football coaching fish attracted to Tech. He's only four seasons removed from a 13-0 record and national coach of the year honors at Auburn.
But he'll be facing challenges in the Big 12 South, which is universally considered one of the toughest divisions in college football. He'll be tested to keep pace with big dogs Texas and Oklahoma, both at the apex of team strength since Mack Brown and Bob Stoops took over.
Oklahoma State has pumped millions into facilities and appears to be ready to become a serious challenger in the south. Baylor is still looking for its first bowl trip in 15 seasons, but has better facilities and the right coach to lead them into Big 12 South relevancy. Tuberville's old school, Texas A&M, has the tradition and facilities and appears to need only the right coach to bring them back into contention.
It won't be easy for Tuberville, but he appears to be uniquely qualified for the challenge of maintaining Tech's recent success and maybe even building on it.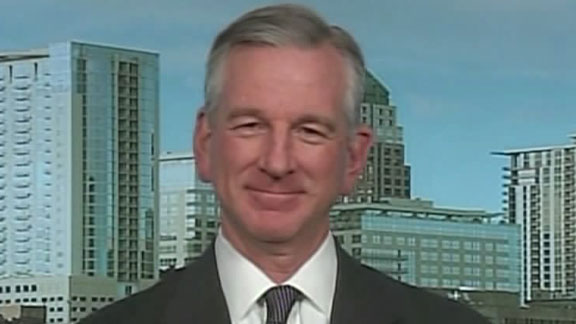 January, 9, 2010
1/09/10
6:19
PM ET
By
Tim Griffin
| ESPN.com
Tommy Tuberville will be
the most highly regarded football coach ever hired by Texas Tech.
It won't make his job any easier. Tuberville still will have to follow the most legendary figure in the history of the school's football program.
But Texas Tech athletic director Gerald Myers and the others who arranged for Tuberville to return with the Red Raiders have made a significant splash as they try to replace Mike Leach.
There is a need to change the culture of the Tech program after Leach's dismissal last week. Tuberville may be the person to do it.
With Tuberville, who cut his teeth as a defensive coordinator, look for the Red Raiders to put more emphasis on the running game and on defense. His hiring will represent a 180-degree shift from the offense-first strategy favored by Leach, who came to the school after serving as an offensive coordinator at Kentucky and Oklahoma.
Tuberville's last stint as a defensive coordinator came at nearby Texas A&M, where he helped call the defenses on an Aggie team that went 10-0-1 in 1994. That gives him at least a cursory knowledge of Tech's recruiting area, along with potentially opening the Red Raiders into the Southeastern Conference area as well.
He's a proven commodity after earning national Coach of the Year honors after leading Auburn to a 13-0 record in 2004. And his media-friendly ways will be a big advantage as he replaces Leach.
James Willis, the associate head coach and outside linebackers coach at Alabama, has been mentioned to be his choice for defensive coordinator.
If Willis is brought on, his first immediate challenge will be to earn the trust of Tech players who were united under defensive coordinator Ruffin McNeill, the other finalist for the job. McNeill was the best recruiter on the staff and involved in getting together Tech's current recruiting class that is the best in the school's Big 12 history. It appears that McNeill won't be retained if Willis is coming. That will be a ticklish problem for Tuberville to circumvent with his new team.
But the biggest question with Tuberville will be how he can narrow the traditional gap that has existed between the Red Raiders and the dominant programs in the Big 12 South Division at Texas and Oklahoma.
Leach made the biggest inroads as the Red Raiders have split with the two programs in the last two seasons. Tech employed the victory over the Longhorns in 2008 to earn a three-way tie for the South Division title -- a first in Tech's Big 12 history.
But he never took the Red Raiders any higher than the Cotton Bowl in the Big 12's bowl arrangement. A trip to the Bowl Championship Series clearly is the next step and will be Tuberville's goal.
Tuberville, 55, might be the ideal person to challenge the Longhorns and Sooners, considering his track record at Auburn. While there, he beat Alabama seven of 10 times, including a streak of six straight seasons and has consistent success against the Southeastern Conference's top schools. He claimed nine of 15 games at Auburn against top 10 teams from 2004. He'll consistently face the same challenges against the Big 12's elite schools.
He's been successful before.
But Tech will provide some unique challenges that will make this the toughest job that Tuberville has ever faced.
January, 3, 2010
1/03/10
1:57
AM ET
By
Tim Griffin
| ESPN.com
The absence of Mike Leach at the Valero Alamo Bowl overshadowed a dramatic victory by Texas Tech and its interim coach Ruffin McNeill. Here's how the Red Raiders claimed an impressive
41-31
triumph over Michigan State.


How the game was won:
The game turned when interim Texas Tech offensive coordinator Lincoln Riley decided to bench
Taylor Potts
after he sustained a finger injury on his non-throwing hand with about 8 minutes left.
Steven Sheffield
came off the bench to direct two consecutive scoring drives, wrapping up the victory with two gutsy fourth-down conversions on the game-clinching drive.
It's notable:
McNeill becomes the second interim coach in the last seven seasons to beat Michigan State in the Valero Alamo Bowl. The first was Nebraska's Bo Pelini in 2003.
Turning point:
After Tech had claimed the lead on Sheffield's 11-yard TD pass to
Detron Lewis
, the Tech defense provided the clinching play two plays later. Franklin Mitchem provided the interception of
Kirk Cousins
that iced the victory.
Player of the game:
Sheffield came off the bench to direct Tech's game-winning drive, completing 6 of 6 passes for 80 yards, capped by his scoring pass to Lewis for the go-ahead touchdown. Sheffield finished by hitting 9 of 11 passes for 88 yards as he directed two late scoring drives. His late charge gave his team the victory, even as Potts threw for 384 yards and two TDs to earn Most Valuable Player honors.
Unsung hero:
Leading Texas Tech wide receiver Alex Torres struggled with only two catches and had a critical drop late in the game. But on the next play, Torres made a critical 6-yard gain on fourth-and-5 that kept the drive alive, setting up the touchdown to ice the victory.
Stat of the game:
Tech rolled up 580 yards of total offense, including 472 passing yards. The Red Raiders averaged 461.8 yards of total offense and 380.7 passing yards with Leach.
Record performance:
Lewis produced a career-best 10 receptions for 114 yards and two touchdowns to help power Tech's victory.
What it means:
McNeill might have become this season's version of West Virginia's Bill Stewart by claiming an impressive victory as an interim coach. But how he did it was the most striking part of his team's performance, confidently converting two pivotal fourth-down plays with the swash-buckling nature his boss similarly brought to coaching. Texas Tech athletic director Gerald Myers still might want to go for a coach with more experience, but McNeill showed some moxie along the sidelines that appears to make him suited for a head-coaching shot somewhere.
December, 30, 2009
12/30/09
4:24
PM ET
By
Tim Griffin
| ESPN.com
Mike Leach's firing wasn't a surprise on Wednesday.
His attorney had predicted to several reporters earlier this week that his client would be let go by Texas Tech officials -- probably sooner rather than later.
[+] Enlarge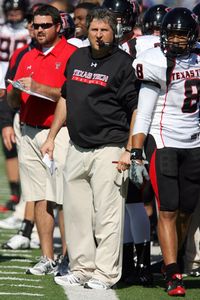 Douglas Jones/US PresswireMike Leach led Texas Tech to 10 straight bowl appearances.
But it was still a cataclysmic shock in Lubbock and West Texas when Leach was let go earlier this morning. For a period after his firing was announced, the Lubbock Avalanche-Journal's Web site crashed due to interest in the story.
That firing speaks to a larger controversy than what happened over
Adam James
' concussion and "The Shed."
Leach and Tech athletic director Gerald Myers always had a contentious relationship from the very beginning of his tenure there. It's understandable when you consider the turf wars that sometimes develop in athletic departments when a headstrong former basketball coach is the athletic director and makes decisions over a similarly headstrong football coach.
It all started in 2002, when rumors about Leach's off-field activities led to an investigation by the athletic department.
Leach was cleared, but the schism between him and his boss started at that time. At one point, Myers stopped Leach's outgoing mail in a dispute about postage stamps.
It simmered early in Leach's time when the Red Raiders played the toughest nonconference schedule in the Big 12 as a way to make money for the athletic department. During the 2002 season, for example, Tech played Ohio State, Mississippi and NC State in addition to the Big 12 South gauntlet.
That chapped Leach and he let Myers know about his concerns. The two always seemed to be better off if they were an arms-length away from the other.
Tech officials weren't happy when news surfaced of Leach shopping himself for a number of major coaching openings over the past several years.
And it continued when he went through an extremely contentious negotiation with school officials before he was given a three-year extension on what was a five-year, $12.7 million contract. To get the deal done, Leach went over Myers' head and personally negotiated with Tech chancellor Kent Hance.
Under terms of the contract, Leach was due an $800,000 bonus if he was still the Red Raiders' coach on Thursday.
Now, it appears he won't receive that bonus, although I'm sure the contract is headed for litigation between Leach and the school.
Even with the firing, Leach will be considered one of Tech's top football coaches ever, leaving the school with a program he helped boost into contention in the extremely difficult Big 12 South Division. It's not a stretch to say that he was one of the seminal figures in Big 12 history, helping transform the way offense was played from the ground-based philosophies of the old Southwest and Big Eight conferences into today's high-powered aerial attacks that have become the national rage recently.
Leach built a program out of castoffs like Wes Welker, Michael Crabtree, Graham Harrell and Brandon Williams and turned them into a team that could consistently compete with teams like Texas and Oklahoma. The Red Raiders were ranked No. 2 in the nation for a three-week period during last year's 11-2 season, which was a national breakthrough for the school.
Leach was Texas Tech football. He was as much a part of Lubbock as dust storms, Buddy Holly's statue and the blueberry muffins at the legendary Fifty-Yard Line Restaurant.
And no matter who follows Leach, he will face a mammoth chore of replacing a legend who directed the Red Raiders to 10 consecutive bowl appearances and more bowl victories in his tenure than the rest of the school's 85-season football history combined.
The football program upstaged Myers' basketball program and his hand-picked coach of choice, Bob Knight. Even with the legendary career leader in victories along the sidelines, the Red Raiders' basketball team had trouble filling the United Spirit Arena or selling the personal-seat licenses that were intended to help build the facility.
But that wasn't the case for the football program, which became a national phenomenon under their quirky coach. Tech's success led to him being a cover story in the New York Times magazine and the subject of a fawning piece on CBS-TV's "60 Minutes" late last season.
Leach gained notoriety for his fascination with pirates, mobsters and Indian chiefs. His stint as a weatherman on a Lubbock television station -- memorable because of his explanation of the local occurrence of "raining mud" -- became a YouTube staple with hundreds of thousands of hits.
He could coach a little, too. During what was expected to be a rebuilding job this season, Leach juggled three starting quarterbacks en route to an 8-4 mark and a berth in Saturday night's Valero Alamo Bowl.
He'll be gone from the sidelines in that game. The Red Raiders likely have the perfect solution to settle the upheaval with unassuming defensive coordinator Ruffin McNeill. He's familiar with the players because of his recruiting and will give them the best opportunity to keep their program together against Michigan State on Saturday night.
But after that, it will be a different story.
Myers needs to mobilize quickly to salvage what had been the best recruiting season for Tech in recent years. Whether those recruits will be willing to stay firm on their commitments to the far-flung West Texas locale that is still one of the toughest recruiting destinations in the Big 12 will be interesting to see.
Leach carved an identity that made Tech one of the top 25 or 30 programs in the country over the past 10 years.
Now, we'll see if his replacement can keep it there.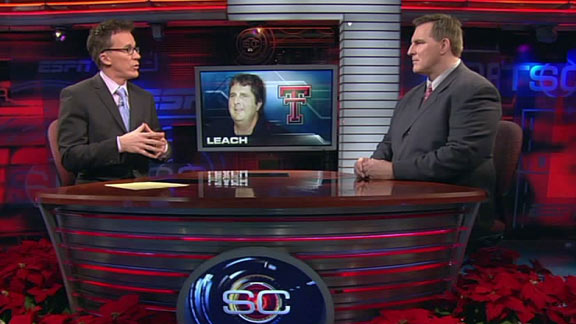 February, 20, 2009
2/20/09
1:08
PM ET
Posted by ESPN.com's Tim Griffin
Earlier this week, I could have sworn I would be spending my Friday afternoon covering a board of regents meeting in Lubbock. And if you had asked me yesterday morning, I would have been even more convinced.
Instead, things played out a little easier for me and Mike Leach. I've got no complaints and I bet the Tech coach doesn't, either.
Here are some Big 12 lunchtime links to get you ready for the weekend.
February, 18, 2009
2/18/09
8:42
AM ET
Posted by ESPN.com's Tim Griffin
It's hard to believe how things have changed at Texas Tech in less than four months.
On Nov. 1, the spotlight was focused on the school in remote West Texas with a national television broadcast, ESPN's "College GameDay" and all the rest. Members of the national media scrambled to unprecedented lengths to get to the Texas-Texas Tech game -- some flying from several hours away and driving across miles of Texas highways for a chance to watch the Big 12 South Division showdown.
| | |
| --- | --- |
| | |
| | Douglas Jones/US Presswire |
| | We may know more about Mike Leach's coaching future by the end of the week. |
The game didn't disappoint as Tech claimed a pulsating 39-33 comeback victory, capped by a game-winning catch by Michael Crabtree with one second left. It assuredly was the most memorable play of the season and might have been the biggest play in Big 12 history.
Those memories now seem like they happened years ago -- especially in the fallout of Texas Tech's announcement Tuesday that the school will conduct a teleconference of its board of regents to decide topics "including, but not limited to the position of the football head coach."
That doesn't sound like the group will be talking about Taylor Potts' ability to replace Graham Harrell, does it?
The board could accede to coach Mike Leach's wishes and grant him a $12.7 million, five-year contract extension. But it would be hard to believe they would go along with Leach's hopes on the wording and length of the buyout clause in his contract, his ownership of his personal property and naming rights, and how money from his speaking engagements would be divvied up.
It could let things lie as Leach has two years left on his existing contract. But that decision would cripple the school's recruiting after unprecedented recent success with the incoming class of 2009.

Or it could start the process of looking for Leach's replacement.
There really appears to be no middle ground. Either Leach's contract gets done to his wishes or he's out of there -- despite the most successful run in recent Tech history.
Amazingly, Leach could be fired by the end of the week -- despite matching the school single-season record for victories with an 11-2 record last season. The Red Raiders earned a share of their first Big 12 South Division title last season. And that's after taking Tech to the rarefied air of a No. 2 national ranking late last season.
Leach has directed the program to attendance and graduation rate records and a steadily escalating national public perception. The Red Raiders have been to nine bowl games during his nine-season tenure there. He was even the subject of a laudatory "60 Minutes" piece where he was called "The Mad Genius of College Football" for his unconventional strategy and his interest in pirates and history.
That national cachet hasn't been marketable in his own office where his contract talks have stalled. It appears it's more than money in this long-simmering personality battle between Leach, athletic director Gerald Myers and Texas Tech chancellor Kent Hance.
Interestingly, Tech has just signed a multimillion-dollar sports marketing deal with Learfield Communications that will be worth at least $20.3 million to the school, providing rental of stadium suites and a new video screen at Jones AT&T Stadium. Tech was the last school in the Big 12 that outsourced its sports marketing business.
One of Learfield's biggest competitive rivals is IMG, a leading collegiate marketing and licensing company that also represents football coaches.
And one of IMG's top clients is Mike Leach -- making it understandable why the thought of a school-managed representation deal for Leach became such a contentious topic in his contract negotiations.
It was telling earlier this week when former Texas Tech running back coach Seth Littrell, considered Leach's top recruiter, left for a job on Mike Stoops' staff at Arizona.
Stoops' job security had been tenuous until a late run last season, capped by a victory in the Las Vegas Bowl.
But it appears that Littrell sees more stability among the saguaros in the desert on Stoops' staff than by staying on the High Plains working with Leach.
It all adds up to what should be a fascinating meeting on Friday for the trustees and an even more interesting result when the board finally makes its decision.
No predictions on the outcome here, but I'm guessing we might be seeing the end of those wild drives across the West Texas plains by my friends among the national football media corps.
And I wouldn't expect the Texas Tech band to be decked out again in their pirate regalia in a halftime tribute to their quirky coach anytime soon, either.
February, 17, 2009
2/17/09
7:16
PM ET
Posted by ESPN.com's Tim Griffin
The deadline for Texas Tech coach Mike Leach's contract extension has passed with neither side budging.
The lack of activity comes in the wake of an announcement earlier Tuesday afternoon that the Texas Tech board of regents will conduct a special teleconference Friday afternoon to discuss matters, "including, but not limited to the position of the football head coach."
The meeting will be conducted from Lubbock.
What does it mean? Leach's contract might be extended by the regents. Or it could mean that he might be fired.
The Regents' rules, section 02.03.2, spell out both scenarios.
"Section 02.03.2 Presidents appointments. The provosts, vice presidents, vice provosts, deans of schools and colleges, director of intercollegiate athletics, and head coaches of intercollegiate athletics programs shall be appointed by the president with prior approval of the chancellor and prior notification to the board. Any multi-year employment contract, employment contract modification, or contract extension related to persons filling such positions shall be approved by the president with prior approval of the chancellor and prior notification to the board."
Texas Tech athletic director Gerald Myers' cryptic comments after the 6 p.m. ET deadline passed only add to the uncertainty approaching the board of regents meeting.
"Coach Leach has declined our $12.7 million contract," Myers said. "We will enter the decision-making process and should have some announcements by next week. Our decisions will be based on the best interest of Texas Tech and all of its supporters."
It should make for an interesting meeting Friday -- and an even more interesting announcement after the meeting concludes.
February, 11, 2009
2/11/09
2:01
PM ET
Posted by ESPN.com's Tim Griffin
Here are some stories for your lunchtime perusal from across the Big 12.
January, 23, 2009
1/23/09
1:29
PM ET
Posted by ESPN.com's Tim Griffin
Here's some lunchtime fodder from across the Big 12 this afternoon.
October, 27, 2008
10/27/08
1:00
PM ET
Posted by ESPN.com's Tim Griffin
We're two-thirds of the way through the season and nine teams are still within a game of the top in both Big 12 divisions, including five that are tied for the lead. That constitutes a logjam as we figure out who will be playing for the conference championship Dec. 6 in Kansas City.
That should make for a wild finish in the conference over the next several weeks. Missouri, Nebraska and Kansas remain tied in the North Division and Texas Tech and Texas are tied in the South.
Here are some links this morning to put a little perspective on the upcoming divisional races.
Texas Tech athletic director Gerald Myers told Mike Finger of the San Antonio Express-News that he's bracing for the

biggest sports event in school history

for Saturday's game with No. 1 Texas. "I wish we had about 10,000 more seats," Myers said. "You don't think there's any way we can find some and get 'em up in a week, do you?"

Mike DeArmond of the Kansas City Star offers some compelling reasons in his video blog why Chase Coffman of Missouri is the Big 12's best tight end.
Colorado coach Dan Hawkins didn't want a pyrrhic victory that would have been provided with a late field goal late in a blowout loss to Missouri. That's why Colorado's Big 12 record 242-game scoring streak -- best in Big 12 history -- ended Saturday night against the Tigers, according to the Boulder Camera's Kyle Ringo.
Baylor coach Art Briles bemoans several missed opportunities that might have allowed his team to have escaped Nebraska with an upset, John Werner of the Waco Tribune-Herald writes.
John Helsley of the Oklahoman explains why Oklahoma's offense slumbered but the Sooners' defense played so much better in the second half of their 58-35 triumph over Kansas State.
Scott Wright of the Oklahoman details Oklahoma State's recent defensive improvement. The Cowboys have held both top five scoring offenses Texas and Missouri both below 30 points.
July, 31, 2008
7/31/08
9:54
AM ET
Posted by ESPN.com's Tim Griffin
Mike Leach has Texas Tech on the brink of challenging for the school's first BCS bowl. But school officials say they can't afford to negotiate a rollover on his existing five-year deal until after the regular season ends in December.
The Lubbock Avalanche-Journal reported that the upshot will mean that Leach will finish the season with with only two years remaining on his current deal.
"Let me preface this by saying we want Mike to be our coach," Tech athletic director Gerald Myers told the newspaper. "We made a decision some time back to wait 'til after the season to do his contract. I don't want anybody to read anything into that.
"We want him to be our coach. We want to be able to compensate him at the level that the market dictates. As you know, we operate on a tight budget every year, and I just felt that we would know a lot more about our budget situation in December, so we've made a decision to wait until after the season to do his contract.''
Tech officials told the Lubbock Avalanche-Journal that the school is running a deficit for the second time in the last three fiscal years, making it prudent for them to be careful financially.
But can they really afford that with Leach, whose modest contract ranks him in the middle of Big 12 coaches? Leach's salary guarantees him $1.75 million this season, $1.85 million next season and $2.15 million in 2010 and two contract-completion incentives totaling $1 million - $800,000 if his stays through 2009 and $200,000 if he remains in place through 2010.
Leach has become an almost larger-than-the-program figure for Tech football. His love of all things concerning pirates has become well known over the last few years.
A big season might provide him with the ultimate treasure chest - and the booty might be coming from another school if Tech officials aren't careful.
Shiver me timbers, enough about Leach and his contract. How about some links from around the Big 12?