NCF Nation:

Giavanni Ruffin
May, 13, 2010
5/13/10
12:30
PM ET
Lincoln Riley wants to clear up a misconception -- the spread offense does incorporate a running game.
That seemed to come as a surprise to the running backs Riley inherited when he took over as the offensive coordinator at East Carolina, and that misconception seemed to take a little time to shake.
[+] Enlarge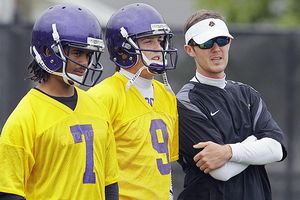 AP Photo/Gerry BroomeEast Carolina offensive coordinator Lincoln Riley, right, wants his running backs to know they will get the ball in the spread offense.
"The perception is that we throw it every snap and that the running back is just there to block, but I think when they really start to see how many times they're going to touch the ball and start to see how well we ran the ball at Texas Tech the last two years I was there and the amount of touches the running backs got in the bowl game when I called the game, I think that once they see that, the opportunities are going to be there," Riley said. "Our running backs are always going to have more touches than any player we have and its not going to be close. I think maybe in the beginning the spread played a part, but now I think its just adjusting to the scheme, to the coaches and to new expectations and that's the thing they haven't done as fast as I would have hoped. But I do think we have them on the right track."
Riley, a first-year offensive coordinator and the youngest offensive coordinator in the FBS, pulled no punches when talking about his disappointment with the running game this past spring. It started early in the spring when
Brandon Jackson
and
Giavanni Ruffin
were arrested for public intoxication, resisting a public officer and obstructing. Jackson was dismissed from the squad and Ruffin missed most of spring ball because of suspension. Then senior
Norman Whitley
, who led the team in rushing in 2008, struggled with various injuries. That left just three healthy backs -- senior
Jonathan Williams
, and freshmen Michal Dobson and Alex Owah -- available all of spring.
And while the backs showed a few flashes of being the backs for which East Carolina has been known, Riley said the majority of the spring was spent trying to coach effort more than the scheme.
"This position has been a little disappointing to me," Riley said of the running backs. "They've shown some big-play ability and they've shown some things where all three are capable of being running backs at this level, but that position really has yet to step it up. That would probably be the most disappointing position on offense right now.
"Part of it is because we have such high expectations for them. We really think that could be a big group for us, a special group for us, and I don't think their expectations are anywhere near what our expectations are for them. Their definition of working hard in practice is not even close to our definition as coaches. They need to rise up and get on the same page, so we've got some work to do with those guys because we definitely expect a lot out of them."
The Pirates had just 58 yards on 29 carries during the spring game and they finished spring without a definitive starter. Riley said he's hoping to get Whitley back healthy in the fall and he's looking forward to seeing Damonte Terry, who is the only incoming running back recruit. He didn't know when Ruffin would return from suspension.
Last season, East Carolina rushed for 152.07 yards per game behind departed senior Dominique Lindsay. Williams has shown flashes of being a top back the past couple years, but he's had a problem staying out of off-field trouble.
While Texas Tech got just 85 yards rushing per game last season, Riley is hoping for more production out of his new team.
"I think the expectation levels are way different on offense then what they've been in the past," Riley said. "In order to meet those expectations, you've got to increase your workout level. They just don't grasp what working hard is to us. They haven't grasped that yet. We've seen bits and pieces of it, some good runs, and I'm not going to sit there and say that their spring has been terrible and they haven't improved because that's not true, but to be what we need out of that position and to be as good as we expect to be, their expectations and our expectations are a little different.
"We're going to get them right, it's just beating it into their heads that, 'Hey, this is what you need to do to be that good.' They are a little behind a bit, but we are starting to see some improvements. But nobody's just jumped up and taken the job. It's still out there for somebody to take over."
March, 29, 2010
3/29/10
4:38
PM ET
East Carolina running back
Brandon Jackson
has been dismissed from the football team, coach Ruffin McNeill announced in
a statement
today and fellow running back
Giavanni Ruffin
has been suspended indefinitely.
Both players
were arrested
this weekend after being charged with public intoxication, resisting a public officer and obstructing.
This is the third time Jackson has been arrested in Greenville, N.C., the first while McNeill was the head coach. McNeill cited Jackson's previous arrests -- one in January and another in 2008 -- as the reasons for his dismissal.
Jackson finished the 2009 season second on the team in rushing with 316 yards and three touchdowns on 84 carries in nine games. He also started three games.
"When you make mistakes in life, you have to understand there are consequences," McNeill said in the statement. "It hurts to see young people lose an opportunity like that, but it's very important to have conduct standards in place we expect to be followed on a consistent basis. We have a commitment to the University, our program and our families to represent ourselves in a professional manner at all times. My hope is that if they learn from this incident, it will serve a good purpose."
Ruffin, a junior college transfer, was the team's third-leading rusher with 308 yards and five touchdowns on 84 carries in 13 games last fall.
March, 29, 2010
3/29/10
1:59
PM ET
Two East Carolina football players
were arrested
over the weekend following an incident in downtown Greenville, N.C.
Running backs
Giavanni Ruffin
and
Brandon Jackson
were charged with public intoxication, resisting a public officer and obstructing.
According to
published reports
, Ruffin posted a $1,000 bond and Jackson posted a $3,000 bond. Both players have a May 6 court date.
This isn't Jackson's first run-in with the law in Greenville. He been arrested twice already for alcohol and traffic-related incidents. In January, Jackson was charged with intoxication, resisting a public officer, DWI, consumption under the age of 21 and driving after consuming under the age of 21. He was also charged with DWI in November 2008.
Running backs have had difficulty staying out of trouble at East Carolina. Besides Jackson,
Jonathan Williams
and
Norman Whitley
also were suspended prior to last season. Williams had been arrested on assault charges and Whitley was disciplined for an unspecified violation of team standards. Williams also missed the Liberty Bowl this past season after fighting with a teammate during the Liberty Bowl banquet.
Both Williams and Whitley are with the team this spring.
Jackson finished second on the team in rushing last season with 316 yards and three touchdowns in nine games, and Ruffin, a transfer from College of the Sequoias last season, finished with 308 yards and five touchdowns in 13 games.
Both players were expected to compete for the top running back spot this spring.
East Carolina coach Ruffin McNeill has not yet announced what punishment will be levied on the players, but those could be revealed today.
February, 12, 2010
2/12/10
10:00
AM ET
One of the great parts of the spring is watching the various position battles unfold and reading the quotes from the coaches criticizing the poor play of the competitors (talking to you, Colorado State coach Steve Fairchild).
There are a lot of teams with questions and below I look at some of the bigger ones as we head into spring practices.
1. BYU quarterback:
Three players will be vying for the starting quarterback role left vacant by
Max Hall
this spring.
Riley Nelson
is the incumbent since he was the backup last year, but he'll be challenged by true freshman Jake Heaps and James Lark, who is returning from his mission.
2. Louisiana Tech quarterback:
Ross Jenkins
has been the starting quarterback for the past season and a half and has done a decent job, but with a new head coach, new coordinator and new system, the starting quarterback role is going to go to the player who wings the ball around Texas Tech-style.
3. Central Michigan quarterback:
With
Dan LeFevour
gone and a new head coach, Central Michigan is basically entering a new era.
Ryan Radcliff
and
Derek Rifenbury
will be the top two competitors for the starting position, but don't count out Kyle Smith and
A.J. Westendorp
.
4. Colorado State running back:
The Rams know they have a competent running game, but picking the player to spearhead that running game will be a challenge. Both
John Mosure
and
Leonard Mason
return as seniors, but the Rams also have
Lou Greenwood
,
Raymond Carter
(a transfer from UCLA), power back
Chris Nwoke
(a redshirt freshman in 2010), and true freshman Tony Drake, who was one of the top all-purpose backs in the country.
5. TCU defensive end:
Jerry Hughes is gone and Braylon Broughton is next in line on the depth chart, but don't rule out any of the other athletes on the roster. The Horned Frogs signed a lot of running backs and they won't all stay at that position. Remember, Hughes was a running back before turning into an All-America defensive end.
6. Utah running back:
It looked like
Eddie Wide
was going to be the premier back, but with
Matt Asiata
applying for a sixth season things could get dicey in the backfield. Add
Sausan Shakerin
to the mix and the Utes have a trio of guys who could start in the backfield for many teams. Which one will start for the Utes, though, is up for competition.
7. San Diego State running back:
The running game has been downright awful for the Aztecs the past few years, so coach Brady Hoke has brought in a stable of running backs to find the right one. SDSU could be auditioning as many as nine running backs this year in an effort to find one who will get the Aztec running game out of the cellar.
8. North Texas receivers:
The Mean Green struggled last year, but return their top six receivers and add Oklahoma transfer
Tyler Stradford
, who was the offensive scout team player of the year last year while sitting out, and junior college transfer Christopher Bynes. But finding the go-to receiver will be a chore this spring and into fall camp.
9. East Carolina running back:
Giavanni Ruffin
returns, but the rest of the running back depth is a little sketchy to replace 1,000-yard rusher
Dominique Lindsay
. Senior
Norman Whitley
, senior
Jonathan Williams
and junior
Brandon Jackson
are the other running backs on the rosters, but both Whitley and Williams have had trouble with suspensions and Jackson was inconsistent last year.
10. Southern Miss O-line:
The Golden Eagles must replace four offensive linemen from last year's squad, which is no easy task. Guys who will be competing for spots include senior R.J. Brown, redshirt freshman Ed Preston, senior Trevor Newsom and junior Ben Schoenberger as well as early enrollees Jamar Holmes and Jason Weaver and four other freshmen signed in this year's class.
September, 1, 2009
9/01/09
11:30
AM ET

Posted by ESPN.com's Graham Watson
A year ago, East Carolina coach Skip Holtz was undecided at running back.
His starter,
Dominique Lindsay
, was lost for the season with a knee injury and the other running backs were either unproven or dealing with off-field issues.
Holtz is in a similar position now, only this year the problem is having too much talent from which to choose.
Lindsay and transfer
Brandon Jackson
have been taking the bulk of the reps and both players will share time in the season opener against Appalachian State. Jackson suffered an injured thumb during last Friday's scrimmage and has been limited, but Holtz doesn't see the injury keeping him out of the game.
Giavanni Ruffin
and
Jon Williams
are the next two in line for carries.
"It's a long cry from where we were a year ago when we didn't have Lindsay, Jackson, Ruffin and Williams wasn't here for the second half of the season," Holtz said during his weekly press conference. "Right now, the top four guys you're looking at are bigger, more physical backs. In the past, we have struggled in short-yardage situations and have not had the success we needed to have in the past in order to keep drives alive. I feel good we have improved the running back position tremendously and I feel good about the guys who are there and the guys who will play Saturday."
Running back is probably the deepest position for the Pirates this season. In addition to the top four backs, Holtz said
Darnel Ballard
and
Norman Whitley
have done some good things during camp to work their way into the mix. Whitley came into fall camp nursing a hip injury, but led the Pirates in rushing last season with 698 yards and four touchdowns.
Holtz said he didn't know which running backs would play in the season opener beyond his top two, but that all of the running backs would get some time with special teams.
"They will all play," Holtz said. "I can't say they will all see time at tailback, however. I feel like we have four backs that can play. Right now, I'd be very comfortable looking up and seeing any one of those four out there."
Posted by ESPN.com's Graham Watson
Arkansas State loses freshman quarterback
Arkansas State freshman quarterback Phillip Butterfield will miss the 2009 season after suffering a knee injury during practice earlier this week.
Coach Steve Roberts said he felt bad that Butterfield will miss the year, but he hopes it will give him a chance to learn the system from senior quarterback Corey Leonard.
"He was doing well and we are very proud to have him as a part of our program," Roberts said. "He is a great young man and he has the skills that I think it takes for him to be successful here. We are looking forward to next year and getting him back out here."
East Carolina adds another running back
Junior college transfer Giavanni Ruffin, who played running back at the College of the Sequoias and signed with the Pirates in February, has finally been cleared to play by the NCAA Clearinghouse. Ruffin must go through the NCAA's acclimation period, which includes wearing just shorts and a helmet for the first few days of practice.
Second string running back Dominique Lindsay sat out of practice again Thursday as he continues to recover from a concussion.
Western Kentucky losses a quarterback
Western Kentucky coach David Elson announced after Thursday's practice that freshman quarterback Courtney Dalcourt suffered a torn ACL during Wednesday's practice and will miss the 2009 season.
TOP 25 SCOREBOARD
Thursday, 12/5
Friday, 12/6
Saturday, 12/7