NCF Nation:

Giorgio Newberry
May, 17, 2013
5/17/13
3:03
PM ET
TALLAHASSEE, Fla. -- By any significant measure, the difference between
Timmy Jernigan
's role as a reserve the past two seasons and the starting job that awaits him in 2013 shouldn't be a major overhaul.
Jernigan was already on the field for a majority of snaps throughout most games, and his impact on the defensive line already included more tackles than any other FSU interior lineman in 2012. Still, there's something about hearing his name announced before each game and knowing he's officially secured the job of starter on a unit that's been among the best in the nation in recent years that Jernigan relishes.
"I've been waiting a long time," he said. "So I'm really excited about it."
Jernigan's enthusiasm isn't entirely inflated either. Sure, his playing time isn't likely to shift dramatically, and he's already proven he's capable of handling a sizable role on the defense. But what's truly different for the junior defensive tackle in 2013 isn't about reps or tackles but about his place in the hierarchy of the defense.
For the past two seasons, FSU's line has been the foundation of its defensive scheme. The unit has helped the Seminoles finish in the top three in the nation stopping the run in both 2011 and 2012, and last month, it sent five players on to the NFL, including all of last year's starters.
That, of course, means a massive overhaul for the unit, but thanks to Jernigan's presence -- along with potential breakout stars like
Mario Edwards Jr.
and
Eddie Goldman
-- the expectations haven't dipped much. And that's a burden Jernigan hadn't been asked to carry before.
"I feel like it's my D-line now," Jernigan said. "I'm trying to be a leader."
[+] Enlarge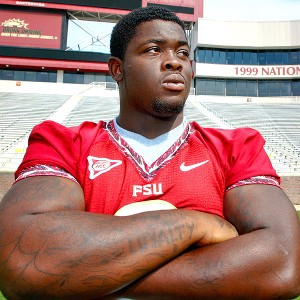 AP Photo/Phil SearsAs a sophomore, Timmy Jernigan led all FSU defensive tackles in tackles last season.
When it comes to production, there's little reason to question Jernigan's ability to handle a bigger share of the spotlight. As a reserve the past two seasons, he's racked up 76 tackles, including 14 for a loss, and four sacks. Despite playing behind Anthony McCloud and Everett Dawkins -- both in NFL camps now -- Jernigan established himself as a star, and he's already currying attention as a potential first-round selection in next year's draft.
That attention is nice, he admits, but his bigger role in 2013 isn't about burnishing his resume for the next level.
"It inspired me to work even harder toward what I want," Jernigan said. "I'm not really worried about the NFL or anything like that because there's so much more I feel like I have to do here in Tallahassee. I'll worry about that when it's time."
What Jernigan needs to do this season isn't simply a repeat of past performance either.
Jimbo Fisher has been quick to shrug off concerns about the massive changes on the defensive line, noting that Jernigan and
Demonte McAllister
were already FSU's most productive tackles, but it's hard to ignore the notion that life gets more difficult without established talent surrounding them.
That means Jernigan has to pick up the slack as the centerpiece of the line and help bring along the younger talent alongside him.
Before an ankle injury sidelined him midway through the spring, Jernigan was taking reps alongside a bevy of potential partners on the line, from veterans like
Jacobbi McDaniel
and
Giorgio Newberry
to youngsters like Edwards and Goldman. The rotations, he expects, will continue well into the fall, but he admits it's hard not to be impressed by the potential of some of the young guns.
"I like what they're doing because they're asking questions, they're very humble," Jernigan said. "They understand we have all the talent in the world up front but the biggest thing is we've got to get everything going. Those guys are going to be just fine. It's just a matter of understanding what you're doing. Not understanding slows you down, but those guys are going to be just fine."
Of course, Jernigan is dealing with a bit of a learning curve, too. While his position group was spared in the overhaul of FSU's coaching staff this offseason, the new, aggressive schemes being implemented by defensive coordinator Jeremy Pruitt have added some wrinkles to what had been a relatively straightforward approach.
But like the move from reserve to starter, Jernigan sees the changes as an opportunity to impress.
"That's what I like," Jernigan said. "I like to get off the ball and attack blockers rather than absorb them. It's going to be a positive. I'm very excited about it."
April, 22, 2013
4/22/13
9:00
AM ET
TALLAHASSEE, Fla. -- Over the past four months, Florida State won an ACC championship, a BCS game, reeled in another top-10 recruiting class and sent a handful of players into the NFL draft with first-round promise.
Given the recent spate of unsightly 7-6 seasons, Florida State seems to be in pretty fantastic shape. That, of course, is not the storyline that has taken shape since December. No, the convenient storyline has focused mainly on the coaching turnover that has left the Seminoles with six new assistants heading into the 2013 season.
What does the unusually large turnover say about coach Jimbo Fisher? What does it say about the program itself?
At this point, the storyline has become rote. Fisher already has his answers before the questions are asked, prepared to bat down the notion that this very strange offseason has been, well, strange.
He begins.
"You know," he says, "we were one of four teams in the entire country that did not lose a single assistant in my first two years here."
Pretty astounding, when you consider just how frequently assistants change jobs year to year. But what is more astounding is hiring seven different assistants in a two-month span. One of those assistants, Billy Napier, lasted a handful of weeks before moving on to Alabama.
As Fisher tried to defend the staff turnover, he proved the point others have made. Coaching change is common in this profession, especially at winning programs. But the type of coaching change Florida State just experienced is as rare as scoring a safety on consecutive plays.
[+] Enlarge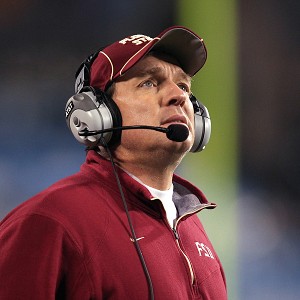 Streeter Lecka/Getty ImagesFSU coach Jimbo Fisher says he wasn't surprised by the amount of staff turnover this offseason.
Among programs that did not have a head coaching change, only Marshall had to replace more assistants than Florida State this past offseason. Point this out to Fisher and he shrugs.
"We took the attrition of three years and put it in one," Fisher says simply.
Was he surprised that he lost so many assistants?
"Not really. Last year was a big year," Fisher begins. "You go back and look at all the major jobs. When's the last time you saw four major SEC schools open?"
Not since 2004. His defensive coordinator, Mark Stoops, got the head coaching job at Kentucky and took assistant D.J. Eliot with him. Another assistant, Dameyune Craig, left for a co-offensive coordinator job at Auburn. Counting Napier, four assistants left for the SEC.
Fisher continues.
"The NFL has nowhere else to draw coaches from," he says. "And we had a lot of success. We're graduating players. Guys aren't getting in trouble. People want to know how you're having success. We had to have a proven commodity.
"We're the eighth-winningest team in the last three years. We were 30th the previous three years. We've jumped more than any team in the country. So people say, 'Wait a minute.' We all do research and look at who's doing good and ask, 'Why are they doing good? Are they doing something we're not doing?' People are saying, 'Let's get some of those guys and see why they're having success and are able to change the culture and change a program."
The other three coaches who left -- Eddie Gran (Cincinnati), Greg Hudson (Purdue) and James Coley (Miami) -- took coordinator jobs as well. Fisher points this out, too, and makes it clear he has never stood in the way of an assistant getting another job. After all, he allowed Stoops to interview at Kentucky in the middle of the season.
While all of the change may not look so great on the surface, the staff Fisher has assembled may in fact be better than the one he had his first two seasons with the Seminoles. When asked what he likes most about this staff, Fisher says, "No. 1, the experience. No. 2, their undaunting ability to work and put in hours. A lot of staffs you get recruiters or coaches. I think everybody on our staff can do both. We have a staff that's very solid recruiting and very solid coaching. It's hard to find nine guys capable that way."
Perhaps that is a slight dig at his past staff. But there is no questioning the credentials of the men tasked with elevating Florida State from ACC champ into yearly national title contender. All of them have won conference titles; three have won national titles.
Fisher keeps a running list of potential candidates with him, so he knew exactly whom to call when all these jobs came open. How they arrived in Tallahassee plays like a game of Six Degrees of Jimbo Fisher.
You have quarterbacks coach Randy Sanders, who crossed paths with Fisher when both were assistants in the SEC some years ago. He also coached new running backs coach Jay Graham at Tennessee in the 1990s. The two have known each other since Graham was 17.

You have defensive ends coach Sal Sunseri and defensive coordinator Jeremy Pruitt, who come from the Nick Saban tree that also produced Fisher. Sunseri and Fisher were on the same staff at LSU in 2000.

You have recruiting coordinator/tight ends coach Tim Brewster, who never worked with Fisher but recruited against him when he was at Texas and Fisher was at LSU.

Then you have special teams coordinator, linebackers coach Charles Kelly, who was a graduate assistant at Auburn in 1993 when Fisher was there. Kelly also played against Fisher the past several seasons while working at Georgia Tech. When Kelly was with the Jackets, and Pruitt with the Tide, the two shared ideas.
"Florida State has always been one of the schools I've always wanted to work at," Sanders said. "When I first got married and was first coaching, my wife asked me. I said this was one of the four schools in the country I'd love to work at some day. When the opportunity came along, I was excited to come to Tallahassee."
He echoed what all the other assistants said during their only media availability this spring: the desire to win a national title. Indeed, the intensity during spring practice seemed to be turned up a notch. Both Sunseri and Pruitt are quite boisterous and have no qualms about getting up close and personal with their players -- face to face mask.
On one particular afternoon last month, Sunseri kept getting after defensive end
Giorgio Newberry
. At one point, Newberry just slung his big arm around Sunseri's shoulder and chuckled.
"I give him a hug every once in a while," Newberry said. "I love Coach Sal. I love how he coaches me. He doesn't let us take plays off. We have to go hard every time, and we've got to do it his way. I like that. He'll chew me out and I'll be like, 'Yes sir' and I try to fix it."
Graham is not as in-your-face, but he demands excellence. That was not so easy to get adjusted to for some of the backs.
"He wants you to be great, so he has very high expectations,"
James Wilder Jr
. said. "It was hard getting used to it at first. He wants everything perfect."
Fisher has described the staff transition as seamless. He has veteran coaches that share his same philosophies and players who have embraced the changes. But the questions will linger on until kickoff in Pittsburgh on Sept. 2.
Perhaps even longer.
April, 11, 2013
4/11/13
9:00
AM ET
With half of the conference playing spring games this weekend, here's a look at what to watch if you're keeping an eye on the ACC as spring ball comes to a close:

CLEMSON
When:
4 p.m. ET on Saturday (ESPN3)
What to watch:
Quarterbacks of the future. You know Tajh Boyd is good. Expect Cole Stoudt and Chad Kelly to take most of the snaps. Boyd played just four snaps in the last scrimmage. Let's see his backups.
The tight ends. Clemson tight ends Dwayne Allen and Brandon Ford have been the first team All-ACC tight ends the past two years. Clemson tight ends have 118 receptions and 21 touchdowns the past two years, perhaps the most underrated area in Chad Morris' offense. So who moves in there this year? Sam Cooper is the most experienced, but freshman Jordan Leggett has been impressive this spring.
How much better is the defense? All eyes will be on Brent Venables' group to see how much progress it has made this spring. If the D gets better, it could be a special season in Death Valley.
FLORIDA STATE

When:
2 p.m. Saturday, (ESPN3)
What to watch
:
The quarterbacks. It's been one of the hottest topics this spring in the ACC and arguably the biggest position battle in the conference. Check out Clint Trickett, Jacob Coker and Jameis Winston as they all battle to replace starter EJ Manuel.
The defensive line. The competition is on to replace Bjoern Werner and Tank Carradine. Mario Edwards Jr. is ready to jump in, along with Giorgio Newberry.
Don't forget the kicker. It's big at FSU. The Noles have to replace Dustin Hopkins, the ACC's all-time leading scorer and the NCAA's all-time kick scorer. It's your chance to see Roberto Aguayo, who was one of the nation's top kickers coming out of high school.
MARYLAND

When:
7 p.m. on Friday in Byrd Stadium
Parking/admission:
Free
What to watch:
The running backs. Both Brandon Ross and Albert Reid have had strong springs and will be competing for playing time come the fall.
The receivers. This group should be a strong point for the team this year, as Stefon Diggs, Deon Long and Nigel King are a talented trio.
New faces on defense. The Terps have to replace six starters on defense, including some of their best leaders in Joe Vellano and A.J. Francis.
DUKE

When
: 4 p.m. ET on Saturday (ESPN3) in Wallace Wade Stadium
Parking/admission:
Free
What to watch
:
Booooooone. Anthony Boone takes over at quarterback, and there have been rave reviews about him from within the program all spring. He's got a strong arm and is mobile.
New faces at safety. Some big names are gone, as Duke has to replace graduates Jordon Byas and Walt Canty, and Brandon Braxton, who moved back to receiver. Jeremy Cash, eligible now after transferring from Ohio State and sitting out last fall, headlines the group that includes sophomore Dwayne Norman (60 tackles in 2012 as true freshman) and redshirt freshman Corbin McCarthy.
Front and center: There is one hole to fill on the offensive line and Matt Skura takes over at center for Brian Moore.
MIAMI

When:
3 p.m. ET at Sun Life Stadium (ESPN3)
Gates open:
12:30 p.m.
Parking/admission:
Free
What to watch:
Defensive improvement. Is there any? The Canes were one of the worst in the country last year, but they return every starter up front.
The No. 2 QB. Who is it? Gray Crow started the last scrimmage as the backup to Stephen Morris and completed 8 of 13 passes for 73 yards, with a touchdown and interception. Ryan Williams, who entered the spring as the expected No. 2, completed only six of his 12 passes with a touchdown and an interception. The coaches will be watching these guys closely on Saturday, so should you.
Running back Dallas Crawford. You know Duke Johnson. It's time to get to know this guy. Those within the program have said Crawford has had a great spring and could be a rising star this fall. He scored two touchdowns in a scrimmage in Naples earlier this month.
NORTH CAROLINA

When:
3 p.m. ET on Saturday at Kenan Stadium (ESPN3)
Admission:
Free
Parking:
$5/vehicle
What to watch:
Gio's replacement(s). A.J. Blue and Romar Morris have been working to ease the loss of leading rusher Giovani Bernard. Can they be as effective as he was, how much progress have they made and who will replace Bernard in the return game?
The O-line. Former guard Jonathan Cooper should be a first-round draft pick later this month, and it won't matter how good Blue and Morris are if they can't find anyone to help block for them. A total of three starters have to be replaced on the offensive line.
Replacing big names on D. Cooper and Bernard aren't the only big names that will be missing. The defense is going to miss tackle Sylvester Williams, who could be another first-round draft pick, and linebacker Kevin Reddick (85 tackles, 8.5 for loss). How does the D look without them?
PITTSBURGH

When
: 7 p.m. ET on Friday at Bethel Park High School (ESPN3)
Gates open:
5:30 p.m.
Admission:
Free
What to watch:
The quarterbacks. Fifth-year senior Tom Savage has taken most of the reps with the first team, and redshirt freshman Chad Voytik appears to be the backup, but coach Paul Chryst has yet to name a starter.
The running backs. Earlier this month, it was announced that Rushel Shell has decided to transfer. Since then, the bulk of the carries have gone to junior Isaac Bennett, sophomore Malcolm Crockett and senior Desmond Brown. How they fare will go a long way in determining how Pitt fares in its first season in the ACC.
The offensive line. It's been problematic for the Panthers in each of the past two seasons, and Pitt now has to break in two new starters in Gabe Roberts and Adam Bisnowaty.
April, 2, 2013
4/02/13
2:00
PM ET
TALLAHASSEE, Fla. -- Florida State defensive end
Giorgio Newberry
walked into the room, cradling his black playbook, and sat down on a folding chair.
By the looks of it, the book should have made a monstrous thud when he went to put it down. Newberry placed the book gently on the floor, though, and laughed when he was innocuously asked, "So that playbook is bigger than your old one, huh?"
The new book, a huge three-ringed binder stuffed full, features more blitzes, and some new assignments for players used to the old way of doing things. While the Seminoles will remain a 4-3 base defense, they are going to be using all of their players in different ways.
That means a guy like Newberry -- all 6-foot-6 inches and 273 pounds of him -- will be dropping back into pass coverage on occasion as he transitions to play the jack position, an end/linebacker mashup.
And no, Newberry has never actually covered anybody in the pass game before.
"It's pretty fun actually, getting an opportunity to run in space, show my athleticism off," Newberry said recently. "I have the speed for a big guy. I have a lot of range. I'm pretty long and tall so that should help me, too. I'll still be rushing sometimes but it's almost like I'll be rushing, dropping, rushing dropping even though I'll be rushing still."
Newberry is not the only defensive lineman in the spotlight this spring. They all are, as questions persist about how the Seminoles are going to look up front with starters
Bjoern Werner
, Tank Carradine,
Everett Dawkins
and
Anthony McCloud
gone. The good news is a wealth of experienced players return.
Coach Jimbo Fisher consulted his stat sheet to prove it. He starts with tackles
Timmy Jernigan
and
Demonte McAllister
, who were more productive than Dawkins and McCloud. End Mario Edwards Jr.
started at the end of the season
; Newberry has game experience;
Jacobbi McDaniel
is back;
Eddie Goldman
has been "coming on like wildfire"; and expectations are high for
Chris Casher
.
"They still have to prove it, but from we still feel very comfortable that we can be very physical and very dominating up front. Very strong," Fisher said.
To that end, players like Newberry and Jernigan are preparing themselves for breakout seasons in this new defensive style that first-year coordinator Jeremy Pruitt brought with him from Alabama.
"This," Newberry says, "is a killer defense."
How good can it be once everybody learns the entire system?
"Our defense is going to be just as good as last year, if not better," Newberry said. "Because we have a new system, people are younger and we have more people."
Jernigan chimed in later with his own take: "As far as stats go, I feel like this will be my biggest year. I feel like I'm going to have a very good year this year.
"I've been preparing, I've been working very hard in the weight room, in the classroom making sure I have no extra stress. Then the style of the defense, we're a little more aggressive up front and that's the way I like to play. I like the physicality, I like to get off the ball, hurry up and get my hands on the blockers. I think that's going to help, we're going to be attacking a lot more."
Attacking from all over the field, in fact. Florida State has a deep history and tradition to uphold defensively, especially after ranking No. 2 in the nation in defense last year. The only team ahead was Alabama, and now the Noles have the Tide's former defensive coordinator.
Fisher, however, wanted to be sure to emphasize the Noles are keeping much of what they did in the past in place, even though it seems they may be radically changing. Alabama does run a 3-4 base. Florida State will not. Simply put: There will be a few new twists -- OK a lot more twists -- in the playbook, sorta like sprucing up the garden for spring.
"We're a 4-3 team," he said. "If you go back and look last year, we were about 25 percent 3-4 last year. If you go back and watch Alabama's film, there's only about 8-to-10 3-4 snaps a game. They might not have been as much 3-4 as we were a year ago. Believe that or not. You may stand a guy up to create a mismatch, we did that with Bjoern and Tank and Brandon (Jenkins) all the time. We were a bunch of 3-4. Perception's not always reality."
That may end up being the perfect description for this defensive line in 2013.
March, 28, 2013
3/28/13
10:30
AM ET
TALLAHASSEE, Fla. -- Florida State hit spring practice with two major questions -- who would start at quarterback this season, and how would the new coaching staff come together?
I got a little bit of insight into both Wednesday, when coach Jimbo Fisher opened the entire 2 1/2-hour practice to the media for the first time this spring. It was my lucky day!
[+] Enlarge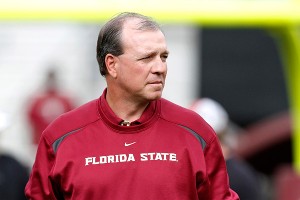 AP Photo/Don Juan MooreWIll FSU coach Jimbo Fisher have a title contender despite having to replace 13 starters from 2012?
I paid close attention to the quarterback competition between
Clint Trickett
,
Jacob Coker
and
Jameis Winston
. From my viewpoint, Trickett looks to be the clear front-runner, as he should, given the time he has spent in the system and his past game experience. He knows the offense the best of the three; he seemed comfortable and at ease; and his passes were crisp and sharp, and went exactly where they needed to go.
Now, it should be noted that both Coker and Winston have been limited this spring. Coker is still not 100 percent as he recovers from a foot injury, and Fisher acknowledged after practice that his quarterback was unable to display the athleticism that makes him so good.
"But I'm not concerned about that right now," Fisher said. "I know he can do those things. I want him to win from the pocket right now. Make decisions, lead and do those things."
As for Winston, the team is monitoring his throws this spring because of his dual commitment to baseball, especially following games in which he pitches. Winston pitched Sunday out of the bullpen against Georgia Tech, and was a little sore following the game. Again, this is not a concern to Fisher but clearly something the team has to be sensitive to as Winston does both this spring. Winston, by the way, seems to be the most vocal of the three, bringing an extra bounce to practice.
Now on to the new assistants. I was impressed with the energy, passion and tempo they brought to the field Wednesday. This is a boisterous group unafraid to get in the faces of their players. Offensive line coach Rick Trickett used to be the loudest of the bunch, but that title belongs to new defensive ends coach Sal Sunseri, whose booming voice could be heard for most of the practice.
In particular, he was on
Giorgio Newberry
for a good part of the practice, clearly realizing how much potential his player has as the Seminoles work to replace both starting ends. Newberry has the physical tools, and he looks very impressive in person. Now he has to take the next step and dominate consistently in games.
Defensive coordinator Jeremy Pruitt was on his players, too, hollering one minute, then pulling a player aside for a teachable moment the next. Coaches want to teach first and foremost this spring, and you definitely saw a lot of that going on during the open practice.
One more note:
Kelvin Benjamin
was all the rage headed into last season as a player who could be a star on the rise given his size (6-foot-5, 242 pounds), speed and athleticism. He had a productive first year with 30 catches for 495 yards and four touchdowns, but was maddeningly inconsistent. In the final three games of the season, he had a combined two catches for 16 yards (including a goose egg against Florida).
Benjamin is incredibly impressive in person because he is just so big. He towers over just about everybody on the field. What you now want to see out of him is complete domination. He
should
be winning his one-on-one matchups more; he
should
be able to come down with every fade pass in the end zone; he
should
become an All-ACC receiver. Can he?
That's it for now. Check back later for much more.
March, 20, 2013
3/20/13
9:00
AM ET
You look at the Florida State roster, and you look at the Florida State coaching staff, and the automatic assumption is this could be a rebuilding year for the Noles.
Jimbo Fisher does not see it that way. Not one bit. As spring practice opens today, Fisher needs to find new starters at some key positions, including quarterback, defensive end and linebacker. But he sees players who have had valuable playing experience ready to step right into starting roles, not wet-behind-the-ears freshmen in over their heads.
To him, there is no dropoff between the talent on his 2012 ACC winning team, and the talent on his 2013 team.
[+] Enlarge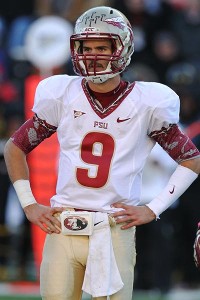 Mitch Stringer/USA TODAY SportsThere will be a competition for FSU"s starting quarterback, but Clint Trickett has more game experience than the others.
"I ask people this: Lawrence Dawsey is arguably one of the best receivers in Florida State history," Fisher said during his pre-spring news conference earlier this week. "How many years did he start here? He started one year. How about Odell (Haggins)? He was a linebacker that got moved. Nowadays he'd be, 'Oh, he wasn't what we said he was, you moved him.'
"Just because you don't start a game doesn't mean you're not starter material. Do you understand what I'm saying? We're establishing ourselves as a program again and guys still played as much ball as anybody else."
Fisher gave a host of examples. Every starter on the defensive line is gone -- ends
Bjoern Werner
and
Tank Carradine
, and tackles
Anthony McCloud
and
Everett Dawkins
. But the players expected to move into the starting lineup played extensively last season.
Mario Edwards Jr.
and
Giorgio Newberry
will start with the first-team at end;
Timmy Jernigan
, perhaps the best interior lineman last year, moves up to start at one tackle spot.
Vince Williams
and
Nick Moody
are gone at linebacker. Into the middle steps
Telvin Smith
, who has extensive game experience and should have no problems moving up.
Then of course, there is the quarterback spot, a position that folks across the ACC will be paying attention to as the competition begins.
Clint Trickett
starts out
No. 1 on the depth chart
, and here again is where playing time has helped him. Trickett has played in 16 games with two starts behind
EJ Manuel
the last two seasons.
The other three players competing for the starting job --
Jacob Coker
,
Sean Maguire
and
Jameis Winston
-- have either limited or no game experience. That does not take them out of the mix by any stretch. Fisher already said the position is wide open, and he has no timetable to make a decision. But having game experience is certainly not going to hurt him as the Noles try to find their leader on offense.
"From a talent standpoint, I think we're still a very talented football team and we have guys with a lot of experience still playing," Fisher said. "We look at returning starters sometimes, it's a very misleading factor about depth of a team and how much guys have played behind them. I'm excited about these young guys. Even though they're new starters, they've still played like starters."
As for the coaching changes, six new assistants will be on the field this spring, including new defensive coordinator Jeremy Pruitt. But Fisher downplayed those changes as well, saying nothing would change about philosophy or with the schemes the Noles run.
"We're going to do things the Florida State way, the way we've been doing," Fisher said.
That means plugging new guys into the starting lineup and believing there will be few hiccups along the way.
February, 21, 2013
2/21/13
2:11
PM ET
There are going to be position battles this spring at every school in the ACC, but some will be in the spotlight more than others. If you're just tuning in to ACC football, here are some of the biggest competitions in the conference this spring:
OFFENSE

1. Florida State quarterback:
This is arguably the most intriguing competition in the entire conference, as the Seminoles have to replace veteran
EJ Manuel
.
Clint Trickett
enters the spring at the top of the depth chart, but consider this job open. Sophomore
Jacob Coker
is the total package, but redshirt freshman
Jameis Winston
was the nation's No. 1 quarterback and could be the answer, too.
2. North Carolina running back:
The Tar Heels have to find a way to replace leading rusher
Giovani Bernard
, who left early for the NFL draft. Not only will his loss be felt in the running game, but probably even moreso in the return game, as Bernard was one of the nation's top punt returners. UNC returns
A.J. Blue
and
Romar Morris
, who combined for 819 yards rushing and 11 touchdowns last season.
3. Syracuse quarterback:
The Orange enter the ACC with a new coach and in need of a new quarterback. Record-setting quarterback
Ryan Nassib
is gone, leaving behind a wide-open competition. Backup
Charley Loeb
, junior
John Kinder
, and dual-threat
Terrel Hunt
are the top candidates.
Ashton Broyld
, who moved to running back in 2012, could be in the mix as well.
DEFENSE
1. Florida State defensive ends:
The cream of the crop is gone, as
Tank Carradine
,
Bjoern Werner
and
Brandon Jenkins
all have to be replaced. Enter
Mario Edwards Jr.
, who has a leg-up on the competition because he played in 11 games as a true freshman, and started the final two games of the year in place of the injured Carradine. Don't forget about
Giorgio Newberry
, though, and
Chris Casher
, who is now healthy after a knee injury. Casher will start spring ball on the two-deep depth chart.
Dan Hicks
, who was Jenkins' backup two years ago, had a knee injury and missed all of last season. He had moved to tight end, but was in the rotation at defensive end earlier in his career and could come back.
2. NC State secondary:
This group will have an entirely new look this spring, as three starters have to be replaced, including
Earl Wolff
,
Brandan Bishop
and
David Amerson
, the school's career interception leader. Cornerback
Dontae Johnson
returns, along with
Juston Burris
, who played in the nickel package. There are also several redshirts and younger players who will compete.
3. Virginia Tech cornerback:
Virginia Tech's defensive backfield lost its star last month when cornerback
Antone Exum
tore his ACL in a pickup basketball game. Several young players will compete for his reps this spring, including
Donovan Riley
,
Donaldven Manning
and
Davion Tookes
. Highly touted cornerback
Kendall Fuller
will join the team in the summer.
September, 4, 2012
9/04/12
3:00
PM ET
If Florida State is going to live up to its preseason hype this year, it is going to have to do it now without its top two defensive players from a year ago.

The Seminoles are going to be without preseason All-America defensive end
Brandon Jenkins
for the rest of the season,
a difficult enough proposition on its own. But couple that with the loss of cornerback/returner
Greg Reid
-- kicked off the team this summer -- and the Noles are sitting with a major talent deficit.
What helps is that Florida State has
depth at defensive end
, and young players with potential in the secondary. Senior
Cornellius Carradine
will step into the starting job for Jenkins. He has experience, and he played well against Murray State on Saturday after Jenkins got hurt, making nine tackles. The Noles also have redshirt freshman
Giorgio Newberry
and senior
Toshmon Stevens
and could consider pulling the redshirt from highly touted
Mario Edwards Jr.
, the No. 1 player on the ESPN 150 for the class of 2012.
But no matter the depth, it is going to hurt when you lose a player who has had 22.5 sacks and made 28 starts since 2010 -- a player many believed to be the most outstanding defensive end in the entire nation. Yes,
Bjoern Werner
mans the other side of the line, and he had four sacks in Week 1. But where Florida State had the best defensive end duo in the nation at this time last week, there are now more questions than answers.
Couple that with some inexperience in the secondary with Reid gone. Sophomore
Nick Waisome
made his first start Saturday; true freshman
Ronald Darby
is behind him. When it comes to crunch time, how will FSU fare with only seven of its returning starters from a year ago, instead of nine?
The truth is there is not much to glean from the first two weeks of the season against FCS opponents. Savannah State, which just lost to Oklahoma State 84-0, awaits Saturday. We should know much more when ACC play opens against Wake Forest on Sept. 15. An even bigger test awaits the following week against Clemson.
Florida State may end up moving on without missing a beat. Or these two key losses could have a major impact. We just have to stay tuned.