November, 7, 2012
11/07/12
2:00
PM ET
The Big Ten hands out awards for practically everything at the end of the regular season, but the league lacks a comeback player of the year honor.
If it did, Illinois'
Corey Lewis
would be the obvious choice.
Most probably didn't notice Lewis trotting on the field for Illinois' third offensive series last Saturday against Ohio State. Despite being 6-foot-6 and 310 pounds, Lewis, like most offensive linemen, often goes unnoticed. But when he lined up at right tackle for the Illini, it completed one of the longest and toughest journeys back to the game field that you'll ever hear about.
"Not five," Illinois coach Tim Beckman said when asked if he had ever seen a player return from five knee surgeries.
[+] Enlarge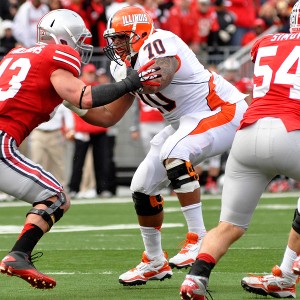 Photo/University of Illinois AthleticsIllinois offensive lineman Corey Lewis has come back from five knee surgeries to play.
That's how many Lewis has had to endure since tearing the ACL in his left knee for the first time in Illinois' spring game of 2010. He tore the same ACL two more times during workouts, needed another procedure when infection prevented a graft from healing in his leg, and underwent arthroscopic surgery on his right knee after overcompensating because of his left knee issues.
Yet all the setbacks never stopped Lewis from moving forward. And more than 1,000 days after he played his last game -- the 2009 regular-season finale at Fresno State -- he returned to the line at Ohio Stadium.
"When I did come on the field finally for my first rep in two and a half years, my heart was racing," Lewis told ESPN.com. "It was beating so fast. The adrenaline was going. It was just an exciting moment."
Lewis appeared in four games as a true freshman and played all 12 as a sophomore in 2009. Along with other talented young linemen like tackle Jeff Allen, Lewis looked to be part of the nucleus of Illinois' offensive line for years to come.
But everything changed once Lewis tore the ACL during a 2-minute drill segment in the spring game.
"I never thought I could be injured," he said. "I thought I was Superman. So it was rough for me. I always heard about people tearing their ACLs and going through stuff. I just never saw it happening to me. When it happened, it was just devastating."
The subsequent injuries proved to be even worse. Lewis' third ACL procedure, in March, was a low point.
Did he ever think about giving up the game?
"Stuff like that definitely creeps in the back of your head," Lewis said. "But I just looked at it like, I'm going to keep giving it a shot until all my years are up. What motivates me the most are my teammates.
"I didn't want football to be over for me."
He continued to attack his rehab, and by September, doctors cleared him to practice. Lewis hoped to return for Illinois' Oct. 27 game against Indiana but didn't get the final green light until last week.
The knee isn't quite 100 percent, Lewis said, but he's gaining more strength and more trust in it.
"You still have a little doubt at times because [the ligament tears have] happened multiple times, so that's in the back of your head," Lewis said. "But I think the more I keep playing, the more reps I get, the more I'll be able to trust it. That's the main thing, just knocking the rust off and being able to get back to my old ways.
"I'm only at like seven and a half months [since the last surgery], but over time, it will just continue to get better with the more I play."
Lewis intends to play a lot more at Illinois. Not just the rest of this fall, but he expects to return for a full season in 2013. He's seeking a sixth year of eligibility from the NCAA.
After all he has been through, it'd be a crime if he doesn't get it.
"That's what college football is all about," Beckman said. "A lot of people don't understand what all he's been through in the last two years, through rehab, through medically, getting himself prepared to step back out there on the field after an injury. That's why I coach, so you get to see those experiences.
"The best experience I had was him running off the field [last Saturday] after that series, seeing the smile on his face."
Despite Illinois' loss to Ohio State, the congratulatory messages for Lewis streamed in after the game, many of which can be found on his
Twitter page
. Former teammates like Allen, now with the Kansas City Chiefs, and current teammates like Illini center
Graham Pocic
were among those who acknowledged Lewis.
"I just learned I'm not a quitter," Lewis said. "I'm a dedicated person. Once I signed here to play here, that was my main goal, to play again, to play for Illini Nation and to play for this team. I love football. That's why I wanted to be able to get back."
April, 3, 2012
4/03/12
9:00
AM ET
Tim Beckman's first pivotal recruiting venture at Illinois didn't take place in a living room or at a camp for prep players.
It happened at a California hotel in late December. His targets already wore the Orange and Blue. The group gathered before the Kraft Fight Hunger Bowl to meet with a man who, at that point, was their head coach only by title.
"They didn't know me, and I didn't know them very well," said Beckman, hired Dec. 9 as Illinois' coach. "I had met with them because I met with everybody on the football team. I had watched practices. But it wasn't my job to interfere with them for their bowl game.
"It was kind of a scary situation because I wanted all of them to stay."
[+] Enlarge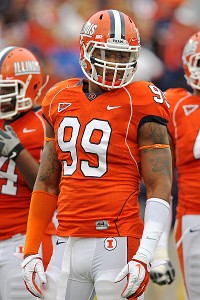 Jonathan Daniel/Getty ImagesIllinois will look to senior Michael Buchanan to be a leader on defense.
They were Illinois juniors who had the potential to enter the NFL draft after the bowl game. The group included defensive end
Michael Buchanan
, cornerback
Terry Hawthorne
, defensive tackle
Akeem Spence
and center
Graham Pocic
. Buchanan earned second-team All-Big Ten honors in 2011, while Hawthorne earned honorable mention honors and Spence displayed next-level ability.
All-America defensive end
Whitney Mercilus
, pegged as a potential first-round pick, also met with Beckman.
The meeting was part information session, part recruiting session. Beckman wanted to give each player an idea of his draft prospects. He fast-tracked the paperwork to the NFL draft advisory board and received the evaluations as soon as he could. Beckman leaned on his father, Dave, who had worked in the front office with the Cleveland Browns and San Diego Chargers, and other contacts to speed up the process.
"I tried to formulate as much information as I possibly could so they could make an educated decision, from Whitney to all of them," Beckman said. "I wanted all of them to stay. I wanted all of them to be able to say they played their senior year at the University of Illinois and had the opportunity to be a champion."
Despite that desire, Beckman didn't come on too strong.
"Not as much as you'd expect a coach to," Pocic said. "He showed us what kind of person he was and just talked about the opportunity we had if we came back."
Mercilus entered the draft after the bowl game, surprising no one, but the other four players opted to stay. They're now building blocks for Illinois as Beckman and his staff hope to make a transition without losing any ground.
What did Illinois retain?
Spence has started every game the past two seasons, while Buchanan has started 20 of 26 contests. Although Mercilus made the big splash in 2011 with insane numbers, Buchanan quietly racked up 7.5 sacks and 13.5 tackles for loss. Spence recorded 69 tackles and a forced fumble and clogged the interior for the nation's No. 7 defense.

Hawthorne has made starts in each of the past three seasons, including 11 last fall. He led the team in both interceptions (three) and passes defended (11) in 2011, and finished sixth in tackles (60). On a team that has some issues at safety, Hawthorne's presence as a potential shutdown corner looms large.

Pocic has started Illinois' past 24 games at center and provides leadership for a youngish line that loses mainstay Jeff Allen at left tackle. Having a veteran center to help make line calls during the transition to a new offense is a luxury for the Illini.
After Beckman told the players of their NFL grades, he gave them the floor.
"It was funny," Spence said of the December meeting with Beckman. "Me, Terry, Mike and Graham, we were sitting there scared to ask the first question. But we had to because this is our future. I was trying to find out what the deal was going to be, what type of defense, his plans for us and the team."
Spence eventually asked Beckman if the team's defense would suit his game like the previous scheme had. Although Beckman hadn't hired his defensive coordinator, he had announced that defensive line coach Keith Gilmore would be retained.
After the meeting, Spence remembers talking with Buchanan and Hawthorne about their decisions.
"We all wanted to come back and be leaders," Buchanan said.
Beckman doesn't downplay the significance of their decisions.
"It's huge," he said. "To look out there and see No. 1 [Hawthorne] running around, and 99 [Buchanan] and 94 [Spence] and 76 [Pocic], those are guys who have played, who have been involved in two bowl games and understands a little bit of what it takes to be successful."
March, 28, 2012
3/28/12
10:00
AM ET
CHAMPAIGN, Ill. -- After the 2011 season, Illinois center
Graham Pocic
sat down with his linemate,
Jeff Allen
, to compile a highlight tape for Allen to show NFL talent evaluators.
It sounded like a fun exercise. And for a little while, it was.
Pocic and Allen took great joy in reviewing the first six games from the past year. Illinois was winning and scoring points. Life was good.
Then Week 7 arrived. Cracks began to form as Illinois lost 17-7 to an Ohio State team that completed only one pass.
Pocic's and Allen's review session soon made them want to avert their eyes.
"It was really depressing," Pocic said. "All the great opportunities we had, especially after starting 6-0. Mostly I was trying to figure out what went wrong with the offensive line, with the running game, why we couldn't run the ball like we did with Mikel [Leshoure] the year before.
"It was hard to find a reason why certain things happened."
Illinois dropped six consecutive games after its record 6-0 start, and the offense bore the brunt of the struggles. After scoring 33 points or more in four of the first six games, including a combined 79 points in the first two weeks of Big Ten play, Illinois failed to tally more than 17 points during its six-game slide and finished three games with just seven points.
Even when Illinois ended its slide in the Kraft Fight Hunger Bowl against UCLA, it was hardly an offensive explosion (20 points).
The Illini finished the season ranked in the top 15 nationally in several major defensive categories, including points allowed and yards allowed. While the team had other problems, namely special teams, its evaporating offense was most disheartening.
[+] Enlarge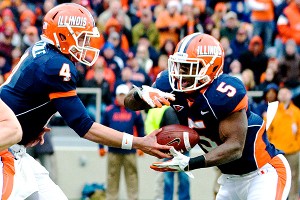 Bradley Leeb/US PresswireQuarterback Reilly O'Toole (4) and running back Donovann Young are entering their sophomore seasons with a brand-new offense.
Chris Beatty knew all about Illinois' season of extremes on offense, even though he didn't witness it firsthand. And while Beatty and Billy Gonzales, the team's new co-offensive coordinators, are spending spring practice installing their system, they're also trying to foster something less tangible.
"You get beat down a little bit when you struggle at the end of the year," Beatty said. "So you want to get some kind of swagger back. The only way to do that is to lay a good foundation as far as making some plays, getting a good knowledge base. Confidence comes with some success and knowing what you're doing.
"Those things, we're trying to build up because obviously, the last six games, there were some struggles."
When Beatty reviewed the final six regular-season games, he saw some issues along the offensive line and with the running game, and few consistent skill players aside from receiver
A.J. Jenkins
. But he also saw a group that lacked confidence.
"It's hard to have a swagger," quarterback
Reilly O'Toole
said, "with no points on the board."
The offense won't be able to light up the scoreboard until September, but spring practice has provided the platform to rebuild morale. Players like O'Toole and Pocic are excited about the multiple spread offense being installed.
Pocic said he's never been in such a complex offense. O'Toole said that while other Big Ten teams run spread offenses, Illinois' system will be unique in its flexibility and the number of angles from which the offense can attack.
"Unpredictable," wide receiver
Darius Millines
said of the new offense.
"We may run a play, and someone may think we're coming back with the same play, like a running play to the left. And we may play-action with it and throw deep over your head," he continued. "The defense has to be on their P's and Q's at all times."
And while the installation process is gradual and Illinois must build depth at running back, receiver and along the offensive line, there are mini-breakthroughs, like the one at Monday night's practice.
"We made some good plays and the offense was getting hyped, and we actually got rolling for a little bit," Millines said. "We actually felt how we felt in the beginning of last year. We got into a little rhythm, and our whole offense, we took that into consideration, that, 'OK, if we keep making plays, we can't be stopped.'"
March, 5, 2012
3/05/12
9:00
AM ET
The Tim Beckman era reaches a new phase Wednesday as Illinois players go through their first spring practice under their new coach. Beckman is a high-energy leader who wants to foster competition in every element of his program. Although two-year starter
Nathan Scheelhaase
returns at quarterback, he'll have to fend off three contenders and make an impression on the team's new coordinators, Billy Gonzales and Chris Beatty. The Illini are short on running backs and wide receivers, while the defense looks to continue the momentum it generated in 2011. Beckman takes over a team that has recorded back-to-back bowl victories but struggled to show it can take a step toward the top half of the Big Ten.
ESPN recently caught up with Beckman. Here are his thoughts.
[+] Enlarge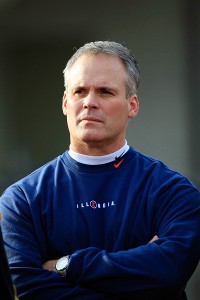 AP Photo/Marcio Jose SanchezNew Illinois coach Tim Beckman has high expectations for his team as it begins spring practices.
What are your expectations for spring practice?
Tim Beckman:
I want our players competing. I want them playing with outstanding effort in everything they do in spring ball. That competitive nature will be in every drill we do. These players will be evaluated in everything that they do. They're going to get feedback from the coaches on what we feel is championship-caliber and what we feel is not championship-caliber.
How much have you looked at tape from last season?
TB:
Definitely. I've watched and evaluated tape, and been involved with what they did last year. But that's in the past. As I told the players when I met individually with each one of them, this is the future, this is a new era and we're building this thing forward, not building from the back.
How would you describe your quarterback situation entering the spring? Will it be a full competition?
TB:
Oh, it's great. That's what life's all about. We've got the capabilities of being good at that position with four guys. Competition just makes you better. We've got one that has played [Scheelhaase] and played quite a bit and proven that he can win football games, won seven this year and won a bowl game. But we also have some backups with Reilly [O'Toole] and Miles [Osei] and [Chase] Haslett, there's three backups and a starter that are capable of winning football games.
How does Nathan fit into your vision for the offense?
TB:
Your vision for the offense is scoring points and securing the football. I'm not going to bang my fist on the table, saying, 'We've got to do it this way.' We've got personnel that's already involved here. Nobody here is anybody we've been able to go out and recruit, so we're going to fit our schemes to what we have here talent-wise. Yeah, I want to be able to say we're a spread football team, but if we don't have the personnel to be a spread football team right now, we've got to fit an offensive scheme to the player personnel we have. I know this, though. We're going to be fundamentally sound in what we do. We can secure the football on offense, and on defense, we can take the football away.
You brought in two coordinators on the offensive side, both younger guys [Gonzales and Beatty]. Are you going to be evaluating them this spring in their new roles?
TB:
Everybody gets evaluated. Heck, they're going to be evaluating me. This is a new coaching staff, so that's the life of a coach, that's the life of a Division I college football player. You are being evaluated in everything that you do. If it's at a speaking engagement or if it's lifting weights or running or whatever it might be, you're going to get evaluated. So we're going to evaluate ourselves and try to make ourselves the best we can be.
Really impressive year on the defensive side in 2011. Is it a matter of keeping it going, or do you want to do something dramatically different with coach [Tim] Banks and your vision for that group?
TB:
They did an outstanding job last year, no question about it. But there's other categories they've got to get better at. They didn't have enough takeaways [22], and the game of football is simple: you've got to have the football to score. So you've got to take it away on defense, and you need to secure it on offense. That is an avenue that this defense must get better at because it just wasn't quite as productive [at takeaways] as it was in all the other categories. That is the one thing we have to strive to do better at.
And how do you plan to emphasize that?
TB:
If you look at where we've been the past three years, we've always been very, very strong at takeaways and ball security. We practice it in everything that we do, from Period 1 to Period 24 or Period 1 to Period 18, whatever the practice entails, we'll have a ball-security and a takeaway drill. We'll have constant talk about ball awareness, so that our players understand that's the key to any football game, securing it or taking it away on defense.
You lose an outstanding player to the NFL in Whitney [Mercilus]. Who do you see emerging at the defensive end spot and filling that production?
TB:
The great thing you've seen is we were able to keep
Michael Buchanan
. Michael Buchanan's a heck of a football player. He was one of our top recruits, keeping Michael here, keeping
Terry Hawthorne
here, keeping
Akeem Spence
here on defense. That was very, very crucial for us.
Graham Pocic
also. They were all capable of being able to go out in the NFL draft and they didn't. And at this time last year, Whitney's name wasn't named very much throughout college football, so you can make tremendous strides, as Whitney did. There's a possibility of a
Justin Staples
or a
Timmy Kynard
or a
Brandon Denmark
. All of our defensive ends have had outstanding winter workouts, and now they've got to prove it on the field during spring.
At running back and wide receiver, what are you looking for from those groups? You lose a top receiver in A.J. Jenkins.
TB:
Oh my goodness. That is a major concern, the depth at both of those positions. They're going to have to grow up fast. We've only got really three running backs on scholarships. I've never been at a place where there hasn't been more than four or five on scholarship at one time. So depth is a major concern. And wide receiver, it's the same. You've got a couple names of guys that have done decent, but they need to elevate their game and then the depth of our young players to make ourselves better at those positions.
Is depth also an issue up front on the offensive line?
TB:
There are some freshmen that have done some good things and have been able to step up and play, so I think there's a little more depth on the offensive line than there is at wide receiver and running back.
How much are you looking for leadership to emerge during spring ball?
TB:
It's huge. You talk about it every day to the players. It's our leadership that can push this football team past a 7-win season. That's the challenge for the senior group and the challenge all the way down to the freshman group. Everybody's got a role on a football team and everybody's role is different. You can be a leader based on any one of your roles. I've pushed this football team to be better leaders and to be better guides for our football team to be successful. So if we do have a young man that's late for maybe a 6 o'clock weight workout, I don't blame just that man. I blame his roommate, I blame the position group and I blame the whole unit itself. That's how leaders are built.
Even with the competition that we've been doing throughout the winter workouts, by drafting teams and having an offensive lineman with a kicker or a DB with a wide receiver, all on the same team, to try and enhance the leadership roles of each one of the football players as we compete.
June, 28, 2011
6/28/11
7:56
PM ET
My apologies for posting these a day late -- blame it on
Russell Wilson
-- but it's time to break down the Big Ten offensive linemen entering the 2011 season.
Rather than list the top 10 across the three position groups, I've decided to go a different route:
top five players at each spot
. Despite losing standout linemen like Wisconsin's Gabe Carimi and John Moffitt, and Penn State's Stefen Wisniewski, the Big Ten returns several of the nation's top players at their positions.
Center might be the Big Ten's deepest position, while the league also boasts several standout tackles. The guard spot is a bit thin.
Let's take a look.
CENTER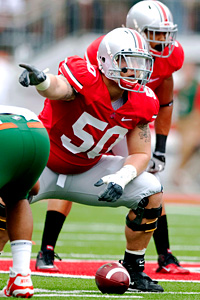 Greg Bartram/US PresswireMichael Brewster may be the best center in the country.
1. Michael Brewster, Ohio State, senior --
Brewster enters the season as the leading candidate for the Rimington Trophy, awarded to the nation's top center. He has started each of the past three seasons and earned first-team All-Big Ten honors from the media in 2010. Boasting 36 career starts, Brewster could be the top center selected in next April's NFL draft.
2. David Molk, Michigan, senior --
Molk is right up there with Brewster among the nation's truly elite centers. If not for some injury trouble, he could be at the top of the list. He earned first-team All-Big Ten honors from the coaches in 2010 and was a finalist for the Rimington Trophy. Molk has made 29 career starts and displays top-notch blocking skills and leadership.
3. Peter Konz, Wisconsin, junior --
Konz is a big reason why Wisconsin's line shouldn't take a step back despite losing Carimi, Moffitt and Bill Nagy. He has made 20 starts at center in the past two seasons and earned honorable mention All-Big Ten honors in 2010. After missing most of spring practice with an ankle injury, Konz's health this fall is a big key for Wisconsin.
4. Mike Caputo, Nebraska, senior:
The Huskers' line has a few question marks entering the season, but center isn't one of them. Caputo is the undisputed leader of the group after starting every game in 2010. The former walk-on earned consensus honorable mention All-Big 12 honors and helped Nebraska eclipse 200 rushing yards in 10 of 14 games.
T-5. James Ferentz, Iowa, junior:
Ferentz has emerged as an All-Big Ten caliber lineman and will lead one of the league's better groups this season. He started every game in 2010 and showed impressive durability, playing every offensive down in nine contests. Iowa needs an elite offensive line this season, and Ferentz will be leading the charge.
T-5. Graham Pocic, Illinois, junior:
Along with Jeff Allen and others, Pocic leads an Illinois line that punished opponents at times last season. He earned consensus honorable mention All-Big Ten honors in his first year as a starter. Pocic solidified a line that helped Illinois lead the Big Ten in rushing and rank 11th nationally (246.1 ypg).
TACKLE
1. Riley Reiff, Iowa, junior:
Reiff has put himself in position to become the next truly great Hawkeyes offensive lineman. He started every game in 2010 and 11 of 13 contests in 2009, earning consensus second-team All-Big Ten honors last fall. Already projected as a potential top-15 pick in the 2012 NFL draft, Reiff should be in the mix for the Outland Trophy as he anchors the Iowa line.
2. Mike Adams, Ohio State, senior:
The Buckeyes will be counting the days until Adams returns from his suspension to open the season. After some ups and downs early in his career, Adams blossomed last season and started to meet the lofty expectations placed on him coming out of high school. He earned consensus first-team All-Big Ten honors. If not for the five-game suspension, he would be a top contender for the Outland Trophy.
3. Jeff Allen, Illinois, senior:
One of the league's best and most experienced offensive linemen, Allen will lead a strong Illini line this fall. He has started 34 games in his first three seasons at Illinois, earning second-team All-Big Ten honors from the media last fall. Allen is a bona fide NFL prospect who should challenge players like Brewster, Molk and Reiff for Big Ten Offensive Lineman of the Year honors.
4. Al Netter, Northwestern, senior:
Besides star quarterback
Dan Persa
, Netter is the only player coach Pat Fitzgerald considers an undisputed starter entering the fall. Perhaps it's because Netter has started each of the past 39 games. He earned honorable mention All-Big Ten honors in 2010 and should be primed for a big senior season. Northwestern needs him to help spark its rushing attack.
5. Ricky Wagner, Wisconsin, junior:
We'll get a full read on Wagner after he switches from right tackle to the left side to replace Carimi, but the expectations are high. He earned consensus honorable mention All-Big Ten honors in 2010 after stepping in for the injured Josh Oglesby at right tackle. Wisconsin really likes Wagner's potential, and he'll have a chance to blossom at the more prestigious tackle position.
GUARD
1. Joel Foreman, Michigan State, senior:
An easy pick here as Foreman enters the season as one of the nation's top left guards. He has earned consensus honorable mention All-Big Ten honors in each of the past two seasons and started 36 games at left guard, including each of the past 22. Offensive line is a huge question mark for the Spartans, so Foreman's play will be huge.
2. Kevin Zeitler, Wisconsin, senior:
Zeitler will be a leader this fall for a Wisconsin line looking to continue its tradition of excellence. He has started 22 games at right guard in each of the past two seasons and helped Wisconsin rank among the nation's top rushing offenses. Zeitler earned consensus honorable mention All-Big Ten honors in 2010.
3. Hugh Thornton, Illinois, junior:
Thornton has played a lot of football in his first two seasons and could take another step in his development this fall. He started eight games at weak-side guard in 2010 after starting seven games at tackle in 2009. Illinois expects the offensive line to be its strength, and Thornton is a big part of the group.
4. Ken Plue, Purdue, senior:
This pick is a bit risky after Plue worked his way into the coaches' dog house in spring practice. But he has the size, the skills and the experience (28 starts) to become one of the Big Ten's top guards this fall. If the 6-7, 358-pound Plue can work out his issues, look out for him and the Boilers.
5. Patrick Omameh, Michigan, junior:
After starting all 13 games for a record-setting offense in 2010, Omameh is a reason why hopes are high for the Wolverines offensive line. He has started 16 consecutive games and has the ability to contend for All-Big honors. Omameh must get a little more consistent this fall, but I like how he projects for 2011.
June, 24, 2011
6/24/11
1:30
PM ET
The preseason position rankings march on with the offensive lines. Team rankings are below, and we'll take a look at the individual rankings for tackles, centers and guards early next week.
Looking at the league landscape, offensive line could be a major strength throughout the Big Ten this season. Although standout players such as Outland Trophy winner Gabe Carimi and All-American Stefen Wisniewski depart, I see improved depth for several teams as well as quite a few multiyear starters.
Honestly, there
aren't any bad lines in the league
; just some with more question marks than others.
Let's get to the rundown.
1. Wisconsin:
Talk about an ability to reload. The Badgers lose All-Americans Carimi and John Moffitt, plus the versatile Bill Nagy, and they still shouldn't take any steps backward. Injuries have allowed Wisconsin to build depth the past few seasons, and four of the five spots look extremely solid. Tackle Ricky Wagner, center Peter Konz and guard Kevin Zeitler lead a group that will block for the league's top running back tandem. Wisconsin's track record up front is impossible to ignore, and this year's line should continue the trend.
[+] Enlarge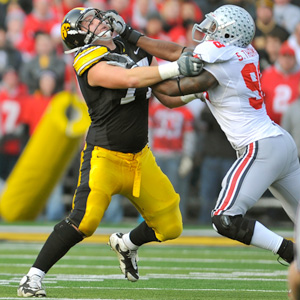 David Purdy/Getty ImagesWill arm length be an issue for former Iowa left tackle Riley Reiff in the NFL?
2. Iowa:
The line is undoubtedly Iowa's biggest strength and should be one of the nation's elite units in 2011. Iowa returns starting experience at all five positions and should have decent depth. Left tackle Riley Reiff, projected as a first-round pick in the 2012 NFL draft, will enter the fall as a leading candidate for the Outland Trophy. James Ferentz is one of the league's top centers, and Markus Zusevics is poised for a big year at right tackle.
3. Ohio State:
Depth is the only reason the Buckeyes' line isn't higher in the rankings. Ohio State boasts arguably the nation's top center in Mike Brewster, and first-team All-Big Ten tackle Mike Adams will be back after a five-game suspension to begin the season. The Buckeyes need big things from tackle Andrew Norwell during Adams' absence, and tackle J.B. Shugarts must play like a veteran. After struggling to put two sets of capable linemen on the field this spring, Ohio State has to find more depth in preseason camp.
4. Michigan:
This is another group that could climb up the rankings by season's end. Center David Molk is a terrific piece to build around, and if gifted players like Taylor Lewan and Patrick Omameh continue to develop, Michigan's line will be a major strength. The concerns are Molk's ability to stay healthy and an adjustment to a new offensive system under Al Borges. The line did an excellent job of protecting
Denard Robinson
in 2010, allowing a league-low 11 sacks.
5. Illinois:
The Illini flat-out punished opponents at the line of scrimmage on several occasions last season, and I really like the potential for the front five in 2011. The biggest reason? Left tackle Jeff Allen, one of the Big Ten's most experienced linemen. Allen and center Graham Pocic will contend for All-Big Ten honors, and if Corey Lewis gets healthy, this should be one of the league's top offensive lines.
6. Purdue:
Expectations are high for a line that coach Danny Hope thinks will be Purdue's strength in 2011. Left tackle Dennis Kelly is an All-Big Ten candidate with NFL potential who has started the past 24 games. Center Peters Drey and tackle Nick Mondek help anchor the group. The big question is whether mammoth guard Ken Plue, a multiyear starter, can get out of Hope's doghouse to help lead the way. Plue will be pushed by James Shepherd this summer. The combination of experience up front and the return of running back
Ralph Bolden
bode well for the Boilers.
7. Northwestern:
The Wildcats boast the nation's second most experienced line (137 combined career starts), but experience must start translating to production. This group still must prove it can spark a decent rushing attack after several years of decline. Left tackle Al Netter is an All-Big Ten candidate and center Ben Burkett enters his fourth season as the starter. If Northwestern gets more consistent play from right tackle Patrick Ward and others, it should be a solid group.
8. Penn State:
This is a big year for Penn State's O-line, which has heard the criticism and has vowed to erase it in 2011. The tackle spots look solid with Quinn Barham and Chima Okoli, but Penn State needs to shore up the interior after losing Wisniewski, a mainstay for the past four seasons. If veterans like Johnnie Troutman and DeOn'tae Pannell step up and turn in consistent performances, the line should hold up nicely.
9. Nebraska:
The Huskers ranked ninth nationally in rushing last season but have quite a few question marks up front. Center Mike Caputo is a building block and sophomore tackle Jeremiah Sirles is a returning starter, but Nebraska has little proven experience. The Huskers will benefit from a healthy Marcel Jones at right tackle, and Yoshi Hardwick adds depth. This could turn out to be a decent group, but the experience issue combined with a scheme change creates some uncertainty.
10. Michigan State:
Not to put too much pressure on the line, but arguably no position group will have more influence on Michigan State's season. The Spartans must replace both starting tackles and their starting center, never an easy task. All-Big Ten guard Joel Foreman returns to lead the group, but Michigan State needs immediate contributions from unproven players. The coaches feel they've upgraded the athleticism up front by moving players like Dan France and Blake Treadwell over from the defensive side.
11. Minnesota:
The Gophers boast a mix of veterans and youth, and it'll be interesting to see whether the group comes together this fall. Hopes are high for young tackles Eric Olson and Jimmy Gjere, but they'll need help from seniors like Ryan Wynn and Chris Bunders on the interior. Minnesota needs to regain its swagger as an elite rushing offense, and it starts up front this fall. This is a group that certainly has a chance to make strides.
12. Indiana:
I like some of Indiana's individual pieces, but as a group, the Hoosiers must show they can create space for the running backs. Indiana switched to the pistol offense in hopes of sparking the ground game but produced barely 100 rushing yards a game in 2010 (112th nationally). The line allowed only 12 sacks and must continue to protect its unproven quarterbacks this fall, but getting the run game going is paramount. Returning starters Will Matte, Justin Pagan and Andrew McDonald give Indiana hope.
April, 19, 2011
4/19/11
3:27
PM ET
Aside from Wisconsin's record-setting unit, no Big Ten offense ended the 2010 season playing better than Illinois.
The Illini eclipsed 530 offensive yards three times in their final five games, averaging 492.4 yards during the stretch. Their main thrust came on the ground, as they racked up 1,644 rush yards and 19 rushing touchdowns in the final five contests. And while the pass attack was up and down throughout the year, quarterback
Nathan Scheelhaase
finished with his best performance in the Texas Bowl against Baylor, completing his first 13 pass attempts (a team record to start a game) en route to a 242-yard effort.
[+] Enlarge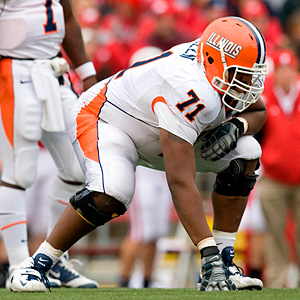 Jeff Hanisch/US PresswireSenior Jeff Allen is one of three veterans returning on Illinois' offensive line.
Expectations are justifiably higher for the Illini offense in 2011, and the Big Ten had better be ready.
"We've improved a lot," offensive coordinator Paul Petrino said. "Everybody understands [the system] better. It helps us play faster."
Although Illinois loses first-team All-Big Ten running back
Mikel Leshoure
and several other contributors, most returning players have the luxury of being in Petrino's system for a second season. The Illini had different offensive coordinators in 2008 (Mike Locksley), 2009 (Mike Schultz) and 2010 (Petrino).
The continuity has helped so far this spring.
"It means a lot," tackle Jeff Allen said. "I'm just blessed for [Petrino] to come back for his second year. That's a big benefit. This is my first time having the same offense [two years in a row], and instead of learning something new, I'm just able to play faster and have a better knowledge of the game."
Illinois brings back three full-time starters up front (Allen, center Graham Pocic and guard Hugh Thornton) as well as a part-time starter (guard Jack Cornell). Also returning are fullback
Jay Prosch
and tight end
Evan Wilson
, both of whom play major roles in run blocking.
Petrino's offense features an unbalanced line -- tackles and guards are on the strong side or weak side, rather than the right or the left -- and the approach has clicked with players.
"I love creating matchups," Allen said. "Being able to always go against the best player, the best defensive end on each team, it's great. It gives us the ability to do things that we wouldn't be able to if we had a normal formation. It shows the coaches have a lot of trust in me."
Asked if the line needs to be a team strength this fall, Petrino quickly replied, "It needs to be, no question."
Without Leshoure, Illinois will rely more on Scheelhaase. The redshirt sophomore is a dynamic athlete who will remain a big part of the run game -- "He might have to run more [in 2011]," Petrino said -- but must evolve as a passer.
Petrino is seeing promising signs as Scheelhaase goes through his second spring in the system.
"We really wanted to see him become more accurate, get a quicker release and just understand the whole offensive scheme better," Petrino said. "He's done all those things. ... A lot of times they say the game starts slowing down for you when you know what you're doing. When the game slows down, you get the ball out of your hands faster. He's just more comfortable.
"He believes in what he sees and he pulls the trigger."
Although the Illini must build more depth at both running back and receiver, two areas hampered by injuries this spring, Petrino has raised the ball for the unit.
"He expects greatness out of us," Allen said. "He wants us to be the best offense in the country. That's our goal: to be the best."
December, 1, 2010
12/01/10
9:00
AM ET
Nathan Scheelhaase
might have come to Illinois to play for a different offensive coordinator, but it is clear he fits in perfectly with Paul Petrino's plan.
Scheelhaase has thrived in his freshman season, passing for 1,522 yards and 16 touchdowns and adding 684 yards and three more touchdowns on the ground. The redshirt freshman has improved as the season has gone on, passing for 12 touchdowns and only one interception and adding 396 rush yards and a touchdown in his past five games.
"For a thinking quarterback, a quarterback who likes to think and likes to make checks and do different things like that, this offense is perfect," Scheelhaase said. "It puts some pressure on the quarterback, but that's something I like. It's an advantage for us when I know what the defense is in, know their looks and I know what our plays are for.
[+] Enlarge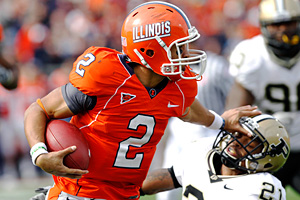 Mike DiNovo/US PresswireFreshman Nathan Scheelhaase has scored 19 touchdowns and has more than 2,200 yards of total offense this season.
"That's when we're playing better as an offense."
Illinois has been playing much better as an offense since a 26-6 loss to Michigan State on Oct. 16.
In the past five games, Illinois is averaging 46.8 points and 442 yards per game. The Illini averaged only 21.3 points and 320 yards in their first five games.
Illinois has cut down its turnovers (only five since Oct. 16) and maintained its effectiveness in the red zone (43 scores in 46 trips, No. 3 nationally).
"We've known from Day 1 what coach Petrino brought to the table and the successes he's had," Scheelhaase said. "You're as familiar as you can be when you're going through spring practice or fall camp, but it's a whole different thing when you get in the games. As the year has gone on, we get more of a game feel for [Petrino], he gets more of a game feel for us. That's the biggest thing."
The run has been the focal point for Petrino's offense, and Illinois has kicked things into high gear during Big Ten play.
Junior
Mikel Leshoure
established himself as the Big Ten's top running back, leading the league in rushing yards during conference play with 121.6 yards per game, edging Michigan quarterback
Denard Robinson
(119.4 ypg). Leshoure, who came on strong toward the end of 2009, is once again finishing with a flourish. He has racked up 664 all-purpose yards and nine touchdowns in his past three games and rushed for a team-record 330 yards Nov. 20 at Wrigley Field against Northwestern.
Leshoure needs 311 yards in his final two games to break the single-season team rushing record held by the last man to wear the No. 5 jersey for Illinois, 2007 Big Ten Offensive Player of the Year Rashard Mendenhall.
"It really fires you up watching him take on two or three guys at a time, falling forward every time," Illini center Graham Pocic said of Leshoure. "When you see him out there pushing guys, we're going to go out there pushing. He's the type of back you want to block for."
Illinois' offensive line imposed its will against Northwestern, blowing Wildcats defenders off of the line of scrimmage. Rather than assigning linemen to one side or the other, Petrino flips the line to create a strong side and a weak side, looking to exploit better matchups for the run game.
It seems to be working. Illinois had 519 rush yards at Wrigley.
"Running for 500 yards is a pretty cool deal," Pocic said.
The line's effort isn't lost on Leshoure. Rather than take the linemen out to dinner, Leshoure, a Champaign native, invites them to his home.
"His mom has had us over for dinner," Pocic said. "Great cook. Catfish sandwiches and ribs, macaroni and cheese, everything you could ask for in a dinner."
Illinois' final course before the bowl season comes Friday at Fresno State.
Last year, the teams played one of the wildest games of the season. Fresno State
prevailed 53-52
after one of its offensive linemen, Devan Cunningham, caught a deflected pass on a two-point conversion attempt and rumbled into the end zone.
"It was one of the craziest college football games I had seen," said Scheelhaase, who watched from the sideline as a redshirt. "But we're a whole different team from what we were last year.
"I feel confident walking into this game. We all do."