NCF Nation:

Graham Stewart
April, 19, 2013
4/19/13
9:00
AM ET
Nine of 10 Big East teams will be through with spring practices come Monday, with Rutgers serving as the outlier. With UConn, Temple and SMU all gearing up for their annual spring games this Saturday, here's a peek at what to look for.

UCONN
Fans in attendance for the noon start at Rentschler Field should keep an eye on how the offense moves under new coordinator T.J. Weist. The Huskies ranked 118th in total offense last year as coordinator George DeLeone was stripped of his duties, though he remains the offensive line coach. But the squad returns all five starters up front to protect incumbent quarterback
Chandler Whitmer
, as well as top running back
Lyle McCombs
, as the unit will look to keep pace with a defense that was nothing short of outstanding last season but is down a few stars who will hear their names called next weekend in New York.
Hank Hughes is the new man in charge of the defense, and he has
Yawin Smallwood
back to anchor a unit that has said goodbye to
Sio Moore
,
Jory Johnson
,
Trevardo Williams
and
Blidi Wreh-Wilson
. The Huskies boast plenty of potential in the middle with linebackers
Graham Stewart
,
Ryan Donohue
,
Jefferson Ashiru
and
Omaine Stephens
-- but that is just potential, for now.
UConn needs answers on both sides of the ball if it hopes to improve off head coach Paul Pasqualoni's consecutive 5-7 seasons.

SMU
The Mustangs will have an open practice at 9 a.m. local time at Pettus Practice Field, with many current and former players signing autographs afterward. There will be an NFL Punt, Pass and Kick competition afterward for kids ages 6 through eighth grade.
The Mustangs are intriguing, first and foremost, because they brought Hal Mumme aboard as their assistant head coach and passing game coordinator. Pairing the Air Raid curator with head coach June Jones and his run 'n' shoot pedigree is a fascinating experiment in and of itself.
Kenneth Acker
, who is coming off a second-team All-Conference USA season in the secondary, is another experiment this spring, with the staff splitting the cornerback wide to catch some passes with the offense.
Defensively, the Mustangs are replacing a bulk of their production from last season, with
Margus Hunt
,
Ja'Gared Davis
and
Taylor Reed
all gone.
Kevin Pope
and
Robert Seals
must step up at linebacker.

TEMPLE
Head coach Matt Rhule's first spring will feature live kicking and punting, normal scoring and 15-minute quarters. Who will eventually emerge as quarterback, however, is another matter. Juice Granger and
Thomas Rumer
will see action on the Cherry squad, which is coached by defensive coordinator Phil Snow, while
Chris Coyer
and
Connor Reilly
will take reps for the White team, coached by offensive coordinator Marcus Satterfield.
Reilly has thrived under the pro-style attack, ascending to No. 1 on a depth chart that was expected to see Coyer and Granger fight for the top spot. Coyer has seen time as an H-back in practice, but Rhule said he will remain under center.
Kevin Newsome
, out with a shoulder injury, has been moved to H-back.
Reigning conference freshman of the year
Tyler Matakevich
leads a defense that struggled across the board last season, while
Levi Brown
and
Sean Daniels
are the big guys up front worth keeping an eye on.
The live kicking and punting part of Saturday's 1 p.m. contest at Edberg-Olson Hall is worth noting in that the Owls need to replace
Brandon McManus
, who held the school records for field goals made and punting average.
March, 29, 2013
3/29/13
9:00
AM ET
Paul Pasqualoni is about halfway into his third spring with Connecticut. ESPN.com caught up with the head coach for a few minutes this week to check on the Huskies' progress as they look to build off consecutive 5-7 seasons.
I know you guys have been pleased with Chandler Whitmer's progress so far this spring. What specifically are you looking to see from him to take that next step moving forward?
Paul Pasqualoni
: We're hopeful that, obviously, this is his second year here now and becoming more comfortable with the offense. He's done a good job in Year 1 of knowing what he had to do, what his assignments are. Hopefully Year 2 at the quarterback position he really starts to get familiar and comfortable with what everybody on the offense is doing so that when problems and issues come up on the field, he can get things corrected out there, almost like being a coach on the field in between series, being able to get over with the offensive line, backs, receivers and talk about what happened on the field during the last possession. I really think that when quarterbacks really get to be really comfortable in total schemes of what everybody's doing, that gives them the authority become like a coach on the field, because they know what everybody's doing and they know what happened and they know what's got to be done to get it corrected. So when you look at the great quarterbacks, if you ever on a Sunday watched a [Peyton] Manning or a Drew Brees or a [Matt] Schuab, those kind of guys, you'll notice that on the field they're really authoritative, they're directing people, in between series they're over there if there's an issue with their teammates, or they're talking to the coaches and discussing things that are happening on the field. These guys are great at that because they not only know their position but they know the entire offense and what everybody's doing. It gives them a license to be an authority on it. You're hoping in the development process that Chandler takes a step in that direction this spring.
[+] Enlarge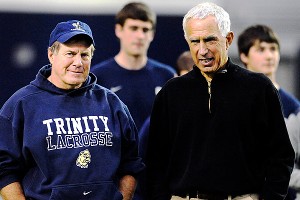 AP Photo/Jessica HillPaul Pasqualoni, right, chats with New England Patriots coach Bill Belichick during UConn's pro day.
How much will it help him having five starters back on the offensive line?
PP
: It's going to help a great deal, especially in the context of what I'm talking about. They've been through it -- the communication process with the offensive linemen in the run game, in the pass game; obviously should be really more advanced the second year than it was the first, so that's a big part of it this year.
What do you expect transition-wise with a new coordinator [T.J. Weist] this spring? Do you expect to have the whole offense installed by the end of the spring or does that process take a bit longer?
PP
: I expect it to go pretty smoothly. We're learning our offensive terminology and that type of stuff has not really changed, so there's going to be somewhat of a transition, but I hope it would be minimal and that we'd be moving along in that area.
Defensively you lose some pretty talented guys at linebacker. What are you looking for from that position this spring?
PP
: We're looking, first of all,
Yawin Smallwood
's coming back, he's a pretty good anchor there in the middle of the defense. We're looking for
Graham Stewart
to see exactly what Graham can do this spring.
Ryan Donohue
I think is practicing really well right now in spring ball, and
Marquise Vann
has had a lot of reps out there -- as has
Jefferson Ashiru
, he's had a lot of reps out there.
Brandon Steg
is playing pretty good in coverage right now. We've got
Omaine Stephens
, who had a shoulder surgery done after the season, so he's a young guy who's got some talent there as well. So I think we've got some guys, some good players we've got to replace --
Sio [Moore]
, we've got to replace
Jory [Johnson]
and various players, but I think if we can stay healthy and they can keep making progress, I think we've got the potential to be good at the linebacker position.
Defensive lineman Andreas Knappe is a guy with an interesting background, having started playing football later in life than most. What have you made of his progress so far, and what do you expect from him this fall?
PP
: He's taken big steps, but the nice thing about Andreas is he finds a way each day to get things corrected, to improve and get better on a daily basis. What I really like about Andreas is his focus, his concentration -- his attention to what he's doing is there every single day. He's a very steady, consistent-effort player, which is a really good sign. And the fact that he is getting better every day is terrific. So we're going to see just how far he can come this spring and how far he can come in the summer and preseason, and then see where he's going to be able to help us defensively and see exactly what he can get done for us next year.
May, 31, 2012
5/31/12
10:30
AM ET
Former reserve Florida linebacker
Graham Stewart
has transferred to Connecticut, the school officially announced Thursday.

Stewart is enrolled in summer classes and has three years of eligibility remaining. As a true freshman for the Gators last season, Stewart played in 12 games and had one tackle. He scored a touchdown in the Gator Bowl against Ohio State after returning a blocked punt 14 yards.
Stewart is from Middletown, Conn., and was recruited heavily by the Huskies out of high school. He had 111 tackles with five sacks and an interception in his senior year of 2010. Unless he is granted a waiver to compete immediately, Stewart will have to sit out the 2012 season because of NCAA transfer rules.
January, 3, 2012
1/03/12
2:30
PM ET
The SEC still has three bowl teams left, but we're going to take a look at some players who have already seen their seasons come to an end.
It was a fun weekend of football and a good weekend for the SEC. The conference went 4-2, with Georgia and Vanderbilt being the only teams to come up short.
With those games came some pretty good performances from players.
Here are some top performers:
Vick Ballard, RB, Mississippi State: He saved one of his best performances for last, as he rushed for 180 yards and two touchdowns on just 14 carries. His touchdowns went for 60 and 72 yards.
Archibald Barnes, LB, Vanderbilt: He was all over the field for the Commodores, leading the Liberty Bowl with 10 total tackles. He also blocked a field goal in the fourth quarter that gave Vandy some life late.
Emory Blake, WR, Auburn: Blake made his day in the Georgia Dome look easy as he caught six passes for 108 yards in the win over Virginia in the Chick-fil-A Bowl.
Jon Bostic, LB, Florida: He was one of the most active players on defense this past weekend, recording eight tackles, including four for loss.
Brandon Boykin, CB, Georgia: In his final game as a Bulldog, Boykin found a way to put points on the board three different ways in the Outback Bowl. First, he forced a safety when he stuffed Michigan State's Keshawn Martin on the Spartans' first offensive play. He then returned a punt 92 yards for a touchdown and caught a 13-yard touchdown late. His punt return was the longest play in Outback Bowl history.
Jadeveon Clowney, DE, South Carolina: The true freshman put a stamp on his first season by recording two sacks for a loss of 13 yards. He finished the Capital One Bowl with four total tackles.
Fletcher Cox, DT, Mississippi State: Cox made sure he went out with a blast in the Music City Bowl, recording seven tackles, with two coming for loss, had a sack and blocked a field goal.
Casey Hayward, CB, Vanderbilt: He grabbed eight tackles, including one for loss, and grabbed two interceptions. With his picks, Hayward tied for first in career interceptions at Vanderbilt.
Alshon Jeffery, WR, South Carolina: If not for his ejection, Jeffery's numbers would have been much better. Still, he caught just four passes for a game-high 148 yards. He snagged Connor Shaw's Hail Mary touchdown pass at the end of the first half and had a 78-yard reception.
Tavarres King, WR, Georgia: King was almost one of the heroes for Georgia, catching six passes for a career-high 205 yards and had an 80-yard touchdown reception, which was also a career long. Before Boykin's punt return, King's play stood as the longest play in Outback Bowl history.
Onterio McCalebb, RB, Auburn: Taking over as Auburn's lead back in the Chick-fil-A Bowl, McCalebb had a game-high 109 rushing yards, including a long of 60 yards. He also recorded a 3-yard touchdown run and caught two passes for 53 yards, including a 25-yard touchdown.
Alec Ogletree, LB, Georgia: He was all over the field for the Bulldogs, recording an Outback Bowl-high 13 tackles, including two for loss, broke up two passes and had a sack.
Chris Rainey, RB, Florida: Rainey ended his Florida career with a great showing against Ohio State in the Taxslayer.com Gator Bowl. He led Florida with 71 rushing yards, had 31 receiving yards and blocked a punt that was scooped up and run in for a touchdown by linebacker Graham Stewart.
Connor Shaw, QB, South Carolina: Shaw didn't let the big stage bother him, as he passed for 230 yards and two touchdowns, including a nifty Hail Mary to end the first half. He also carried the ball for 42 yards and another touchdown.