March, 21, 2014
Mar 21
12:00
PM ET
In typical Mike Riley fashion, when asked to name his biggest concern heading into spring ball, the dean of the conference coaches countered with a quip: "Do I have to just name one?"
[+] Enlarge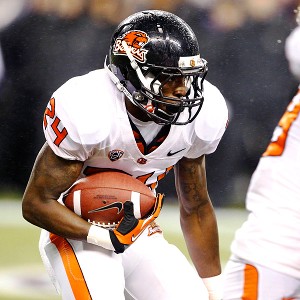 Joe Nicholson/USA TODAY SportsStorm Woods may be one of the keys to a more balanced attack this season.
Well, at least he doesn't have to worry about a quarterback competition this spring. But there are several to-do's on his checklist. Among them: Rework the offensive line, solidify the defensive line, shore up the secondary and pick a backup quarterback.
Oh, yeah: "Find a way to replace 128 catches," he said, referring to Biletnikoff Award winner
Brandin Cooks
, who left school early for the NFL draft.
It's actually the success of Cooks and quarterback
Sean Mannion
that led to one of Riley's biggest pet peeves last season: the inability to successfully, consistently, run the football.
Several times last year, Riley stated that he wanted the Beavers to be more balanced. Then again, when you have a strong-armed quarterback such as Mannion and a phenomenal receiver such as Cooks, the temptation is there to air it out as much as possible.
But with Cooks gone, Riley said he's looking to make a return to a more balanced rushing attack. In 2011, the Beavers averaged just 86 yards per game on the ground -- last in the conference. Then, in 2012, they brought that number up to a respectable 124 yards per game. But they slipped again in 2013 with just 94 yards per game on the ground.
"I think ... what caused the most problems for us in the season offensively was when we got to the real good defenses," Riley said. "We played the top three defenses in the league three weeks in a row -- Stanford, Arizona State and USC -- and not running the ball is really a detriment to winning those games. We didn't. We've got to be more balanced."
The Beavers rushed for more than 100 yards in five of 13 games last season. In six games, they gained 74 yards or fewer, including a season-low 10 against San Diego State and 17 against Stanford. However, the final two games offered a glimpse of what Riley wants his offense to look like. The Beavers rushed for a season-high 231 yards in a Civil War loss to Oregon and 195 yards in the Sheraton Hawai'i Bowl victory over Boise State.
"Those were two good-looking football games offensively," Riley said. "That is a way better picture of our ideal look. Good balance, good play-action passes. I think it really helps the offensive line. It helps the quarterback. It helps in protection if you can run the ball."
Storm Woods
and
Terron Ward
are already separated by an "or" on the depth chart and the status of the offensive line further complicates things. The Beavers have to replace three starters on the offensive line: left tackle
Michael Philipp
, left guard
Josh Andrews
and right guard
Grant Enger
. Though standout center
Isaac Seumalo
returns, he'll miss spring ball with a foot injury and
Josh Mitchell
will miss the session with a shoulder injury. Both are expected back for fall camp. Returning tackle
Sean Harlow
is tentatively slated at left guard, but he's versatile enough to move around the line and will get some snaps at center.
"You'd love to start developing the chemistry with the starting five as soon as you can," Riley said. "Because of competition reasons and injuries, we're not even going to be close to that in spring ball. We just have to develop players and then find out who fits into that top five."
As for the guy who is handing the ball off, there's no debate this spring. Mannion is back after a record-setting 2013 season. The battle to be the backup, however, is up for grabs between
Brent VanderVeen
and
Kyle Kempt
.
"It is an open competition," Riley said. "Even though Brent is a year ahead, I think we need to let that thing evolve and let those guys compete to see who is going to be the backup."
April, 6, 2012
4/06/12
12:00
PM ET
Points, points, points. This is the Pac-12 after all, where offense rules. Last season, five Pac-12 teams ranked in the top 30 in scoring average. Others, however, weren't as explosive. Colorado (12th in the conference/109th nationally), Oregon State (11/100), UCLA (10/88) and Utah (9/tied for 74th) all had trouble consistently finding pay dirt. So this week we're looking at which of these four teams has the best chance to show significant offensive improvement.
Ted Miller
: Oregon State's offense was bad last year. That's the obvious bad news. More obvious bad news: It was bad for a fundamental reason: It couldn't run the ball, ranking 118th in the nation with just 86.9 yards per game. The end result was an offense that ranked 11th in the Pac-12 in scoring (21.8 points per game) and 10th in total offense (373.7 yards per game). And while we're being party poopers, why not note there are only eight healthy offensive linemen this spring, which makes it impossible to field a full second team?
Ah, but we come not to bury the Beavers, but to praise them! This half of the Pac-12 blog is providing Oregon State fans an iron-clad guarantee: The Beavers' offense will be better in 2012. Perhaps much better. And that's why we believe they will win enough to earn a bowl berth after consecutive seasons at home during the postseason.
[+] Enlarge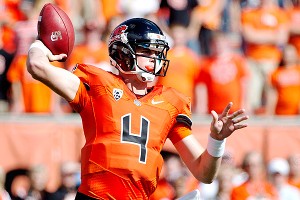 Jim Z. Rider/US PRESSWIREOregon State quarterback Sean Mannion should see some improvement in his supporting cast as he enters his sophomore season.
Why? Let's start in the cockpit with quarterback
Sean Mannion
, who won the starting job as a freshman over returning starter Ryan Katz, only to discover THE NEW CAR! he'd been given the keys to was a Pinto. With little support from a running game to keep defenses honest, Mannion threw a lot but not always successfully, ranking ninth in the conference in passing efficiency with 16 touchdowns and 18 interceptions. But two numbers are notable: First, he completed 64.5 percent of his passes and was sacked just 27 times in 473 attempts. That suggests two things. Mannion is both accurate and has good pocket presence. Accurate? That completion percentage ranked fifth in the conference, ahead of Oregon's
Darron Thomas
and Arizona State's
Brock Osweiler
. As for pocket presence, the Beavers ranked fifth in the conference in sacks surrendered despite ranking third in pass attempts. And that was with no running game.
Mannion's supporting cast at receiver is strong. Three of the top four receivers are back, including
Markus Wheaton
and speedy flanker
Brandin Cooks
. And essentially the entire cast at running back is back.
So, really, it comes down to the offensive line, where three starters are back, not including tackle
Michael Philipp
, a 2010 starter who is trying to get a once-promising career back on track. Don't expect to hear glowing reports this spring. Tackle
Colin Kelly
and guard
Grant Enger
, both returning starters, are out with injuries, so there's a lack of bodies. But in the fall they should be healthy just as a pair of intriguing reinforcements arrive: touted freshman
Isaac Seumalo
, rated the No. 19 overall player in the nation in 2012 by ESPN Recruiting, and junior-college transfer Stan Hasiak, who saw plenty of action during his tumultuous time at UCLA. Both are potential – even likely -- starters.
Mannion flashed plenty of potential in 2011. He will be far more seasoned in 2012. The offensive line will be better, too, which means at least a mediocre running game to keep defenses from pinning their ears back and going after the quarterback.
In other words, the Beavers offense will be much improved overall in 2012. Now ... about that defense ...
Kevin Gemmell
: I'm glad you brought up Osweiler, because he's somewhat pertinent to the team I'm picking to improve offensively -- UCLA.
All together now: "Ding, dong, the pistol is dead." And not a half-snap too soon. Time to make way for the shotgun.
To see where the Bruins are headed on offense, you need only to look back at what Osweiler did the past two seasons with the Sun Devils -- specifically what he was able to do with Noel Mazzone running the show.
Now Mazzone is new coach Jim Mora's offensive coordinator at UCLA. I know there is a multi-quarterback competition in the works. That certainly will have some bearing. But even so, it's almost impossible for the Bruins not improve on last year's 23.1-ppg scoring average with this time-tested offense.
Consider the Sun Devils of 2009, pre-Mazzone: 90th in total offense (334.4 yards per game) and 91st in scoring average (22.3 points per game). Now, look at Mazzone's first season in 2010: 29th in total offense (425.6) and 28th in scoring average (32.2). Last year: 25th in total offense (445.8) and 28th in scoring offense (33.2).
Translation: The guy knows how to move the ball and create points.
I talked earlier this week
with
Brett Hundley
, one of those quarterbacks in the hunt for the starting gig, he says this offense is much simpler and allows the quarterback to play more quickly and think less. Makes sense. And whoever wins the gig will have an experienced running back in
Johnathan Franklin
beside him. The fifth-year senior was 24 yards short of a 1,000-yard season despite an impressive 5.9 yards per carry average.
[+] Enlarge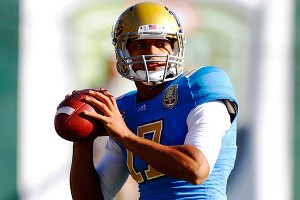 Jason O. Watson/US PresswireSophomore Brett Hundley could prove to be UCLA's most athletic option at quarterback.
But this offense is about moving the ball in the air. And finding three or four receivers to consistently perform is going to be just as important as finding the right guy standing five to seven yards behind the center. Mazzone has said
he's not married to four- or five-receiver sets
. So bona-fide talent
Joseph Fauria
should get plenty of chances to catch the ball from the tight end position.
Devin Lucien
,
Shaq Evans
and
Ricky Marvray
are the likely wide receiver trio. But unlike the previous offense, the receivers won't be square pegs in round holes. This offense should accentuate the speed and athleticism that UCLA always seems to have, but never knows quite what to do with it.
The Bruins were in the bottom half of the nation in sacks allowed last year, but the return of tackle Xavier Su'a-Filo, who is back after an LDS mission, should help bolster the line. All indications out of spring are that he looks solid.
Jeff Baca
and
Greg Capella
both saw significant playing time last season (Capella started 14 games and Baca 13), so that experience should help cut back on the sacks.
Now, to the quarterback spot.
Kevin Prince
has the most experience, followed by
Richard Brehaut
. Both are seniors. But there is a call from fans to completely cleanse themselves of the previous regime and start fresh with Hundley, a 6-foot-4, 225-pound dual-threat quarterback who might be the most athletic of the bunch.
Whoever wins the job is destined for a pretty good season. Because given Mazzone's history of turning slugs into sluggers, UCLA looks like the team to drag itself up from the Pac-12's offensive cellar.
March, 20, 2012
3/20/12
8:44
PM ET
Oregon State coach Mike Riley believes he has talent and depth at running back. He just doesn't know how much and from whom. He has "viable" bodies for every position on the offensive line. But he's pretty sure the starting five coming out of spring won't be the same at the start of the season.
These are a few of the concerns Riley is pondering as the Beavers set to open spring practice on April 3.
[+] Enlarge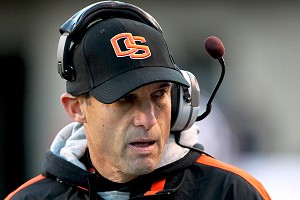 AP Photo/Colin E. BraleyThere are a lot of questions surrounding Mike Riley's running game this spring.
Tailback
Jovan Stevenson
will be limited with a foot injury, which means lots of reps for
Jordan Jenkins
,
Malcolm Agnew
,
Storm Woods
and
Terron Ward
.
"I think we have good depth," Riley said in a conference call with media on Tuesday. " ... It's definitely the biggest question mark, but it's a good group. I feel good about it. Sorting it out will be very important for us."
Which leads to another issue. The backs will be getting lots of work -- but who is going to do all of the blocking? With
Grant Enger
(shoulder) out for spring and
Colin Kelly
(ankle) expected to miss most or all of spring, the Beavers have very limited depth to work with over the next month.
"The hardest part about spring ball is that we're very thin on the offensive line," Riley confirmed. "We have the starters that are out rehabbing ... we have some good young talent that will get a lot of good work to see if they can play. We're looking -- not necessarily how it will look as a whole in the fall -- but as an individual development of those guys at that position. We'll just have to be careful how we practice."
Riley went on to say that as a result, there won't be much chemistry with whatever starting five opens the year Sept. 1 against Nicholls State in Corvallis.
"I think we'll develop toward that line that we'll have in the fall," he said. "The hard part is we won't have a whole synchronized group. I doubt the starting lineup coming out of spring ball will be the starting lineup necessarily in the fall. But there is a viable guy at each position this spring so let's see what they can do with it and we'll put up some better depth in the fall and we'll see who wins the job then.
"I think we have good candidates. That's good enough for right now."
Riley has said in previous interviews that restoring the ground game is a top priority in the upcoming year. Oregon State ranked last in the Pac-12 last season, averaging just 86.9 yards per game while managing just 12 touchdowns on the ground -- second worst behind Colorado (10).
Other roster notes: