NCF Nation:

Grant Johnson
April, 3, 2012
4/03/12
8:35
PM ET
Recognition is so important for an offense. Think
Andrew Luck
-- or Peyton Manning -- wildly gesticulating at the line of scrimmage.
Or, for that matter, Oregon quarterback
Darron Thomas
doing the same thing.
That was something that stuck with me after I chatted with Oregon sophomore center
Hroniss Grasu
a couple of weeks ago. We were talking about how he improved at making line calls during the 2011 season, but he went out of his way to note how good Thomas was at helping out, at identifying last-second changes a defense made that perhaps hinted at its ill intentions.
The point: Centers and quarterbacks are the brains of an offense. The center typically makes the calls at the line of scrimmage that make sure everyone is accounted for. And quarterbacks communicate to both the skill players and the line about check and audibles.
The QB and center work in tandem. They need to be in sync. And having smart, experienced signal-callers and centers is a big deal for an offense. It means an offense can go to the line with more options, and it can check into the right option more often than not. That breeds confidence, both among players and with their coaches.
So which Pac-12 teams are experienced at QB and center? Who has both back, one back or neither?
Thanks for asking.

Arizona: Center
Skinny
: While
Nick Foles
was the Wildcats' quarterback last year,
Matt Scott
has started five games, so the offense is not in inexperienced hands. Senior center
Kyle Quinn
did a solid job in 2011, earning honorable mention All-Pac-12 honors. On the downside, the Wildcats are installing a new offense with coach Rich Rodriguez, so past experience isn't as helpful.

Arizona State: Neither
Skinny:
QB
Brock Osweiler
is gone as is center
Garth Gerhart
.
Kody Koebensky
likely takes over at center, while the quarterback competition continues to be wide-open. Of course, the Sun Devils are installing a new offense under new coach Todd Graham, so being green isn't as much of an issue.

California: Both
Skinny
: QB
Zach Maynard
should be much more in control as a second-year starter. While center
Dominic Galas
is back, he's sitting out spring due to a shoulder injury, and it appears he will switch over to guard. Galas, some of you Bears fans might recall, did have some issues with shotgun snaps last year.
Chris Adcock
or
Mark Brazinski
could end up winning the job.

Colorado: Center
Skinny
:
Tyler Hansen
is almost certainly going to be replaced at quarterback by Texas transfer
Connor Wood
, a sophomore with no game experience. It should help Wood, however, to have junior
Gus Handler
back making the line calls.
Daniel Munyer
, who's slated to start at guard, also has starting experience at center.

Oregon: Center
Skinny: Center
Grasu's first start as a redshirt freshman was against LSU's beastly defensive front. That was a baptism by fire, but he consistently improved throughout the season. QB
Bryan Bennett
has some experience, including one start, but he will be challenged this spring by redshirt freshman
Marcus Mariota
.

Oregon State: QB
Skinny
:
Sean Mannion
is back at QB, but center
Grant Johnson
is gone. The frontrunner to win that job is sophomore
Roman Sapolu
. The Beavers have injury issues on the line this spring, and that likely will slow down the unit's -- and Sapolu's -- development.

Stanford: Center
Skinny
: You might have heard that Andrew Luck is gone.
Brett Nottingham
and
Josh Nunes
look like the favorites to replace him, but neither has significant experience. Senior
Sam Schwartzstein
did a fine job stepping into Chase Beeler's shoes in 2011, but life was, naturally, easier with Luck at QB. More will fall on Schwartzstein in 2012.

UCLA: QB
Skinny
: The Bruins have two quarterbacks with significant starting experience back:
Kevin Prince
and
Richard Brehaut
. But redshirt freshman
Brett Hundley
might end up winning the job. All three are learning a new offense this spring under new coach Jim Mora and offensive coordinator Noel Mazzone. Sophomore Jacob Brendel -- or perhaps junior
Greg Capella
, who mostly started at guard last year -- are the frontrunners to replace
Kai Maiava
at center.

USC: Both
Skinny
: You've maybe heard of Trojans QB
Matt Barkley
and his receivers,
Robert Woods
/
Marqise Lee
, being the best pass-catch trio in the nation. Well, Barkley and senior center Khaled Holmes are the perhaps the best QB-center combination in the nation. Holmes was second-team All-Pac-12 in 2011, and he's probably the best center in the conference.

Utah: Both
Skinny
: Junior
Jordan Wynn
, a three-year starter, only needs to stay healthy for the Utes to get at least solid QB play. Center
Tevita Stevens
is solid, but he will be breaking in a pair of new OTs.
Washington: Both


Skinny
: Junior QB
Keith Price
was a revelation last year as a first-year starter, far eclipsing the production of his celebrated predecessor, Jake Locker. Senior center
Drew Schaefer
is a 30-game starter. So this is a strong combo for the Huskies.
Washington State: Both


Skinny
:
Jeff Tuel
feels like a decided frontrunner to retain his starting job at QB, while junior
Matt Goetz
returns at center. A junior-college transfer in 2011, he started the final nine games of 2011. A year of seasoning -- and in the weight room -- should help Goetz in 2012.
October, 28, 2010
10/28/10
10:25
AM ET
Issues to consider heading into the ninth week of games.
USC must disrupt Thomas' rhythm
: There seem to be a few basics to slowing down Oregon's offense, starting with having a good defensive line that can defeat blocks, as well as enough team speed to close before the Ducks get into space. The second is having a good plan -- see Boise State and Ohio State last year and Arizona State this year. At this point in the season, Ducks QB
Darron Thomas
has exceeded expectations and shown remarkable poise. He's become a good QB, not just a game manager who gets the ball to playmakers, such as
LaMichael James
. He has yet to get rattled, though the Sun Devils did force the Ducks to punt 11 times. The Trojans have had an extra week to prepare: Do they have a plan that taxes Thomas, both physically and mentally?
Which Cal shows up in Corvallis
? Cal has good players. It's not the most talented team in the Pac-10, but it has top-25 talent. But it doesn't -- duh -- always play like that. The team that got blown out by Nevada and USC wasn't the same team that rolled Colorado, UCLA and Arizona State. So far this year, the common denominator is the road -- Cal is 0-3 away from Berkeley; 4-0 inside Strawberry Canyon. But, really, it's mostly about showing up with a good plan and playing with focus and intensity. The Beavers are beaten up with injuries, but they will show up on Saturday and play hard. It's what they do. If the Bears match their motivation, they've got a good shot to win. If they don't, they'll get rocked.
[+] Enlarge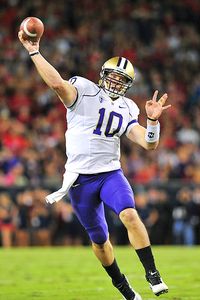 Chris Morrison/US PresswirePlenty of NFL scouts will be on hand Saturday to see Washington quarterback Jake Locker and his counterpart across the field.
Locker vs. Luck
: Washington QB
Jake Locker
and the Huskies have not lived up to high preseason expectations. While Locker is still a likely early-round NFL draft pick, his decision to return for his senior year now, obviously, doesn't seem like a good one, considering he was likely a top-10 pick last spring. Meanwhile, Stanford's
Andrew Luck
has often looked like the best QB in the nation -- a sure-thing in the NFL. The press box at Husky Stadium will be overflowing with NFL scouts on Saturday. The matchup is an opportunity for one -- or both -- to make a statement.
Will UCLA rally
? Little is going right for UCLA at present. A team that a few weeks ago looked like it had turned a corner when it beat Houston and Texas on back-to-back weekends, is now floundering after blowout losses to Cal and Oregon. Moreover, QB
Kevin Prince
is out for the season with a knee injury, and two other offensive starters -- left tackle Sean Sheller and leading receiver
Ricky Marvray
-- have been suspended for the Arizona game. Still, one thing that Rick Neuheisel has done throughout his career is rally his team when it is down. Will he get a rally from his Bruins? Or are they ready to raise a white flag on the season?
Sun Devils are on upset alert
: This is easy. Arizona State looked bad at Cal, and QB
Steven Threet
is coming back from a concussion. How inspired will the Sun Devils be against Washington State? The Cougars? They fought until the bitter end against Stanford. Each week it seems like the Cougs' confidence takes an uptick, even in defeat. Their visit to ASU seems like a prime opportunity to break through with a conference win.
Can USC and Matt Barkley protect the football
? Barkley is the top-rated QB in the Pac-10. He's only thrown four interceptions this year -- against 20 TD passes. Oregon's defense is No. 1 in the conference in passing efficiency and it has grabbed 13 interceptions, five more than any other Pac-10 team. Last year, Barkley ran into problems when he tried to force passes into small spaces. That hasn't been the case of late. But in a big game when Barkley feels pressure to make plays opposite the Ducks high-powered offense, it could become an issue. Oregon, by the way, is No. 1 in the nation in turnover margin.
Can the Beavers block the Bears
? Two Oregon State offensive linemen are banged up -- center Alex Linnenkohl and guard Grant Johnson. The Beavers have struggled at times in pass protection, and the running game has been inconsistent. Cal's front seven is strong. The Bears rank second in the conference in run defense, and have recorded 19 sacks, which is tied for second. If the Bears control the line of scrimmage, they have a good chance to notch the road upset.
Which D makes a stand in Seattle
? Stanford's defense has been OK this year, but it looked bad against Oregon and lost focus late versus Washington State. It ranks in the middle of the conference in most categories. The Huskies' defense ranks toward the bottom in nearly everything, but it should at least benefit from the home crowd. If the UW defense looks like it did last week at Arizona, the Huskies have no chance. Or if the Stanford secondary gets exposed by Locker, then an upset is possible.
October, 27, 2010
10/27/10
8:03
PM ET
Oregon State quarterback
Ryan Katz
doesn't think there's anything strange about California's wild swings in quality of play. Just look around the entire conference.
"They've been been up and down," Katz said. "A lot of teams have been up and down."
That's true. Take Katz's Beavers. They were good enough to win at No. 15 Arizona -- the Wildcats only loss -- but couldn't take care of business at Washington. The Huskies? They win at USC, but lose at home to Arizona State. The Sun Devils? They beat the Huskies but get drilled by Cal.
Cal? It blows out UCLA and Arizona State, but gets blasted by Nevada and USC.
[+] Enlarge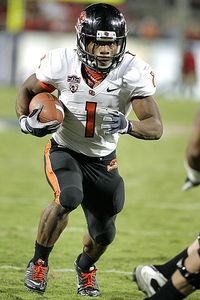 AP Photo/John MillerJacquizz Rodgers and Oregon State sill have an outside shot at the Pac-10 title.
Go figure.
The Bears are 4-0 at home and 0-3 on the road. They've lost nine of 11 to Oregon State and haven't beaten the Beavers since 2006. Last year, they got blown out 31-14 at home.
But this game feels like a pick 'em. Despite coming off a bye week, the Beavers are banged up. Receiver
James Rodgers
is done for the season with a knee injury, tight end
Brady Camp
(back) is out for Saturday and perhaps longer. Receiver
Markus Wheaton
(knee), center Alex Linnenkohl (ankle) and offensive guard Grant Johnson (neck) are expected to play but aren't 100 percent.
Cal has no significant injuries. Even its psyche has to feel better after it followed an embarrassing blowout loss to USC with a dominant effort against the Sun Devils.
Can't win on the road? Quarterback
Kevin Riley
dismissed that as just a "just a weird thing." And safety Sean Cattouse promised the Bears will find a solution.
"It's an issue that everyone knows amongst the team," he said. "So we're definitely going to get it fixed this week."
In last year's game, Beavers quarterback Sean Canfield picked the Bears apart, throwing for 342 yards, and H-back
Joe Halahuni
had a coming-out party with six catches for 128 yards. It's likely this go-around, however, that the Beavers are going to need more from their running games. Cal is too good at rushing the passer -- see 19 sacks -- to expect Katz to throw 39 times, as Canfield did in Berkeley.
That means the Beavers need to get
Jacquizz Rodgers
going. Rodgers has been grumpy -- in his mellow, mostly good natured way -- about the running game this year. While he's averaging a solid 103.5 yards rushing per game and has scored 10 TDs, the rushing offense as a whole ranks ninth in the Pac-10 with just 120.7 yards per game. Blocking has been an issue.
It's clear that Rodgers has Cal coach Jeff Tedford's attention. Consider this laudatory scouting report.
"When you talk about jump cuts -- jump cuts are when you're in the hole and you can jump sideways and then go forward very quickly-- he's a master at that," Tedford said. "So if you're in front of him and he jumps sideways on you, you've got to get on him right away or he will spurt through a hole and be gone. You just can't arm-tackle the guy. He is built low to the ground and very strong, and then when he gets in the open field he has great speed. You can never go to sleep on him. You can never relax and think he's down because he'll come spurting out of there and take it the distance."
If Oregon State (3-3) manages to win, it will improve to 3-1 in Pac-10 play. The win over Arizona and remaining games with Stanford and Oregon mean that the Beavers, if they won out, could still win the Pac-10.
That might be a reach for a team that lost to Washington. But the Beavers have been here before and started a late-season run that few saw coming.
As for Cal (4-3, 2-2), a win at Oregon State -- a second consecutive win, a road victory -- might indicate the Bears are finding some consistency. They play host to both Oregon and Stanford on back-to-back weekends (Nov. 13 and 20) down the stretch.
So who knows? The unpredictable teams in the Pac-10 could create chaos in the conference. A good candidate to do that probably will be the winner in Corvallis on Saturday.