October, 29, 2011
10/29/11
12:18
PM ET
Some surprising news before we've even hit high noon in Big 12 country.
Texas A&M will be without star cornerback Coryell Judie, who's been battling a nagging hamstring all season. Judie also returns kicks for the Aggies. The injury has slowed him all season, but Lionel Smith got his second start of the season today against Missouri.
Not only will the Aggies miss Judie's playmaking ability on special teams today, but the last time he missed a game, the Aggies suffered a come-from-ahead loss to Oklahoma State and gave up 439 passing yards to
Brandon Weeden
.
Granted, they gave up 510 to Arkansas with Judie in the lineup the next week in a similar loss, but he'll be missed dearly against Missouri's passing offense.
The Tigers, though, are dealing with a big injury of their own.
Struggling kicker Grant Ressel is out today with a hip injury, and the placekicking and kickoff duties will go to punter Trey Barrow.
Ressel was one of the league's most reliable kickers until this season, when he's made just 9-of-16 kicks.
We'll see how Barrow does, but those two talents will leave pretty big holes in their respective teams.
September, 11, 2011
9/11/11
6:58
PM ET
Our weekly look back at the games that were:
Best offensive player:
Steele Jantz, QB, Iowa State.
The quarterback accounted for 321 yards of total offense in just his second start, a three-overtime win over in-state rival Iowa. He threw for four touchdowns and 279 yards on 25-of-37 passing and ran for 42 more yards, making a handful of clutch plays late to extend the game and, eventually, win it.
Best defensive player:
N/A.
Quite honestly, there were no standout defensive performances this week. Rather than award this, I'll abstain in Week 2.
Best team performance:
Oklahoma State.
The Cowboys were the only team whose game didn't go down to the wire this weekend, but the Cowboys thoroughly dominated a pretty good Arizona team, albeit one that wasn't at full strength. The 37-14 win was reminiscent of its bowl win over the Wildcats, but the offense was as advertised and the defense was solid.
Best game:
Iowa State 44, Iowa 41.
If you didn't see Saturday's early game, you missed a thriller. Iowa led 10-0. Then Iowa State tied it. Then Iowa led 16-10. Then Iowa State took a 17-16 lead. Then Iowa led 24-17. Then Iowa State tied it at 24 with 77 seconds left. The two traded touchdowns in the first two overtimes before Iowa State's
James White
clinched the win with a four-yard touchdown run and the stands at Jack Trice Stadium emptied onto the field.
Best place to be:
Iowa State's locker room after the game
. Paul Rhoads is an emotional guy, and is perhaps best known for his memorable postgame speeches after wins against Nebraska and Texas, and though we haven't seen a YouTube yet, Rhoads' voice was already cracking a bit in a postgame TV interview. "He was passionate," LT Kelechi Osemele
said of the postgame speech
. "He cried. A lot of players were in there crying. He talked about playing with a chip on our shoulder and how proud he was. Ranking his great speeches, I think this one was the best."
Best ability to do nothing right:
Everyone behind the Cy-Hawk trophy.
So, to summarize: The
Cy-Hawk trophy was already kind of terrible
. Then the fine people at Iowa Corn
unleashed this monstrosity/embarrassment
. Which met strong, deserved backlash, and
was replaced with this interim trophy
, which was moderately terrible and generic but not "We Must Replace" bad. And when Iowa State won, its players sprinted to the opposite sideline to retrieve it, but the top half of the trophy atop the base broke off in about a minute. Let's give these guys a round of applause.
Worst quarter and change:
Garrett Gilbert.
Gilbert looked OK last week against Rice, but against BYU, he was 2-of-8 for eight yards and two interceptions. That is just an epically bad stat line. It's nothing personal against Gilbert, but his benching was long overdue. As odd as the two-quarterback approach may be for Texas, with Ash's limited packages and strong legs and
Case McCoy
's care with the ball, I expect to see both on the field for the foreseeable future.
Biggest overreaction:
Everyone, to Gary Pinkel "icing" his own kicker.
Pinkel's explanation (he was trying to draw Vontaze Burfict offsides) was questionable, but far from boneheaded. Grant Ressel is the best kicker in the Big 12 and not a guy who's going to get rattled. Beyond that, the entire concept of "icing" a kicker is faulty and unproven. Ressel missed a 49-yard kick. The real mistake was not making a more concerted effort to get him closer.
James Franklin
was rolling, and Missouri got too conservative late, unwilling to try and ride that momentum while risking a turnover.
Best revelation:
Jaxon Shipley and Case McCoy are roommates
. Hey, here's the deal:
If you can't laugh at this by now
, I don't know what to tell you. This admission was my favorite part of postgame at BYU-Texas.
Catch of the week:
Jaxon Shipley, Texas
. Facing a six-point deficit late in the 17-16 win over BYU, Shipley caught a pass while hurdling two defenders to reach further into BYU territory as part of the go-ahead drive.
Biggest rebound:
Oklahoma State's fashion sense.
The white pants, white helmets and gray jerseys were a terrible look. This week? The black pants, black jerseys and white helmets, which have become kind of a Thursday night tradition for OSU, were much, much better.
Second-biggest rebound:
Jordan Webb, QB, Kansas.
He was part of a trio of unremarkable passers for Kansas last year, but Webb was outstanding in a 45-42 win over Northern Illinois and got no help from his defense. He finished with 21-of-30 for 281 yards and three touchdowns. Nobody saw those kinds of numbers at Kansas last year.
September, 10, 2011
9/10/11
2:10
AM ET


The Tigers erased a 14-point, fourth-quarter deficit on a pair of
James Franklin
touchdown passes, but the offense stalled in overtime in a
37-30 loss
.
No. 21 Missouri drops to 1-1 on the season. Missouri kicker Grant Ressel missed a 48-yard field goal with seconds remaining in the fourth quarter after coach Gary Pinkel used a pair of timeouts when the Tigers lined up for the kick.
I've got lots of thoughts coming, but quite a finish on another thrilling Friday night. Unlike Baylor last week, though, Missouri and the Big 12 didn't come out on top. It's the Big 12's first loss of the season.
July, 19, 2011
7/19/11
4:50
PM ET
The Big 12 has released its All-Big 12 preseason team as voted on by the media, including yours truly.
Here's my ballot
, for reference.
And here's the preseason team, in all its glory.
OFFENSE
QB:
Landry Jones
, Oklahoma
RB:
Cyrus Gray
, Texas A&M
RB:
Bryce Brown
, Kansas State
RB:
Roy Finch
, Oklahoma
WR:
Justin Blackmon
, Oklahoma State
WR:
Ryan Broyles
, Oklahoma
TE:
Michael Egnew
, Missouri
OL:
Levy Adcock, Oklahoma State
OL:
Kelechi Osemele, Iowa State
C:
Ben Habern, Oklahoma
OL:
Lonnie Edwards, Texas Tech
OL:
Luke Joeckel, Texas A&M
DEFENSE
DL:
Brad Madison, Missouri
DL:
Ronnell Lewis, Oklahoma
DL:
Kheeston Randall, Texas
DL:
Frank Alexander, Oklahoma
LB:
Travis Lewis, Oklahoma
LB:
Jake Knott, Iowa State
LB:
Keenan Robinson, Texas
DB:
Coryell Judie, Texas A&M
DB:
Markelle Martin, Oklahoma State
DB:
Blake Gideon, Texas
DB:
Demontre Hurst, Oklahoma
SPECIALISTS

K:
Grant Ressel, Missouri
P:
Quinn Sharp, Oklahoma State
KR:
Coryell Judie, Texas A&M
PR:
Ryan Broyles, Oklahoma
AWARDS
Offensive Player of the Year:
Justin Blackmon, WR, OSU
Defensive Player of the Year:
Travis Lewis, LB, Oklahoma
Newcomer of the Year:
Malcolm Brown
, RB, Texas
Selections by team:
Oklahoma (9), Oklahoma State (4), Texas A&M (4), Missouri (3), Texas (3), Iowa State (2), Kansas State (1)
And a few thoughts:
Generally, I agree with most of the selections. Nothing was really shocking. Brandon Weeden vs. Landry Jones is pretty close to a coin flip, and let's not act surprised that the quarterback from the bigger program got the nod. Perception is reality, even if the numbers are so, so close. Jones has the Heisman hype coming into the season, certainly more than Weeden, based on little more than the possibility his team runs the table.
Running back is going to get a lot of attention, but let's not get riled up. This is going to sound bad, but believe me when I say I don't mean it to: Bryce Brown's selection is more an indictment of the returning talent at running back in the Big 12 than an endorsement of the hype surrounding Brown, who isn't even the clear-cut starter at K-State just yet. Here's what I wrote when I posted my ballot earlier this month. "The second running back spot is near impossible. Just about anyone might get it on the official vote when its revealed by the Big 12. You could realistically make a convincing case for James Sims, Eric Stephens, Joe Randle, Roy Finch and even newcomers like Malcolm Brown, Bryce Brown or Oklahoma's Brandon Williams. And that's the first team!" Well, there you go. For the record, I voted for Christine Michael, and still feel good about it.
Finch and Brown tied for votes, giving the Big 12 three running backs. There weren't three spots on the ballot. And it also explains how Malcolm Brown got Newcomer of the Year and Bryce Brown got first-team All-Big 12 running back, despite both being newcomers. It's a little confusing, I suppose, and maybe not everyone did it, but my guess is a lot of ballots had Finch as the first-team running back and Malcolm Brown as the Newcomer of the Year. Not all that surprising.
I originally had Luke Joeckel on my ballot, but took him off for Missouri's Elvis Fisher. I think Joeckel will end up being better, and maybe even by the end of this year, but right now, Fisher is the better lineman, and that's how I define the ballot. Perhaps others see it differently. There's no concrete rubric for this.
I'm not very surprised to see Ronnell Lewis and Blake Gideon grab spots on the team, though I voted for Tony Jerod-Eddie and Trent Hunter in those spots on my ballot. Second safety and defensive line were pretty tough for me to fill out. Neither spot is very deep in this league, and both Lewis and Gideon have two of the biggest names, which matters in a media vote.
Quite a huge gap between Oklahoma and the rest of the league. The Sooners had a lot of guys on my ballot that were close, but five more selections than anyone else in the league? That's impressive, and if ballot deadlines had been after Jamell Fleming's reinstatement, Oklahoma might have had 10 guys on the team. My ballot had Oklahoma State leading the way with seven selections, followed by Texas A&M with six and Oklahoma with five. My ballot also only had six teams represented. The media's Bryce Brown vote put Kansas State on the board, making it seven teams represented on the official team.
May, 27, 2011
5/27/11
9:00
AM ET
Our friends in the Big East kicked off this idea, and it'll suit the Big 12 well. The All-Big 12 preseason teams are still a long way away, but which units in the Big 12 are the best entering 2011?
Here are my votes, and I feel pretty good about all of them. Which would you pick?
Quarterbacks: Oklahoma State
The Cowboys return All-Big 12 first-teamer
Brandon Weeden
, and the senior will have his top target back, Biletnikoff Award winner
Justin Blackmon
. He threw for 4,277 yards last season and his quarterback rating of 154.11 was eight points higher than any passer in the Big 12.
Honorable mention: Oklahoma, Baylor
Running backs: Texas A&M
Cyrus Gray
was the Big 12's best back late in the conference season, and his running mate re-joins him in the backfield this year after breaking his leg midway through 2010.
Christine Michael
and Gray form perhaps the best backfield duo in the nation, but by far the best in the Big 12.
Honorable mention: Oklahoma
Receivers: Oklahoma
This one's close, but Oklahoma's depth gives them the edge.
Ryan Broyles
is narrowly the Big 12's No. 2 receiver and a Biletnikoff finalist in his own right, but
Kenny Stills
could sneak up on a 1,000-yard season as a sophomore in 2011.
Dejuan Miller
and
Trey Franks
are two more solid options, and the Sooners could add a pair of talented freshmen to the rotation in Trey Metoyer and
Justin McCay
.
Honorable mention: Oklahoma State, Texas A&M, Baylor
Offensive line: Oklahoma State
The line helped running back Kendall Hunter finish second in the Big 12 with 1,548 yards last season, and all five starters return from the unit that gave up the fewest sacks in the Big 12. That's aided by the quick-release approach in the Air Raid offense, but the line boasts the Big 12's best returning lineman, tackle Levy Adcock.
Honorable mention: Texas A&M
Defensive line: Missouri
The Tigers have the Big 12's returning leader in sacks, defensive end Brad Madison, but the unit is deep and talented and could get even more so next season. DT Terrell Resonno, DE Jacquies Smith and DT Dominique Hamilton are all experienced, and defensive ends Michael Sam and Kony Ealy should provide very little dropoff when they're on the field as part of the rotation. The Tigers also welcome a possible game-changer in Sheldon Richardson, a light-footed 6-foot-4, 296-pound defensive tackle and St. Louis native who is the nation's No. 3 juco recruit.
Honorable mention: Texas
Linebackers: Oklahoma
The Sooners have one of the favorites for Big 12 Preseason Defensive Player of the Year in senior linebacker Travis Lewis, who is likely to be joined by some combination of Tom Wort, Corey Nelson and Jaydan Bird. Nickel back Tony Jefferson could be poised for a break out year on a national scale after sharing Defensive Freshman of the Year honors last season.
Honorable mention: Iowa State
Cornerbacks: Texas A&M
The Aggies have two of the Big 12's best in Dustin Harris and Coryell Judie, who doubles as perhaps the Big 12's most dangerous return man. The pair combined for eight interceptions last season and 21 passes defended. Terrence Frederick defended 10 passes of his own. Health was a concern for this group in the spring, but they should be ready come fall.
Honorable mention: Oklahoma
Safeties: Oklahoma State
Markelle Martin is a future draft pick and one of the Big 12's hardest hitters, but Johnny Thomas played some of his best football late last season.
They combined for 118 tackles last season, and 100 of those were solo stops.
Honorable mention: Kansas State
Punter: Oklahoma State
Quinn Sharp has been one of the Big 12's best punters for the past two seasons, and led the league in punting average at 46.2 yards in 2010.
Kicker: Missouri
Grant Ressel has made 43 of 46 field goals over the past two seasons, and the former walk-on should be a contender for the Lou Groza Award as a junior in 2011.
October, 23, 2010
10/23/10
10:40
PM ET
COLUMBIA, Mo. -- Oklahoma has reached the red zone four times tonight.

It has seven points to show for them.

Missouri has made three trips, totaling 13 points.

Missouri leads, 20-14, the same six-point deficit that's evident in the two teams' red zone trips.

The problems may have never been more frustrating than on the past two possessions for Oklahoma coach Bob Stoops. Kicker Jimmy Stevens yanked a 31-yard attempt badly from the right hash, missing wide left.

Missouri promptly drove down the field and kicker Grant Ressel made a 30-yard attempt in the rainy conditions that have taken over at Faurot Field tonight.

Field goals have been a constant problem for Oklahoma for the past two seasons, with a revolving door of Stevens, Patrick O'Hara and punter Tress Way, with Way focusing just on punting this season.

In big games, in which scoring is at a premium, it hurts the most. Oklahoma is experiencing that now, against a Missouri team whose kicker is now 38-of-40 for his career on field goals.
October, 16, 2010
10/16/10
1:37
PM ET
COLLEGE STATION, Texas -- No breaking news here, but teams that convert third downs will score more often than those that don't. Neither team had one in the first quarter, but Missouri converted a pair on its latest scoring drive, a 12-play, 77-yard march to take a
13-0
lead.
Kicker Grant Ressel's first extra-point attempt was blocked.
Missouri converted the first third down with a nice catch by tight end
Michael Egnew
--his sixth of the day -- on third-and-1.
The Tigers gave themselves another third-and-1 later in the drive and running back
Kendial Lawrence
ran for four yards.
Missouri has outgained the Aggies 206-102, after a 28-yard completion from
Jerrod Johnson
to
Brandal Jackson
.
Johnson scrambled for a 15-yard gain in the first quarter that served as the longest run of the day for Texas A&M.
Christine Michael
has carried six times for 20 yards.
The Tigers' great start is exactly what they needed to try and snatch a Big 12 road win and move to 6-0.
Blaine Gabbert
is 18-of-25 for 172 yards and a score.
A&M reached Missouri territory with a lengthy drive highlighted by the Jackson catch, but the Tigers forced a punt with a timely third-down sack on Johnson that moved the Aggies to 2-of-8 on third down. Johnson is 5-of-16 for 67 yards.
September, 27, 2010
9/27/10
2:09
PM ET
[+] Enlarge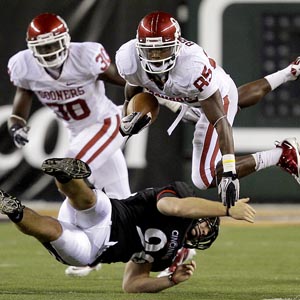 AP Photo/Al BehrmanRyan Broyles continued his impressive season with another 100-yard game.
Best offensive player:
Ryan Broyles, WR, Oklahoma.
There was a pretty thin group of deserving candidates this week, but Broyles continued his early-season tear with 10 catches for 100 yards and a touchdown. He now has seven consecutive 100-yard games dating back to last season and 41 catches for 482 yards in four games this season.
Best defensive player: Jake Knott, LB, Iowa State. Knott made 11 tackles, forced a fumble and had an interception as one of the key pieces to a defense that shut out Northern Iowa in the Cyclones' 27-0 win.
Best team performance: Tie, Missouri and Baylor. Missouri scored on the opening kickoff -- covering it, not returning it -- and led 51-6 in the third quarter while running for 236 yards and passing for 233 more. Baylor traveled to Houston and convincingly beat Rice on its home field, 30-13.
Best offensive freshman: Kenny Stills, WR, Oklahoma. In his first road game, the true freshman caught four passes for 72 yards to help Oklahoma beat Cincinnati, 31-29.
Best defensive freshman: Tony Jefferson, S, Oklahoma. Another true freshman, Jefferson led the Sooners in tackles with 12. He also had two tackles for loss.
Best play: Carson Coffman, QB, Kansas State. A called shovel pass to Daniel Thomas devolved into a broken play with under a minute left, forcing Coffman to run. He ended up in the end zone for a seven-yard touchdown with 24 seconds to play that gave Kansas State the game-winning touchdown for a 17-13 win over UCF.
Worst play: Grant Ressel, K, Missouri. Doink! Ressel clanked a PAT off the upright in the third quarter of Missouri's win over Miami (Ohio), ending a streak of 252 consecutive made PATS dating back to November of 2005, a span of three different kickers and nearly five years. The streak was 10 short of the all-time NCAA record set by Syracuse in 1989.
Timeliest redemption: Grant Ressel, K, Missouri. The next time he took the field, Ressel banged in a 50-yarder, his new career long.
Best game: Kansas State 17, Central Florida 13. For as unwatchable as the first half of this game was, the second half was fantastic. UCF took a 13-10 lead on a field goal with just over five minutes to play, giving way to Kansas State's "Drive of the Year," a 13-play, 67-yard march that ended with Coffman's touchdown to send the Wildcats to 4-0.
Worst team performance: I'll make you guess on this one. Here's a few hints: They were the only team in the Big 12 to lose this week. They did it at home to an unranked team. They turned the ball over four times in the first half. They were outrushed 313-101 in total gained. Any takers? First person to guess correctly gets a free lifetime subscription to the Big 12 Blog on ESPN.com.
I've got nothing to name this, but nice game, man: D.J. Beshears, WR, Kansas. Fits the award well as a man with an ambiguous role. He played corner last season, and is listed as a corner on Kansas' roster, but plays slot receiver. So how did he score his three first-half touchdowns? Two runs and a kick return. Of course.
July, 22, 2010
7/22/10
11:44
AM ET
The Big 12 announced its preseason award winners and All-Big 12 team Thursday. Here's who's on the list:
Offensive Player of the Year:
Jerrod Johnson
, QB, Texas A&M
Co-Defensive Players of the Year:
Jared Crick, DT, Nebraska; and Von Miller, LB, Texas A&M
Newcomer of the Year:
Toney Clemons
, WR, Colorado
Offense
QB: Jerrod Johnson, Texas A&M
RB:
DeMarco Murray
, Oklahoma
RB:
Daniel Thomas
, Kansas State
WR:
Ryan Broyles
, Oklahoma
WR:
Jeff Fuller
, Texas A&M
TE:
Mike McNeill
, Nebraska
OL: Ryan Miller, Colorado
OL: Nate Solder, Colorado
OL: Tim Barnes, Missouri
OL: Tanner Hawkinson, Kansas
OL: Stephen Good, Oklahoma
OL: Kyle Hix, Texas
PK: Alex Henery, Nebraska
KR:
Cyrus Gray
, Texas A&M
DEFENSE
DL: Aldon Smith, Missouri
DL: Jared Crick, Nebraska
DL: Jeremy Beal, Oklahoma
DL: Sam Acho, Texas
LB: Travis Lewis, Oklahoma
LB: Von Miller, Texas A&M
LB: Keenan Robinson, Texas
LB: Brian Duncan, Texas Tech
DB: Prince Amukamara, Nebraska
DB: Aaron Williams, Texas
DB: Quinton Carter, Oklahoma
DB: Blake Gideon, Texas
DB: Curtis Brown, Texas
P: Derek Epperson, Baylor
PR: Ryan Broyles, Oklahoma
A few notes/thoughts from the team:
Only three players were unanimous selections: Jared Crick, Travis Lewis and Jeremy Beal. Other guys I'm surprised didn't earn that distinction: Ryan Broyles at receiver, Aaron Williams and Nate Solder.
Ties at linebacker, defensive back and offensive line forced the conference to make room for an extra spot.
The media's opinion of DeMarco Murray is somewhat divided, so I was a little unsure who would nab the second spot on the ballot. I'd be interested to see how close it was between him, Roy Helu, Kendall Hunter and Alexander Robinson.
Home run selection of Toney Clemons as Newcomer of the Year. If I'm guessing, the fact that he was the No. 1 pick in Colorado's spring game helped him earn this honor. An action like that by players speaks pretty loudly.
I definitely prefer football over basketball in these situations, which doesn't have to deal with freshmen on the preseason all-conference team.
I'm interested in how close the vote was between Missouri's Grant Ressel and Nebraska's Alex Henery. Henery's punting skills make him the clearly more valuable player, but talking strictly place-kicking, it's pretty close, and Ressel's additional accuracy is quantifiable.
Here's the list breakdown by team:
1. Oklahoma - 7
2. Texas - 6
3. Nebraska - 4
3. Texas A&M - 4
5. Missouri - 2
5. Colorado - 2
7. Baylor - 1
7. Kansas - 1
7. Kansas State - 1
7. Texas Tech - 1
11. Oklahoma State - 0
11. Iowa State - 0
December, 8, 2009
12/08/09
3:12
PM ET
By
Tim Griffin
| ESPN.com
Here's a look at my All-Big 12 team. There were couple of late selections that were affected by the Big 12 championship game. If you look closely enough, you probably will see where I made my switches.
Oklahoma leads the team with five selections, Texas had four and Nebraska and Missouri three picks apiece.
Offense:
QB:
Colt McCoy
, Texas
RB:
Daniel Thomas
, Kansas State
RB:
Keith Toston
, Oklahoma State
WR:
Danario Alexander
, Missouri
WR:
Jordan Shipley
, Texas
TE:
Riar Geer
, Colorado
OL: Russell Okung, Oklahoma State
OL: Brandon Carter, Texas Tech
OL: Trent Williams, Oklahoma
OL: Adam Ulatoski, Texas
C: Reggie Stephens, Iowa State
K: Grant Ressel, Missouri
KR:
Brandon Banks
, Kansas State
Defense:
DL: Ndamukong Suh, Nebraska
DL: Gerald McCoy, Oklahoma
DL: Jeremy Beal, Oklahoma
DL: Brandon Sharpe, Texas Tech
LB: Von Miller, Texas A&M
LB: Sean Weatherspoon, Missouri
LB: Joe Pawelek, Baylor
DB: Perrish Cox, Oklahoma State
DB: Earl Thomas, Texas
DB: Brian Jackson, Oklahoma
DB: Prince Amukamara, Nebraska
P: Alex Henery, Nebraska
PR:
Ryan Broyles
, Oklahoma
December, 1, 2009
12/01/09
4:28
PM ET
By
Tim Griffin
| ESPN.com
Texas coach Mack Brown, Texas quarterback
Colt McCoy
and Nebraska defensive tackle Ndamukong Suh were announced today as the Big 12's coach of the year, offensive player of the year and defensive player of the year, respectively.
McCoy and Suh also were the only two unanimous first-team selections to the All-Big 12 team picked by coaches.
McCoy becomes the fourth Texas player to be selected as OPOY and the third Longhorn quarterback. Previous Texas selections included Ricky Williams (1997 and 1998), Major Applewhite (1999) and Vince Young (2005).
Suh becomes the second Nebraska defensive player to be honored, joining Grant Wistrom (1996 and 1997).
And Brown earns his second coach of the year honors after winning it in 2005.
One interesting note that shows the balance in the conference this season is that every team in the league was represented by at least one player on the first-team squad.
Coaches also announced their All-Big 12 teams. They were forbidden from voting for their own players.
Here's a list of the award winners, as selected by the league's coaches:
Coach of the Year:
Mack Brown, Texas
Offensive Lineman of the Year:
Russell Okung, Oklahoma State
Defensive Lineman of the Year:
Ndamukong Suh, Nebraska
Offensive Freshman of the Year:
Christine Michael
, Texas A&M
Defensive Freshman of the Year:
Aldon Smith, Missouri
Special Teams Player of the Year:
Brandon Banks
, Kansas State
Defensive Newcomer of the Year:
David Sims
, Iowa State
Offensive Newcomer of the Year:
Daniel Thomas
, Kansas State
Defensive Player of the Year:
Ndamukong Suh, Nebraska
Offensive Player of the Year:
Colt McCoy, Texas
And here's a look at who the coaches chose for their first-team offensive and defensive units.
OFFENSE:
QB: Colt McCoy, Texas
RB: Daniel Thomas, Kansas State
RB:
Keith Toston
, Oklahoma State
FB:
Bryant Ward
, Oklahoma State
WR:
Dezmon Briscoe
, Kansas
WR:
Jordan Shipley
, Texas
WR:
Danario Alexander
, Missouri
TE:
Jeron Mastrud
, Kansas State
OL: Russell Okung, Oklahoma State *
OL: Trent Williams, Oklahoma *
OL: Nick Stringer, Kansas State
OL: Brandon Carter, Texas Tech
OL: Nate Solder, Colorado
K: Grant Ressel, Missouri
KR/PR: Brandon Banks, Kansas State
DEFENSE
DL: Ndamukong Suh, Nebraska
DL: Gerald McCoy, Oklahoma *
DL: Von Miller, Texas A&M
DL: Brandon Sharpe, Texas Tech
DL: Jared Crick, Nebraska
LB: Sean Weatherspoon, Missouri *
LB: Jesse Smith, Iowa State
LB: Travis Lewis, Oklahoma
DB: Earl Thomas, Texas
DB: Perrish Cox, Oklahoma State
DB: Larry Asante, Nebraska
DB: Prince Amukamara, Nebraska
P: Derek Epperson, Baylor
Note
: Bold notations are unanimous selections. Those selections with an asterisk are repeat choices from last season.
I was a little disappointed that the coaches can make a decision to pick a fullback as a specific positional choice and then not designate one of the picks specifically for a center. Every team in the league has a center. Not every team in the Big 12 has a true fullback that plays the majority of his snaps.
Also, it's an age-old pet peeve of mine that they don't break down the defensive choices into specific positions like ends, tackles, linebackers, cornerbacks and safeties.
Here's a
link
to the Big 12's Web site for a complete listing of the first-team, second-team and honorable mention choices.
November, 29, 2009
11/29/09
12:43
PM ET
By
Tim Griffin
| ESPN.com
Here are some of the things we learned in the Big 12's final week of the regular season:
Texas' troubling defensive concerns:
For as much good that came for Colt McCoy's Heisman candidacy out of Texas' 49-39 victory at Texas A&M, the Longhorns' struggling defense performance has to be an item of concern for Mack Brown and Will Muschamp. The Longhorns allowed more points in regulation and more total yards than any national championship team allowed during the regular season in the BCS era. And the only championship team that allowed more yards at any point of the season than Texas' 532 yards against the Aggies was the 2005 Texas team, which was gashed for 574 by USC in the 2006 Rose Bowl. Those concerns might not materialize against Nebraska's station-to-station offense this week in the Big 12 title game. But it will be a legitimate worry in a national title game -- particularly against a mobile run/pass quarterback like Florida's
Tim Tebow
.
Mangino's confusing late strategy:
Kansas' gutty performance in the Jayhawks' 41-39 loss to Missouri was everything that Mark Mangino would have wanted to make it difficult for Lew Perkins to send him packing. That is, until the Jayhawks' final possession of the game. Nursing a three-point lead with the ball deep inside its own territory, Kansas could have bled the clock and forced Missouri to deplete its time outs as it worked on the clock. Instead, Mangino opted for two risky passes that went incomplete. And it got worse when
Todd Reesing
was tackled for a safety on third down and only 14 seconds had expired on the drive. Missouri had plenty of time for the comeback, capped by Grant Ressel's field goal with time ticking down. If Kansas had won, it would have been one of Mangino's most dramatic coaching performances. Instead, his late strategy gave his critics a lot of ammunition to wonder about what could have been.
Bob Stoops' coaching redemption:
Bob Stoops' "Big Game Bob" reputation has taken a hit the last few years. He got a little of it back Saturday with a determined coaching job that helped lead the Sooners to a 27-0 victory over Oklahoma State, ending the Cowboys' at-large BCS hopes in the process. The Sooners have overcome misfortune in the most frustrating season in Stoops' history. Saturday's strong performance showed why Stoops is still one of the nation's best coaches. And his upcoming bowl appearance can do even more for his stature. Critics have harped on his inability to win bowl games -- he's lost three straight and five of his last six bowl games. Beating a team like USC in the Sun Bowl would provide a pleasing punctuation mark on the most troubling seasons in Stoops' Oklahoma tenure.
Rex Burkhead's return makes Nebraska a little tougher to defend:
Nebraska offense added another element with the strong running of freshman
Rex Burkhead
, who had missed five games with a foot injury. Burkhead rushed for 100 yards against Colorado and provides a nice change of pace to go along with Roy Helu Jr. in the Cornhuskers' backfield. That running game will be important if the Cornhuskers hope for any chance at an upset over Texas and its No. 1 ranked rush defense. The Cornhuskers likely won't be able to dent the Longhorns' defensive front. But Burkhead's running gives Nebraska another weapon.
The scrambled battle for the Big 12's coach of the year:
Oklahoma State's loss to Oklahoma did more than keep the Cowboys out of the BCS. It also made the toughest Big 12 Coach of the Year ballot in recent memory even more difficult to figure out. If the Cowboys had won and gone into the BCS, Gundy would have been a logical choice -- particularly because of the way he has navigated the Cowboys through a season filled with personnel losses. Now, it opens up to all kinds of candidates. Could it be Mack Brown, who has directed one of his best teams to an undefeated record? Or to Paul Rhoads, who unexpectedly led Iowa State to bowl eligibility? Or to Bill Snyder, who surprisingly directed Kansas State within a game of the Big 12 championship? Or maybe a couple of others. It will be a tough choice for balloters to decide which coach was truly the best in the conference this season.