NCF Nation:

Grant Wistrom
August, 6, 2014
Aug 6
3:00
PM ET
Offensive players dominated the list of top individual seasons at Big 12 schools in ESPN.com's The Season, with Texas' Vince Young and Oklahoma State's Barry Sanders
advancing to Wednesday's semifinal round.
Kansas cornerback Aqib Talib is the lone Big 12-era defender who landed on the list as an honorable mention for the Jayhawks. Talib earned consensus All-American honors while helping the Jayhawks go 11-1, including a 24-21 win over Virginia Tech in the Orange Bowl in 2007.
Several Big 12 defenders have had stellar seasons since the conference was born in 1996. Here's a look at other exceptional individual seasons for defenders during the Big 12 era.
[+] Enlarge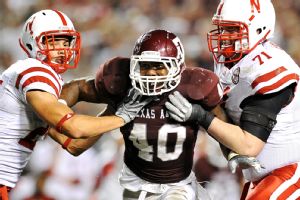 Patrick Green/Icon SMIVon Miller was too much to handle in 2009, posting 17 sacks.
Lawrence Flugence, Texas Tech linebacker, 2002:
The sheer numbers land Flugence a spot on this list. He had 193 total tackles, including 124 solo stops in 14 games during the 2002 season. The Mike Leach-led Red Raiders finished 9-5 with Flugence anchoring the defense and Kliff Kingsbury triggering the offense.
Derrick Johnson, Texas linebacker, 2004:
The Big 12 Defensive Player of the Year and Butkus Award winner, Johnson made plays from sideline to sideline for the Longhorns during the 2004 season. He finished with 130 tackles (70 solo stops), including 19 tackles for loss, eight pass breakups, nine forced fumbles and two sacks.
Curtis Lofton, Oklahoma linebacker, 2007:
Lofton was exceptional during the 2007 season, earning All-American and Big 12 Defensive Player of the Year honors. He had 157 tackles including 10.5 tackles for loss, four forced fumbles and three interceptions in 14 games for the Sooners. He was the anchor of a defense that allowed 20.3 points per game and 4.98 yards per play as OU finished 11-2 with a Big 12 championship.
Von Miller, Texas A&M defensive end, 2009:
The future NFL Pro Bowler was relentless and dominant during the 2007 season. He finished with 17 sacks, 21.5 tackles for loss and four forced fumbles in 13 games. He accounted for 47.2 percent of the Aggies' sack total (36) during a 6-7 season. His 17 sacks remain the highest single season total in the Big 12 era.
Terence Newman, Kansas State cornerback, 2002:
Newman was a nightmare for opponents during the 2002 season, locking down receivers on defense and putting fear into the hearts of defenders on special teams and offense. He won the Thorpe Award and was named Big 12 Defensive Player of the Year. Even as offenses avoided him, Newman finished with 44 tackles, 14 pass breakups and five interceptions.
Shaun Rogers, Texas defensive tackle, 1999:
The junior was a disruptive force in the middle for the Longhorns, finishing with 27 tackles for loss, the highest total from any Big 12 defender since the conference was born in 1996. He joined teammate Casey Hampton to give UT the Big 12's top defensive tackle duo that season.
Ndamukong Suh, Nebraska defensive tackle, 2009:
The Big 12 Defensive Player of the Year, Suh's 2009 season was second to none during the Big 12 era. Offenses focused on keeping Suh from dominating games yet he still dominated on his way to becoming a Heisman Trophy finalist, Lombardi Award and a lengthy list of individual accolades. He finished with 85 tackles including 24 for loss and 12 sacks.
Earl Thomas, Texas safety, 2009:
Thomas proved he was NFL ready with a incredible redshirt sophomore campaign. He was a finalist for the Jim Thorpe Award while earning all-american honors with 77 tackles, five tackles for loss, 16 pass breakups and eight interceptions. He helped UT finish No. 1 nationally in interceptions (35) and forced turnovers (37).
Roy Williams, Oklahoma defensive back, 2001:
The Jim Thorpe Award winner, Williams left a lasting legacy with his "Superman" play against Texas in the Red River Rivalry, forcing a Chris Simms' fumble that sealed an OU win. He finished with 107 tackles including 14 tackles for loss, 22 pass breakups and five interceptions.
Grant Wistrom, Nebraska defensive end, 1997:
He had a stellar 1996 season but his 1997 campaign should be considered even better. As the returning Big 12 defensive player of the year, Wistrom had 8.5 sacks and 17 tackles for loss and 25 quarterback hurries on his way to Big 12 Defensive Player of the Year honors for the second straight season. He also earned the Lombardi Trophy in 1997.
December, 1, 2009
12/01/09
4:28
PM ET
By
Tim Griffin
| ESPN.com
Texas coach Mack Brown, Texas quarterback
Colt McCoy
and Nebraska defensive tackle Ndamukong Suh were announced today as the Big 12's coach of the year, offensive player of the year and defensive player of the year, respectively.
McCoy and Suh also were the only two unanimous first-team selections to the All-Big 12 team picked by coaches.
McCoy becomes the fourth Texas player to be selected as OPOY and the third Longhorn quarterback. Previous Texas selections included Ricky Williams (1997 and 1998), Major Applewhite (1999) and Vince Young (2005).
Suh becomes the second Nebraska defensive player to be honored, joining Grant Wistrom (1996 and 1997).
And Brown earns his second coach of the year honors after winning it in 2005.
One interesting note that shows the balance in the conference this season is that every team in the league was represented by at least one player on the first-team squad.
Coaches also announced their All-Big 12 teams. They were forbidden from voting for their own players.
Here's a list of the award winners, as selected by the league's coaches:
Coach of the Year:
Mack Brown, Texas
Offensive Lineman of the Year:
Russell Okung, Oklahoma State
Defensive Lineman of the Year:
Ndamukong Suh, Nebraska
Offensive Freshman of the Year:
Christine Michael
, Texas A&M
Defensive Freshman of the Year:
Aldon Smith, Missouri
Special Teams Player of the Year:
Brandon Banks
, Kansas State
Defensive Newcomer of the Year:
David Sims
, Iowa State
Offensive Newcomer of the Year:
Daniel Thomas
, Kansas State
Defensive Player of the Year:
Ndamukong Suh, Nebraska
Offensive Player of the Year:
Colt McCoy, Texas
And here's a look at who the coaches chose for their first-team offensive and defensive units.
OFFENSE:
QB: Colt McCoy, Texas
RB: Daniel Thomas, Kansas State
RB:
Keith Toston
, Oklahoma State
FB:
Bryant Ward
, Oklahoma State
WR:
Dezmon Briscoe
, Kansas
WR:
Jordan Shipley
, Texas
WR:
Danario Alexander
, Missouri
TE:
Jeron Mastrud
, Kansas State
OL: Russell Okung, Oklahoma State *
OL: Trent Williams, Oklahoma *
OL: Nick Stringer, Kansas State
OL: Brandon Carter, Texas Tech
OL: Nate Solder, Colorado
K: Grant Ressel, Missouri
KR/PR: Brandon Banks, Kansas State
DEFENSE
DL: Ndamukong Suh, Nebraska
DL: Gerald McCoy, Oklahoma *
DL: Von Miller, Texas A&M
DL: Brandon Sharpe, Texas Tech
DL: Jared Crick, Nebraska
LB: Sean Weatherspoon, Missouri *
LB: Jesse Smith, Iowa State
LB: Travis Lewis, Oklahoma
DB: Earl Thomas, Texas
DB: Perrish Cox, Oklahoma State
DB: Larry Asante, Nebraska
DB: Prince Amukamara, Nebraska
P: Derek Epperson, Baylor
Note
: Bold notations are unanimous selections. Those selections with an asterisk are repeat choices from last season.
I was a little disappointed that the coaches can make a decision to pick a fullback as a specific positional choice and then not designate one of the picks specifically for a center. Every team in the league has a center. Not every team in the Big 12 has a true fullback that plays the majority of his snaps.
Also, it's an age-old pet peeve of mine that they don't break down the defensive choices into specific positions like ends, tackles, linebackers, cornerbacks and safeties.
Here's a
link
to the Big 12's Web site for a complete listing of the first-team, second-team and honorable mention choices.
May, 1, 2009
5/01/09
2:10
PM ET
Posted by ESPN.com's Tim Griffin
This is going to date me, but I can remember back when May 1 meant one thing.
That was the day I could always count on tuning on the evening news and seeing the newest collection of aircraft, tanks and other armaments being showcased in a huge parade in Red Square in Moscow. The Communists used to use International Worker's Day to display the country's military forces and to honor themselves.
Thankfully, the fears of that Cold War era have abated in recent years. But I've got to believe that some football fans view spring games of rival teams in much the same way.
Don't some Texas fans feel the way I used to when Oklahoma trots out its collection of athletes during the spring game to show off what they can do? Maybe a feeling of fear and dread, but still measuring up to what my team or country might have.
Or that Sooners have similar feelings when they watch the Longhorns conduct their spring game work? Or that a Kansas fan might feel that way if he happened to stumble into Bill Snyder Family Stadium tomorrow afternoon for Kansas State's spring game?
Fortunately, we won't see any military parades in Red Square today.
But we do have some tasty Big 12 lunchtime links. Enjoy them and the weekend.
Guerin Emig of the Tulsa World had a great story this morning about Oklahoma scout team running back Derek Gove, who earned the highest cumulative grade-point average among Sooner seniors. Gove had a unique description of his job as a scout-team running back.
"Most of the guys wake up Sunday morning like they've been hit by a train," Gove told the World. "I woke up Monday morning feeling that way. And Tuesday morning, Wednesday morning and Thursday morning."
April, 30, 2009
4/30/09
5:47
PM ET
Posted by ESPN.com's Ivan Maisel
NEW YORK -- Finding out the newest members elected to the College Football Hall of Fame is great fun every spring.
Finding out how the men reacted is even better. Imagine discovering that of the four to five million players in the history of the game, you are one of fewer than 900 deemed worthy of the sport's greatest honor.
"The more you learn about it, the more daunting it is," said former Miami quarterback Gino Torretta, the 1992 Heisman winner, who, along with former Notre Dame wide receiver Tim Brown, the 1987 Heisman winner, represented the class of 16 players at a news conference in New York on Thursday afternoon.
"We've passed our prime. We can't go back and play any more of our games," Torretta said. "You hope what you did, your body of work, is good enough to get into the Hall of Fame."
Joining Brown and Torretta in the Hall's 62nd class are two Lombardi Award winners, defensive end Grant Wistrom of Nebraska, a member of three national champions in the 1990s, and linebacker Chris Spielman of Ohio State.
Among the other standouts is three-time All-American linebacker Woodrow Lowe of Alabama. Joining Brown, Wistrom and Spielman as two-time All-Americans are tight end Gordon Hudson of BYU, wide receiver Ken Margerum of Stanford and linebacker Larry Station of Iowa.
The Hall also named coaches John Robinson, who led USC to a share of the 1978 national championship and won five conference titles in two stints with the Trojans, and Dick MacPherson, who dominated the Yankee Conference at Maine in the 1970s before resurrecting a moribund Syracuse program in the 1980s. MacPherson took the Orange, then an independent, to five bowl games, peaking in 1987. Syracuse went 11-0-1 and finished fourth in the nation.
"It's the epitome of coaching," MacPherson said. "There's no way to go from here. This is truly America's game: one coach from the state of Maine, one coach from California, and John Robinson had a great career."
The least known of the honorees is William Lewis, the first African-American All-American. Lewis played at Virginia State, Amherst and Harvard in the late 19th century. Lewis who played center on offense and "rush" on defense, became the first Crimson team captain of color and then stayed at his alma mater as a coach. He developed the "neutral zone" that remains in the rulebook to this day.
Lewis was nominated by the Veterans Committee, which considers candidates whose eligibility for election (50 years from the end of their careers) has expired. Squeezing in under that 50-year deadline are New Mexico State back Pervis Atkins and Auburn back and kicker Ed Dyas. Both finished playing in 1960, and both have been on the Hall of Fame ballot for many years.
Dyas already has asked to buy 20 tickets for the black-tie Hall of Fame induction dinner on Dec. 8 in New York. That's what this honor means.
"You think about your coaches from Pop Warner, all the work you did with your brothers in the summers, you're throwing, and you'd really rather be out with your buddies playing or water-skiing or something like that. You think about all the coaches you had and everything you went through as a player. That's pretty awesome."
The other members of the 2009 Hall of Fame class are defensive back Chuck Cecil of Arizona, quarterback Major Harris of West Virginia, defensive tackle Steve McMichael of Texas, defensive end Pat Swilling of Georgia Tech and running back Curt Warner of Penn State.