January, 22, 2014
1/22/14
1:00
PM ET
The news was hardly a surprise, but Florida State nevertheless could breathe an immense sigh of relief when
Rashad Greene
announced he'd be back for his senior season in 2014. There are more talented, more highly regarded players from the Seminoles' national championship team departing for the NFL, but perhaps no one on the current FSU roster was more crucial in 2014 than Greene. He was practically irreplaceable.
[+] Enlarge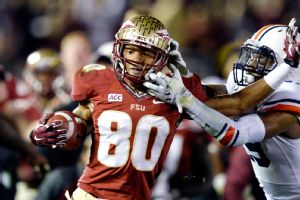 Robert Hanashiro/USA TODAY SportsRashad Green had a team-high 76 catches in 2013, including 9 in the national title game.
The run-up to the start of the 2013 season was a disaster for Florida State's receiver group. Greg Dent was expected to blossom into a consistent threat, but instead spent the year awaiting a trial for sexual assault. Willie Haulstead figured to return from more than two years saddled with the lingering effects of a concussion, but academics ended his season before it began.
Jarred Haggins
was poised for a far bigger role, but a knee injury relegated him to the sidelines.
What was left for
Jameis Winston
and the Florida State offense was essentially a three-man show: Greene,
Kelvin Benjamin
and
Kenny Shaw
. Of Winston's 384 pass attempts in 2013, he targeted his big three receivers 279 times (73 percent), according to ESPN Stats & Info.
The tight rotation actually proved to be a benefit. Greene, Benjamin and Shaw all enjoyed breakout seasons, with the former two topping 1,000 yards for the season. But as Florida State looks to 2014, the lack of established depth at the position means a massive rebuilding project must begin, with Greene providing the foundation.
Shaw is graduating. Benjamin departed early for the NFL. Winston's top three targets out of the backfield all moved on as well. Aside from Greene, the current Florida State roster accounts for just 44 of Winston's completions, the bulk of those to tight end Nick O'Leary.
So as the enthusiasm builds for a repeat performance by the Seminoles' high-flying offense thanks to the return of the Heisman Trophy winner and four-fifths of his offensive line, the obvious question is: Who will be catching all of those throws?
Greene's 76 catches last season were the second-most in Florida State history. It seems likely that number will increase in 2014. Even with tempting options in Shaw, O'Leary and Benjamin, Winston targeted Greene on more than 30 percent of his throws last year.
Greene was fond of telling the story of Florida State's receivers meeting last summer to discuss the new quarterback running the offense. It would be up to them, Greene said, to make Winston comfortable, to do their jobs so well it made his job easy. In 2014, Greene's role will be similar, except he'll now be mentoring a young group of receivers around him, too.
Kermit Whitfield
is electric with the ball in his hands, one of college football's fastest players. He figures to be a nice fit to replace Shaw as the team's top slot receiver, but he caught just five passes in 2013 -- none from Winston.
Benjamin's loss provides an even bigger hole. Receivers who are 6-foot-5, 235 pounds and can run and jump effortlessly are rare gems. Still, tall receivers have been a cornerstone of Florida State's offense, from Greg Carr to Rodney Smith to Benjamin. The last time the Seminoles didn't have a receiver taller than 6-4 record at least 30 catches and 400 yards was 2005. That role in 2014 figures to fall to 6-4
Isaiah Jones
, who caught just two passes for 31 yards as a freshman last season. And while he offers height similar to Benjamin, he checks in almost 40 pounds lighter and is hardly the same matchup nightmare as his predecessor.
Teammates raved about
Jesus Wilson
's work on the practice field in 2013, and he'll get his share of reps, too.
Christian Green
will be back again, but after a solid freshman campaign in 2011, he's all but disappeared in the past two seasons. Haggins returns from the knee injury, too, but since Oct. 13, 2012, his combined stat line looks like this: 1 catch, 1 yard.
All of that is simply to underscore the importance of Greene in FSU's 2014 passing game. His fellow receivers have potential, but Greene is the established weapon. And while the losses of Shaw and Benjamin are big, it's worth remembering that Winston's favorite weapon remains.
On third down last season, Winston targeted Greene 27 times -- nearly twice as often as any other receiver on the team. His 18 third-down catches doubled the next closest receiver, and all 18 went for first downs. Winston's other returning star, O'Leary, converted 8 of 9 third-down targets, too.
In the red zone in 2013, Greene was again Winston's top target (14 throws) and receiver (eight catches), and he and O'Leary accounted for nearly half of Winston's red-zone targets.
In short, few receivers made more catches when it mattered most. Fifty of Greene's receptions went for a first down, tied for third among ACC receivers. And no player on Florida State's offense has been as consistent. Greene has led the team in receiving in each of his first three seasons in Tallahassee. He needs 41 more catches and 1,133 more yards in 2014 to match FSU's career receiving marks.
Of course, as good as Greene has been, the onus will still fall to his emerging teammates to draw the attention of safeties away from him and provide Winston with a wider variety of weapons at his disposal. That development remains a work in progress for the next seven months, but Greene's ability to handle double coverage, to make the big plays when it matters most, to set the standard for game day on the practice field during the week -- that makes the jobs of everyone around him much easier.
For an offense that returns so many stars in 2014, Greene will again be the cornerstone.
December, 12, 2013
12/12/13
1:00
PM ET
TALLAHASSEE, Fla. — They know the numbers, but none of Florida State's offensive playmakers wants to vouch for just how significant 1,000 would be.
The refrain was established even before the season, and it has been repeated again and again each time another Seminoles star gets within striking distance.
"I don't feel like anyone is really focusing on that," said
Rashad Greene
, Florida State's leading receiver with 981 yards. "We want that crystal ball. That's the goal, and individual stuff will take care of itself."
It's the same answer given by
Kenny Shaw
, now 71 receiving yards shy of 1,000.
It's the same answer given by
Kelvin Benjamin
, who needs 43 receiving yards to crack 1,000.
[+] Enlarge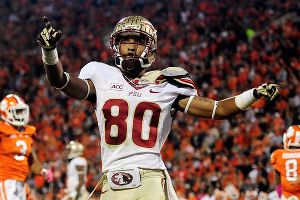 AP Photo/Richard ShiroRashad Greene is one of three FSU receivers who's less than 75 yards from the 1,000-yard mark this season.
It's the same answer given by
Devonta Freeman
, who can top 1,000 rushing yards with just 57 in the VIZIO BCS Championship Game.
And, of course, the national championship is exactly where their focus should be, but the proximity of all four players to that elusive mark is nothing to shrug off.
At Florida State, getting to 1,000 has been a remarkably rare accomplishment for anyone. In the school's history, only 12 players have reached that mark, and only once have multiple Seminoles cracked 1,000 in the same season.
For Freeman, getting to 1,000 would end the longest -- and one of the most inexplicable -- streaks in the country. No Florida State back has topped 1,000 yards since 1996 thanks to a confluence of injuries, depth, performance and bad luck. To end the streak in a national championship game would be a perfect conclusion.
"That would be great," Freeman said. "But we've got to win it. We've got to win, then get these 1,000 yards."
Freeman figured to have plenty of competition from his teammates in Florida State's backfield, but
Karlos Williams
(705 yards) was developed slowly after moving from safety in Week 2, and
James Wilder Jr
. (542 yards) was hobbled by injuries in the early season, opening the door just enough for Freeman to approach that elusive mark.
When the season began, the depth at receiver actually appeared to be a concern. Senior Greg Dent was suspended after being charged with sexual assault. Senior Willie Haulstead was ruled academically ineligible.
Jarred Haggins
suffered a preseason knee injury and was lost for the year, too. That left Florida State with just four veteran receivers, but the lack of depth actually proved to be a blessing.
The tight rotations meant Greene, Shaw and Benjamin were on the field more often, and for Benjamin in particular, that made a marked difference in his performance. In 2012, Benjamin withered down the stretch, but this season, his last two games have been his best. He has caught 14 passes for 331 yards and five touchdowns in his last two contests, pulling him into position to crack 1,000 yards, too.
Only once has Florida State had two receivers top 1,000 in a season -- 1995, when E.J. Green and Andre Cooper did it with a combined 9 yards to spare. That Florida State might have three this year would put the Seminoles' offense in rarefied company.
Only four other teams in college football history have had three 1,000-yard receivers in the same season. Three of those teams -- 2009 Houston, 2007 Hawaii and 2003 Texas Tech -- hardly offer apt comparisons. They combined to throw the ball on 69 percent of their plays. Florida State, meanwhile, has thrown just 46 percent of the time this season.
The 2007 Tulsa Golden Hurricanes are really the only good comparison to what Florida State has done on offense this year. They had a 50-50 split on play-calling, and they are the only team in the last 10 years to have four players top 1,000 yards in one season.
It's not a record that established Tulsa as an all-time great, of course. It's simply just an interesting bit of trivia. And that's why Florida State's mantra is so significant.
One thousand yards would mean something. Four players topping 1,000 would mean even more. But four 1,000-yard players sharing a national championship would assure the Seminoles of their place in history.
"To me, if it's in the context of winning and being successful, then it's a great accomplishment," Jimbo Fisher said. "Still, 1,000 yards is 1,000 yards, and that means a lot."
June, 10, 2013
6/10/13
11:00
AM ET
Florida State receiver
Greg Dent
, a projected starter this fall,
was arraigned on second-degree sexual assault charges Monday
, according to David M. Hale of NoleNation. Dent is facing a felony count that likely means an indefinite suspension and a potential jail term of up to 15 years. He was arrested Sunday night on a single count of sexual assault on a victim over the age of 12.
Dent was in court on Monday. Hale wrote that "the alleged victim intended to spend the night at Dent's off-campus apartment Saturday. The alleged victim awoke to find Dent kissing her and asked him to stop. After several additional attempts, Dent left the room. Within a few moments, Dent returned to the room naked and became "very aggressive in touching the victim, forcibly removing her clothes."
There has been no official statement from Florida State, but university policy requires any student-athlete facing felony charges to be suspended. Tim Jansen, Dent's attorney, told Hale, "It's certainly an offense that's going to get him suspended."
August, 27, 2012
8/27/12
2:00
PM ET
For once, Andrea Adelson and I are on the same page. Both of us think this is the year Florida State will live up to the hype. Shocking, I know.
Our opinions differ, though, on exactly how they need to do that.
Will the offensive line and running game be the key? Or will it be quarterback
EJ Manuel
and the development of his receivers?
[+] Enlarge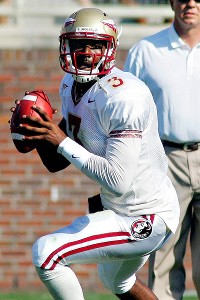 AP Photo/Phil SearsEJ Manuel is going to require a lot of help from his offensive line to his receiving corps in order to get FSU some wins this season.
Depends, of course, on who you ask ...
Heather Dinich:
It's a good thing Florida State offensive line coach Rick Trickett is a Harley Davidson-driving, cigar-gnawing, old-school, kick-in-the-pants kind of coach -- because Florida State's offensive line couldn't afford anything less this summer.
If the No. 7-ranked Seminoles are going to stay in the top 10 -- if they're going to win the ACC and aim for something even higher -- the offensive line must go from the weak link in 2011 to one of the team's greatest strengths in 2012. The running game must improve, and it all starts up front with a group that introduced four freshmen in the starting lineup against Notre Dame last year in the Champs Sports Bowl.
Last year, Florida State's running game finished No. 104 in the country. The Noles tied for No. 110 in sacks allowed. And the linemen didn't create enough holes for the running backs, who also had too many mental errors.
Does that sound like a top-10 team? Well, that's why it wasn't. The Noles sank to No. 23 last year in the final Associated Press Top 25 after starting out No. 6 in the preseason poll.
Florida State can't possibly expect to change that with only 95 total yards of offense against Florida again. It can't possibly win its first ACC title since 2005 with only 63 rushing yards against Miami. And it certainly can't be taken seriously as a national title contender with only 41 rushing yards against Notre Dame.
Florida State's defense and its super special teams were the difference for the Noles last year. If the offensive line and ground game could match that, Florida State would be seemingly unstoppable.
It's getting closer.
The experience sophomore guards
Josue Matias
and
Tre' Jackson
got in the bowl game last year was priceless, and they continued that progress this summer. Cameron Erving's seamless transition from defensive tackle to left tackle was one of the top story lines in Tallahassee, and all three have likely earned starting jobs for the season opener against Murray State. The questions continue at center and right tackle, though, and the competition could, too. During fall camp,
Austin Barron
and
Bryan Stork
were the frontrunners at center, and junior-college transfers
Menelik Watson
and
Daniel Glauser
were the leaders at right tackle.
Overall, the Noles' offensive line has gotten bigger and stronger, but it still needs to prove that it has also gotten better.
Andrea Adelson:
We have heard plenty already this preseason about the depth Florida State has at wide receiver.
Depth is an excellent commodity to have. But here is my question -- how about playmakers? Do the Seminoles have a game-breaker at receiver who will be able to help Manuel carry this offense from good to championship caliber?
I grew up in South Florida, and have watched every Miami-Florida State game going back to the early 1980s. During the heyday of both programs, you could always count on at least one receiver that made you, well, nervous. Florida State had them in spades, between guys like Lawrence Dawsey, Tamarick Vanover, Peter Warrick, Laveranues Coles, Snoop Minnis, E.G. Green, Anquan Boldin and the like.
To that point -- FSU had one receiver on the ACC first team between 1993 and 2000. Since then, the Noles have had just one -- Craphonso Thorpe in 2003. There are a variety of reasons this program has hit a major dip in recent years. One of them has been a lack of some major talent at the skill positions.
The lack of a 1,000-yard rusher (none since 1996) or 1,000-yard receiver (none since 2002) are proof. So is the fact that Florida State has not had a receiver drafted since Willie Davis in 2007. For a program in talent-rich Florida, it is almost inexcusable for there to be a dearth of game-changers at either running back or receiver. A player like
Sammy Watkins
? He used to be found at Florida State.
The Noles have an opportunity to change that this season given some of the talent that is returning. What FSU fans will tell you is Manuel has been good at spreading the ball around to his various receivers, and that has been nearly as good as having one go-to guy emerge. Three players had 30 or more catches last season --
Rashad Greene
,
Rodney Smith
and
Kenny Shaw
.
They all return.
Willie Haulstead
also is back after sitting out last season.
Christian Green
and
Greg Dent
each averaged over 17 yards a catch last season. They are back, too.
Expectations are high for redshirt freshman
Kelvin Benjamin
to emerge as a game-changer. Florida State also has true freshman
Marvin Bracy
, a player with world class speed who may not even see the field this year. That is a testament to the depth at the position, something that is not in dispute.
But what the Noles truly need is a dynamic presence at receiver to put fear into the opposition, the way they used to do. To me, that is going to be a deciding factor in whether the Seminoles live up to all the preseason hype.
July, 1, 2011
7/01/11
10:00
AM ET
Florida State wide receiver and outfielder
Taiwan Easterling
has signed a professional contract with the Chicago Cubs and
will not return to school
, the university announced Thursday night.
"Taiwan and I talked and he's decided to pursue his career in baseball," coach Jimbo Fisher said in a prepared statement. "I totally support him 100 percent. He did an outstanding job for us.
"I would have loved to have him back, but I totally understand him pursuing his future endeavors. Baseball is the way for him to go and we wish him nothing but the best."
The good news:
Florida State is still very talented at wide receiver and there's a lot of young stars waiting in the wings.
The bad news:
It's one less veteran receiver for first-year starting quarterback
EJ Manuel
to work with.
Bert Reed
(58 catches) and
Willie Haulstead
(38 catches, six touchdowns), will now likely be the go-to receivers. The Noles are also excited about sophomore
Jared Haggins
, redshirt freshman
Christian Green
, and sophomore
Greg Dent
, who played mostly on special teams as a true freshman last year.
Rodney Smith
(31 catches, three touchdowns) and
Kenny Shaw
should also see some time. There are plenty of helping hands available, but there's no doubt FSU will miss Easterling's experience.